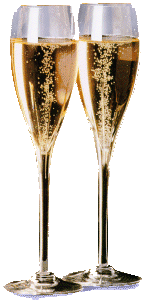 Happy Holidays!! We hope that the first year of the new millennium was special, joyful and exciting for you. As you recall, Year 2000 came in, not with a roar but with a whimper. We spent the night at Steve's work waiting for computer disasters to erupt all over the land. Instead, all of the hard work us IT (Information Technology) folks previously did paid off and the night was quiet.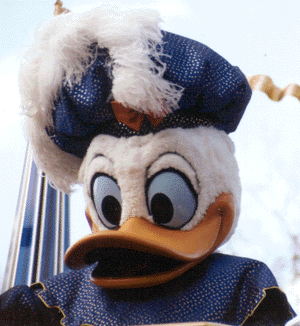 In January, Steve's mother, treated her immediate family to a relaxing, fun-filled long weekend in Disney World. Six adults were needed to take care of one four-year old girl, Niece Nicole. It was wonderful seeing the park through her young eyes.
The next few months were busy preparing for April 16 celebrations. Mary and Steve celebrated six years of wedded bliss. OK, maybe not bliss but it's been a great ride together. The bigger party was for Steve's brother and fiancée who were married in a gala event in north Jersey. Steve was honored to be best man. Steve and Pete have now committed to remind each other that April 16 is a day not to be forgotten.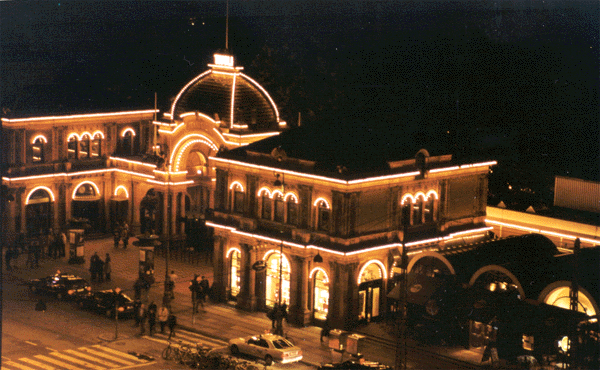 Our vacation started in late May. After suffering through poor accommodations in Central Asia, Mary wanted to do an easier trip this year. We booked a three week cruise through Scandinavia and the Baltics. Most of our friends and family were relieved that we were going some place safe, for a change. We enjoyed the first week, touring through the Scandinavian capitals of Copenhagen, Stockholm and Helsinki. While docked in Helsinki, Mary fell and hit her head. The ship's doctor checked her out and she seemed fine, just a little bruised. He let us go in time for us to enjoy Helsinki.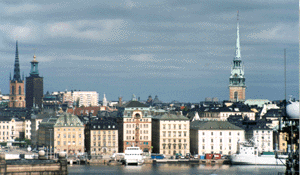 Mary didn't sleep well that night and was nauseous the next day; a common symptom for a mild concussion. The doctor wanted us to leave the ship and go to a hospital for a CAT scan. However, this day our port of call was St. Petersburg, Russia. We've been to enough ex-Soviet countries to know that the general infrastructure, including medical facilities, is poor. We did not think a Russian hospital could help and stayed on the ship. Mary wasn't up for visiting the city so we both spent a relaxing day. By evening, Mary was feeling better and we were able to make it to dinner. However, on the second morning following her fall, Mary woke with a headache and decided not visit Tallin, Estonia. She insisted Steve go ashore. Tallin is a wonderful medieval city with houses and churches, dating back to the 12th Century, most in excellent condition.
When Steve returned to the cabin, Mary was still asleep. He tried several times to wake Mary but she kept asking for five more minutes - a typical Mary response. However, when she said that she knew she had to get ready for work, Steve knew something was wrong. Back to the infirmary we went, Mary all the while pleading to go back to sleep. While Steve watched, Mary became more incoherent, at one point thinking he was her doctor and she was in a New Jersey hospital. The ship's doctor kept reminding Steve that we should have gotten off at St. Petersburg. Finally Steve read him the riot act and told him to find a way to be more helpful. The doctor consulted with the Captain and plans were made to divert the ship to a closer port of call in Sweden. Of course, deciding to dock a cruise ship unscheduled is not like finding a parking space in an unfamiliar city. Permission needs to be acquired and payment arranged. In the end, it was decided to airlift us off the ship. Good thing the ship had a built-in heliport. When word came down that the helicopter was on its way, Steve was given a half hour to pack all our belongings and get ready for the flight. The evacuation team arrived, quickly took charge, and got Mary secured and ready for transport. Passengers were asked to clear the corridors so we would have an open path through the length of the ship and up 12 floors.

After a hour flight, we landed at Karolinska Hospital in Stockholm, Sweden. This was the place to be; it is one of the best hospitals in the world. We arrived in the ER and three doctors and two nurses stayed with Mary for more than an hour completing the evaluation. This was very different from anything we've experienced in our country. Steve was most impressed. Mary was scheduled for surgery the next day to drain blood that had pooled under her skull. The operation was successful. Mary had been unconscious since the ship and was quite surprised when she woke up and learned where she was and that she had undergone surgery. She was still showing a common sign of brain injury, she was a very uncooperative patient. Mary received excellent care in Karolinska while Steve lived in a hotel in Stockholm. It was quite fortunate that our mothers, and many family members and friends, have joined the world of email. Steve became a regular at the local Cybercafé as he sent daily updates and printed responses for Mary to read. After ten days, Mary was cleared to fly to the U.S. A medical crew escorted us from Karolinska hospital all the way to Monmouth Medical Center in New Jersey. Luckily we had taken a travel insurance policy. Mary spent four, somewhat stressful weeks in Monmouth Medical Center, then a few days in a Rehab hospital. She has recovered well. We thank all of you who were so supportive during this difficult time. ůSo much for our SAFE vacation.
Steve's surgery this year was much less intrusive. He decided to throw away his glasses, burn his contact lenses, and see unaided for the first time in his life. He opted for Lasik surgery in October. The procedure was relatively painless and the result better than 20/20. He is very pleased and would definitely recommend the operation. Still, there are times in the morning that he still searches for his glasses, only to realize that they're in the trash!
Steve isn't actively working on WebSLR, any more - we're just watching the money trickle in. In November WebSLR achieved two milestones. First, revenue topped $10,000. And it made $1. After so many years of effort, WebSLR finally broke even so every subscription returns a little on the initial investment. Steve also began a new major Web project. After a year participating in an Internet-based news group for short people, he decided to give back something to the community. He spent a good part of the second half of the year building the Short Persons Support web site at www.shortsupport.org. The mission of this site is to support and provide reference material to persons of short stature. A second part of the mission is to create a forum to teach people about the social issues of being short.

Steve's work schedule became seriously overloaded in August, as Lucent completed plans to spin off the business unit he works in. The new company is named Avaya. Steve was responsible for creating Avaya's new home site at www.avaya.com. He also coordinated most changes on Avaya's existing Web Sites to re-brand Lucent to Avaya. It was an exciting time but the pressure never let up and he decided it was time for a change. The allure of being a senior manager had also worn thin. With support from Mary, Steve will be leaving Avaya, previously Lucent, previously AT&T in February. He's going to take a few months off and devote most of the time to enhancing the Short Person Support site. Then he'll find a job programming, something he really enjoys.
We're still deciding on vacation plans for 2001. China and Mongolia, two places we've talked about for years, are high on the list. We'll have a better time this year. Well that's our story. We wish you a wonderful holiday season and a happy and healthy New Year!
Love,