We hope 1997 was a good year for you, and that the holiday season brought you much cheer! We're a bit late in getting off our greetings. Steve had two business trips just before the holidays and then got sick on Christmas Eve. He's feeling much better now. We're hoping you'll agree with that old saying, "Better late than never."

It's amazing how every year seems to be busier than the last. Both Steve and Mary saw new work challenges in 1997. Steve's group grew by 70% and he took the opportunity to create three new groups that now report to him. Steve likes being a second level manager but misses being close to the technology. Mary went back to supporting legacy systems. It wasn't her choice but she's making the best of it.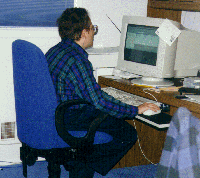 We took a break from house re-decorating this year. Both Steve and Mary were busy with Web projects. Steve worked diligently on his camera applet, often spending one to two hours a night after work. After finishing the program, he decided to write a tutorial to guide users through it's many lessons. Mary helped by staying out of his hair and being his first tester. For the last two months of the year, 15 friends, family and associates signed up to test the package. Now comes the task of selling it. Wish us luck. We hope you will look at the finished product and let us know what you think: http://www.goldkeys.com/camera.
Mary became a Web Master (designing and publishing Web pages). A good part of her free time this year was spent authoring the pages for Body, Mind and Spirit Learning Alliance. Mary's last contribution was designing a Guestbook. She receives about one entry a day, sometimes from as far away as Malaysia! If you visit: http://www.bmslearning.com, please sign in.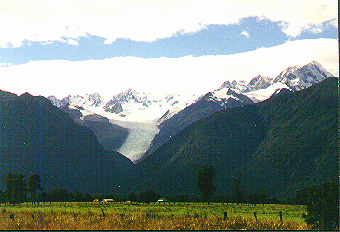 We spent the first part of 1997 preparing for our vacation. You must realize how hard it is to learn to speak the languages of Australia, New Zealand and Fiji. Towards the middle of March, we had finally mastered them and off we went. Our three and a half week vacation began with a day and a half in Fiji.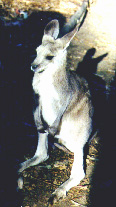 We then flew to Auckland, New Zealand and spent half a week on the North Island. Following that we flew to the South Island. Steve had made Mary promise that she would join him on a helicopter trip to the top of a glacier. This turned out to be a highlight of the trip for both of us. We also liked Milford Sound. Then it was off to Australia. After enjoying a few days in Sydney, we went south to Adelaide. We spent Easter Day on Kangaroo Island where we saw all types of wild life in their natural environment. Mary's most memorable event was when she had to stay behind while the tour group hiked through some caves. A mother kangaroo and her offspring came close to where Mary was and the young kangaroo began nursing. Mary was able to get as close as two feet. Her only regret was that she had sent her camera to the caves with Steve.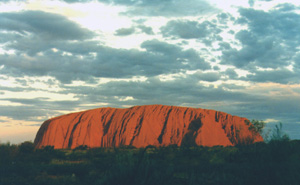 Although it took a lot of time to get there, we're glad we made the extra effort to spend a few days in the Outback. Steve made the mile climb up Uluru. In English, that's Ayers Rock. (See, we told you the Australian language wasn't easy to master.) From there we went to the Northern Territory. Our last stop was the Great Barrier Reef where Steve spent the afternoon snorkeling. Mary's putting the finishing touches on a log she kept. Stay tuned to our Web page. It will soon be soon be published at http://www.goldkeys.com. For those of you who would like a printed copy, just let us know. We'll send you one hot off the press.
It seemed like the summer party season was upon us almost as soon as we got home. This year, due to family events, we had fewer pool parties. In August, Mary's mother turned 75. Much of the early summer was spent planning a celebration for her. Angelica didn't want a very large party because she said that some of her friends didn't know her true age. We kept it to what we call immediate-extended family which numbered approximately 25. Our youngest guest, Grace's baby son, was 2 months.
We received sad news just a few days later. Steve's father passed away from a heart attack. It happened quickly and we're thankful that he did not suffer long.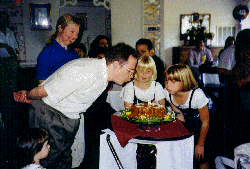 Steve turned 40 in October! If you remember from last year, Mary had promised to "get him back" after her surprise party. Well, she began plotting in July. She planned a quiet, romantic weekend in New Hope, PA. A friend told her of this wonderful Sunday brunch that they just couldn't miss. So, of course, she made reservations for them. She also invited close friends and family. Steve was speechless when he heard "Surprise!" as he entered the room. And that's a sure sign that she "got him".
Now we turn our attention to 1998. We're planning to get back to house decorating. For vacation, we'll be touring Alaska, first by cruise ship and then by railroad. We're happy that Steve's mother will be joining us.
We look forward to hearing from you in any way that's convenient: Phone, U.S. Mail, Email, Carrier Pigeon, etc. Please note our new area code:
356 Hilltop Rd.
Toms River, NJ 08753
(732)341-4332
sbgmdg@goldkeys.com
We wish you a happy and healthy 1998!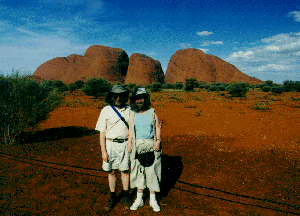 Love,