A Trip Down Under
Mary's Vacation Log of
Fiji, New Zealand, Australia
---
by Mary D. Goldsmith
with editorial assistance from Steven Goldsmith
---
In the Spring of 1997, my husband Steve and I took a tour to Down Under. We visited Fiji, New Zealand and Australia. On past trips, I have kept a journal. However this is my first attempt to publish it for others to read and enjoy. I hope you do both!
I face several special challenges when I travel. Since I was a young girl (which is more years ago than I will admit), I've had rheumatoid arthritis and diabetes. The former is at a state where I cannot comfortably walk at a normal pace or more than an hour. Therefore, I use a wheelchair for any touring which is likely to be more than a short walk. I also don't have enough arm strength to propel myself so someone else must push. My husband is the wonderful person who does this. My other challenge is that of managing insulin dependent diabetes. I take a long acting insulin which must be taken at fairly fixed times. I also take an insulin just before I eat. Insulin is taken by injection so if it's not convenient to go into a place that is private, I often find myself explaining what I'm doing to a group of onlookers.
In the hope of assisting those who face challenges which are similar to my own, I've noted the barriers which I encountered along the way on this trip. Some barriers are architectural, such as steep stairs. Others are procedural and attitudinal. The latter are the most discouraging. However, for every procedural or attitudinal barrier I experienced, there were many opposite, positive, experiences. To my friends (the tourists who were part of our tour group) and especially to Steve and Gail (our tour manager), I thank you for all of your help and encouragement. I can't imagine a better group with whom to travel!
Saturday March 15, 1997 to Sunday March 16, 1997.
Arrival on Fiji
The flights to Los Angeles and Fiji are uneventful. When we reach Fiji, we are greeted with an airline wheelchair and escorted through passport control. Then Steve and I separate. The airport escort takes me down a very small elevator and through some dark, narrow walkways. Steve and I meet in the baggage area.
It is hot and humid and it takes a while for our bags to arrive. The airport representative stays with me while Steve watches for our bags. When he has all of them, we precede out and easily find our Globus tour director. The ride to the hotel takes about 20 minutes. Our group appears to be of mixed ages. No one is very friendly. I am feeling quite hot and tired and imagine that everyone else is also (at least I hope that's the reason our fellow tour members aren't friendly). During the bus ride, Gail introduces herself and teaches us two Fijian words, Bula for hello, good health and Vinaka for thank you. She has us practice Bula. It takes quite a few times for us to say it with enough enthusiasm to satisfy her. After that the group seems a little more lively.
Once at the hotel, we encounter several, somewhat shallow stairs. The staff is friendly and very helpful. We say and hear Bula a great deal. Our tour group gathers in a room where there is juice waiting for us. The juice is cold and very good. Gail collects our airline tickets and reviews a few details.
As the group breaks up, it becomes obvious that Globus had not told Gail about my special needs (such as no stairs). We have to wait a short whole for our room to be changed to the first floor. Once we get to it, it is very nice. We settle into bed quickly, having been up for about 24 hours.
Monday March 17, 1997.
Touring Fiji
Picture: Chief's in Fijian Village House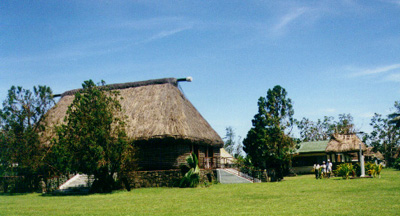 We wake up at 4:00 a.m. so I can take my Ultralentine insulin (this is the insulin which must be taken on schedule). Once that is done we fall back to sleep very quickly. Our actual wake up is 7:30 a.m. We go to a wonderful breakfast buffet. There are many of American dishes but we are glad to see that there are also many different ethnic selections. We enjoy several.
We meet our tour group at approximately 9:20 a.m. and board the bus. Gail says Steve and I can have the second seat on the left so that the amount of walking we do once on the bus is small. The stairs to board the bus are high and narrow but Steve pulls me up fine. On previous trips, Steve and I have disembarked last because it takes us longer.
However, on a previous bus tour, we were often left behind. For this tour, we have decided to leave the bus as soon as the driver open the door so we are not left behind. Usually, our driver will get off and pull the wheelchair out of storage. I plan to be getting into my wheelchair while others are disembarking.
Our local guide is Joe. He narrates on Fijian history, the educational system, medical care, living styles, and ethnic populations. Much is similar to what I read in Lonely Planet. However, Joe makes little mention of the more negative aspects of Fijian history such as the poor living quarters that the Indian laborers were forced to live in on their arrival.
We ride on the bus for quite a long time through Nadi (pronounced Nan-di) and Lautoka. We pass the Village of Viseisei on the way to Lautoka. On the return trip we stop at the Village. Joe tells us that this is reported to be the oldest Fijian village. When the original Polynesian people arrived, they settled here and built the Village. After a while, some decided to move to the hills. The name Viseisei means separate and was chosen to honor those who left. Joe cautions us not to climb the steps of the Chief's home because that is considered disrespectful. The Village is small. The Chief's house, a Methodist church and a monument to the missionaries are centered around a green rectangle. We walk around the village for about 15 minutes. We see two small children who don't mind having their picture taken. It is interesting to see the village since we have passed by several during the morning. Most Fijians still live in their family village.
Next we tour an orchid farm. This is the farm of the late Raymond Burr. I walk (instead of riding in my wheelchair) for half of the tour because the paths are stairs and stones instead of pavement. I do not go on the second half because there is a lot of climbing. Instead I sit with Gail and Joe. I enjoy the flowers but am quite disappointed that I can only see half of the farm. This seems ironic to me since Raymond Burr is famous for portraying a man in a wheelchair in the television series Ironsides.
Soon another woman, Bari, who has tired from the heat joins us. I find it interesting to learn that she grew up in Rockaway, New Jersey because New Jersey is the state in which Steve and I live. The orchid farm staff serves us juice on our return. After Steve drinks his, he takes me up to the part of the tour which he found most interesting. I see orchids growing from coconuts. I too find it enjoyable and worth the climb.
We ride back to Nadi where our first stop is the food market. We see a lot of peppers and root vegetables. Joe asks for a volunteer to taste the local drink called yaqona or kava. This is the Fijian national drink. It is no surprise to me that Steve steps forward. This is a drink made from a ground root of a plant from the pepper family and water. It looks like mud and is slightly intoxicating. After one drinks it, his/her tongue feels tingly and numb. Unfortunately, I am too slow with my camera to take a picture. In the Fijian tradition, Steve claps once before drinking and three times afterwards. I find that the market is much like open air markets we have seen in other countries. It is interesting to see the different local foods.
Our last stop is at Jack's Handicraft Shop. We purchase our Chachka, a cup from which one traditionally drinks yaqona. It is a small coconut shell. A chachka is an item from a foreign country that we display on a special table in our home. The item should be small, inexpensive and indicative of the native culture (a plate with a city name on it would not be an appropriate chachka). I pick out a pair of earrings and we choose several postcards. Both the chachka and my earrings have become a tradition for us when we travel to a new country.
We decide not to return to the hotel with our tour group. Instead we stay in town and will take a cab back to the hotel. After we finish our shopping, we consult our Lonely Planet guide to find a recommendation for lunch. We find two Indian places and choose the one which looks easier to find and serves the lighter meal. We locate the Curry Restaurant with little trouble. Steve orders goat curry but they are out of it so he selects fish curry. I am very tempted to order curry but fear that it will be too spicy. (Later, when I taste Steve's, I decide this was a wise choice.). So I settle on fried rice, requesting prawns. That too is not available so I have chicken fried rice. Both dishes are very good.
We head back to Jack's to get a cab, taking the long way around town. Several shop owners invite us into their shops. They are not as aggressive as in Israel but we have to say no firmly. We get a cab with no problem. The driver is chatty and seems to know a lot of people. He waves to almost every pedestrian as we ride to the hotel.
Back at the hotel, we nap before dinner. We meet our tour group for an update on our itinerary, then Globus treats us to drinks at happy hour. During happy hour there is a show in which approximately ten men and two women sing and dance. Steve and I try Fiji beer. I like it, it has a rich flavor. Each night a Fijian man lights all the torches in a special ceremony. We enjoy watching him run from torch to torch lighting each one at a time. At sunset we go to the beach to take pictures. It is a beautiful scene. We'll see if any of our photographs capture the beauty.
Soon we go to the outside dining area for dinner. As we enter the area, Gail shows us the three tables reserved for our group. Some hotel staff attempt to change the location of one of the tables. Gail is very insistent that this will not happen. Dinner is a buffet that has selections of many Fijian dishes. It is wonderful and so is dessert. We sit with an enjoyable group of people from our trip. I am slightly disappointed because we were told that there would be yaqona to sample. Since I missed tasting it in the market, I was looking forward to trying it at dinner. However I did not find any.
After dinner there is a show with approximately 40 singers and dancers. It is enjoyable although after a while it becomes repetitive. A Master of Ceremony describes what each number is about. The words to the songs are Fijian. We leave after approximately eight numbers. Our departure just happens to come following the M.C. asking for volunteers from the audience. Also we are concerned about having to rise at 3:00 a.m. the next morning to catch our flight to Auckland.
When Steve and I choose a vacation, we like to visit cultures that are different from America. With Fiji, we certainly did this. It is an interesting place to visit. I most enjoyed the time we spent in the first Fijian village and walking around the town. My only regret is that we spent so little time here and much of it was in very touristy places.
Tuesday March 18, 1997.
Introduction to Auckland
Picture: Waitakeres Vineyard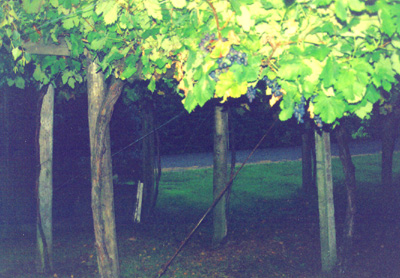 Our Fiji to Auckland flight has been changed from early afternoon to early morning. The afternoon flight is canceled. As usual, in the wheelchair, Steve and I are whisked right through check-in and customs. We are the first in our group to reach the terminal. We meet some people from another tour group and learn from them that the plane is overbooked. (Later Gail would explain to us that there are two types of 737's. The airline sent the type with less capacity.) Each tour is forced to book some of its participants on a later flight with another airline.
Once finally on board, the flight goes well. The meal is very good (as were the meals on our flight from Los Angeles to Fiji). When we land, an escort greets us with a wheelchair and takes us through a special passport control line for people who are disabled. Then he brings us to the front of the customs line. I guess this isn't too unfair to walking tourists since we're made to wait until last to disembark.
When we arrive at the hotel (at 10 am), we feel fortunate that our rooms are waiting. After a brief stop in our rooms, we meet Gail in the lounge 15 minutes later. She shows a group of us where the nearest bank is and we change money. Steve and I then return to our room and take a two hour nap. When we wake up we venture out to explore the city.
Much to our dismay, the city is quite hilly. We ask Gail if she has a contour map (a map that shows inclines) available. She does not so we decided to use the one she gave us and mark it ourselves. If we're please with the result, we'll mail her a copy for the next time she has a tour participant who uses a wheelchair.
We walk down to the harbour (via Queen St. which has a somewhat comfortable downward slope) and pick up some information on ferry trips. The coffee cruise is a possibility for our free time tomorrow afternoon. We walk along the Quay, then we head back up Albert's Lane. It quickly becomes too steep. We want to find a place Lonely Planet marked as a point of interest, the Bronx. Steve grew up in the Bronx so we think this could be an interesting place to visit. We are unsuccessful. (Later, I read that it is a rap music bar. Steve is not disappointed that we hadn't found it.) We enjoy seeing a mime perform.
As we near our hotel, we still have some time so we continue walking for a few blocks. We find the visitor's information center where we stop and pick up some pamphlets. I ask for information on access for people with disabilities. The clerk says they don't have any but he refers us to a community organization several blocks away. We are out of time so we don't go there. It is close to our evening activity meeting time so we go back to the hotel.
Tonight's dinner, an optional booking, is a spit roast at a small local winery. The tour bus takes us to Waitakeres by way of the scenic road. It is quite picturesque. We stop at an overlook to Manukau Harbour. Clouds have rolled in so the view is disappointing. Once at our destination, we are led into the winery, through the vineyards. In the winery, we are given a brief presentation on the making of wine. The owner reviews wine bottling with a focus on sparkling wines. (We would call these champagnes. However, because the grapes don't meet the technical specifications for being champagne, our host is not allowed to call them that.) It is interesting and enlightening. Unfortunately this winery is too small to export to the USA. Back in the dining room, there are six wines for us to taste. Between Steve and I, we taste all of them and enjoy most of them.
The dining room is a large open casual area, similar to a nicely finished inside of a barn. We mill around until dinner is ready. We are the only group there so this gives us some time to get to know each other. For dinner we enjoy lamb which was roasted on a spit. It is served buffet style with mint sauce. Tony and his family are our most gracious hosts. There are also many salads and vegetables that are delicious. Dessert is a New Zealand/Australian specialty, Pavlova. It is good but I find it very sweet. Due to the meal plan I follow for my diabetes, I eat only a few bites.
We return back to our room about 8:30 p.m. Steve is asleep by 9:00 p.m. I read the Auckland information in Lonely Planet, then turn in.
Wednesday March 19, 1997.
Auckland City Tour
Picture: Auckland from Volcanic Cone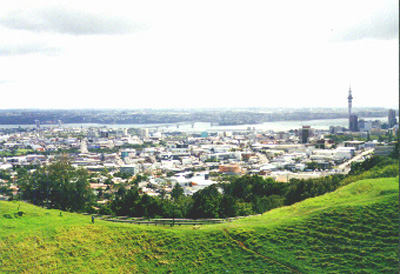 Breakfast at the hotel is grandiose in taste and size. We head out on our tour of Auckland. Chris, our guide and driver, drives us through the city, across the bridge and back again. The bridge is a scenic highlight of the city as well as a major part of its infrastructure. Steve is very interested in a structure nicknamed the "Nippon Clippons". In 1966, they were added to double the bridge from its original 4 lanes to its current 8 lanes. The Japanese company which constructed them, performed most of their construction in Japan and then "clipped them on" when they brought them to Auckland. On this tour, the driver speaks about the area at least as much as the tour director. There is a friendly bantering between our New Zealand driver and our Australian tour director on which country has superior sports teams and was the true originator of common food, such as Pavlova.
Our first stop is Kelly Tarlton's Underwater World and Antarctic Aquarium. We board enclosed carts which take us through the Antarctic simulation. The cart passes lively emperor penguins. We are informed that there are some babies which were born in captivity and it is quite an accomplishment that they so entered the world. We have really been looking forward to this highly acclaimed exhibit but find it somewhat disappointing. It was over quickly and difficult to see from our seats. Most of the activity is on the side on which we are not sitting. The woman sitting between me and that window always seems to get in the way. The grand finale killer whale attack is very stilted.
After we disembark, we walk through a replica of the explorer Captain Scott's quarters (circa 1911). Then there are displays on the wildlife of Antarctic. These compare Antarctic wildlife to that found in the waters of New Zealand. Toward the end of exhibits, there is a glass aquarium display that is down a half flight of stairs. Since we have seen many aquariums in the U.S., I wait while Steve goes through. Steve is very impressed with this one so he coaxes me to climb the stairs and view it. Once downstairs, we board a luggage belt-like walkway which circles a walled and overhead aquarium. There are many large fish swimming all around us. I find it very interesting and am glad Steve persuaded me to see it. Two members of our tour have ridden through three times!
On the way to the exit, there are other aquarium displays including one with pregnant sea horses. We explain to several members of our tour group how difficult it is to keep sea horses alive in captivity. We've attempt this several times in our salt water tanks at home. The best we've done was to keep one alive for a month.
The next stop is Mt. Eden. Auckland is built on extinct volcanoes and many volcanic cones have been designated as city parks. This is the highest volcanic cone in Auckland at 196 meters. We walk up a number of steps, then look over the city, 360 degrees around. The views are very impressive. Gail points out One Tree Hill, a sacred Maori site.
Next we go on to lunch. It is a buffet. I taste a bit of everything that seems unusual. Gail encourages us to taste the Green Lipped Mussels. I do and they are delicious.
On the return to our hotel, we drive around the grounds of the Auckland Museum. Steve and I are disappointed to learn that it is being renovated and not worth going visiting this afternoon. Once back at the hotel we consult Lonely Planet and choose to go to the New Zealand National Maritime Museum. The displays lead the visitor through the history of New Zealand, beginning with the voyage of the first Maori people, from the Hawaiki. I find some of the displays quite interesting, especially the model of the quarters of immigrants in steerage. The model of the 1960's style beach cottage reminds me of my early experiences at the New Jersey shore town of Manasquan, New Jersey, where I spent many summers.
We head over to the ferry house and purchase tickets for the coffee cruise, a one and a half hour ride on the harbour. We receive a 50% discount because I am in my wheelchair. At first we are the only passengers. There is an interesting, running commentary on what we pass. We see several military installations as we sail toward our second stop of Devonport. At the third stop, Kelly Tarlton's, others board. We sail out to Rangitoto, a volcanic cone island. Many people board here. All of them seemed happy after their day of nature activities. Unfortunately, three very talkative girls sit right behind us and we can no longer hear the commentary. We move to the row facing us. Now it's hard to see what the Captain is talking about because we are facing the opposite way. The ferry returns to its second stop, Devonport, then takes the long route back downtown. We pass the Auckland Bridge but the Captain comments that we will not get too close because Wednesday is a night the racing yachts practice. It is a nice sight anyway. We see several sailboats close to the bridge and wonder if one is the Optional Tour that a few of our fellow tour mates have taken.
Back at the dock, the Captain is most helpful with the wheelchair. For the most part, getting on and off the ferry is level. However, there is one lip. It's not too high but Steve helps me over it because the boat is rocking. The Captain carries the wheelchair.
We go back to our room and rest before starting out for dinner. It is 8:00 p.m. when we leave the hotel. I am a bit concerned that we will have trouble finding an open restaurant since Gail warned us that the country "shuts down early". But our first choice, a Korean Barbecue, is open and we enjoy dinner. Back at our room, we pack because tomorrow we leave Auckland and travel to the next destination on our itinerary.
Thursday March 20, 1997.
Rotorua
Picture: Agrodome Sheep Show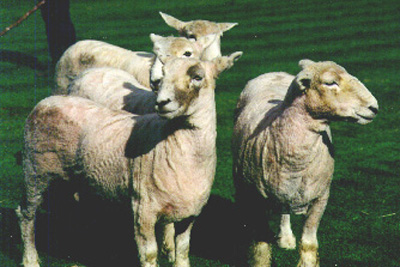 We rise at 7:00 a.m. for an 8:00 a.m. baggage pickup. Down at breakfast Gail joins us. She's attempting to talk Steve into climbing Ayer's Rock. She used to guide tours in the United States but has not been to New Jersey other than to drive through our home state. We tell her not to judge New Jersey by the turnpike. We leave the hotel a little before 9:00 a.m. As we check out, I drop off a postcard to Mom and Aunt Pat. My Mother and Aunt will be taking a New Zealand and Australian Globus tour which begins in approximately one week. They will be visiting many of the same cities. We plan on leaving them our recommendations.
The Maori are the people who were native to New Zealand when the Europeans arrived. One legend says that they discovered New Zealand in 950 AD. On the bus, Gail teaches us the Maori word for "Hello, how are you?" Its "Haere?" Chris takes over explaining the pronunciation of Maori words. One breaks them up into small sounds and then strings the sounds together. Most Maori people are on the North Island as is most of the New Zealand population, (approximately two thirds). Not many Maori are on the South Island.
We drove through Bombay Hills, which is the southern part of Auckland. Chris tells us about Kiwi fruit. When it was first exported, it was well liked. Next the plants were exported. Since many countries can grow their own kiwi, exports decreased. New Zealand had to come up with something to make their home grown kiwi special. Now New Zealand calls its Kiwi, Sisqua. New Zealand has also started to farm deer. These deer are less gamey than those hunted in the wild.
Chris points out speed cameras. These are mounted in high traffic areas to photograph cars speeding. The owner of the vehicle is issued a ticket regardless of whether he or she is the driver. There are also cameras at high volume traffic lights which photograph cars going through yellow and red lights. (Later I decide to use this as a topic for a speech in the Toastmasters program. Where we live in New Jersey, there are a lot of dangerous drivers. I think the technology could be used to enforce our laws.)
Chris talks next about New Zealand history, returning to the topic of the Maori. They were not the original people to settle in New Zealand, the Moriori were the first New Zealanders. There are no Moriori left. Maori originally came from Hawaiki, the ancestral homeland of many Polynesian peoples. (This is not to be confused with Hawaii.) No one knows where this was. Its probably somewhere in the Pacific Ocean. The Maori arrived in New Zealand around the 15th Century and originally settled along the coast. When they ventured inland, birds became their food. They captured them with traps.
Abel Tasman, a Dutchman, was the first European to land in New Zealand. He was interested in trade. Upon landing, he was greeted with the Maori challenge. Several of his crew were killed and they quickly retreated back to the ocean. One hundred thirty years later Captain Cook arrived. He shot a few Maori but later came back, made friends with the Maori and claimed New Zealand for England. Over the years, different groups came and traded with the Maori for the land. The English government negotiated one treaty. There have been disputes over what is in the treaty. Today the Maori and the government of New Zealand are trying to resolve the discrepancies so New Zealand can gain total independence from the United Kingdom.
As we pass the largest river, the Waikato, Chris tells us that the biggest industry in this area is cattle farming. Land here is expensive. The average farm which is not considered large costs 1 to 1.5 million New Zealand dollars. There are two types of cows, the black and white type and the brown cow, the Jersey. The Jersey cow produces premium milk. Even though it produces less quantity, the farmer with Jersey cows has greater revenue because quality pays greater than quantity.
Birds in New Zealand tend to be dark. Over the years they evolved to blend in with their natural environment. Also, some, such as the Kiwi, lost the ability to fly. They did not have many predators before humans came to the islands. The toitoi bush is a very common bush. Chris mentions it on almost every bus trip. It is relatively low to the ground with long thin leaves than grow up from the center close to the ground.
Our first stop, about one and a half hours out, is for souvenirs, toilets, and snacks. Gail recommends we try an ice cream sold here called hokey poky. It is vanilla with crunchy caramel mixed in. Steve and I split one and we enjoy it.
As we near Rotorua, Chris gives us some background. The name is a Maori word meaning second lake. Roto means lake and Rua means second. Due to Geothermal activity, its water is not safe to drink. Therefore, its not popular for water sports and other activities. However since the town has a large Maori population whose culture is among the most accessible in New Zealand, Rotorua has become the most popular tourist destination of the North Island.
Our entire tour group has chosen to take the Optional tour this afternoon. It's first activity is lunch in the restaurant on top of a high hill. We ride a gondola to get there. To board the gondola one must do a short step. It surprises me when I have a problem getting on it. Later I realize that because the gondola does not stop moving it is a challenge to board. After several attempts, the operator stops the gondola for me and with Steve's assistance I am able to climb onto it. Lunch is a buffet, with a few New Zealand specialties. I especially enjoy the scones and meat pie, a three inch diameter pastry filled with meat. After lunch, the group tries out the luge. Everyone but me attempts the beginner, 900 meter scenic track. Steve and a few others ride down twice. I watch Steve and others from our group come back up the mountain via a chair lift. The view over Rotorua is breathtaking.
Next we go to the Agrodome. There we see an interesting and entertaining show about sheep and sheep dogs. When we walk in, many sheep are lined up on the side. They are quite tame and do not mind when I pet them. In the first part of the show, they bring 19 breeds of sheep on stage one at a time. Each climbs up a platform to where the name of its breed is displayed. Next the Master of Ceremonies explains and demonstrates how a sheep is shorn. He talks about some of the properties of wool and throws out to the audience samples of the wool which he has just shorn. We pass it around. It has an oily feeling.
Then a milk cow is brought out and the M.C. asks for some volunteers. He shows how to milk the cow and had the volunteers try it. The final volunteer is Russ, a man from our tour, who owns a milk cow farm. He shows off his skill by squirting milk across the stage. (Later we learned that this threw the M.C. off because usually he has the last volunteer pump the tail.)
Next the Master of Ceremonies assistant leads out some lambs and has volunteers feed them with a bottle. Then the M.C introduces sheep dogs, describes their function, and shows how they can run over the sheep. Three dogs easily mount the sheep, run to the top most sheep, and make themselves comfortable lying on the sheep. This is useful for when there is a bottleneck getting the sheep into a gate. The dog can run up ahead, and force the sheep to move through the gate. Then the audience moves outside. We see a demonstration of two different types of dogs rounding up the sheep. I really enjoy the Agrodome. When Gail introduced this stop, I feared it would be quite touristy. However, I find it to be more educational.
After the Agrodome, we move on to the final stop of the afternoon, Rainbow Springs. Here we see rainbow trout in various stages of development. We also view many of the native birds and plants of New Zealand. The highlight is supposed to be a display of Kiwi. Because Kiwi are a nocturnal bird, it is quite dark and hard to find them. Most have their backs facing us. It is disappointing, although we learn that they are a rather large size for a bird.
We take a scenic drive to the hotel, passing a lake with black swan, ducks, and sea gulls. Next we drive through some gardens that look picturesque. The hotel is more basic than previous hotels. We have a room set up for people with disabilities. Steve and I nap for a while. I become a bit concerned because Steve says he's cold and I am quite comfortable. Usually its the other way around.
We meet the group for dinner which is to be a traditional hangi (Maori feast) preceded by a visit to a sacred whare hui (a sacred meeting house). Before boarding the bus, we are greeted by Frances, a Maori guide, in the hongi (Maori traditional greeting). She says, "Haewa", shakes our hand, and we touch noses twice. On our drive over the ceremony is carefully explained to us. To follow the Maori tradition, we select a leader, Bob and a song, Zippide Do Da. We will begin with the Te Powhiri Ki Te Manuhiri (a welcoming ritual) in which Bob will lead the group in, and represent us in the taki (ceremonial challenge). First he comes face to face with the Maori representative. The Maori warrior will make ugly faces, then place something on the ground. If Bob picks it up with the correct hand, that means we have come in peace and can enter the marae. The marae is the open area in front of the whare hui. From the marae, we enter the building. Bob enters first, the women next, and finally the men. Before entering, we remove our shoes out of respect. It is likely that I will need assistance to participate. Steve and I decide that I will be the last woman off the bus and he will be the first man.
Upon disembarking, I'm told to go up front so I can see. So much for our plan, since Steve must stay in the back with the men. Several women in our tour group offer me help but so far I don't need it. I thank them and assure them that I'll ask if I need assistance. After some wait, the warrior approaches Bob, waving a weapon. The warrior puts something on the ground and Bob picks it up. The group proceeds through the field towards the marae. Hokoko, a woman in our group, takes my arm and walks me to the marae. There is an one and a half foot wall around it. This presents a problem for me. Several women try to help, and finally we come up with a way to get me over. I begin to say something about needing help with my shoes but by that time Steve is at my side and he helps me.
Once through the entrance of the whare hui, our guide motions me to a near seat. Usually the women go to the rear but by the time I enter, the rear is almost full so I can sit in the third row. The men take the first two rows and the ceremony begins. Tom, the Maori leader, says a mihi (welcoming speech) in Maori from the Taumata Tapu (threshold which is almost like an altar). Bob gives a short speech about our group. We sing our waiata (song), then the Maori sing theirs. Next a few of our group and the other tour group exchange the hongi (traditional Maori greeting) with Tom and the warrior. The ceremony ends with poroporoaki (farewell speeches of thanks and prayer).
Afterwards, the warrior explains the ceremony and a bit about Maori tradition. I had a hard time understanding him between his fast speech and accent. Steve said it was obvious he was not an experienced speaker and he could have made a better presentation.
Next we go to where most of the dinner has been cooked, a clay oven in the ground. The dinner had been buried and cooked. We watch it being taken out. It reminds us of the technique Hawaiians use to cook their luau pigs. However, it becomes dark quickly, so we can see very little. Dinner is a buffet and quite good. Afterwards we see a show of seven Maori performers. They sing and dance traditional songs and war chants. It is entertaining, without the polish of being touristy.
Steve has a fever when we arrive back at our hotel. He informs me that he had chills throughout the evening. I pray that he would be over it by morning.
Friday March 21, 1997.
Maori Thermal Village to Christchurch
Picture: Maori Good Luck Gate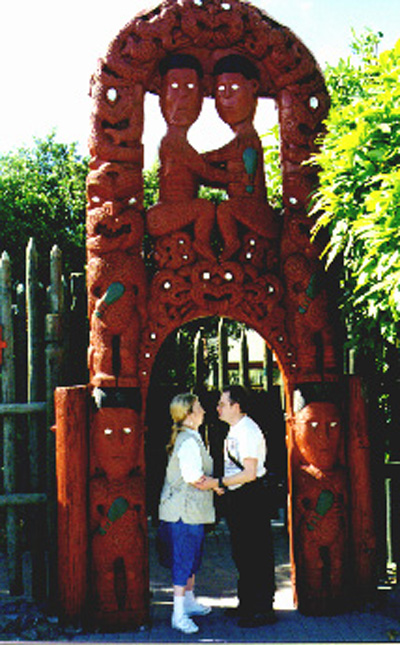 We have a late gathering time of 10:00 a.m. Steve is feeling better, just a bit weak. Our first stop is the Maori Arts and Crafts Institute, Te Whakarewarewatangaoteopetauaawahiao. For short, it's called Whaka and means gathering around the war forces of Wahiao.
We are greeted with the traditional greeting. This morning, a rather large man who says "Haewa", shakes our hand, and we touch noses twice. Then we meet our guide Ramona. First we walk through a work room. Then we stop at a finished carving and Ramona provides us with some background. There is a woodworking and weaving school on the premises. To qualify for the woodworking school, one has to be male, and have traceable Maori blood, even if it's only a very small amount. Carvings represent ancestors. Ancestors watch over the tribe. There are four major tribes. Each one has its distinct unique features which the carvers incorporate into the carving, such as fingers or body stance. The eyes are shells and are the last feature to be added.
We move on to a weaving display. Long thin green leaves are used for each of the round pieces of the skirt. First an exacto knife is used to make horizontal cuts in the leaf. Then an old shell tool is used to remove the green in appropriate parts of the leaf. This makes what's called flax. Its a stringy gold fiber. We can see the patterns of the skirt forming. When the leaf dries, it will form the round tube-like pieces of the skirt. (If you imagine the grass skirts of Hawaii, these are shorter. Instead of being soft grass, the pieces which hang down are stiff like straw and thick hollow tubes.) The green will turn brown and then be dyed black. The top is woven with other pieces to form the garment. It takes about four weeks to make this skirt.
The weaving school is open to anyone interested. Students can also make capes into which feathers are woven. This takes several months. At the present time, birds are protected, so their feathers are no longer used. I find this presentation very interesting, perhaps because I enjoy crafts.
Next we see a marae, the place of worship. We visit a kiwi exhibit. The birds are much more visible today. We move on to the geysers and thermal pools. Steve and I are not impressed. This is not an active time for the geysers and we saw more activity when we visited Japan. A cemetery is located in the middle of the pools. Finally we see a working Maori village. There are communal stones and baths. We purchase a piece of sweet corn, steamed in the thermal water. It is good, but no better than fresh New Jersey corn. The center is an interesting stop but I feel a bit rushed through the pools and the village.
There is still some time left before we have to be at the airport so Gail takes us to a place "few tourists see". It is a small forest of redwoods and sequoia trees. The walking appears rough so I stay on the bus and Steve takes the walk. When he returns, he says that the bark is not very strong, as in the U.S. Apparently that's what happens when these types of trees are imported to New Zealand.
From here we go to the airport. To board the plane, I am offered the use of a lift but the stairs aren't bad so I climb them. Once we arrive in Christchurch, Gail picks up our bags. Its nice not to have to worry about our luggage.
We meet our new driver/guide, John. He gives us a driving tour around the city finishing at the Botanic Gardens. His commentary is interesting. The city was first settled by the English Church. Immigration was controlled by requiring high credentials to obtain passage on a ship. However, soon word about how beautiful the area was got out to the general population and groups chartered their own ships.
Christchurch is called the Garden City. The most favorable area in which to live is close to the airport. Average houses cost approximately $165,000. They have three bedrooms and one bath. Only new modern homes have more than one bathroom. As we circle Hadley Park, John says that currently Christchurch has a very progressive city council, led by a female mayor. They have brought in a lot of entertaining outdoor shows that are held in the park.
Former university buildings and the Canterbury museum border the Botanic Gardens. After photographing the former, we enter the latter. It is threatening rain so we decide to use our brief time here for an indoor activity. There is no charge but we gladly make the requested $5 donation. The first section contains Moa skeletons and displays of Mariori, the first inhabitants of New Zealand. In my opinion, these are the most interesting exhibits we visit. Steve tries a device with a camera which magnifies some lizards. The other exhibits we see on whalers, European settlers, and pottery are repetitive. Unfortunately, we did not find the Antarctica exhibit.
Next we walk to Cathedral square. By this time it has started to rain. We walk around the cathedral. Unfortunately we don't have enough time for Steve to climb the spire. Back on the bus, John drives us up a mountain on the outskirts of the city. It is quite picturesque. He explains that its against the law for trees to grow higher than the road. This maintains the view from the overlook.
When we are dropped off at the hotel, Gail gives us a city map and a list of recommended restaurants. We take a nap, and choose a seafood restaurant, "The Landing". It's a few blocks from the hotel. On our way to the restaurant, we hear a band coming towards us. We move to the side and watch a Hari Chrishna group pass. When we reach the restaurant, we know there will be a few stairs. Steve goes up to check that they could seat us. When he returns, he says they can seat us but the restaurant is two flights up. Steve begins helping me climb the stairs and will go back for the chair later. However before we reach the top, someone carries it up for us. In general we are finding people, both on and off the tour, most helpful. I enjoy my gontur dish very much. Steve says his grouper is fine but he is suffering from a craving for Malaysian food for which we had seen a sign on the walk over. However, he is pleasantly surprised when we get back to the hotel room. The original Star Trek movie is on.
Saturday March 22, 1997.
Tranz Alpine Express Train to Franz Josef
Picture: Franz Josef Glacier from Helicopter
This morning we have an earlier start because we are catching the Tranz Alpine Express Train to Franz Josef. I'm expecting to write for the first two non-scenic hours however the train is quite rocky so I can only write at stops. Luckily there are quite a few stops. The engineer points out places of interest but there is so much background noise that it's quite difficult to hear him. As we start to get into the scenic area, we see lots of sheep, cows, rivers and mountains.
The railroad on which we're traveling is used primarily to transport coal mined on the west side of the island to Christchurch. The coal is exported from the east side. There is a luncheon menu at our seats. Steve decides to have a delicacy from the area in which we are traveling, white bait. It's small baby fish caught in a net. When not caught, they mature into three types of trout.
Disembarking the train is tricky. Steve gets me down the first step but there is a huge step to reach the ground. A staff member of the railroad lifts me down. Our tour guide/driver meets us with my wheelchair. There is another tour group whose luggage is cluttering the ramp. I am about to get out of the wheelchair when a railroad station employee says to Steve, "Give me the chair. I'll get her through." He does. Later he says to us, "you have to make them move."
We head out on a 40 minute drive to Hoketica. John provides a running commentary on the area through which we're passing. We ride over two auto-rail bridges. These are single lane bridges which are used by both trains and automobiles. When he was young they were very common but now there are only these two remaining.
This part of the country is called The Coast. It was made famous by the discovery of gold. In the northern part, gold mining is done on beaches. When the rivers carry out the gold, it's mixed in with iron. Copper plates capture both metals. When heated, the metals separate and the gold is kept. Several of the small towns through which we pass sprung up to support gold mining. Gold is shipped from the area by sail boat.
At Hoketica, Steve and I shop. We purchase jewelry and our chachka. We decide on a Maori wood carving. I am pleased with our purchases and happy that we have completed buying approximately one-third of the gifts we want to bring home. In New Zealand, jade is called greenstone. It is found within 40 miles of Hoketica. Hoketica is supposed to be the best place to purchase greenstone (and we do!). I also purchase my New Zealand earrings. I have been wanting to find some paua. This is shell from a shellfish found only in New Zealand shore waters. Divers retrieve it. After the fish is removed the shell is cleaned. Processing brings out the many hues of blue green which makes beautiful jewelry. I am so taken with it that I purchase earrings for me and a pair for my sister.
Back on the bus we have an hour drive to Franz Josef. We should just make our helicopter ride at 4 PM. Gail has called ahead and learned that weather conditions are right to go this evening. If we don't go today, not only do we have a chance of poor conditions tomorrow but we'd have to get up at 4 am. Being a non-morning person, I am really hoping we make it to Franz Josef in time to go this evening.
New Zealand was formed by the smashing of two geological plates. This resulted in the formation of the Southern Alps mountain range which runs the length of the south island. The island experiences many earthquakes but most aren't even felt. A few years ago there were two that scored high on the Richter scale. Seven people were killed.
We pass through several small towns and by some glacier formed lakes. The lakes appear very dark. John explains that this is because the fronzes of fern leech into slow running rivers. The rivers then empty into the lakes. We are stopped for a few minutes by a New Zealand traffic jam-cattle cross the road and hold back traffic. We see many rocks that have quite a bit of red color. Steve and I guess that this is due to iron. Later we learn that it's actually a basic plant. The chlorophyll is on the inside of the plant. When it's broken open, one sees green.
We reach Franz Josef. We have missed our 4 PM appointment. We're happy to learn that the helicopter can take us at 4:30. On the bus, we ride to the bottom of the glacier. John provides some background. The glacier moves everyday. It's 7.5 miles long, 700 feet thick at the top and 300 feet at the base. We only spend a short time looking at the base. Tomorrow we will be back to get a closer view. I am delighted to see this structure just flowing down with the mountains that are on either side of it.
Gail has told the helicopter staff of my special needs. While our group (only 9 of us are taking the trip) walks to the helicopter pad, Steve and I ride in a van. Dave, a senior staff member (possibly the owner) offers to fly up with us and get me out at the top. I had planned to remain in the chopper. He says that's I'd be missing a great opportunity. When I protest and am concerned that I'm imposing, he says this gives him a good excuse to go up.
Our chopper takes off with 6 passengers and the pilot. If I describe the flight up as breathtaking, then being on top is indescribable. Later someone said it was like being on top of the world!! Dave lifts me in and out of the helicopter with ease. It's snowy on top, there's what I estimate to be an inch and a half. Yet it's quite warm and I am comfortable. Steve and Dave hold my arms as I walk out from the helicopter. Once I'm steady, they wander away. Much to my dismay, Steve goes to what looks like the edge. Later he assures me that it was not. Another helicopter arrives and it becomes quite windy as it lands. Dave takes my arm to stabilize me. A friendly snowball fight breaks out between several people including the other helicopter pilot, Dave and the two pilots from our company. I get hit in the crossfire but I'm fine. Meanwhile both Steve and I take many pictures. During the flight back, we see a number of crevasses. Crevasses form because the ice flows faster in the center than on the sides. It's amazing; this mountain of ice just formed between all of these mountains of land.
We land and proceed to the hotel. About 40 minutes later we meet our group for drinks and dinner. We sit with a couple, Victor and Lois. Victor is retired but has started a computer printing business. The conversation turn to the Internet and Java. I am not surprised when it doesn't turn back.
Sunday March 23, 1997.
Franz Josef to Queenstown
Picture: Fox Glacier & Mt. Cook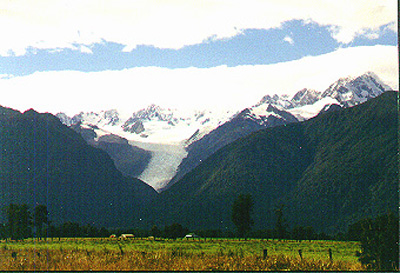 We get up at 6:00 a.m. and leave at 7:50 a.m. so the tour group can walk out to the foot of the glacier. It is a very rocky walk so I stay on the bus and write. Unfortunately, the bus has to move to a parking area so I can't even watch the glacier as I write.
Back on the bus, John continues his commentary. What we call forests, people from New Zealand and Australia call bush. We stop at a scenic lookout to see Fox Glacier, Mt. Cook and the surrounding mountain range. These mountains are very young. Mt. Cook is rising 1/2 inch each year. It is currently the tallest mountain in the group but it won't always be. Close up Fox Glacier is not as "pretty" as Franz Joseph, especially at the bottom. It carries a lot of rock down to the bottom. However, from a distance we find it was very scenic and a nice stop.
John explains the beginning of deer farming. New Zealand doesn't have any native, four-legged animals. Deer were a gift from the British. President Teddy Roosevelt gave New Zealand Canadian Elk and the two species were cross bred. In the 1930's the deer population was so large that the government paid hunters for each deer they shot. In the 1960's West Germany wanted to import venison and paid nicely for it. Hunters began using helicopters to hunt deer. Therefore, deer started staying in the bush instead of open areas. This helped curtail the erosion problem in the mountains because the deer no longer climbed above the tree line, loosening dirt and rocks.
Farmers wanted a piece of the profit. However, its illegal to raise non-native animals so they petitioned the government to allow deer farming. Once approval was received, they hired helicopter hunters to capture live deer so they could develop breeding stock. In the beginning, a doe cost NZ$3,500. Today the cost is NZ$250. Venison is called "servina". Its less gamey than wild deer and has the lowest fat content of red meat.
We travel through Haast Pass where rock slides are a big problem. Charles Haast was the first European through the past so it was named after him. The Maori had used it to obtain greenstone from the west part of the country. We see many waterfalls. We follow Mankarora River down the mountains and stop for lunch at a roadside café. After lunch we ride along side two glacier carved lakes, Wanaka and Hawea. They seem very large to us at 25 miles long. We're told that they are small especially compared to what we will see tomorrow. The scenery around both lakes is fantastic. The lakes are too cold for swimming.
We pass our first deer farm. By this time the mountains are mostly brown. We pass some vineyards and John says a few things about wine. All I could record was that New Zealand has excellent white wines and Australia has excellent red wines. We arrive at the first commercial bungy jumping site. It's in Queenstown, a 143 foot bridge over the Shotover River. We watch three jumpers, all are women.
Back on the bus, John gives us some history of gold in this area. The first gold was found on the beaches of the Shotover River in May 1846 by two sheep men on their day off. The Shotover has produced more gold than any other river in New Zealand.
As we drive into the center of Queenstown, John points out his development as we drive into town. He takes us on a quick tour of the four block town center. He points out the Remarkables, a mountain range behind the lake which were so named because at sunset they turn remarkable colors. We see many shops, Johns points out a food court close to our hotel, he shows us a good pub in which to have a beer. He advises us to ask for Wapatok Gold if we're looking for a good local beer. Steve and I agree we'll give it a try.
After a short rest, Steve and I head out for dinner. We walk around town, checking out menus and finally decide on the Moa. It has dinners and tapas (we tried tapas in Barcelona, Spain and enjoyed them very much). We order two tapas, eggplant and coconut shrimp rice, and one dinner, servina and Moa hash. There are two local Rieslings (my favorite wine) on the wine list so we order the one that the waitress says is lighter, Chard Farm, 1996, from a Queenstown winery. For desert we order a berry pudding and Moa coffee. Moa coffee is Gran Manier, brandy and kalua. We enjoy everything, but are quite disappointed that the portion of servina was very small.
Back at the hotel, we do our wash and go to bed early. Tomorrow we leave quite early for Milford Sound.
Monday March 24, 1997
Milford Sound
Picture: Milford Sound from Tasman Sea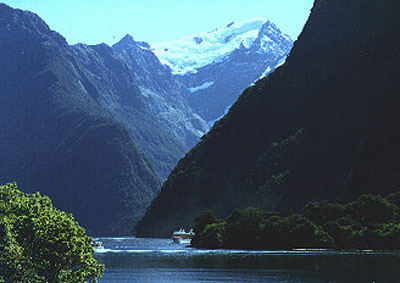 Meeting time is 6:45 a.m.! Gail says she chose this hour to get ahead of all the traffic, especially other tour groups, which leave at 7 am. Later in the day, we realize that she made a worthwhile choice. After town, we ride past Te Anau Lake which is bigger than the lakes we saw yesterday. It's the second largest lake in New Zealand. The water in this lake rises and falls but no one has been able to determine the reason. There is a Maori legend that says a giant was killed and that formed the lake. (It was actually formed by a huge glacier.) His heart still pumps, making the lake rise and fall.
John talks for quite awhile about sheep farming and breeding but I'm too sleepy to get most of it. A sheep farm has about 300 ewes. Each ewe is assisted with birthing during her first year. After that, she's on her own. If she needs help the second year, the farmer will sell her.
Milford Sound should really be called Milford Fjord. It is not a sound. Its a World Heritage Park called Fjiordland National Park. John tells us that the mountains of the Milford Sound area are not that high when considered in context of other ranges. Their phenomenal attribute is that they rise straight up from sea level. Its the wettest area of New Zealand, raining two thirds of the time, from 300 to 700 inches a year. We are extremely lucky to have a beautiful, sunny day.
We stop several times on the way into Milford Sound. At most I don't get off the bus, so Steve takes my camera. The first stop is Mirror Lake, its just like a mirror, reflecting all above it. Lake Gun, the next stop, is also much like a mirror. Pots Cliff is named after a man who met his death at this deep fall while attempting to clear the roadway. Falls Creek is a waterfall into the creek.
There was an interesting ice formation just outside of Homer Tunnel (the tunnel one must go through to get to Milford Sound). It looks just like a cave. There's an interesting story about how Homer Tunnel came to be. A New Zealand government official challenged Homer to come up with a plan for a roadway to Milford Sound. After considering several possibilities, Homer chose to construct a tunnel. Construction began in 1936 but was halted during World War II. It was completed in 1947. The tunnel is 3/4 miles long. After the initial concrete entrance, and before the same type of exit, the walls are carved from the mountain rock. It has never been paved, there is no reason to do so since the natural floor is very hard.
Our next stop is at a chasm. Gail tells me to get off here. Its an uphill walk and Gail pushes me with Steve pulling from the front. Nature has carved downwards holes in the stone. In some places water is tricking over the stones. It is beautiful but a bit dark so we are unsure if our photos will turn out. John pushes me back. It was a bumpy trip! Next we stop for lunch. There is a beautiful view of Milford Sound from the parking lot. We hope our pictures capture it. We become more excited about our afternoon cruise. Lunch is good, we try to eat lightly, with only some success.
Gail arranges for Steve and me to board early so we can climb the two flights of stairs to the top most level. The stairs aren't too bad, it is sunny on top, but cool. It is worth the climb! Once the boat trip begins, the Captain comments on different phenomenon as we pass by. Milford Sound was formed during an ice age, when glaciers cut vertical canyons. The glaciers melted gradually, receding as the Earth warmed. The fjord area is more than 500 million years old. There have been 20 ice ages in World history, but only five have been glacial.
We sailed from the dock, through the Fjords, out to Tasman Sea and back. The Captain explains that the mountains are covered by a rain forest. There are two types of avalanches in this area, snow and tree. Tree avalanches are serious and not uncommon. Since trees hang on to the rocky surface of the mountain, their roots are not deep. The avalanches occur with heavy rain. It begins when a single tree becomes dislodged. As it falls downhill, it drags increasing numbers of trees with it. We see several bare places where they have occurred recently. It takes from 90 to 130 years for tree coverage to grow back. The bare area must go through a full biological cycle from lichen to trees.
Steve and I get up to have our picture taken. Afterwards a Japanese man approaches us and hands Steve his camera, saying "wife, wife". As I start to leave, he points to me. Steve said, "Yes, she's my wife". The man put his arm around me and it becomes apparent that he wants his picture taken with me. Later, Gail tells us that Japanese men like to have their pictures taken with Western women, especially blondes.
On the way to the Tasman Sea we pass many fur seals, sunning themselves on rocks. On the return trip, we sail into Silvers Falls. It is a picturesque waterfall with a great deal of water. There is a significant spray as we pass. When we dock, as Steve and I wait to disembark, I remark that this had been a wonderful trip! It was my first time seeing fjords and I am quite impressed. Steve had seen fjords before in Scandinavia, but he enjoyed the trip.
The bus trip back to Queenstown is approximately 2 3/4 hours. Gail does not let us sleep until we reach the other side of the tunnel. She is correct, the scenery is too beautiful to be missed. As we near Queenstown, we pass many deer farm. At one farm, John is able to pull the bus over and we take pictures. We hit another New Zealand traffic jam. This time a herd of sheep is crossing the road.
Back in Queenstown, Steve and I take a rest before heading out for dinner. Lonely Planet had given the Stonewall Café a good write up so we decide to find it. We check the menu before entering and it looks interesting. I have seafood curry and Steve has lamb shank. Both are delicious and their garlic bread is wonderful. Bread is considered an appetizer. In New Zealand, it is listed as an "Entree" which is the term for appetizer. One orders it and pays for it separately. The restaurant has an old stonewall running through it. Our waitress tells us that this group of buildings will soon be remodeled. The stonewall cannot be removed because of its historical value.
Tuesday, March 25, 1997.
Queenstown
Picture: Jet Boat on Shotover River
We sleep until 8 a.m.! What a treat!! At 10 a.m., we meet our group in the lobby and wait for the shuttle bus to take us to the Shotover Jet boat ride. When it arrives, the driver said that I won't need my wheelchair explaining that a shuttle can take us back here, to our pickup stop. Gail, who will remain at the hotel, says she'll get it put in our room. As the shuttle pulls away, she is sitting comfortably in my wheelchair and waves good-bye to us. Everyone has a good laugh and a few of us take an interesting photograph.
When we arrive at the dock we don a long raincoat and life vest. Steve lifts me into the boat easily. The boat driver gives us two instructions, do not extend our arms outside the boat and when he circles the air with his hand, grab the safety bar and hold on. The latter signal means we're about to make a 360 degree turn. I decide to hold the bar throughout the ride.
We take off. It is extremely bumpy and we go very close to the rocks, stone walls (we are in a canyon) and whatever else protrudes into the water. No real surprise! Then we do our first 360. I am a bit concerned with my ability to hang onto the safety bar, but do OK. We really shift from side to side throughout the turn. The driver stops and asked us how we all liked it. He explains some points of Jet Boating. We take off again. After the ride, Steve says that I was panting on the second turn. I don't remember that. I remember being a little more uncomfortable than I was on the first turn. One more 360 and the ride was over.
Back at the dock, a deed that is meant to assist us turns into a disaster. The boat driver attempts to help Steve lift me out of the boat. He takes my arm. We don't think to instruct him on how to help me in a way that won't hurt me. I can't lift my arms above my shoulders. Taking it from below the shoulder forces it to raise in a painful manner. That's what happens, it hurt and I scream. Someone in our tour group comments that I turned white (I was trying hard not to scream). After a while the worst pain subsides but I feel bad for having screamed. The driver is very apologetic.
Steve and I attempt to take some photos of Jet Boats speeding passed us. We'll see what comes out. I am glad that I tried Jet Boating but conclude that it isn't for me. I was more scared than anything else. I decide that it's an activity I will pass by in the future. Steve enjoyed the boat ride and he was in an outside seat as we skimmed the canyon walls!
A while later a shuttle comes to the dock site and picks us up. A few people from our tour board at the next stop. Steve tells the driver the name of our hotel. She is not happy about dropping us off there. She stops at a hotel with a similar name and makes a nasty comment to Steve when he informs her that it was the other Park Royal Hotel.
We plan to take a rest and do some laundry on our we return to the hotel but our room is not made up. We decide to do some shopping and rest on the beach. This is a nice end to our morning. Later we return to our hotel room, eat some food we had collected during the prior week, do laundry and take a rest.
We head back out around 3 p.m. to Queenstown Gardens, a park on the peninsula behind our hotel. We follow the shorter path to the Rose Garden. It is a peaceful, relaxing place. After walking through the Rose Garden, we view a few monuments. One is to Antarctica Explorers who had perished during their exploration trip. Steve goes back to get my wheelchair which we had left at the beginning of the Rose garden. Soon the paved path turns to unpaved so I keep walking. By the time we get back to the pavement, I have done a few hills and was quite happy to ride again. We pass a time capsule buried in 1990.
Next we stop at McNeill's Brewery & Bar, the beer garden/restaurant that John had recommended for local beer. We each enjoy a Wakatipu Gold. We decide to try the H.M.S. Britannia for dinner, as it was recommended by both Gail and Lonely Planet. We arrive 10 minutes before it opens so we go around the block to see pictures from our morning Jet Boat ride. They aren't great and are expensive so we decide not to purchase them.
H.M.S. Britannia is up a flight of stairs but worth the climb! I have seafood chowder and prawns. Steve has crayfish and boulabase. The bar tender offers us help with the wheelchair on the way back down. He won't take no for an answer. At the bottom of the stairs, he strikes up a conversation saying he is from Wales traveling around the world. So far he's been away five months.
We meet two people from our trip at the restaurant, Ernie and Gazelle. They say that they were going to have pizza for dinner but another tour member had advised them against it. When they checked the ingredients, they agreed and came to H.M.S. Britannia.
Back at the hotel, I write my Mother and Aunt a note suggesting what they'll enjoy during their stay in Queenstown. I emphasize Milford Sound, recommend H.M.S. Britannia and Stonewall Café. While we enjoyed the Moa, of the three restaurants, Steve and I agree that this is a bit exotic for their tastes. I also recommend Queenstown Gardens for a nice walk.
Wednesday, March 26, 1997.
Travel Day: Queenstown to Christchurch to Sydney
We're up a bit early today because we travel to Australia! John drops us off at the Queenstown airport and we say good-bye to him. First we fly to Christchurch. There is a museum on Antarctica a few blocks from the airport. We have a three hour layover so Gail organizes an optional tour there. It is interesting and the time goes fast. Several of the exhibits demonstrate the Antarctica environment. The first shows the seasons focusing on the lack of sunlight. The next shows temperature extremes and has snow simulation. Steve enters that and I watch. He slides down an ice hut which has been set up for that purpose. The remainder of the exhibits deal with life on the fifth largest continent. There is a comical video on the antics of penguins and several exhibits about sea life.
Back at the airport we receive our boarding passes from Gail, go through passport control and security. As I write, we're now in the air somewhere between Christchurch and Sydney! We enjoyed New Zealand however, in retrospect especially the North Island is a lot like some of the beautiful places we have in the U.S. The South Island was our favorite of the two islands. Our flight to the glacier was a most exhilarating experience. I highly recommend Milford Sound.
We arrive in Sydney and go through the usual passport and customs clearance. Our drive to the hotel is approximately a 1/2 hour because it is in the middle of "peak" hour (rush hour). Gail gives the commentary. A US aircraft carrier is docked at the harbour so we see many, many sailors. Gail points out some sites that she wants us to be sure we visit. She also points out the Paddington section which she tells us that many Americans say is a lot like New Orleans. Having just been to New Orleans last December, we agree. Steve asks if the roofs are real tile. Gail says yes, Aussies usually have tile roofs, brick houses and aluminum windows. This means that the outside of their houses require little or no maintenance. I think that's a wonderful idea!
Gail invites anyone interested to join her on a walk to the harbour. She will walk people there and then they can go their own way and meander back to the hotel. She will provide everyone with a reliable map. I feel as if I'm coming down with a cold so I reluctantly decide not to go. Steve helps me settle in for a nap and heads out with the group. He promises to come "right back". I tell him to take his time and, at least, find a place for us to have dinner. Later, he reports that he was coming "right back", but ran into a street juggler that was quite good. The act lasted for a 1/2 hour.
When he returns, we head out to a Chinese restaurant that he found. It is quite good, although a bit expensive for Chinese at least by our standards. I have Won Ton Soup, Seafood in a Basket and a local beer. Gail had told us that beer was good for a cold. She qualified it by adding that "Aussies believe beer is good for everything". Steve has crab, corn soup, curry prawns and a grasshopper (drink).
Thursday, March 27, 1997.
Sydney City Tour
Picture: Sydney Opera House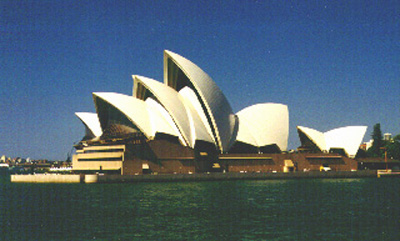 Thursday morning is our city tour. Brian is our guide/driver. We head down to "the Rocks", so named because this part of Sydney was built on a rocky piece of land. This is the oldest part of the city. On the 26th of January 1788, the first European ships carrying settlers landed here. There were 11 ships. Half of the passengers were prisoners, approximately 750 men and women. Most of the other half were service men: 400 sailors, four companies of marines and enough livestock and supplies for two years.
As we pass historically significant buildings, Brian informs us of their background. The Lord Nelson Hotel is the oldest pub, built in 1842. This is where the word "shanghaied" originated. When a man became so inebriated that he passed out, he would be "shanghaied" or taken out to sea to a ship in need of sailors. He would have to serve as a crew member of that ship until it returned to Sydney which was often years later.
We pass buildings with windows painted on them. This was done because when these buildings were constructed, there was a tax on glass. Therefore the only real windows installed were those required to provide light. The remainder were painted on according to the owner's decorative taste.
Sydney was the biggest slum of Australia through the turn of the nineteenth century. At that time the governor of New South Wales, Macquarie, had a vision that Sydney could become a great city. He began the work to make it so.
Brian points out there is good conservation of old buildings. The former treasury building has the origin facade with skyscrapers coming out of the middle. We pass the state library which houses the original journal of Captain Bligh. After the Mutiny of the Bounty Incident, he was the governor of NSW in the early 1800s. We pass many government buildings.
We reach Circular Quay and Mrs. Macquarie's chair. She was the wife of the governor and a bit homesick. She often came down to this point of the harbour to sit and contemplate life. She also waited for the arrival of ships with news from home. A chair was carved for her out of rock at this point. Our tour group goes down to see the chair and take photographs from that vantage point. It is down a large number of stairs so Gail suggests that I stay with her. She pushes me over to the place where the group will meet. From here, there is a beautiful view of the Sydney Opera House!
We wait there for the Globus photographer to come and take the group photograph. The photo will be a gift from Globus. As our group begins to meander back, Gail takes pictures of us with our personal cameras. I am anxious for Steve to get back because I want one of us at this beautiful site. As usual, he is almost last but a friend takes our picture. Finally the Globus photographer arrives. He is very particular about posing us. We learn from him that there is much less glare from eyeglasses if the wearer tilts his/her head down. This will come in handy in our photography.
From city center, we head off to the outer areas of Sydney. We pass St. Mary's Cathedral, the sixth largest catholic cathedral in the world. Its design is based on an English catholic cathedral, although one external wall is similar to Notre Dame. Many Irish Catholics were sent to Australia as British prisoners. However, it wasn't until relatively late that money was allocated to build Catholic churches.
Brian talks about the US battleship in the harbour, explaining that its there for US/Australian maneuvers. The only attack on Australia was in 1942 when the US Chicago was anchored in its harbour. The Japanese sent three midget submarines into the harbour to attack the ship. All torpedoes missed their intended target, however one hit a ferry being used for military housing and eleven men died.
We rode through Wooloomoolei, a suburb in Sydney. The name is an Aboriginal word for black kangaroo, an animal which is now extinct. As we pass naval headquarters, Brian informs us that one can identify an Australian ship by the kangaroo painted on the side.
Next we drive through Kings Cross, the red light district of Sydney. There are American flags flying on many buildings as an attempt to attract American sailors to patronize the businesses. In politically correct Australian, prostitutes are currently called "Sex Industry Workers". The word "hooker" is a football position. The Sex Industry is a legal profession in Australia, except in certain places such as churches and schools.
The population of Australia is 18 million. Four million live in Sydney which is 12,000 square kilometers. There are over 100 nationalities in Australia. Today, the largest group of immigrants are Asian people. We drive through Double Bay, the most expensive section of the city. It overlooks Rose Bay, the largest bay of the harbour. Houses with harbour views cost millions of dollars. Regular houses within ten miles of the city cost at least $300,000. We pass through Bondi Beach. Bondi is an aboriginal word for "sounds of waves crashing".
Brian explains more about the prisoners sent to Australia. Prisoners were sent through the 1850's. He tells the story of a typical prisoner. He's a man convicted of cutting and maiming someone's farm animal, probably out of anger. His sentence was seven years imprisonment which was ported to a transportation term on an Australian bound ship. When the ship reached Australia, this man was required to work five years either for a British citizen or in public service. After he finished his sentence, he could return home (paying his own way) or begin a free life in Australia. This man chose to stay in Australia. He married and had a family. At the end of the story, Brian informs us that this was Brian's great-great-great-grandfather. This is a common family heritage for many Australians.
We pass a beach on which the lifeguards have posted red and yellow flags, as markers of the safest places to swim. All Sydney beaches are white sand beaches. The Royal Easter Show is in the city because it is the week before Easter. This is the last year it will be here, next year it will move to the Olympic stadium in a suburb. It is the biggest agriculture show in the country. People from the country show their prize animals, vegetables, baked goods, etc.
Our next stop is the Opera House, where Gail informs Steve and me that we'll have a complete private tour. We are a bit disappointed because we've heard this before on other tours and it often turns out to be far from complete. Sydney Opera House was not designed with people who have disabilities in mind. There are many stairs at every public access point. However our guide is excellent and later when we speak with the rest of our tour group, we are satisfied that we did see everything they saw (and perhaps more).
We find the historical story of the Opera house quite fascinating. The idea of the Opera House came to a Sydney government official in the 1950's. He convinced the governor that the structure should be built and an international contest for the design was held. Danish architect Jorn Utzon was chosen as the winner in 1959. He had never been to Australia but did extensive research on the site before submitting his entry. It took 14 years and $1.2 million to build. Initially it was funded by donations. When the donations were spent, an Opera House lottery was implemented. Construction was riddled with problems.
There were three phases of the construction spanning 14 years. First, in four years, the podium was built. In the second stage, the shells were built. This required much planning and re-planning to construct them according to Utzon's design. When completed, it was determined that the podium could not support the shells so the podium was torn down and rebuilt. In the middle of this, the government was replaced. There was much strife between Utzon and the new government. Utzon quit in 1966 and work on the Opera House ceased for 1 1/3 years while the government searched for new architects. In 1973, the interior was finally completed with the new architects design. The first performance was, appropriately, "War and Peace". It's a sad fact that Utzon never saw the beautiful completed opera house.
Our tour begins on the lower level and we work our way up. First we visit the smallest theatre, originally constructed for chamber music. In the 1970's chamber music was not very popular so this theatre was an adequate size. When chamber music became popular, performances were moved upstairs where a larger capacity could be seated. Then surfing movies were shown in the smaller theatre. Now plays are staged here. It has a small stage, so the sets must be simple. Next we visit the playhouse. This has a larger stage where full sets can be used.
We progress to the upper level. To get to the performance halls without climbing stairs, we had to travel through the "Green Room". This is the cafeteria and lounge where performers eat and spend their free time between rehearsals and performances. We don't see any performers, at least we don't recognize any.
Once on the upper level, we visit the Concert Hall. Rehearsal for the Easter show "St. Matthew's Passion" is underway. We quietly watch for a few minutes. The hall was designed primarily for orchestras, so acoustics is the focus. The walls are wood and very smooth. Our guide tells us that when the room was completed, everyone could hear perfectly except for the musicians in the orchestra. To compensate, plastic acoustic rings were suspended above the performers heads enabling the sound to reflect down on them. There is a beautiful 10,500 pipe organ on the front wall.
We visit the opera hall! The ballet is rehearsing here and we watch for several minutes. Our guide takes us to the front steps and explains that Utzon loved stairs because he wanted the audience to feel like they were leaving their problems behind as they ascended the stairs. I think to myself that this is a wonderful idea but a beautiful ramp could have been designed to fit in the same space and allow everyone access. Our tour is not yet here, so we spend our waiting time photographing the Opera House.
Next we take a luncheon cruise through the harbour. We get a front seat but unfortunately it was on the left side and the announcer talked mainly about the view from the right side. We cruise up the harbour, loop around and return to the dock. Lunch was unexciting. Before lunch Steve took my camera upstairs but afterwards he left it with me. Taking pictures from where I was sitting, was difficult, because people were always in the way. Finally I got a few shots.
During the cruise, we sit with Fuji and Haroko Fujimoto from our tour. They are a very nice couple. After lunch, Steve and Fuji, go their separate ways both to take pictures. I talk with Haroko asking her how they came to live in Canada. Fuji is a retired professor. He taught physics. After graduating and teaching in Japan for a while, he was offered a position at a University in the United States. From there he moved to England to teach. His final position was in Canada. I am impressed with all of the places they're lived.
After the cruise, a bus takes us into the city to Gemtek, an Opal processing firm. We saw a film presentation that explained the difference between the various techniques of the three types of opals mining black, boulder, and white. It was interesting. Then, of course, they take us into the show room. I looked for earrings but they did not have the type I wear so we look at necklaces. They were very expensive so we moved onto the $7 stick pins. I bought two, hoping to convert them to earrings when we arrive home.
The pre-planned part of our day is finished. Steve and I decide to walk to Hyde Park. Steve wants to see the ANZAC Memorial. This is where Sydney conducts its ANZAC Day services which are comparable to our Memorial Day services. ANZAC is the acronym for Australian New Zealand Army Corps. The park is two blocks long. We enter at the lower block and see quite a few Royal Ibis which roam freely. The Archibald Fountain is close so we go there and shoot a few photos. There is a small but nice rainbow from the fountain water. Then we head up to the ANZAC Memorial. There are many stairs to enter the building so only Steve goes in the building.
As I am waiting for Steve, several elderly women pass me. In other countries to which we have traveled, I in my wheelchair have attracted stares from all sorts of people. In Australia, I notice that the only obvious stares I've received have been from old people, usually bent over women. Several pass me while I sit outside the Memorial waiting for Steve. Although this makes me feel uncomfortably, I try to smile back at them. Steve returns soon because it is almost closing time.
When Steve rejoins me, we consult the map to see if there is anything we want to see close by. The Australian museum is on the border of Hyde Park so we go there. The first entrance we find has steps. Since there is less than an hour to closing we take it. A staff member greets us, informs us of the ramp and gives us a museum map. We view a first floor exhibit on Reproduction of all species then go upstairs (by elevator) to exhibits on the Beginning of the Universe. One exhibit we found very interesting is an interactive exhibit on Characteristics of Living Beings and Common Traits across Classes. We are a bit disappointed that the exhibits we view are not unique to the South Pacific. Unfortunately exhibits on Australia are being renovated so they are closed until Saturday. Leaving the building, we find the ramp without too much trouble even though it's in an out of the way place.
From the museum we walk to the Queen Victoria Building. This is a historic building constructed as a tribute to Queen Victoria. It was about to be torn down but the city tried hard to save it. It was sold and today it is a successful shopping mall. Gail said it is a "must see " because the inside, especially the floors, is piece of art. She told us that shopping in its stores is quite expensive. (Later we learn from my Mother that one can find bargains. And if my Mother who is a conservative non-shopper says that, I would rely on her opinion.) We walk through the first floor looking for a map of the Mall. On the map, we see several restaurants. We decide to have dinner at the Japanese restaurant. The food was good and not too pricey. The inside of the mall is interesting. On each floor, except the bottom, there is an oval cut out so one can look up and see to the roof. I would probably have been more interested in shopping if my cold wasn't bothering me. Steve may consider this a missed blessing since shopping is most often low on his list of preferences.
We return to our hotel early and I go straight to bed. My colds is at its peak.
Friday, March 28, 1997.
Koala Sanctuary & Hawkesbury River Luncheon
Picture: Gray Kangaroo & Baby Koala
We meet a fellow tour member, Bob, on our way to breakfast. He joins us and we share traveling stories. He worked for a chicken supplier and has traveled to Yugoslavia to set up some marketing.
Today's agenda for us is an optional excursion which takes us first to a koala sanctuary in the suburbs of Sydney. The sanctuary gives us hands on experiences with many of Australia's native animals. I shoot almost a whole roll of film here. First we meet a friendly dingo, Australia's wild dog. Next we see a wombat that we have a chance to pet. We are warned to keep our hands behind his head and, especially, away from his mouth. I am surprised that the wombat is larger than I expected.
Then we proceed to meet koalas. The zoo keeper lifts several koalas (one at a time) on to the top railing of a fence, before she finds one that will continue to eat leaves while each of us takes a turn hugging and or petting it. I've heard that their toe nails are very sharp. The zoo keeper leaves no doubt in my mind. While she is in the pen, she is continually marching in place. She explains that if she stands still, the koala will try to climb her legs leaving nasty scratches. Even though each one of us only pets the koala for a second or two, it is a fun experience. The bear seems to not even notice us as it eats its leaves.
Then we meet the gray kangaroos! Gail has kangaroo food and she gives each of us a few pieces. The kangaroos are very friendly. These kangaroos are a bit smaller than the more familiar red kangaroo. This species lives close to the coast. We spend a lot of time here, it is by far my favorite experience. The final part of the guided tour is to see emus. An emu is a large flightless bird, something like an ostrich. Once they realize we have food they are very friendly.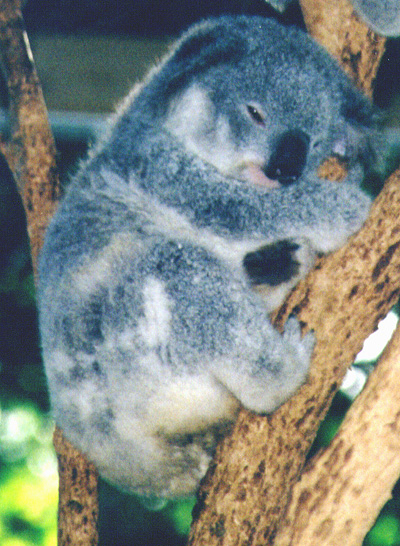 We wander through the sanctuary to an area to see baby koala. They have only been detached from their mother's back and outside in this pen for a few days. These babies are not much smaller than the adults we saw earlier, but much more inactive. Then we happened upon some albino red kangaroo, a friendly swamp wallaby and red kangaroo. There are quite a few birds exhibits. Our visit to the sanctuary is great fun. Most of all, I enjoy the hands on experience. I highly recommend it to anyone traveling to Australia.
Back on the bus, Gail explains the reason Australia has millions of kangaroo. Once a female reaches maturity at approximately two years of age, at any given time, she is able to carry three developing babies in different stages. The initial gestation period is 36 days. Then an embryo the size of a kidney bean leaves the womb and follows a saliva trail to the pouch. The baby attaches to one of two nipples. After four to five months, when it has developed to look like a kangaroo, the baby comes out of the pouch for short intervals. At this point it is called a joey. It lives in the pouch for 12 months. A female kangaroo can suppress womb development or abort a fetus. Unfavorable conditions such as weather would cause an abortion. Kangaroos can live to 20 years. Through most of her adult life, each female carries three babies, thus the abundance of kangaroos. Australia currently markets kangaroo meat to the U.S.A. and Europe. (I wish I knew where I could buy it! But we'll get into that later.)
Next we cruise up the Hawkesbury River, the biggest river in New South Wales. Homes on this part of the river are only accessible by boat. We are served a "cuppa", the Australian abbreviation for a cup of coffee or tea and a "biccie" or biscuit. The area we are going to was settled as a trading post in 1867. In 1900 it was bought as a private home. The current owners bought it in 1982 after running a harbour cruise. They raised a family from there, sending their two sons to school by boat. We are served a delicious bar-be-que lunch. Usually they only serve steak but since today is Good Friday, we have a choice of fish or steak. I choose the former, Steve choices the latter. We are both very happy with our picks. One son entertains us with a guitar and an Aboriginal nose flute, a dijeridu. The afternoon is very enjoyable and somewhat relaxing.
We return to our hotel in mid afternoon. I am tired from my cold so we take a short map. Then we head down to the harbour for an IMAX movie on what is advertised as the largest screen in the world. We are escorted up to the top row and enjoy a 45 minute movie on the Serengeti.
We take the Monorail back to city center. We had no trouble finding the lift (elevator) access to the Monorail. Back at our hotel, we dress "smart casual" for dinner and meet our tour group. We go to a waterfront restaurant. My appetizer includes "Bugs" a shellfish which is a cross between lobster and crab. Gail has been telling us since the beginning of the trip that we'll eat lots of unusual type of food including bugs. We like to try exotic food and although I enjoy the slipper lobster, we are somewhat disappointed that this is the bugs. Most people on our tour are relieved. We eat with Frank and Bev and have a nice dinner.
Saturday, March 29, 1997.
Adelaide
Picture: Old Facade on New Building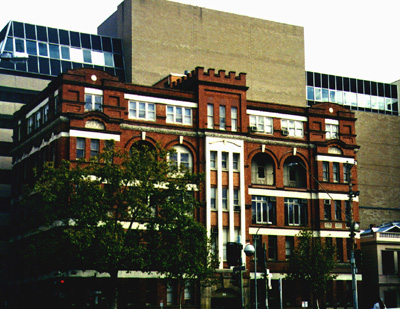 Today we fly to Adelaide. On the way to the airport, Gail gives us a few facts about the Australian government. Canberra is Australia's capital. It is similar to Washington, D.C. in that it is an area designated as a capital. It is considered a territory. Territories receive federal funding. They don't have enough population to generate sufficient taxes to be self funded and achieve statehood.
At age 18 all Australians must register to vote. It is mandatory to vote in elections. Those that don't vote are fined $70 dollars. Australia's flag has the Union Jack in one corner, representing its British heritage. It also has the Southern Cross and a star for each state and one star for both territories.
We arrive in Adelaide and go on a city tour. Our bus driver, Nick, provides the commentary. Adelaide was first settled in 1836. William Light was put in charge. He chose the site because of the availability of fresh water. Many people wanted the city to be on the coast but Light believed that this location was superior. Light's profession was surveying. The original city was one mile square. Each quarter had a square and Victoria Square was in the center. Today the population is 1 million and the city has spread north and south.
South Australia is the driest state. Eighty-five percent of Adelaide's water comes from the Murray River, north of the city. It produces 60% of Australia's wine and 80 % of the world's Opals. We are here on Easter Saturday. Unfortunately for us, the state government declared that all shops close on this day. The small shop keepers were happy with this decision but large stores were dissatisfied. However almost all shops complied.
Heritage is important in Adelaide. It is against the law to destroy old buildings. A tram, installed in 1929, runs from Victoria Square to the shore. The highest building in the city is 32 stories. Current law restricts buildings to 22 stories. South Australia has a very high unemployment rate, at 40 % for young adults. Houses are comparably inexpensive, at less than $100,000 for one located a few kilometers outside the city.
We walk through the botanical gardens and see interesting plants and birds. We see a ginkoba tree. Bob and Steve talk about how they take this herb daily as a mind booster. Even though this is Australia's autumn, we see little fall foliage. Most Australian trees are not deciduous.
Back on the bus we ride through North Adelaide where the expensive homes are located. The Mendiole section has old homes with large plots of land. Across the street that we ride down is a grazing area in which people who ride their horses to work "park" them during the day.
We pass the oldest church in Adelaide, built in 1938. It is Holy Trinity, an Anglican church. After a brief pause at our hotel, we decide to visit the South Australian museum. At the entrance we see a whale exhibit. Inside we obtain a museum map and decide to start on level 5 at the Aboriginal exhibit. We see a video on the tradition/belief origins of the Nungas, the Aboriginal tribe of South Australia. The video is Survival in Our Own Land , by OD Hotter and Stoughton. Then we walk through the exhibits which show details on life style elements, such as food, shelter, medicine and clothing. South Australia had an abundance of food for the Nungas, so there was little fighting between the different clans. We learn that Kangaroo Island, our destination for tomorrow, is significant in their beliefs about what happens after death. Wheelchair access is through an elevator in the gift shop area. The gift shop closes earlier than the museum so we are asked to return to the first floor early. We decide to leave the museum because there is only a brief time until closing.
We take a different route back to the hotel, going down Grouger Street nearby our hotel. This street is known for its many varied types of ethnic restaurants. We love to try different types of ethnic food so we could not be happier with the wide selection. It is a hard decision but we choose Argentina for tonight and Australian for tomorrow. As we pass the Australian restaurant, we see a family from our tour group. They are sitting at a table close to where we pass so we stop and talk. They say that this restaurant is "the best". This is how they have described almost everything on the tour.
Although it's the longer route, we return to the hotel via the Catholic Cathedral. I say a few Easter prayers. We have a short nap before we to go to dinner. The place is crowded and we are happy that I made a "booking" (a reservation). Gail and a fellow Globus guide are there.
We enjoy our dinner at Gouchos very much. Steve has Scotch steak, steak with peppercorn. I have octopus. We share Spanish bread, a bottle of wine and flan. In the middle of our meal, a woman with a basket of long stemmed roses comes to the restaurant. Steve bought a red one for me!
Easter Sunday, March 30, 1997.
Kangaroo Island
Picture: Male Sea Lions Battling for Territory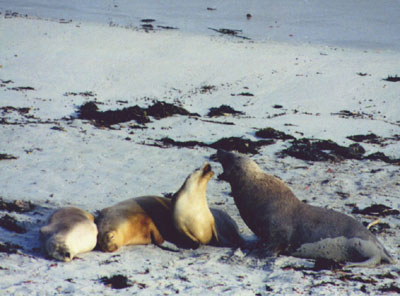 Today's destination is Kangaroo Island. We fly there on a small 48 seat airplane. Gail says that we will see much farmland. This is characteristic of the land west of the Blue Mountains and south of the Outback.
When we reach the Island, we meet our guide/driver, Alwyne, who was raised on the island. The island was discovered in 1802 by Captain Flinders, an Englishman. On board ship in the darkness his crew saw what they thought were moving boulders on the shore. The next day they investigated and found that these were kangaroo. Never having seen a white man, these kangaroo were not afraid. It was quite easy for the men to club a number to death. The crew had their first meal of meat in a long time. Captive Flinders met a French explorer in the bay. They agreed that the Frenchman could chart the Island. As a result many places on the island have French names.
There is also evidence that Aborigines were on the island 2,000 to 5,000 years ago. Whether they lived here is in question because all that has been found is campsites with Aboriginal artifacts. Many places on the island have Aboriginal names. Kangaroo is an Aboriginal word. Captain Cook gave the animal its name when he repeatedly asked Aborigines the name of the animal. They've replied "kangaroo". The word actually means "we don't understand".
Kangaroo Island is the third largest island of Australia. Its population is 4,500 or approximately one person per square kilometer. The largest industry on the island is sheep production for wool, followed by fishing especially for rock lobster. The third largest industry is tourism. Approximately 100,000 to 120,000 people visit each year.
Kangaroos of this island are the west gray species. However because the bush was very thick they evolved to be stronger, smaller and developed thicker fur. There are also wallabies. You can tell a kangaroo from a wallaby because the former is bigger, bolder and dark brown whereas a wallaby is smaller, more timid and light gray. Other wild animals of Kangaroo Island are four types of possum, echidna which is a spiny ant eater, koala bears, many types of lizard, platypus, two types of snake and ferrel cats, goats and pigs. Feral animals are quite a problem because they pass disease and kill stock animals.
The island came to have many farms. After World War II, the South Australian government encouraged soldiers to establish farms. They offered attractive long term loans for land purchase and farm setup. Only two of the original soldier farmer families remain. When farming became less profitable, the others sold their farms. Buyers were other farmers and the Pine Tree Commission which converted their purchases to grow pine trees.
Our first stop is to see caves. Gail advises that this will be too challenging for me so I stay behind with Alwyne who is cooking our lunch. After awhile, I look into the bush just behind our lunch area and see two kangaroo approaching. They stop a few feet away and the smaller one begins to nurse. I am very excited to see this. Alwyne says I can try to pet them so I move towards them slowly and quietly. However when I get about two feet away the mother retreats about four feet. I think to my self, "why did I let Steve take my camera?" Caves can be seen in any country but kangaroo in their natural habitat can only be seen one place in the world. Alwyne tells me the baby is about 18 months. It is about two-thirds the size of the mother kangaroo. Young kangaroo stay with their mothers for approximately 20 months.
Other tourists approach the place I am standing. As they come near, I motion to them to stay quiet. Everybody is impressed. A while later the smaller one stops nursing and lies down for a nap. As our tour group returns, I wave excitedly. Steve knows something is up. However the nursing has already ended and I can only describe what I saw. He isn't quite as excited as I am.
Lunch is delicious, bar-be-qued steak, fish, sausage, salads and sponge cake. After lunch we ride to Flinders Chase National Park. This is 17% of the island. There are many koalas here. Alwyne announces a game in which the first person to spot a koala yells out and it becomes a photo stop. Haroko is the winner. Koala is an Aboriginal word for "no need to drink water". Koalas get all the liquid they need from Eucalyptus leaves. Breeding is much like the Kangaroo in that the initial gestation is 35 days. Then a very small animal climbs to the mother's pouch, attaches to one of two nipples and stays there until it becomes too large for the pouch. Once the baby leaves the pouch, it rides on it's mother's back until it's 12 months old. This explains why the koala babies that we saw at the sanctuary were so large. They weren't really babies, more like toddlers.
Next we ride to Remarkable Rocks by way of winding, dirt roads. It is quite beautiful. The rocks are interesting shapes which were all formed by natures forces. As we ride into the site, Alwyne asks us all what we think one of the rocks looks like. To me it looks like a lion's head. Apparently there is much debate. Another rock looks like an Eagles beak.
The next stop is Admiral Cove where New Zealand fur seals sun themselves on the rocks. Alwyne says that he considers this to be the high point of the day. It is a hard rocky push up to the stairs which take us down to the cove. However the stairs are easy to climb. Each is approximately five inches high and there are three sets of ten with a good railing. Next there is a boardwalk out to the cove. As one progresses down the steps, one sees increasing numbers of seals. The real awe however comes when you reach the Cove. The rocks that the seals are basking on are framed by a wide, jagged, opened end tunnel which goes out to the sea.
Our next stop is a refreshments area at Park headquarters. It even has a decent handicapped bathroom stall. As we ride in we are blocked by two kangaroo that look as if they are trying to board another bus. The other driver pushes them out of the road. Alwyne points out Peter, a 20 year old emu. He warns us to beware because Peter is a master food thief. We experience the begging of the kangaroos and Peter and take many photographs. Gail points out that one of three kangaroos is carrying a baby. We can see her enlarged stomach.
Next we drive to Seal Bay, home of the Australian sea lion. This is the rarest type of sea lion, found only in south and west Australia. Six hundred live at Seal Bay but only 300 are there at any given time. The other 300 are at sea hunting and eating. They stay at sea for an average of three days of active hunting. So when they return, all they want to do is tend their young and sleep.
Sea lions received their name because at nine years of age the male grows light colored hair on its head and neck. Someone decided that this resembles a lion's mane. Females begin reproducing at three to four years of age. Gestation is 18 months. They become fertile again and often impregnated seven days after giving birth. A female will nurse her newborn until just a few days before she gives birth to her next offspring.
The path down to the lookout area before the beach is steep but paved. The group goes down to the beach being very careful not to get too close to the sea lions. Steve gives me his 100 - 300 lens and I take many photographs. On this day we are very lucky that the sea lions are quite active. It is mating season and we see a fight between two males, a sea lion frolicking in the surf and many cubs and mothers playing. Gail says that this is the most activity she's seen in years. On the ramp back to the bus, Steve and I come upon a wallaby sitting there. Since wallabies are very timid, as soon as it sees us it bolts away.
On the return trip to the airport we have one more nice surprise. An echidna has been spotted crossing the road. Our bus pulls over. I was not going to get off, but Gail convinces me to do so. Later she tells us that this is the first echidna she's ever seen in the wild. It looks like a small porcupine. Even those who get close to it don't see is face.
Back at the airport, I board the plane via a hand cranked seat lift. This morning was the first time I used such a lift. It gets me there although it's quite rocky. I do not realize that it's hand cranked until Steve tells me. This has been a truly memorable day! One of the reasons I wanted to go on this particular tour was because it went to Kangaroo Island. So often when we travel, what we look most forward to is a big disappointment. However, not this day. So far, it is the best day of our trip!
When we return to the hotel I phone my mother who's in New Zealand to wish her Happy Easter. She reports that the Milford Sound option for her tour was cancelled due to excessive rain.
We go to the Red Ocre Cafe for dinner. Steve orders emu, it comes with an interesting spring role. I order wallaby which comes with a possum canoli. The first doesn't have much taste, the second is quite spicy. We both like the emu better. For dessert we share a glazed quannung. The meal is good but doesn't compare to last night's dinner. Steve gets hot chocolate. I ask for an Australian special coffee. They have no idea what this is so they offer me a coffee made with very old brandy. It was good but quite expensive. Two other groups from our trip are at this restaurant. We sit in front of one, Bob and his daughter Nancy. They do not order anything exotic. However when we offer them a taste of ours they accept.
Monday, March 31, 1997.
The Outback
Picture: Uluru at Sunset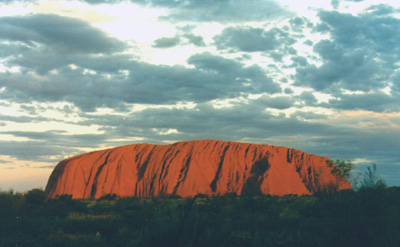 Today we head off to Uluru via Alice Springs. On the bus Gail teaches us the Australian salute which is actually waving the flies away from ones face. Then she pulls out a net that goes over one's head and asks Steve to model it. With good humor, he puts it on and does a catwalk down the aisle. She explains that the flies don't bite, they are after the moisture on our mouth, nose and ears.
The two flights are uneventful. We have a 50 minute stop over at Alice Springs. I get off the first flight and onto the next plane by a fork lift. We purchase two boomerangs for what we think are good prices. Two are a gift, one a chaka. We are told to meet the fork lift at a certain place 10 minutes before boarding. We are there when we hear a boarding call for our flight. Both Gail and we become quite upset that we weren't boarded first, as we were promised. Gail protests but the airline personnel only make excuses.
When we arrive at Uluru, we meet our guide/driver for the next few days, Murray. After a quick stop at the hotel, we're off to Uluru-Kata Tjuta National Park. The flies have been bad since our arrival. We are very happy that we purchased the nets at Alice Springs airport instead of waiting until Uluru.
Murray's first lesson is on pronouncing the Parks name. He instructs us to say the Aboriginal words slowly a few times, then speed it up. Uluru is the name for Ayers Rock. Kata Tjuta is the name for the Olgas.
The park is 800 square miles. It was given back to the Aborigines in 1985 and the Aborigines lease it back to the Australian government. The park extends to the gold fields of Western Australia. Except for the main roads, roads are unpaved. Murray shares a little known fact about Aborigines. Even though they are black, their skin is very soft and they burn easily. Therefore they rest in the shade during midday.
We first visit Kata Tjuta. There are 36 peaks or heads in this rock formation. The name Olgas is from European royalty, Queen Olga. They are a conglomerate of materials including river stone, pine stone, granite, limestone and mudstone held together by sandstone. Eight hundred million years ago these materials were carried into a basin. Five hundred million years ago the formation appeared above ground. The highest peak is 2,000 feet above ground. Lichen grow on the north and south sides but not on the east and west because the sun hits the latter sides directly. There is alot of water around the rocks but not when one moves away from the rocks. Annual rainfall is normally six to eight inches. This year much rain fell in January so everything is quite green now. Murray has been in this area for 35 years. He says several of these years have had no rainfall. Most drinking water comes from Artisan springs in Alice Springs.
Next we visit Uluru. Uluru is 5 1/2 miles around the base, 2 1/2 miles long and one mile wide. It is a one mile climb up to the top. The first third is the steepest so there is a chain to hold on to. Only a small part of Uluru is above ground. There are four miles underground. It is a monolith or one substance of gray sandstone. It is red in appearance because fetzbar attaches to the sandstone. When it rains, the fetzbar oxides and becomes red. In some places the fetzbar has washed away and we see the natural color gray. Holes are erosion that occurred 600 million years ago. The only erosion that occurs today is from people either climbing or breaking pieces away. Uluru is like a great sponge, it's very porous. Therefore one can always find water somewhere around it.
Our first stop is to see some Aboriginal hieroglyphics also called dreamings. Circles often represent water, decreasing amounts means smaller amounts of water. The name Uluru will have different meanings depending on which Aboriginal language one is speaking. In some languages it has no meaning, in others it has meanings of varying significance. Our next stop is at Maggie Springs. Today this is little more than a trickle of water. In the rainy season it can be a waterfall.
While riding around Uluru, Murray pulls to the side of the road. Unexpectedly, he leaves the bus then comes back within minutes. He's holding a Thorny Devil sand lizard. As he carries it down the aisle for everyone to see, it jumps out of his hand and on to my leg. I hardly feel it. It quickly jumps from my leg on to the bus floor and Murray chases after it.
We continue our ride to Chicken Rock, a small cluster of rocks at the beginning of the Uluru climb. Chicken Rock is so named because it is the first part of the climb to the top of Uluru. People begin the climb but get no further than this cluster because they "chicken" out. Gail takes pictures of each of us standing on Chicken Rock. This is the extent of my Uluru climb.
Next we ride to the place where buses unload so their passengers can watch Uluru as the sunsets. Uluru is famous for changing its colors from red to chocolate brown as the sunset progresses. As we ride in, Gail comments on how some buses set up a tail gate party and "it's really quite nice". She announces that she and Murray have decided to do the same. So as we watch the rock, we have beer, champagne, crackers and cheese. There are only slight color changes on this day. Colors changes are better when there are more clouds. Gail advises us to take pictures at 5 minute intervals. She says that when we get them developed we will see a nice color change (and I do).
Dinner is at the hotel tonight, on Globus. There is kangaroo meat but it is Cajun style and too spicy to taste the kangaroo. We are quite disappointed and hope that we will taste kangaroo later in the trip.
Tuesday, April 1, 1997.
Through the Outback to Alice Springs
Picture: Kata Tjuta from the Air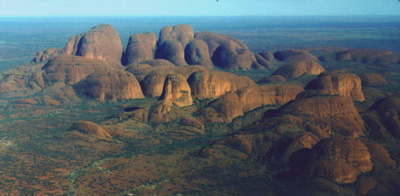 At 6 a.m. I kiss Steve good-bye and wish him good luck on his Uluru climb. He didn't sleep well last night so I'm a little concerned. At breakfast, I sit with Gail and tell her this. She says most people don't sleep well the night before their climb. I feel better.
Four of us gather at 8 a.m. to take a light aircraft ride over Uluru and Kata Tjuta. Bob and the van driver help me into the minivan. The van driver helps me into the plane, then Bob and the van driver help me position my legs as best possible. There is little leg room in this six seater plane. The seats are low to the floor. Since there are only four of us and the pilot, I get the back seat to myself.
The sites are magnificent! First we pass by Uluru. For the first, pass it is on our left. Then the pilot makes another pass and it is on our right. Uluru is nice but doesn't look too much difference from what we saw yesterday. Next we fly over to Kata Tjuta. I am very impressed with this formation! Instead of looking like a set of peaks in a linear formation, it looks almost like a ring of peaks with a gully in the middle.
When we arrive back at the hotel, I begin walking toward our room. I meet Steve half way. He is smiling and I ask him how he did. He says "I made it to the top!" Six people started and they paired off in three groups of two. He and Nancy were partners. They were the only pair that made it all the way to the top. He was very proud of this accomplishment (and so am I!). On board the bus, we give all six climbers a round of applause.
This morning we begin our drive to Alice Springs. Murray explains that we are leaving the desert. We see increasing amounts of vegetation and occasional rolling hills. He explains that these are sand dunes. When the Aborigines first arrived in this land, it was lush tropical land. Over the millenium, it has become dry arid land. As the climate changed the Aborigines adjusted to it.
Our first stop is Mt. Connor, the third of the three rock formations which form a straight line in the desert. It is kidney shaped and taller than Uluru but otherwise it is smaller. It is older than Uluru and Kata Tjuta at 850 million years.
We reach cattle station country. The first area is called Curtain Springs. There is water in the middle of nowhere. The ratio of cattle to land is two cows for each square mile. As we get closer to Alice Springs it will become five or six cattle per square mile. Salt lakes appear in the middle of this cattle station. Cattle feed on only small bush and grass. Herefords are the main breed of cattle. They gather in small groups and rest during the hottest part of the day.
We drive through Angus Downs. The trees are bigger now and there is more green. Murray tells us that today most cattle farming jobs are contracted. Stations are usually owned and operated by large families who hire contractors to perform day-to-day operational jobs. Stations run from 700 to 35,000 square miles with the average station at 15,000 square miles. Children attend primary school by radio and correspondence. Then they're sent to boarding schools.
Murray explains a road train. To get cattle to market more efficiently, Australians started hooking many trailers behind one tractor. Most road trains have 62 wheels. After our lunch stop, the land becomes more hilly with much more vegetation. Gail explains that we drive from Uluru Kata Tjuta National Park to Alice Springs instead of flying so we can get a real feel for what this part of the country is like. The ride is long and not very interesting. I would have preferred to fly and spend the time saved doing something more interesting.
As we reach Alice Springs, we pass a camel farm. Most Australian camel have a single hump. They came from North America and were used for transportation before suitable roads were constructed. The last camel train operated in 1965.
Once in Alice Springs, we stop at the Royal Flying Doctor headquarters. This service was started by John Flynn to bring medical care to people in sparsely settled areas where no doctor was available. Before the recent availability of telephone, telegraphs were used to communicate. In an emergency, primary care instruction was wired then airplanes were sent to transport patients. Today telephone has replaced telegraph. The service does routine clinical care and emergency transportation with their airplanes. We watch a video then see the communication room. There is a small museum which we tour. Of course there is a gift shop and we purchase a few items. The proceeds of all sales go to the service.
Next we stop at the ANZAC Memorial which is on a hill with a nice view of Alice Springs. We learn that ANZAC stands for Australian New Zealand Army Corps. It is a short stop and up quite a few stairs so I stay on the bus.
This evening for dinner we attend an optional outback barbecue. It is a wonderful event run by a family who own a cattle ranch. When we arrive, we are given instructions on how to throw a boomerang. We each take a turn. Steve does wonderfully, I do not. You need much arm strength to throw a boomerang.
Next we walk up to the dinner area and are given a demonstration on making bread cattle station method. It is very funny! The Cook gives us measurements, 13 to 14 mouths full of water, one teaspoon of salt (which when he poured it, was more like a half cup) and six handfuls of flour. It is baked in a pit and is very good. We are told that it will be served with kangaroo butter--we are very lucky because kangaroo can only be milked for three months of the year due to their triple pregnancies. (But, Gail reasons with us, how does one get into the pouch to milk a Kangaroo? In other words, there is no such thing as kangaroo butter.)
Next the station owner gives a talk on area Aborigines. In Aboriginal society, all members are equal, there are no leaders. Law and tradition are passed down by initiation. Tribes are divided into sections, the simplest in Central Australia is four sections. The sections are social not geographical. The name of ones section is used like our family name. All men and women of approximately the same age, within a section are considered brothers and sisters. Men in Section 1 marry women in Section 2. Their offspring are in Section 3. Whichever section ones biological parents are in, all people of approximately the same age and same sex are their parents. People of the opposite sex are aunts or uncles. So if I am in Section 1, my biological mother is in Section 4 and all the women around her age are my mothers. All the men are my uncles. This system avoids inbreeding.
Spouses are chosen by ones mothers and grandmothers. Before one marries, the person must complete initiation. Boys start initiation at puberty and complete at approximately age 30. Girls complete around age 14. This age difference began in times of great hardship and high infant mortality. Girls marry at the beginning of their child bearing years to men who have proven to be good providers. Another law is that men must avoid their mother in-laws. This is also for the purpose of preventing incest. Mother in-laws are the same age as the husbands and are the men's sisters.
Aboriginal philosophy comes from being Hunter Gatherers. They live by the principle, if you have enough for today, don't worry about tomorrow.
Following the talk, we eat a dinner of steak, baked potato, and cole slaw. The bread is served toward the end of dinner. Dessert is a peach cake with cream. All is delicious! Afterwards campsite music is performed. For the last few numbers, members from the audience are called to play cattle station instruments. These are make shift instruments, such as sheep shares. At the beginning of our tour, Gail set a rule for our group. Anyone who is late for a gathering either in the morning or at a stop, has to do penance. The last three people who were late, are "volunteered" by Gail. Fuji really gets into his role of playing a string instrument. We are all entertained by his shenanigans.
The night ends with star gazing. A man leads the group to a dark field and points out various constellations and stars. I do not go all the way to the field. Gail stays with me and shows me a few things. The sky is so full of stars and reasonably clear. It is a wonderful experience. Steve and Victor are the last two to return to the bus. When they return, they are talking excitedly about all they have seen.
Wednesday, April 2
Alice Springs to Darwin to Kakadu National Park
Picture: Sunrise Balloon Ride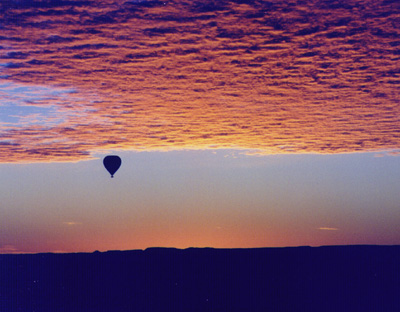 This morning we rise very early to leave for a sunrise balloon ride. After we are picked up at 4 a.m., we stop at three other hotels to pick up more early adventurers. We proceed to the take off area. The balloon pilot and driver stop three times to test the air currents and determine a suitable take off site. Finally one is found. We drive onto the field with no problem; however another bus becomes stuck in soft mud. That bus unloads its passengers and our bus pulls it out. Then we get off our bus and balloon inflation begins. It is dark and the balloon crew performs the task. The basket is laid on its side because the balloon will pull it upright from that position. When the balloon is mostly inflated, the balloon pilot instructs Steve to lower me into the basket. Steve then climbs in beside me. The pilot gets into the middle compartment, and slowly the balloon and basket turn to vertical position. The other 12 people climb in and we take off into the wild blue yonder.
In the balloon, we rise and then come down fairly close to the ground. The pilot explains this technique is required to keep us from flying too far. We repeat this several times. The highlight of the balloon ride is a beautiful sunrise. Actually, the ride is not very exciting and not worth getting up so early. We see some large birds and red kangaroo running over the land. However the latter are so far away that I have a difficult time seeing them. Landing is a bit bumpy but not overly uncomfortable. Steve and a member of the balloon crew lift me out of the basket. There is a flight following ours so the basket cannot be lowered on to its side. As one person climbs out, another person climbs in. My guess is that this is required to prevent the balloon from taking off.
When the balloon takes off on its next flight, we follow it in the bus. It is a very bumpy ride. When the balloon lands, we are served a champagne and quava juice drink and breakfast. The meal is quite disappointing. Before I thought I could take the balloon ride, I was going to join Steve for the breakfast. The cost would have been $40. If I had chosen that, I would have been very upset. The champagne was poured from an unlabeled bottle and later a few of our fellow tour members who had a bit more than Steve and I complained of a headache. Breakfast was cold chicken and rolls.
As soon as we return to the hotel, we check out. We ride into town on our tour bus and have one hour to shop. Steve and I pick up a few souvenirs. Steve buys me a pair of opal earrings for our anniversary which is soon after this trip ends. I am delighted with the pair we choose.
Our next activity is at the camel farm. Most of the animals at this farm are captured from the wild and tamed. Many of the tour members take rides. I do not because I don't think that I could sit comfortably in the seat or hold on tight enough when the camel rises and comes down. To get on the camel, the camel lays on the ground. The rider climbs into the seat and tucks his/her arms in close to his/her body. Leaning back, he/she holds onto the seat handle very tightly and leans back. The camel stands with his back legs first and then his front legs. When the camel goes back into its laying position, first its front legs go down. Riders report that this is a big shock. Steve takes a camel ride and confirms this. There is also a reptile exhibit at the camel farm. We see another Thorny Devil, and many other lizard and snakes.
Next we take our flight to Darwin. The airport staff was not coordinated and I am boarded last. The staff at the gate says they didn't know I was in a wheelchair. Gail says, "that's a joke. " She had informed them.
We first drive around Darwin because, Gail explains, that by the time we return the next day it will be getting close to dark and difficult to see anything. Our new driver/guide, Jeff, narrates telling us that Darwin is the at top of the Northern Territory. John, a fellow tour member, had been stationed here during World War II. Darwin was bombed 64 times because the U.S. was using it as a supply base. After the first bombing, the Australian government evacuated civilians substituting U. S. and Australian armed forces.
Today the population is just under 800,000 although during the wet season it drops to a low of 600,000. This part of the country has two seasons. The wet season is from November to the beginning of April when the area receives 95% of its rain. The dry season is from April to the beginning of November when there is almost no rain and humidity. People as well as animals, we learn, strongly prefer the dry season.
First we ride through Fanny Bay, the most affluent section of Darwin located on Darwin Harbour. At this time of year, people cannot swim in the harbour due to box jellyfish. An average size jellyfish of this type can kill a human in two to three minutes. They have long tentacles which search for food. They cannot tell human from other types of food such as crustacean, so they will wrap its tentacles around a person and sting. There have not been any deaths in Darwin Harbour in recent years but people who have waded in the harbor have been stung.
We pass Lake Alexander. This is a man made lake that was built by a Chinese mayor of the same name. He thought it was a shame that civilians could not swim in the harbour. Filtered salt water is brought into the lake. Next we drive through East Point. During World War II, the largest anti-submarine net in the world was located here.
People who live in this part of the Northern Territory are the biggest beer drinkers in the world, Jeff tells us. They drink twice as much beer as in other parts of Australia. Once a year they have a beer can regatta in which they race rafts made of beer cans. At the start of the festivities, there are approximately 30 entries. By the time the race actually begins, many repairs have been made to the rafts and only approximately 8 rafts actually race. The crews on the other rafts have emptied the cans needed for the repairs. They are too inebriated to participate.
We ride down the Esplanade which runs along the harbour. We pass the Parliament House which is nicknamed "the wedding cake" because it looks like one. Local people consider it to have been very expensive to build given that the Northern Territory has only 25 members of parliament that sit 76 days per year. Because it's a territory and not a state, the Australian government can overturn anything that the Parliament votes in. On the day we arrived in Australia this happened with euthanasia. The Northern Territory hopes to achieve statehood by the year 2000.
We pass a military museum with a B52 on display. There are only two B52s that are outside the United States. This is one them. It occupies the entire building. Other museum displays are under its wings.
We begin our ride out to Kakadu. Jeff says it is a three hour ride until our first stop. Our first stop is to see a giant termite cathedral. These are not wood eating termites, they eat grass which first they store in these huts or cathedrals. The cathedrals are impervious to water and fire. Most are between 50 and 150 years of age. Steve is very interested in these because he has read of them in National Geographic magazine. The walking is not easy and it's a short stop, so I view the cathedrals from the bus window.
We see some fires by the edge of the road. Jeff explains that these are controlled fires called "burning off " or cleaning the country. They are cool burns. The spear grass which is being burned grows to 10 to 12 feet. The Aborigines began burning off dried grass to enable new vegetation to grow. This practice aids regeneration. The Aborigines did this to protect their food stores. Today it's done as insurance. November is the hottest month of the year and if there is much dried grass around, the heat would ignite it and large fires would spread quickly. The trees which grow in this area have adapted to the fires. They have hard dark bark up to where flames shoot and on the underneath of lower branches. Above the hard, dark bark is light, thinner bark.
Jeff sees a lizard run across the road. He stops to get it and brings it onto the bus. It is a frilled lizard, about a foot and a half from head to the end of is tail. Jeff explains that it is relatively easy to catch because it hides behind a rock or mound of dirt. It doesn't realize that it can be seen and crept up on from behind.
We arrive at the park close to dark. Dinner is okay. The highlight is finally eating kangaroo meat that wasn't overly spiced. We like the flavor. We eat at the hotel restaurant because there is nothing else in the area. Steve takes a swim in the pool, meeting several others from our tour.
Thursday, April 3.
Kakadu National Park and Darwin
Picture: Aboriginal Rock Painting
Our first activity today is a cruise on the Yellow River. Most members of our tour, including me, hope to see a crocodile. Jeff explains that the cruise's purpose is to see birds. There is a chance we'll see a crocodile but it's not great. Crocodiles mate in December. In January they migrate inland along the river system and lay their eggs. They don't start to return to the Yellow River until their eggs hatch, which is about this time of year. The salt water crocodile spends most of its life in brackish water where it is very agile. It is not agile on land but since it is cold blooded it will sun itself on the banks of rivers. As the day becomes hot, it will move into the water so it doesn't get too hot. When it's on the river bank and begins to get hot, it holds open its mouth so its brain doesn't cook. The crocodile species is between 195 million and 295 million years old. Its jaw pressure is five tons. It can sit under water for several hours waiting for its prey. In 1971 crocodile hunting was banned because crocodiles were near extinction. The species plays an important role in the ecosystem. It eats mostly small animals because it does not have the teeth to eat larger ones. Males are very territorial. They often have up to ten females in their territory.
The cruise is quite disappointing. The wet season has just ended so wildlife, both birds and crocodiles, are spread out among the vastness of the waters. We do not see much. The water is so high that our bus could not go down to the dock. We are transported to the dock in a smaller vehicle.
Our guide points out one crocodile but he is so well camouflaged in a very wooded areas that he is hard to see. Even when I think that I may see him, I see only what may be a piece of his back. Sightings of birds are no better. There are very few and they are very far away.
Our next stop is to look at Aboriginal rock paintings. Aborigines own two thirds of the park. Three hundred twenty reside on park land. Australia's largest uranium deposits and mining are on this Aboriginal land, close to the park. They receive royalties and reinvest in business. They are the only people allowed to hunt and gather on park land.
Aborigines have six seasons. This is the beginning of "knock em down " which is followed by availability of food. The Aborigines of this area are not nomadic. There are several groups within the tribe. Each group owns a section of the entire area. Each area has different times when it produces an abundance of food. The Aborigine groups move to the section of land which has food. Each group returns to their land at least one season of every year.
Woman perform gathering and hunt small animals. Men hunt and fish large animals. In the northern Territory, there is an abundance of food so Aborigines only need to hunt for two to three hours a day. When the Europeans arrived, they wanted the Aborigines to work for then. Food and money meant nothing to the Aborigines. When introduced to tobacco, they liked it so they were paid with tobacco. Later the women became used to European flour and sugar so that also became payment.
There are more than 5,000 paintings at the site we are going to visit. Some are thought to be 20,000 years old. It is part of the Aboriginal ritual to repaint faded paintings. Many paintings portray dreamtime, the Aboriginal belief of how the world began. In the dreamtime origin of the world, spirits came before humans existed (during the Dreamtime era). They traveled through the land leaving signs such as rivers and mountains, creating our world.
Some of the paintings we'll see are the x-ray style. This style was used 2,000 years ago. People and animals are painted showing their skeletons and organs. Paint is made from Ocre, a rock that can be ground to produce colored powder. This is found in Central Australia. Northern Territory Aborigines trade spear tips which they make from rock found in their area. In return they receive Ocre from Aborigines in Central Australia.
Jeff leads us to a fork in the path. The others in the tour group, including Steve, take the rougher path. Gail pushes me in my wheelchair down the paved path to the paintings done in 1969. I find them interesting. One is about the god of lightning who came to punish a brother and sister for their incest. There is a baramundi fish in it and some other people. Nursing women are portrayed with a pronounced markings on their breasts. Gail shows me that a line of silicone was applied part way down the rock above the painting to protect the painting from being washed away. This directs rain down that path instead of over the paintings. Jeff arrives with the rest of the tour. He explains the paintings. Later I would ask Steve about what he saw. Steve reported that the paintings on the other path were older.
After a brief rest at the paintings, Jeff leads many of our group up a rough path to a lookout. I did not go but Steve takes this hike. Gail pushes me back to the bus. She explains that from the lookout, one sees the Escarpment Arhemland, the beginning of a plateau which is the Aboriginal ancestral homeland.
The Aboriginal stop was interesting. However the cruise was disappointing. In my opinion, and that of most of our tour group, that the Kakadu experience was not worth the travel time. Perhaps if it was not so close to the wet season, we'd feel differently. We ride back to Darwin making an ordinary lunch stop. As Gail predicted, we reach our destination in late afternoon. We have an early flight to Cairns tomorrow, so we make a short stop in our room and head out to dinner.
Lonely Planet, our favorite travel book, recommends a number of restaurants in the Mall in Darwin. This is nearby our hotel, so we go straight over there. The streets are very empty and quiet. The Mall is the same. The term Mall is not used for an enclosed groups of stores but denotes former roadways that have been made into pedestrian walkways. There are several arcades, which are enclosed pedestrian clusters of stores. Each starts within the Mall and runs perpendicular to the main pedestrian roadway. Very little is open in the Mall, including stores, restaurants and arcades. We finally find a Malaysian Thai restaurant and enjoy our dinner.
Darwin also turns out to be a disappointment. I conclude that we have come to this region of Australia too close to the rainy season. The brochures and maps mostly show an interesting city. However, since the city closes down in the early evening, it's obviously the wrong time of the year.
Friday, April 4
Cairns and Kuranda
Picture: Dijeridu Demonstration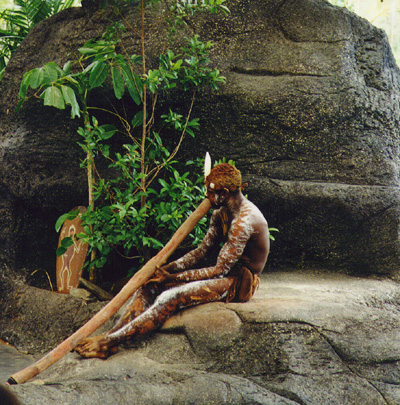 We rise very early this morning (4 a.m.) to catch our 6 a.m. flight to Cairns. This is the third time that I am boarded last despite being told that I will be boarded first. This treatment is getting very disturbing. Otherwise is the flight is uneventful.
When we arrive in Cairns, we meet our new driver, Robert. He gives us an introduction to Cairns. The population is greater than 100,000. Homes are built on stilts for several reasons. This technique creates a type of air conditioning by keeping a stream of air flowing through the house. In the wet season it also prevents flooding. It prevents termites because the stilts are covered with metal. We have a quick city tour. Our hotel is on the Esplanade which runs along the harbor. You can't swim in the harbor because there are many mud flats. Most of our tour has chosen the optional excursion, the Aboriginal Cultural Theatre and historic Kuranda Scenic Rail. First we attend Tjapukai Cultural theatre, home to an award winning native dance troupe. We wander around the museum area until our first show is about to start. There is much Aboriginal history displayed in the museum. Unfortunately we don't have time to absorb all of it.
The first show, in the History Theatre, is an audio-visual presentation on how the Aborigines were treated when Europeans came to Australia. The theatre brochure accurately describes it as "What happened when the modern world descended upon a 40,000 year old culture." It is very moving. It contains many examples of mistreatment. It traces the last 120 years of Aboriginal history including the present and hope for the future. One of the more disturbing stories is that Aborigines were confined to live in a certain area. They spent 50 years building their new area only to be moved again.
The second presentation, in the Creation Theatre, is on Aboriginal spiritual and traditional beliefs. We are shown ancient stories using a combination of actors and actresses who interact with holographic and animated special effects. In both of these presentations, headphones are available. On the head phones, we set a dial for our native language. Without the handphones, we would hear the shows in the Tjapukai Aboriginal language, a language which is reported to be almost lost to the world.
We move on to the Dance theatre to see a third presentation. However there is a good amount of time before it begins, so we attend to an interesting and informative dijeridu demonstration. The Performer plays some music then explains the instrument and its history. There are other small demonstrations that we wish we had time to see.
The last show is a music dance presentation set in a covered amphitheatre, called the Tjapukai Dance Theatre. It is decorated with a rainforest backdrop. The theatre brochure says we will "view segments of the Tjapukai traditional corroborees. An ancient creation of song and dance." Each piece is preceded by an explanation. Although I find some of the explanations difficult to understand, I am able to get the idea. The show is nicely performed and quite enjoyable.
After we leave the theater we board the bus for Kuranda, a small town with a Friday market. Leaving the show is a little confusing because our tour is traveling on two modes of transportation. Some people take a sky rail and others, including us, are going by the bus. After Steve pulls me up the bus stairs, he asks Mercedes Lopez if this is the bus to Kuranda. Mercedes is a very nice woman with whom we've become friends. She answers, "NO". I can't see Steve's face when she says this but the person behind Mercedes said, "if looks could kill!" We all have a good laugh and for the rest of the trip Steve won't let Mercedes forget that he owes her one.
Kuranda is a village of two streets. We have approximately two hours to shop and sight see. We buy several items including a dijeridu. Then we decide to go to the Australian Butterfly Sanctuary, which is listed in the Guinness Book of Records as Australia's largest butterfly farm. The Introductory Presentation states that it has one of the world's largest areas of enclosed flight space. It is interesting. The first part is a display of many species of butterflies throughout the world. Each is grouped by the area of the world in which it is found.
Next we go into an outside enclosed area which houses many of the Australian butterflies. The most beautiful is a bright blue one which rarely lands. Later we meet a staff person and she explains that most butterflies live three months. However this type lives only three weeks. It's hyperactivity is to avoid predators. At one point we join two women who are being shown the sanctuary by a guide. One woman has a bright gold clip in her hair. A butterfly lands on it and stays there for a few minutes until the guide pushes it off. The guide says that this is not unusual. This type of butterfly is attracted to bright objects.
By now it's time to get to the railway station. Gail has told us to pass the stairway that the rest of our tour will take. It is quite a way until we get down the hill to the railway. Part way there we become a bit nervous that we will miss the train. However, we meet Gail and the rest of our tour group at the station where the scenic train departs. Boarding the train is difficult because the steps are high and narrow. Finally we find an entrance that is a little easier to use than the others. Steve and I decide that I will not get off the train until we arrive at our destination.
This railroad is historic because it was built between 1886 and 1891. There are three sections. Section One and Three were relatively easy to build. However Section Two was built up mountains and through jungles. There are 15 tunnels, 93 curves and dozens of bridges that were challenging to build. We are going to take this most of the way back to Cairns. The ride is okay but not all that scenic, at least from where I sit. We have a nice visit with Nancy on the ride.
That night we decide to have "bugs" for dinner. This is also called slipper lobster. It is a cross between crab and lobster. We had tasted it in Sydney but wanted to give it another try. We decide to eat at Barnacle Bills restaurant. I have slippers lobster in a red sauce over pasta. There isn't much seafood and I am disappointed. Steve chooses it baked with cheese. We both like his very much. For dessert we share the highly (and deservedly) recommended macadamia pie. It is very similar to pecan pie but with macadamia nuts. We both enjoy it.
A word about the shower setup in our room. We are staying at the Matson Plaza hotel in a room setup for people with disabilities. That night I take a shower. The setup of this shower is so poor that the bathroom and hallway flood. There is a short incline up to the bathroom. The floor including the shower is one level. The only drain is in the middle of the floor, not in the shower. The shower head faces the doorway wall. Even though I put the bathmat down to plug the part of the doorway that was closest to the shower, we had a significant flood. Steve attempts to clean it up with the few towels in our room. After trying for 20 minutes, I call housekeeping. Even the man who came to mop it up is surprised. He leaves to get a second set of towels.
Saturday, April 5
The Great Barrier Reef
Picture: Pipe Fish from Submarine
Today we are going to the Great Barrier Reef with the Quick Silver company. We are picked up by their bus and stop at several other hotels to pick up other passengers. We board the catamaran. They have hot tea and coffee before sailing so Steve gets us some. We sit with a couple from Canada who have rented an RV and are driving around Australia for two months. It is interesting to compare our experiences with theirs. I attempt to get up with Steve to walk to the restroom but the catamaran is rocking too much and I feel quite unstable. A female staff member offers her assistance but even with that I don't feel safe enough. She tells us that the bathroom marked "Staff" is the only one set up with a grab bar.
It takes a hour and a half to sail to our destination. There are a few sights during the trip but not much. Gail stops by and tells us that she will reserve tables. She advises me to use the bathroom before leaving the catamaran because there are no toilets on the pontoon.
Even though the Staff Only restroom is supposed to be setup for people with disabilities, I find it somewhat difficult to use. The lock is tight and too high for me to reach. There is one grab bar but it is beyond my reach. The only reason I am able to use it with out assistance is because it has a raised toilet.
When we reach the tables Gail has reserved, most were filled. However Frank and Bev have room at theirs and we join them. During the trip, we have become quite friendly with Frank and Bev partly because Frank is constantly offering to help carry our bags while Steve lifts me on and off the bus. Frank rarely takes no for an answer.
First we go down to the Underwater Observatory. We see many types of fish, most we can identify. We've had a salt water tank for five years so we're familiar with the various types of tropical marine fish. While down in the Observatory the staff feed the fish from the deck above. All of a sudden we observe many fish. A scuba diver is cleaning the windows with a brush. She scrapes algae from the windows. When she is done she begins to swim away and the fish flock to her.
We have lunch. Many of our fellow tour members have already been in snorkeling and tell us they love it. Steve goes in after lunch. I watch for a little while and then return to the table to work on my log. Bev and Frank are eating there when I return. They say that they took the semi-submersible submarine and were impressed. After hearing similar things from others, Steve and I decide to take it in. It's a bit difficult boarding but Steve and I manage.
After the guide on the submarine finishes his formal talk, we speak with him about his diving experiences. He says that one of the most interesting fish he's seen is the puffer. We share with him our affection for puffers. We've had several in our tanks and they are much fun. He suggests that we be sure to see the tank in the building which we will walk through when we arrive back to the dock following our return trip on the catamaran. It is the biggest he's seen and contains local fish. Quick Silver is required to purchase the fish from one of few companies which are licensed to fish in very specific areas of the Great Barrier Reef. It is against the law for divers to catch fish or remove any live specimen from the reef. We enjoy the submarine trip very much. Steve says he sees more on the trip than he saw snorkeling.
A comment about my decision not to snorkel. Gail has been encouraging me to snorkel for quite a few days. I have tried snorkeling previously but was unsuccessful. Quick Silver has life jackets available and Gail says that they'll even send a staff member in with me. Steve is supportive of my trying but I decide that is too much effort and there's enough for me to to without snorkeling. With Steve's statements about the submarine trip I know I've made the correct decision
Beside being more impressed with the semi-submersible submarine, Steve says that he's seen more variety of fish snorkeling in Hawaii. We are a bit disappointed with our trip to the Great Barrier Reef. We've seen more interesting variety elsewhere. We agree that it is probably because there are so many people in a small area and nothing special is done to attract the wildlife (for example, feeding them on a more regular basis).
Steve goes back in for a last snorkel. Members of our tour are returning to the catamaran so that they can get good seats for the return trip. Several offer to assist me but I wait for Steve. Frank and Bev offer to save us a seat.
Upon docking and disembarking, Gail directs the group one way but sends us another way that doesn't have stairs. We pass the salt water tank that the submarine guide mentioned and are quite impressed. We have seen other tanks that size and bigger ones, but this is the first time we've seen a tank with such an interesting variety of large sized fish. There is a cowfish that must be four times the size of cowfish that we've seen in aquariums at home!
As we approach the bus we notice that Gail is a bit upset. She had asked our tour to gather outside bus. She planned to get us on a bus that would take us into the town of Port Douglas, so she could show us the town. However several tour members boarded the first bus they saw and she is concerned that she will have to leave a few members behind. The missing members arrive at the last moment and we go directly to the hotel.
We gather in the lobby and Gail informs us that a shuttle bus stops in front of the hotel at 20 minutes to the hour on its route into town. The town consists of only one main street. A fellow tour member, Bob, asks us if we're planning to go into town. I tell him yes and invite him to join us for dinner. He accepts. We check with Gail as to whether it's feasible to take the wheelchair on the bus. She says definitely yes. We are the only tour members to venture to town this evening.
The bus driver on the trip into town is very helpful. He loads the wheelchair and offers other assistance. When we arrive in town, we walk around town for 20 minutes and stop to purchase some last minute supplies at the local supermarket. The supermarket is small but has what we need. Most establishments that are open for business are restaurants and bars. We choose Portofino's which has meats and fish with interesting ingredients and a nice variety of side dishes. We order entrees (in the U.S.A. we call these appetizers) of coral trout sushi and garlic bread.
We each enjoy our meals. Dinner conversation is quite interesting. Bob's life work has been to set up chicken production farms for the wholesale poultry industry. He's worked and lived in many countries, mostly third world. Bob said that his favorite area as far as camaraderie with the people was South Brazil.
Sunday, April 6
Daintree River and Forest
Picture: Tropical Rain Forest Vine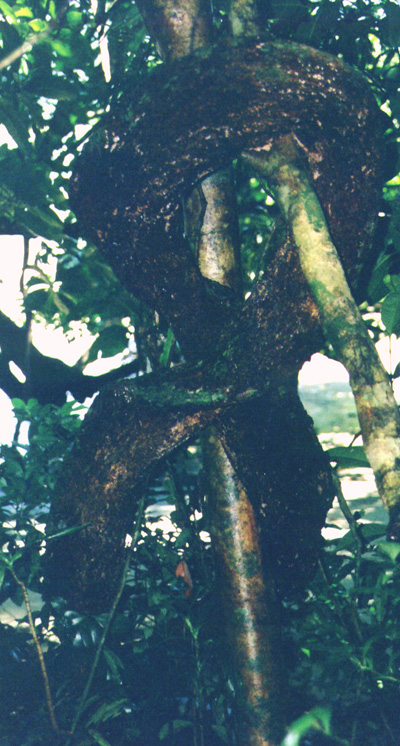 The vehicle that picks us up today is a four wheel-drive bus. It's the most challenging of this trip for Steve to get me on and off. Ronnie is our guide/driver. Our first stop is for a cruise down the Daintree River. Our tour is the only group on the boat. The Captain is very knowledgeable about the river and its wildlife. He's lived and worked in the area for approximately 20 years. The ride is most enjoyable. We see a one year old crocodile who is sunning itself on the banks.
After the cruise, we drive to Cape Tribulation Beach. Gail advises that it is a rather difficult walk to get to the beach. Once one arrives at the beach it's a typical sandy beach. I decide to stay on the bus. Steve takes my camera and says if it's a phenomenal sight and not impossible for me to get to a lookout, he'll come back for me. He returns a little early but it's because it's only an okay site and he's ready to leave.
Our next stop is for lunch at a hotel. Lunch is a buffet, nothing very special. The facility is pretty well ramped. However I am unable to find a toilet for people with disabilities. During the trip I have learned that Australia is fairly well equipped with such toilets. However more often than not, they are outside of the Women's room in a separate, unisex room and often combined with the diaper change facility. In general the toilets and rooms have been fairly well set up. The seats are raised, and the rooms have ample grab bars and the toilet paper dispensers are not placed too low. The one negative feature is that the sink faucets are small and difficult to turn.
Our final stop for the day is Daintree Rainforest where there is a guided tour. Gail says I will be able to participate. Ron advises us that tour groups walk on a boardwalk with a guide. When we arrive there, we see many stairs to reach the starting point. However the guide says it's a continual downward slope. The tour is very interesting. The guide informs us that although it's a small rainforest it's believed to be one of the oldest. This is determined by the number of plants that are classified as primitive. Daintree has a large number of these. Some that have been discovered were believed to be extinct before being found here.
Steve is fascinated with the vines. Most grow from the ground, wind themselves around a tree, and strangle the tree. As the tree dies, the vine finds another tree at the highest level to which it has grown. If multiple vines of similar species have chosen the same tree, over the years, they fuse together and become a single thick vine.
Our guide reviews the main means of seed dispersal. If the seed covering is large and hard, it is carried to a place by water and will regenerate. If it is a fruit, it will be eaten by a bird and pass through the birds digestive system. There is one type of tree which produces a fruit as a seed which is too large for most birds to eat. It relies on a large bird the size of an emu to eat its fruit. This bird is quite colorful but rarely seen by humans. It lives in the thickest part of the forest.
As interesting as this presentation is, if I knew what the walk was like, I would not have done it. There are many steps every few feet on the boardwalk. The slope was up and down. Steve had to assist me for almost the entire walk and the guide did not wait for us to arrive before beginning his talk. Gail and Ron brought my wheelchair to the end of the tour. I was very happy to get into it. On our way back to the hotel, we ride through the center of Port Douglas. Gail points out the highlights of the town. Steve, Bob and I had seen most of them last night.
This is the night of our farewell dinner. Before dinner, Steve and I speak to Gail about buying the group a round of drinks to thank everyone for all of their help. Gail says this is unnecessary. Between Steve's sense of humor and my cheerful attitude, everyone has enjoyed helping us. We convince her that we really want to do this, so she says that we can buy the first round. She will be arranging for beer, wine and soda.
Later Steve and I agree that we'd like not to limit the choices. We arrive at the meeting place a little early but do not get the opportunity to expand the choices. Steve gives a speech and many people thank us and say how they've enjoyed meeting us. One person even says that she's learned a lot from us.
At the end of dinner Gail asks us each to give our personal highlights of the trip, saying it can be homorus or serious. There is alot of variation. Many people mention Gail's excellent attention to detail and other features of her tour management. Several people say yesterday's snorkeling. A few mention how well the group has gotten along. Some people give more than one, often a humorous feature and an optional excursion. Steve gives three, the first is a bit humorous. It is about Pauline, a 78 year old women, and her three daughters who are on the tour with her. They are a very happy group. Steve says that anytime he asked them how was something they would reply, "the best!" He also says that he learned alot about shopping from them (they never missed a store). His second highlight was the glacier helicopter trip. His third was climbing Ayers rock. I gave two highlights, the glacier helicopter trip and Kangaroo Island. I mention that even when I was unable to go with the group to the cave, a very special part of that day occurred. It was watching the mother Kangaroo nurse her offspring. On reflection, I should have mentioned the light aircraft ride over Uluru and Kata Tjuta.
Gail gives a highlight on each member or family group as she hands out the group picture and a list of our addresses. Most are humorous. For example, there are two sisters who at the beginning of the tour wore almost the same outfits. She thanked them for trying to confuse her. She gave a highlight for both Steve and me. She gave mine first, saying that I was very courageous doing everything I possibly could and that I had a wonderful attitude. Many people nodded their heads in agreement. Then she went on to Steve, calling him devious. In explanation, she said that he would get me into a very vulnerable position when helping me and ask me if I loved him.
We all parted, some a little choked-up (including me). All of us were quite happy.
Monday, April 7
Our Trip Home
Our wake up call is at 3 a.m. We meet and start our bus trip to Cairns airport at 3:45. Steve and I are the last on line and some people from another tour cut in front of us. We have our boarding passes but have to check in our luggage since this is an international connection. However the other tour did not have their boarding passes, making our wait behind them even longer. Gail does her best to move us along but the check-in clerks are slow. When we finally reach the check-in, we request to gate check the wheelchair and pre-board. We are told that both will be done.
The path to the gate is poorly marked and we have difficulty finding it. Before passport control and security, we meet a woman from our tour who is waiting for her daughter. Over the airport loud speaker we hear them call boarding for our flight. We are just reaching passport control. We inform the agent and he hurries us through. When we reach Security there was a very long line down the stairs! I yell to the Passport Control agent and he says to go to the beginning of the Security line. The mother and daughter who were right behind us, said, "we're with them " and followed us. They offer us help but when we say we're okay they take off quickly. When I get to the special security route for people in wheelchairs, I inform the security people that our flight was called ( by this time it was on the third call). They refuse to rush us.
We get to the flight only to find our seats are bulkhead so all of our carry-on luggage has to go into high overhead compartments and is inaccessible throughout the flight. By this time we are very dismayed with Quantas.
Upon reaching Sydney, we are told that we will not be given my wheelchair but will be met with an airport wheelchair. We are taken to the Quantas lounge for our five hour layover. On the way there, we say good-bye and thank you to Gail. Our escort does not leave the wheelchair with us but says someone will be back when it's time for our next flight.
We sit with Pauline and two of the three sisters. The third, Alice, is sitting in a quiet place. She has contracted a stomach virus and has been ill on and off for the past four days. Her family is quite concerned about whether she can make the flight home. They arrange for her to see the airport Doctor. He gives her an injection for nausea to be followed by oral medication. The former works quickly and she feels better. The other two sisters, Pauli and Robin, go upstairs to the shops to find some food for Alice. The doctor had instructed that she should eat once the nausea subsided.
When they return, they give us information about what's available upstairs. We head up the escalator. I am uncomfortable getting on and off escalators, however we don't see a lift (elevator). With Steve's assistance I use the escalator. On our return to the lounge, I double check with the Quantas clerk to make sure I will be pre-boarded. First she assures me that they'll come for me about an hour before departure time to pre-board me. As I explain the reason for my concern (previous assurances were not carried out) she becomes very snippy and says that there's no guarantee.
We return to the lounge. Alice is doing much better by this time although she is still resting quietly by herself. Pauline, Pauli and Robin are more relaxed and we strike up a conversation with then. It leads to computers and e-mail addresses. We exchange Email addresses with Robin. Pauline informs us that by the times she returns home, she should have an e-mail address. With the assistance of Robin's husband, she purchased a computer several months ago. Her granddaughter has taught her how to use it and she is enrolled in several classes over the next few months. She printed address labels for her postcards on this trip. She's had to give up knitting because she spends so much time on the computer. Before she left on this trip, she asked her grandson to sign her up with an Internet Service Provider while she was away, instructing him, "find me a good one!" Steve and I are quite impressed! Most people her age that we know are afraid of computers.
It nears the hour before departure and I am getting anxious about boarding. Steve, Pauline and the sisters help keep me calm. We hear them page me. After gathering our things, we head towards the elevator, only to hear the receptionist yell down the escalator that it would be another few minutes. Someone had come looking for us, she says, and called our name but we had not responded. We reply that we have been in the seat where we were dropped off four hours earlier and no one had come close to that area and called our name. I believe what happened is that an escort appeared with a wheelchair, called our name as he entered lounge from the elevator and another person who requires a wheelchair intercepted him. Steve and I let the receptionist know that we are upset and this is not acceptable
About ten minutes later, the escort appears, rudely asking us why we hadn't answered his earlier call. We repeat what we had told the receptionist. He insists that he did come and call our name and he became even more rude. Later I say to Steve that we'll add rudeness and being lied to, to our complaints against Quantas.
We are preboarded and the flight's staff is very nice. The 12 1/2 hour flight is occasionally turbulent but was otherwise uneventful. We sit in the two seats next to the aisle. A woman traveling alone sits in the window seat. She is a bit jittery when we hit the turbulence. She grabs the seat in front of her and her arm rest. At one point Steve turns to her and says that the turbulence is not dangerous. She asks him how he knows. He replies that he flies often. That seems to calm her down and she seems grateful for Steve's comfort.
As we near Los Angeles, I check to see if my wheelchair will be brought to the gate as we had requested. The flight attendant did some checking. He returns and informs us that this was not possible but we will be met by an escort with a wheelchair. As we are disembarking we are greeted by a Quantas staff member who has a list of people requiring wheelchairs. I am ahead of the woman who had intercepted the wheelchair sent for me in Sidney airport. However there is a few minutes wait before the Quantas wheelchairs arrive. We are side by side waiting when the first one arrives. Her companion makes sure that she gets it! I refrain from speaking only because there is another wheelchair right behind it.
That night, we stay at my Uncle's who lives in Los Angeles. So our South Pacific adventure ends.
Epilogue
Looking back on this trip, I thoroughly enjoyed it. My husband and I live very busy lives. I am often asked why we choose such busy vacations. The answer is that we love to experience new and different places.
Undoubtedly Australia was my favorite country. Kangaroo Island was my favorite day. I loved the experience of seeing all of the wildlife in it's natural environment. I found the Outback interesting. There were parts of it, that I would list among the highlights of this vacation, such as the early morning flight over Uluru and Kata Tjuta. There were other parts of it that I would have preferred to miss, such as the day's drive to Alice Springs and the flies. The latter, of course, cannot be avoided unless one chooses not to visit the Outback. I strongly recommend not to miss this fascinating part of Australia.
After this trip, I spoke with a good number of people who have visited both Australia and New Zealand. As for which country each liked better, I've noticed an interesting trend. It seems like those who preferred Australia included the Outback in their vacation. Those who liked New Zealand better missed the Outback. This is not to say that the Outback was anyone's favorite part of their trip; it was not. However there is something about the experience that makes one appreciate Australia.
I have one final thought with which to leave you. Good day, Mate!