As we enter the heart of the city, we pass the remnants of an ancient Roman gate and the city wall. Carmelo points out the Wall Street of Palermo, the opera house which is the third-largest in Europe, and other historical sites.

We ride to the historic quarter. The Piazza Vigliena, circa 1808-1820, divides the city into four quarters. It contains baroque buildings with statues and fountains, representing the four seasons. Carmelo says that it's also called the Spanish corner, Quattro Canti, because it was established by the Spanish Viceroy. It has four almost identical Baroque buildings divided by four streets. The buildings have four floors. The fountains reach the second floor. The third and fourth floors contain statues of the four seasons, four Spanish kings of Sicily and the patronesses of the city. Traffic in the city moves almost too quickly to get a good view of everything we're seeing. Carmelo points out the Florentine Fountain in the Piazza Pretoria and says it has statues of 32 gods.

On our way to our first stop, the Norman Palace, Carmelo gives us some background. Palermo's first castle was built in the eighth century BC. The city of Palermo was "wholeheartedly" made newer by the Greeks. The Arab invasion of 831 A.D. had a significant impact on Sicily. The Jewish section had one synagogue. In the 17th century, exotic plants were brought to Sicily to study tree disease from all over the world.

Our first stop is Palazzo dei Normanni, the Norman Palace. The Normans invaded Sicily in 1061 and made Palermo their glamorous center. Some claim it was the finest city of the Mediterranean. The Norman Palace, designed by King Roger II in 1130, was the center of a superb medieval court. It replaced the first palace built by the Arabs.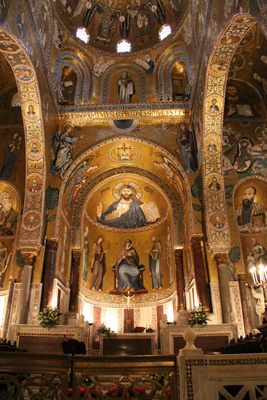 Palace Chapel
First, we go to the beautiful courtyard. It has three floors and the walls contain many open arches. Next we enter the chapel. The chapel contains incredible murals and mosaics. We see many biblical scenes including Genesis stories of God's creation of light and sea, land separating from oceans, and creation of heaven, birds, fish, land animals and Adam and Eve. Scenes continue with God resting, God giving Adam a tree of knowledge, Adam and Eve eating the forbidden fruit, being shamed, then thrown out of paradise, and their toil. We also see the story of Cain and Abel, confession of Lamech, and Enoch going to heaven. The story of Noah's ark has many scenes including Noah and his family, the ark's construction, the dove returning, Noah disembarking from the ark, and Noah planting vines. We also see the destruction of Babel, Abraham greeting angels, Lott resisting the Sodomites, the destruction of Sodom, Abraham ready to sacrifice Isaac, Rebecca, Isaac blessing Jacob, Jacob's ladder, and Jacob wrestling the angel. We see only three scenes from the New Testament, St. Andrew, St. Paul and Jesus as the ruler of all. The ceiling has beautiful carvings.

From the first floor, I look downstairs to see a wall from the Punic era. Steve and Bob go down stairs to get a closer look. Experts have been unable to precisely date this. They believe it is either Phoenician, 700 BC, or Carthaginian, 400 BC. The term Punic connotes both cultures. Even after the Norman domination, the Palace was used by the Kings of Sicily. It's currently the seat of the regional Sicilian Parliament.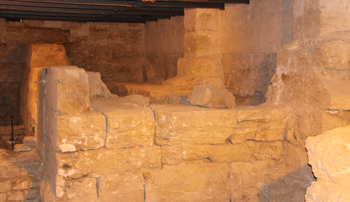 Punic Era Wall
Most of what we learn about the site comes from reading information in the Palace and our travel guidebook Lonely Planet. I am disappointed that Carmelo does not accompany us and explain what we're seeing, as most tour guides do.
We make a quick stop at the Cathedral of Palermo. Due to the time and Carmelo's advice, we don't get out. Originally it was built as a basilica, by St. Gregory. In the ninth century, it was turned into a mosque by the Saracens after capturing Palermo. In 1185, it became the cathedral. Since 1185 through the 18th century, many additions have been erected. It's beautiful, but we know that we will see many cathedrals on this trip.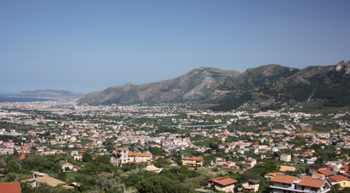 Monreale Overlook
Next we take the steep road to Monreale. During the 11th century, the Norman kings made this village their hunting resort. Monreale overlooks La Concad'oro Valley, a.k.a. the Golden Shell, and sits in the slopes of Mount Caputo. I had to take a picture of the mount for my good friend whose last name is Caputo. King William II chose this as the location to build his incredible Cathedral. The town is about four miles from Palermo and 600 feet above sea level. Today its population is approximately 30,000. Judy, Bob, Steve and I walk down to the wall from where you can view the sea. The view is breathtaking! We see a collage of orange, olive and almond trees.
On the way to the wall, we pass a side street through which we can see the beautiful back tower of the cathedral. We can actually get a better picture of the tower from the entrance to this side street than in front of the cathedral.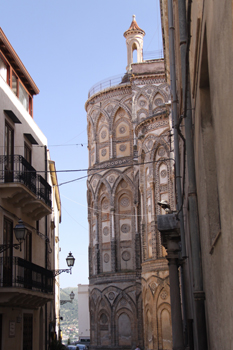 Cathedral Back Tower
Back in front of the cathedral, we stop to take each other's pictures standing in front of a picturesque statue. Begun in 1174 by King William II, who said he was inspired by a vision of the Blessed Virgin and wanted to outdo the cathedrals that his grandfather Roger II had built in Palermo. In 1182, it was dedicated as a church. Later Pope Lucius III declared it a cathedral. I've read that the cathedral is considered to be one of the greatest examples of Norman architecture in the world. The cathedral combines elements of the Byzantine, Normans and Arabs. We are impressed by the magnificent organ with its incredible array of pipes.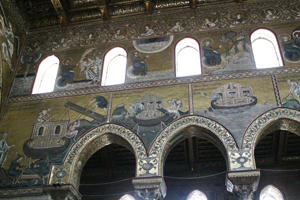 Mosaics Tell Biblical Stories
In the nave, around the walls we see 42 Old Testament stories in Mosaic. The mosaics we can see close up have such intricate and distinct patterns. I'm amazed that the distant view of most are specific and simple enough so that it's easy to determine what's being depicted. Each has a Latin inscription. I especially like Noah's Ark. The lower tier and choir contain New Testament stories of Jesus' miracles and suffering, the apostles, evangelists and saints. The design appears to be Byzantine. In another section, we see several apses. The middle one has a depiction of Jesus and the Virgin and Child sitting below. Another has paintings of St. Paul and St. Peter.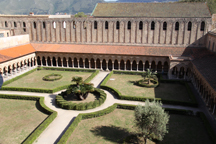 Cathedral Inner Courtyard

Steve, Judy and Bob climb to the top of one of the steeples. Steve gets a phenomenal picture of the inner courtyard. They take pictures all the way up, so that when they return and Steve shows me his pictures, I feel like I've made the climb with them. But the stairs are way too steep for me to have even attempted it. They went through many narrow passages. As they got close to the top of the steeple, they took a picture of a roof with very interesting latticework. At the top, they took pictures of each other. I guess they thought someone might doubt they made it all the way up.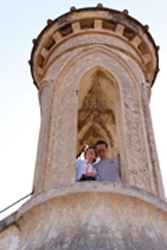 Steeple Top
On the way back to the hotel, Carmelo asks if we'd like to go to the market. We decide that we're too tired.Our hotel is the Hotel Central Palace, an aristocratic residence from the 18th century. Restored in 2003, its website says "the main floor [has] lavish frescos and precious antique furniture [which] recreate a magical atmosphere straight out of the novel The Leopard."

I read this novel in preparation for this trip. The hallways in the hotel wind in what seems to be all different directions. There are several elevators, each of which goes to different levels and half levels.
When we arrive at the hotel we learn that dinner doesn't start until 7:30 pm, so we decide to take a rest in our rooms for a while. I find our room large and comfortable. I'm happy that there's enough room on the tops of furniture for me to reach the suitcase and place items I want to keep out of it. Steve attempts to get onto the Internet but can't. We go to reception to get instructions. When Steve tries to sign on back in our room, the sign-in doesn't work. I phone reception and the clerk says that a staff member has to set up our access. He says he'll send the porter up. While we wait, we attempt to turn on the television but the sound is very poor. A half hour later, the porter hasn't come and it's time to leave for dinner.

We decide to stay in the hotel for dinner since we are tired. It appears that the hotel dining room is outside and up a flight of stairs. Steve and Bob go up to check it out but find it's closed. We go outside of the hotel and find a restaurant across the street. Ristorante Primi Piatt doesn't have an English menu but we can pretty much decipher the choices with our waitress' help. Bob and Judy order vegetable antipasto. Steve and I order a pasta "Primo" to share. Mama Nina and Judy order pasta. Bob, Steve and I each order a second course, "Secondo". Bob and Steve get scaloppini and I order calamari grigio which they tell me is fungi or mushroom as we know it. We order our first Italian wine. We all enjoy our meal, but learn a lesson. The first course is called Primo. It's a pasta and large enough to be a main course.
Back in our room, we still don't have Internet access. Steve is not happy since even on vacation he prefers to check in to work every day. The bad television reception makes him very dissatisfied with the hotel.
Day 3: Friday, May 14
After weaving our way through the hallways, we find the breakfast room. It's much more than I expected and quite good.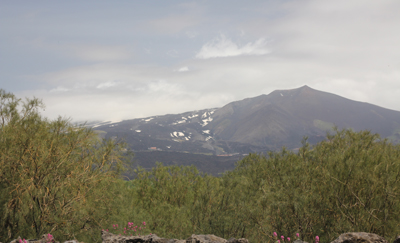 Mt. Etna From Highway
Our first destination today is one of the sites Steve has been most looking forward to. It takes us approximately four hours to drive to Mount Etna. Carmelo gives us lots of information as we pass towns, cities and castles.
Mt. Etna is the largest volcano in Italy, spanning 460 square miles. As an active stratovolcano, it's a large steep volcano built of alternating layers of lava and ash. It's one of the most active volcanoes in the world, almost always having volcanic activity. Approximately half a million years ago, it first erupted beneath the Mediterranean Sea. About 300,000 years ago the main activity occurred to the southwest of today's summit. 170,000 years ago the activity moved to the present summit. Eruptions alternated between explosive and effusive.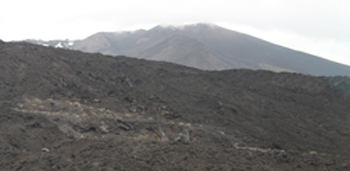 2007 Lava Flow - Nothing Has Grown Back

Major eruptions led to the collapse of the summit which formed calderas. The United Nations declared Mount Etna a Decade Volcano, a.k.a. a volcano that will most likely erupt every 10 years. During the 20th century major eruptions took place in 1949, 1971, 1981, 1983 and 1991-1993. The latter threatened the town of Zafferana but efforts to divert the lava flow saved the town. Only one building a few hundred meters from the town border was lost. A somewhat silent, slow lava flow occurred on the upper southeastern flank from September 2004 to March 2005. It did not cause destruction. Intense eruptions took place at the southeast crater from July through December 2006. At this crater, four fountain like explosions occurred in 2007 between March 29 and May 7. Ash and a low-level explosion of stones came from of a vent on the eastern side in August of 2007.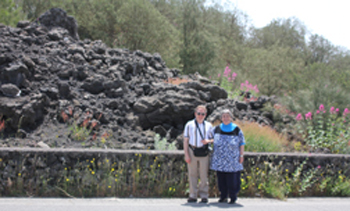 Steve & Mama Nina at 1981 Lava Flow
At one point during our ride, I observe Carmelo making a phone call. As we get close to Mount Etna, we pull into a parking lot. It's the site of the 1981 lava flow. We see hills of lava but much vegetation has grown back. I even see some pink flowers sprouting from a bed of lava rocks. Fertile volcanic soil supports agriculture. Vineyards and orchards grow on the lower slopes of Mt. Etna. We enjoy the site, taking many pictures. Soon after we arrive, a truck pulls in. The driver sets up his souvenir stand on a truck. Carmelo must have called him to tell him our approximate arrival time. Bob and Judy enjoy shopping and buy something. We look but it's too touristy for us.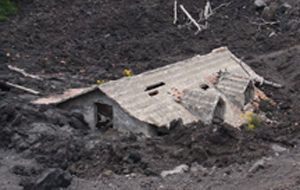 House Destroyed in 1991 - 1993

On our way up to the volcano summit we ride through the 2007 lava flow. Nothing yet has grown back here. We pass a house destroyed by the 1991-1993 eruption.

When we arrive in the Mount Etna parking lot, Carmelo points out some of the structures. We asked him in which restaurant we will have our lunch. He says it's up to us. Our itinerary says "Free lunch". We understood that this meant lunch was included. It soon becomes obvious that it's not. I show Carmelo our itinerary. He states that "Free lunch" means lunch is on our own. He says he knows of a good restaurant and he can arrange it for us if we'd like. We agree to this.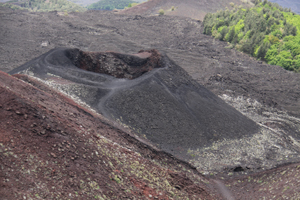 Cinder Cone

While Carmelo goes to arrange our lunch, we walk up to the foot of the crater. Steve, Judy and Bob leave Mama Nina and me in a sitting area. The hike is too challenging for us. She and I have a nice chat. We see quite a few school trips pass by. Steve, Judy and Bob hike around a cinder cone. When they return, they report that they found it fascinating.

We go to the restaurant, Ristorante Crateri Si Nicolosi, and enjoy a great lunch. We have bread, pasta, meat which is veal and rolled beef, salad, fruit, wine and coffee. Carmelo did a good job arranging this. It's a feast at approximately $25 each. If we keep eating like this, we'll be too heavy to board our airplane home by the end of the trip.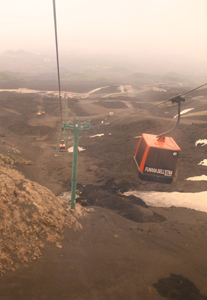 Mt. Etna Cable Car

We return to the van which is parked in front of the building with the cable cars that go up Mt. Etna. We look at the approach to the cable car and find many stairs. Although I would have liked to take the cable car, the stairs are definitely too many for me. Mama Nina and I get in the van. Judy goes up with Steve and Bob to the beginning but decides not to go. I work on my log while Mama Nina relaxes. It doesn't take her long to fall asleep. When Judy returns, she says that even after the initial flights of stairs that I saw there were another two flights. The cable car comes off the track. It stops and the riders board.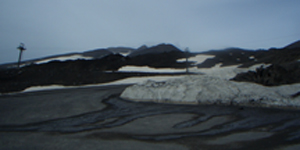 Snow on Top of Mt. Etna
Meanwhile Steve and Bob take the cable car. When they return they tell us of their adventure. They went a long way up but did not get to the very top. There was still much snow, even in May. The ride up was very windy. The pictures they took were phenomenal. They got one showing how the wind was really blowing the cable cars. When it became too windy to go any further towards the summit, they were let out of the cable car. A bus/rugged vehicle came to take them back because it was too windy to return on the cable car. Bob took a picture of Steve in front of the vehicle with his arms wrapped around his camera to protect it. They rode down a series of switchbacks.

Switchbacks to Return From Mt. Etna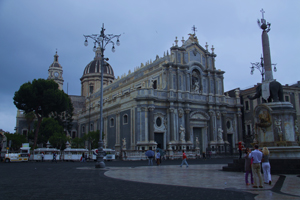 Catania Cathedral
When we leave Mt. Etna, we ride to Catania. Catania is known for its baroque style and streets filled with black lava stone from Mount Etna. We ride around the city. It's picturesque but very trafficy. Soon it starts to rain. Steve and I saw it in 1995 during our Mediterranean cruise. At that point, the most impressive memory was the traffic. Fifteen years later, after seeing Asia traffic, Catania traffic seems pretty benign. Due to the time and the weather, we only make one stop at the square in front of the ornate Catania Cathedral. Even in the rain, it's blue and gold is beautiful. Steve, Judy and Bob get out for a quick photo stop. Mama Nina and I contently watch from the van. Once again, I find Catania disappointing. We don't get any sense that it's a thriving commercial center with a big university and a population whose motto is carpe diem as our Lonely Planet book described it. Our time could have been better spent.

We make a rest stop at a shop like a convenience store in the US. They have restrooms in the back of the store. This one is very crowded especially with little girls running around. There are no toilet seats on the toilets, making it difficult for me to use. For some reason, the seats have been removed. There are brackets which look like they were once used.
As we get close to the hotel, we ask Carmelo for a recommendation for dinner. He takes us around a square a block away from our hotel and points out several places.
Before Carmelo drops us off, I show Carmelo our itinerary for tomorrow to make sure we're on the same page. The itinerary says will go to Siracusa, Piazza Armerina and Agrigento. He says that it's too much to include Agrigento. We protest but he says it's too far. I tell him that our travel agent and his company assured us that we could also go to Agrigento. I show him our itinerary, as our travel agent said to do if discrepancies occur. I tell him that we especially want to see Agrigento because that is where Mama Nina's father's family is from. Carmelo calls his office and they verify what he says. He apologizes but says it's impossible, we will need the entire day for Siracusa. He shows us the distance on the map and explains that there are no roads which would allow us to travel this distance in one day. I had questioned this during our planning. All of us see that this would be unrealistic. I tell Mama Nina how sorry I am. She says she's having a wonderful time and seeing Agrigento is not that important to her. It's too bad that we hadn't gone there instead of to Catania.
When we return to our hotel, we re-group and head out for dinner. We choose the restaurant which is closest to our hotel, Trattoria Primavera. We eat al fresco. I order a sardine dish, trying to find a delicious entrée I had at a St. Joseph's Day celebration one year ago. A friend told me it was a Sicilian dish. The description of it sounded like my selection. When my meal comes, it's good but nothing like what I had hoped for. The sardine was not whole but ground-up. At the end of the meal, we ask for coffee. The waiter replies, "no coffee." We're amazed that the restaurant does not sell it. We ask again because we think that perhaps the waiter did not understand our request. He gets rude and yells at us. We all agree that the restaurant we ate at yesterday was far superior.
Day 4: Saturday, May 15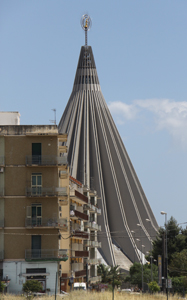 Lacrime Church
Today we have another long drive to Siracusa, about four hours. We drive through the more modern part of the city and see an interesting triangular building. If memory serves me right, Carmelo told us it was the Lacrime Church.
Siracusa has two main areas, the Parco Archaeologico della Neapolis and the island of Ortygia. Cicero described it as "the greatest Greek city and most beautiful of them all." At 2,700 years old, it's notable as being one of the major ancient powers of the Mediterranean and the birthplace of Archimedes, one of the leading scientists of the classical era in the Greco-Roman world. Founded by the ancient Greek Corinthians, it grew to be a powerful city state and allied itself with Sparta and Corinth. As other parts of Sicily, it was conquered by the Roman and Byzantine Empires. When Palermo became strong, it took over Siracusa.
First we go to the archaeological site, Parco Archaeologico della Neapolis. Once again, Carmelo drops us off. We ask him if he'll come with us and explain what we're seeing. He tells us how we should proceed, gives us a little bit of information about what we'll see but stays with the minivan. So we're off with Lonely Planet and our itinerary as our guide. Neither is sufficient and I'm quite disappointed. Signs are in Italian only.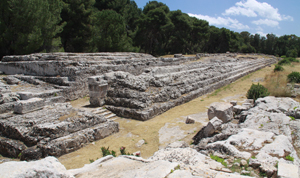 Apollo Temple

We come to a temple. The only note in Lonely Planet leads us to believe that it could be an altar to Heron II. Later I find information that says it was a temple to Apollo and dates back to the sixth century BC. We look, take a few pictures, but don't go into its grounds. It would be very difficult for me and Mama Nina to walk around the temple and there's so much else to see here.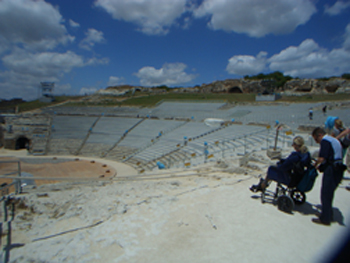 Greek Amphitheater
"Make sure you put my brakes on!"

Next we go to Teatro Greco, the large Greek amphitheater, circa late fifth century BC. It's awesome! Many famous plays have been performed here throughout history, including the tragedies of "The Etna" which celebrate the establishment of Catania, and the first performance of "The Persians" in 472 BC. The late tragedies of Aeschylus were among those performed here in the playwright's presence. In its initial form, it probably had three tiers of seats which went straight up. We see an area which may have been the orchestra. In Roman occupation, it was converted to the needs of their entertainment including circus games. Today it has a conical semicircle, of 67 rows in nine sections with eight aisles. Greek drama in Italian is performed here every summer.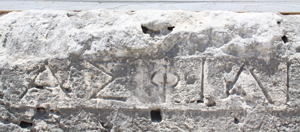 Ancient Letters Carved in Stone
Unfortunately, they are setting up for the summer theater now so much of the architecture is covered with wooden seating. While I find this a disappointment, I'm glad to learn that the theater is still used. Steve, Judy and Bob wander through the structure, taking pictures. Mama Nina and I sit at the top and take in the grandeur of the amphitheater. As Steve parks me in my wheelchair, both Mama and I tell him to make sure my brakes are on. Steve gets a good close-up of ancient letters carved in the stone.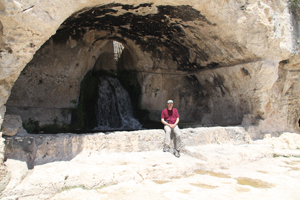 Cave Used as Prison Cell with Waterfall

Once our wanderers return, we go to the back of the theater which contains small quarry caves or catacombs used as prison cells. Called Latomia del Paradise, I'm sure they would have been very uncomfortable for prisoners. Today it's picturesque; one even has a waterfall in it. Supposedly they were hewn in such a way that the prison guards could go to the top of the quarry and listen to the prisoners' conversations. In 413 BC, 7000 prisoners of the war between Siracusa and Athens occupied this prison. Steve wanders in and out so he can get pictures. I view them mostly from the outside. Many have thresholds at their entrances.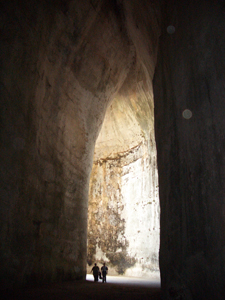 Ear of Dionysius

We go to the Orecchio di Dionsio, a.k.a. Ear of Dionysius, named after the tyrant. Shaped like an ear, it's famous for its acoustics. It magnifies sound so that someone entering the cave can hear what those standing at the end of the cave say. We see a bird which looks like it's sitting on its nest high up in the wall. At first, Mama Nina sits outside the cave. We are so impressed that Steve brings her in. Judy, Bob and I wait inside, oohing, aahing and otherwise commenting. When they get to us, Steve says that as he and Mama Nina entered, they could hear our conversation. The distance between us is approximately 65 meters. The cave is 23 meters high. In ancient times, dug as a narrow tunnel to store water, its builders continued to widen it by digging down and sideways. Eventually an earthquake struck and made the cave unstable for water storage.

In general, we found the paths around the park flat and with good access. However as we get to the entrance of the main part of the quarries, the paths become rough. Steve, Judy and Bob go ahead while Mama Nina and I relax and wait for them. It's a beautiful day, not too hot, and I enjoy sitting in the sun. When they return, Steve says it would have been rough pushing me through the quarry. The stone from the quarry was used to build the ancient city of Siracusa.
Next we go to lunch. Carmelo meets us and we tell him we only want a quick lunch. He directs us to a stand where we can get our first Italian pizza. He makes a few suggestions and gives us instruction on how to eat it. Some of the pizza has very little crust and another type has no crust at all. We have a small plain pizza and sausage eggplant on another type. We also try a rice ball.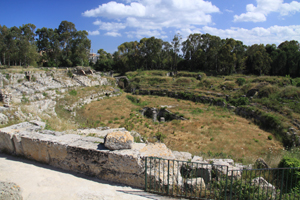 Roman Amphitheater

Our final stop in the park is the Roman amphitheater, Anfiteatro Romano, circa 2nd century A.D. Built for gladiator fights and horse races, the Spanish used it as a quarry for the Ortygia city walls in the 1500s. The center is rectangular and was used for instruments that could project scenic images. It's quite overgrown and much more difficult to get around than the Greek theater. I stay at the most accessible point and take photographs from different angles. Mama Nina sits while Steve, Judy and Bob explore.
Cathedral of Siracusa
in Old Town
We ride to the old city of Ortygia, founded in the late 700 BC by the Corinthians. Today much of its style is Baroque. We crossover a bridge to get to it. Carmelo lets us off as close as he can to the cathedral. Built as the Greek Temple of Athens, in the seventh century St. Paul converted Ortygia to Christianity and Bishop Zosimo converted the temple to a church.

We walk around the side of the cathedral and when we reach the front, I am awestruck! It's beautiful, the facade is white stone with six Doric columns and many statues. It looks as much like a palace as a cathedral. I especially like the statue of St. Lucy, the patron saint. Somewhere I read that this is the oldest cathedral in Europe. It's in excellent condition. There are a good number of steps in to the cathedral, but it's worth the climb.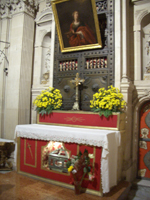 Chapel of St. Lucy
Inside we visit the chapel of St. Lucy, the adoration chapel, a chapel where the bones of an Archbishop are buried and several other chapels. We can only go to the periphery of the main part of the cathedral because they are setting up for a wedding. It will be a beautiful wedding as the flowers and architecture are gorgeous.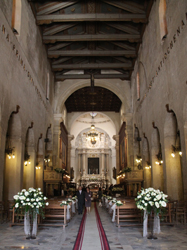 Cathedral Inside
I find the inside of the cathedral almost as beautiful as the outside. Later Carmelo tells us that until the 1990s most people were buried in mass graves. Nobility could be buried in the cathedral.
Carmelo had instructed us that after we're done in the cathedral, we should walk down to the harbor where will see the fountain, Fontana Aretusa. The fountain sculpture is impressive but I don't see any water around it. Lonely Planet has the story of the fountain. Legend says that the goddess Artemis changed her beautiful maid Aretusa into a spring to protect her from unwelcome advances of the river god Alpheus.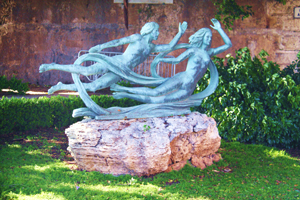 Aretusa Fountain

One of our party spots a gelato shop at the harbor dock level. It's too many stairs for me to go down and we don't see anything that looks like a ramp, so Steve, Judy and Bob go down. When they get back, the gelato is quite melted. I'm glad I decided to only have a taste of Steve's as opposed to getting my own. It never would have made it back to me. By the time they're done, Carmelo is looking for us. He says the traffic is getting bad in this area and it's time to leave.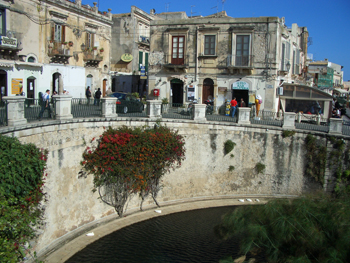 Street Along Harbor
We drive out of the old city on the scenic route. It's beautiful! I wish we had stayed here instead of Palermo. I sleep for most of the return trip back.
For our final Sicily dinner, we return to Ristorante Primi Piatt. Having mastered, or at least so we think, the nuances of Italian meal courses, most of us order from the primo menu and have pasta. We share an antipasto vegetable plate. We all enjoy our meal.
I have one final note on this part of our tour that I want to make. Despite our itinerary listing all of the sites we visited, we had to pay for some of the admission. This was a disappointment because on our other trips unless it said we had to pay, when a site was listed as part of the tour, admission was included.
Day 5: Sunday, May 16

Today we fly to Rome. We have a transfer from our hotel to the Palermo airport. When we get to the airport, the check-in line is fairly long. Staff opens other windows but people just rush over, cutting in front of whoever gets in their way. There is no sequence management.
We get to security and put our bags in the proper spot. Security pushes me through and I wait. Security keeps putting my carry-on back through the x-ray machine. I tried to explain that I carry insulin and other medications in my bag. They say that isn't it, so I ask what the problem is. They don't answer, I finally learn what they're looking for. Last night I changed my continuous glucose monitor which requires tape to secure it. We re-organized our packing. I inadvertently left my scissors which are part of a small Swiss Army pocket knife in my medicine bag. When I explained what happened, they refuse to give me back my tool.

We're relieved to get to the gate. Staff comes and takes me and two others in a wheelchair lift bus. All others, including Steve, go in a shuttle bus. Unfortunately Steve and I have bulkhead seats, which I had specifically asked not to have. We fit our large knapsack in the overhead compartment and give Bob and Judy our small knapsack. The stewardess comes and moves our large knapsack, so I'm a bit edgy for most of the flight.
When we arrive at the Rome airport, we meet our transport. The trip to the hotel is quicker than I expected. Checking into the Hotel Visconti Palace goes smoothly. We ask for a recommendation for dinner and they recommend a restaurant which specializes in Italian meat.
We go to our room. Steve tries to login, but is unsuccessful. He's beginning to feel like he's getting a cold, so we decide to take a nap until dinner time.
We go to dinner at Vito's Roma Restaurant. We enjoy our dinner. The table next to us has ordered pork chops on a skewer. The staff comes and carves them, then takes them back and cooks them. We enjoy this entertainment and think we might want to come back to try them. Bob asks the people how they like them. They say that they were fatty. We decide not to come back.
We returned to our room and turn in.
History of Rome
Legend has it that Romulus and Remus founded Rome, but most believe that this is a myth. Romulus probably became the first king of Rome on April 21, 753 BC when the city was a mixture of Etruscan, Latin and Sabine communities on the Palatine, Esquiline and Quirinal Hills.
In 509 BC, the Roman Republic was founded and it became the major power in the Western world. Rivalries led to a civil war. Julius Caesar fought Pompeii. In 44 BC, when Caesar was murdered, Mark Anthony battled Octavian. The latter won and became the first Roman Emperor, known as Augustus. The city experienced political stability and artistic achievement. Later rulers and events such as the Great Fire of 64 A.D. brought the city to disaster. The city came back and by 100 A.D. had a population of 1,500,000. Rome became the capital of the world. In 330, Constantine moved his base to Byzantine. This initiated another decline. In 476 the final Emperor of the Western Roman Empire, Romulus Augustulus, was overthrown.


Christianity had grown, at first in secret. Under Constantine it achieved official recognition. Between 590 and 604, Pope Gregory I facilitated the church's strength in Rome. In 774, Pope Leo III bestowed the crown upon Charlemagne and he became the Holy Roman Emperor.


During medieval times, the Papal States fought ruthlessly as did all powers. In 1309, Pope Clement V moved out of Rome. The Colonna and Orsini families fought to control the city. In 1377, Pope Gregory XI came back to a devastated Rome. He moved into the Vatican fortress.


The Renaissance began. In the 15th and 16th century, the Popes demanded leading artists to work on their Papal projects. In 1527, the Spanish ransacked Rome. In the 17th century Baroque masters rebuilt the city, creating churches fountains and mansions. After the unification of Italy in 1860, Rome experienced a building boom. In 1870, it became Italy's capital.

Day 6: Monday, May 17
Today we have a four hour tour of ancient Rome. We meet our guide Anna and driver in the hotel lobby. As we drive through Rome, Anna points out the Supreme Court and other major sites. Our first stop is San Pietro in Vincoli, a.k.a. St. Peter in Chains, or more commonly known as the Church of Two Chains.

The outside of the building is mundane. It has a good number of stairs into it. In 432-440 it was built to house the chains that held St. Peter in Jerusalem and Rome. Legend says that when Pope Leo I compared the two sets of chains, they fused together. The chains are displayed in a case under the Basilica's main altar.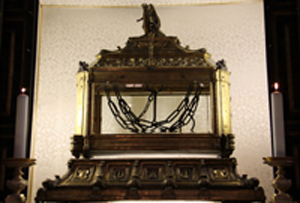 Two Chains of St. Peter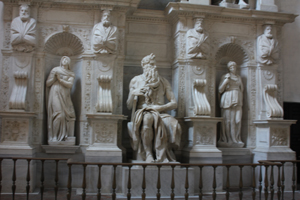 Michelangelo's Moses
The church is also famous for housing Michelangelo's statue of Moses. Michelangelo depicted Moses as having two horns. Anna tells us that Moses' body is larger than his head because it was designed to be high up and this was the appropriate way to carve a high sculpture. Supposedly the horns show "the radiance of the Lord" because in Hebrew the words for "beams of light" and "horns" are very close. Other statues surround Moses. The carvings are beautiful. We also see incredible murals of biblical stories. There's a fresco by Giovanni Battista Parodi showing The Miracle of the Chains, circa 1706. We see paintings of St. Augustine and St. Margaret by Guercino. One altar has a mosaic of St. Sebastian. The story says that there was an outbreak of the plague in Pavia of northern Italy. It could only be stopped if an altar for St. Sebastian was built in this church, so it was. There are a good number of tombs and other pieces of art, too numerous to list. The inside of the church is astounding!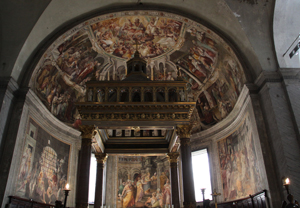 Incredible Interior Murals in the Church
of Two Chains
Anna has a lot of knowledge about what we are seeing and she enjoys sharing it.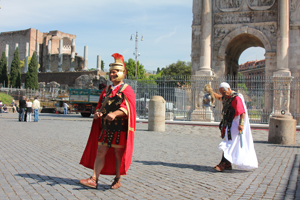 Arch of Constantine

Our next stop is the Colosseum. Our driver lets us off at the Arch of Constantine, which was part of the inner city wall. The Colosseum and Arch sit on cobblestone, which makes pushing the wheelchair a bit hard but we've done worse. The Arch is located between the Colosseum and the Emperor's Palace on Palatine Hill. Dedicated in 315, it commemorated Constantine I's victory over his rival Maxentius at the Battle of Milvian Bridge. It was the last of the triumphal arches. We see many tourists and a few men dressed up as Roman soldiers. If you pay them, you can have your picture taken with them. We don't pay but we take their picture when they're not looking.
Colosseum
Before this trip, Steve compared most ancient ruins to the Colosseum. When I see it, I understand why. As we marvel at it from the outside, Anna provides background. The Colosseum is the largest amphitheater built by the Roman Empire. Originally it was called the Flavian Amphitheater. Completed in 80 A.D., Emperor Vespasian, who was very unpopular, built it over a lake on Nero's Domus Aurea Palace compound to do something nice for the people. There were 72 entrances. Each was marked with its section number so that up to 50,000 spectators could find their seats quickly. Today there is only one entrance. Emperor Vespasian and his successor Titus ran games for 100 days and nights. These killed 5000 animals. After Titus, Trajan held an 117 day spree with 9,000 gladiators and 10,000 animals. After the Roman Empire fell, the Colosseum was no longer used. Afterwards it served as housing, workshops and residence for a religious order. Two of Rome's warrior families, the Frangipani and the Annibaldi, used it as their fortress. Several earthquakes damaged the Colosseum. Portions of the Colosseum were removed so they could be used to build other structures. At one point it became a Christian shrine.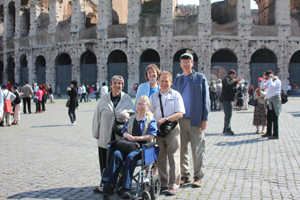 Us In Front of Colosseum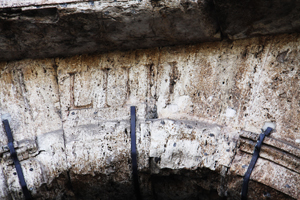 Numbered Entrances
Facing the Colosseum, we see three levels of arches. Columns are in between each arch, Ionic on the first level, Doric on the next and Corinthian at the top. In its day, marble statues sat in the second and third level arches. The top-level had supports that held up a canvas which covered the inside. This protected spectators from sun and rain.
As we approach the entrance, we see a huge line. Thank goodness we have prepaid tickets which allow us to go right in. First Anna suggests we make a stop at the restroom. There's quite a line into the ladies room, but she takes me to the front.

I tell Anna that we can wait until we get closer. I usually wait until I'm close enough to the handicapped stall that the number of people before me is the same as the number of stalls. She indicates that this is not necessary and nicely asks a girl at the doorway to let us go next. The girl responds "Why?" Anna who is pushing me in my wheelchair says "I'm pregnant." The girl gets an attitude, so I say I'm in a wheelchair and need to use the handicap stall. The girl says very snippy and says, "I was on line first." Next Anna just blocks the girl and tells me to go. As this exchange is going on, I see a few women go into the men's room. When I'm done, Anna takes me outside and within a minute Mama Nina and Judy, who waited on line, join us. Access into the Colosseum and the ladies room is level and ramped. Of course, Steve and Bob are back from the men's room way before any of us.

We go to the elevator, which is clearly marked for people using wheelchairs, have difficulty walking and strollers ONLY. Many people waiting fit none of these conditions. Anna says this is not unusual. We don't know if people don't read the signs or just ignore them. She gets us onto the elevator as quickly as possible. She tells us we all must go up together, so we don't get separated.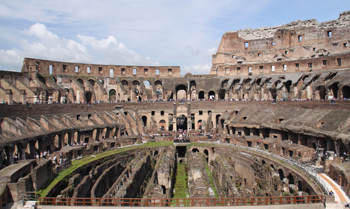 Colosseum Inside
We begin at the top level to which tourists are allowed, which appears to be the second level of seating. It's crowded but Anna makes sure we get up to the front so we can see. We take our turn, but when it is our turn Anna make sure that no one cuts in front of us. The inside of the Colosseum had three parts, the arena, cavea, and podium. The arena contained a wooden floor covered in sand. This prevented the fighters from slipping and it absorbed blood. Caged animals and battle accessories were pulled from under the arena by a complex network of pulleys. The cavea was the spectator seating of three tiers. Knights sat in the bottom tier, wealthy people in the middle and the lower class in the top. A wide veranda in front of the seats made up the podium. Emperors, Senators and other VIPs lounged here.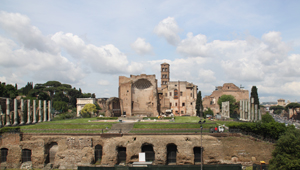 Emperor's Palace Seen from
Colosseum
From the top-level, we see that part of the arena floor has been removed. This reveals many stone partitions forming sections where caged animals and gladiators waited for their tournaments. Grass has grown on the ground. Anna says that the Colosseum was built in a valley surrounded by seven hills. We look outside the Colosseum windows and she points out the hills. From one window we get a good view of the Emperor's Palace. We walk all the way around the

second level and then go down to the first. We have a closer view of the arena and underground chambers. Luckily, Mama Nina is able to find a few places to sit on each level. Part of the downstairs has a weapon display. It's interesting but we're much more fascinated by the architecture. Unfortunately tourists cannot go down underneath the arena.
Next we ride to the Forum. As we pass some of Rome's main sites, Anna points them out. When we arrive at the forum, we decide we're in need of some water. Mama Nina and I wait outside of the Piazza Venezia while Anna takes the others to buy water. We watch the traffic. At one point we see a man go by driving a horse and empty carriage.

We will view the Roman Forum from a platform above it; most likely Capitoline Hill. There are many stairs up to the top, so Mama Nina decides to wait for us at the street level. I climb the stairs with Steve's help and Bob brings up my wheelchair. We see a square with three buildings and impressive statues. I don't get what it is. Perhaps it's the Piazza del Campidoglio. I also see several van vehicles and wonder why we couldn't park up here. We walk to the platform overlooking the forum, wow!
Anna tells us that forum means outside Rome. When the Forum was built in the seventh century BC it was outside Rome. Today the Forum is at the center of the city. It grew for 900 years and held markets and religious complexes. It served as the Civic Center.
As we look down at the Forum, we see the ruins of many ancient government buildings. Elections took place here, public speeches were made here and it served as the center of commercial businesses. The Forum began as an Etruscan burial ground. In the 7th century BC, it began development towards becoming the center of the Roman Empire. After the fourth century, the lack of upkeep made it into pastures. In the Middle Ages it became the source for Roman emperors to obtain stone and marble to build their monuments, churches and palaces. The Renaissance brought renewed interest in classical architecture, so the area underwent excavation.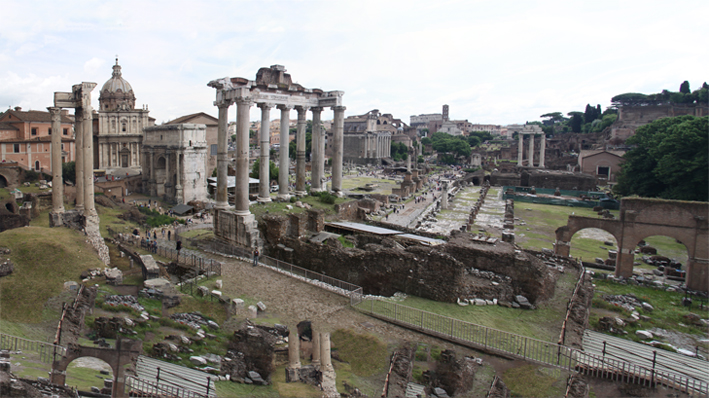 The Forum
The first structure which catches my eye is the Temple of Saturn, originally built in 497 BC by Tarquinius Superbus and later reconstructed from 360 to 380 A.D. As the focus of the December festival of Saturnalia, Rome's biggest major festival, it functioned as the public treasury and temple. It has eight columns of Egyptian granite. We see the Arch of Septimus Severus, circa 203 A.D., built to celebrate the Parthian victories. It appears to me to be the ruin in the best shape. It has three archways and looks similar to the Arch of Constantine which I described above. To the left of the Temple of Saturn, we see the remaining columns of the Temple of Vespasian & Titus, circa 79 A.D. built by Titus and Domitian. It is quite narrow. The ruins of the Temple of Concord, 367 BC, built by Marcus Furius Camillus are just in front of the Temple of Vespasian & Titus. They are barely noticeable since they are just ruins. I see the Temple of Castor and Pollux, circa 494 BC, built by Aulus Postumius Albinus. It's about the farthest structure of which I can make out the composition. Originally built in thankfulness for victory at the Battle of Lake Regillus, it honors the twins of Gemini, Jupiter's sons. From the second century BC, it functioned as the building in which the Roman Senate met where speakers used the podium as their platform. In the Imperial era, it became the office for weights and measures and a bank for the treasury.
Even farther away, I see what I think is the Temple of Caesar, circa 29 BC, built by Augustus.

Construction started in 42 BC following the Senate glorifying Julius Caesar. Julius Caesar became the first Roman honored with a Temple. Through my camera lens, I see so much between the Temples of Saturn and Caesar, that I wish we could go down and explore. It was bad planning for the travel agent and tour company to only allow four hours for our tour of Rome. While the grounds of the forum look anything but barrier free, Steve has pushed me over much worse.
We see the ruins of Basilica Fulvia- Aemilia. We barely see the Tempio di Antonio e Faustina, circa 141 A.D., built by the Emperor and dictated to his wife Faustina. Unfortunately it's blocked by other ruins. During the eighth century, it was converted to a church and called Chiesa di San Lorenzo in Miranda.
Anna points out the structures and provides a lot of details as we look out on the forum. I don't write them down, thinking I can find the details later. It's a wonderful site but we spend far too little time here. Back on the van, Anna says we're supposed to see one more church but we're out of time. She says that's why she took us to the first Church. We had wanted to add the pantheon to our stops. The van could only drop us off. We decide against going because it's starting to rain and we're tired. We drop off Bob and Judy at shops recommended for Bob to buy some deacon stoles. Mama Nina, Steve and I return to the hotel and sleep.
We go to dinner at L'Antico Porto, an Italian restaurant in a nearby hotel. We enjoy it but it's more expensive than we expected.
Day 7: Tuesday, May 18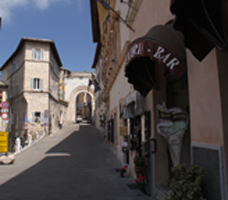 Assisi Road with Arch
Today we go to Assisi. We're picked up at 7:30 am for a two-hour drive. I try to sleep for the

first part of the ride, so I don't notice the scenery. As we get close, I think it's beautiful. Our driver's name is Marko. We meet our guide, Maura Escelator. Marko takes us as far up to Assisi as our vehicle is allowed. Although Assisi is a small city, we still have quite a hike into the main part. The pavement is smooth but the slope is very steep. The scenery is picturesque and I especially love the arches.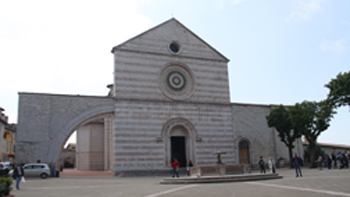 Basilica di Santa Chiara
First we stop at the Basilica di Santa Chiara, a.k.a. Basilica of St. Clare. Maura gives us the background outside because no talking is allowed inside unless the guide has a microphone and tourists have ear sets. St. Clare, the daughter of an Assisi nobleman, founded the Order of the Poor Ladies.

After her death the group became the Order of Poor Clares. Built in the 1200s, by Filippo Campello, it's composed of white and pink stone in Romanesque style. In October 1260, St. Clare's remains were buried under the high altar. In 1850, her tomb was found with the skeleton intact. I find the façade interesting and different from what we've seen so far. There are a few steps to get in but they aren't bad. The inside is nice but no pictures allowed.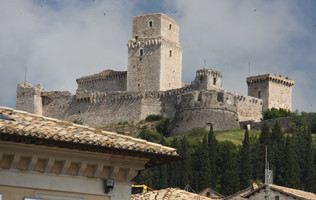 Rocca Maggiore
Looking up towards the top of the hill, we see Rocca Maggiore, a medieval castle, circa 1367, built by Cardinal Albornoz. I read it has a 360° view of Perugia. Unfortunately this tour is only two hours, so we won't have time to get up there even though our itinerary says we have the full day in Assisi.
We walk downhill for a short distance and pass a nice fountain. The streets are quaint. Soon we're heading back uphill. I see men loading bricks into a metal basket. Then they pull it up several storeys to where they're used. I think it's interesting and quite efficient.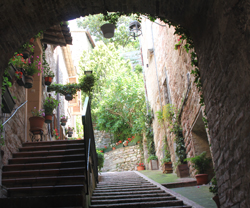 Pretty Alleyway
Maura points out a beautiful alleyway between two buildings separated by an arch. Flowers hang from windows and crevices within the walls.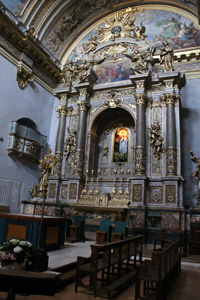 Church of Santa Maria
Sopra Minerva

We go to the first century B.C. Temple of Minerva which today is the Church of Santa Maria Sopra Minerva. The outside still has its façade of columns. I decide there are too many steps for me to go in so I stay outside with Maura. She tells me that she learned three languages in school. Her teachers were conservative nuns. She uses English and French as a tour guide. She's a regional guide and likes her job. Inside the church, photography is allowed and Steve takes a beautiful picture of the altar. It's very ornate with columns and a blue green theme, statues and different types of metal.
Next we walk up to the Basilica of St. Francis of Assisi, the mother church of the Franciscan Order and burial place of St. Francis. Begun in 1228, it's built into the side of a hill and has two churches called the Upper Church and Lower Church. Below the lower church is a crypt which houses the remains of St. Francis. The Basilica became a UNESCO World Heritage Site in 2000 after restoration from a 1997 series of earthquakes. Frescoes had to be put back together from some pieces which were the size of seeds.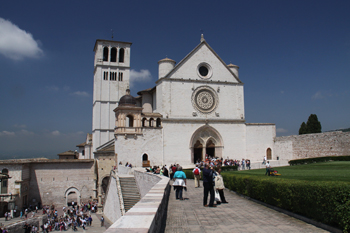 Basilica di San Francesco
Maura tells us that Frances left his rich and comfortable father's life to live in a town below the upper class area. Until the 1200s, the basilica hill held gallows for executing people. Francis wanted to be buried with criminals, like Jesus was. Maura gives us background on the Upper Church. A 28 part fresco traces St. Francis's life. Above each part is a biblical fresco with stories from the Old and New Testament. They start to the right of the altar and continue clockwise. The style revolutionized art because the backgrounds of the frescoes were scenic rather than gold leaf. They included people of all classes and the suffering of Jesus. Francis held that the human body was brother and the earth was mother and sister. There is debate about who the actual fresco artists were, but they made the stories into a picture Bible for the illiterate. The Upper Church, built between 1230 and 1253, has a grandiose style.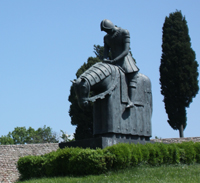 St. Francis Statue
When we come out of the Upper Church, we admire the beautiful garden with the St. Francis cross and statue. Maura explains the Lower Church and says goodbye.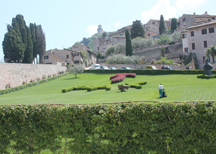 Basilica Garden

To avoid stairs, we walk back to the road and down the hill to the Lower Church. It doesn't look like much from the outside but inside it's incredible. We see many chapels to the saints and four frescoes over the main altar. Built between 1228 and 1230, it has stained glass windows made by master craftsmen from Germany, England and Flanders. The frescoes represent what St. Francis considered his "four greatest allegories" of his victory over evil and his order's principles of poverty, obedience and chastity. The artist Cimabue painted the frescoes based on the information he got from St. Francis' two nephews who knew him. Cimabue's portrayal of St. Francis as being peaceful and calm is believed to be the most accurate.

Steve, Judy and Bob go downstairs to St. Francis's crypt and the relics. Later Steve tells me that there were displays of his clothing. They are gone for quite a while. Mama Nina sits. I walk around and admire the beautiful artwork. I feel so at peace just wandering.
On our way out, I pick up a brochure which describes St. Francis' view of Universal Brotherhood as "... attentive to God, attentive to man; but also attentive to the whole of creation. Franciscan existence is an immense space where God, man and the world of nature harmoniously find their place. In Assisi even the sun, moon, stars, fire, water and wind feel at home because Francis dared to call them brothers and sisters. Before Francis, the unity of the divine plan of creation loses the veil that hides it to other mortals. Francis contemplates nature with the stupefied and reverent eyes with which the first man saw on the first radiant morning of the world."
We follow Maura's directions to return to the parking area. We're all happy that most of the way is downhill. We pass many shops on narrow picturesque streets and purchase some postcards.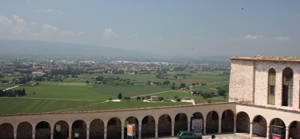 Town of Spello from Basilica
Marko takes us to a pizza Café in Spello which is a town just below Assisi. Steve, Judy, Bob and I order four pizzas. Three would've been enough but Bob's choice has spicy meat. Mine has some spicy meat but less. Judy has a vegetable pizza and Steve has a white pizza. I like Judy's and Steve's the best. Bob takes the leftovers for a snack. Mama Nina has spaghetti carbonara. Someone tells us it is a meal that brings good luck.
When we get back to Rome, we drop Bob and Judy off at the Vatican. Judy arranged for us to get a small group audience with the Pope tomorrow. They go to pick up the tickets. Mama Nina, Steve and I return to the hotel. Mama Nina's and Steve's colds are flaring. We nap.
We go to dinner at Trattoria La Barchetta Roma. It's a nice Italian restaurant with fair prices. The food is very good and they gave us extras, such as Champaign.
Day 8: Wednesday, May 19
History of Vatican City
Sometime during his papacy of 498 to 514, Symmachus became the first Pope to establish an official residence in the Vatican. In 846, Leo IV built the Leonine walls in response to Saracen raids. During the 12th century, Pope Eugenius III built the Palace. In 1377, the Vatican Palace became the Pope's official residence. Since then Popes have enlarged it, strengthened it and redecorated. In 1506, the army of Swiss Guards was appointed to defend papal states. Even though today they appear to be dressed as entertainers, they are actually well trained soldiers.
In 1861, Vatican City became part of the Kingdom of Italy. In 1929, Pope Pius XI and Mussolini signed the Lateran Treaty which gave back Vatican its independence. The Pope also got sovereignty over three basilicas outside of Vatican City, San Giovanni in Laterano, Santa Maria Maggiore and San Paola Fuori le Mura.


Today is our day to see the Vatican, the world's smallest country and my fifty-ninth country visited. Judy arranged for us to go to a small group audience with the Pope at St. Peter's Square. Small group means a thousand as opposed to tens of thousands that the Pope meets with on Sunday. We're picked up at 8:30 am and dropped off close to St. Peter's square. It's crowded. We get on line. Someone tells us to go to the front of the line but Steve wants to stay with Mama Nina, Judy and Bob and doesn't want all five of us to go to the front. We have plenty of time before the event begins at 10:30 am.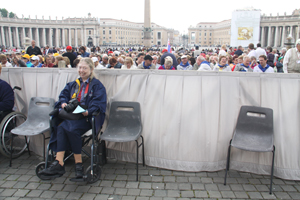 Front Row Seats at "Small" Group
Audience
Soon two women cut in front of us. We all have blue tickets, so no one is entitled to special treatment. I start to say something to them but they ignore me. Steve tells me not to make a scene. Then one of the line cutters calls up two friends to stand with them. I tell the friends that we were here first. Again the woman ignores me and says, "Come, come." Steve calms me down but I'm pissed! Another couple cuts in front of us. I try to dissuade her by blocking her with my foot. Later I see she has a cane and I feel a little bad, but they ignored me anyway.

At security, we're scanned. I tell them about my pump but they don't seem to understand. I set off an alarm and they ask me to open my bag. Eventually, they wave us through. Once in, we follow the crowd. We're continually waved to the far right. Steve and I are thinking, "okay, where are we going to be stuck now?" We get to restricted barriers placed in the front of the platform. We're waved in but told that only one person can accompany me. Steve and I are motioned all the way up to the front row which is set up for people in wheelchairs and a companion!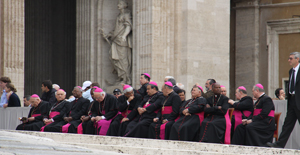 Bishops Await Pope
We have approximately an hour and a half to wait and watch what's going on. We see many class trips, mostly right behind us. Brides and grooms in their wedding clothes get to go on stage where they will receive a special blessing. We see many religious men on stage as well as four Italian dignitaries with special sashes. I think the religious men are Cardinals because they are dressed with Cardinal colored sashes and yarmulkes.
Later Bob tells us that the Pope attempts to meet with each of the bishops and it's bishops that we saw. We also see a good number of nuns going on stage. Bob phones us. He, Mama Nina and Judy got seats just a few rows behind us on the right aisle.
We marvel at the outside of St. Peter's Basilica. The original Basilica was built by Emperor Constantine, the first Christian Emperor in the fourth century. Within 1000 years, it fell into bad shape. During the middle of the 1400s, Nicholas V attempted a reconstruction. In 1506, Julius II hired Bramante. He designed a basilica based on the Greek cross with the central dome and four smaller domes. This destruction of much of the old basilica brought much disapproval. After 150 years, and contributions from many great artists including Raphael, Antonio da Sangallo, Giacomo della Porta and Carlo Medrano, it was finished. Of course the greatest credit goes to Michelangelo.
From where we sit, I want to photograph the roof edge which contains statues of each of the apostles and St. Paul. I can't get it into one photo, so I take quite a few and hope I have two that I can merge. I also take several close-ups. I can easily find St. Peter and St. Paul, but am at a loss to identify which statue is which apostle.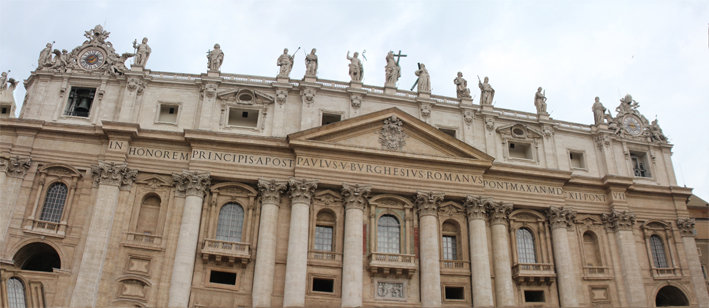 Statues on Top of St. Peter's Basilica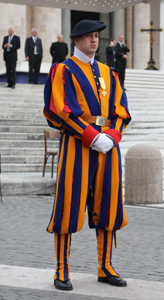 Swiss Guard

I love the Swiss guards, who wear their traditional red, yellow and blue uniforms and their traditional swords. We talk to our neighbors. On one side, we have a deacon and his wife from New Orleans. On the other side, is a mother and her child who is in a wheelchair. Our usher watches over us. He's friendly but strict, as he has to be. He really enforces the rules. When our neighbor with the child begins to climb onto her chair so she can wave to the rest of her party, he's right there making her get down.
As the time approaches for the Pope to appear, security increases. Our usher instructs us, in the front row, that we must stay seated as the Pope passes us. At one point, before the Pope arrives, a woman several seats down climbs onto her chair and our usher runs up to her and orders her to get down. When she doesn't respond to his first order, he repeats it and she finally gets down.
When we first arrived at our seats, we saw several photographers. As the time goes on, more and more come. I don't ever remember seeing so many photographers and long lenses in one place.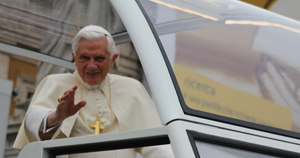 Pope Arrives in Pope Mobile
After waiting for about two hours, the Pope arrives in his Pope mobile. He circles the crowd for at least a half hour. It's really exciting! After he leaves our area, we watch on a large screen just to our left. At one point he rides just to the side Mama Nina, Judy and Bob. I'm happy that they are on the outside of their row and the Pope got so close to them, especially because Judy was the one who arranged for us to come to this event.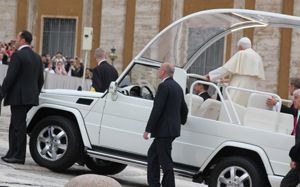 Mobile Climbs Stairs!

Finally the mobile goes up the shallow stairs to the stage. I am quite interested to watch the mobile climb the steps and hope that perhaps one day a wheelchair will be able to do the same thing. The Pope greets the audience and takes his seat. The ceremony begins. A priest speaks and explains that the ceremony will be performed seven times, each in a different language. Each priest speaker addresses the Pope, naming some of the groups which speak his language. The Pope appears to listen to each intently. I'm sure somebody nearby him is interpreting. There are many nations and groups for each language. Once the English speaking priest recites his message and groups, he tells us that at the end, the Pope will lead the crowd in saying the Our Father in Latin, then bless us and our family, especially those who are ill. The back of the ticket contains the Pope's blessing in Latin. After each speaker, the Pope speaks in that language. I don't understand everything he says in English but I do get a good bit of it. He refers a lot to Our Lady of Fatima. I am especially awed as he leads the entire audience in the Our Father and blesses us.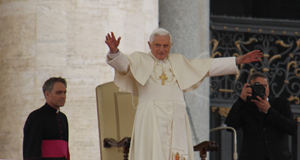 Greeting the Audience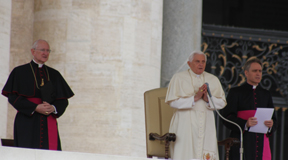 Leading Us In Our Father
After the ceremony, he meets and blesses each bishop. They have come from all over the world. It appears that he meets and blesses many of the people who have stage seats. There is one woman, dressed in black who he spends much time with. We see her leave the stage with a huge smile. She's followed by a man who appears to be a bodyguard. We wonder who she is, but never find out. We watch many people from all over the world leave the stage.

It seems like it takes forever, but finally the Pope gets back in his Pope mobile which climbs down the stairs. He rides out right in front of us! Parents raise their disabled children to the Pope for a special blessing, which he appears to enjoy giving. Steve and I shoot away with our cameras and get several incredible photographs. So ends our "small" audience with the Pope.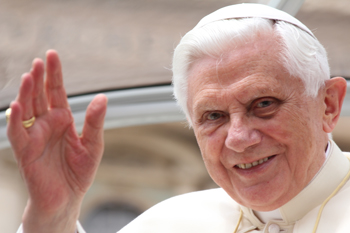 Waving Goodbye
We slowly make our way out of St. Peter's Square. We have only about a half an hour to regroup and get to our next destination which is the Vatican Museum. We find our Vatican chachka, appropriately a rosary. We look for and ask directions to the museum. It turns out we walk the long way around the exterior. Once we find signs to the museum, they're fairly easy to follow. We meet Anna as planned, at 1:30 pm.

The Vatican Museum is huge! It's the third-largest Art museum after the Hermitage and the Louvre. We go through security and Anna gets permission for us to use the elevator. I'm happy to see that the elevator is closely watched so that people who don't need it, don't use it.
We begin in the upper level courtyard and go to see diagrams of the Sistine Chapel. As Anna gathers us in front of the diagrams, a large group guide tries to cut in. An argument ensues and Anna sticks to it, even asking a fellow guide to help her. The other guide doesn't give up but uses one side of the three board display while Anna uses the other. He's gone somewhat quickly. Anna tells us that he was questioning whether she was really a guide. She says that he's not much of a guide since he got through the overview of the Sistine Chapel so quickly.
We see many tapestries at the Galleria degli Arazzi, a.k.a. Gallery of Tapestries. It has beautiful Flemish tapestries, by Pieter van Aelst's School mostly woven during the 16th century. Raphael drew many of the patterns, which are actually caricatures of the lives of saints. We walk down a rather narrow corridor with tapestries hanging on walls to each side of us. Several on one side are separated from the next set by a long curtains hanging against the wall. On the other side, there's plain wall between each. Even though it's clear where one ends and the next begins, we have to move with the crowd and have little time to look at each one. They are each incredibly detailed. The ceiling is also ornate. To us the ceiling looks like sculpture, but Anna says it's a series of paintings. Wow!
Next we go to the Gallery of Maps. We see a map for each region of Italy that existed when the gallery was designed. It contains fresco maps from the time of Pope Gregory XIII, 1572 to 1585. Ignazio Danti, a famous geographer, drew each of the 40 maps. The room is much like the gallery of tapestries, one long corridor. On one wall are the regions surrounded by the Ligure and Tyrrhenian Seas on the west and on the other the regions surrounded by the Adriatic on the east. A map of the main city accompanies each region. We love maps, especially Steve, so we're fascinated by this Gallery.
We go to the sculpture museum and see a good number of paintings by Rafael in several rooms. We admire everything we're seeing. A few times, we see Bob sneaking photographs. We try but get nothing since people surround us.
We go down to the Sistine Chapel and see Michelangelo's frescoes. On the way in, Bob grabs a picture of the hallway. There's no photography allowed inside the chapel. They're incredible but there's so much to see that it's difficult to decipher all the parts. It's also very crowded. In 1484 built by and named for Pope Sixtus IV, Pope Julius II commissioned Michelangelo to paint it. The artist resisted doing the work since he preferred carving sculpture to painting, but he started in 1508.
Michelangelo painted nine scenes from Genesis in the middle chapel, at their sides he placed figures of Nudes, holding text from the Book of Kings. At the base, he put twelve Hebrew prophets and pagan sibyls sitting on thrones. Over the windows are Christ's ancestors. In each corner, Michelangelo painted a scene of salvation of Israel. On November 1, 1512, the Pope celebrated Mass in the Chapel. Many famous Renaissance artisits also painted in the Chapel.
We see the Last Judgement behind the altar. With Christ in the center, his mother Mary, the Apostles and other saints surround as they await the verdict. In one part, angels awaken the dead. On another side, the risen ascend to heaven. In another section angels and devils fight to send sinners to hell. My Lonely Planet says that the subject was selected by Pope Paul III as a warning to Catholics during the Reformation. The style is different than the other paintings, with more shadows and flamoboyance.
The north wall contains stories of Christ. The south wall has stories of Moses. The entrance wall has two stories each of Moses and Jesus. Each wall has some portraits of Popes above and false drapes below. The artwork throughout the Chapel is incredible.

As we prepare to leave the Vatican Museums, Anna asks if I can do several steps. She says that if not, we'd have to turn around and walk quite a distance through the crowd to the elevator. We tell her that several steps is fine. It turns out to be many more! Steve and Bob take me in a wheelchair down the first set of 33 stairs. Another man takes the other side of the front of the wheelchair for the second, steeper set. I walk down the last set. There were far too many stairs! Mama Nina and I estimated about 80.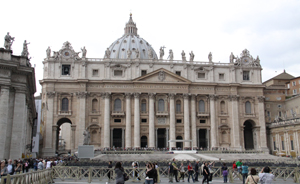 St. Peter's Basilica
We walk to St. Peter's Basilica. Anna tells us that it's the largest in the world, but Lonely Planet says it's the second-largest. Regardless, I find it huge and beautiful. We're allowed to take pictures here, but Steve is not feeling well so I have both cameras. It's too difficult to get to mine, but in a little while Steve takes his. The basilica was designed and painted by Michelangelo, at age 72, and many other great artists including Bramante, Rafael, Antonio da Sangallo, Giacomo della Porta and Carlo Maderno. It's fantastic! The interior, finished mainly by Bernini and Giacomo della Porta, measures 187 meters long.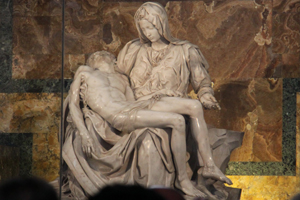 Michelangelo's Pieta
As we walk in, we see Michelangelo's sculpture the Pieta situated at the beginning of the right aisle. Now encased in glass to prevent wear and tear from people touching it, it's beautiful. He carved this when he was 25 years old. It's his only work which he signed, on the sash across Madonna's breast. It's too crowded to get close enough to it for me to take a picture, so I hope someone else in our group gets a good one.
Over the high altar, we see St. Peter's baldachin which is a 29 meter high canopy supported by four spiral columns, made from bronze removed from the pantheon. To the right, is the bronze statue of St. Peter by Arnolfo di Cambio created in the 1200s. Its right foot shows signs of much kissing and touching. Only the Pope can serve at the high altar.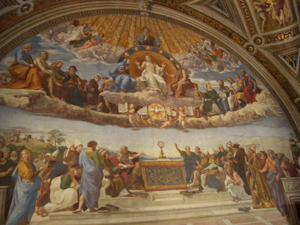 Michelangelo's Dome
We see Michelangelo's dome 119 meters above the altar. I read that the balconies have major reliefs and relics including the cloth of St. Veronica bearing the image of Jesus, the lance of San Longino and a piece of cross. St. Helena, the mother of Emperor Constantine, brought the cross to Rome. However I concentrate all of my attention on Michelangelo's incredible dome.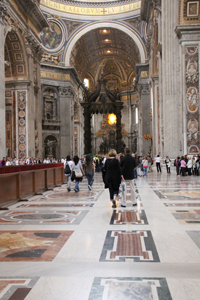 Inside: Huge & Beautiful!
I look down into the grottoes and attempt to see the upside down cross, but I don't have any success seeing it. Anna tells us that there's a debate of whether the bones are really St. Peter's. They were determined to be of the correct sex, age and have no feet. The feet of the crucified were cut off because it was easier to handle the body.
Steve takes many photos. He gets a beautiful one of the light shining in one of the smaller domes. I also see a nicely lit dome which appears to be of stained-glass. It has the holy spirit at the top sending out beams of light. Beautiful!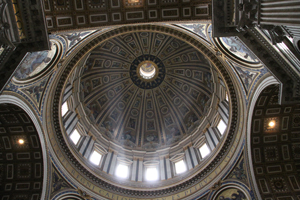 The Sun Shines Right In

We leave the Basilica. Judy and Bob decide to stay at the Vatican and shop for gifts. Later Judy tells us that Anna took them to some shops. Steve and Mama Nina want to go back to the hotel to recover from their colds. The line for taxis is quite long. Anna tries to get us in the front of the line but Steve says we can walk back to the hotel. It looks like it's about to rain any time, so Mama Nina and I talk him out of walking. I'm annoyed that we don't have a transfer back to the hotel, but I verify that our paperwork says our only transfer was to the Vatican. I remember negotiating to get a transfer both ways. The taxi line goes fairly quickly.
When we return to the hotel, we nap for a while. Bob and Judy call to say they are eating at the Vatican. Mama Nina, Steve and I head out for dinner. We're not exactly sure where we're going, so Steve scouts ahead. When he comes back, he says he found a Chinese restaurant and we all agree that this will be an interesting meal. It was okay but not great.
I really enjoyed today. However, on hindsight it would have been better to have toured Vatican on another day. I think many tourists must have stayed after the audience with the Pope. The museums, the Sistine Chapel and St. Peter's were packed. I don't think we had enough time or space to admire the Chapel or Basilica.
Day 9: Thursday, May 20

Today we leave Rome and travel to Florence. Our transfer comes an hour early. The traffic to the railway station is quite heavy but we arrive there in plenty of time. We find our train listed in the daily board on track eight. We find the track easily enough and then find a place to sit close by. Steve goes to watch people board another train and see how and if they punched tickets, as our travel agent said they did the last time she was in Italy. However, he doesn't see anything like this. We watch the board for our train to come to the station. When the track is posted, our train is on track two. We go to track two, but our car is at the far end! Steve, Bob and Judy load our luggage onto the train. Another passenger puts my wheelchair on the train and off to the side. Steve comes back for me. The steps are steep, especially the first one so Steve pulls me up. Bob stores all our group's luggage in the overhead areas. Our first class seats are nice and comfortable. We sit facing Bob and Judy with the table in between us.

Much to my dismay, at first, our car's toilet is locked. After they clean it, it's opened. When the ticket taker comes, I ask him about the locked toilet and he makes sure it's opened. Steve walks me to it and I use it without needing additional help from him. It's like using the toilet in an airplane during turbulence. Because trains are so much less stable than other transportation, I find them quite difficult to get around.

The train staff passes out drinks. Bob and Judy go for a walk around the train. When they return, they tell us that there is a luggage area in the front of the train, but it's full and they're not sure if we could have fit our bags in it. They also tell us that there is an accessible car right next to ours. I wonder why our travel agent didn't make our reservations in it. Bob and Judy say that there is plenty of room.
Back Streets of Florence
The train ride goes quickly and it's interesting to watch the landscape out the window. When we arrive in Florence, we find two taxis. Both arrive at our hotel at about the same time. Our taxi fare was about five more Euros, probably because our taxi was bigger since we had three people. We rode down several back streets as did Bob and Judy. Florence is charming and picturesque.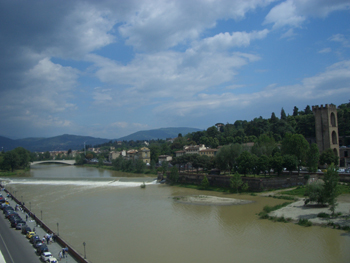 View from our Room of Arno River
Our hotel, the Hotel Plaza Lucchesi, is on the Arno River. Mama Nina's room is not ready so she comes to ours. Judy and Bob's room is right next door. We both have a terrace looking out at the river, a beautiful sight! After Mama Nina goes to her room, Steve sleeps. This cold is making him very tired and I feel like I might be getting one. I catch up on my log and then I sleep. Meanwhile Judy and Bob go exploring. They bring back wine, cheese and crackers. Before dinner, we enjoy this on our deck. We only have two chairs on our deck, so Bob goes to his deck and passes their chairs over to Steve. If anybody is watching, it must be quite a sight. We also bring our inside chair out, so we all have a place to sit and relax. Judy and Bob scouted out restaurants for dinner. Once we're done our aperitif, Steve and Bob pass the chairs back.
When we arrived, the hotel gave Bob and Steve city maps and showed us where we are. Bob marked the restaurants on his. Judy and Bob become our guides and show us the restaurants they found. We decide to have dinner at Ristorante Le Colonnine, which is in a narrow wedge building. We all enjoy our traditional Italian dinner!
History of Florence
Early archeological evidence shows a settlement of Etruscans around 200 BC. Most experts believe that Julius Caesar founded Florence in approximately 59 BC as a strategic stronghold on the Arno River to give him control of the roads from Rome to Northern Italy and France. During the 1100s, Florence became a commune or town council administered by 12, assisted by a body of 100 who were mostly merchants. In 1207, a foreign head was appointed to resolve problems between parties. In the mid 1200s, clashes between imperialists and papal supporters began. Power transferred between these factions for close to a century. The wool trade, finance and commerce determined prosperity. Its coins, the firenze, were important out of the country.
The papal supporters split into two groups, the Bianchi and the Neri a.k.a. the Blacks and Whites. In 1302, with the defeat of the latter Dante and others went into exile. As the nobility lost ground, the papal merchant class took control. The plague of 1348 decreased the population by half. The lower classes became restless. The leadership came from the Albizi, a pro-papal family. The Medici, another pro-papal family, became the papal bankers. They opposed the Albizi and gained much importance from their new status. In the 1400's, a Medici elder became the leader of the opposition and ruler of Florence. He recognized great artists and encouraged their works.
From 1469 to 1492, the grandson of the Medici ruler, Lorenzo il Magnifico ruled. He brought in Florence's most glorious period and the Italian Renaissance. He facilitated the growth of art, music and poetry that made Florence Italy's cultural capital. However, before his death, the Medici bank failed and the family was forced out of Florence. Savonarola, a Dominican monk, gained control of Florence. He instituted a strict religious republic and destroyed some of the cities opulence. He burned the city's riches and quickly became unpopular. In 1498, he was tried and executed.
In 1512, the Spanish defeated Florence. Emperor Charles V married his daughter to Lorenzo's grandson Alessandro de'Medici. In 1530, the Emperor made him duke of Florence. In 1537, Cosimo I, a competent Medici, became ruler. In 1569, when Florence defeated Siena, Cosimo I became grand duke of Tuscany. This began over 150 years of Medici rule.
In 1737, the Tuscany grand duchy went to the French House of Lorraine. It stayed with them for over a century, except for a brief disruption by Napoleon. In 1860, Florence became part of the Kingdom of Italy and became Italy's capital until the capital was moved to Rome in 1870. During WWII, the Germans inflicted great damage on Florence during their retreat. They destroyed all bridges except Ponte Vecchio. In 1966, floods damaged the city. In 1993, a Mafia car bomb exploded. It killed five, injured 37 and desecrated part of the Uffizi Gallery. The Gallery recovered, initiating its largest expansion.
Day 10: Friday, May 21
The hotel breakfast is wonderful! It's a good sized buffet with many choices including mimosas! When I see the champagne bottle, I think it's just water with a fancy top. When Steve sees me, he asks if I saw that they offer champagne with which you can make your own mimosa. I told him my impression, so he goes to make me one. I love this hotel! As we discussed today's agenda, Mama Nina decides that she'll skip the walking tour this morning. She's tired from her cold.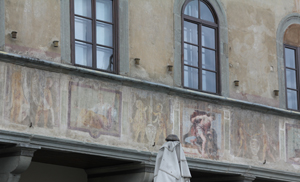 Faded Frescos
At 9 am, we meet our guide Allie for a walking tour which includes the Uffizi Gallery. First we go to a square nearby our hotel, Piazza Santa Croce, the old city center. Allie gives us an overview of Florence history.
As we've seen elsewhere, buildings are narrow and deep because cost is based on frontage. We see frescoes painted on buildings above the door level. They are quite faint, having faded over the years. On one building amid the frescoes I see a bust of Galileo holding a telescope. Some of the frescoes were painted by Giotto, Taddeo Gaddi and his son Agnolio. The south and west side have palaces. Medieval buildings lie on the north side. The Piazza Santa Croce contains a 19th century statue of Dante with which Steve is greatly impressed. Occupying the east side, I find the Basilica of Santa Croce beautiful. Designed by Arnolfo di Cambio and built from 1294 to 1385, its outside has shades of colored marble and decorative trim. In the 19th century, a neogothic section and bell tower were added. Inside famous artists are buried. We see a few small souvenir stands around the square, but it's not too commercial.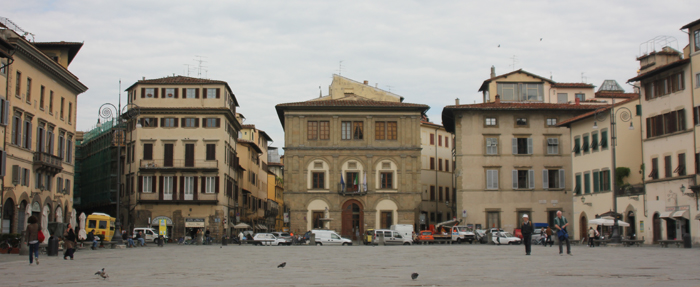 Piazza Santa Croce
We take small narrow back streets to get to our next destination. Allie says that these streets are from medieval times. I find them enchanting. At one point, I see a hippie style van painted with flowers, quite appropriate for this city of art!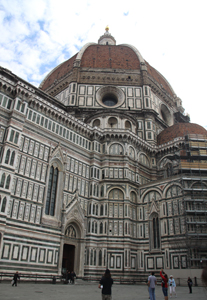 Basilica di Santa Maria Del
Fiore

We go to the Duomo complex. On top of the Basilica di Santa Maria Del Fiore, red tile dominates Florence's skyline. It's one of the largest cathedrals in the world. Started in 1296 by Arnolfo di Cambio of Siena, it took about 150 years to complete. During the 19th century Emilio di Fabris replaced the façade with beautiful pink, white and green marble. We go up a few stairs and enter the inside. The inside measures over 500 feet long by 295 feet wide. An incredible fresco decorates the dome. Much of the inside is simple arches and hallways of white outlined in silver. The oldest part has three apses, designed as flowers on a stem in the nave of the church, connoting the basilica's name St. Mary of the Flower.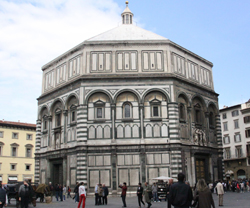 Baptistery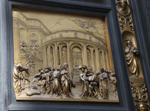 Door Panel
Built between 1059 and 1128, the baptistery sits to one side of the Basilica. Now baptisms are done in the Basilica. When the baptistery was used through the end of the 1800s, the ceremony included total submersion so required a separate building. Ghiberti and Brunelleschi contended to build this eight sided structure of green and white marble and its beautiful three sets of relief bronze doors. Lorenzo Ghiberti crafted the north and east doors. Michelangelo called the east doors "the Gates of Paradise". Andrea Pisano built the south doors. The doors are incredible.

David Replica

Hercules and
Cacus

Death of Medusa
Next we go Piazza della Signoria. It contains the Palazzo Vecchio, the town hall of Florence, and the Loggia dei Lanzi. The town hall fortress-palace overlooks the square. The Loggia dei Lanzi contains an open air art gallery. The original sculpture of David stood in the Piazza until 1873. Today we see an impressive but much smaller copy. We take pictures here even though we'll see the real one this afternoon. We know we won't be able to photograph inside the museum. In the Loggia dei Lanzi , we see:
Hercules and Cacus by Baccio Bandinelli, a white marble sculpture.
The fountain of Neptune by Bartolomeo Ammannati sits right in front of the palace. It was commissioned for the wedding of Francesco I de'Medici and grand duchess Johanna of Austria in 1565.
Rape of the Sabine Woman, a Roman history legend in which first-generation of Roman men acquired their wives from neighboring Sabine. The word rape in the work's title actually means abduction.
Death of Medusa, a.k.a. Perseus with the Head of Medusa, a brass sculpture.
Cosimo I de'Medici by Giambologna, the first grand Duke of Tuscany, another bronze statue.
The Loggia del Lanzi adjoins the Uffizi Museum, which we visit next. In the second half of the 1500s, Cosimo I commissioned it. Vasari designed and built the Uffizi originally as the city's administrative, judicial offices and guilds. Francesco I, Cosimo's successor, commissioned Buontalenti to rebuild the upper floor for Medici's art collection. So started this world-famous museum.

We have to get special permission to use the elevators. The building is shaped like a U. Pictures are not allowed, except out the windows. We see an incredible amount of art, including:
From the 12th to 14 centuries:
Madonna by the great artists from Tuscany Buoninsegin, Cimabue and Giotto which show the change from Gothic to pre-Renaissance. The latter's painting of Madonna and child contains realistic background of angels and saints.
Simone Martini's Annunciation, 1333, from this Sienese school has a gold background.
Ambrogio Lorenzetti's Madonna with Child and Saints has a more realistic background.
Giottino's, Giotto's student, San Reminio Pieta
From the pioneers of the Renaissance, when background perspective became important:
Paolo Uccello's Battle of San Romano which commemorates Florence's victory over Siena.
Piero del Francesca's Duke and Duchess of Urbino
Filippo Lippi's self-portrait in Coronation of the Virgin
Antonio and Piero del Pollaiolo's paintings fill almost a whole room
Sala del Botticelli's Birth of Venus, Primavera and Annunciation, among others.
From High Renaissance to Mannerism:
Michelangelo's Tondo Doni, 1506, the holy family where Joseph holds Jesus on his mother's shoulders
Raphael's paintings
Andrea del Sarto's Madonna Col Bambino, 1517
From Baroque to Neoclassic
Caravaggio
Artemisia Gentileschi's Judith Slaying Holofernes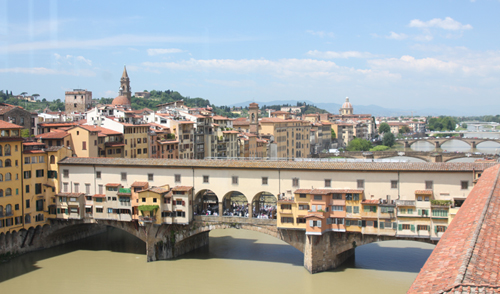 Goldsmith Bridge from Uffizi Museum
By the time we're done, I'm so overwhelmed but awed. Allie did a nice job of narrating but there was so much to take in. I feel like I've taken a semester class in art history. Allie takes us to the windows and tells us we can take some pictures. The view is beautiful! She shows us the Goldsmith Bridge which sells jewelry. Judy and I decide we should buy earrings there, later. Steve agrees.
Allie takes us back to the Duomo square and we head back to the hotel. Bob and Judy offer to stop and pick up pizza and sandwiches for lunch. We will return to the hotel, get Mama Nina and meet in our room to have lunch on our terrace before heading out to our afternoon destination of the Academia Museum.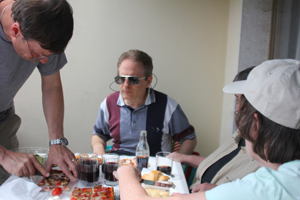 Lunch on Our Deck
We enjoy a wonderfully relaxed lunch. Bob and Judy decide to walk to the Academia. Steve, Mama Nina and I have the hotel call for a taxi. We arrive at the Museum fairly close together. When the three of us arrive, we got on a long line. Bob found the line for people with tickets so we move to that. We've come to see the David, a.k.a. the hunk. Once inside, Mama Nina, Judy and I look at the art while Steve and Bob find the route to see David. We follow the route and find David. He's HUGE, 17 feet tall, weighing 19 tons! There are people around the sculpture, but it's not crowded. We walk around once, then again more slowly. It's awesome! The details are incredible, the veins in his arms are pronounced and the strap around his back is meticulous. It's truly more than I ever expected. From the left, his face appears like a boys but from the right he appears to be concentrating and anticipating Goliath.
We look at the pieces of art in the other rooms. One room contains pieces of plaster on which Michelangelo practiced before carving the final sculpture. We read that other finished pieces are located throughout Europe. We also see paintings by other artists of Florence.

Next we walk back to the Cathedral and show Mama Nina the baptistery doors. She's impressed! The piazza has something for everyone. We watch many people enjoy many activities including eating gelato and riding on a carousel. We decide to have a gelato ourselves. When we order it, they ask us if we're eating in where there are seats. As much as everybody wants to sit for a while, we say no. Allie had warned us earlier that if we eat a snack and sit in their areas, sellers increase the price up to 10 times. Even though the square contains many people, we find seats easily.

Next we go over to the Goldsmith Bridge in search of earrings for Judy and me. Mama Nina sits on stairs at the beginning of the bridge while we shop. Bob helps her find a place where no one will mind her sitting and we all promise not to forget her.
I have a hard time finding earrings with fishhooks. I find a pair with olives and special wood. They're €85. To get the non-euro discount, we have to spend at least €150. I ask if I can bargain, so she takes off three euro. I'm about to buy them when I see there made in the USA. I say no thanks. She tries to get me to buy and I tell her I want to shop more, maybe I'll be back. I feel, oh well, I didn't really love them and I really want something from Italy.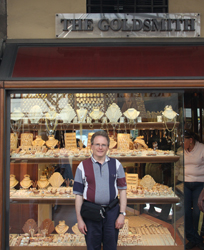 The Goldsmith
I go into a few more shops. Then I go into one and I see what I want, cameos! There's another customer buying a ring and asking what seems like 100 questions. I go to get Steve. Bob is taking his picture under a sign which reads "Goldsmith". I tell Steve that I think I found what I love and he says he'll be right in. I go back in the shop because I don't want to lose my Next status. The other customer is still making up her mind. She asks me what I think of her choice. I tell her it's beautiful, but I'm really thinking it's nice if that's what you like. It's a ring which looks small on her hand. She says okay she'll take it. The only salesperson in the store asks if we're together. I say no and the customer says, "okay, you just like nice things." I say yes. I'm really just glad she made up her mind and I can find out about the earrings.
Now it's my turn and Steve has arrived. The cameos they have displayed are white on different backgrounds, black stone and amethyst. Steve and I decide we like the amethyst. The hook is a fishhook with a safety latch. I've never seen anything quite like it. I get the left one on easily but have trouble with the right. She pulls out the hook and I get it but the safety doesn't close quite right. We asked the price and are astounded to find that it's €800. I love them and Steve whispers, "if you really want them." I go into bargain mode, starting at €400. She asks if we're American or Canadian and we say American. She says we won't have to pay the euro tax which brings the price down approximately €100. Then she goes to her calculator and takes off another hundred euro. I look at Steve and he repeats what he said earlier. I say okay and tell them they'll be my gift for our next few gift occasions. He wants to put them on his visa but I say no because then we'll be paying interest. When we travel, all purchases go on my visa and it all comes out of the same account anyway. He says well when you put it that way it makes sense. The salesperson gives us the euro tax instructions and paperwork.
Meanwhile Judy, who wasn't sure she really wanted to buy anything, has found a pair of earrings she loves. She's in The Goldsmith store buying them. I look in the store, but don't find anything that has fishhooks. We walk to the end of the bridge and go back walking down the other side. We pick up Mama Nina, who thinks by now we must've forgotten her and return to our hotel. From close by the front of our hotel, we can frame ourselves in a picture with the Goldsmith Bridge in the background. Bob takes it for us. We agree to meet for dinner in about one hour. When we get to our room, we take some pictures of our beautiful view across the river and other views from our balcony. Have I mentioned that we love Hotel Lucchesi?!

Across the River from our Room
We very much enjoy our dinner at Trattoria Alfredo. On the way back from dinner, we see a restaurant named Trattoria Roberto, so we take Bob's picture and say perhaps we'll come here tomorrow night for dinner. We return to our room and go right to bed.
Day 11: Saturday, May 22
We begin our day at the wonderful breakfast buffet in our hotel. Except for Mama Nina, we each decide to have a mimosa. Our driver picks us up at 9 am. We drive for two hours to Siena, where we meet our guide Barbara. Our ride through the countryside is breathtaking. We see many vineyards and an occasional town on the top of a mountain.
History of Siena
Legend says that Siena was founded by Remus' son. The actual origin is believed to be Etruscan. In the first century BC, the Romans built a military colony, Sena Julia. It grew to be a town. During the 1100s, commerce and trade increased its prosperity, influence and boundaries. It fought many wars with Florence as the rivalry between the two grew. In approximately 1270, when Charles of Anjou became victorious against Tuscany, Siena and Florence became allies. Ruled by a council of nine, Siena experienced great prosperity and built many of the Sienese-Gothic style buildings that give Siena its character. The school of painting was founded here, reaching its height in the early 14th century. In 1348, the plague killed approximately 66,000 of 100,000 citizens.
Milan's Visconti family took control in the late 1300s. During the 15th century, an aristocrat led Siena and brought improvement. However in 1553, the Roman Emperor launched a two-year siege killing thousands of people. He gave the city to Cosimo I de'Medici who outlawed Siena citizens to operate banks. This substantially limited Sienese power. In the Italian War, the Duchy of Florence with Spain defeated Siena. On April 17, 1555, Siena surrendered to Spain. Spain gave control to the Tuscany Grand Duchy. With the unification of Italy, Siena became part of the country.
In 1966, Siena became the first European city to disallow motor vehicles from its center. Currently Siena gets its income from tourism and the Monte dei Paschi de Siena bank. Founded in 1472, the bank is one of the city's biggest employers.

Our first stop begins at the toilet on the side of the Basilica of San Domenico, where there's a fee. It's down a long flight of stairs. They have a lift but Barbara has to alert the caretaker that I need it. When I get down, he walks me to a locked toilet for disabled people and I use it comfortably. I go back up by the lift and go into the Basilica, to which there are a good number of stairs. We see frescoes depicting St. Caterina's life since this is where she took her vows.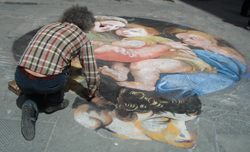 Artist Paints Rafael on Street
Barbara has been asking about what we want for our wine tour. We tell her that our program is supposed to include a wine farm to see it working and not just a wine tasting. She says that she didn't make reservations because she didn't know what we wanted, but she'll see what she can get. This seems quite odd to me because I had specifically requested and our travel agent said it was all set up.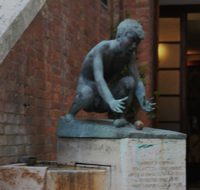 Bronze Boy on Stoop

We go towards the center of Siena. The roads are cobblestone which makes getting around in a wheelchair a challenge. The atmosphere and beauty make it worthwhile. We walk through the streets and soon come upon a street artist whose painting Rafael's Madonna of the chair. We often seem to see this painting in our travels. For me it's quite astonishing because my father's generation of his family each have and my grandparents had a copy hanging in their living rooms. This street artist uses chalk or some other temporary medium. The streets are quite narrow and I doubt many of today's vehicles could fit through them. We see art everywhere. On one stoop, there's a brass boy playing with a few balls or perhaps large marbles. Streets are angled and the buildings at the end of a block are often more like a parallelogram than a rectangle.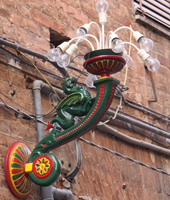 Dragon Lamppost
Siena is divided into 17 sections, each marked by lampposts depicting the section's name. We begin in the Dragon section. Barbara finds a very small museum which is only open for special occasions and she gets us in. She's never been in here before. She walks us through each picture and she's more interested than we are but we do enjoy it.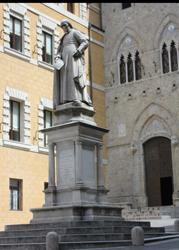 Banca Monte dei
Paschi de Sienna
We pass by the Banca Monte dei Paschi de Sienna, the oldest surviving bank of the world, founded in 1472 by the Siena city state magistrate. His statue stands outside the front entrance. The bank has approximately 4.5 million customers served by 3,000 branches and 33,000 employees in Italy, as well as branches abroad.
We move onto the Caterpillar section. Barbara points out the emblems and streetlights which each have a cute Caterpillar sculpture. We reach the center square, more like an oval amphitheater. Two times a year, often on the Catholic feast of the Annunciation and one other holiday at the beginning of July, Siena holds horse races. Only 10 sections can race because that's all of the room the course has. The seven sections which don't get to race will participate in the next race. So the three remaining spots are determined by competition. The starting position is chosen by lottery the night before.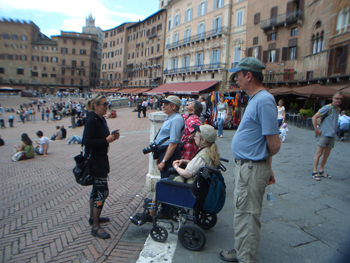 Piazza del Campo
We are amazed at the square. Barbara points out Palazzo del Campo which is nice. The top is brown Gothic style with a bell tower while the lower level contrasts in a much lighter Sienese style. We are more amazed by the shell shaped piazza thinking it's incredible that the horses can make the tight turns. The Cathedral built from 1196 to 1215, of Romanesque-Gothic style is beautiful. In the middle there's a round window which reflects the sky and clouds.

The ivory colored Cathedral has much gold and mosaics at its roof peaks. The axis runs north-south because the Cathedral was intended to be the largest cathedral built. The plan was to build out East-West. After building the East section money ran out. We walk down the gradual slope to it but decide to move on. Barbara points out the church of Sant Agostino, another Gothic style building far in the distance. We walk up there and have a beautiful view back to the center of Siena.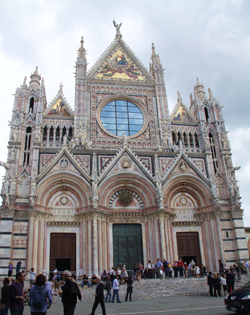 Siena Cathedral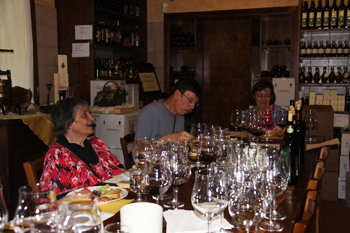 Wine Tasting

We have a wonderful lunch at Osteria Da Divo, a trattoria down several inside stairs. I had requested that our travel agent arrange a home visit. This is what she set up, stating that this would be like a home meal. The food was delicious but far different than what I wanted. Later I also realize that we only saw one palace, the Palazzo del Campo, and our itinerary said we'd be "admiring the splendid palaces".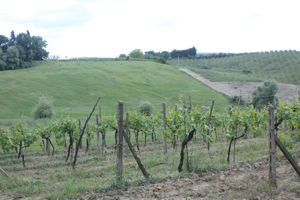 Tuscany Countryside
We ride through the countryside up and down rolling hills to the winery, Tenuta Torciano. We see many vineyards on the way. Barbara was unable to arrange for us to go to a winery tour so instead she arranged for a wine tasting. To get to the building, we walk down a path alongside the vineyards. The grounds are beautiful! The path has a garden area with many beautiful flowers. The sign on the door says
Tenuta Torciano
DEGUSTAZIONE
VENDITA VINI
OLIO
Later I translate and learn that the lower three lines mean tasting, buy wine, olive oil. We did it all! They had eight full-size glasses and a large plate of food in front of each of us. The tasting was wonderful! The wine flowed and even Mama Nina had one or two sips. The food was abundant. We should have skipped lunch. We buy a case including truffle oil. They have a shipping facility in Chicago.
Next we ride to San Gimignano, a medieval hilltop town with very steep hills. The wall surrounding the town has 14 towers, some of which we see as we get close. In medieval time, it had 72 towers which were considered to show the community's status of wealth and influence.
History of San Gimignano
It began as an Etruscan settlement. Supposedly the Bishop of Modena, San Gimignano, saved the town from Attila the Hun so the town was named after him. In 1199, it became self governing. Battles with the rival town of Volterra and internal struggles between predominant families ensued for two centuries. The struggles led to the construction of many of the towers. During the 1200s, one of the officials prohibited building towers higher than his of 167.3 feet.
In 1348, the plague came and killed many and decreased the power of the aristocrats. This caused it to come under Florence's control. Today beautiful and productive land surrounds San Gimignano and tourism enhances its economy.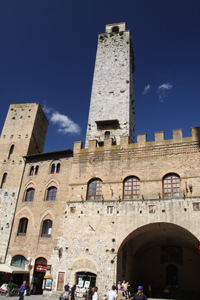 Piazza Comunale of
San Gimignano

We walk to a large church with many front steps. I think it's the Collegiata church nearby the Piazza del Duomo. Barbara says it's a steep climb to where they're going. Mama Nina decides to sit on the church steps and I decide to stay and keep her company. We look into the modest central square of San Gimignano. Mama Nina and I watch the people and I catch up on my log.

When Steve returns he says it was a hard walk but he enjoyed it. They got up close to the wall towers, looked out over the Rocca which is the remains of the cities fortress, and visited the Chiesa di Sant Agostino. They stopped in the gift shop and the staff member knew Judy and Bob's pastor. We walk around a bit, heading downhill. I am enchanted with the streets. By this time I really need a rest stop. Steve tells Barbara but she says all the places have very small toilets. She takes us to a place just outside the wall. Judy and Bob stay behind with Mama Nina while Steve hurries down the steep slopes with me. By the time I'm done, we are all together and the others take advantage of the facilities.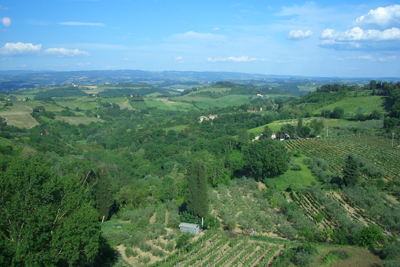 Road Down from San Gimignano
On the ride back to Florence, Judy and Bob tell us that they decided not to go to San Marino tomorrow. They want to see more of Florence. We all decide not to go to dinner tonight since we're quite tired. When we return to our room, we take a nap and then I decide to order room service, a prosciutto crostini plate. It's expensive but has liver pate on it. We call Mama Nina to see if she wants to join us but she says she's relaxed and ready for bed. Steve enjoys the liver crackers and I have the crostini.
Day 12: Sunday, May 23
Mama Nina, Steve and I meet our driver at 9 am. He speaks a little English but is not too talkative. As we go by the San Marino sign at the country entrance, I snap a picture thinking it's my 63rd country. It's also the third smallest country in the world at just under 38 square miles and the world's oldest republic. It takes a while to drive up to our drop-off point which is the capital city of San Marino and bares the same name.
Our guide Philip asks for our voucher. He seems a bit grumpy, but once I give it to him he relaxes. I have to sign off on a document a few times. He obviously loves his country and is very animated talking about it.
History of San Marino
Tradition holds that in 301, St. Marinus founded San Marino. As a stonemason he came from the island Rab on the other side of the Adriatic Sea escaping persecution for his Christianity. He became a deacon of Rimini and served there until he was accused by an insane woman of being her estranged husband. Again he escaped, this time to Mount Titano where he planned to live as a hermit. He built a Chapel and monastery from which the country grew. He died during the winter of 366 and legend says his last words were "Relinquo vos liberos ab utroque homine" which translates to "I leave you free from both men". Both men were probably the Emperor and the Pope.
Throughout history, San Marino has mostly been independent. In 1243, two Captain Regents were appointed to run San Marino. They hold their offices for six months and their role is that of heads of state. By protocol on April and October 1, the ceremony is held to change the office. For a brief time in the early 1500s, Caesar Borgia took possession of San Marino. In 1739, Cardinal Guilio Alberoni controlled the Republic. The Pope supported the country's independence and threw out the Cardinal.
At the end of the 18th century, San Marino raised its flag of a white and a blue horizontal stripe with its official coat of arms, the symbol of sovereignty. White is a symbol of the rock of the mountain. Blue comes from the sky and sea that surround Mount Titano on which San Marino sits. The coat of arms is a closed crown around three silver towers decorated with ostrich feathers. The towers and feathers depict the top of Mount Titano. It's accompanied by two branches, a laurel and oak. At the bottom on a silver scroll the motto Libertas appears. This comes from the founder St. Marinus who left his people "free of all power". In World War II, San Marino stayed neutral and gave refuge to a hundred thousand refugees. Since 1992, the flag is flown among those of the United Nations.
We walk past the entrance of San Francesco, the oldest sanctuary of San Marino, built in 1361. Located in front of the gate, it's been restored many times during the 17th and 18th centuries in the neoclassic style. Phillip explains the country's geology and gives us directions, showing us the square to come back to and then how to turn and find the guard where our driver will meet us outside the gate.
| | | |
| --- | --- | --- |
| Archery Stands | He's so excited to show us his country. We walk/climb to Garibaldi Square, up an even but steep road. He explains the annual crossbow tournament. San Marino has kept its independence for so long because of its location on top of the mountain and it's simple defense of archery. After all, what great conqueror cares about a war with archers? A tournament is held every year at the sandstone fort. We see three seats on which the archers sit to fire out of the fort. Against the wall we also see three C shaped targets, for practice. | Archery Targets |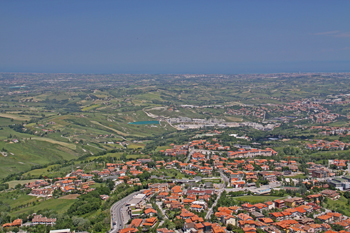 View Towards Venice
Philip explains that San Marino is on a very strategic mountain but has remained independent due to wise decisions. He tells us that Napoleon offered San Marino more land but San Marino turned it down because they didn't want to be conquered. The country has stayed small and done well enough. It has seven sections. The old city, at 750 meters above sea level, is the least expensive to live in because automobile access is very limited. If a resident owns a car there, he/she can only drive it after business hours. He points down to a lower section and shows us Guaita Circle, a two-lane circle with a piece of metal modern art in the middle. As modern as the circle looks, we see beautiful old tiled roofed buildings surrounding it.
View Towards Adriatic Sea
We ask Philip about a chachka. He recommends pottery available into shops. We also ask him for a lunch recommendation. He shows us a few places as we walk. I love the street scenes especially the colorful flowers in window boxes.
We walk up to the highest point. From the fortress Rocca Guaita, circa 11th century, Philip tells us that on a clear day one can see to Venice! Today isn't clear enough but the site we see is beautiful and of course we take our share of pictures. From the fortress Rocca Cesta, circa 13th-century, on the opposite side, he shows us the Adriatic Sea and Croatian coastline.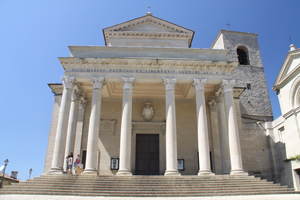 Basilica di San Marino
We leave the highest point and go to the Basilica di San Marino. Marino is Latin for "man of the sea". The Basilica is dedicated to the founder and patron of the country. An earlier church was built here in the 300's AD. By the 1800's, the church needed rebuilding. Started in 1826, it was designed and built by Achille Serra from Bologna. Pope Pius XI elevated its designation to Basilica. Serra completed the Basilica in 1838. The front has eight columns with "DIVO. MARINO. PATRONO. ET. LIBERTATIS. AVCTORI. SEN. P. Q." inscribed above.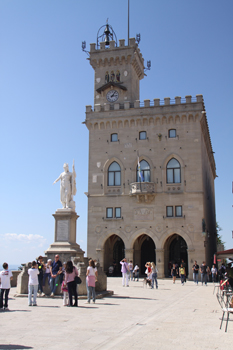 Town Hall & Statue of Liberty
We go to the Piazza della Liberta with the Palazzo Pubblico, a.k.a. town hall, a neo-Gothic building circa 1894. The square covers ancient cisterns once used as the population's water reserves. The square also contains San Marino's Statue of Liberty, perhaps the size of a person. Philip leaves us very satisfied with the tour.

We go to one of the shops Philip recommended, but it's closed. Almost all of the buildings have a few stairs into them. We look for a restaurant that serves gnocchi but don't find any. My mother says that the best gnocchi she ever had was in San Marino. We find a quaint restaurant, Hotel Ristorante Diamond, that serves potato dumplings so I try that and enjoy it.
After lunch, the shops are open. In Contrada del Collegio, we look for a pottery piece but they're all too large to carry home safely. We see a cloth mitt, but then find a wine cozy which we decide is a perfect chachka for this trip.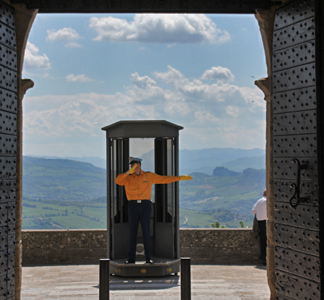 San Marino Guard
We walk down to the meeting place via Garibaldi Square and Titano Square. We stand facing the guard and I take many pictures of him waving the traffic along. He reminds me of the crossing guards in Cranford.
On our way back to Florence, our driver asks us about our day. When I tell him about gnocchi, he explains how to say it, with the K sound not N. He also tells us how his grandmother made it by grinding potato and flour.
When we arrive back at the hotel we go to dinner with Bob and Judy. They enjoyed their day. We shared our experiences and treated Bob to dinner for his birthday.
Day 13: Monday, May 24
Our driver Alexandro picks us up at 9 am and we head out to Bologna.
History of Bologna
Bologna's history has been traced back to the sixth century BC when it was called Felsina. It became the capital of the Etruscan Po Valley for two centuries. Gaul tribes assumed power and renamed it Bolonia. Gaul was a region of Western Europe including France, Luxembourg, Belgium and Northern Italy and parts of other nations. A few centuries later, the Romans conquered it. As the Empire lost power, it was invaded and taken over by Visigoths, Hans, Goths and Lombards.
In the 1100s, it achieved its height as an independent jurisdiction. It held Europe's principal University. Each wealthy family erected a tower. There were originally 180 towers of which 15 stand now. For several centuries, Bologna continued to be part of the struggle between the Roman Empire and the Pope as they fought to control northern Italy.
In the 14th century, it became neutral. In 1506, a rebellion against the leading family destroyed the family's Palace and the Pope's troops took Bologna. The city remained under their control until Napoleon arrived towards the end of the 18th century. In 1860, Bologna joined the recently created Kingdom of Italy. During the final months of World War II, approximately 40% of Bologna's industrial buildings were ruined. Luckily the old town inside the walls endured and has been preserved. Currently the city serves as Italy's center for high tech industries. The University remains Europe's oldest and a major factor in our decision to visit Bologna.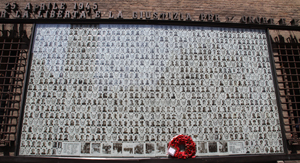 Memorial to WWII Resistance Fighters
We meet our guide at the entrance to Piazza del Neptuno. She shows us the memorial to local World War II resistance fighters who were killed. It's quite moving. It has several large frames which contain smaller squares approximately 4" x 4" with each person's name and picture. In the squares where there are no pictures, they mounted a bronze star. The surrounding buildings and flowers are beautiful. Our guide tells us that Bologna is proud that it always kept its autonomy.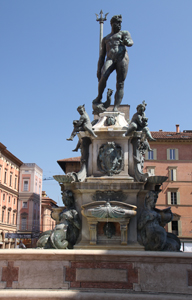 Neptune Fountain
We go to the middle of the Piazza on which sits the fountain of Neptune, a bronze sculpture of Neptune circa 1566 by Giambologna. It has cherubs in each corner, symbolizing the winds, and four small feminine sculptures with water sprouting from each nipple which symbolize the four known continents of the world before the Americas were discovered. To the right we see another fountain from which our guide says the water is supposed to be good and that anyone who drinks it will receive good fortune. Mama Nina is the only one brave enough to try it.

Market Measure
On the corner of a building is a white plaster ruler built into the brick wall. This Piazza formally had a market and this measured goods. Since I used to buy material for clothes, I can easily imagine cloth being measured here. Attached to the end of the ruler section, I see a thicker section which has two carvings, one carved out and the other just an outline. They are both the same size, approximately 1 1/2 bricks wide and four bricks high. I can't imagine what they were used to measure, but I'm sure they had their purpose.
Next we walk to Piazza Maggiore. The piazzas and areas between them are flat but made of old cobblestone so the pushing and riding is bumpy. As the fifth largest in the world, the Basilica of San Petronio dominates the Piazza. With a length of 433 feet and width of just under 200 feet, it can hold 28,000 people. The inside vault, the arched ceiling, measures 148 feet and the façade vault measures 167 feet. It was built by Bologna, not the bishops and dedicated to its city's patron saint, St. Petronius, a Bishop in the fifth century.

It did not transfer to the diocese until 1929 and was not consecrated until 1954. Our guide tells us that when planned, it would have been the largest in the world but Pope Pius IV wouldn't allow it to be larger than Rome's St. Peter's. To prevent this, he had it blocked. One hundred sixty-nine years after the first section was started he commissioned Bologna's University built where the Basilica was supposed to be completed. Construction began in 1392. We go around to the side, where our guide shows us a very long flight of stairs on which the Pope rode his horse up.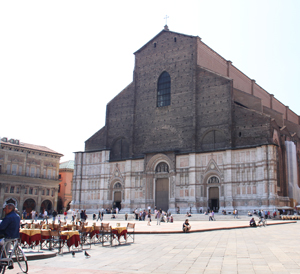 Basilica of San Petronio

When we go back out to the front of the Cathedral, our guide tells us that when the Pope visited the Basilica, the front steps were too steep for the Pope's horse so they rigged a device so he could be lowered from the upper window. This seems odd to me especially since I walked up them and they're not too bad but who knows if it was the same entrance back then.
Inside we see many chapels and a fascinating sundial which stretches 222 feet on the floor of the East side. Light comes in through a small hole in the ceiling. It's still almost always accurate. In 1656, Gian Cassini and Domenico Guglielmi designed it. It became a great contributor to discovering the Julian calendar anomalies and facilitated the Gregorian adjustment. We watch the movement of the light for several minutes and are very impressed.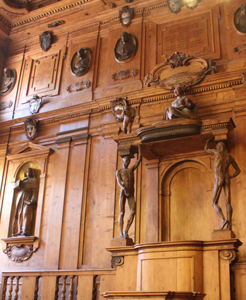 Anatomical Theater
Next we see the Palazzo Comunale, built as a Palace. Until 2008, it's served as the city's town hall. Today it houses the civic art collection, but we don't have time to see inside. Over the front door we see a bronze statue of Bolognese Pope Gregory XIII, circa 1580. He sits on a chair in an arch which is elaborately surrounded by columns and flags.
Next we go to the Palazzo dell' Archiginnasio built from 1562 to 1563. From 1563 to1805, it served as the seat of the University. Founded in 1088, today it's the oldest university in Europe. Scholars came from throughout the Christian world. It began as a loosely structured system where masters collected fees from their students individually. It spread throughout Bologna and founded colleges for students from different nationalities. In the late 1700s and early 1800s the main offices of the University were moved to where we visit on Via Zamboni in the North Eastern part of the city. When in session, the city's population expands by over 100,000.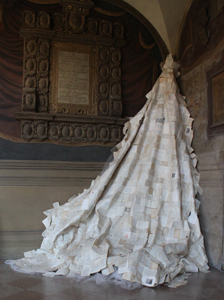 Art Made from Old Textbooks

Steve, Judy and Bob go upstairs to the anatomical theater constructed in 1637. It's a 17th century anatomy theater, a room of beautiful wood with statues. When in use, the priest watched public body dissections to make sure they did not become spiritually compromised. Seats surround the central table which has a marble top. A sculpture of Apollo is carved on the ceiling. A canopy over the teacher's chair is supported by two wood statues. When one gets up close to the statues, s/he sees that they're actually bodies without skin. One sees the skeletons, muscles and veins.
Steve takes a picture of what looks like a drapery hanging from a side of the arch. It's actually a piece of artwork made by gluing pages from old textbooks together.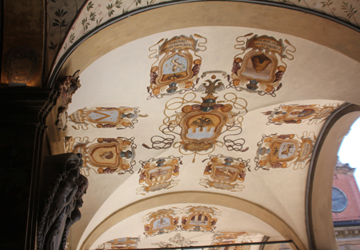 Professors' Coats of Arms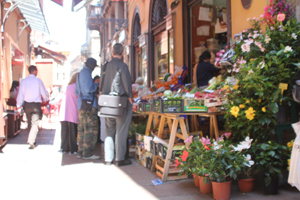 Market
Meanwhile Mama Nina and I sit in the shade in the building's arches. I am amazed by the paintings on the walls and ceilings, the professors' coats of arms. Today much of this building serves as the municipal library.
Our guide takes us to the market. She points out area specialties and provides information on certain products. We see a butcher and his meat display. The display includes horsemeat. Of course we see stalls of beautiful fruits and vegetables. Judy's really impressed and I love the colors. When we get to the cheese area, our guide points out the different types. She tells us that as cheese ages, it hardens and loses its lactose. Most Parmesan cheese is over a year old so the lactose is gone. Since I'm lactose intolerant, I like learning the reason why I usually do well with hard cheeses.

Before saying goodbye, our guide recommends a few places for lunch and gives us a few options for afterwards. She points out the higher leaning tower which is over 320 feet tall with 498 steps. Built from 1109 to 1119 by the Asinelli family, it leans just over four feet. She tells us how to get to the lower one. She sums up by saying Bologna is a beautiful city of Gothic architecture.
It's lunch time, so we look around for restaurants. We find one close by which looks good to us. We enjoy our lunch at Cafe Maxim. When we're done, Mama Nina moves to an outside table with her sandwich and Coke. She's comfortable sitting under an umbrella.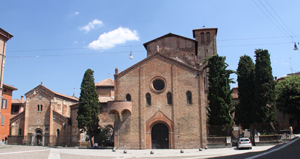 Basilica di Santo Stefano
We head off to find Basilica di Santo Stefano which is part of a complex known as Sette Chiese, a.k.a. Seven Churches, built during the fifth century over a temple of the goddess Isis. Only four churches remain today. One enters through the 11th century Chiesa del Crocefisso. Unfortunately it's closed for at least another hour. We hear some faint music coming from it and we learn that they're practicing for a concert. We hang out there for a while and see a cute young child running around. It's hot, we get tired and decide to head back.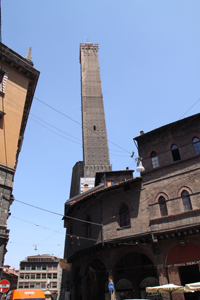 Leaning Tower
We take our time going back, walking close enough to the leaning towers to get pictures. When choosing our itinerary, we had to decide between Bologna and Pisa. The attraction in Pisa is the leaning tower. Steve had seen it on his earlier trip through Europe. We decided to come to Bologna because it sounded more interesting. Steve says that although these towers don't lean quite as much, we see the general idea. I enjoyed Bologna, so I'm glad we came here.
We pick up Mama Nina and call Alexandro to take us back sooner than designated. He says he's about 20 minutes away, which is great because that's what we estimate we'll need to take our time and get to the meeting place.
When we return to the hotel, Steve wants to sleep. His cough has become quite bad. We decide to touch bases in a few hours about dinner. Before we go out, I call my distant cousin, Laura and attempt to have a conversation with her in Italian. After a few tries explaining who I am, she says, "Ahh, si", which means oh, yes. She tells me to call her son and gives me his phone number. I can hear her trying to convert the number to English by counting. I get the number I think and hope. I decide to wait till we arrive in Venice to call him.
We have dinner at Valle Dei Cedri Lebanese and enjoy it. When we get back we take pictures from our balcony window.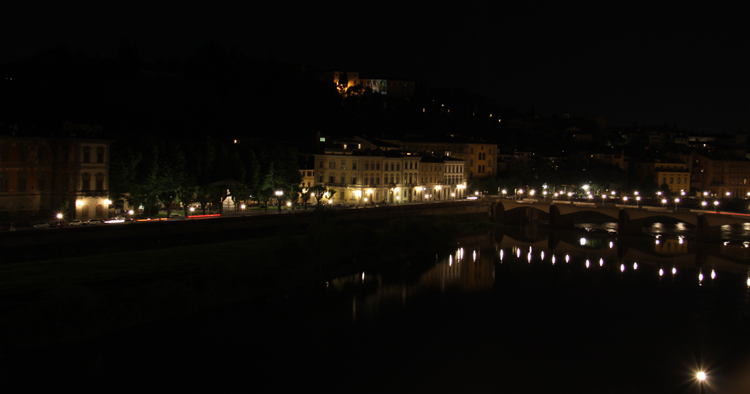 Night View From Our Balcony
Day 14: Tuesday, May 25

We get up about three hours before our pick up to pack. We go to breakfast and I enjoy my last Mimosa. We arrive at the railroad station in plenty of time and decide that as soon as the train is on the track, Bob and Steve will go as quickly as possible with our bags and load them onto the train. Judy will stay with Mama Nina and me while we make our way to the train. Mama Nina has decided it's easier to push me than to pull her suitcase.

When we reach the train, the door we want is not open. At the other door, a large group is getting on our car and blocking our way. Judy and Mama Nina load our carry-on bags and the wheelchair on the next car. Steve arrives and helps me onto the car. We go to our car where men are blocking the entrance trying to load their bags into the baggage area. Bob, a.k.a. "the man in the yellow shirt", is assisting an illogical man with stowing his bags. I call him illogical because he had put a small carryon in the overhead storage and was trying to cram in a suitcase the size of the entire bin. Bob tells him that there is not room for both, stows the larger one and gives him back the carry on. Later we learn that the large group is on their way to a cruise.
The train ride goes quickly but it's quite bumpy. The seats are not as comfortable as the last train. I make one difficult trip to the bathroom where someone almost walks in on me. Judy tells me that the car for handicapped people is much roomier and almost empty. Our travel agent really dropped the ball on our train seats!
When we go to get off the train, one of the passengers who Bob had helped was asking others, "where's the man in the yellow shirt?" He seemed to just assume that Bob would be back to help him. We had a good laugh over this.

Once outside the train station, we are very impressed with our first views of Venice. It's so quaint and the architecture is beautiful. It's a sunny day and the area is not crowded. We meet our first contact in Venice, called the meet and greet person, and at first he's nice. He gets us a water taxi but the driver refuses to take me in the wheelchair saying he's not set up to get me on. He calls a friend who is. It takes a while, but the water taxi arrives and instructs Steve and me to go to a place he can hook up. He will be back to pick up the others. With Steve's help, they load me onto the boat and Steve boards. We go back to where the others are standing. The meet and greet person pushes Mama Nina and Judy onto the boat. Mama Nina's okay but Judy is very upset. Judy's an experience boater and she got very scared when she was pushed. Bob helps her the rest of the way down. Later we're told that tourists are always pushed onto the boat to prevent them from taking too little a step and falling in between the boat and the dock. I'm surprised that our meet and greet person did not warn or ask if this assistance was needed. Judy certainly would have been able to handle it herself. I'm amazed that we could not all get onto the boat together. Certainly Mama Nina would have had an easier time using the lift. It's not as if we were displacing anyone. The area where Steve and I met the boat was not crowded.
Our Hotel in Venice

We arrive near the hotel, but we're still a bit of a walk from it. Our meet and greet person hands us off to the hotel porter. When we get to the Hotel Ca Dei Conti, there are about five steps up to the canal and three outside steps to the hotel, then two steps inside. At least we had been warned that there would be steps. While planning our trip, our travel agent said that all hotels in Venice have stairs at their entrance because that's the only way to get over the canals. Check in goes somewhat smoothly, but they assume that Judy is me and begin to explain things to her ignoring us. I speak up. Then they talk to all of us.

We go up to our room on the top floor via the elevator, which can barely fit Steve, the closed wheelchair and me. We are most displeased with our room. It's in an attic with almost no light. The only decent light is in the bathroom. There's no view; the window looks out over an awning which blocks the canal. What a disappointment! We say well at least there is possibly Internet access from our room. Steve tries but it crashes several times.
We unpack and relax for a while. Then we meet Bob and Judy to explore. They love their room and offer to change with us. Bob says it was probably supposed to be our room anyway since the staff assumed that Judy was our group organizer. The hotel has already sent group tickets that I was supposed to get their room. We say thanks but we're already unpacked and it's only for a few days, most of which we won't even be in the room. We agree that any get-togethers we do as a group, we'll do in their room.

We find our way to St. Mark's Square but have to cross several bridges and only one has a ramp. We had tried to get a map with handicapped access routes marked at the information booth but the line was too long at the railroad station. We didn't find another place that had the map. The ramps across the bridges are on one side of the bridge and decent, except that people who don't need them use them. The ramps are fairly steep so once Steve begins to push my wheelchair up the ramp, he should not stop or he will lose momentum and backslide. Most of the time, the people on the ramp wait for the last second to get off it. Occasionally I have to say something to get them to move off the ramp. It continues to amaze me how oblivious people can be.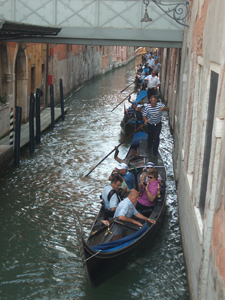 Gondolas
We walk around the square and stop at a few of the abundant souvenirs stands. We ask for a map and Bob and Steve look at each one we're handed. We're looking for one with enough detail and print that's big enough to read the side streets. Steve, who has been to Venice before, says it's very easy to get lost on the side streets. Finally we find one with which they are satisfied. We admire the square and leisurely start to head back to the hotel.

On the way back to our hotel, we see many gondolas. Our travel agent had told us that they are very expensive but if we find one without other tourists around, the oarsman might be willing to negotiate. Steve is hesitant and says that getting me on and off would be very difficult. We agree that we'll see what happens. Probably the locations which would be easiest to get me on and off the gondola, would be quite crowded and we couldn't negotiate with them.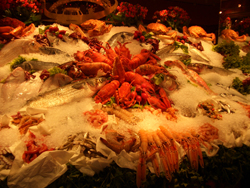 Restaurant Display
As we walk back, we're enchanted with the views. With our new map and Bob's expert coast guard skills, it's not hard to find our way. Thanks, Bob! We're also keeping an eye out for possible places to eat. The restaurants have beautiful displays of their food but prices are quite high. We pick up Mama Nina and decide that we'd like to go to a seafood restaurant that we saw had a beautiful display including lobster and had given us a 20% off coupon. I order soup called Pesce of Adriatic. It's just about tasteless. Everyone else liked their meal. No one ordered the lobster because it was prohibitively expensive.
We return to our room. I'm nervous about tomorrow's trip to Borca de Cadore. I spent so much time and energy planning it. I hope we're not off on a wild goose chase. I love Venice even though it's difficult to get around. It's beautiful! I tried to call Laura's son but only get a recording. I leave a message about our plans for tomorrow and our phone number. Two days later, I learn that I never got an outside line from our hotel. I only got a hotel recording in Italian. There are no instructions on how to use the phone. What a disappointment!
Day 15: Wednesday, May 26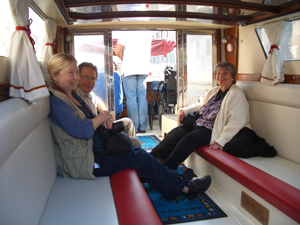 Venice Taxi Boat

Today we have an eight hour excursion to Borca di Cadore. We're met in the lobby and escorted to a boat which will take us to our van. The boat doesn't have a lift and it's hard to get onto. We arrive at Plaza Roma and meet our van. Our driver's name is Lino. He tells us it will take us about two hours to get to Borca. First we ride on a highway road, then on gentle switchbacks. I ask Lino about himself. He tells us that that he worked in New York City until his visa expired and one year after that. Since he let his visa expire and stayed, he can't go back to the United States until 10 years after his return. His English is great and he's very knowledgeable. He worked for CEB, Construction of Efficient Buildings. When he tells me about CEB, I ask him if he ever heard of the company ARC, a company that my Great Uncle Charlie founded. From what he says, I think it's probably the same company. He was born in Friuli and then moved with his family to Sicily. After he finished school he went to Brazil. He visited Miami and loved it so he moved there and then to New York City where he lived in Astoria. He may go back to the USA in six years.
Lino points out the old highway to Rome built long ago and used until the one we're on was completed. He also points out Conegliano, where Italians make their champagne, Prosecco, and Vittorio Veneto, where I had mentioned one of my relative contacts lives. According to my mother, this is where my great grandfather came from. It's exciting for me to be seeing these places I've heard of. I had asked our travel agent if we could go there and she told me definitely not because we had only paid to go to Borca de Cadore and two surrounding villages. Lino says if we have time, he'll take us. After Belluno at the foot of the Dolomites, we begin to go on local roads.
Lino tells us that the Italian population of Italy is decreasing. Whereas couples used to have many children to help with agriculture, other tasks and to make up for the high childhood death rate, today most families have only one or two. Italy has many immigrants from Eastern Europe, the ex-Soviet countries and northern Africa. One can often tell what part of Italy someone is from by the final vowel in their last name. People whose name ends in "o" come from the south, Mama Nina's maiden name of Amodeo and her grandfather came from Sicily. Names ending in "i" come from the north. My Veneto family names are Zanetti and Perini. The family from Friuli which is east of Veneto is DiPaoli.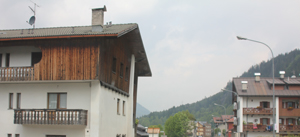 First View of Borca
As we get closer to Borca, Lino offers to call Roberta Anne Perini, the woman who has invited us to her home. She gives him a meeting place. As we arrive in town, it's like we've crossed over into a different country, Austria or Switzerland. The architecture is Alpine and beautiful!
In researching my family, a cousin sent me her family history entitled Roots of the DeMattia Clan by Walter DeMattia. It contains the best history I found of Borca di Cadore so I include an edited version here.
History of Borca di Cadore
The province of Cadore has ancient boundaries, is roughly triangular in shape, about 30 x 30 x 20 miles on its sides. It lies in the most rugged part of the Dolomite Alps and is the repository of a most unique heritage. It straddles the main corridor of the mountain passes through which the Romans and Barbarians ebbed and flowed through the centuries during the development of our great Western Civilization.
The oldest recorded history of the region starts about 1000 BC with relics and ruins, indicating that its inhabitants then were a medley of Etruscans, Ligurians and Eugenei who were good farmers and woodsmen and were quite civilized. In the fourth century B.C., the barbarian Celts overran all of Europe and penetrated Cadore. In the third and second centuries B.C., as the Romans conquered all of Italy and Gaul, a remnant of Celts holed out in Cadore and resisted. For over 200 years they defied the Romans by raiding the neighboring settlements on the plains, burning and plundering and then retreating and hiding in their mountain strongholds. In about 100 B.C., the Romans finally mounted an all-out campaign against them. They executed all the awn or sent them off as galley slaves. As Christianity spread through the Roman Empire, it entered Cadore about 300 A.D. After 450 A.D., following the collapse of Rome, successive waves of barbarians swirled over and around Cadore until 1300 A.D., always meeting resistance. There were the Huns, Goths, Visigoths, Ostrogoths, the Mongols of Genghis Kahn, Franks and Lombards. In 1347, after a period of relative tranquility under a somewhat Christianized Lombard rule, "The Magnificent Commonwealth of Cadore" was formed as an independent state under a charter from the Patriarch of Aquileia. It was a republican form of Government, designed and drafted in Cadore that stood for over 400 years until Napoleon conquered all northern Italy in 1797 and ceded Cadore, Lombardy and the Tyrol to Austria. Close to the Austrian Italy, the border was in dispute for centuries. In 1866, Cadore revolted from Austria and joined the new Italian nation.
About 75 miles north of Venice, high up in the most rugged part of the Dolomite Alps, near the Austrian border, lies the little village of Borca Di Cadore, nestled in a mountain valley between four imposing mountain peaks. Villanova, Borca and Cancia are three adjoining villages that form one community and are surrounded by four large mountains.
There was "Marcore" so named because it "marked the hours" for the villagers at home or in the fields, as they told time by the shadows off the rocky facets. The other three, Pelmo, Rochetta and Antelao, sit snow-capped and beautiful in their different colors in the sunlight. Its inhabitants, protected by the ruggedness of the Cadore terrain, have always maintained a character of their own. They were hardy, self-reliant, fiercely independent, always resisted conquest and were never fully subdued by anyone.
The homes are centuries old, constructed of cement and stone with exterior walls sometimes three feet thick A mountain stream flows through the center of the village furnishing the water supply. Most of the year, the stream is tame. However during the spring, it becomes a torrent that sometimes brings avalanches down from the mountain side. There is a specially constructed pool in the center of town for washing clothes and even in 1975, when most of this history was written, many old ladies gathered there to do their laundry, exchange news and gossip just as they did 100 years ago. One hundred years ago life was subsistence living. Only the industrious and thrifty lived well. Most families had a cow, a few sheep, a few pigs and some chickens. The animals were led away every spring to community pastures on the mountain sides, and brought back in the fall to their winter quarters attached to each home like attached garages of today. Butchering was done in the fall, when the meat would chill quickly at night. In the absence of refrigeration, the meat was sliced thinly, salted and dried in the sun, to last through the year with cheeses and grains. From the time children could walk, there was work for them to do. They took care of the animals and brought hay and wood from the mountain, on their backs, during spring, summer and fall, so that the family and the animals could survive the winters.
Salt was scarce and precious because it was required for the curing of meat, and was one of only a few commodities that had to be imported. The families all spun their own yarn from home grown flax and wool, wove their own cloth, made their own clothes, shoes, candles for light, soap and all other necessities. There was no inside plumbing, and water had to be brought in daily from the mountain stream. In summer most of the cooking was done in the fields, where "Polenta", a stiff cornmeal mush, prepared in an iron kettle over a wood fire, was the staple food. It was usually served with some sort of vegetable and meat stew called "toucho". In winter all cooking was done at a kitchen fireplace. Homes had separate "bread ovens" in a large cavernous fireplace with walls of cement and stone about three feet thick that extended from the kitchen into the adjoining living room. A very hot fire was kept burning in it to heat the home and when it became time to bake bread, the hot coals were raked out and the bread baked by the residual heat of the stones.
The language spoken was "Cadorin", a dialect similar to Italian, but different enough that it is not understood by many Italians. Everybody was Catholic and evidence of devotion was everywhere. The churches were small, but outdoor processions were frequent, with stations of the cross and shrines along the roadsides. Religion and education were uppermost values in Cadore society. Learned teachers were retained, and the children were thoroughly trained in the basics and the classics.
In April 1814, an avalanche off of Mt. Antelao buried many homes and killed hundreds of townspeople on the outskirts of Borca. The survivors created the villages of Villanova and Cancia.
In 1866, King William I and Bismarck of Prussia were allies in the war against Austria. Many from Cadorin, as citizens of Austria were conscripted and fought against Bismarck and Italy. After the war, Cadore revolted against Austria and many entered the Italian army when Cadore and the Veneto became a part of the new Kingdom of Italy. Around the 1870s many from this area, including my family immigrated to America.
At the end of 2004, Borca had a population of 820 and area of 17 square miles. The scenic splendor of Cadorin now has attracted many modern developments like ski lodges, resort hotels and vacation villas owned by large corporations, but the old village of Borca de Cadori remains intact by itself. It's a pleasure to see it!
We easily find Roberta. She has her English speaking friend Rosemary with her. Rosemary says to call her Rose. Rose is from Clifton, New Jersey, a.k.a. Little Borca according to my family documentation. My family first lived there in approximately 1890. Both Rose and Lino translate. Roberta tells us that she goes by the name of Anna. I found Anna by writing to all of the Perinis who I could find on the people search page of www.superpages.com. She emailed me back and invited us to visit her in Borca.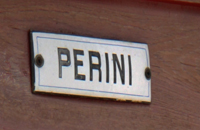 Mary's Family Name on
Door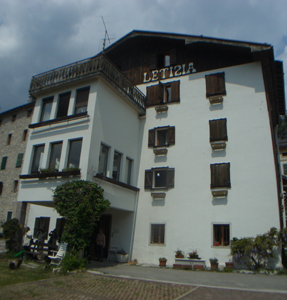 Anna's House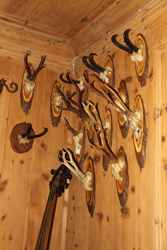 Hunting Trophies
Perini is the maiden name of my mother's father's mother Angelica. This is the branch with which my mother had most recent contact. The family members were Amborgina and Clotilda Rui. My mother had met them where they used to live in Padua. They said that they came up to their house here in Borca for the summer. After our introduction to Rose and Anna, I mention Amborgina and Clotilda. Anna tells me that they have passed away. I reply that I knew that but wasn't sure she did and did not want to tell her in our email. I also tell her about my attempt to find my living relatives and see their house. She says that she can show me the outside. We talk a bit about the name of Perini. There were four families and mine is one of two who emigrated. One family went because they had to find work and the other went because they were curious. From what she told me while we were emailing and my knowledge of family history, I'm sure that my great-grandmother came from the latter family, the curious one. She says there's another Perini family still in Borca and we'll meet them later.
We go to Anna's house, which was originally a hotel. Anna ran a bed and breakfast here. Now she's retired. Her house is down a steep driveway. When first built, it had one or two storeys. As her family needed more, they built upward. Now the house has five storeys.

Bed on Top of Bread Oven
We pull into the back of her house and get out of the van. We're surrounded by the Alps! It's breathtaking!! The air is so clean and crisp. After briefly admiring the back, we go inside. She shows us the kitchen, which is fairly modern and points out how it used to have a thick oven. This must have been the bread oven. The heat generating part of the oven is still in the living room, where we go next. We see that part of the oven. It has a small bed frame type platform built over it. Anna with Rose translating explains to us that in the cold the children would sleep there. The living room is beautiful. The mantle contains many instruments. Over the door we see a collection of bells which she tells us her family acquired from an old store. We also see many hunting trophies, mostly deer antlers, hanging on the wall.
Anna has us come back into the kitchen and pours us bubbly Prosecco. We toast to our meeting. She points out that the Prosecco was made by the other Perini family. They arrive and we meet Giuseppe and Giulietta, son and mother. Everyone is so friendly! Giuseppe is a winemaker who lives in Conegliano. Although the name Giuseppe was on my Borca list, his mother is actually the one who lives in Borca full time. A shy calico cat shows up. It takes two tries but Steve makes friends with her. Anna offers us snacks, prosciutto wrapped around breadsticks, pastry and cookies. I try a chocolate cookie and it's delicious.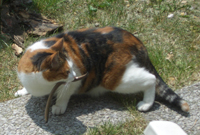 Cat Catches Snake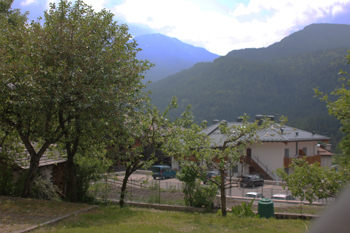 Alps From Anna's Backyard
We go back outside, admire the scenery more and watch the cat catch and play with a garden snake. We take a few group shots, especially of me with the Perinis. They tell us that as far as they know our families were never related but natural disasters destroyed records from before the 1600s. The second Perini family leaves but first they invite us to their home later.
The five of us spend time enjoying the beautiful views. Borca is known for being nestled in four mountains. We see the "four imposing mountain peaks" of the Dolomite Alps. Lino points out Marcore that marks the hours by its shadows. I think it's close to noon so I don't see any shadows. He also points out Pelmo, Rochetta and Antelao. As my family member said, they "are...all snow-capped, beautiful in their different colors in the sunlight, and as rugged as they can be. They rise beyond the neighbors' house. Steve, Judy and Bob walk towards them. When they turn around, I expect one of them to start singing "the hills are alive with the sound of music".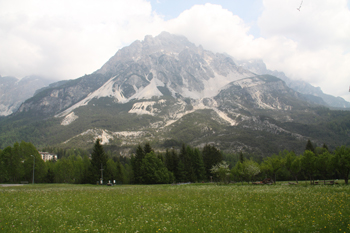 Anna's Backyard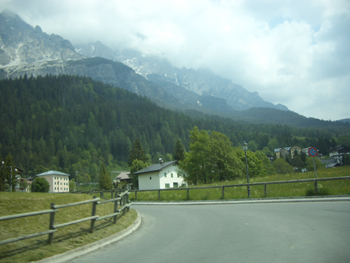 Beautiful Borca di Cadore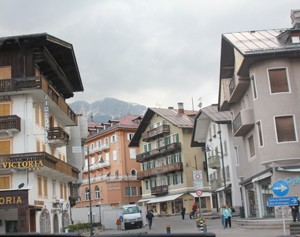 Olympic Village of Cortina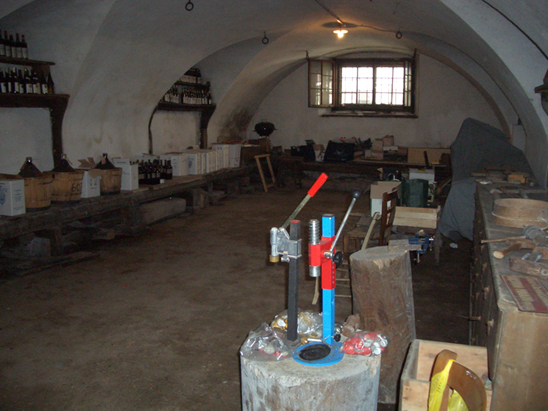 Wine Cellar - Corker in Foreground
I take a few pictures of Anna's house, including at least one that has the Perini name on it. On the side of her house, which one can see from the road, the word LETIZIA, which means joy, is printed just under the roof. I think it must be a welcoming sign. We certainly experienced much joy here!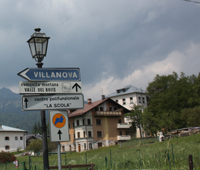 Borca Tour
Lino drives us around Borca with Anna as our guide. We also go to Villanova and see the church where my great grandparents were most likely married. It's of a Russian orthodox style. I tell Anna that I wrote to the church to ask for information about my family but never received a reply. Anna says that looking at the church's record would take days. She has a Perini contact in the United States who has done it and she'll get me his information. They take us by the house owned by my family but we can only see it from the outside. Steve gets out of the van and takes a picture. It's nice but not as rural as I expected. It's sandwiched between two other houses. We ask Anna to join us for lunch, but she declines. Later Lino tells us that she's embarrassed because she still has on her slippers. Bob and Judy tell us that Rose told them Borca people are very friendly but difficult to get close to.
Lino takes us to San Vito to a place where he stays when he works in the Cortina area during ski season. It's called Ristorante Albergo Dogana Vecchia. It's not far from Borca but he doesn't know of any place in Borca that he'd recommend. We ask him to join us. It takes some persuasion but he finally agrees. When we arrive, it's obvious the owners know him and are extremely fond of him. The meal was one of the best I've had yet! We order grilled vegetables for the table. Judy and I get a ravioli gnocchi sampler with a small amount of butter oil sauce. The restaurant owners' 10 year old son wanders among the tables. He has all sorts of Mr. Fix-it tools on and likes showing them to us. The owner make sure he doesn't bother us too much but it's fun to have this interaction. They serve coffee in "Segafredo Zanetti" cups. We've seen the sign often especially in Venice, so I have to take a picture. Zanetti is my mother's maiden name.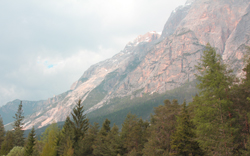 Color of Dolomites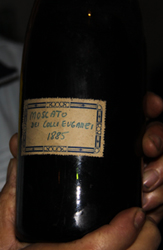 Oldest Perini Wine
Hardware
After lunch, we take pictures of this wonderful restaurant and the beautiful surrounding area. Lino says we have to see Cortina and he takes us. He points out the Olympic ski lift. Unfortunately it's misty this day so we don't see the full effects of the Dolomites. On the corner of one mountain, he shows us that when the sun hits the rocks, they are pink. I've read that the Dolomites are a series of ancient coral reefs and that's what gives them their color. Today Cortina is mostly a ski resort.
We return to Borca di Cadori and visit Giulietta's and Giuseppe's house. We enter on the ground floor used for business. Giuseppe takes us on a tour of their wine cellar. He has samples of his wine, full cartons of bottles of wine and other winemaking paraphernalia. They also make Cabernet Sauvignon and Merlot. He proudly shows us his oldest bottle of wine, Moscato dei Colli Euganei, vintage 1885! Steve and I easily recognize their corker and we explain how it works to Mama Nina, Judy and Bob.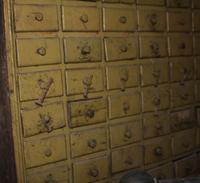 Hardware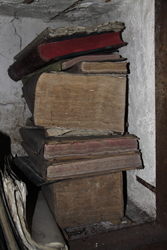 Store Ledgers Date
Way Back
We move to another section of the bottom floor which used to be a general store. He shows us some of what they used to sell and how it was packaged in brown wrappers with a piece of the contents on the outside. He also sold hardware and had a set of small metal draws with one screw or the article attached to the front of the draw. We see this sign for the store. The words still legible say

"VENDITA COLONIALI
Liquori
CORAMI BIRRA"
which translates to
" SALE COLONIAL
Spirit
STAMPED LEATHER BEER"
We also see comic books with the title of "Calandrino" and a small wagon which could have been a child's toy or used as a cart. Off to the side there's an area of skis, snow shoes and sleds. They look new enough that they're probably used today. Giuseppe takes us into the office and proudly shows us that they still have all their ledgers from the store. The stack must've been about a yard high and date from the early 1900's. They also had many types of ink stamps. We see an old stove and I wonder how old it is. It has several items on it but they look as if they are recent and perhaps someone was eating snacks down here.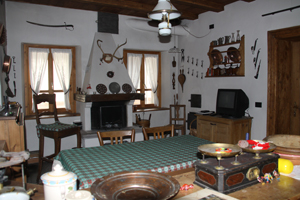 Upstairs Kitchen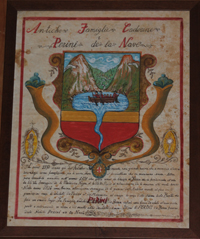 Perini Family Crest


Giulietta's
Acquasanta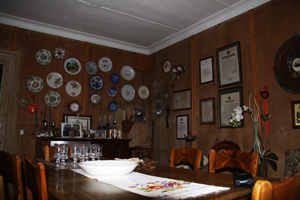 Dining Room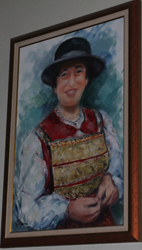 Giulietta in Traditional Dress
Giuseppe and Giulietta live upstairs. We go up to the second floor where Giulietta lives year-round. It's beautiful! We see the kitchen, living room, dining room and her bedroom which each contain beautiful wooden furniture. Giulietta is so proud to give us this part of the tour. The walls are adorned with many knick knacks including beautiful plates. One section has a pipe collection. The pipes have very long stems and several have ceramic bowls. Another wall in the dining room has family items.
They show us the Perini family crest. I didn't quite get whether it was just for their Perini branch or all Perini's. Its center picture has a lake and two mountains, obviously the Dolomite Alps. We see a beautiful picture of Giulietta dressed in traditional garb. Each year there is a local festival and she dresses in traditional clothes. She shows us a few pictures. In one she's showing a small part of her pantaloons. She seems a little embarrassed but thinks we'll like it and we do.
Anna has brought over her snacks and Giuseppe serves us wine. We toast to family and friendship. Giulietta brings out a bottle of a drink that she makes from lemon, sugar and grappa, called ACQUASANTA. Later when I run it through Google translate, I learn it means "holy water". She offers us a glass. It tastes a lot like lemoncello. Giuseppe takes out a family tree and some pictures. The pictures look very familiar, like what I've seen of my Great Grandmother Angelica. He shows us a few pictures of people he does not know and wonders if I recognize them. Unfortunately I don't but I take pictures of them in case any of my family might. Their family tree is fan style with a lot of names. We looked through them but don't recognize any or find any common relation. It's obvious how much family means to the Perinis.
Toasting Family & Friendship

It's time to say goodbye. We exchange email addresses with Giuseppe. He tells us he's fairly new to it. He gives us three bottles of wine, a Prosecco to Steve and me and a Cabernet Sauvignon and Merlot to Bob and Judy. He also gives a Prosecco to Leno and they exchange business information. Lino tells him that tourists often want wine tours and he'd be happy to show them the Perini winery. Since the house is built in the mountains, they have us leave via a staircase in the hallway. Lino brings the van up close. I think it's very consider of them to even think of this.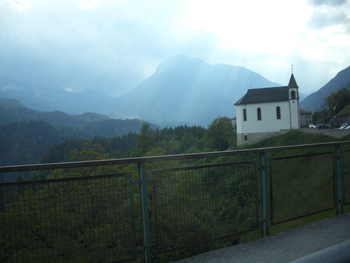 Leaving Borca
As we leave Borca di Cadori, I ask Lino if he could pull over so we could take a few last pictures. This has been my favorite day of the trip so far! The ride back to Venice goes quickly. We make one nice rest stop. Lino again points out Vittorio Veneto but says it's too late to try to stop and find my cousin's house. As we near Venice, Lino confirms a lift taxi for us. At one point during the ride, I ask Lino if he's part owner in the company he works for. He says no, that he just likes to make sure his tourists enjoy their visit. I tell him that he's certainly done that for us.
During the ride back, Lino tells us that the Perini's we met today will remember us if we ever return. I think to myself that it's too bad that today I didn't remember my grandfather and grandmother's visit and ask if they remembered them. My grandparents may even have shopped at Giuseppe's store.

As we get close to Venice, Lino calls for a boat with a lift. Our boat ride back to our hotel, especially getting on and off the boat, goes wonderfully. We take a break before dinner. Steve attempts to log in to work. He goes down to the computer room and has some success. We go to Mama Nina's room to get her for dinner and also we're interested in seeing it. She tells us one of her toiletries is missing. We help her look for it but it's gone. She had left it separate from her others and we think the cleaner probably mistook it for garbage. She does not have enough for our last two days and she needs it. I try to persuade Mama Nina to report it but she doesn't want to make a fuss. I offer to report it and she asks me to drop it so I do.
We meet for a late dinner. Bob doesn't join us because his cold feels bad. We find a place not too far from our hotel with outside dining. We have soup, pizza and wine. Judy gets some pizza to bring back to Bob. It's been a wonderful day!
Day 16: Thursday, May 27

Today we have a two-hour walking tour of Venice we meet our guide, Catylina, at 9 am. We walk through the beautiful streets of Venice. We tell her we need to stop by a pharmacy for Mama Nina to pick up something. She takes us to one around the block from our hotel and Mama Nina replaces her missing toiletry. Catylina explains our two-hour tour giving us a choice between two types, a walking tour and a tour of the Doge Palace and St. Mark's. We're all somewhat tired so we decide on the easier one, Doge Palace and St. Mark's. We pass a good number of interesting shops on the way to the Grand Canal. Catylina says they are nice but expensive.

High Water
Mark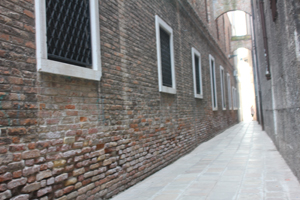 Old City Jail
Catylina shows us the city jail, and the high watermark of 1.94 meters (6.36 feet) reached on November 4, 1966. She tells us the history of Venice.
History of Venice
In the 400s and 500s A.D., violent barbarian invasions forced the people who lived in Roman towns and along the Adriatic sea to take flight to the islands in the Venice Lagoon. During the 500s, the islands started to form a loose federation. Each community elected its representatives to be part of a central authority. However leaders were under the influence of Byzantine rulers. During the early 700s, Byzantine influence lessened. In 726, Venice elected the first doge, a.k.a. duke. This office would run the city for over 1000 years.
By the end of the 1000s, Venice had become a powerful Mediterranean merchant city, facilitated by turmoil caused by the first Crusade in 1095. At the start of the 1200s, Doge Enrico Dandolo of Venice successfully led the fourth Crusade on Constantinople. Venice kept most of the territories, building its naval strength in the Eastern Mediterranean Sea as well as most of the wealth it confiscated.
Near and dear to my heart, as family rumor has it, our ancestor a young Venice merchant named Marco Polo joined his father and uncle on a land trip to China, in 1271. More than 20 years later they returned by sea. History says that this family showed the enterprising spirit of Venice. I like to think that perhaps this is where I get my love of travel from!
During the 1200s and 1300s, Venice struggled with Genoa to keep its naval superiority. In 1380, Venice became the victor. They began to look inland and eventually conquered much of Veneto to the north and part of Lombardy to the west and Emilia-Romagna to the south.
World events had a great effect on Venice. The threat of the Turks pushed Venice to send forces to protect the territories it had won along the Adriatic Sea. In 1453 Constantinople fell to the Turks. In 1499, the Turks captured Venice's territory of Morea in Greece. The Turks gained control of Adriatic Sea access. New trade routes opened in 1492 with the discovery of America and in 1498 when the Portuguese explorer rounded the Cape of Good Hope in Africa. In time, these allowed European importers to find ways around the Mediterranean and avoid Venetian taxes and duties.
Venice kept a good deal of its power. The Council of Ten ministers served as Parliament. It led a complicated system of councils and government committees with an iron fist. The elected doge served as the head of state with a set of checks and balances that limited his power. In 1297, a declaration limited membership of the Council to the most dominant patriarchal families. This made the Venetian government one of the most secure in Italy and Europe, with little democracy. Whenever Venice had a security interest, it encouraged its citizens to spy on each other. Harmful acts yielded swift punishment. Most trials weren't public but executions were done before crowds.
People from all over Europe and some parts of Asia came to Venice for goods of great luxury that were produced and traded here. Venice had the European monopoly on making Murano glass. It reintroduced mosaic production and made beautiful silks and intricate lace. Although they allowed Jewish people to practice their religion, Venice limited what its Jewish community could do, including where they could live, establishing one of Europe's first ghettos. Armenians were treated the same but were protected during the Inquisition. Muslim Turkish traders were allowed to use a major commercial building, regarded as somewhat surprising for this time and location.
During the 1500s and 1600s, Turkey and the Papal States gained some of Venice's influence. In 1669, the Turks captured Venice's last Mediterranean land, Crete. In 1797, Napoleon captured the city and turned it over to Austria. The Italian unification movement spread through the Venice region. In 1866, following several uprisings, Venice united with the kingdom of Italy.
In the 1800s, the city changed from being a trade port to a tourist destination. During World War I, the city of Venice was bombed with minor damage. During World War II, most attacks were aimed at neighboring industrial areas. Today approximately 20,000,000 tourists come each year.
At one point we pass a wagon stacked with beverages. There's a few cases of soda, a case of Becks beer and many steel barrels which could be beer or wine. When we reach the Grand Canal, Catylina points out the Basilica Santa Maria della Salute across the canal.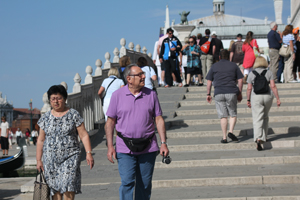 Ramp Over the Grand Canal

We reach the bridge to St. Mark's square and Steve pushes me up the ramp. I am amazed at how many people use the ramp and also that so many people make way for us as soon as they see us. Of course, there's a few who don't until I yell "Scuzi". One even gives me a dirty look.
We pass many covered docked gondolas. I guess it's too early for them to be out yet.
Doge's Palace with Mama Nina
Pushing Me
We arrive at Palazzo Ducale, a.k.a. Doge's Palace, constructed from 1309 to 1324. Not surprisingly, it's incredibly ornate. It served as the doge's official residence. Until 1797 when Venice was occupied by Napoleon, the Palace also contained the Republic of Venice's government seat and main prisons. Although Venice was ruled by the elite, the Palace contained the Bussola chamber where citizens could submit written complaints. Approximately 500 years ago, the addition of the Sala del Maggior Consiglio started its current look. It could hold from 1200 to 1700 council members. The façade consists of white Istrian stone which is a dense limestone, and pink Veronese marble. This faces St. Mark's square and the Venetian Lagoon. It's beautiful! In 1577, a fire damaged it. Antonio da Ponte reconstructed it, keeping the original Gothic style. In the 16th century, a classical feature of the Bridge of Sighs was added to join the Palace to the prison.
Catylina gives us the option of standing on a long line or paying one or two Euros and getting in quickly. We choose to pay. Unfortunately there is no photography allowed inside. Close to the entrance, we see a sculpture of a soldier standing on top of what looks like an crocodile. It's St. Theodore holding a spear standing on a crocodile which represents the dragon which he supposedly had slain.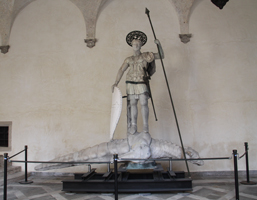 St. Theodore Slaying the Dragon

We take the elevator which is guarded to the top floor. So far I'm impressed that Italy (except for the Colosseum) seems good at only letting people who need elevators use them. Our group qualifies because if we separate we could get lost. There are quite a few cruise ships in Venice today so it's crowded. We see rooms where diplomats, the governing council and courts met, legislated and judged. The ceilings are ornate and beautiful.
As we walk through the rooms, Catylina explains much of the art which adorns them. Many famous architects worked on the Palace, including Sansovino who built the Scala d'Oro, a.k.a. Golden Staircase, which is actually a maze of rooms including the Hall of the Four Doors where officials would meet their audiences. Palladio built the ceiling and Tintoretto painted the frescoes. The nearby Anticollegio. a.k.a. College Antechamber, contains four paintings by Tintoretto and the Ratto d'Europa (Rape of Europe) by Veronese. The Sala del Maggior Consiglio, a.k.a. Grand Council Hall, contains Paradiso (Paradise) by Tintoretto which is one of the world's largest oil paintings and Veronese's Apoteosi di Venezia, (Apotheosis of Venice) in a ceiling panel. On an upper wall, we see the first 76 doges of Venice with a black space that would've held Doge Marin Falier. In 1355, he was convicted of treason, which was considered to be the worst crime in Venice, and beheaded.

Catylina tells us that there is one more section but it has many steps to get there. Mama Nina and I decide to wait while Catylina takes Steve, Judy and Bob to see it. Catylina sends us downstairs with a staff member and she tells us that the staff member will get us to the meeting point. As we go to the elevator, a series of staff members hands us off to others. All goes well until the last staff member leaves us inside a large room. According to what Catylina told us, we think we're supposed to meet outside but we're not sure where we are and are a bit concerned. Mama Nina pushes me outside. We walk around for about five minutes then decide to find a place for Mama Nina to sit. We think that since Catylina knows the area better than we do, she'll find us. We return to close by where we entered the palace this morning. Soon they find us. While we were wandering around looking for where to go, Steve saw us and took our picture. Later this provides us with a good laugh.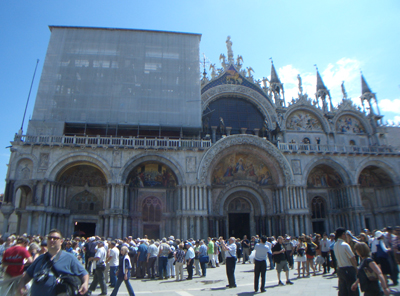 St. Mark's Basilica
Next we go to St. Mark's Square and Basilica. The square is very crowded with all the cruise ships in Venice today. Piazza San Marco, a.k.a. St. Mark's Square, is surrounded by beautiful buildings. The Torre dell'Orologio, a.k.a. bell tower, is close to one of the entrances. The current tower was built in 1912. It's an exact replica of the tower which collapsed in 1902. It's mostly brick and quite different from the other buildings. The Basilica of San Marco dominates the Piazza on the East side. Originally the Basilica was also brick. Today it's mostly marble and mosaic with bronze doors. Although the mosaics have been replaced over the years, they're of the same subject. Doorway arches have beautiful mosaics. In the center balcony, we see the four bronze gilded horses which are replicas of those captured in 1204 during the Fourth Crusade.
The other sides of the Piazza contain
the clock tower, the archway leading towards the financial and commercial district of the Rialto, and the Procuratie Vecchie. The latter is the oldest building which contains offices and apartments of San Marco procurators.
The Libreria by Sansovino which is St. Mark's National library today, and the Procuratie Nuove which houses the houses the upper floors of the Correr Museum and shops and cafes.
The Ala Napoleonica, a.k.a. the Napoleonic wing, of the Procuratie which is currently the entrance of the Correr Museum and shops and cafes.

There's a long line to get into the Basilica, but we have special status as part of our tour. Steve and I go into the gift shop because that's the barrier free path. Soon Mama Nina, Judy, Bob and Catylina meet us. There's no photography allowed inside. The interior is amazing!! Mama Nina sits in a Chapel pew. Catylina tells her that mass will start at 11 am. (It's approximately 10:40 am) She replies, "okay, I can go [to mass]."
We walk around for about 20 minutes marveling at the Basilica. Catylina very quietly gives us details of what we're seeing. Originally St. Mark's was a building in the Palace built in 828. In 832, a new church was built on the present site. In 976, it was burned and rebuilt in 978. In 1063, another rebuilding occurred in which the present form began. It contains varied styles. Mostly we see Byzantine, but Catylina also points out Romanesque and Renaissance. It was built in the shape of a Greek cross with five domes following the style of the former Constantinople's Church of the Twelve Apostles. It was consecrated in 1094 (also the year that St. Mark's body was rediscovered) as the doge's private place of worship. In 1807 it became Venice's Cathedral. Over more than five centuries the doges expanded and made it more elaborate using among other things valuables ransacked from the East during the Crusades. Doorway arches have beautiful mosaics. One shows the arrival of St. Mark's corpse in Venice. The oldest mosaic from approximately 1063 features the Madonna with the apostles. The 12th century floor of marble has geometric and animal patterns. The lower portion of the walls and pillars have beautiful Eastern marble. Above this we see the transition of passageways which were former galleries and then the next higher section of Gilded mosaics created over two centuries, from the 11th into the 13th. Mosaics consist of gold, bronze and many types of stone. In the baptistery and side chapels, other mosaics were added in the 14th and 15th centuries. The final mosaics were completed in the 18th century.
We look at the raised area for clergy which has a crypt underneath it. We see an altar screen with a high crucifix and 1300s Gothic sculpture statues by Pier Paolo and Jacobello Dalle Masegne. Above the high altar we see a canopy on columns which has beautiful reliefs. The incredible altarpiece is called Pala d'Oro, a.k.a. Golden Pall. Choir stalls have inlays by Fra Sebastiano Schiavone. Above them, Catylina tells us that there are three reliefs by Sansovino.
On the right, we see the platform where the new doge would appear. Mama Nina is in St. Clement Chapel with the Holy Host altar. There's also a pillar which marks the place where St. Mark's relics were rediscovered. A mosaic depicts the incident.
On the left we see the platform for the reading of the Holy Scripture with St. Peter's Chapel on its right aisle and the Madonna Nicopeia, a Byzantine icon. This area also contains St. Isidor's Chapel and the Mascoli Chapel.
When we're done Catylina tells us that from 11:30 am to 12:30 pm. they slowly illuminate the Basilica which is well worth staying for if we're interested. We agree that we are. She points out the sanctuary of St. Mark's sarcophagus and tells us about the Pala d'Oro, the gold, jeweled altarpiece with 2000 precious stones. It has quite a history. In 976 A.D., it was created for Doge Pietro Orseolo in Constantinople. In 1105, in Constantinople it was enhanced and redone. In 1209, Venetian goldsmiths enlarged it and during the 14th century reset it. The stones include emeralds, rubies, amethysts, pearls and sapphires. There is an admission of €2. The four of us want to see it. Catylina wishes us well and says goodbye.

To reach the area, we have to do quite a few stairs and there's no ramp. It's totally worth the climb! We spend about 10 minutes in the sanctuary. The gold and jewels are absolutely beautiful!
When we leave the sanctuary, we go to mass. They are just finishing the gospel. Mass is in Latin but we three Catholics follow along close enough. There's only two seats next to Mama Nina but Steve, Judy and Bob won't take them. Soon two others come and take them. We do the kiss of peace and Judy, Bob and I go to communion. After mass we stay for the illumination. It's incredible! At the beginning, the inside of the Basilica is dark enough that we need to move around slowly with caution. The lights come up quite slowly but fully. It's extremely moving! We can really appreciate all the fine works of art that Catylina had pointed out earlier. We're all glad we stayed for this.
We go back outside to the Piazza and photograph two statues on top of posts. The statues are of the two patron saints of Venice, St. Theodore and St. Mark. St. Theodore, the original patron saint, is a copy of the one I described at the entrance of the Palace, the saint holding a spear and standing on a crocodile. The statue of St. Mark has a creature which is supposed to be a winged lion, the symbol of St. Mark.
On the way back to the hotel, we stop for a gelato snack. We enjoy the walk back to the hotel. When we arrive there, reception tells us that the time of departure is 9 am. Later Steve and I discuss it and we think we should allow an extra hour. I try to call our contact but have to go down to reception to get an outside line. So now I know I never got one the night when I tried to contact my cousin. They should have given us instruction on how to make an outside call when we checked in.

I make the call to our contact but they tell me that 9 am should be plenty of time and I have to negotiate with them to move it to 8 am. I explain that we move slowly, have special needs and want the safety of extra time. After much convincing they agree. I also confirmed that they will send a lift equipped water taxi. It will go directly to the airport. We go to the computer room and try to confirm our flight online. We had heard from our travel agent that Mama Nina, Steve and I had assigned seats. We were unable to confirm our flights online but learn that our seats are in the last row, in the middle section. Bob and Judy's seats still aren't assigned. Needless to say, we're not happy with Delta.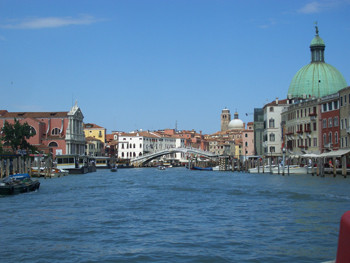 Judy & Bob's Sightseeing Taxi Ride
Judy and Bob decide to go out for the afternoon and later they tell us that they took a sightseeing boat. They get some wonderful pictures and share them with us. Mama Nina, Steve and I decide to stay in and rest up for tomorrow.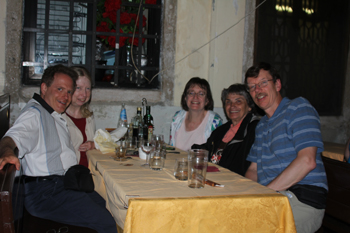 Our Final Dinner
We meet for dinner. We enjoy our leisurely walk to the restaurant, stopping for pictures along the way. We take some final shots of buildings and canals. We have a delicious dinner at Al Burchiello Ristorante. We really celebrate our wonderful trip! It's somewhat dark on our way back to the hotel, but I insist on taking one last shot of Mama Nina, Steve Bob and Judy in front of our hotel.
Day 17: Friday, May 28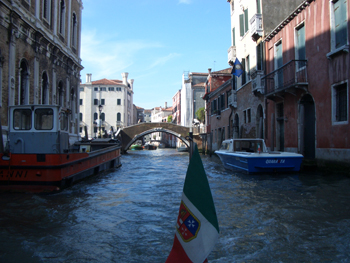 Leaving Venice

Our escort arrives by 8 am. The company arranged for a lift taxi to pick us up close to our hotel. Sounds good, but we have a problem that it's two steps down to the lift so I can't be in my wheelchair. The lift is flat with no railings so Steve stands with me and holds onto me on the way down. We walk inside and Steve sets up a chair for me while I balance. A wake hits the boat and I almost lose my balance but Steve steadies me in time. Everyone else boards. With all our luggage, there's no room for Bob inside and he has to sit up front with the driver and escort. Judy tells us not to worry, that for him, his seat is in heaven at the front of the boat.
I'm part outside in the back and Mama Nina is right at the beginning of the open roof. We need our hoods up to avoid freezing. It's a nice somewhat fast ride to the airport. When we arrive our escort directs us to a long line. Then she realizes Delta is one line over. We go through the line quickly. Judy and Bob still don't have assigned seats. The staff instructs them to get their seats at the gate. We ask when someone will be there. They reply soon.

We say goodbye to the company escort and the airport escort takes me to security. He tells everyone else to get on line. He takes my bags. I have one of Mama Nina's on my wheelchair. They take me to the side to check me. I'm a bit nervous about the bags but they come somewhat quickly. They see liquids in each. Mama Nina identifies her tooth cleaner and I identify my insulin and Purell. Both pass and we proceed to the gate.

No one is there yet so Steve, Judy, Bob and I go to get something to eat. When Steve and I return, someone approaches us about two seats at the end of our row. We tell them one is taken and she gives us a dirty look and says what for. Almost every other seat behind us is obviously empty. I use the handicapped restroom and find it quite comfortable.
Soon after Bob and Judy return, someone comes to the desk. They ask about seat assignments but are told they can get them in an hour. People start to crowd the desk. Many don't have assigned seats. Some just want to be first in line. Bob and Judy are near the front and they get their seats quickly.

Many crowd the gate entrance, cutting us off. The staff calls early boarding, but they let whoever is closest through. Finally they see us and ask that we wait for an escort. When the escort comes they clear a path.
Our flight goes quickly. However when we arrive there is no sign of our pick up. We call the service. They locate him on another level and send him to us. We're back at the start of Memorial Day weekend and it's a long ride home. So ends our trip.
Epilogue
We loved our trip, especially our traveling companions! I want to thank them for all the help they gave me and for remaining flexible when things didn't go as we had planned. My favorite part of the trip was our day in Borca di Cadori, as was Mama Nina's. Steve said he liked Florence the best. Judy said her favorite was the day at the Vatican. As far as I know Bob still hasn't chosen any one particular place or day.
Second, I'd like to thank each of our guides and drivers for their assistance and for sharing part of their country with us. With help from our travel agent, we put together a nice itinerary and Vastours did a good job executing it. Most of our accommodations were comfortable and well located as close as possible to the heart of each city. The activity we missed most on this tour was the interpersonal experiences we have when we visit private homes. It was wonderful to have this in Borca di Cadore! While our travel agent didn't give us quite up-to-date information, we were able to do fine.
Third, I'd like to give credit to the sources I used in writing this journal. Background on the individual sights and cities mostly came from the Lonely Planet guidebook, Italy (8th edition). Lonely Planet is our favorite series of guidebooks. We rely on it not only while we're traveling but also as we're making our decisions on places we want to visit. I also used http://en.wikipedia.org for each country and city. For Borca di Cadore, I used Walter DeMattia's unpublished The Roots of the DeMattia Clan.
I enjoyed and recommend all three countries that we visited. A day is enough to spend in San Marino. If I knew what I know now, I'd probably schedule an additional day for the Vatican. I would definitely add a day each in Sicily, Rome, Florence and Venice. In Sicily, I would have liked to have gone to the area from where Steve's grandfather came. In Rome, I would have liked to have seen more art, the Pantheon and other famous places. Our Florence guide recommended quite a number of other places to visit in the city. In Venice, I would have loved to take the water tour that Bob and Judy did and see some museums. Oh well, perhaps one day we'll return. I would definitely like to find more out about my families origins in Friuli. I'd love to hire Lino for another tour. Lino and Anna, our guide in Rome, were excellent.
Many people say one of the main reasons they go to Italy is for the food and wine. We loved it but I'm sorry I didn't keep better notes on more of our meals. In the beginning the style of the menus took a bit of getting used to, but once we knew that Primi was not a small appetizer portion, we settled into ordering what we could eat in one meal. We never could get used to the Italian tradition of eating our main meal in the middle of the day. Often that was due to our schedule, but even when we had the time, we preferred to eat light for lunch. In this journal, my lack of information about the food and wine was not because it wasn't note able or was repetitive. It's just that most of the time, it was so good that I didn't want to repeat myself.
This was quite a different vacation for us, traveling to developed Western European countries. Also we usually tour with a small group and a company tour manager. For the most part, access was better than what we usually encounter.
So what's next? Coming sooner or later - 2011: Caucasus Countries and 2012: Southern Africa which is our seventh continent. Stay tuned!