The Silk Road:
In 1999
by Mary & Steven Goldsmith
It is with great excitement and a little bit of trepidation that we begin what may be our most adventurous vacation yet. We are World Travelers. Each year we look forward to our three weeks away from the office, chores, responsibilities and the daily grind. Sometimes we travel in the United States, our home country, but at least as often we go overseas. We try to learn as much as we can before and during the trip about the local history, culture and customs. Many of the places we visit are seen by a lot of tourists but as much as feasible we try to frequent the venues that are a little out of the way and not strictly designed for tourists. We have chosen to travel on a tour of not more than 16 people, run by the MIR Corporation, an organization that has an excellent reputation in the part of the world that is our destination.
This year we will achieve our objective as never before. Our destination is the five newly established Central Asian countries of the former Soviet Union. For the past few months, since we made our plans known, many friends and family have asked why we would want to vacation in this area. The tourist infrastructure is almost nonexistent, hotel amenities are few, many toilets require squatting in unnatural positions for those raised in the West, and Soviet style bureaucracy and corruption remains common in the entire region.
Yet there is much to attract the adventurous traveler to this region. These countries are brand new, existing only in the eight years since the breakup of the Soviet Union. Each is pursuing its own path to the future, from Kyrgyzstan's noble attempt at democracy and progress, to Turkmenistan's state sponsored reliance on communism, though now disguised as democracy to the eyes of her citizens. For most of this century the entire region was completely closed to outsiders. Plans for a trip like this a decade ago would have been for us tantamount to fantasy. Because so few tourists have discovered this region since it opened, the people have been largely untouched by a tourist economy. We don't expect to see endless tourists and street stands selling T-shirts or bootleg rock-and-roll. We expect and look forward to seeing merchants selling items like they have for hundreds or thousands of years. This will be a great time visit here.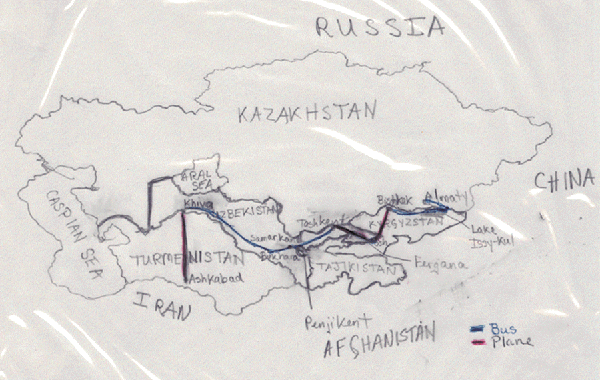 Though many in the United States have never heard of these countries much less their cities, the culture and urban life stretch back 3,000 years in some parts of the region. The Silk Road from China from ran through here. Marco Polo traveled over a relatively narrow corridor with deserts to the north and the Himalayas and Tian Shan Mountains to the South. At the crossroads to destinations in India and the Middle East, trading stops grew into towns and into some of the most beautiful cities of the ancient world.
There is another aspect that makes our travels unique. Mary has Juvenile Rheumatoid Arthritis and insulin-dependent Diabetes. She uses a wheelchair which Steve has good heartedly pushed on terrain that is definitely not accessible. While hiking is clearly out of the question, we generally get along just fine and rarely miss sites that our fellow tourists see. It does however take a little more forethought and planning.
Contents Map
Click to Get to the Subject
Almaty, Kazakstan
August 30 - Sept. 2
Lake Issy-Kul, Kyrgyzstan
Sept. 2 - Sept. 3
Bishkek, Kyrgyzstan
Sept. 3 - Sept. 4
Osh, Kazakstan
Sept. 4
Fergana Valley, Uzbekistan
Sept. 4 - Sept. 6
Tashkent, Uzbekistan
Sept. 6 - Sept. 8
Samarkand, Uzbekistan
Sept. 8 - Sept. 11
Penjikent, Tajikistan
Sept. 10
Bukhara, Uzbekistan
Sept. 11 - Sept. 14
Hotel Information for
Physically Challenged Travelers
Red Dessert to Urgench, Uzbekistan
Sept. 14 - Sept. 16
Khiva, Uzbekistan
Sept. 15
Into Turkmenistan
Sept. 16
Ashkabad, Turkmenistan
Sept. 16 - Sept. 19
Epilogue
Day One: Aug. 28, Saturday
Our limousine is early and we're still packing. There is a lot of traffic getting out to JFK Airport on Long Island, NY but we arrive two hours before the flight. Mary's sugar is running low so as soon as we find our departure gate we look for something to eat.
The flight is fairly full and there are a lot of children. The plane is comfortable. Most of the other passengers and the servers speak Turkish. This is not surprising since we are flying Turkish Airlines to Istanbul, our stop over. I had requested a low-fat meal and it is disappointedly unexciting. With dinner, I have a wine and take two benedryl, a pill that helps me fall asleep. After dinner I fall asleep fairly quickly despite a bratty small girl who is sitting near us and doesn't quiet down.
Day Two: Aug. 29, Sunday
Our first destination is Almaty in Kazakstan. To get there we have an 11 hour layover in Istanbul, Turkey. Our standard operating procedure in such cases is to gate check the wheelchair to the intermediate destination so we can use it while waiting for our next flight. The flight from New York to Istanbul is uneventful but upon disembarking our wheelchair is not waiting for us. On any trip there are blunders along the way. However it is particularly disconcerting for one to happen so soon.
We make it clear to a Turkish Air official just outside the gate that we need to find our wheelchair since it had not been checked through to our final destination. Eventually an uniformed man arrives with an airport wheelchair and proceeds to take us somewhere, we know not where. About the same time, we both realize that he does not have a clue that something is amiss. Soon he calls for other officials who speak little or no English. They try to help us decide what to do with our 11 hours, whether to stay at the airport or go to a hotel. However, all we want is to have our own wheelchair. After handing over documents and much comings and goings, the wheelchair finally arrives. The trip is saved. A little while later, we realize that the first Turkish Air official, who took our boarding passes for the flight to Almaty, never returned them. We are less successful getting this situation resolved but no matter, the airline can issue us new boarding passes at the gate.
The question is what to do for the next 11 hours. Our original plan was to visit Istanbul and take in some of the sites we missed the first time we were here in 1995. However, three weeks before we left, a 7.6 earthquake flattened the suburbs to the south of the old city killing 13,000 people. Another 30,000 people are missing and presumed dead. Among all that suffering and destruction it would not feel right to visit the city as tourists. Also, we do not know how bad the roads are. We could get stuck somewhere and miss our flight out. Outbreaks of cholera are a real concern with so many unburied bodies.
So instead, we ascend to the restaurant level, find a table at Burger King, and pass the time writing, reading and people watching. The temperature is sweltering but the view is interesting. We looked down on the ticketing area teeming with people. It's probably no more crowded than any other major airport in a big city but I imagine many of these people have been waiting days and weeks to leave Istanbul. Thatís what the news at home has been telling us. At the table next to us there are a dozen Asian men in bright orange shirts and pants. "Korea National Fire and Rescue Service" is embroidered on their backs. They must be heading home. We wonder how many survivors they pulled out of the wreckage.
A few hours before our flight we decide to scope out the scene and try to understand the impact of our missing boarding passes. We surreptitiously watch people pass-through gates and they all seem to be carrying boarding passes. It wasn't panic time yet but we did go to a different Turkish Airline transit desk. The man at the first desk a few hours earlier just held up his hands and said he couldn't help. While we waited in line, Steve checks the papers and realizes with a horrible lump in his stomach that out not only are our boarding passes missing, but we have no tickets for the next leg of our journey. Now Steve starts to panic. I too am getting concerned and try to think of possible solutions. By the time we reach the counter he is agitated. He explains that someone had taken our tickets and expects the woman behind the counter to shrug and tell him there was nothing she could do. We could visualize spending the next couple of days in the airport trying to get the problem resolved. The six hours we had already been there were quite enough, thank you. Fortunately, the woman behind the counter was quite calm and willing to help. She showed us that while we had no boarding passes, we did have our stubs with true proof that we belong on the flight. She says she will have to talk to her supervisor and that she will call our names over the PA later. We sit down and wait for the call. Unsurprisingly it does not come.
About an hour before the flight we try one more time. This time the woman asks to see our ticket stubs and walks away with them. There goes our last indication of where we are supposed to be. However, a few minutes later she returns with tickets and boarding passes. We head to the gate where there's a hold up getting through the security check. We wait here for a while then decide to attempt boarding. Since we do not speak the language, we do not know what is going on and proceed right through. As passengers reach the jetway, they are just walking onto the plane. We were told that we would be called for pre-boarding, however there doesn't seem to be anyone in charge here. So, we walk to the beginning of the line and board the plane. One wonders if we would have been given a harder time if Mary were not sitting in a wheelchair. There is no sign of any organization.
Watching fellow passengers struggle with their carry on luggage and finding their seats, we realize this is our first view of ethnic Central Asian people. They appear tall for Chinese people, and have Oriental faces but with Caucasian overtones. Steve notices that the woman mostly have brunette hair and are quite beautiful. Some have striking blue eyes. Our seats are all the way in the back and the plane is crowded. I sleep most of the flight. I am as tired from the emotional ups and downs as from all the hours we've been awake.
Day Three: Aug. 30, Monday
At the end of the flight the service staff hands out custom declarations forms. We do not complete ours because we've never had to before.
We are often the last to get off the plane. Sometimes a stewardess tells us to wait or else we wait on our own to be polite. It takes us extra time, partly because of my pace and partly because Steve handles all of the carry-on luggage. I am not surprised that there is no jetway, just a staircase. With most of the passengers now gone and being processed through passport control, we look down at the Welcome Committee. There are three men in uniform; two are obviously airport officials. However, weíre not sure if the others are police or military. Steve says he feels like a Diplomat arriving, or maybe a convicted criminal just extradited from another country. Iím very happy to see that my wheelchair is waiting for us. People in all countries often want to help a disabled person, but in our case, we have a system that works if we donít accept the help. Often, the do-gooders, are more in the way. At worst, they pull me in a way that hurts before Steve or I can instruct them on how to help in a way that wonít harm. As we reach the last step, a kindly airport official positions the wheelchair right in front of us. Our choices are limited. We can step down and go tumbling over the chair, in which case we would probably need two wheelchairs, or wave the helpful person away. Luckily, Steve came up with a third choice. We are able to side step the whole problem by stepping to the other side of the stairs.
Getting through passport control is easy enough. We are taken to VIP passport control. Our passports are taken to a desk and returned shortly. At the advice of the official escorting us, while we wait we complete our Customs forms. This airport is very bureaucratic looking. It feels like we a Communist regime.
Baggage pickup is quite a mess. It takes about half an hour for the luggage to arrive and the carousel to start turning. By the time it stops turning, our bag isn't there! Neither is the baggage for about a quarter of the passengers on our plane. A Turkish Airline flunky comes out and makes an announcement in Russian. The more he says, the angrier the crowd becomes. The flunky didn't speak English but we hear another passenger near us muttering some choice words in English. Steve asks him to interpret. He says that the rest of the luggage did not make it on the plane and someone important, who knew the details, would arrive at 10 AM with more information. We know that the next flight from Istanbul to Almaty is not for another two days. By now we had been up for 36 hours with just a couple of catnaps and we are not about to wait around for another two hours for an official we would not be able to understand. We decide to continue through Customs and find a MIR representative who could help us. Later, we learn that the plane was not big enough for all of the luggage so some was simply left behind.
We are ready to leave the airport. There is a security x-ray machine at the door and a line forms before the machine. A Chinese couple keeps inching ahead of us. In our country, I would make a comment to tell them that we are ahead of them. However, although Steve is as annoyed as I am, he reminds me that we need to be patient with others. What seems rude to us, may be part of the culture in other countries. We see a Customs official. He directs us to write "NO" to all of the questions on our customs forms. The questions are about such things as "are you bringing in arms?" Once we make that correction, he stamps our forms and hands them back to us.
When we meet our driver, I ask if he is from MIR. It's obvious that he doesn't speak much English. His answer doesnít fit the question and we guess that he is hired by MIR to transport people to and from the airport. He is no help in finding our missing luggage but he is helpful with the wheelchair and our luggage. Steve lifts me into the minivan. It is a surprisingly big step for a minivan so Steve pulls me up backwards. I wonder if all of the vehicles on this trip will be this difficult for me to get in and out of.
Our Lonely Planet guidebook, Lonely Planet Travel Survival Kit: Central Asia, describes Almaty as a city on the upswing. Until a few years ago, Almaty was the capital of Kazakstan. However its location, 25 km from the border of another country, put the capital in a precarious position should a conflict break out in the future. The Civil War in nearby Tajikistan could easily spillover into Kazakstan. In 1994, the president announced that he would move the capital to Aqmola which is more centrally located and far from any borders.
However, for a city on the upswing, our ride is quite quiet. We ride the length of the city, for approximately one half hour between the airport and hotel on Monday morning. The streets are empty, there is little traffic and only a few pedestrians. Almost anywhere else, this would be the middle of rush hour with traffic jams and car horns blasting. We passed several bus stops but there are only two or three people waiting for the next bus. Most of them are older women apparently going to or coming home from morning grocery shopping. There are no signs of capitalists ready to make their fortunes in the new economy. I guess change comes slowly. We do pass many billboard signs for cellular phones and networking companies. At the airport, while waiting for our luggage, many people had cellular phones. Steve comments that with the quality of land lines so poor, many countries are transitioning directly to a cellular infrastructure. Many of the buildings appear rundown. Almost all are behind fences. Perhaps we skirted it, but I didn't see any indication of a "downtown".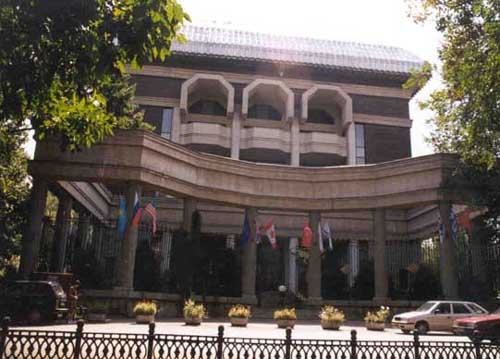 Hotel Dostyk
Our accommodation is a former Communist Party hotel. In many parts of the world, steps are very fashionable. They speak of wealth and status. In the United States, we usually find a ramp or a side entrance that lets us avoid the stairs. We are not so fortunate here. I walk up the outside stairs of the hotel and get into my wheelchair to enter the building, only to find another set of steps just inside the door. With Steve's help, I start to walk up the rest of the stairs. However our driver waves over the hotel manager. They want me to sit in the chair and they will carry the chair up the stairs. At first I refuse this help, however as I start to go up the stairs, I almost miss one. The two Kazakstan men insist that I get into my wheelchair. With one on each side, they carry me up the remainder of the stairs. Steve tells me not to get used to this kind of treatment!
Our room is quite nice but hot. At check in, we were given a remote control for the air conditioner. Steve plays with it but does not get the air conditioning working. Steve is an expert with remotes. Iíve lost count of the number we have at home. We wonder if this is a sign of how different this culture is. The bathroom is large with a shower. The step into the shower must be close to two feet. Steve wants to make a call to MIR but we realize the local number is on the travel voucher that we gave to the front desk. He goes to get it and changes $40 at the rate of approximately 300 tenge to $1. When he returns, he tries to get an outside line using the instructions supplied by the hotel. He reaches someone but it's not outside the hotel. We decide to try later.
To fight jet lag, we decide to take a nap. We lay down and are asleep not a minute later. Discounting a few catnaps, we had been up for:
| | | |
| --- | --- | --- |
| | Awake before flight | 6 hours |
| | First flight | 9 hours |
| | Istanbul airport layover | 11 hours |
| | Second flight | 6 hours |
| | Airport time and to hotel | 4 hours |
| | Total | 36 hours |
Our plans are to take a short nap, tour the city, have dinner and be ready for a good night's sleep. We should have realized that this schedule would be too ambitious. When the alarm goes off, Steve hits the snooze button several times and finally shuts it off. A few hours later, Steve wakes up with an excruciating headache. He attributes it to the lack of consistent sleep. He takes two Excedrin but can't fall back to sleep and is in no condition to do anything else. I suggest that he eat a granola bar and then we go back to sleep. The bed is very uncomfortable, but I have no problem sleeping. Throughout the day, we make several more attempts to rise from the bed.
Finally we get up at 10 PM! I feel dizzy. Once I get my bearings, I feel weak and listless. Neither of us is very hungry but we have to get something in our stomachs. The restaurant is long since closed. Steve calls room service to order a sandwich. However apparently room service stops shortly after the restaurant closes. Later we realize that this was actually a blessing, since the sandwich that we had planned to order had lettuce and tomato on it. It would not have been a good choice. On this trip, it is not safe for us to drink or eat anything washed in local water. The front desk Operator suggests that we get something at the bar.
I ask Steve to bring something back but he says that we both should go. I'm glad I did, it is quite interesting. As we've done on other trips to countries that speak a foreign language, Steve prepares to pantomime that we are looking for something to eat. We are pleasantly surprised when the woman behind the bar speaks passable English. Food is available and there is even a menu in English! We order chicken kebob, Heineken beer and bottled water and sit down to wait. In front of the actual bar, there is a lounge area divided into three sitting sections. In the center of each is a coffee table. Several soft chairs and a couch surround each table. In the first section, there are four women, dressed in tight clothing. They are talking to each other, watching TV and smoking cigarettes. One has a cellphone that occasionally rings. Once in awhile one of the women passes by us. We are surprised to see how short her pants or skirt are. In the Muslim countries that we are visiting, conservative dress for both men and women is a moral imperative. At least we think so. Shoulders should be covered and hemlines must go down past the knees. At about the same time, Steve and I realize that these women must be Call Girls.
The food takes quite a while to come, and so we people watch. I notice about five of the staff walking from one room to another, each carrying one item. This could be done easily by two people. I remark to Steve, could this be a left over from communism in which everyone is guaranteed a job?
Two men come in to the lounge area and one introduces the other to a woman sitting in the group of Call Girls. He strikes up a conversation with her. Another man enters, and speaks with another of the Call Girls.
Our food arrives and it is quite good. The meat is a little tough but the dish is tasty. We also get bread. As we start to head out, so does one of the couples. The man who had entered first is still sitting in the lounge, talking to the first Call Girl. Waiting at the elevator, are another Call Girl and her client. I try to motion Steve to the other elevator but he wants to ride up with these two people. He tells me later that he just wanted to catch their expressions. So we ride the elevator upstairs with this couple. It is a small elevator so the four of us are pressed close together. They nod to us as we get off. When we return to our room, I turn in. So ends our first day in Kazakstan. My first impressions are that this is a society that does not move at the pace required for capitalism. I expect tomorrow to be an interesting day.
Day Four: August 31, Tuesday
We get up around 10:00 AM. While I wait for Steve, I try to get an outside line. After two requests, the Hotel Operator takes the number and connects us. I think it rings but I am not sure because the ring is different than to what I am accustomed. Then there is no noise. Shortly after I hang up, our phone rings and it is Svetlana. Svetlana will be our tour manager. I tell her about the suitcase and she says she wants to meet us. She will be at our hotel shortly with our local guide. There's a knock on our door but it's too soon for her to be here. A staff member is at the door with a cup of coffee. Finally we convince her that neither one of us ordered it. After phoning the front desk, she departs.
A little while later, the Receptionist calls. Svetlana is here and wants to know if they should come up to our room or do we want to come down. We decide to meet them in the lobby. After introductions, during which we also meet the Hotel Manager, we again explain about our luggage. Alexander, our local guide, speaks English with almost no accent. Svetlana has quite an accent. They ask if we completed a form to report our missing bag. We weren't given anything to fill out. They ask if we informed the front desk when we arrived. We didn't know that they could help us. In America, and it's not customary for hotels to help with missing baggage. Steve goes to our room to get our baggage check and gives it to them. They confirm that our bag should arrive on tomorrow's flight. We learn that our situation is not atypical for Turkish Air.
Svetlana suggests that we check back with the desk and remind them later today. They should go to the airport tomorrow morning and get our bags. Alexander gives us a few suggestions on what to do and see today. He speaks mostly to Steve. We have been warned that this is the culture here. I asked Svetlana if my dress, a sleeveless top, is okay. She and Alexander assure me it is. Alexander says that this city is used to Europeans, and anything goes. Svetlana says that she will tell us when we should dress conservatively. I am relieved because I would be quite uncomfortable in this heat wearing anything more.
We are favorably impressed with our Tour Manager and first Local Guide. They are genuinely concerned for our well being. The Hotel Manager also seemed concerned, although it's obvious that he does not speak English.
We go up to the dining room but it is closed until noon. We only have 20 minutes to wait so we return to our room. The Floor Lady is making it up. There is a lounge close to our room, so we wait there. Lunch is called dinner and the menu is extensive. We order a yogurt-mint-cucumber dip. I have a vegetable omelet and tea. Steve has rabbit in a cream sauce and Coke. We ask for Diet Coke but the waiter says that they only have regular Coke. We are not surprised. Both dishes are delicious, as is the dip. They serve bread and a whole-wheat roll. I really enjoy the roll. It has a slightly sweet taste.
As we are leaving the hotel, the Manager approaches us with a staff member. Through the English speaking staff member, the Manager asks us if we need anything. Since I am insulin-dependent diabetic, I am concerned about not having any quick sugar available. It is packed in the bag that is still in transit. At first, we say that we don't need anything. Then I begin to ask for candy. They don't understand and appear to think I am asking for something frivolous.
We head out towards Hotel Kazakstan where we expect to find a cable car that goes to the top of Almaty's 300 meter hill. At one point, Steve leaves me at a bus stop to see if he can find where we can get a cable car. I watch the people. Most of them look me over. I doubt they've ever seen a wheelchair. When Steve returns, he says that he was not successful. We decide to go onto the Cathedral. Our walk is many blocks on a downhill slope.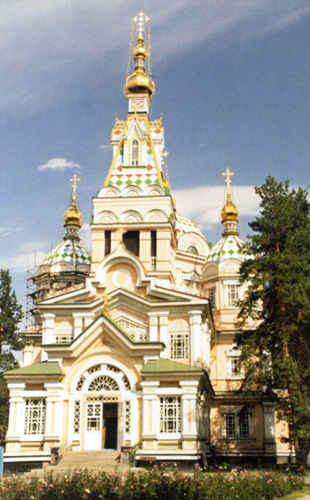 Zenkov Cathedral
As we enter Cathedral Park, I notice that it appears somewhat overgrown. Walking towards the Cathedral we see about six stairs going down to the next level. As we get close to them a woman stops us. She then signals a man and he leads us to a very steep ramp. He wants to help but Steve decides that going down backwards is best. As Steve starts down, he grabs the front, to slow us. This is a great help. I feel good that at least someone knows something about wheelchairs. Before we leave him, he gives us directions in Kazak or Russian about how to reach the Cathedral. At least we think that's what he's telling us.
When we reach the Cathedral, we are impressed. It is a very large structure built from wood with no nails. While it is a bit run down, scaffolding along one side shows that renovation is in progress. After taking a few photographs, we enter the building. Visitors are only allowed in the side foyer today. We purchase two candles. I light mine and say a quick prayer for a good vacation. We look around and take our departure.
A World War II Memorial is close by. It was built in memory of 28 Almaty soldiers who died defending Moscow. I find it quite imposing. Unfortunately the sun is not in our favor for good pictures. After each taking several shots, we decide to find one last site, the mosque of Almaty, before heading back to our hotel.
World War II Memorial
On our way to the mosque we happened upon Central Market which in these countries is called a bazaar. We walk through it with an eye towards what we will purchase as our Kazak Chachka. In every new country we visit, we purchase a small item that is typically found within a home of that country. This is our definition of Chachka. We enter a closed area but can't find an exit that doesn't go down a flight of stairs. At one point, I see a man and a wheelchair. He is propelling himself by pumping his arms. There are rods attached to the chair's wheels, which he holds. It is not easy moving through the groups of people. We return to where we entered and walk in another direction.
We locate the Mosque. It is large with blue roofs. Steve decides that he does not want to go inside. I am not dressed for it and don't have anything for my head (my scarf is in our missing luggage), so I agree. We start up the hill, which leads back to our hotel. It is quite a challenge, between rough sidewalks, a few stairs at least once per block and the heat. We look for a taxi but have no success. We're not really sure what an Almaty taxi looks like. We ask several people who are sitting in their cars with the doors open, but they let us know that they are not taxies. We also passed over several sets of trolley tracts. Steve works very hard. Toward the end, he takes a break at almost every block.
When we enter our hotel, Svetlana and Alexander are at the desk with another guest. Svetlana has us sign a release so the hotel can pick up our luggage. She says that sometimes it takes five days for the luggage to come. Before going to our room, we stop at the bar to get some bottled water. We decide to relax and have a beer. We purchase two local beers. At least we think they are local because they have Cyrillic writing on the labels. Steve starts drinking one brand and I the other. Halfway through we switch. As it turns out Steve prefers the one I started and I like his.
Back at our room, Steve naps while I catch up on my log. Neither of us is impressed with the city. It is quite rundown. People openly stare at my wheelchair. There is not much to purchase. At most of the roadside stands, they sell vegetables and or fruits and, of course, cigarettes. It is not quite as dismal as Odessa, where we were three years ago, but not far from it.
We go to the hotel restaurant for supper. It is the same menu as lunch/dinner, a foreshadow of meals on this trip. We share garlic cream dip, Steve has Kazak meat and I order salmon. All of it is good but the best is our desert, crepe with chocolate sauce and nuts. I also have a Russian coffee. Before serving it, the waitress comes out twice to tell me that it has vodka in it.
We return to our room, wash out our shirts and underwear and pray that our suitcase arrives on the flight tomorrow morning.
Day Five: September 1, Wednesday
As soon as we rise, Steve hurries to the front desk to see if our suitcase has arrived. The person at the desk tells him that the driver hasn't returned yet. We hang onto our shred of hope. As we're dressing, there's a knock on our door. Our suitcase is here! We rejoice! It is so nice to put on different clothes.
Breakfast is fun because we meet many of the other travelers from our tour. A couple greets us as we walk into the dining room. Then Eric, a man who appears to be close to our age, introduces himself and asks if we mind if he joins us. We welcome him to our table and Svetlana also joins us. The meal is delicious.
The tour meets in the lobby at 9 AM. One person is missing because she didn't know the meeting time. Soon she joins us and Svetlana suggests that she have a quick breakfast. It takes quite awhile for the bus to come (perhaps an hour). We mingle and speak to most of our fellow tour participants. Our first impressions of the group are nice ones. It seems that we will have a good time with these people.
Once the bus arrives we ride through Almaty. Alexander points out interesting sites and tells us information about the city. Almaty means apples. He says that this is the one place on our tour that we don't need to worry about the water. Even with this assurance we will be cautious. Our first stop is St. Nicholas Cathedral. I get off the bus and walk around outside. At first I do not plan to go inside because I've seen many Orthodox Cathedrals. Steve goes inside. A few minutes later he comes out for me, saying it is worth coming in. It reminds him of the Russian Orthodox Church we visited in Sitka, Alaska. It has many icons and paintings. I'm glad I made the effort to go inside. I enjoy what I see.
Steve has a conversation with Alexander about communism vs. independence. Alexander says that life was much better during communism. The state was in control, and everybody had a job. There was less crime. Yet he realizes that this is an in-between time, a period that will pass. They can only go forward.
We pass a group of Almaty sports complexes. There's a skating rink, a swimming pool and a circus. With all the walking we did yesterday, we found very little of what the city has to offer. If we saw any of Almaty's features, we didn't recognize them. These guided tours are a true benefit of traveling with an organized tour.
Next we visit the central Museum which features Kazakstan history and culture. I name Almaty the City of Stairs. As we enter the building, we are greeted by half a flight of marble stairs. It looks grand but this makes it very difficult for me. We have brought my wheelchair but we leave it on the first floor since it appears that it will be more trouble than comfort. The first display is a colorful yurt. A yurt is Central Asia's version of a teepee. It is round in shape, the walls are perpendicular to the ground and it is covered with a slanted roof. This one is decorated inside and out. Alexander describes how yurts were functional for these nomadic people. They are easy to put up and take down, as well as warm in the winter yet cool in the summer. We are allowed to take photographs on this floor only.
We continue through the museum viewing exhibits on traditional clothing, early nomadic times and Genghis Khan. The earliest history of Kazakstan left no written records. It is believed that from its first inhabitants until the 15th century, a succession of nomadic empires controlled the area. Animal herders who did their work on horseback controlled North of the Silk Road. This culture lasted until the early 20th-century. In the far south, the Silk Road civilization existed. In the fourth century BC, a Saka tribe repelled Alexander the Great. The Saka left a beautiful relic, the Golden Man, a handcrafted golden warrior's costume. This was discovered by a mailman in a tomb near Almaty and was displayed in this museum. Since it is considered Kazakstan's greatest archeological treasure, when the capital was moved so was this piece of art. Today the museum displays a replica. In 200 B.C., Eastern Kazakstan fell under the control of the Hsiung-nu. This was a great nomadic Confederacy, which extended from the borders of northern China. Some historians believe that they were ancestors of the Huns.
Turkic people from the region of Mongolia and northern China moved into Kazakstan as the Hsiung-nu left. From approximately 550 to 750 AD the southern half of Kazakstan was the western part of the Kok Turkic Empire. Also known as the Blue Turkic Empire, it originated in Manchuria. From the mid 9th century, the south of Kazakstan was part of the Bukhara Samanid Dynasty. At the end of the 10th century, the Qarakhanid Turks from the Kazak steepe ousted the Samanids. The Qarakhanid Turks gave up their nomadic ways, adopted the Samanids' and Islamic settled lifestyle. It is believed that these people were the builders of Kazakstan's oldest existing buildings.
In approximately 1130, the Qarakhanid Turks were displaced by the Khitans, a group of Buddhists who were driven out of Mongolia and northern China. They established the Karakitay Empire. In 1210, Khorezmshah Mukhammad II, of another empire based in Khorezm conquered the west portion of this empire. It so happened that an enemy of Genghis Khan, Kuchlug, ruled a city of Karakitay. Can you guess the next part? In 1218, Genghis Khan sent an army to conquer the city. Genghis Khan had also made a somewhat peaceful gesture toward the part of the Khorezmshah Empire in which Kazakstan was located. Unfortunately the people of the Khorezmshah Empire had murdered 450 of Genghis Khan's merchants and one ambassador. An army of at least 150,000 men, the largest army to date, ransacked the area. All of Kazakstan as well as the rest of Central Asia became part of the Mongol Empire. When Genghis Khan died in 1227, his empire was divided between his sons and grandsons. With a large part of Russia, the most northern part of Kazakstan became part of the Golden Horde and went to the sons of the oldest son who was previously deceased. The remainder of the present Kazakstan and other parts of Central Asia were inherited by Genghis Khan's second son. As the Khans weakened, the conqueror Tamerlane came. I'll save his story for when we get to Uzbekistan.
Next came the period of the Kazaks, descendents of the Mongols, Turkics and other groups of the East. In the 14th and 15th centuries a group of Islamic Mongols, the Uzbeks, controlled northern Kazakstan. They spread south and bred with other groups. The Turkic language became theirs. They attacked the disintegrating empire of Tamerlane's descendents. In 1468, a feud split the Uzbek people in two. Those in the south ruled from Bukhara. This Shaybanid Dynasty became an agricultural society and eventually today's Uzbekistan. In the north, the people continued their nomadic lifestyle and became the Kazaks. In the late 15th and 16th centuries, the Kazak's were one of the world's last great nomadic empires. Eventually differences between the three groups, called hordes, increased. Today Kazak people continue to identify with one of these three hordes. The Great or Elder Horde occupied the south. The Middle Horde lived in the center and northeast. The Little Horde, also known as Young or Lesser, occupied the west. Each had its Khan ruler and a number of clans each with its leader. With division into three, the strength of the Kazak people waned. Starting in the 1630s and lasting till 1720, the "Great Disaster" occurred. An expansionist Mongolian group, the Oyrats, savagely attacked and conquered the Kazaks.
Between 1716 and 1720, Russia built a string of forts at the Kazak's northern border. The Kazaks requested czarist protection from the Oyrats. Between 1731 and 1742, the khans of all three hordes swore loyalty to the Czar. The Russians used this alliance to increase their defensive line through Kazak land to the Ural River. In the 1750's, Russians, Cossack and Tartar settlers moved further into Kazak land as Russia pushed its border south. Between 1822 and 1848, Russia abolished each of the Hordes. While the political entities were destroyed, the social/ethnic groups remained. The Kazaks repeatedly staged uprisings. However the Russians were successful in squelching them. From 1853 through 1864, the last pieces of Kazak territory came under Russian control. In 1854, a southeastern fort named Verny was established. This became Almaty. Estimates are that one million of four million Kazaks perished in uprisings and famines prior to 1870. In 1861 with the abolition of serfdom in Russia and in Ukraine, peasant settlers were moved to Kazakstan. Czarist Russia also exiled dissidents to Kazakstan. Russia considered the south of Kazakstan and most of the other modern Central Asian Stans to be its Turkestan region. Russia's Steepe region was Northern Kazakstan. In 1916, Russia mobilized Kazak people to support the World War I front. This caused widespread revolts, which were cruelly subdued. Approximately 150,000 Kazak people were killed and 200,000 fled to China.
The area of the museum that shows life in this century in Kazakstan has displays about the railroad. Steve points out to me that this exhibit includes a phone. As a Lucent employee, he always enjoys seeing exhibits which include the telephone. We also see a Cyrillic typewriter. Although this display is small, I feel that I have received an idea of what Kazakstan was like during the 1900s. However, as we have seen in many other countries, the exhibits do not tell of the plight of the common people.
In 1905, aristocrat Kazak intellectuals started an underground movement. After the Russian Revolution, this group became the Alash Orda, a Kazak nationalist party. The Party's goal was to establish an independent nation. Its leader, Ali Khan Bukeykhanov was a descendant of Genghis Khan. As the Russian Civil War crossed Kazakstan, the Alash Orda wavered in support between the Red and White. Finally they chose the Bolsheviks who took control in 1920. From 1925, the members of Alash Orda were purged from the Communist Party of Kazakstan and executed or sent to labor camps. Not only had the Civil War devastated the land and economy, but also thousands of Kazak and Russian peasants were killed. Several thousand more emigrated to China and elsewhere. This is when Kazak people became a minority in Kazakstan. Under the Soviet Union, the south of Kazakstan was part of the Turkestan Autonomous Soviet Socialist Republic. Northern Kazakstan was a different Autonomous Soviet Socialist Republic. Between 1924 and 1925, the boundary lines were redrawn and the Kazak part of Turkestan was transferred into northern Autonomous Soviet Socialist Republic. In 1928, Almaty became the capital of Kazakstan. In 1936, Kazakstan was made a full Soviet Socialist Republic of the USSR.
In the late 1920's, the Soviets forced the Kazaks to give up their nomadic way of life and become farmers in the new collectives. Instead of surrendering their herds to the state, the Kazak people destroyed them. Hundreds of thousands native people died from famine and disease. Survivors who opposed this new way of life were killed or sent to labor camps. Once again many fled to China. Between 1926 and 1933, the population of Kazakstan decreased by more than two million. In the 1930s and 1940s people from other parts of the Soviet Union were moved to Kazakstan as prisoners or to work in new industrialize cities. In the 1950s, approximately 800,000 people were transferred to plow and plant a large area of the north steepe. The Communist goal was to grow enough wheat for Soviet self-sufficiency. Although storms had reeked havoc on almost half the area, this project was made to look successful by Leonid Brezhnev who was deputy head of the Communist Party of Kazakstan, or the CPK. In the mid-1950s, labor camps were disbanded. Many of their survivors remained in Kazakstan, therefore increasing the countries diverse ethnic makeup. More Russians, Ukrainians and other nationalities came to mine and process Kazakstan's reserves of coal, iron and oil. The population reached 43 percent Russian and 29 percent Kazak. During the Cold War much of Kazakstan was used as a nuclear testing ground. The Soviet space launch center, Baykonur Cosmodrome, was established on steepe to the east of the Aral Sea in Kazakstan, during the 1950s.
Shortly before this trip, I had an appointment with my endocrinologist, Dr. Shagan. He's one of the few people who knew of the existence of the country Kazakstan. He told me that there is a town in Kazakstan named after a member of his family. I ask Alexander about Sary Shagan. At first he doesn't recognize the name. Then a minute or so later he says, "yes...yes. It used to be secret -- -- space exploration. Not anymore." Now the public has been told about it and can visit the town.
In 1986, violent riots of Kazak people broke out when a man without Kazak ethnicity was put in charge of the CPK. In 1989, Kazakstan put together the first great popular protest movement, the Nevada -- Semipalatinsk. Named for the United States and Soviet Union chief nuclear testing grounds, it occurred shortly after several tests, which created a radioactive cloud over northern Kazakstan. In just a few days, the movement was able to obtain more than one million Kazakstan signatures for putting an end to nuclear testing by the two countries. It successfully forced an end of the testing in Kazakstan. The present ruler of Kazakstan, Nursultan Nazarbaer took power in 1989 and has been president since 1990. He did not welcome the USSR breakup in 1991 and Kazakstan was the last Soviet republic to declare independence. In the first few years after 1991, he began minimal democratic reforms. However, in 1995, he disbanded the parliament and obtained approval for a referendum expanding his powers. Evidence of Nazarbaer stifling opposition and free press exists. He easily won his second, seven year term in January 1999. Election watchdogs and local opposition observed, the election contained much fraud. He is part of the Central Asian trend of leaders strengthening their power at the expense of becoming truly democratic.
Since the fall of communism, the economy has declined and living standards are lower but still it is the richest of the Five Stans, which we will visit on our vacation. Due to its great oil reserves in the Caspian Sea, Kazakstan has attracted major investment from other countries.
When Kazakstan was granted its independence, the Chinese negotiated border agreements with the new government. Previously, there were no such agreements with the Soviet Union. Alexander tells us the story of the new capital. Most of Kazakstan was open fields. There were many tulips in spring, a beautiful scent. A specific type of grass is indigenous when land has never been farmed, which added to this aroma. The Soviet government sent many people to cultivate this land. Originally Kazakstan named this geographically central city Aqmola which means virgin land. When the Soviets came, they renamed it. The original name is now restored. In the last few years, Kazakstan relocated its capital here. With this move, many of the valuable cultural artifacts were transported from the former capital, Almaty, to Aqmola. Since Almaty is on Kazakstan's southern border, there was concern about its security.
Alexander tells us that in Kazakstan the schools require students to learn three languages, Kazak, Russian and English. Alexander is very knowledgeable and welcomes questions. He receives many especially from the more technically minded men in our group. It's wonderful that we have him with us because all museum explanations are in the Kazak language.
There are several groups of school children at the museum. They seem to be as interested in us as in the exhibits. Every so often, one or two will join our group. The group of boys does not stay with their class group. The girls are more orderly. (So what else is new?) The girls are in uniforms and we only see them once or twice as our groups and theirs cross paths. Actually I am not sure that the boys are on a class trip. Perhaps they are here on their own. I never see an adult accompanying them.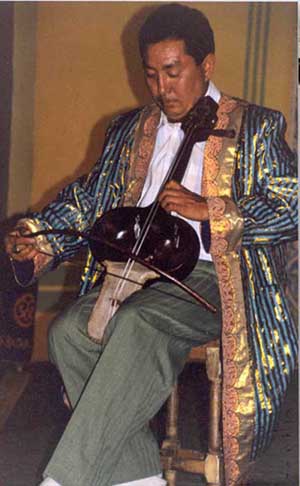 Kazak Musician
We see replicas of gold pieces found in the hills of Kazakstan. It is believed that the originals date back to 1 BC. I do not climb to the final exhibit, which is where the copy of the Golden Man is located. As much as I would like to see it, my legs are just too tired. I am happy to get back on the bus and ride to the next destination.
Our next stop is the Museum of Kazak Musical Instruments. At first we're not sure that they are going to let us in. The museum is not open yet. Svetlana was here yesterday to confirm all the arrangements. After several minutes of negotiating, they admit us. Again Alexander does an outstanding job of explaining the different instruments and the variations of them. We see wooden harps, horns, bagpipes, a two stringed instrument called the dombra and a three stringed kobiz. The main national instrument looks like a small guitar. Several of the exhibits have an auditory feature so we can hear what the instruments sound like. We see a small metal instrument, which Alexander says can be purchased. Steve and I agree that it is a potential Chachka. I am quite happy in this museum since it is on one level.
We proceed to a small concert room. A performance is put on just for our group. There are six musicians who play several types of arrangements. For one, a dancer performs. It is quite enjoyable.
We purchase the syrni instrument. The "gift shop" is actually a quarter of the entrance hall. The saleswoman comes over, takes our money and returns with change. It is cramped for more than two or three people.
We were supposed to have lunch at the museum but Svetlana was not pleased with what they offer so she changed the plan. We ride up the mountain to a restaurant yurt. Everyone is pleased because there is a public restroom. It is a challenge for me because the restroom is down a flight of outside stairs and our meal is up another flight. Steve and I find what was most likely once a driveway. However it is in disrepair in several places. It is probably better than the stairs since the stairs are wooden, wet, and, therefore, slippery.
Lunch is very enjoyable. The seats are low stools; however there's no trouble getting me a regular chair. There are many vegetables but Steve and I only eat those that are pickled. In Kazakstan, it is common to eat horsemeat, which we are served. Some is a plain variety and other is made into sausage. I enjoy both. The meal includes manta (steamed dumpling) with lamb filling. We find these wonderful. Our group seems to be a drinking group. There are several types of wine, champagne and vodka, which are welcomed by almost everyone. Steve offers the first toast to a good trip and friendships that are beginning. We wish one member, Eric, a happy belated birthday.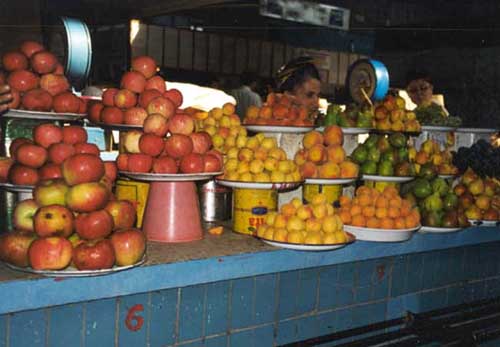 Almaty Bazaar
After lunch we return to the heart of Almaty and spend a hour in the bazaar. We begin shopping as one group at the enclosed, more expensive portion. We then split up. Several tour members need watches. Steve and I return to a place where we saw skullcaps yesterday. We purchase one for someone at Steve's work that had asked Steve to bring him back a skullcap from Kazakstan. The price is very reasonable (80 cents) so Steve doesn't negotiate.
Next we go to a service at Zenkov Cathedral which is the cathedral we visited yesterday. There is a woman chanting. We have a hard time identifying who is doing the chanting. Afterward, I remark that I found the service very ritualistic. At several points, the worshipers bow and bless themselves. Steve says that this is how he felt the first time he came to a Roman Catholic Mass with me.
We return to our hotel. On our way up to our room, we stop at the bar to purchase a Coke. Once in our room we lie down for quick nap. Several hours later we get up, and order some soup from room service. We have no trouble returning right back to sleep.
Day Six: September 2, Thursday
We're up early today because breakfast is at 6 AM. It's served in the bar. We eat lightly because all day we will be on the road from Almaty to Lake Issy-Kul, Kyrgyzstan. Over the years we have learned that by eating lightly we will have a more comfortable ride. Check out goes smoothly. We have a nice surprise -- a full size bus. It's quite worn but comfortable. Porters picked up our bags. When we get to the bus, they are piled alongside. Each of us must identify our bags before they are loaded onto the bus. This is a security practice that we've seen elsewhere in our travels.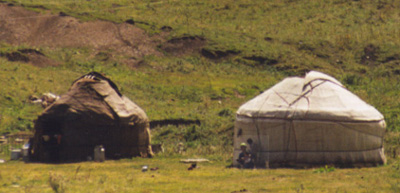 Yurts: Homes of Field Workers
We leave Almaty at approximately 7 AM. We are taking the eastern road. According to our itinerary, this is "a route very few travelers take". It's a 13 hour trip on roads in poor condition, or dirt roads. MIR staff numbers six, three drivers, a manager, Alexander and Sveta. Svetlana has told us that her nickname is Sveta, so from this point forward that is what we call her. Not too far outside of Almaty we stop for a herd of cows in the road. Alexander is not speaking on the P.A. system today. This disappoints me because I like to know where we are and hear interesting pieces of information about the area. I try to follow the map in our Lonely Planet Travel book. Sveta stops at our seat and says if we want to stop to take photographs, anytime, just tell Alexander or her. As we reach the Tian Shan Mountains, we make our first photo stop.
We pass fields in which tobacco grows. Lonnie, a fellow tour member, says the United States tobacco companies are/have been building factories here. Based on the number of smokers we've seen, it should be quite profitable. Most of the landscape is grazing fields for either cows or horses. Horses are raised for their milk and meat as well as for riding and work. We slow down to pass some horses on the side of the road. They appear to be wild. As we drive on, we see many mounds of hay in the field. There are many yurts. All of this is on the side of the mountains. There is very little flat land.
Our first stop (excluding photo stops) of the day, is at Charyn Canyon, also known as the Grand Canyon of Kazakstan. There is a viewing area (which is actually a parking lot) and our tour has this rather large area to itself. The MIR staff sets up a "snack" as we disperse to see and photograph this beautiful site. Alexander tells me that this is the beginning of the Canyon. It continues down a good distance and helicopters take tourists into the vista. Some of the rock formations, farther down, are like castles. Hare and elk live in the depths. We have a picturesque view, seeing rock formations of a great variety of strata. I find this truly a relaxing rest stop.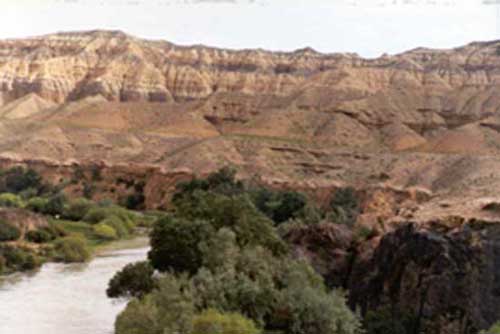 Charyn Canyon
Our 11 AM snack is ready. Sveta tells us this is not lunch. Most of us find that hard to believe. Steve makes a delicious sandwich of chicken pate and very small sardines. We share two of them. We also have cognac and tea. Soon we are back on the bus, and we reach the first sign of the border between Kazakstan and Kyrgyzstan. I'm not sure what we go through. It's a gate with a stop sign. There are cars, which appear to be waiting, but we ride right through. This could be an "unofficial" toll. Later we pass through a similar set up and learn that towns put up these tolls. The payment is what ever the toll keeper determines, usually based on vehicle occupancy. These tolls have not been authorized by the national government but are a method for local governments to raise money.
The border crossing goes smoothly. We are told by MIR staff to ready our passports but are not asked to show them by border officials. Most of us make a pit stop. This one is a most unpleasant hole in the ground. I'll leave the details to your imagination. But men definitely have an advantage.
There is a second border station. Some MIR staff leaves the bus with a bag in hand. Perhaps the bag has a bottle in it. They return shortly thereafter, still in possession of the bag. Finally we go through another toll. Once again, there is no charge. So much for our first border crossing, it was very mundane.
The history of Kyrgyzstan is very similar to the history of Kazakstan. The first known inhabitants were the Saka. They lived in this land from approximately 6th century B.C. to 5th century A.D. They left rich bronze and gold relics, some of which have been recovered from burial mounds at Lake Izzy-Kul, todayís destination.
From the 6th to 10th centuries, a good-sized population of Turkic people lived on the banks of this lake. As Genghis Khan pushed his way across Asia, the Kyrgyz people immigrated south into the Tian Shan. They came to settle in what is today Kyrgyzstan. Later in 1685, the Oyrats drove large numbers of Kyrgyz people even further south into today's Tajikistan. In 1758, when the Manchu defeated the Oyrats, the Kyrgyz people became subjects of the Chinese. The Kyrgyz were of little concern to the Chinese so they were left to continue their nomadic lifestyle. During the 18th-century, the Kokand khanate attempted to control the Kyrgyz people. However, instead of being subdued, the Kyrgrz people continuously gave them trouble.
With Russian encroachment into Central Asia in the 19th-century, the Kyrgyz tribal leaders made peace with Russia. Russia, with help from the Kyrgyz, conquered Kokand. Following this victory, the Kyrgyz were made subjects of the Czar. In 1916, when the Kyrgrz people grew tired of having their land given to Russians immigrants, they revolted. The revolt was brutally squelched by the Russian army. In 1918, Kyrgyz land was made part of the Turkestan Autonomous Soviet Socialist Republic. In 1924, the Kara-Kyrgyz Autonomous Oblast was created. Next the Soviets decided the Kyrgyz and Kazaks were different nationalities. In February 1926, the Kyrgyz ASSR was created. In December 1936, Kyrgyzstan was made a full Soviet Socialist Republic.
During the land reforms of the 1920s, a large number of nomads were forced to settle in one place. Even more were forced to settle during collectivization in the 1930s. This brought about the basmachi rebellion. During Stalin's purges, many of the new Kyrgyz elite were killed. During Perestroyka, under Mikhail Gorbachev, several rebellious groups were formed. They started to fight unemployment and homelessness. Some even seized vacant land and built houses. The Ashar, which means Mutual Help, became an opposition movement. Land and housing are at the root of one of Central Asia's greatest ethnic problems. In 1990, around Osh (a city we will visit), the majority Uzbek fought the Kyrgyz. At least 300 people died.
The first elections, held in 1990, rubber stamped the Kyrgyz Communist Party into power. In the next election, Askar Akaev, a physicist and president of the Kyrgyz Academy of Sciences was elected president. He has been a real reformer. On August 31, 1991, the Kyrgyz Supreme Soviet reluctantly voted to make Kyrgyzstan independent. On May 5, 1993, a new Kyrgyzstan Constitution and government structure became law. The last remnants of communism were replaced. Of the five Central Asia republics which we are visiting, Kyrgyzstan is the one which has most enthusiastically embraced change. We're looking forward to seeing their progress.
At the border, as we cross into Kyrgyzstan, time is set back an hour. Around 4 PM, the bus turns on to a dirt road and stops. I think to myself, is this Lake Izzy-Kul? There is a body of water but it looks more like a small river than a lake. However, Alexander announces that this is lunch and it will take them about 10 minutes to prepare. We wander around for at least that amount of time. It is a beautiful spot alongside this stream. Lunch is amazing -- knockwurst, mashed potatoes, tomatoes, peppers, melon, grapes, bread, wine, vodka and tea! Sveta tells me that everything is washed with bottled water so there's no reason to be concerned about its safety. I enjoy it all.
Back on the road, the scenery is much the same. For the first time, I see sheep. We are riding alongside a river, which is probably the Tup. We've now been on the road for approximately 12 hours when, finally, we reach Lake Izzy Kul. Alexander tells us that the lake is the second largest Alpine Lake in the world. It never freezes and has many rivers flowing into it but no river flows out of it.
In 1864, a military garrison was established nearby Lake Izzy Kul. When those in power realized that this was a comfortable location, the garrison commander was ordered to find a place for a full-size town. The area has mild climate and rich soil. The lake was abundant with fish and the mountains had many Hot Springs. In July 1869, the town of Karakol was established and the garrison moved in. In its early days, the population was mostly military officers, merchants, professionals and explorers. During Soviet times, the town was renamed Przhevalsky, after the explorer Nikolai Przhevalsky whose expedition ended here. He was buried on the shore of the lake. Unfortunately, the Bolsheviks trashed the town. Only one small church was allowed to stay operational. Of the nine mosques, only one was not destroyed.
We arrive at the Aurora Hotel, which is the largest on the lake. It was the Communist Party hotel of the area. It is beautiful but, for me, a struggle. There are several stairs into the hotel, then several stairs to our basic room. Our room is nicely set up, except the beds are very low, as is the toilet.
We meet for dinner but after the three meals we've had earlier, I am not hungry and I just pick at it. We sit across from Alexander. I complement him on his English and ask where he learned it. He says that he attended the University to become an English teacher. After students graduated, they were required to spend two years working in a government job. Most of his classmates were sent to a town to work in a school. He worked in a patent office. He never got to teach but became a textile designer of Kazak rugs. He kept up with English because that was the only way to learn what was really going on the world, by listening to English-speaking radio stations. All of his dedication has certainly made for a very enjoyable first part of our tour.
A few people in our group inquire about the possibility of receiving a massage. I am also interested. Sveta checks with the hotel. They can have someone available in half an hour. I am pleasantly surprised that the charge is five dollars per hour. I am a bit concerned because I've never had a massage from anyone who did not speak English. Oh well, "ouch" is the same in any language. Most of the massage is invigorating however some of it is too rough. The massage began on my stomach then I turned on my back and ended sitting on a stool. This was a nice ending to this day of riding a bus.
Day Seven: September 3, Friday
This morning we have a late start scheduled for 11:30 a.m. We go to breakfast late and the General Manager is waiting for us. I guess he wants to make sure that we're alright. It's hard to tell because he only speaks a few words of English. After breakfast, we walk down to the lake. Steve helps me down the first set of stairs. It looks like there will be a lot of walking so he leaves me to return to our room and get my wheelchair. There are more stairs coming up but I find a flat path. I meet Dennis, a fellow tour member, and talk with him until we reach the lake.
Steve arrives with my chair. We find a shady place to leave it then each of us wanders our separate ways to take photographs. There's not much to take of the lake, since it is so expansive. The hotel grounds are beautiful so I take a few pictures of them. We are on the north side of the lake. The north side is shallow with flat sandy shores, a nice place for a resort. Hotel Aurora is also known as the Izzy Kul sanatorium. It was an immense health spa used by Communist officials during the days of the Soviet Union.
Beatrix, another member of our tour group, comes up from the lake. Yesterday she told us that she intended to take a swim and, sure enough, she has. She says it was cold but later tells us that it was no colder than our New Jersey ocean. We chat for awhile then Steve joins us. I ask him if there are any great photo opportunities further along on the path. His assessment of photo ops matches mine (that the lake is too expansive for great photos).
We head back to our room to complete packing and be ready for departure. Along the way, we see Sveta who tells us that Sharon, a member of our tour, is ill. We're going to delay our departure for two hours. There will be lunch in the dining room before we leave. Lunch turns out to be quite unexciting, cheese, fruit, and cold cuts. While waiting for lunch we meet Beatrix. She is excited because she has just met a man from her hometown of Dusseldorf, Germany. The Wrigley Company is having an area conference at this hotel and this man is the Wrigley manager for this area. I inquire about her age when she left Germany. She says she was about 15. By this time Eric has joined us. He says that he left his native country at the age of 11. When asked what that country is, he says Pakistan. I am not surprised because he has often made comments about Pakistan.
We depart from our hotel, heading west towards Bishkek. On the bus, I am sitting close to Sharon. She tells me about the hotel doctor who saw her. The doctor gave her acupuncture as a treatment for her digestive problems. As we drive further west, we see more man-made structures, towns and factories. For quite awhile the lake remains at our side. As we lose the lake, we see a river, which is green. Steve and I wonder if this is due to limestone as it was in Bosnia. There are still quite a number of pastures on the side of the mountains. We also see some interesting rock formations. The sky has become gray. The bus is running the air-conditioning and we all put on our jackets.
Steve and I pass around one of the albums we made up as gifts. A small gift is a common gesture when one is invited to a home dinner. Most of the time, people give trinkets such as postcards of their hometown or candy. We selected 12 of our best photos and made up several albums. From our fellow tour members, we receive many compliments. Alexander returns the album and makes some comments. We exchange addresses in the hope that if he ever gets to New York City, he will call us.
This afternoon, we are going to lunch at the home of a Kyrgyzstan family in Tokmak. This turns out not to be a lunch with a family but lunch at a restaurant in the back of their home. In many towns in Central Asia, residents run restaurants in part of their homes. First we are encouraged to walk through their home. It is a nice size, with a living room, two bedrooms and a kitchen. The living area has no running water. We go to a different, adjoining area next-door where there is a large slop sink. The toilet is outback and not adjoined. Six people live here. Today their extended family has joined them, to see our group. American tourists are not common in this part of the world.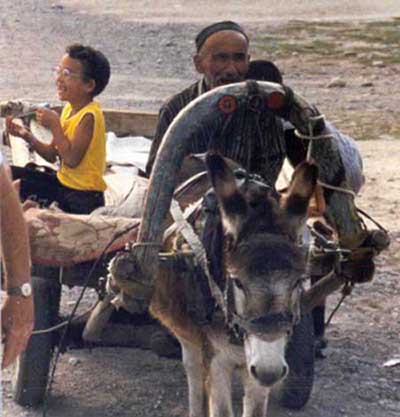 Grandpa Arrives to Say Hello
We eat in a separate, roofed area, almost like a large rectangular gazebo. There is much food, salads, baked dumplings, rice and a meat dish. We begin with soup and end with fresh fruit. We sit at tables of four. This is our first experience with unpleasant company. Since I am slow, we are the last to reach the eating area. The only two seats left are with two men who I will call Mr. Foreman and Mr. Scholar. Mr. Foreman monopolizes the conversation for most of the meal. His stories are interesting however it would be nice to have the chance to join the conversation. Mr. Foreman spent his working life abroad as a construction manager, building factories in Third World countries. Once he leaves the table, Mr. Scholar starts talking. He says that it's nice to hear Mr. Foreman open up. Mr. Foreman and Mr. Scholar are sharing a room; they did not know each other before the trip. Mr. Scholar says that Mr. Foreman is intimidated by his superior intellect. Steve and I looked each other in disbelief! Later this becomes one of the jokes of the trip. Mr. Foreman has a strong, boisterous personality. We cannot imagine him being intimidated, by meek Mr. Scholar.
The family is very open to having their pictures taken. Several of us thank the Head of the Family with handshakes. When I do so, he takes my hand between his hand and shakes it. Later I read that this is the Moslem custom when a man and a woman shake hands. The extended family says goodbye. Even Grandpa has come with his mule and cart. His grandchildren are with him. I hope my photo comes out despite Mr. Ego constantly getting in the way. Mr. Ego is another member of our tour. We quickly learn that he is a self absorbed, obnoxious man that rudely gets his way regardless of whom he tramples to do so.
We have a bit longer to go before reaching Bishkek. Alexander gives us each of coin from Kazakstan. Coins are no longer used because of inflation. As he passes our way, I ask him what "sary" means. I've seen it in quite a few town names and am wondering if it has something to do with government. "Sary" means yellow. Again I mentioned Sary Shagan to him and he tells us that during communism even people who lived there were not allowed to go there. However, since independence, that's changed. He was there as a guide recently on a hunting trip for a unique type of antelope indigenous to the area.
As we get closer to Bishkek, there are many more homes. In quite a few yards, chicken walk around with no apparent barrier to keep them off the road. It is rather late in the day (approximately 5 PM) so we see a lot of people, too. I wonder out loud to Steve if we're in the suburbs of Bishkek. We debate as to whether Bishkek has suburbs. Steve's argument is that the city is not big enough to have suburbs an hour away. I am unsure whether a city has to be a certain size to have suburbs. Soon we pass apartments.
As we arrive in the city, Alexander points out some highlights. We see a Lenin statue. As we near the hotel, Alexander addresses us. He says that he will be leaving us after we get off the bus in Bishkek. He's enjoyed our group. His General Manager also says a few words, which Alexander translates. When we get off the bus, we tell Alexander how he has made this part of the tour very enjoyable for us. Alexander asks us to repeat this to his General Manager, again he translates.
Our hotel is the only Four Star hotel in Kyrgyzstan. It is beautiful and it even has a ramp at its entrance. Our room is quite comfortable, a nice change from last night. After a brief settling in period, we meet our tour group in the lobby. We go to a local restaurant for dinner and a cultural music show. Dinner is delicious but I only nibble, as I'm still full from lunch. Two people who play a variety of instruments perform music. They are in native dress and we see our first Kyrgrz hat. Kyrgrz hats are white felt, tall with a rounded top. Traditionally, Kyrgrz nomadic Horsemen wore them.
Day Eight: September 4, Saturday
Steve remarks that our vacation began a week ago. We depart from the hotel at 9:30 a.m. Bishkek's beginning is traced back to 1825. The Uzbek Khan of Kokand built a clay fort on the Silk Road. In 1862, the Russians destroyed it and moved their garrison into the area. Sixteen years later, the town of Pishpek was established. Russian peasants were encouraged to emigrate here. Their government bribed them with land grants. The valley was known for its fertile black earth. In 1926, the town became the capital of Kyrgrz ASSR. In 1991, Pishpek was renamed Bishkek, the name means wooden plunger. One author suggests that this was the closest sounding word to its former Sogdian name, Peshagakh. The former name means "place below the mountains". That name is appropriate. Today only about one-third of Bishkek's residents are Kygyz. It boasts the most trees of any Central Asian capital. From our hotel window, we see that this statement must be true.
This morning we ride to a local school, where we are treated to a performance by schoolchildren. Some of the students greet us and lead us on a tour of the building. There are many stairs but I find it worth the work. It is interesting. We see the usual displays of drawings and artwork. As we walk down a corridor, there are two good-sized areas behind wire, one of birds and one of plants. We talk with a ninth grade student named Donna before we arrive at the auditorium. A teacher, or perhaps the principal, tells us a bit about the school. Formerly it was a school but has been converted to a gymnasium. Later, Donna informs us that a gymnasium is a school for advanced students. The performers range in age; from kindergarten through high school.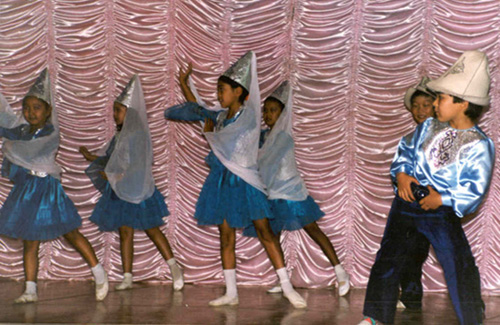 Traditional Kyrgrz Dance
The show is entertaining. There are modern and traditional numbers performed by several different groups of students. The Master of Ceremonies, a teacher, does not speak English so our city guide interprets. Afterwards several students escort each tour member from the auditorium. By the end of the show, Steve has moved to a better seat for taking pictures, in a different part of the auditorium. A young girl takes his hand and walks him out of the room. I wonder how I'll climb the stairs without his assistance. There are still a good number of people from our group in the auditorium so I am not too concerned. Steve returns shortly and helps me.
Once outside, we mingle with students. We talk with Donna and ask her about her plans for the future. She intends to go to the University in Biskek but doesn't know what she'll study. We ask if the gymnasium has computers. She replies yes but mainly for administration. She has had an introductory programming course but there was no hands-on experience. We wonder to ourselves how useful such a course can be. As two programmers, we both know that one learns little when s/he doesn't have the opportunity to try it. As we leave, we remark how impressed we are that this performance was arranged by MIR and put on just for our group. Not only was the performance enjoyable but the personal contact with the students made us feel like we really got to know people from Kyrgyzstan.
Next we go to the airport for our flight to Osh. What an experience! For the most part, we all handle our own luggage. There are a few young boys offering to help. Beatrix accepts and when she hands him a dollar, from what I can see he doesn't want to take it. Later I learned that he wanted more.
It's a mad house getting to the departure area. People crowd the first checkpoint, which is a desk between two walls with passageway large enough so only one-person can fit. Eventually Sveta and a few other tour members clear the way for me in my wheelchair. Next there is security. Our bags go through the x-ray machine while we go through the gateway. The alert goes off since I am in my chair. They motion us to wait. Steve gets our bags. After a few minutes, when no one has come to search me, we decide to move on.
Next a man takes our tickets and passports. After he hands them back, I see him put tick marks on a paper. This must be how they make sure that the plane is not overloaded. There are only five of us from our tour on this plane. The remainder of our tour will take the next plane. We find Peggy and Lonnie and decide to move to the door, which leads to the runway. Dennis soon joins us. It's time to make our final departure. It turns out that we are being bused to the plane. By now, a woman has taken charge. She motions for Steve and me to get on the bus early. Lonnie and Peggy are with us and Lonnie gets another man to assist with my chair while Steve lifts me onto the bus. All of this organization is done without the use of English. When we arrive at the plane, a similar series of events occur. The plane steps are quite steep. As Steve pulls me up I feel unbalanced. I put my hand on the closest person who happens to be the Kyrgyzstan man who assisted us earlier. In the past we've had trouble with helpers moving my arms into extremely painful positions. To avoid this from happening, Steve moves the man's hand from my arm to my stomach. He is kind and eager to help.
Once on the plane, I find a seat and Steve stows our luggage in the back. The seats are comfortable although quite different from what we expect of a commercial flight. The backs are not high with headrests and they recline when one leans on them. The plane is very hot. It is obvious that air conditioning has not been on inside the plane for quite some time and it has been parked on the tarmac with the sun beating down on it. There is a mother, a baby and young son in front of us. At one point, it seems the plane is a seat short for the number of passengers. A man is given the boy's seat and the boy is told to sit between the two adults. Luckily, before takeoff, an empty seat is found and the man is moved.
There are no safety instructions, either presented or written. The plane does not appear to come close to any minimum of safety standards, as we would define them. Fortunately, the flight goes well. When we disembark, MIR representatives greet us. Peggy and I want to find the ladies room. Steve needs the men's room. Our local guide points us in the right direction. In the ladies room, we encounter the eastern squatter but at least there is light and it is not too smelly. It was a walk to get to the restrooms so by the time I am out, Steve has returned with my chair. I am happy because my legs are feeling tired. My bowels are beginning to do somersaults. I hope it is only the results of the plane experience.
By the time we get back to our bus, which is actually an oversized van, the remainder of our tour has arrived. As they make rest stops, Steve and I board the bus. This bus has no air-conditioning and is quite hot. We drive to Osh for our lunch stop. The restaurant is an open-air establishment, on a river. The breeze coming off of the river is refreshing although warm. Nearby, there are several groups of young boys diving from a bridge and swimming. Our Local Guide leads us to a traditional Central Asian table, which looks like a king size bed with high posts. It is enclosed on three sides, the head and two sides and open at the foot. Most of our group follows the Local Guide as he climbs on the structure and sits down at a place setting. There is one chair at the foot of this table. Mr. Ego has taken it but vacates it when others say it's for me. It seems we're missing a few place settings and it would be too cramped for the entire group to sit on this structure. Two more chairs are brought out for people hesitant to climb up and sit in the traditional manner. Steve enjoys sitting in the traditional manner.
Lunch is abundant and good. On our itinerary, it says that will learn to eat Osh in Osh. Osh turns out to be plov, a rice dish with lamb. One eats it with her hands. Steve and I try this method but most others use their spoons. Steve calls them Whimps.
We have an hour and a half at the Jayma bazaar. It is down a half flight of stairs but there is a ramp alongside for bringing goods to the bazaar on carts. Local people, especially children, are curious about my wheelchair. One local man assists Steve with getting me down the very steep ramp. The bazaar is full but not packed. The roadway is paved but many places have series of potholes. It is not easy for Steve to navigate. We stop early on to purchase Kyrgyzstan hats for our nephews. The asking price is 95 som. As we're bargaining, other hat vendors approach us with their hats. Several children tap me on the shoulder and point to others selling hats. We are told that someone in our group got two for dollar (approximately 40 som). As Steve completes our negotiation, Sveta says let me help you. When we tell her that we got three for 75 som, she says we don't need her help.
The bazaar has all types of goods, including food, school supplies, personal supplies, traditional items, teas. We look at some tea and alongside there are vials of medicine for injection. Steve says it could be insulin. A vendor says something that sounds like insulin. We see more of these bottles at other tables. At one table, there are syringes. Both the vials and syringes look quite different from what I use, something like what I used 20 years ago. The syringes don't look like they would provide for a comfortable injection. At several tables we see a laundry detergent with an interesting name. It is called Barf. We have a good laugh because it seems to be opposite from the image of making laundry clean.
Toward the end we decide on a horseshoe (actually probably a donkey shoe) for our Chachka. It is fitting since we've seen so many horses and donkeys. We pay what is asked, about 12 cents. It seems selfish to negotiate. We also purchase some beautiful hairclips for our nieces. Again the price is so low that we don't bargain.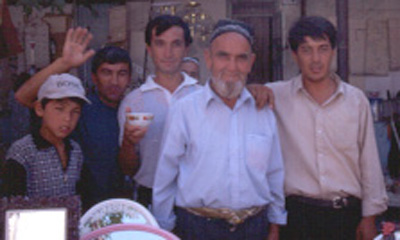 Generations Working Together
Throughout the bazaar, we take quite a number of pictures. People welcome this, which is quite a change from other places we've been. One vendor even requests that we take his picture with other men. The men look to be of three or four generations from one family. We wonder if this is a family picture. As we gather at our meeting place, a local man starts a conversation with Steve. It doesn't last long since neither speak much of the others language. The bazaar has been a wonderful experience. The people have been among the friendliest we've met during any of our travels. Although weíve been to many bazaars and markets in our travels, Steve and I agree that this is our all time favorite.
Our next stop is the border crossing into Uzbekistan. We are warned that this probably will be quite long and bureaucratic. Our guides did not exaggerate. First our passports are taken. After a while our guide returns asking how much money the entire bus has. We come up with a figure of eight thousand dollars. Next he returns with a military man. We each must complete two copies of a Customs form. The questions are in Russian so Sveta leads us through them. We are still in this small bus with no air-conditioning and all of us are very uncomfortable. As time goes on, all occupants become increasingly restless. Sweat is dripping off of everyone and the air quickly becomes stagnant. At MIRís suggestion, Steve and I had packed a hand-held fan. We take it out and use it. Someone makes a comment about what a good idea is it to have a fan. We pass it around the bus but keep an eye on it so it doesnít get lost. We are pressed so close to each other that this is no problem. I am very glad when it returns, so that I can use it again.
Next our guide brings a military man with a gun to our bus. The soldier stares into the bus for a few minutes. He leaves and returns a while later. The border officials are going to take our luggage across the border on a cart. We are responsible for carrying our smaller bags. Finally we get off the van! Even though it's hot outside, it's a relief to be off the bus. We walk over the border, our luggage is loaded on a full-size bus, then we board the bus. Someone notices that the windows are open but there is no sign of air-conditioning. At least, we are not as packed together as we were on the van.
We are in an area of Uzbekistan just over the border. After approximately 15 minutes of sitting on the bus, tour members start to get off. I stay on and try to sleep. By this time my bowels are in pain and I have no luck sleeping. Steve comes in to check on me and encourages me to at least move to the front of the bus where it is a little cooler. I ask him to check with Sveta to see if there's a western toilet in the area. We are parked outside of a small shop and there are some very basic buildings nearby. I keep my fingers crossed, however thereís no such luck.
While I am waiting on the bus many local people pass by, all looking in. I am almost glad I'm there to make sure no one enters the bus. Suddenly, I realize that I haven't taken my afternoon insulin. I walk towards my seat but there are men right outside the window. Usually I am not shy about taking my insulin in front of strangers. However, since this border crossing has been so military like, I think it's better to be safe and not pullout my syringe in front of strangers. Finally, I find a spot without potential onlookers. As I finish, several tour members board the bus. One wants to nap. The other is getting some candy for the local children. Soon after, we receive our passports back and are on our way. Total time at the border crossing is two hours. We consider this bad, but it could have been worse. We've heard stories about people being delayed two days at this border crossing.
It's another two hours to the hotel and I sleep most of the way. With the bus moving it's fairly comfortable. The little local scenery that I see is small towns and basic houses.
The Fergana Valley may have the best soil and climate in Central Asia, according to our guidebook. The first record of the valley dates back to the Second Century, BC. Greeks, Persians and Chinese each, in different decades, found the prosperous kingdom of villages and towns. The Chinese had been dispatched as Imperial envoys to looking for allies as well as for legendary, swift "dragon-horses". Soon after this period, the Valley became part of a Silk Road.
Archeological remains have shown that the valley was Buddhist before the 8th Century. In the 8th Century, the Arabs arrived. When Shahrukh Bey was elected as tribal leader, in approximately 1709, this area known as the Kokand khanate, split away from Bukhara. Khanate is the Central Asian name for city-state. Until the middle of the 19th Century, disputes between the Kokand, Bukhara and Khiva khanates dominate Central Asia.
The final Kokand ruler, Khudoyar Khan, was a Russian puppet. In 1876, Russia easily took control of the khanate and it was dissolved. General Mikhail Skobelev, the first governor was not comfortable in the medieval towns of the valley. He founded the New Margilan cantonment, which was later re-named Fergana. In 1918, a moderate Islamic government was established in the town of Kokand. Bolsheviks from Tashkent ransack Kokand, killing thousands of civilians. This began the basmachi rebellion, which spread from town to town and destroyed any trust that Muslims had in Russians or the Revolution.
The Soviets used the fine Valley soil to produce almost a quarter of the USSR raw cotton. In the final years of the USSR, many Soviet injustices stirred up ethnic tensions. Glasnost set off violence, which killed hundreds of Fergana Valley citizens and gave the Valley a bad reputation. Soviet authorities often let minor disturbances get out of control.
Finally we arrive at the hotel. The room is basic; there is no air conditioning or hot water. One explanation we hear for the lack of hot water is that after August, the town shuts off the hot water until the following spring. This makes little sense. When we visited Odessa, Ukraine, that country did not produce hot water from spring until October to save oil/gas, which it purchased from Russia at a high price. I suspect that this might be the same for Fergana Valley. To make matters worse, to get to the bathroom in our room, there is a single step 10 inches high. I cannot do this without help. We ask if any room has less of a step and we're told no. So we ask for some boards or something that will make the 10 inch step into two five inch steps. Late that night, a woman knocks on our door. She has two seats that are low to the ground. These do the trick nicely.
I eat very lightly at dinner and go right to bed hoping that I'll be okay for the next day.
Day Nine: September 5, Sunday
During the early hours of the morning, I have to run to the bathroom several times. When the alarm goes off, I know that I am in no shape for anything today. Steve brings me bread and bottled water from breakfast. I hope that this will be the remedy for my malady. I get up an hour later after Steve leaves and mix a liter of Cera Lyte rehydration drink. After sipping that for awhile, I sleep for several more hours.
Steve and the rest of the tour begin the day with a short introductory drive around the town of Fergana. They drive to Margilan and visit its Sunday market. Margilan has been in existence since at least 1 BC. By the 9th Century, it was a major stop on the Silk Road and continued to be renowned for its silks through to the present. Lonely Planet states that Margilan is probably the Valleyís predominant market town. Its merchants are important in Central Asian commerce. However, the market does not impress Steve. Our itinerary tells us that Margilan is a Muslim stronghold. In the 19th century, it had more than 200 mosques and a dozen medusas. A Medressa is an Islamic academy or seminary. The Bolsheviks destroyed most of them. Margilan was the heart of Uzbekistan's black market in the final decades of the USSR.
The group visits a "Silk Master" and sees a demonstration of silk weaving. At the end of the Soviet Union, Margilan was home to the largest silk factory and mill. These establishments were dependent on the families of the town to cultivate silkworms. I am disappointed that I am missing seeing live silkworms, because I have never seen them. Steve has seen them on his trip to Thailand, before we knew each other. He says that it's no big deal.
Next the group goes to the village of Rishtan, to visit a private arts studio of an independent ceramics master. Most of this town's population is Tajik. Rishtan is famous for its ceramics. Evidence of earthenware, dating back 1000 years, has been found in the nearby Alai Range. There was an abundance of excellent quality raw materials, red clay and minerals and mountain grasses to make pigments, in the area. This led to the rise of pottery making and the product became the prominent export of the village. The ceramics are characterized by beautiful floral and still life designs. The ornamentation consists of wonderful shapes, painted with the traditional colors of bright blues and greens on white background. The artistic skills are passed down from one generation to the next.
When Steve tells me about the group's visit, he says that they saw members of the family working at their craft. There was one young daughter who was painting with glaze. The kiln was in the backyard. The family served lunch to the group and most of the group ate well. Steve purchased several pieces of the host family's crafts. There are two exquisite bowls and a beautiful vase. He says that one is for me, gives me my choice and I pick the vase. The bowls will be gifts. I am heart broken when we arrive home and unpack to find the vase in pieces.
Steve returns around 5 PM. He says it was a nice day although toward the end a windstorm had blown hard. Everyone was covered with dust. I had noticed that the wind had really picked up earlier outside of our room. He said that I was lucky to be indoors. He also reported that the hotel had turned on the hot water in one room and made the key available to our group.
I am feeling better and decide to join the group for the Uzbek home dinner. This is an event we've been looking forward to since we received our trip itinerary. We've done much reading on the tradition of Uzbek meals focusing on what's accepted as being a good guest. One concern I have, is that guests are expected to eat a lot, otherwise it is an insult to the hosting family. Steve and I decide that early on, we will inform our hosts that I have been sick to my stomach, so I can't eat much. I hope they'll understand and not be insulted. Steve assured me that I have nothing to worry about.
The weather was still windy. Our host family intended to eat in the courtyard but moved our meal inside, due to the wind. When we enter the dining room, the table is loaded with salad, nuts, fried dumplings and flat bread. Our host rips a loaf of bread into pieces and gives us each one. He is sitting at the head of the table with our guide next to him. They talk and occasionally a member of our group directs a question to our host. Our guide translates. Steve asks how his city government job has changed since communism ended. He answered that yes, it has changed. Steve repeated how but got no details. Our host has been at his job for 23 years. His wife and daughter do most of the serving. Occasionally our host serves. We also have soup and a main course of meat and potato. I eat bread, part of a pumpkin dumpling, soup with pasta and a small potato. For dessert, there is cake and glazed fried dough. I have a bite of Steve's. Everything is delicious.
The food is abundant but I stick to the bare minimum. Unfortunately, no one in our group is too hungry since their lunch was good and plentiful. The dinner is a little disappointing since we don't interact much with the family. This family was selected to be our hosts because the man is a friend of our bus driver. There was a lot of food leftover. We're told that the food will not go to waste. The family will have a big neighborhood party.
They walk us out of the bus and we bid farewell.
Day Ten: September 6, Monday
We're up early and meet the others from our group for breakfast. This morning is our flight to Tashkent. The flight is mostly MIR Tours so boarding is saner than the one two days ago. My things are put through the x-ray machines but the officials take me in my wheelchair to a small side room and search me with the metal detector. The detector goes off with my watch and zippers but I pass. At the plane, I'm led to the front of the line and board towards the beginning. The steps are not too steep. The hostess directs me to take a bulkhead seat. When I tell her that they are no good for me, she asks why. We go to the second row of seats. The flight is quick. The flight attendants hand out sandwiches and cold drinks. We take neither since we are being cautious about the food.
From the plane, we are bused to our departure point. We're the last ones off the plane and the bus is packed. Someone gives me his seat. Even though I'm seated, staying balanced is a challenge since the bus is very rocky. Our plane has landed early so our bus and local tour guide haven't arrived yet.
Eventually, our guide and bus do arrive. It is a modern bus and quite comfortable. We begin our city tour. Our local guide, Zakhik, gives us an overview of Tashkent and Uzbekistan. Uzbekistan has a population of 25 million people; 2.4 million live in Tashkent, which is the capital of the country. Tashkent's origin dates back to the first or second century B.C. At the time the Arabs conquered it, in 751 AD it was part of the major crossroads traveled by caravans. Around the 11th century, the city was named Tashkent, which means "city of stone" in Turkic.
In the early 13th century, Genghis Khan conquered the city, wiping out most of its life. Next came Tamerlane, also known as Timor. He was the conqueror of the 14th century and a native of Uzbekistan. In 1404, he bequeathed the city to his favorite grandson and heir, Ulughbek. Youíll read much more about these two in days to come, as we get close to Tamerlaneís birthplace. During the 15th and 16th century, the town expanded once again. Most of its architectural monuments are from this era. In the early 1800s, the Khan of Kokand annexed the city. In 1865, the Emir of Bukhara prepared to capture it. However the Russians arrived first. Although outnumbered 15 to 1, and against the orders of the czar, General Mikhail Chernyayev conquered the city. The Czar chose Tashkent as his capital for his new Turkistan Empire, sending Russian settlers and merchants to make this city their home. The city became the main center for espionage in Central Asia during the period of "The Great Game", a historical rivalry between Great Britain and Russia during which each sought to control Central Asia.
During the Russian Civil War, Tashkent saw a lot of bloodshed from both the Red and White factions. Tashkent became the capital of the Turkestan Autonomous SSR during the early days of the Soviet Union. For a short time the capital was moved to Samarkand. In 1930, Tashkent was again made capital. The construction of the agricultural machinery combine made Tashkent an industrial power. During World War II, the Soviet Union's western factories were relocated to the area.
On April 25th, 1966, a massive earthquake destroyed the city and left 300,000 people homeless. Urban planners came from around the Soviet Union to assist with the reconstruction of the city. Most of Tashkent was rebuilt after the 1966 earthquake, not because the entire city was destroyed. This was the political decision of the time. Today it has great areas with a bland Communist look.
Moscow announced that it would give 20 percent of the newly built apartments to those volunteers who were mostly of Russian decent. Local resentment exploded in the "Pakhtakor Incident", in May 1969. Soviet troops were deployed to break up fights between Uzbeks and Russians. Currently apartments cost $4000 to $5000 to purchase. They have the modern conveniences of hot and cold running water, appliances and garages.
We pass several official buildings. The mayor's office is a large beautiful building. We make a rest stop at Hotel Uzbekistan. The public restroom is down a flight of stairs. Our Zakhik arranges for us to get a key to a private room, which we can reach by elevator. We are very impressed with this service. Across from the hotel is a Park. In the center of the Park is a Tamerlane Monument. Next we visit the outside of the Navoi Opera and Ballet Theater. Alisher Navoi was the 15th century poet who is a cultural hero of Uzbekistan. It is an architectually interesting building.
Uzbekistan uses the Cyrillic alphabet. Before that, the Arabic alphabet was used. There are plans to switch to the Latin alphabet. When that is done, printed material will look Turkish. Sept. 1st was Uzbekistan's Independence Day. One hundred thirty countries have recognized Uzbekistan as an independent country. All of the foreign embassies within Uzbekistan are located in Tashkent.
There is a small old city built during the 19th-century. We visit its heart. We see a mosque, a mausoleum, and medressa. The Barak Khan medressa is home to the Central Asian Muslim religious board. Its Grand Mulfi (somewhat like a Catholic Archbishop) is leader to Islamics of Uzbekistan, Kyrgyzstan, Tajikistan and Turkmenistan.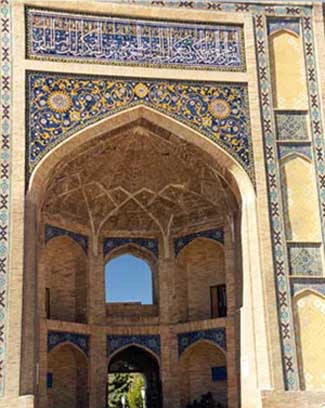 Barak Khan Medressa
Here we have a real treat, a once-in-a-lifetime experience! In a small back room within the mosque, we see one of the seven original Qurans (also known as Koran). The Quran is Islam's holiest book, written by the Prophet Mohammed. In general, this room is off-limits to the public but Zakhik obtains this privilege for us since he knows the Curator. At first I was not going to go into the building because all people who enter are required to take off their shoes. I require assistance to do this and the building did not look that special. However when Steve learns what our group will see, he comes out and tells me. I jump at the chance. It amazes both of us that half of our tour passes up this opportunity.
Our next stop is at the oldest city bazaar. I stay on the bus because it threatens to have many stairs. When Steve returns he confirms this. We pass many homes. They typically have three rooms including a room for guests and one bedroom. The kitchen is in the yard. The toilet and washroom are separate from living quarters.
We go to lunch in the Navoi Theater building. There are a good number of stairs to reach the restaurant. It is a nice restaurant owned by people of Korean nationality. The food is not Korean but many dishes have that flavor. We enjoy the variety of choices. Toward the end of lunch, MIR treats us again. The MIR Area Manager brings the U.S. Embassy Advisor of Economic Development to speak to us. First, she gives us some background about herself. She has been in Uzbekistan for one year. Before that she served at the Russian Embassy. She has a husband and a cat. After telling us about herself, she opens her presentation to questions.
Although the buildings may look beautiful and modern, most are in disrepair. They were constructed during the time when Uzbekistan was doing well with their cotton crop. Since then, as things breakdown, there is no money to repair them or no replacement parts available. Unemployment last year started at .4 percent. By the end of the year it rose to .5 percent. The United States is investing in gold mining. The tobacco companies are also investing in Uzbekistan. There are approximately 500 Americans living in Uzbekistan.
Compared to the Soviet era, the Uzbekistan society is much less oppressive. If one minds her own business, everything is fine. However, if one sticks her neck out, on human rights issues, for example, Uzbekistan is very repressive. The overall governmental system is full of bribery and corruption. Although there appears to be five political parties, there is essentially only one making it a one choice political system. There will be presidential election in January, for which all five parties may enter the current president. Parliamentary elections will be in December. There are likely to be five nominees for each seat.
Hillary Clinton visited Uzbekistan in 1997. U.S. oil and gas firms have been investigating exploration. However there is a problem. The Soviet framework and bureaucracy still exists. Legislation to change this is coming and is expected to pass. Another problem is getting the oil out of the country. Border closings prevent export of subsidized goods. Uzbekistan is doing fairly well withdrawing from its total dependence on their cotton crop. The country has become almost self-sufficient with grain.
When asked what she does with her free time, the U.S. Embassy Advisor of Economic Development replies that she enjoys Uzbek music. She became involved with the German Lutheran Church. Just a short while ago the lay minister left. She was asked to take the minister's place. Her husband teaches English. He organizes discussions for a great variety of people. He works with school children, scientists and secretaries.
Uzbekistan has tried to bring the Internet to universities. Internet service providers are forming but all the ISPs must go through government organizations. Therefore the government can shut down Uzbekistan Internet sites if it thinks there is a need.
We thoroughly enjoy this woman's presentation. We learn a lot and feel privileged that we have the opportunity to talk with her.
After lunch we visit the Tashkent subway. I stay on the bus for this because Zakhik says that there are many steps. A few others of our tour also elect to stay on the bus for many different reasons. Most express the opinion that subways are not very interesting. When Steve returns, he concurs saying it was no big deal.
We return to our hotel and make plans to meet a few people on our tour for dinner. Tonight dinner is on our own. Steve and I relax the few hours before dinner and use most of the time to take a nap. We meet Sharon, Sonny, Peggy and Lonnie in the hotel lobby. Unfortunately our hotel is not close to the center of the city. So we decide to go down to the hotel restaurant. It is in a building in the same complex but we must walk outside of the hotel. Outside, there are many stairs to reach the restaurant however there is also a good ramp. We enter the restaurant at the level of the bar. Sveta is supposed to meet us but is at a MIR meeting. So we wait in the lounge area and enjoy a drink. She joins us later for dinner. From its lounge, the restaurant is down a flight of stairs and there is no elevator or ramp inside this building. I order pirogues and they are delicious! It was a fun evening, getting to better know some of our fellow tour members.
Day Eleven: September 7, Tuesday
Our entire day today will be spent in Tashkent. As we ride to our first destination, Zakhik tells us about a Muslim tradition. Whenever a child is born, a tree is planted.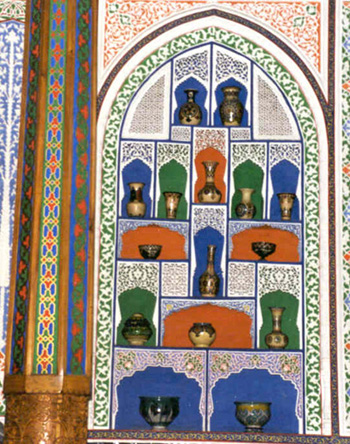 Applied Arts Museum
Our first stop is the Museum of Applied Arts. The building itself is interesting. In 1898, Alexander Polovtsev, a wealthy diplomat, had this house built for his retirement. This is a traditional style of Tashkent, Samarkand and Bukhara. Although the house does not look that big from the outside, there are many rooms inside. Each is filled with a different type of art. We see ceramics, carved wood, jewelry, musical instruments and toys. It would be nice to receive more information on each of the exhibits. We only stop for narration in some of the rooms. One of these rooms contains dyed wall hangings of silk. These are good for handling the heat so Uzbek ladies often wear them. Someone in our group asks what do Uzbeks look like. Zakhik answers they look like Eric, a man in our tour.
We leave the older part of the city and visit the more modern city, starting with the Palace of the Friendship of Peoples Square, the largest square in Tashkent. Most of our group walks up the many stairs to a monument to a blacksmith, Sham Akhmudov, and his wife. This couple took in 15 orphans during World War II. As the eastern front of World War II got closer to Russia, children were sent to Central Asia for safety. Although the statue commemorates one couple, many people did this. I view the statue from the bottom of the many stairs. Steve fills me in on these details when he returns.
We drive around to another part of the square. It is a wedding palace. We see many wedding parties having their pictures taken. Summer and autumn are the most popular wedding seasons. In Uzbekistan, they are still doing mass weddings. Couples go to their mosque to get engaged. Marriages are still mostly arranged, but each couple has the opportunity to get to know each other before the wedding. They can back out of the arrangement.
Back on the bus, Zakhik talks a bit more about Uzbekistan. The president must be at least 13 years old and must know the Uzbek language perfectly. He is elected for five years and can serve a maximum of two terms. The next presidential election will be in 2000. Tashkent is the biggest Central Asia city.
Our next stop is an old courtyard, which has been turned into craft shops. It seems that most of the items are quite expensive. We purchase several lacquered boxes to bring home as gifts. We also purchase our Chachka, a Quran stand. We spend quite a bit of time here. After awhile everything in one shop looks the same as what we've seen in other shops we visited earlier.
We stop at a Park to see a teahouse. It looks like a cafe or restaurant and I find it only slightly interesting. Since we went to a teahouse in Osh, I ask Steve if this is time filler.
Then we go to Center Square also known as Independence Square. It is very empty; mostly what we see is pavement. When Uzbekistan was part of the Soviet Union, it contained a Lenin statue, the largest Lenin statue in the Soviet Union. Parades and concerts are now held here.
Lunch is next. We have salads, soup, and a chicken and mushroom dish. It is a long two hours, service is quite slow. Unfortunately, I sit next to Mr. Ego. He is constantly encroaching into my space. Midway through his meal, he occupies one and a half places. No one at the table has a large amount of space, however his behavior is just plain rude.
After lunch we stop at the Navoi Theater to give some of our tour members the opportunity to purchase tickets for a Russian opera. Then we go to a pedestrian street. Little stands line the street. We are not impressed with what they're selling. It looks like a garage sale. It does not take our group long to walk down the length of the street. We expect to go back to the hotel, and are told that this will be the last we will see Zakhik. We prepare to give him a good tip. His enthusiasm for the city has made this a very enjoyable stop. All of a sudden he is gone. Before we got off the bus at the pedestrian street, he asked the group whether we wanted to go to the Museum of History. The group had voted no. However one member wanted to go, stating that this was part of his history. When the decision was made not to go, Mr. Intruder carried on complaining that it was unfair. We stopped for tickets at the Navoi Theater for only four members of the tour. Therefore he reasoned that we should go to the museum just for him. Zakhik decided to take him to the museum via taxi. Some people are real babies!
That night we meet the Martins and Sveta for dinner. We started walking towards the main part of the city. Along the street, there are small stands with outdoor tables. They sell food, soda and beer. We decide to stop at one and purchase pizza and beer. Even though the pizza is lousy, we have a most enjoyable dinner. Sharon Martin entertains us with stories about her many travels. She was a fifth grade school teacher and retired at age 50. She has been retired for five years and has taken from three to six international trips a year, mostly to Third World countries. She has had very colorful experiences and tells wonderful stories.
Day Twelve: September 8, Wednesday
Today we leave for Samarkand. At first we drive through cotton fields, where groups of people pick the choice cotton. After they've completed their task, a machine will come through and harvest the remaining cotton. Our bus needs fuel. It requires diesel and diesel is reserved for government vehicles. However our driver knows a private citizen who sells diesel. So we go off the main road to his friends home and refuel. We drive down a narrow dirt road lined with homes. By our standards, these homes appear very outdated. We refuel and are on our way.
Samarkand is on the edge of the desert. If we thought it was hot before, we are in for a big surprise. Our driver makes good time and we arrive in Samarkand in a little under four hours. The estimated travel time was five hours. Our driver is a friendly man who gives us a comfortable ride. We appreciate the time he cuts out of our riding.
Samarkand's population is multinational. It is famous for the Tamerlane mausoleum and Registran Square. It is one of Central Asia's oldest settlements, believe to have been founded in the 5th Century B.C. Alexander the Great conquered it in 329 B.C. It was then the walled capital of the Sogdian Empire. Between the 6th and 13th centuries, the city's population grew larger than it is today. During this time the Western Turks, Arabs, Persian Samanids, Qarakhan Turks, Seljuq Turks, Mongolian Karakitay, and Khorezmshah successfully controlled it. In 1220, Genghis Khan destroyed it all.
In 1370, Tamerlane chose Samarkand to be his capital. During the next 35 years, the beautiful buildings of Samarkand were created. The city became an almost mythical place, the economic and cultural epicenter of Central Asia. Tamerlane's grandson, Ulughbek, was its ruler until 1449. During his reign, he created an intellectual center. In the 16th century, the Uzbek Shaybanids came to Samarkand and moved the capital to Bukhara. Samarkand went into a decline. A succession of earthquakes struck Samarkand in the 1700s. During this time it was almost uninhabited. It was forcibly repopulated by the Emir of Bukhara towards the end of the 18th century. However it was the Russians who truly brought Samarkand back to life when they forced its surrender in May 1868. The Trans Caspian railway linked Samarkand to the Russian Empire in the 1880s. Samarkand was the capital of Uzbekistan for six years beginning in 1924.
Upon our arrival, we check into our hotel. When I get off the bus, we see a ramp into the hotel. I get into my wheelchair and Steve pushes me up the ramp. When the staff at the Reception Desk sees me in a wheelchair, they assign us to room in a different part of the hotel from our group. They indicate it is a room setup for handicapped people. When we get to room the only modification is that it has fewer pieces of furniture. This is actually a disadvantage for me. Because I have difficulty bending, I need something higher than the floor to put our suitcases on. Since we will be here several days, I decide to ask for another room.
We go to lunch, which is down several flights of stairs. There is an elevator however it is not accessible without a key and we cannot find anyone with a key. So I walk slowly down many stairs. At lunch, I mention to Sveta the problem with our room. She says she'll take care of it and returns shortly thereafter instructing us to go to the main desk after lunch. Lunch is a typical Central Asia meal. By now this meal has become very redundant. Salads and fruits followed by soup followed by the main dish, which is rice with some kind of meat, usually lamb. The meal ends with melon, which is the only truly enjoyable part of the meal.
After lunch, we go to the reception desk and a staff member takes us to a room on the fifth floor. The room looks fine and Steve goes to our first room to get our things. I look out the window, which leads to balcony. We are facing some of Samarkand's main attractions! My complaining really paid off this time.
Back on the bus, our first stop is Tamerlane's mausoleum. It is beautiful, the colors are breathtaking! Built-in 1404, Guir Amir mausoleum is at the edge of old Samarkand. The mausoleum was built for some of the conqueror's sons and grandsons. However Tamerlane died unexpectedly of pneumonia in Kazakstan during the winter of 1405. He had built a crypt for himself in his hometown. The passes, which led to the city where he was born, were snowed in and his body could not be transported there. So he was buried here instead with two sons and several grandsons including Ulughbek.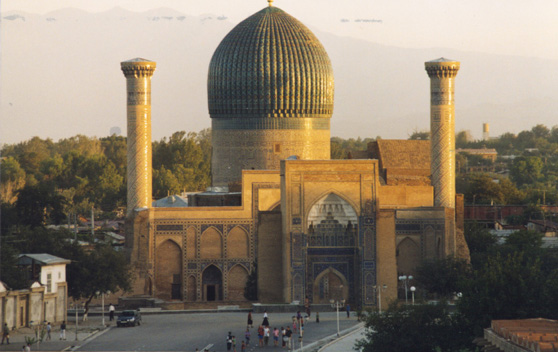 Tamerlane's Mausoleum
At its entrance there is a gate which was a part of a medressa. Through the gate is a relatively small structure with a beautiful azure fluted dome. We walk inside and see golden blue tiled walls, arches and ceilings. Then we enter the inner sanctuary. There are markers for Tamerlane, Ulughbek and the others, all males of course. In Muslim tradition, the crypts are actually in a chamber below. On top of Tamerlane's tomb, is a marker. Although it is broken and quite light in color now, from 1405 until 1740 it was a large solid block of dark jade. In 1740 a warlord, Nadir Shah took it to Persia and it was accidentally broken. The story goes that from the time of the break the warlord had a run of bad luck. This bad luck included his son almost dying. At the advice of his religious experts, he returned the stone to Samarkand. Upon its return his son recovered. Several of Tamerlane's revered teachers are also buried in this mausoleum.
In 1941, a Soviet anthropologist, Mikhail Gerasimov, opened the crypts. He confirmed that Tamerlane was tall and disabled in his right leg and arm. History tells us that he was injured when he was 25. Gerasimov also confirmed that Ulughbek was beheaded. Legend has it that there was an inscription on Tamerlane's tomb stating "whoever opens this will be defeated by an enemy more fearsome than I". The very next day on June 22nd, Hitler attacked the Soviet Union.
We return to the outside, and see several local people sitting around the mausoleum. When we pick up our cameras, they smile as if to say of course you can take our picture. There are three children waiting outside. One young boy asks for a pencil. I have an extra pen which I give him. His sister asks me to take their pictures. By this time, the rest of the group is getting on the bus. I quickly take their picture and she gives me her address. Unfortunately the pictures did not come out too well. Outside the gate, we see Ak-Saray mausoleum. There is a Muslim woman standing by the gate whose dress pattern seems to match the tile work on the wall of the building.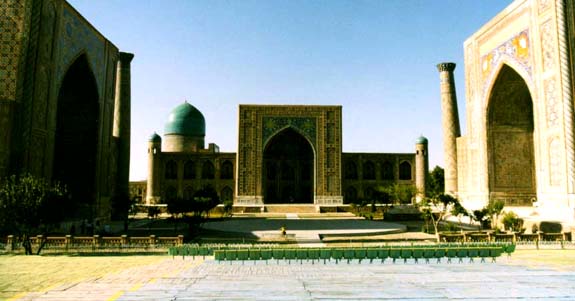 Registran Square
Our next stop is the highlight of the trip! We arrive at Registran Square. In medieval Samarkand, this was the commercial center. It is made up of three medressa, which are each a side of the square, and surround an open area. The entrance to the square is on the fourth side. From left to right, the oldest medressa, completed in 1420, is the Ulughbek medressa. This was built during Ulughbek's reign. History has it that Ulughbek taught mathematics and other subjects including theology, astronomy and philosophy at this medressa. There are domes in the corners under the lecture halls. A large mosque was at the rear. Approximately one hundred students lived in the two-story dormitory. We did not go into this structure. Steve and Sharon went back the next day and said it was beautiful.
The two other buildings are quite similar. The building on the right, Sur Dor or Tiger, was finished in 1636. Above the doorway there are pictures of roaring tigers, which flout Islamic rules against the depiction of live animals. Completed in 1660, the middle building is Tilla-Kari, which translates to gold covered. We spend time in the square admiring the beauty of the tile work and taking pictures.
Then our Local Guide takes us in to Tilla Kari. Inside the main doorway is a Courtyard. There are several vendors and they approach us with their goods. A few of our group stay behind and dicker with them. We follow our guide into a building at the far corner. There are more vendors inside this building but our Guide points out some of the beauty of the tile work. And it is beautiful! There's one dome in which the tile work makes it appear to be arched but it's actually flat. We look around the building and at the goods the vendors are selling. We return to the Courtyard center still awe struck by the blue and gold tile work. There are vendors selling silk scarves and we stop to take a look. I buy several for gifts. They are quite large and could be used for shawls. I think they are a great purchase when I bargain to three dollars each. I am appalled when a person in our group tries to get the vendor down to one dollar. There is a point at which decency says to go any lower is stealing. Both Steve and I are happy when the vendor refuses to sell to him.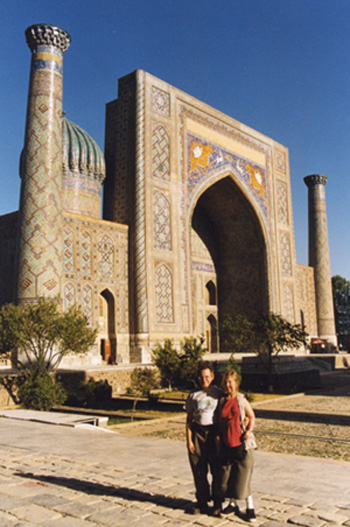 We Enjoy the Registran!!
As we head back to the bus, there are several locals including a few beggars. One man is in a wheelchair. It is obvious to me that he has severe cerebral palsy. The other is a woman with a small child in her arms. Begging, in the Muslim culture, is a disgrace. It is part of the Muslim code of honor to give to those who are less fortunate. Steve gives to both. We also see three women dressed in colorful dresses. When we stop to take their picture, they turn to us and smile. We are still amazed at how willing the local people are to have their picture taken.
The MIR itinerary did not over exaggerate when it quoted George Curzon with the following.
"The Registran of Samarkand was originally, and is still even its ruin, the noblest public square in the world. I know of nothing in the East approaching it in massive simplicity and grandeur; and nothing in Europe ...which can even aspire to enter the competition. No European spectacle in deed can adequately be compared to it, in our inability to point to an open space in any western city that is commanded on three of its four sides by Gothic cathedrals of the finest order."
(Russia in Central Asia, 1899)
On the way back to our hotel, we stop at a small store where Sveta has said they sell very good cognac for dollar a bottle. I suggest to Steve that we get a bottle in case we want to entertain our friends or are invited to join them. That night for dinner we go to an Uzbek home of a Russian family. The food is good however we are disappointed that the hostess does not dine with us.
Upon returning to our hotel, we invite the Martins and Sveta for a drink in our room. We have the most enjoyable time. For part of the time, we discussed today's events and one of our fellow tour mates surprising reaction to what we saw today. Our tour itinerary states that Registran Square "... is considered to be Central Asia's noblest square." On arriving at this site, Ms. Whiner asks her husband "Why should I get off the bus? What's there to see here?"
Day Thirteen: September 9, Thursday
Today we spend the whole day seeing more of Samarkand's wonderful sites. Our first stop is Ulughbek's Observatory. Upon arriving there, we are asked to wait to enter, there is a VIP who will be arriving in 10 minutes. There are many security men hovering around the car parked ahead of us. The VIP takes much more than 10 minutes to arrive. While were waiting, our resourceful bus driver learns that he's from Iran.
The climb up to the Observatory is approximately five sets of ten steps. Even though it's only about 10:00 in the morning, it is very hot. I am tired by the end of the climb, as I'm sure Steve is from helping me. A brick wall outlines the original Observatory. Approximately one-third of the Observatory has been excavated. We see a section of the sexton, which is huge. There is a small museum a short distance away. However one has to climb a staircase to reach the entrance. The group goes up to the museum but Sveta and I stay down. We have a nice chat. Sveta and Steve tell me that I did not miss much.
This seems like an appropriate place to tell you a bit more about Ulughbek. He was the son of Tamerlane's son Shah Rukh and Tamerlane's favorite grandson. He became Viceroy in Samarkand and a while later, ruler of Tamerlane's Central Asian territories. He differed from the rest of his family by sharing his love for and great knowledge of science with his subjects. He was especially fond of astronomy.
In 1420, he opened the Ulughbek medressa, renowned as the greatest Islamic 'University'. He charted star positions of approximately 200 previously unknown stars using a marble astrolabe. He performed quite accurate calculations on the length of the year. The West did not learn of him until after his death. Today he is better known as an astronomer than as a Central Asian ruler. He preferred science above Scripture as a source of truth. This was so resented by the Islamic clergy that his son, Abdul Latif, arranged his decapitation in 1449. Following his death, his Observatory was destroyed. It was nearly four and a half centuries later that the Russian teacher and amateur archeologist, Vladimir Vyatkin, calculated the site of the Observatory and excavated it. Most of the sexton was intact. After the Russian revolution, Vyatkin became the city's director of antiquities. When he died he was buried beside the Observatory.
Our next stop is the Afrasiab Museum on Archeology. It is a small museum; the highlights are sixth century wall prints of hunting, an ambassadorial procession and visits by local rulers. Again we run into the Iranian delegation, which makes the latter two wall prints somewhat relevant. There is also a site plan and chronological maps.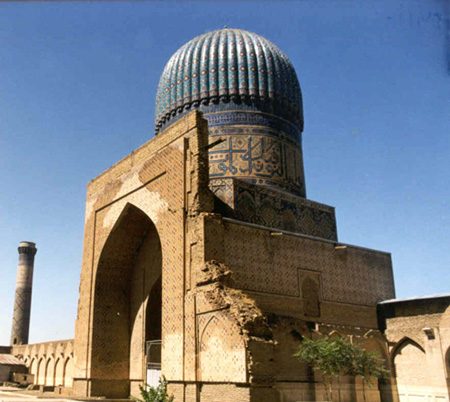 Shahi-Zinda Mausoleum
Then we travel to Shahi-Zinda. This is the mausoleum in which many members of Tamerlane's family and some of the people he loved the most are buried. The name means Tomb of the Living King. It refers to the original innermost, holiest shrine. It has been said that the cousin of the Prophet Mohamed, who brought the Muslim religion to this area, is buried there. Our bus driver parks nearby, but a police man gives him a hard time. He defends his action by saying that he must park the bus here because he has a person in a wheelchair and a number of older people on the vehicle. Our driver doesn't move the bus. We walk a short way to the mausoleum. However, it is hot and there appears to be a lot of stairs in the structure. Both Steve and I are tiring from the heat so I elect to stay outside. For the first time on this trip, I am uncomfortable with the looks I get from people. Four men with black skullcaps walk up to me and look me over. Several other people appear to be staring. The Iranian entourage arrives and they go into the complex. I am relieved when the group gets back. Steve reports that it was a wonderful sight. I am sorry that I did not join the group especially since I had such a miserable experience waiting outside.
Our next stop is Bibi-Khanym Mosque. To get there, we must walk up a hill and through the bazaar. Sveta shows us a way to go that is not so crowded. We go into the Mosque courtyard. It is very pretty, with green plantings and is quite peaceful inside. We notice some vendors inside. The Mosque was finished slightly before Tamerlane's death, in approximately 1404, and was a highlight of his empire. At one point it was the Islamics world's largest Mosque, the main gate was 35 meters high. At the time it was built, it pushed techniques of construction to the limit.
Our local guide shares a legend with us but tells us that it is not a true story. Bibi-Khanym was Tamerlane's Chinese wife. She had the Mosque built while he was away. It was to be a surprise for him. The architect fell in love with her and refused to finish the structure unless she would let him kiss her. At first, she refused but she really wanted the Mosque done. Eventually she gave in. The kiss left a telltale mark on her cheek. Upon seeing it, Tamerlane executed the architect and decreed that woman will wear veils to avoid tempting men from this time forward. Our local guide says that the Mosque was actually built by Tamerlane.
Our local guide points out the enormous marble Quran stand. After she is done giving us an overview, the vendors approach us. One puts a skullcap on my head and asks for four dollars. So much for this being a peaceful place. We give the skullcap back to him.
For our next stop, we make a rest stop at a hotel across from ours. Most of us make a beeline for the bathrooms. They are horrible! They smell filthy. No one can use them. Several people complain to Sveta. We learn that the guide brought us here because a friend of hers owns an art gallery in the building. We return to our hotel for a brief rest stop.
Lunch is at an Uzbek home. The dwelling is outside the city in a neighborhood of homes. The rooms in which we are to eat are up many stairs. Steve and I are the last ones up. There are two tables, one with chairs and one with pillow seats. Steve leaves me at the table with chairs and moves on to the other. When I ask him if I can bring a chair to the other, he says no. It wasn't so much that I didn't want to eat lunch apart from him but I prefer the company of the people at the other table. Actually, I asked one of the people at my table about his extensive travel and it turned out to be an enjoyable meal. Once again we were disappointed that the locals did not eat with us, they only served us. It was obvious that this was a home restaurant not a native home that entertains foreign guests.
We have the rest of the day to ourselves. Steve and I nap. I write postcards while Steve and Sharon revisit Registran square. Toward evening, Steve returns. He raves about the beauty of Ulughbek's medressa. There were no vendors in the courtyard. At this point we are getting tired of our local guide assuming we would rather shop then see the more pure historical sites. We think that she probably gets a payoff. We decide to subtract from her tip and let MIR know of our frustration.
We invite the Martins and Sveta to our room for dinner. I go down to the bar cafe and purchase some sausage and cheese sandwiches for dinner. The Martins bring a sampling of their food and beer, as does Sveta. We still have some cognac. We enjoy our little party.
Day Fourteen: September 10, Friday
Today is a day for which we have been anxiously waiting. We are scheduled to go to Tajikistan. Our itinerary contains a note, which says:
"Due to local conditions on the day of our plan to visit, the exact routing may be
changed, but at this time we definitely plan to make the trip to Penjikent.
Please be aware that border formalities can be time-consuming."
As soon as the republic of Tajikistan obtained its independence, a civil war broke out. Of all the Soviet Central Asian republics, Tajikistan's borders are the most arbitrary. Tajik people are Persian descendants and are a Central Asian minority. Most of Central Asia, including some of Tajikistan, is Turkic. For the most part, the people of these two cultures got along with each other because they shared the Islam religion. With communism, the Soviets sent their own people to take control. Tajik clans chose sides. Under communism, the Soviets kept the peace. With independence, war broke out between the Communist and Democratic Islamic factions. Although the war supposedly ended a year and a half ago, our day trip was not confirmed until this morning. Officially the Civil War occurred from May to November of 1992. Following that, small groups continued to fight. According to our local guide these were terrorists. In 1999, there was one violent event. In the last few months there have been no shots.
At breakfast Sveta gives us the thumbs up, which means everything looks good for going to Penjikent today. At 8:30 AM we meet in the lobby and turn over all of our U.S. money and credit cards to the MIR representative. To carry these into Tajikistan will make the border crossing very difficult. All along we've been told not to leave money or credit cards in our rooms. I'm a little nervous about giving these to anyone but that's our only option and turns out to be fine.
On the bus, our Local Guide explains that Penjikent is the birthplace of a famous poet, Rudaki. Our Local Guide has a heavy accent and he's hard to understand. However, he is entertaining. He recites and sings examples of lyrics and he has a very good voice. We stop at a "tobacco border". This is a checkpoint for buses. It is located close to a railroad on which tobacco is shipped to Moscow, Russia. Sure enough, we see a line of 12 trucks fully loaded with tobacco. Leaving Uzbekistan and entering Tajikistan is lengthy. We are required to complete two copies of the custom form. Border Officials review the forms. Then an Official checks our passports, one at a time.
There are two more checkpoints. At the first, a Passport Control Officer boards our bus with our passports. He calls each of our first names. In response we raise our hands. He nods and smiles. When he's done, he returns the passports to our Guide. This is Immigration Control. The final checkpoint is Customs. An Official boards our bus and gives us a big "Good Morning ". He walks up and down the bus aisle and asks "no drugs, no weapons? Those are the only problems now." It's good to be through all of the checkpoints and into Tajikistan.
Our Local Guide gives us some history. On Sept. 9th 1991, Tajikistan declared its independence. More than 150 countries have recognized Tajikistan as an independent nation. Tajikistan is 93 percent mountains. The population is more than 6 million of which half are farmers. As for the economy, Italians have invested money to mine and process marble. Americans have also invested in Tajikistan. However he fails to give any specifics. I wonder if he is just trying to make us feel good. There is an agricultural crisis due to a lack of machines. People create their own businesses by bringing into town what they have and selling it for what they need. There are no official statistics on unemployment however the guide estimates that is 40 percent.
In 1929, Tajikistan was cut off from Uzbekistan by the Soviets. It is generally believed that Bukhara and Samarkand should have been part of Tajikistan. Tajikistan lost most of its culture, when these cultural treasure chests were placed in Uzbekistan and Tajikistan was decreed a separate republic. With its independence, Tajikistan has attempted to revive the earlier culture that it shared with Bukhara and Samarkand. Tajikistan is the poorest of the five Stans, with the lowest education level. Most of the population of true Tajik ancestry prefers to be nomads.
Our first stop is the Rudaki Museum of History and Regional Studies. Upon entering the building, there is table, which serves as the gift shop. People from our tour walk over to the table and the staff shows us the goods. It turned into a shopping frenzy. I usually purchase a pair of earrings in each new country we visit. I have not been able to find any so far on this trip. I am excited when I see some on the table. I decide which pair I want to purchase and ask the price. Sveta hears what I'm told and says that is way too much. She tells me to pay less. I do so and am surprised she has this authority.
Finally the group is done buying souvenirs and we enter the museum proper. The first room contains stuffed animals. Then we visit several rooms on history starting with early civilization. Some captions are in English. There are arrowheads, stone items, pottery, jewelry, frescoes and copies of scriptures. Some of the latter are in the Tajik language and others in Arabic. Some of the items on display come from the excavation of the ancient city Penjikent. However our Guide informs us that most of the major Penjikent artifacts have been taken to Tajikistan's capital, Dushanbe.
We see displays of conquerors and their clothing. There is a display on Soviet times. The current Tajikistan independence is also represented. Throughout the visit to the museum, I am on my feet for a longtime and become tired. There is a single chair in one of the rooms and I sit in it. When our group moves, I get up and move with them. After that, a woman museum staff member accompanying our group offers me a chair wherever we go. Even when I decline, she attempts to insist. I try to explain that I want to be able to move around so I can see the exhibits. The language difference obviously creates a barrier and she does not understand me.
The final room highlights Abu Abdullah Rudaki, the poet whose life began in the late the 9th century. He was a Samanid Court Poet and is considered to be the founder of Tajik and Persian poetry. Our Lonely Planet Guidebook says that Rudaki's reputation is comparable to Shakespeare, in our culture. The museum is named after Rudaki because Penjikent claims to be his birthplace.
On the way out of the museum, a group of children greet us outside. At first they back away from Steve and me, not knowing what to make of the wheelchair. However when we say hello to them, they say hello back. The boys walk us to the bus and a few do hand stands along the way. I asked Sveta why they are not in school. Sveta says that their age, which looks to me to be between six and eight, they only have a half-day of school.
Our next stop is the ancient town of Penjikent. It is approximately one-half kilometer outside of the modern town, located on a high Valley Terrace alongside the Zeravshan River. The ancient town was a major Sogdian town founded in the fifth century. The town was abandoned when the Arabs came to this area in the 18th-century. The archeological excavation began 50 years ago. When we arrive at the site, all I see is a steep staircase and path. Steve and I decide this is a site that I should skip. When fellow tour members return to the bus, most agree that this was not a well-defined ruin.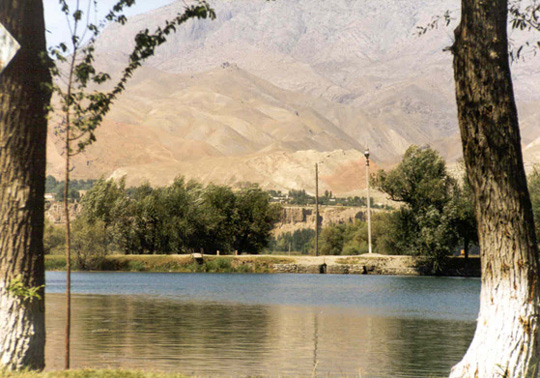 Park Outside of Penjikent
Lunch is next. We ride to a park, passing beautiful mountains along the way. This region of Tajikistan, known as Palmiri, is famous for its scenery. I see why. The park itself is peaceful and beautiful with a lake running through it. It looks as if it was part of an estate, with a statue sitting on top of stonewalls. There are animals grazing in the fields. Lunch is nothing to write home about, it is the same nondescript food that we have been having for the last few days. As he hears some of us complaining, Frank, a fellow tourist, remarks "You know why that is? They don't have variety in their food."
Steve and I finish lunch quickly and walk around grounds. As we near the area where we left our group, there is a group of baby ducks mingling with our tour group. They are begging for food and they are successful. So ends our time in Tajikistan. At the beginning of our day, I wasn't sure what to expect, however I found this to be a very nice and interesting day. There is an interesting fashion among the women of Tajikistan that we have not seen anywhere else. They wear makeup on their eyebrows, which extends from the far end of one eyebrow to the far and of the other. This makes it appear as if they have one continuous eyebrow.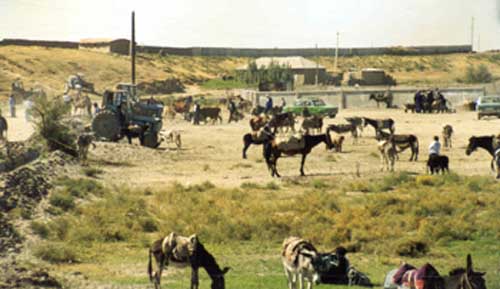 Bash Cashme Bazaar Parking
On our way back to Uzbekistan, we pass the Bash Chashme bazaar. The difference between this bazaar and those we've seen previously, is that it exists outside of any cities, in the fields. There is a parking lot, but we only see one or two cars. Most of the parking lot is filled with grazing donkeys. There are also a few tractors and we see a motorcycle ride by. The shoppers are men, boys and old women. I think to myself, what a different culture.
We go back through the checkpoints between Tajikistan and Uzbekistan with ease. The friendly Official from this morning remembers us. He repeats the same phrase, "no drugs, no weapons?" Sveta jokes "yes, we have them." Luckily, he laughs.
We are happy to be back in Samarkand. Upon returning to our hotel, the MIR representative returns all of our US money and credit cards. We are exhausted. So we nap and skip dinner. We have a snack and then go down to the Martin's room for drinks. Tonight Sharon and Sonny tell us a story about what may just be our next exotic trip. They spent a few weeks in the Indonesian Islands on the other side of Papa New Guinea. We laugh a lot.
Day Fifteen: September 11, Saturday
Saturday morning, we're back on the bus and leave the hotel by 9 AM. Today we travel to Bukhara via the town of Shakrisabze. We ride through the desert. There is an irrigation system, which is 2600 years old. This area grows grapes and cotton. Contrary to popular belief, grapes were not brought here by the Greeks.
Southwest, or to our left, of the road on which we ride, there are mountains. Bones of prehistoric man and animals have been found in the caves within these mountains. Most of the people in this part of Uzbekistan speak Tajik. Tajik people speak a Persian dialect, not Turkic, because the Turkic nomads never traveled to these mountains. We see "dry crops" and cattle. "Dry crops" are crops which require little water so they can be grown in the average desert during the summer.
In Uzbekistan, school is compulsory from the age of six for nine years. Students have the option of going to a school through 12th grade. Then they may go on to the University. They usually come back to their home Village as teachers, doctors or agricultural experts. They are given much respect. However 20% remain in the city. Family ties are still strong. The average family size is 12; but can go as high as 20.
There are two checkpoints between this Samarkand region and the Kashka-Darya region. We barely notice as we pass through each. Italians came to Uzbekistan to train the people in mining and cutting marble. There is a joint venture with Turkey to manufacture minibuses. We pass storage houses, which have grass roofs on top. In the very hot summer, men and their sons sleep on the roofs because they are cool and comfortable. We see people preparing the fields for the winter crops of grain. These will be planted in November and December and are harvested in June. It is too hot to grow grain in the summer.
As we ride, the land becomes more desert like, brown with little green. We pass sheep and goats, which travel in groups of approximately 5. The goats are good leaders, especially when it comes to finding water.
Our first stop is the birthplace of Tamerlane, Shakrisabze. We make a pit stop at the local hotel, where once again Sveta arranges for us to get a key to a private room. We are a bit surprised to see that this accommodation is much less comfortable than the last. We can't flush the toilet and when we report this they don't seem surprised. Apparently the water wasn't turned on in the room.
The town was originally called Kesh and renamed to Shakrisabze by Tamerlane. The name means green city. He built his grandest palace, Ak-Saray, here. We first visit a park where the only remaining piece of the palace, the palace gate, is located. The gate is 40 meters high. Although you can climb to the top; much of the structure is in ruins. We see several weddings here. No one seems to mind that we photograph the wedding parties. If a party member notices us setting up a shot, they pose so we can take their picture. It is still before lunchtime, yet it is very hot.
Tamerlane was born on April 9th, 1336 into the local aristocratic clan of Barlas. He is credited with building most of the town's great structures. The Emir of Bukhara, Abdulla KHAN II destroyed the town in the 16th century, as he was challenging the Shaybanid throne.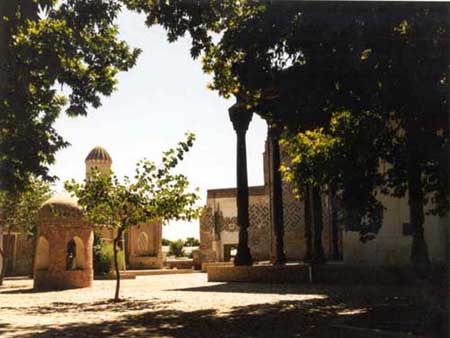 Courtyard of Kharzrati Imam Mosque
Our next stop is the Kok-Gumbaz mosque, built by Ulughbek in 1437 in honor of his father. The name means blue dome. From a distance the structure looks impressive. However up close, it is clear that the restoration quality which we saw in Samarkand, is not at the same level here. Then we go to the Mausoleums called Durut Tilyovat, or house of meditation. Tamerlane built the first, in which the spiritual tutor of Tamerlane's father is buried, in 1374. This is probably the tomb in which Tamerlane intended for himself to be buried. Tamerlane's father, Amir Taragay, may be buried here. It is very basic, damp and there are steep stairs going down. There is a large white crypt with Persian inscription, which has never been used. To the other side is Gumbazi Seyidan Mausoleum, finish by Ulughbek in 1438. Although it is not known with certainty, it is thought that Ulughbek's descendents are buried here. These buildings appear to be in somewhat better shape. I admire the tile. The inside crypts show their age, although they are still magnificent.
We visit the courtyard of Kharzrati Imam Mosque, built in the late 19th century. The mosque is named after an 8th century religious leader from Iraq. Our guide points out an 800 year old tree. The walls and ceilings that we see are unfinished. Men worship in the courtyard on Fridays. On Friday, women are not allowed in the courtyard. Women can visit the courtyard on any other day of the week.
We see many children today. They ask for pens. I make a mental note that next time I see pens for sale I will buy some. I find it encouraging that these children want to write. One child asked to push my wheelchair. Steve lets her.
We take a bus ride into the mountains, where we will have lunch. Part way up this steep road is a checkpoint. Lunch is in a nice restaurant on the mountainside. It is cooler in the mountains. We still have a four hour ride to Bukhara. Approximately half way, we see camels along the roadside. We are not sure if they're wild or are farm raised. About three-quarters of the way, we pass through the checkpoint into the Bukhara region. We also see an oil refinery.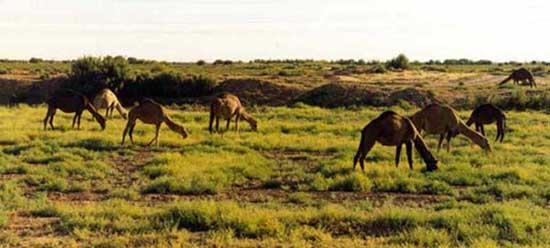 Grazing Camels Along Road
At last, we arrive at the hotel and receive our room assignments. The hotel is supposed to have a 5-star rating. It's massive and modern although the builders must have run out of money. There is much missing, the air-conditioning hardly works. The Martin's don't even have hot water in their room. With all of its problems, it's the best available.
We meet for dinner. Mr. Ego complains that there are two single beds in his room, not a double bed. I mention to his wife, about the Martin's hot water problem. She sends him up to make sure they have hot water, telling him to pay attention to the important things. Dinner is down many steps. We walk for awhile, go down a few steps and repeat the process. The walkway and steps are extremely poorly lit. Beatrix does not see a step and stumbles. Another tour member takes her arm and guides her down. I hang onto Steve for dear life. I won't bore you again with the details of dinner. The one saving feature, so we think, is the white melon.
Day Sixteen: September 12, Sunday
Today we explore Bukhara. Unfortunately, it is Steve's turn to be feeling under the weather. When we travel to third world countries, it's quite common for us to spend at least one day sick. Actually, if we are ill for only a day, we consider it a blessing. Lucky for me, just yesterday Sveta asked Steve to show her how to push my wheelchair. Steve insists I ask Sveta to help me on this day instead of staying with him in our room. She could not have been happier to do so. Sonny is also tremendously helpful. Almost everyone in our group helps me in some way on this day.
Bukhara is the second most famous city in Uzbekistan. While Samarkand is known for its bright blue and gold, Bukhara has mostly brown buildings. Unlike Samarkand, the heart of the old town of Bukhara is clustered together. This morning, after the bus drops us off, we will be walking.
When the Arabs arrived here in 709 A.D., Bukhara was already a prosperous trading center. The Arabs were able to convert the city to Islam. Citizens of Bukhara staged many revolts, so the Arabs left. In the ninth and tenth centuries, Bukhara was the Samanid state capital. As such it was Central Asia's religious and cultural heart. It nurtured several of Persia's greatest artists including Rudaki. In 1220, Genghis Khan conquered Bukhara. In 1370, Bukhara was made subservient to Tamerlane's Samarkand.
Again Bukhara rose to greatness in the 16th century when Uzbek Shaybanids made the city the capital of Bukhara Khanate. Putting this in perspective, today the area that was the Bukhara Khanate consists of most of what we know as the Stans as well as parts of Iran and Afghanistan. This is the period during which most of the Old Town was built. As the Silk Road declined, so did Bukhara. In 1753 the local deputy, Muhammad Rahim, proclaimed himself Emir. He started the Manghit Dynasty, which ruled until the Bolsheviks came. During this time Bukhara was a decadent, feudal city-state that fought with two other similar cities, Khiva and Kokand. The worst of Bukhara's Emir's was called "the butcher". He achieved his status by killing off his brothers and many other relatives. To the Western world, he is most famous for killing two British Officers during The Great Game.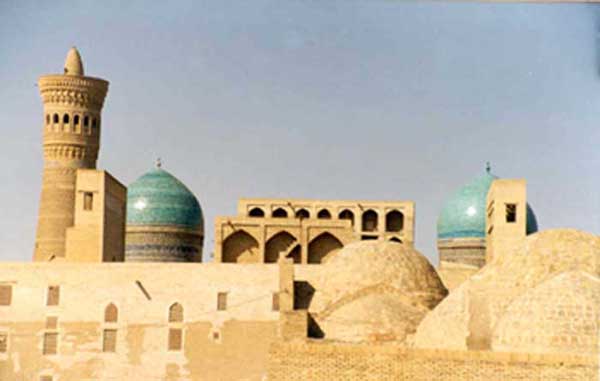 Old Town of Bukhara ­ the Square is Left, the Bazaar on Right
Until the 20th century, Bukhara was also famous for many plagues. In the 19th century, the average person died by age 32. Bukhara had a network of canals and 200 hauz or stone pools. Its citizens gathered here for drink, to wash and gossip. The water was rarely changed so disease ran rampant. The Soviets made great improvements when they modernized the water system and drained the pools.
As we get off the bus, a group of children surround us. They have made eye glass cases and other goods. I show some interest in an eye glass case so they surround me. Yesterday Steve had said that he would like an eye glass case. I purchase one to bring back to him today.
Our Local Guide tells us that there are 997 monuments in the city. Our first stop is the square in which the Kalan minaret is the most imposing figure. When built in 1127, it was Central Asia's tallest building at 43 yards. In 850 years, it has never required any but cosmetic repairs. Genghis Khan was so awed by it, that he ordered it not to be destroyed. It's been used as a beacon, a watchtower and, during the final Dynasty, a place from which to throw criminals. There is a legend, which tells of the origin of this building. Arshan Khan killed a holy man, or imam, after a quarrel. The imam appeared to Arshan Khan in his dream that night. The Imam said "you have killed me; now oblige me by laying my head on a spot where nobody can tread". The tower was built over his head.
Our Guide explains that we're standing in the middle of a working medressa, Mir-i-Arab. It has beautiful blue domes which standout against the light brown buildings. This is also a famous structure. It opened in the 16th century and operated until 1921, when the Communists shut it down. Stalin reopened it in 1944, to try to gain support for the war effort. During most of the communist regime, it was Central Asia's only operating medressa. Also, in this square is the Kalan Mosque. During Soviet times it was used as a warehouse. It was reopened in 1991. The Kalan minaret, or tower, stands tall in the middle of this square. I am very impressed by the tower and its surroundings.
Next we walk a short distance to a covered bazaar. This was built in the 16th century and is actually three bazaars. One bazaar, Taqi-Sarrafon, was originally a place for moneychangers to do business. Taqi-Telpak Furushon bazaar was constructed for cap makers. The third bazaar, Taqi-Zargaron, was for jewelers. Today they all sell typical local crafts such as rugs, scarves and jewelry. There are four doors and many domes. Our Local Guide says it was built this way to provide a natural air-conditioning. We stop in a shop that produces silk. We have tea and two women show us their looms and give us a demonstration of how they weave silk.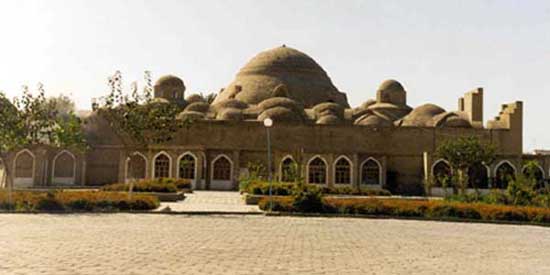 Covered Bazaar
As we are getting ready to leave the bazaar, a man approaches me and hands me a piece of fabric with a design on it. I tried to give it back to him. Sveta says, "it's a gift. His daughter made it." I am very impressed that he is giving me something and I thank him for it. The object itself is nice, obviously handmade. It is quite special to me.
We go to city center where we see Central Asia's oldest medressa, Kukeldash. Abdullah II built it. It opened in 1417. At that time it was the largest Islamic school in Central Asia. We also stop at Maghoki-Attar Mosque. The name means "pit of the herbalists". It was built in the 12th century. During the next four centuries, Bukhara's Jewish population used the Mosque as their synagogue in the evenings. The Jewish section is to one side of the Mosque. Its population was 60,000. Now it's down to 1000. Most Jewish people have emigrated to the United States, Israel and Austria. This has been a big part of the "brain drain". Many of the people that left were doctors and lawyers. Those remaining still continue to leave because their children left years ago, when they were approximately 45 years of age. Now the parents have reached their seventies and they want to be with their children. There is also a fear of wars in Tajikistan and Afghanistan spilling over into the region.
On the way to lunch, Sharon meets the two young Polish men who she had made friends with a few days ago. They tell her that they have hot water in their accommodations. Lunch is a nondescript meal, similar to all the others that we been served since we arrived in this area.
After lunch, we go to the last Emir's Summer Palace, named Palace of Moon like Stars or Sitorai Mkhai Hosa. On the way in to the palace, we pass a wedding party coming out. Mr. Intruder, one of our fellow tour mates pulls an incredible stunt. (This is a perfect example of the reason we call him Mr. Intruder.) He asks the wedding party to stop so he can get his picture taken with them. The rest of our group yells at him, "... It's not your wedding! Get away from them."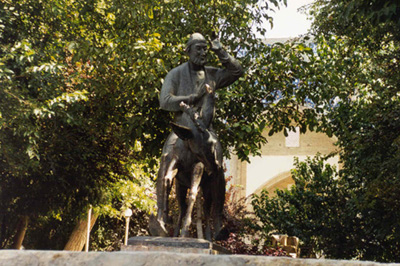 Grounds of the Last Emir's
Summer Palace
We walk through three courtyards. The first was used for making crafts. In the second, meetings often took place. The third housed the Emir's harem. We go inside several buildings. When we come outside of one, we see a tower-like structure from which the Emir made speeches. There are silk scarves strung from one side to the other. Of course, someone is trying to sell them to us. The palace is picturesque however I would enjoy it much more if the heat weren't getting to me. When we're done with the palace tour, we all tell Sveta and our local guide that we are tired. We return to the hotel somewhat early because the heat is bothering the entire group.
Steve is feeling well enough to come to dinner. Tonight MIR treats us again with a guest. This man is an archeologist doing restoration work sponsored by UNESCO. There are only two such projects in Uzbekistan this year, 1999. Besides the UNESCO money, a special fund was started. No American funds have been donated. France and Japan have given money.
According to the archeologist, Bukhara is 2005 years old. Marco Polo was here. His trade papers are in the city archives. Genghis Khan destroyed 90 percent of Bukhara. He had 10,000 men with him. The Uzbeks gave in because they are not a fighting people. Genghis Khan built one room with spring water.
The Restorers know how the buildings looked because they study old drawings from the archives. The process employed restores the buildings as they were in ancient times. A doctor of medicine invented the technique in Bukhara, in the 18th-century. They try to use the same bricks. When they need to make more, they bring clay in from Tajikistan. The original materials to build walls were brought from Tajikistan. If they had used local materials, the walls would have washed away because there is alot of sand in the local earth. There is no guarantee that the restoration will last. However, our guest jokes that we can check it out in 400 years.
A symbol which we have seen, the open palm, is an emblem of a sacred place. Alexander the Great said, "When I am alive, I keep my things in my fist. When I am dead, I need nothing. My palm is open."
The Archeologist's next job will be to restore the swimming pool in the city of Bukhara. His most interesting project was working on the minaret. This was initiated by the special order of the president.
This was truly an interesting evening. It gives me a perspective on so much of what we've been seeing.
Day Seventeen: September 13, Monday
Today is our second day touring Bukhara. Steve is feeling better and he is with the group. Our first stop is the Ark Citadel. The Ark is located in Bukhara's Registran square. The Ark is four and a half hectares and 20 meters high (almost 2 acres and approximately 18.25 yards high). It is a walled city within the city of Bukhara and is its oldest structure. Some of it is 2000 years old. First occupied during the 5th century, it remained occupied until 1920, when the Red Army bombed it.
Entrance to the Ark
We enter by a back entrance and climb to the top floor. We visit some of the living quarters of the Emir's kushbegi. This position is similar to a Prime Minister. We also see the Reception and Coronation Court. The final coronation to take place here was that of Alim Khan in 1910. At the end of its use, much of the Ark was in such disrepair that the last two Emir's residence was at the Summer Palace. The roof of this area caved in during the 1920 bombing.
Today there are restoration workers on the top of the Ark. It is interesting to see them especially after last night's dinner guest. Some parts of this site are quite picturesque while others are very much rundown and in need of restoration. As usual vendors are selling their wares and I finally find a pair of earrings to buy. From the top we have a nice view of the other parts of Bukhara.
We leave the Ark by the front entrance but first we pass the Juma Mosque, circa 17th century. The front entrance has been restored and is quite impressive. The main entrance is a steep cobbled ramp, which begins with a stone path. It was not easy for Steve to push or for me to ride in the wheelchair. In front of the fortress is the Registran, which was often used for executions. This is where Stoddard and Connolly, two diplomats from Great Britain, were executed.
Back on the bus, our Local Guide talks a bit about the culture. The main purpose of the turbine is respect. Most Bukhara houses are decorated with plaster. The homes of rich people are decorated with tile. Our next stop is the Bolo-hauz Mosque and minaret. Built-in 1718, it was the Emir's place of worship. The porch to the Mosque is quite ornate, decorated by 20 columns of Walnut, Elm and Poplar. The porch and minaret were additions in 1917. The Mosque is closed to the public.
Next we ride to Samani Park where we visit the Ismail Samani mausoleum, Bukhara's oldest monument. It was completed in 905. The founder of the Samanid dynasty, Ismail Samani, his father and grandson are buried here. It is a small but ornate structure. Lonely Planet says that the outside is delicate baked terra-cotta brickwork, which is layered on top of walls almost two meters thick. The bricks were the style of art before majolica tiles. Genghis Khan did not destroy it because it was partly buried by the dust accumulated through its years.
Our Local Guide tells us that there is a local belief that if one walks around the mausoleum three times he will no longer have any problems. Several people in our group, including Steve, descend the staircase leading to the mausoleum and walk the three cycles around the building. While they're down there I visit the craftsman working at the top the stairs. He is chiseling a brass plate. We've seen so many of these plates that I find it quite interesting to watch him.
(In case you're wondering whether Steve got rid of all his problems after he walked around the mausoleum, he reports no.)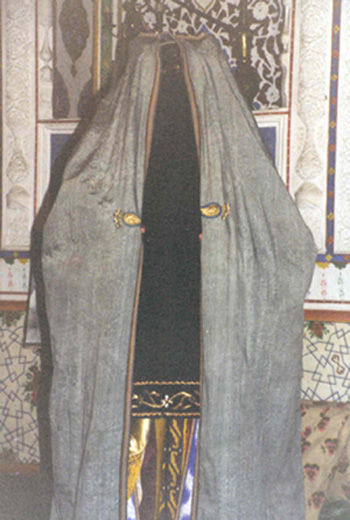 Traditional Dress of Muslim Women:
19th Century
Next we attend a fashion show. It is in the home of Uzbekistan's first President, Fayzulla Khujayev. He is known for plotting with the Bolsheviks to dump the last Emir. In return he was rewarded with the presidency. In 1937, he was exiled to Siberia by Stalin and then killed. A wealthy merchant, Ubaiddullah, who was the president's father, built the house in 1891. It is not known how this home, along with several others, survived the Bolshevik fury during the 1920s. One theory is that buildings such as this were camouflaged with layers of mud. According to our guidebook, it is more likely that Uzbeks Communist officials still in touch with their traditions protected them. The owners bribed the officials. During Soviet times, the house was a Marxist school and then a museum to Khujayev. Since 1994, museum employees have lived here. The fees from tours, such as ours, fund the restoration and upkeep of this museum.
We are served tea before this event. This is a fashion show that makes a lasting impression on many of us. It is a demonstration of traditional Muslim woman dress, which was worn in this area during the last century. I didn't count, but looking back I estimate that the model put on seven layers of garments. Six layers were worn in the home whenever males other than her family were present. Whenever a woman went out in public, she put on two more coverings. The first is a dark veil made from horsehair. Finally she is draped with a gray cape like garment which sits on her head and drapes to the floor. Females began to wear this type of clothing at the age of 12. I call this cruel and inhuman punishment, especially in Central Asian climate.
In this part of the Central Asian Muslim world, this way of dressing ended approximately a century ago. It is still the way of dress in some fundamentalist countries. What's even more offensive is that the woman modeling the clothing, who was in her early 20s, and her mother who was layering the garments on her, both say that they would like to see this type of dress worn again in their country. It was my gut feeling that this is the mother's opinion. The daughter agrees because she knows no better and was not raised to think for herself. Someone from our group asks, "then why don't you wear it?" They answer that they wouldn't want to stand out.
Our guide adds that if women began to wear this occasionally, it's likely they would be forced to wear this always. Should this happen, the next step will be that they are forced to give up their daytime jobs and made to stay at home full-time.
Next our Presenters ask for a volunteer to come up and model the males clothing. Not surprisingly, Mr. Intruder volunteers. The garment is a robe similar to the fourth layer of the female clothing. He wears a turban on his head. When a turban's end is down, it means "don't bother him, he's going to pray". If it's up he's not praying. The Presenters tell us that women could not put on a turban.
Finally, they presented the most horrifying item. They showed us their baby cradle. In this cradle, a baby is placed laying on his or her back and tied to the frame. A pipe is attached to the genitals. When the baby wets, the urine flows through to a pot below the cradle. Central Asians claim that this keeps the baby dry and prevents one from catching colds. The baby is kept in this way for one year to a year and a half.
Currently some families use this type of cradle only at night. In the past, it was used 24 hours each day. Doctors now advise that this is no good for the baby. There is a big debate between women who want to keep this tradition and women who don't. A cradle is passed down from one generation to the next. Our Local Guide tells us that she grew up in Samarkand and married a man from Bukhara. When she had her child her mother-in-law insisted she use the family cradle. She refused and moved back to Samarkand, leaving her husband in Bukhara. After a month, her husband came to Samarkand and asked her to return to their home. He agreed to her terms that the cradle would not be used. Our group gave her around of applause.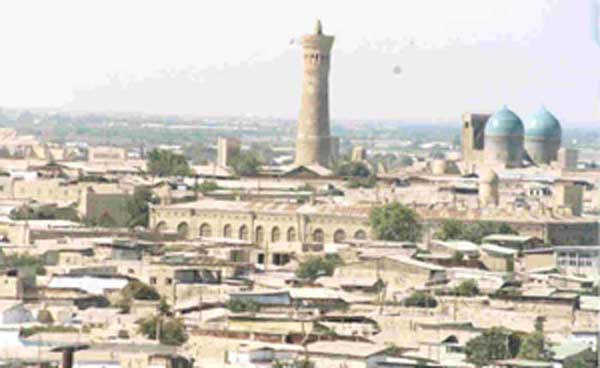 Bukhara Overview
For lunch we return to a modern part of town. This was a relief after the last stop. I thank God that I was born in America. We rest this afternoon, and then I decide to skip dinner.
Dinner is at the Gau-Kushon medressa in the Old Town. It included a period costume show and dance performance by local artists. One reason that I had decided to skip dinner was that these types of shows are often not very authentic but are trite. When Steve returns he says that this one was quite good, not touristy.
To end our day, we visit our friends, the Martins. Their room is on one of the top floors of our hotel. As we walk to their room, we look out the hallway windows. I'm sure you won't be surprised that we have our cameras with us. When we find a nice view, we use this opportunity photograph the roofs of Bukhara.
Some information about the accessibility of Central Asian Hotels
Prior to Samarkand:
Each had steps at the entrance. Some had ramps but they were very steep. All had elevators but they were small, a tight fit for me in the wheelchair and Steve.
Samarkand:
Steps into it but also a decent ramp. Our first lunch was downstairs with the elevator in a locked part of the building. Otherwise everything I needed to reach was on the first floor where there were no stairs. The hotel had a good-size elevator.
Bukhara:
Flat entrance. There were no stairs between our room and the entrance. To reach every other facility, there were at least several stairs. Breakfast was in the hotel restaurant. It was a buffet with stairs leading up to the food tables then down to the tables where we ate. A good portion of the lobby, where the chairs were, was recessed.
Urgench:
Steep ramp at the entrance. There are no stairs to our room. Flight of stairs up to the restaurant. Bugs in Uzbek beer. May have been bedbugs, we didn't see any but many of us were itchy the next day.
Ashkabad:
Sheraton -- The Entrance had stairs, no ramp way up. The elevator was small and the doors closed too quickly. I got stuck in the door twice; my arms were quite sore.
Day Eighteen: September 14, Tuesday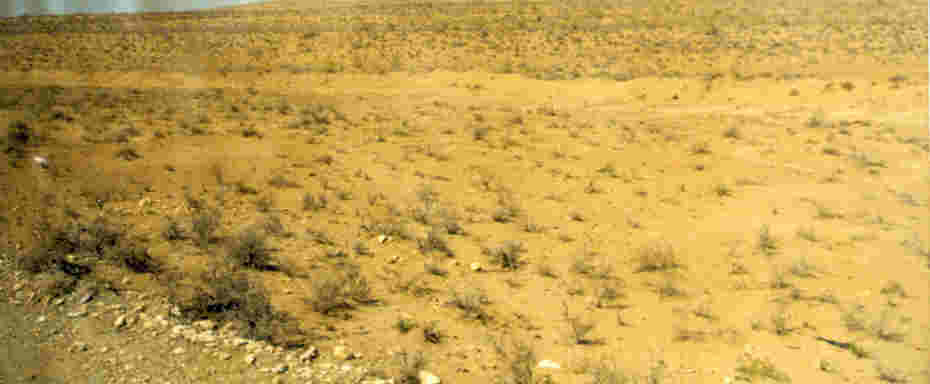 Red Dessert - Our View from the Bus
Today we spend all day on the road. We leave Bukhara at 8:45 a.m. Within an hour, we reach the Red Desert. We pass through at least two checkpoints. At first, Sveta does not allow the staff member to come on the bus because he wasn't wearing a uniform. He had on casual civilian clothes. Alex, our driver, gets off the bus and meets with him. It is quite a few minutes before he returns. We have a bag lunch at a lake. It is four more hours before we reach our destination. The scenery gets boring fairly quickly. Steve and I pass the time reading, napping and talking to fellow tour members.
We reach a very basic hotel. The hotel is outside of Khiva, which is the city we will see tomorrow. It appears to be comfortable. There is one faucet in the bathroom. It is shared between the tub/shower and sink. The other couples in our group have their rooms upstairs. Dinner is upstairs in the hotel restaurant. It is the meal we've been having for the past week. Sonny purchases an Uzbek beer in which he later finds bugs. "That's it for local beers!!", he unambiguously proclaims. As much as we like to try local food and drink, I can't say that I disagree with him!
Our Driver's wife joins him for dinner. They sit at a table not too far from our group and it appears that he is showing us off to his wife in a very friendly way. I haven't said much about him, but this seems like a good time to do so. Steve and I are very pleased with his kindness and friendly manner. He has been very helpful to Steve and me in handling the wheelchair. He also impresses us. In his spare time, while waiting around the bus for us, he studies English.
After dinner, the Martins and Sveta join us in our room for a nightcap. It is a pleasant way to end this mundane day.
Day Nineteen: September 15, Wednesday
Today we tour Khiva. The name Khiva means "haven water". At its height, two thousand people lived within its walls. The medressa are no longer functioning. They have been turned into museums and shops. Today this is a museum city. It was renowned for its slave trade and barbaric cruelty. Historically, it was the end of harsh journeys across the deserts occupied by wild tribes.
Khiva is between 2000 and 4000 years old. Legend has it that Shem, son of Noah, discovered a well here and the town was born in Khorezm. Khorezm was a large, fertile delta in the middle of a huge desert. For most of Khorezm's existence, Khiva was a major city. In the 8th-century, Khiva was a fort and trading post on the branch of the Silk Road between the Caspian Sea and the Volga. Between the 10th and 14th centuries, the Khorezm capital moved elsewhere and Khiva's importance diminished. In the early 16th century, a branch of the Uzbek Shaybanids founded a state in Khorezm, independent of the powerful branch in Bukhara. Khiva became their capital. For three centuries, the city ran a busy slave market. Nearby Turkman tribes of the desert and Kazak tribes from the steppes captured people who lived or traveled nearby.
Khiva requested assistance with controlling the tribes, from Peter the Great of Russia. In return the city would become Russian subjects. Peter the Great took his time in responding but eventually sent troops led by Prince Bekovich. By this time, the Khan was no longer interested in the arrangement. When he greeted the troops, the Khan suggested they make themselves comfortable among some outside villages. He proceeded to kill most of them, saving just enough men to get the message back to Peter the Great. He sent the Prince's head to his Central Asian enemy, the Emir of Bukhara. He put the rest of the Prince on display in Khiva.
In 1740, Nadir Shah of Persia destroyed Khiva. Khorezm spent the next 60 years as part of the Persian Empire. After rebuilding, it became part of the growing trade between Russia and Central Asia. Its slave market was still the biggest in Central Asia. Captured Russians were taken into slavery.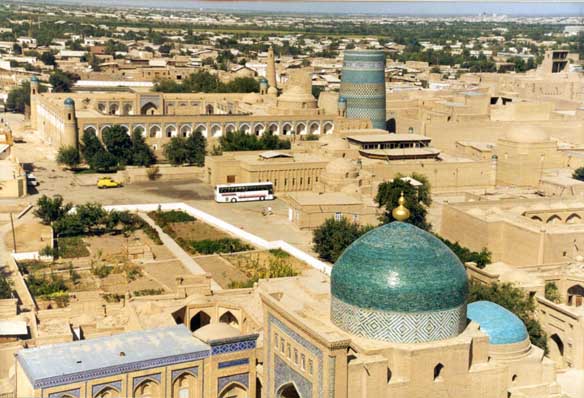 Khiva from Top of Juma Minaret
The 19th-century was the era of the Great Game. Several Russian expeditions set out to free Russian slaves. Each turned back well before reaching Khiva. In July of 1840, an Englishman, Lt.. Richman Shakespear arrived in Khiva. Shakespear persuaded Khan Alloquli to release all Russian slaves and provide an escort to a fort in today's Kazakstan. He delivered over 400 freed slaves and obtained the release of 600 people from Khiva. In 1873, Russia finally sent a sufficient, successful expedition to Khiva. The Russians conquered Khiva with ease. The Khan's silver throne was sent to Russia. Russia set up a garrison nearby while Khiva was not allowed to maintain armed forces of any kind. In 1920, the Bolsheviks establish the Khorezm People's Republica. Along with a similar Republic in Bukhara, it was intended to be independent of the USSR. In 1924, the Republics' leaders turned away from communism toward Pan-Turkism. After this action, both Republics were made part of the newly reformed Uzbek S. S. R.
Of all places revisited during this trip, today I feel the most like "we were there". Perhaps it is being in the walled city with no modern buildings in between the ancient ones. We enter at the Westgate and work our way towards the Eastgate. One of our first sights is the Kalta Minor minaret, built in the 1850s. It is turquoise tile and quite wide for its height. The reason it's this uncharacteristic space, is that it was supposed to be the base for a much taller minaret. No one knows why its construction was halted. It stands out among the light brown buildings. Close by we visit the Kukhna Arc, the Khan's fortress and residence. Built in the 12th century and expanded during the 17th century, it included his harem, mint, stables, arsenal, barracks, Mosque and jail. The jail or Zindon contains a display of weapons and chains.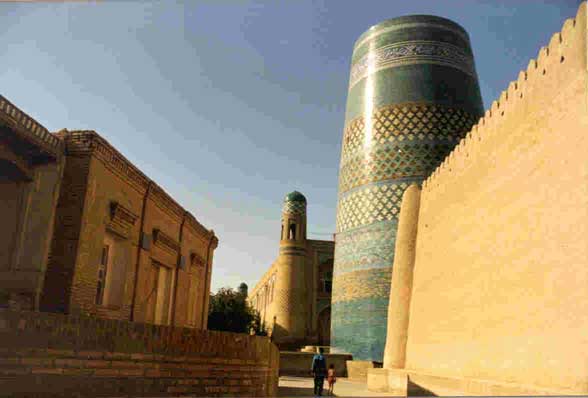 Kalta Minor Minaret
For the most part, the roads are cobblestone within the walled city. Pushing and riding in the wheelchair is not comfortable. We meet a few children who are friendly and helpful. They want to help push the wheelchair. Steve lets them try pushing one side. One young boy motions to have his picture taken with us so we find one of our fellow tour members to take the photograph.
I receive a good number of stares. A wheelchair in the old city must be quite odd. We visit a museum, which is inside the Matpana Bay medressa. It has displays on nature, history, religion and the medressa when it was operational. However, we are taken through the rooms rapidly and I feel like I don't see much. When we get out, Steve and Eric decide to climb the Juma Minaret, the tallest in Khiva. I send my camera up with him. We spend much time walking through the streets. Along the way, we see a camel tied outside building.
We visit the Juma Mosque, which is famous for its 218 wooden columns between the floor and the roof. It is supposed to resemble a forest. Our Local Guide points out one column which is an original, from the tenth century. We visit some shops.
The group goes into the Sayid Alauddin mausoleum. I remain outside because it looks like there are many stairs.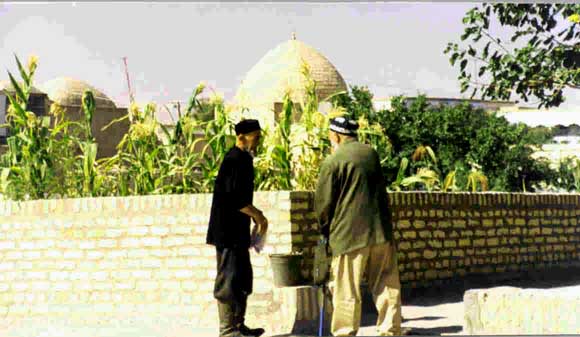 Friends Meet Outside Sayid Alauddin Mausoleum
We visit the Tosh-Khouli Palace, built between 1832 and 1841. There are more than 150 rooms around nine courtyards. The harem contains two floors around the Courtyard. The first floor is enclosed, and the second is open. The former was used in the winter and the latter in the summer. Much of the palace is used today as a bazaar. Our Local Guide is pushing our group to move quickly. Some of our group pauses to look at some crafts. The Local Guide doesn't notice and soon our group is divided into two. We are among the second half. The first half has taken off and we cannot find them. After a few minutes, a few people attempt to look for the other half of our group. Tempers get a bit annoyed when none of us can find a sign of the first group. Eventually we do meet up with them, but our opinion of our Local Guide turns a bit negative. Someone remarks that she is like a drill sergeant.
We lunch at a Khiva bed and breakfast. It hardly resembles the bed and breakfast inns that I know. It is more like a large commercial restaurant. Tonight we have our final dinner in Uzbekistan. It is supposed to be our last experience of Uzbek hospitality, in a local home. During the afternoon, Sveta confirms our dinner plans with the host.
We are very surprised that when we arrive, the host is out for the night. We are told he is at a wedding. His wife, son, and other family members are home. Some of them appear to be relaxing in their underwear. The house is grand and we have a decent dinner. The son spends some time talking with us. His father is a university professor. It appears that he was important in the area Communist Party. The son is studying language and tourism at the university. The house is large, having at least 10 rooms. There seems to be many family members living in this dwelling. It's disappointing that we never meet the head of the house or interact with more residents of the house.
We return to our hotel. Tonight, we host our nightly get-together. Sveta talks about what it was like living under communist rule. They were told that American people were depraved. Russians had a better life. When one wanted to travel, she was required to have at least two interviews before her journey. A KGB member always traveled with the group but no group member knew which group member was from the KGB.
Sveta still must be interviewed before she leaves Russia. She doesn't expect any problem in obtaining a six-month visa to the United States later this year. Her credentials are good. She is an aerobics instructor and is leaving behind a daughter, husband and parents who live in her apartment. She questions why the United States is hesitant to allow Russians to migrate to our country.
Day Twenty: September 16, Thursday
Today we travel to our last country, Turkmenistan. After an hour and a half ride, we cross the border. Leaving Uzbekistan goes smoothly. When we first arrive at the Turkmenistan side, it looks like this will be an easy entry. However the Officials decide they want us to get off the bus. There is a mistake on our visas. The town name of the border crossing is not listed. All of the other places we are visiting while in Turkmenistan are listed. The Officials want to fine us each $20. Our MIR representative negotiates, or more likely he bribes the Officials. The fine is not levied. We are only told that this event once we are safely on the bus within Turkmenistan.
We realize how lucky we are to be traveling with MIR. Several days ago, Sharon told the following story. Four Americans had booked a Central Asian tour through four different companies. They were combined into one tour. Their escort had not arrived at the border crossing to meet them before their arrival. With no one to watch their treatment at the crossing, the officials were nasty. One Official emptied all of their bags into one pile and proceeded to search their belongings. Then he randomly threw the items back into the baggage. The four travelers had a real mess when they later had to sort out their belongings. Whenever one crosses from one country to another, the traveler must declare the amount of money s/he is carrying. One woman in this group did not count her money beforehand. The Officials took each person's money, and found that one woman had declared $280 less than she actually had. They confiscated that amount and fined her $500 more. Their escort finally arrived, but he was too late to fix any of this.
On the Turkmenistan side of the border, a new Local Guide joins us. She says she has a few announcements to make. There will be a change in our itinerary. Tomorrow we are scheduled to go on a city tour of Ashkabad and the following day we will fly to the ancient city of Merv. The change is because the airline no longer flies to Merv on the day we were originally scheduled to go there. Mr. Ego flies in to a temper tantrum, stating that this change is totally unsatisfactory. He and his wife have a second tour scheduled and they chose their passage to the next tour based on the printed schedule. He does not want to see Merv but does want to go on the city tour of Ashkabad. He rants and hollers for what seemed like 15 minutes. At one point, he accuses Sveta of being incompetent. He threatens to contact MIR with many complaints. The rest of our group is appalled.
Once past the border, we ride through cotton fields and sheep pastures. We travel through the town of Dashkhovuz. There are new buildings and monuments and we see our first billboards of the president. The northern part of the town is industrial. We cross a checkpoint where the Driver and our Local Guide get off the bus. We ride through some rice paddies. We pass through three more checkpoints on the way to our destination of Kunya Urgench.
The history of Kunya Urgench begins thousands of years ago, at that time it was called Old Urgench. In the 6th century B.C., the Persians made it a part of their empire. The Arabs introduced Islam during the 8th century A.D. In 995, its ruler Mamun united Khorezm. Old Urgench was made the original capital of the Khorezm kingdom, during the early 12th century. Shortly thereafter, Khorezmshah Muhammad II moved the capital to Samarkand. In 1216, Genghis Khan sent the leader of the empire, Muhammad, a collection of gifts, a trade-offer and a message that Genghis Khan regarded Muhammad highly. Several years later, 450 of Genghis Khan's merchants traveling through Muhammad's territory were massacred. When Genghis Khan sent for reparation, Muhammad killed and otherwise mistreated members of the envoy. Within two years Mongol armies attacked Muhammad's territory. The dam of the Great River, Amu-Darya, was smashed and the river flooded the city.
Eventually Old Urgench was rebuilt and became the capital. The capital grew into Central Asia's major trading city. It was large, and densely populated. New monumental buildings were built. By 1388, Tamerlane had attacked the city five times because he considered it a rival to Samarkand. The city was again demolished. It was partially rebuilt but abandoned when the Amu-Darya changed course during the 16 century. Today's Kunya Urgench is a result of a new canal being built in the 19th century.
Torebeg Khanym Mausoleum -
taken through bus window
We make a stop at some old buildings, which appear, to me, to be on the outskirts of the town. Our itinerary says that we will visit several great monuments. I assume that this is a prelude. Am I wrong! The bus parks on the outside of the parking lot to the first sight. We are not told what this site is and when I see that this parking lot looks very bumpy to cross, I decide to conserve my energy for what is to come. The parking lot attendants say we must pay three dollars each to photograph this site. Everyone is appalled so no one pays. Later, Steve and I agree that if we had known the historical significance of this site, we would have paid.
Steve goes to see the building. When he returns, he says it's amazing. The Torebeg Khanym mausoleum was built following Genghis Khan's destruction in the 14th century. It is a family tomb of the Sufi dynasty, which ruled Khorezm under the Golden Horde. Torebeg Khanym was the wife of Kutlug Temir, a member of this dynasty, and daughter of Khan Uzbek. Khan Uzbek was the leader of the Golden Horde credited with converting the Horde to Islam. He is a man to whom modern Uzbeks trace their origin. The building has geometric patterns of the calendar year, to signify humanities insignificance to time. The dome consists of 365 mosaic sections one for each day of the year. Below the dome, there are 24 pointed arches to symbolize the hours in a day. Twelve larger arches are below that. They signify the months of the year. Four large windows indicate the weeks of the month.
When the group returns, our Local Guide says she will lead our group down a dirt path to see some more monuments. Again the three dollar per person charge for photographs will be in effect. The walk is too far for me. The monuments are similar to what we we've already seen during the previous few weeks. I stay on the bus. While I'm waiting, a Turkmenistan family arrives with their baby. This distracts the caretakers and I snap a few photos. I also photograph the minaret in the distance, Kutlug Temir circa 1320s, which the group is visiting. The minaret is the only part of Old Urgench's main mosque, which remains today. It stands approximately 62 yards high and is Central Asia's highest minaret. It's just past a modern cemetery. I see several more families pass by. Their mode of transportation is a donkey pulled cart. This part of the country appears to be the economically poor.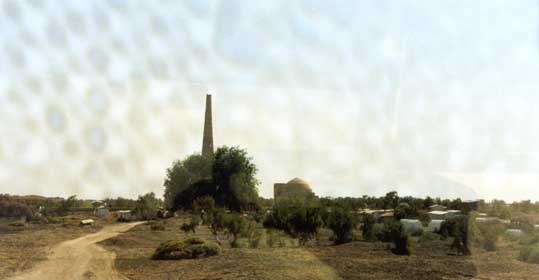 Kutlug Temir Minaret and Modern Cemetery
We return to the hotel in Kunya Urgench and have lunch in its restaurant. After lunch, we go to the local airport to catch our flight to Ashkabad, the capital of Turkmenistan. There are steps into the check-in desk and to the gate. Our group gathers around the check-in desk and our Local Guide goes to get our tickets. We watch a man with a large abacus walk to the gate and begin to check us in. I am amazed that they still use an abacus. The check-in process includes weighing our bags. The weights of the bags of our group are added together. It looks like we will need to pay a fine for being overweight. Sveta asks that he re-check his calculations. When he does this, we're actually under the limit. I guess the abacus is not such an accurate instrument.
Next we go to passport control and security. For a change, Steve and I are at the beginning of our group. There is a woman checking passports and tickets. She is turning away a considerable number of people. We get to security, as Steve and I are placing are things on the belt which will take them through the x-ray machine, an Official says that I don't need to put my camera through the machine. They don't search me. Perhaps this is because there are no women at this security station.
We go outside and get a decent place in relation to the gate. There is no early boarding. Our Guide, Sveta and others all hold the line back so I can get through the gate. Here and at Check-In and Passport Control, people are constantly trying to cut in front of anybody they can. We think we have assigned seats, our tickets show this. However, once on the plane, it's first come, first served. We board almost last. One man motions to us to get on before him. Steve pulls me up backwards because the stairs are quite steep. I slip back down one but not too hard. I put my hand out to steady myself and poke this helpful man in the stomach. He offers us help, and walks up just behind us so I can balance myself against him.
Once on the plane, the attendant sits me in the first available seat, indicating that seat assignment doesn't matter. My seat does not move fully upright so the person behind me is squashed. The people in front of me, Mr. Ego and Ms. Whiner from our tour, have kept the middle seat in their row empty. The stewardess requests that one of them move over and let another passenger sit there. They give the passenger a hard time so she leaves but is unable find another seat. She returns and Mr. Ego, who is sitting on the outside of the row, very grudgingly gets up and makes her take the middle seat.
There was no air-conditioning until after we took off. It's like a steam bath. This plane was sitting on the runway for who knows how long before we boarded. The flight is uneventful. We are given a cookie and non-alcoholic beverage. They also bring around a cart from which they're selling alcoholic drinks and chips.
On landing, there's a rush for the door. Someone makes announcement for everyone to sit down. The door is stuck. This happened because of the mass rush. We change seats with the person in our row that was sitting next to the window. He takes the seat on the aisle so when passengers are able to disembark, he can depart whenever he wants and not have to wait for us to leave the row. He has been very kind and helpful throughout the trip. When we first boarded, Steve was storing the wheelchair. I attempted to fasten my seat belt, but had trouble. He assisted me with the seat belt. As usual we waited until last to get off and I was able to step down with some assistance from Steve. As we have grown accustomed, there is no baggage handling. Our Local Guide collects our luggage and we board the bus. The bus is almost as nice as our Uzbekistan bus.
We ride to the hotel, with baited breath. During our stay at the last few hotels, which were quite uncomfortable, Sveta had been promising us a five-star hotel in Ashkabad. The bus pulls up to the hotel; it is an impressive Sheraton. As we enter, staff serves us juice. The elevator is small, and Steve goes up first with the wheelchair. When I start to enter the elevator, the doors close very rapidly and I get caught between them. I cannot push them open. Luckily someone from our tour is not too far behind and attempts to help. A hotel staff person sees us and he pries the doors open. My arms are quite sore.
Our room is comfortable. The air-conditioning works well and we even have two roles of toilet paper. What luxury! Our room is a double; it contains one double bed. I won't yet say that this is a five-star hotel, but it may be.
We have dinner at the hotel. Throughout this trip, Steve and I have always been the last ones to get to the table. Whatever seats are available, we're forced to take them. One night not too long ago, we had asked Sharon to save us seats. Someone wanted those seats, so he didn't have to sit near a certain someone else. He took them despite Sharon's protest. Tonight, as we gather for dinner, I talk to Sharon. I happen to be closest to the restaurant. I decide that I am going to get my choice of seats. Sharon and I enter the restaurant first. I see Mr. Ego try to push ahead of us. I position myself so he cannot pass us. The bastard cuts around other tables and almost knocks me down. Sharon and Steve are still besides me. By the time I get to the table, I think they're still there. However this rude man has worked his way in-between us. When I turn around to say something to Sharon, this person is standing there and says to me, "Mary, come on now, which seat do you want? Make up your mind."
Dinner tonight is different. We have salads with caviar, stuffed grape leaves and relishes, fresh bread, egg rolls and a variety of meats, peas, and carrots, rice and cakes. What a feast!
We meet the Martins and some other people from our tour in the bar for beer. We decide not to go to Merv tomorrow. After the last few stressful days, we need a day to rest.
Day Twenty-One: September 17, Friday
We sleep late but get up in time to go to breakfast. Breakfast is a nice buffet but nothing spectacular. For stomach ailments, we have been trying to get yogurt or bananas. None of these are on the buffet. We return to our room to take care of one of those mundane but necessary chores. We do some wash and a few other chores.
Once all of our chores are done, we head out to see the city of Ashkabad. Ashkabad is a newly built city. Throughout history, it has been a victim of frequent earthquakes. It's been rebuilt many times. Since it was part of the Silk Road, merchants passed through the city before entering the mountains, which led to Persia. In the first century B.C., Ashkabad experienced one of its earthquakes. It was rebuilt to support Silk Road travelers and grew to prosperity going by the name of Konjikala. In the 11th century the Seljjugs controlled the area. The Mongols seized it from the Seljjugs and destroyed it at the beginning of the 13th century. After its destruction Turkman tribes who never settled into towns or cities used the area.
In 1881, the Russians arrived and found a small village. They developed it into a regional center because it was located close to the border of British dominated Persia. By the end of the 19th century, there were a good number of European hotels and shops, an impressive train station and a bicycle club. The bicycle club was used to host grand balls for Russian officials. The majority of the population was Russian. The ethnic makeup of Ashkabad was then and is now mostly non-Turkman. On October 6, 1948, an earthquake hit the city with an intensity that registered nine on the Richter scale. Within a minute this beautiful city was leveled. Over 110,000 people died, two-thirds of the population. It was the time of Stalin, so this USSR member could not admit to such a disaster. The Communists closed the area to outsiders while bodies were recovered, the city cleared and the re-building began.
The country of Turkmenistan took the collapse of the Soviet Union in shock. Its economy was greatly underdeveloped and dependent upon Moscow's subsidies. President Saparmurad Niyazov was head of the Democratic Party of Turkmenistan. He was elected president in October 1992, capturing 99.5 percent of the vote. He named himself Turmenbashi, which means head of all Turkmen. He has said that he doesn't want to burden his people with democracy. Today's government is a dictatorship. The outside of almost every building in Ashkabad displays a large picture of him in a prominent place. At the end of 1999, he was given the term for life.

Bride With
Traditional
Headpiece
Even though it's the beginning of lunchtime, the sidewalks of Ashkabad are not very crowded. There are police on every block. At first we are concerned but they do not bother us. We become accustomed to them quickly. It takes us a few minutes to get our bearings. We want to go to the Center Park. The map in our guidebook is old and there has been so much building in Ashkabad since our guidebook was written. Its maps are little help. Within a few minutes we find our way.
When we get to the Park, we see a wedding party having their pictures taken. The bride is wearing a traditional headpiece. This is a heavy metal piece of jewelry in the shape of the cap with ornamental chains draping over her shoulders. When a Turkmen girl sees me trying to take pictures, she steps aside so my view is unobstructed. I smile at her in thanks. She seems to shy away. People are unquestionably more reserved here than we've seen elsewhere on our trip. They look at the wheelchair. Some offer help if it appears that we may need it. I say hello to some children, but they don't respond with the excitement we've seen in other countries.
We see almost no male female couples. Men are with other men and women are with other women or small children. We decide to cross the street by the Presidential Palace. However, police are stopping the traffic nearby. One Officer motions us to proceed one-way which is not the way we're going. We backup and wait. A few minutes later, police cars with their sirens on pass us. Two sedans follow them. Traffic returns to normal and we continue on our way, wondering whom we saw.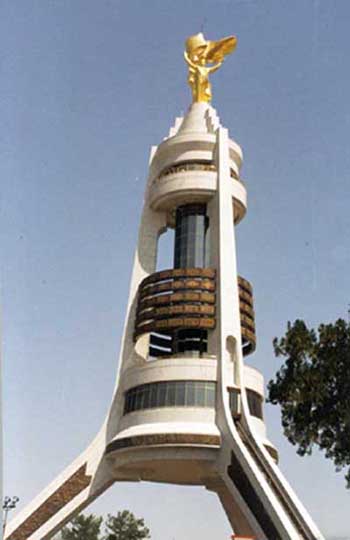 Arch of Neutrality
After taking many pictures, we go up to the tower. This tower is the centerpiece of the Park. It looks somewhat like the Eiffel Tower. It is white and brown with a gold statue on top. Can you guess whom the gold statue portrays? The tower is named "Arch of Neutrality". It celebrates Turkmenistan's acceptance into the United Nations as an independent nation. Nearby the tower we see a receptacle with a flame. It is called the Flame of Independence.
There are stairs to get to where we pay admission and take the elevator up. As Steve starts to help me with the stairs, two Police take my wheelchair up the stairs. We leave my wheelchair by the admission office. Admission is 1000 manna, approximately seven cents. We take the elevator up to the restaurant level. The two Policemen are following us. After we look around this level, they motion us on to another elevator. This one takes us to the observation deck on top of the building. The view is beautiful. One of the Policemen asks us, using good English, where we're from. When we say "America", he let's us know that he speaks English and was interested in immigrating to the United States. However his lack of finances prevented this. He asks about our trip and our impressions of Turkmenistan. We tell him that this city is beautiful. Because I am aware that men and women don't socialize in this country, I wander away and take more pictures. Steve continues to speak with the Policeman. I look at a mountain range south of the city. I find it amazing that just on the other side of these mountains is the country of Iran. When we leave the observation deck, the Police do not accompany us.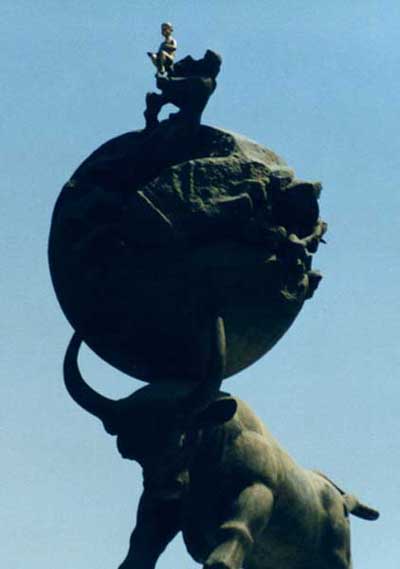 Earthquake Monument
As we're getting ready to leave the Park, we pass a monument to the earthquake. We say to ourselves, finally something without the president's picture. The monument is a bull with a round globe on top of it. On top of the globe is a woman pushing a gold baby to the top. It is suppose to represent a woman who gave her own life to push her baby out of the rubble of the 1948 earthquake. Later we find out that this baby is the president. That's the reason the baby is golden.
We are both astounded by all of the pictures and monuments of the president. You can't look anywhere and not see him. We see a building, which displays an older picture of Turkmenbashi. We photograph it. Afterward, a Policeman nicely tells us that photographs of this building are not allowed. Then he just walks away. We wonder what this building is, perhaps a government building. Later we learn that this is the headquarters of the Democratic Party of Turkmenistan, which is the former Communist Party.
On the way back to our hotel, we run into Sonny who is making a beer run. We start to go with him but the only way to cross the street is by underground. The street is not busy with cars so we try to cross above ground. A Policeman tells us we can't do that. We motion to the wheelchair and he tells us we have to walk to the end of this long block to cross at the crosswalk. We decide that Steve and Sonny will use the underground. They leave me sitting in the shade and I watch what's going on around me. Again I am amazed at how quiet this capital is, even though itís lunchtime and I'm sitting right in its center.
We find a ramp into the hotel. Sonny tells us about their plans for lunch. He, Sharon, Sveta and others from our group are meeting at poolside. Each person is bringing whatever he or she wants to eat. We join them and spend the afternoon at the pool, munching snacks, drinking beer and enjoying the company of friends. Mr. Ego and Ms. Whiner are sitting on the other side of the pool. They stop by and say something nasty about only four members of our tour group decided to take the trip to Merv. None of us encourage them to linger. Once they are gone, we talk about them.
Sveta mentions that the Local Guide who made the announcement, which had sent Mr. Ego into his temper tantrum, yesterday, was a new Local Guide. We all agreed that there was no excuse for Mr. Ego's behavior. At the beginning of our trip in the Fergana Valley, where there was no hot water in our rooms, the hotel had set up one room with hot water. To take a hot shower, each of us had to pick up the room key from the last person who used the shower. Peggy picked up the key from to Mr. Ego and Ms. Whiner. She had told us that when she knocked on their room door, Mr. Ego had answered the door naked. When Peggy told us this story, she asked us not to mention it to her husband Lonnie. As we are gossiping this afternoon, Peggy tells her story. Lonnie is with us and he counters that he had the same experience with Ms. Whiner. That sets us all wondering about the morals of this couple.
Steve and Sharon take a dip in the pool. When they get out of the pool, it only takes a minute for them to dry off, in this extreme heat. For dinner, the hotel will warm last night's leftovers, of which there were many.
After dinner, the Martins invite us back to their room. Sveta departs for the airport to pick up the people who went to Merv. When she rejoins us she reports that they all enjoyed it. Sveta mentions that she hasn't quite completed writing her report for yesterday. She is very concerned about the incident with Mr. Ego. She also wants to submit a list of events/sites on the tour categorizing them into "need to improve" and "well done". She asks us for our opinions on the latter. She will submit both items to MIR. Before we know it, it is midnight and we have to be ready to leave tomorrow at 8 AM. We all agree that it was nice to have a day to relax at such a comfortable hotel.
Day Twenty-Two: September 18, Saturday
His Picture is on Every Building
Today we go on the Ashkabad city tour. Our first stop is the newly built Abuq Ha Cede. It is a copy of Istanbul's blue mosque. Turkey provided the funding to build it. There is competition between Turkey and Middle Eastern countries for the loyalty of the Muslim nations of Central Asia. We're happy to see that Turkey is a viable competitor, as we believe it is less fundamentalist than the Middle Eastern countries. However, we have heard that Turkey is more fundamentalist than when we visited, several years ago. The Presidents of Turkmenistan and Turkey opened the mosque. It was going to be named after the President of Turkmenistan but he refused this honor stating that there are more sacred people then he. This seems out of character, since we see his picture everywhere we look.
Next we go to the Lenin monument. Its foundation was laid on the date of Lenin's funeral in 1924. The financing came from voluntary deductions from citizen 's paychecks. It is one of the few structures that was not destroyed in the 1948 earthquake. It's also the only Lenin monument of more than 50 within Ashkabad to have survived the fall of communism.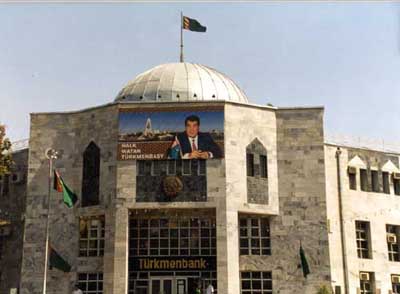 You Can't Miss Him
The bus takes us to the city center. Since Steve and I were here yesterday, I decide to stay on the bus. Steve learns that the building we were not supposed to photograph is the Democratic Party building. The statue on top of the Arch of Neutrality rotates once every 24 hours. In the morning, it faces the rising sun in the East. At noon it faces South. In the afternoon and into the evening, it turns towards the West. It ends the day facing the North. The president is standing in front of a flag. The entire statue is plated with six kilograms of gold.
We ride to the Russian food market. Steve and I would like to purchase some bananas but those in the market appear to be overly ripe. We go to the State Store selling rugs. We're planning to bring a rug home for some friends, who are taking care of WebSLR, an Internet business that Steve built. The ones in this store are expensive and we don't see any we like. We must have a certificate to take a rug out of the country. This store can issue such a certificate. However we decide to wait and choose one at the bazaar where we'll shop tomorrow. Sveta tells us that MIR will provide us with the paperwork we need to get it out of the country. Frank dresses up in a native costume and asks Mr. Intruder to take his picture. However, Mr. Intruder has trouble with the camera so I offer to take a picture with my camera. It seems ironic that Mr. Intruder cannot work Frank's camera. Throughout the trip, wherever we go, Mr. Intruder has asked other people (very often Frank) to take his picture using his camera. Whenever he asked someone who had difficulty with his camera, he made a nasty remark.
Our next stop is the rug museum. When we enter, the museum staff asks tour members to leave their cameras and bags with them. This creates a problem because members of our tour group have nice cameras. No one trusts the museum personnel with their bags. Most people are carrying their passports and/or money in their bags. Steve and I leave our cameras. Someone notices that our local guide is not leaving her pocketbook. The women who want to join the tour continue to carry their pocketbooks.
We learn that white sheep wool makes the best rugs. The images woven into each rug denotes which tribe made the rug. Muslim people bury their dead wrapped in a rug. The museum is interesting however I am on my feet for a longtime. There are many stairs and I only visit a few floors. We are asked to take our shoes off and I am not very comfortable walking in stocking feet. I choose not to go to the top but instead return downstairs and wait with other tour members who did not take this tour. At the very end of the tour, the group is taken to a room, which contains a famous rug. Steve leaves the group, to offer me the opportunity to see this masterpiece. It weighs 160 kg. It was made to be a curtain for the Bolshevik National Theater. Forty people worked on it but it turned out to be too heavy. I am thankful that Steve came to get me. It is a beautiful piece of work
Once again we board the bus. This time we are going to the outskirts of the city. As we leave the city center, and get further out, the buildings look increasingly older and poorer. We arrive in a residential neighborhood. We enter a home and walk through the owner's jewelry workshop. We sit in what looks like a living room and are served tea and cookies. The Jeweler shows us his collection. He has accumulated many beautiful antique pieces. They are all silver, many have gemstones in them. He explains that their function was protection, mostly of the female. Then he shows us his current work which is made of silver that is .999 % pure. Most are sets of ornate necklaces which cover a good part of one's chest, earrings of the fish hook type (which is the type I wear) and rings. I would like to purchase something. However the necklaces are too ornate for me. I ask if he has any earrings that are not in a set. He does not but he will sell me earrings and a ring. Even though I do not often wear rings other than the four I wear all the time, I decide to buy a set. Next I must decide which ones I want. All of the jewelry has beautiful stones. After looking over the great variety, Steve and I decide we most like the goldstone. This is a golden orange, spec gold gem, which we have not seen before. Each piece of jewelry has a flat stone, which measures approximately 3/4 by 1/2 an inch. The stone is surrounded with a pretty silver border, which looks something like lace. Steve buys the set for me as a gift. The price is $25!
As we leave on the bus, the local people look at our huge vehicle with curiosity. It must amaze them that so few people would ride on such a big bus. We go to a local restaurant for lunch. Once again, since we are the last to get into the restaurant, we end up sitting with a man on our tour who everyone tries to avoid. I will call this man Mr. Scholar. Mr. Scholar has spent his professional life studying the history of geologists of the late 1800s. When anyone sits with him, we start the conversation speaking about a mutually interesting subject. Within a short time he changes the subject to his academic accomplishment of authoring several published books or some other uninteresting facet of his life. Toward the end of the meal we say goodbye to Mr. Ego and Ms. Whiner.
We return to our hotel. Steve and I nap for awhile. When we get up we explore the hotel, looking for coffee and postcards. There is no snack shop or coffee shop so we end up in the bar area. We order Turkish coffee. It takes a long time to come. We wonder if they forgot about us. When we finally get it we enjoy it. It is good but sweeter than we are used to.
Dinner is on our own tonight. We had planned to meet friends but Sharon is ill once again. I bring some bananas to her. When I arrive, Sveta is there. We discuss what Sharon has eaten today. Sveta reasons that Sharon's illness and diarrhea is probably due to a chemical that is used to grow the white melons bigger and faster. This chemical is not supposed to be used but is because it gets the crop to market quicker. Most of the rest of us on the trip have been afflicted with stomach problems and diarrhea. Everyone on the trip really loves this melon. It has been one of the very few culinary highlights. Sveta says that when we eat the melon we should only eat fruit and vegetables, not any meat or other animal protein. Apparently the chemical reacts poorly with meat. When I return home, I mention this reaction to my friend who had recommended the melon. Right away she knows the chemical and identifies it as Selitra.
Sveta comes to our room. We present her with a gift of our album, which contains our best photographs. The MIR literature had suggested we bring several gifts to present to the families who had us to dinner. Early on the trip, we passed one of these albums around on the bus. Sveta had so complemented our work that we decided to save an album for her. She is extremely pleased with our gift. It was a nice ending to an interesting day.
Day Twenty-Three: September 19, Sunday
It's our final day of touring. This morning we are scheduled to go to the Tolkuchka Oriental Bazaar and some archeological ruins. Tolkuchka Oriental Bazaar is known to be very crowded, the name means "a lot of elbowing." I am disappointed but agree with Steve that this is not a wise place for me to go. It would be difficult for Steve to push me in the wheelchair or for me to walk around. Also I am still having diarrhea and the likelihood of finding a decent ladies room is poor. Sharon also decided to skip this. Even though she feels better she wants to take it easy. We send our husbands off to the Bazaar. Each has a goal of finding a nice rug. Sharon and I keep our fingers crossed.
I meet Sharon and we decide to take a walk to the rug store that we went to yesterday. She wants to purchase a purse she liked. When we get to the store it is closed because it is Sunday. We are disappointed but not totally surprised. Back at the hotel, I go to the front desk to mail some postcards we wrote yesterday. I expected to pay one dollar for an additional stamp. The desk clerk questions my cards with one stamp, stating that I need more. Our local guide assisted Steve with purchasing the stamps when we first entered the country. I am confident that the MIR staff member is more knowledgeable than the hotel clerk. Finally she accepts them. I hope they arrive at their destination. (A few recipients have told us that they did.)
Our tour returns to the hotel. Steve confirms that the bazaar was as crowded as its reputation states. Their lunch was at a local restaurant. Steve really enjoyed their visit to Nisa, where they saw the archeological dig of the ancient Parthian Kingdom, which is currently is underway. The royal Fortress City goes back 2300 years. Founded by nomads, who defeated Alexander the Great's armies, they gained an empire, which extended to Euphrates and the Indus. At its height, there were 43 towers surrounding the palace and several temples. A thriving commercial city enclosed these. The kingdom was ruled by a succession of dynasties. In the 13th century, the Mongols seized the city and razed it in just 15 days.
Steve found the once magnificent fortress interesting and extensive. He liked walking around inside several rooms and among the work in progress. There were domes caked with mud that had yet to be removed. The site is amidst beautiful views of the Kopet-Dag Mountains.
The tour has one more destination scheduled for the day, a museum. Before continuing onto the museum, the bus stops back at our hotel because some of those who were on the bus did not want to go and Steve thought that I might. I do and we go to the Turkmenistan National Museum. It is a beautiful new big building outside of the city center. Many explanations are in English. Perhaps this is because, in school, the children learn the languages of Turkmen, English and Russian. There are three floors; the top one is offices. The first two contain displays for public viewing. Not surprisingly, most of the first floor contains exhibits about the president. They show how he was fundamental in bringing about the independence of Turkmenistan and how he declared the country neutral. There is even a good deal of space dedicated to his meeting with the president of the United States, Bill Clinton. There is also one exhibit on the sports of the country.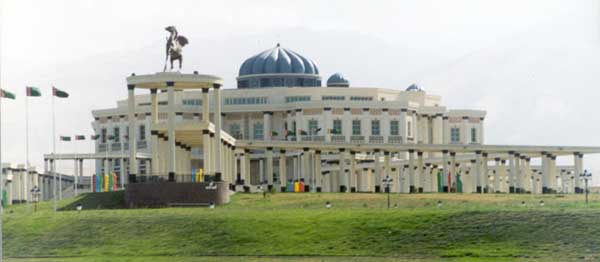 Turkmenistan National Museum
I find the second floor more interesting. It has approximately 4 displays on the history of Turkmenistan before it was a country. The first display is archeology. Known archeological artifacts date back to 2000 B.C. We view the development of society. The other three displays deal with the Middle Ages. They include pieces of architecture, models of cities, Turkman leaders, weapons, rugs and musical instruments. As we leave the building, the bus circles the museum and we see the grandeur of it.
We return to our room and take a nap because we know we will not get much sleep tonight. Our flight leaves very early in the morning, at 4:30 AM. When we wake, we bring the rug that Steve purchased at the bazaar up to the Martin's and we admire each other's rugs. Steve and Sonny did a good job of selecting nice rugs. Now we have the major challenge of hiding them in our luggage so that in case our luggage is inspected they will not be found. Even though MIR will supply paperwork, it will be safer if the rugs and my jewelry are not seen. There is no guarantee that the paperwork will satisfy the whim of what ever Official happens to be on duty. What a difference from our country!
Tonight is our farewell dinner. We're going to a Turkish restaurant. By Central Asian standards, it is quite nice and the menu is interesting. I have mushroom soup and roasted chicken. I want something Turkish but the restaurant was out of the only thing that looked OK for my stomach (humus). The food was delicious. MIR treated us to wine and vodka, and caviar on toast points. While we wait for the food to be served, we ask the servers to take pictures of our group. Steve gets a few pictures of our friends with whom we are sitting. Sveta is sitting at the other end of the table but she comes down and tells us how much she will miss us. By the end of the meal we are sad that the trip is ending. There are several toasts to Sveta. Steve gives a toast thanking everyone for helping us. Mr. Scholar offers a toast to us.
Back at the hotel we go to the Martin's for one drink and to say goodbye. They are also taking the flight at 4:30 AM and none of us has completed packing. We get to bed at 11:45 PM.
Day Twenty-Four: September 20, Sunday
We leave for the airport by 2:30 AM. Check in goes smoothly and we are sent to wait in a very large lobby outside of the terminals. At first we are the only ones there and it is almost spooky. After awhile the MIR representative tells us it is time to go to passport control. We go through that easily. Then we proceed to baggage inspection. Turkmenistan allows very few nationally made goods to be taken out of the country. What it does allow to be exported, must be accompanied by official documentation. When we informed Sveta and the MIR representative that we intended to purchase some rugs, they told us that MIR would provide the required documentation. The Martins reach baggage inspection first; we are just behind them. They go to the first station and we go to the second. Sharon and Steve are getting very nervous. Sharon has a traditional suitcase and is able to keep the rug from being seen. We use a backpack, and the rug is under everything else. The MIR representative is no place to be seen. We're very concerned. Just as the Turkmen official is about to get to where our rug is hidden, the MIR official shows up. Thank God, who knows what would have happen to us if the official had uncovered the rug. The MIR representative presents the papers and inspection halts.
We board the flight and are on our way to our stopover in Istanbul. The flight is not even half full. Steve and I sleep for most of it. We have a three hour layover in the Istanbul airport which we spend with the Martin's. There is no problem obtaining our wheelchair even though it wasn't tagged at the gate check in Ashkabad. Our layover goes quickly, we spend it at the Burger King on the second floor. I visit the ladies room and easily use it although it is not at all equipped for a handicapped person. I wonder have I gotten stronger or am I just less nervous since this is the end of the trip.
We are boarded early after an extensive security interview. The Turkish official asks:
Who packed?
Who had bags?
Anyone give you packages?
Batteries?
Any item could be used as weapons?
We have a tiny Swiss Army knife, but do not mention it. Sonny has a full-size Swiss Army knife. When he tells the official of it, they take it from him promising that it will be returned. He is concerned throughout the flight, and correctly so. He never sees it again.
The flight is uneventful. We arrive in New York and say goodbye to our good friends. So ends to our Silk Road vacation.
Epilogue
First, I need to give credit to Lonely Planet Travel Survival Kit: Central Asia. Most of the history passages throughout this journal are paraphrased from this book. Lonely Planet is our favorite series of guidebooks.
The Lonely Planet Series does a wonderful job of providing a historical summary and critiquing tourist attractions. We usually agree with what sites the author evaluates as worth our time. However, the Central Asia book, published in 1996 has many negative comments about the area. If we had relied solely on this volume to decide whether to visit this area, we never would have come. That would have been a shame.
Certainly this was not a luxurious vacation. Many of our friends and family questioned why we would want to travel to this region. Steve has always been fascinated with countries recovering from communism. I have come to share his interest. Even if this area did not fall in to that category, it is very rich in history, culture and beauty. It is regretful that as Westerners, we are not taught this history. In school, I learned about the Silk Road and Genghis Khan. However, I don't remember studying Tamerlane or The Great Game. Before this trip, if anyone had mentioned to me Kazakstan, Kyrgyzstan, Uzbekistan, Tajikistan, or Turkmenistan and maybe even Samarkand, Bukhara or Khiva, I would have replied "what, where". Now I am proud to say that I have been there!
From this trip forward, it will be our goal to find a small group tour, one that guarantees no more than 20 people. Although this was not a perfect tour, the opportunities we had to interact with local people was a privilege. The Tour Company, MIR, did an excellent job of taking us to places and providing events where we could meet and talk to native people. It was a very special experience. Our tour manager Sveta went out of her way to make sure everyone was as comfortable as possible. We feel very lucky to have heard about her life growing up in the Soviet Union. We return home knowing without a doubt how lucky we are to be American.