Penguins & Whales & Moai, Oh My:
Our Most Adventurous Vacation Yet:
South America, Antarctica & Easter Island
by Mary Goldsmith
edited by Steven Goldsmith
In December 2009, we embarked on our most adventurous vacation yet. We took a Lindblad-National Geographic tour to Santiago, Chile, Ushuaia, Argentina, the Antarctica Peninsula and Easter Island, Chile. Steve had wanted to travel to Antarctica since I knew him but I was never enthusiastic about it. However, I love to travel and somewhere during the last few years I decided that I'd like to go to all seven continents. Over the years my health has given me many ups and downs. This had been a particularly good year health wise so we decided to investigate the options of going to Antarctica. We looked at different cruising options and different types of ships. We quickly decided that going aboard a basic icebreaker would be too rough for me. We considered the major cruise lines which went to Antarctica but most only sailed past. We heard of one or two which run helicopter trips, weather permitting. However, most require that I would have to walk a mile to see anything but snow and ice. Then we looked at the smaller ships. I exchanged many e-mails and had several telephone conversations. Our biggest concern was whether we could manage getting me in an out of the zodiacs, rubber rafts with a solid bottom, which are used to transport passengers to and from the continent. Several lines stated that the staff would help. Steve has been an avid National Geographic reader for years. When we found the Lindblad-National Geographic tour, we decided to splurge and take it. The phone staff and cruise staff could not have been more knowledgeable or helpful.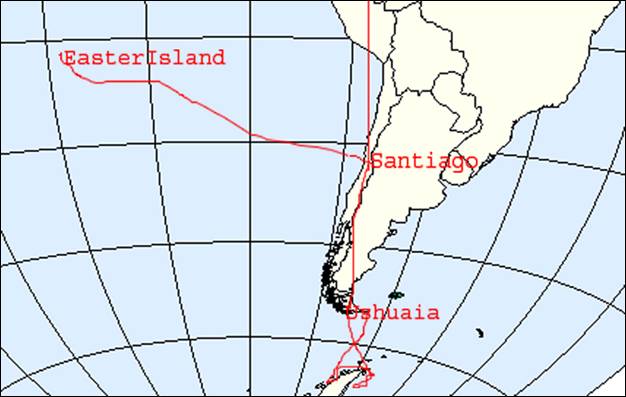 As I alluded to earlier, we are not typical travelers. I have juvenile rheumatoid arthritis and

insulin-dependent diabetes. I use a wheelchair, which Steve has good heartedly pushed on terrain that is definitely not accessible. We generally get along just fine. However, it does require a little more forethought and planning. I mention this because I will include accessibility information in this travel log. I will mark the start of access information with the international access symbol. Here it appears to the left.
While researching the trip, I informed Lindblad-National Geographic about my wheelchair and asked whether I could bring it over on the zodiac. When they said that it would not be possible to get around in it, I explained that I would only want to sit in it so my husband could have the freedom to move around and explore. They said I could not ride over in it but they could take it over folded although it would be difficult. I asked if they had a folding chair that could be used in place of my wheelchair. They said that they did not believe there'd be one on the ship.
After booking the tour, we encounter our first big challenge. Under normal circumstances, we are not outdoor people in winter weather. Antarctica is cold, even in the summer. Our first challenge is to outfit ourselves with cold weather gear. We ask advice from many sources including Lindblad. It takes much time to assemble the gear we need, especially because we learn that there could be wet landings. This is when the zodiac cannot get close enough to securely pull up onto the landing site. Our outer lower gear of boots and pants need to be waterproof. When we travel, we can usually fit all of our clothes and accessories into one checked backpack. This trip requires two checked bags. We're delighted that Lindblad-National Geographic will provide us with parkas, eliminating two bulky items to carry there. We'll have to worry about them on the way home though.
Day 1: Wednesday, Dec. 16
On December 16, 2009, which happens to be my birthday, we begin our trip to Santiago, Chile and beyond.

Our ride to the airport comes on time. It goes smoothly until we get close to the airport when traffic begins to back up. Our car driver tells us that this is typical for this area. We check in and head to security. A LAN airline transporter is with us and hands me off to the people who process people in wheelchairs. He helps Steve put our carry-ons on the security belt and tells Steve that the netbook has to be taken out of our carry-on. In addition, Steve is handling two carry-ons, two pair of shoes, two coats, one belt and two fanny packs so he's happy to have some help.  Meanwhile the security officer has taken me to the side and is performing a full body search. She tells me what she's going to do before she does it, and she's gentle.
When we arrive at the gate, we go to have something to eat. Service is slow and Steve's order isn't correct, but once we get everything we enjoy it.  We head back to the gate and make sure the airline personnel know we need early boarding.  We sit for a while but when it gets close to boarding time we go to the area which is roped off. Two others in wheelchairs come. Several others with no apparent need try to sneak into this area, but the airline personnel doesn't allow this. These people seem to think they should get special treatment for no reason. A LAN crew member pushes me down to our plane and we take our seats. When a woman in the row ahead of us arrives, she begins to stow her carryon in our overhead compartment. To do so, she moves our bag. I inform her that we want our carry-on in our compartment but she ignores me. Again I say something with the same result. I begin to get upset since our bag contains all my medication. Steve asks me not to make a scene so I quiet down but keep an eye on who puts what where. Throughout the flight, she has little regard for anyone else's space. 
By the time we actually take off it's about an hour late. Our 10 hour flight goes relatively quickly although I have a bit of a hard time sleeping during the second half. About an hour after takeoff, we are served dinner. About an hour and a half before landing, we have breakfast. The food is fairly good but nothing special. As birthdays go, this isn't a great one but I keep reminding myself that it's the start of a wonderful vacation.
Day 2: Thursday, Dec. 17
We disembark in Santiago, Chile just before 11 AM. First we go to the tax desk to pay the entrance fee of $131 each. Next we go through immigration and then to baggage. Even though we were one of the last off the plane, there are still a good number of people waiting for their baggage, including the bitch who sat in front of us.  Ours comes out fairly quickly and the bitch seems annoyed when Steve retrieves ours. 

Chile has stringent restrictions on what food can be brought into the country. I had inquired with Lindblad about what I was bringing. All of the food I bring is for medical purposes.  The only thing Lindblad said might be a problem was fennel seed which I use as a digestion aid, so Lindblad instructed me to declare it.  When we got to customs, the first inspector looked at it and passed it to another.  The second inspector said it had to be confiscated.
We find Lindblad and the staff member directs us to our bus. Rob and Vicki, who turn out to be our neighbors on the cruise ship and a lot of fun, offer help with the bag Steve is carrying. They add it to their cart.  We meet Erwind, the bus guide and our driver. He encourages us to take the front seat but we tell him this doesn't work for us because my legs don't bend enough. 
As we begin our drive to the Grand Hyatt Hotel, Erwind gives us information about Santiago.  We ride through the northwest suburbs. We are at 33.2° latitude south. Santiago's population is six million and Chile has 18 million people. Today's temperature is expected to be 98 degrees, but the climate is dry like California. Chile just had a Presidential election. The Central Right party won but only by 44%. They will have to have a runoff between this party and the one currently in power because a president must be elected by greater than 50%. The current president is a woman but since presidents can only serve for one four year term, she can't run again. The exchange rate is 488 peso for one dollar at the hotel. Our hotel is in the uptown residential section which is expensive. A square meter in this area costs between $1,500 and $3,000. High income in Chile begins at $35,000 per year. Average income is $15,000.  Most middle class and working class fit into the average category. 

Hotel check in is in a lounge, which is where we go first. We learn that our room is on the 13th floor. Next we check in with Lindblad and get our schedule. Our room is nice but divided into two levels.  The bedroom area and bathroom are at entrance level but the sitting area is down two steps. Since we won't be here for too long, it's not that big of a deal. The view from our room is nice. We decide to pass on lunch and take a quick nap instead. 
I believe that in order to enjoy a visit to any place it's useful to know the history. So before I tell you about our experiences in Santiago, I will give you a brief overview of the history.
History of Chile
Human footprints estimated to be from 10,500 BC have been discovered. They are believed to be among the oldest in America. Early history consists of Inca rule in the north. Aymara and Atacameño people farmed maize and potatoes and herded llama and alpaca. Along the coast, Chango people fished and Diaguita people farmed. The Araucanian people held off the Inca.
In 1540, Conquistador Pedro di Valdivia arrived in the Mapuche Valley to establish the city of Santiago. Attacks threatened the city but Valdivia held them off working his way south and establishing other Spanish settlements. The invaders set up forced labor and exploited the numerous indigenous northerners. For more than three centuries, the Mapuche fought against European control. When the natives lost, Valdivia rewarded supporters with land. The resulting estates remained into the 1960s becoming a dominant societal force in Chile. Chile was part of the Viceroyalty of Peru.
By 1818, José J. San Martin's Andes Army invaded Chile from Argentina and took Santiago. They sailed north to Lima. San Martin made Chilean Bernardo O'Higgins his second-in-command and "supreme director" of the Chile Republic. For the five years after Chile's independence, O'Higgins controlled Chilean politics and made egalitarian reforms in political, social, education and religion. However landowners objected strongly enough to force his resignation. Diego Portales, as O'Higgins internal minister, became dictator but was executed in 1837. Portales created a Constitution which centralized power in Santiago and made Catholicism Chile's religion.
The War of the Pacific from 1879 to 1883 ended with Chile's independence from Peru and Bolivia. The treaties with the Mapuche awarded the nitrate rich Atacama Desert and the South Lake District to Chile. In 1888, Chile annexed Rapa Nui.
Money from Britain, North America and Germany developed the Atacama Desert and nitrate mining yielded prosperity for some sectors of society. Mining created new classes of nouveau riche and working people who challenged the landowners. President José Manuel Balmaceda, elected in 1886, pushed forward government services and public works as a solution to the inequality of wealth and power. In 1890 the Congress tried to depose him. Their action triggered a civil war resulting in 10,000 dead and the president committing suicide. Some of Balmaceda's successors continued his improvement of public works and opened Congress to elections by the voters, replacing indirect election.
Ports grew rapidly until 1914 when the Panama Canal opened, reducing traffic around Cape Horn. At this time petroleum based fertilizers also greatly decreased the demand for nitrates.
Through the 1920s, 75% of Chile's rural population lived on landowners' prime agricultural lands. The life of urban workers improved while the welfare of rural workers became worse. This forced them to the cities. In 1920, Arturo Alessandri Palma was elected president. He attempted to initiate land and income taxes to fund health, education and welfare reforms, even though Chile's economy was suffering. In 1924, the military forced his resignation. Autocratic General Carlos Ibáñez Del Campo became president. In 1931, his opposition and the Great Depression forced his resignation.
During the 1930s and 1940s, even though Stalinists, Trotskys and other radicals attempted to gain power, the Democratic left prevailed. The state development corporation, Corfo, had an important economic influence. Copper mines became the driving force of Chile's economy. North American companies obtained control of the mines. Although Chile remained neutral, the World War II demand for copper created economic growth.
In 1952, Ibáñez Del Campo won the presidency again. He unsuccessfully tried to cut back landowners power. In 1958, Jorge Alessandri Rodriguez, son of Arturo Alessandri Palma, won the presidency defeating leftist Salvador Allende and Christian Democrat Eduardo Frei Montalva. In 1964, the latter two ran against each other with Frei winning. His reformist policies endangered the upper and working-class base. He attacked the US dominated export sector, and worked towards giving Chile control of its copper industry. The government obtained 50% ownership of the mines which yielded higher returns for the country. By the 1970 election, the Christian Democratic Party became weaker due to too many challenges from the right and left.
Allende took the presidency with congressional approval. His coalition, which wanted a far-reaching program of nationalization of industry and expropriation of rural workers, quarreled over their objectives. Peasants seized land, harvests declined, the loss of control over copper mines and friendly relations with Cuba facilitated tensions with the US.
By 1972, the government's authority became very weak. Allende asked the army commander General Carlos Prats to become the Interior Minister. He also appointed an admiral and an Air Force general to his cabinet. The congressional elections of March 1973 showed that Allende's support had increased. However in June a military coup was attempted but failed.
On September 11, 1973, Augusto Pinochet launched a brutal coup d'etat which overthrew the government. Allende apparently committed suicide, though many doubt that. Thousands of his supporters were killed. Police captured thousands of sympathizers. Many were taken to Santiago's National Stadium where they were beaten, tortured or executed. Hundreds of thousands fled into exile.
Pinochet disbanded Congress, outlawed leftist parties and suspended the remaining parties. Almost all political activity became prohibited. In 1974, he became president and ruled by decree. He reorganized the political and economic culture using repression, torture and murder. Chile became a police state. Approximately 35,000 suffered torture and 3,000 disappeared during his 17 years in power.
In 1980 Pinochet was elected president, although most who opposed him abstained from voting. The military government approved a new constitution. During the 1980s the government took a new liberal position on economics. A referendum in 1988 resulted in the military government losing power however they continued to have significant influence on politics. An amnesty law put many military beyond the reach of justice. Another law allowed Pinochet to serve as a senator for the rest of his life and gave him immunity from prosecution.
In 1989, 17 parties formed the Consensus for Democracy and Patricio Aylwin became their candidate. He defeated his opposition. However Pinochet's constitution limited Aylwin's presidency. He published the Rettig Report which documents deaths and disappearances that occurred during Pinochet's reign. The position on economics taken during 1988 continued. Civilian collaborators of the military government continued to be influential in Chile's politics.
In London during September 1998, at the request of a Spanish judge investigating human rights abuses of Spanish citizens in the aftermath of Pinochet's coup, England arrested Pinochet. In March 2000, he was returned to Chile. When documents about his role in the deaths became public a Chile judge put Pinochet under house arrest, dismissing the self-imposed amnesty. During court proceedings in 2000 and 2002, both courts ruled him unfit to stand trial due to dementia. He stepped down from his lifetime senate post. He died in 2006.
In March 2000, Chile elected Ricardo Lagos as president, the first socialist leader since Salvador Allende. In June 2000, the Congress passed a law granting anonymity to members of the armed forces who provide information on the atrocities of Pinochet's time. Lagos' government established agreements with the European Union, the United States and Korea to facilitate economic growth. In 2005, the government approved over 50 reforms which eliminated some of Pinochet's remaining undemocratic policies.
In the 2006 election, the Consensus for Democracy retained the presidency with the election of Michelle Bachelet, Chile's first woman president. Student protests became her first crisis, the largest such protests in three decades and sometimes called "a sure sign of the progress of Chilean transition to democracy". When we arrived in Santiago, our driver told us that they had just elected a new president. Bachelet had been popular and now Chile is waiting to see what happens.
At 2:30 pm, we go on a city tour. Once again we're on Erwind's bus. As we ride through the city, he continues with his overview of Chile.  The birthrate is 1.3 children per couple, down from three per couple. Usually birthrates are calculated every five years. Lifespan is 74 years for men and 78 for women.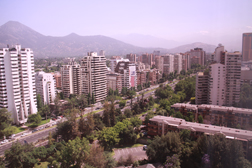 Santiago from Hotel Window
Chile has 15 political regions, somewhat like our states. The president appoints each region's governmental leader. Regions are divided into five provinces and the president appoints a governor for each. Provinces are further divided into communes, administered by municipalities. Municipalities elect their own mayor and council.
We ride down the main street where we see many beautiful buildings. A lot have windows with external mirrors. Santiago means St. James, who is the patron saint of the city. In September 2010, Chile will celebrate its bicentennial of independence. Chile has a 19% value added tax and income tax of five percent to 39%.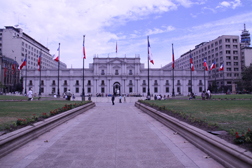 Presidential Palace
We stop at the Presidential Palace, Palacio de la Moneda. Built in the late 18th century, it was originally the official mint. It's an ornate neoclassical building designed by Joaquin Toesca.

Steve and I are impressed that most corners have curb cuts.  The president does not live at the palace; she just has her office here. It's a beautiful building with many guards.  Every other day they have a ceremonial changing of the guards.  We go up a few stairs to view the Plaza de la Constitución and other parts of the complex.  Erwin points out a statue in Roman style complete with a bullet hole in the forehead. It's of President Salvador Allende who in the 1973 military coup refused to leave the palace and was overthrown there.
Next we go to the Pre-Columbian Art museum, Museo Chileno de Arte Precolombino. The collection is owned by one man, Sergio Larrian Garcia-Moreno. Chile wanted to purchase it but the owner didn't want to sell. They negotiated an agreement whereby Chile provides the museum building and administration. The building provided is the former Palace of Justice.

There are a few steps into the museum but they're not steep and they occur some distance apart, so I don't need to get out of my wheelchair. Most of the collection is on the second floor and there is an elevator. The museum guide is good but she doesn't speak loudly and if we don't get close, I have a hard time seeing and hearing. Our guide asks us to form a semi circle around her. At first this works well but after a while people begin to crowd in. Some people are very nice and considerate. Several even offer assistance. Others are fairly obnoxious. There are quite a number of children and most fit into the latter group. Luckily within our group, more are considerate.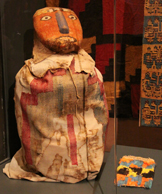 Honoring the Dead,
Central Andes
We see many beautiful pieces of different types.  Steve takes photographs but it's difficult because flash is not allowed and the light is dim. We are especially interested in several different types of figures which look similar to the Moai which we'll see on Easter Island. The most interesting contains about five wooden statues of chemamull of the Mapuche culture. Chemamull go with the deceased during the funeral ceremony where people make speeches praising the departed. After the burial they remain at the grave. The traditional rites had to be strictly followed so the spirit would watch over his/her descendents. Otherwise, the spirit would be trapped by a witch and changed into an evil spirit.
Next we see a display of textile art and decorative techniques from the time of the Parakas and Nasca cultures in the central Andes. One figure honors the dead. It wears a woven robe with interlaced, knotted, braided and twisted weaving techniques. There's a good number of tapestry with embroidery, using the sprang technique of fabric construction, fabric painting and feather artwork. Weavers created designs which showed their natural, social and religious environment as a way of expressing their ideology and complex social associations. They showed life and death, revered and irreverent. They created clothing for the funeral of eminent individuals and some to be offered to their deities during agricultural ceremonies.
Another display had a Mayan ceramic incense pedestal from sometime between 300 and 900 A.D. At times, these were used as offerings to replicate important buildings where they were put into the walls. The one we see shows a lifelike portrait of an imposing Mayan noble. Despite the description of being lifelike, I don't think it looks anything like any life I've ever encountered. Most pedestals were found in the ceremonial center at Palenque and are of the Sun God Kinich Ahau who had large eyes and a hooked nose.
We see many exhibits, some of which go back possibly to 1800 BC. There is an amazing variety of cultures and styles including
· a ceramic bottle of a coatí, which looks to me like a goat, from the Chorera culture, 1800-300 BC
· a Peruvian ceramic frog from the Chavin culture, 1000-400 BC
· a ceramic figurine of a woman and plumes from the La Tolita culture, 500 BC-500 A.D.
· a ceramic dog from the Colima culture, 500 BC-500 A.D.
· a ceramic bottle of the cat from the Moche culture, 1-200 A.D. Except for the gizmo on its back, this one looks quite lifelike.
· a ceramic bottle goddess from the Peruvian Nasca culture, 300-600 A.D.
· a stool carved from volcanic rock from the Huitar Atlantic culture 1-500 A.D.
· a ceramic sculpture of a man from the Mayan-Jaina culture, 300-900 A.D. I find this one somewhat comical. It has a sizable pot belly.
· a ceramic, from the Tiwanaku culture, 400-600 A.D.
· a ceramic bottle which looks like a crowned King with a round belly from the Horizone Wari Santa culture, 600-850 A.D. This one is similar to the goddess ceramic bottle.
· a ceramic zoomorpic (animal like) figure on wheels from the Veracruz culture, 600-900 A.D.
· a ceramic jaguar from the northern Chile Diaguita culture, 900-1200 A.D.
Later I read that the collector chose pieces that brought him an emotional reaction even if they didn't have any historical or financial value.
We return to the hotel.  Our hotel has a beautiful atrium (about 20 stories).  We like it so much that we take pictures of it.  We try to find a gift shop because we want to buy a birthday card for a Spanish speaking friend.  However the hotel gift shop has no cards and since we don't know our way around the city we decide not to go out. 

We decide not to take my wheelchair to the cocktail reception, which turns out to be a good decision because there are quite a few sets of several steps to get there.  It's a distance so after we get our drinks I sit for a few minutes.  Then we get up and mingle.  The hors d'oeuvres are interesting and good.  There's a nice selection of wine and drinks.  I choose a merlot and Steve has a pina colada. We meet Pat and Kathy who have traveled with Lindblad before.  Lyn is also in this group and her parents have traveled with Lindblad.  Rosemary joins us.  We discuss travel and the drinks. There's a Chile drink but Pat says it's very strong and not tasty.  There's another red wine from the area and Steve goes to get us one to share.  It's sweet but not quite like a port. 
Dinner is announced and we proceed in.  The women we had met invite us to join them.  Lyn's parents, Bill and Louise, and Rich also join us.  We enjoy our dinner. Afterwards, Larry of Lindblad reviews the schedule for tomorrow. Our bags must be outside our room by 10:30 pm tonight.  Except for identification at the airport, we won't see them until 5 pm in our ship room.  At 6:30 a.m., we will meet in the lobby and be directed to our bus.  We have a charter flight so it's only our Lindblad group on the plane.
We go to our room and repack so we have all we need until tomorrow evening in our carry-ons.  It's a bit of a challenge since the weather will be considerably cooler in Ushuaia and it's likely to be rainy.  We also need to arrange our toiletries and keep only the bare minimum out for tonight and tomorrow morning.  If we had been forewarned, we would have packed differently. We make our deadline and turn in.
Day 3: Friday, Dec. 18
We get up at 4:30 a.m. but decide to skip breakfast since there will be a snack on the airplane.  Once again we're on Erwind's bus.  When we arrive at the airport, he has a staff person assist us through check in.  He directs us to the front of the line.  We apologize to the person whose place we take, but he tells us no problem. Check in goes quickly and we're directed to security. Once there, it's a bit confusing as to which line we're supposed to be on. Several of our group try to decide and we all get on the same line. Security goes easier since we don't need to remove our shoes and Steve is able to fit much of our smaller items in our carryon bags. 
There's some confusion about which gate we should go to.  We were told 19A or 15.  Our boarding pass says 19A.  Those we're with were told 19A so we go there with them.  Steve goes to make sure it's not 15 (that was in the reverse direction).  In the meantime, others come who say their boarding pass says 20A.  We move to 20A where the airline confirms that this is the gate. 

We ask about early boarding. The first staff member directs us to another who speaks English. She doesn't understand early boarding but says we'll go on first. 
We are early boarded and the airline staff says people will be boarded by row, back to front.  We're in the first row so we watch as others board.  Either people haven't followed the row call or it took many of our group long to get through security.  Anthony joins us in our row.  We eat the snack and try to sleep. Steve falls asleep quickly but I talk to Anthony. He is the son of a former US diplomat so has lived in several countries in Asia. He's also a software engineer, probably the first person from our profession who we've met on a cruise. 
Since we see so little of Argentina and the history of the part we see is included in our tours, I have decided not to include the country's history.
We arrive in Ushuaia and go through passport control.  While most people are patient and chatting with fellow passengers, one couple decides they should cut through two lines and get on the shortest one.

When we're done, we're directed to an elevator however it doesn't come up.  A woman offers to go down and bring it up but she returns soon and says it requires a key.  She tells one of the passport officials and they call it in. It takes a while but eventually someone brings the elevator up. We get through customs quickly and find the Lindblad representative.  She tells us about the bus but says it will be quite a while until we have a rest stop so if we need one take it before boarding. 
We get on the bus. The guide is very friendly and offers us the front seat. We turn it down and she says to take whatever we need. Steve boards with our bags and comes back for me. In the mean time several staff and guests offer me assistance. 
We have a brief bus tour of Ushuaia, Argentina and our guide provides information about the southernmost city of the world.  It's a warm summer day (in the low 60s) and luckily no rain. The average winter temperature is 32 degrees with wind and rain.  Summer's average temperature is 55 degrees and rain is less common.  In the summer there are 14 flights to Ushuaia each day; in the winter only six.  I find the homes picturesque.  Many are brightly colored.  The area is mountainous.  We pass the southernmost golf course in the world.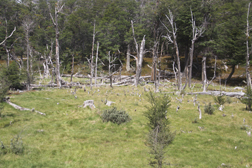 Devastation by Beavers
Ushuaia is located on Fireland Island.  We are going to Fireland Park aka Tierra del Fuego National Park. The park was created in 1960 and protects 63,000 hectares of the southern tip of the Andes between Lake Kami in the north and the Beagle Channel in the South. The main island was occupied by humans approximately 10,000 years ago. Tribal groups appear to have acclimated effectively to the environment. The Yamana group left evidence which shows their connection with nature. They lived above the beach, harvesting sea life. They built canoes from laths and sheets of bark of Lenga which they used to hunt sea lions and harvest mollusks. Mountains of muscle shells can still be seen along the shores. They lived in temporary dwellings made from leafy branches and boughs. They wore short wraps of sea lion pelts. It's believed that the arrival of Europeans and their diseases caused the Yamana extinction. Chronicles also state that they were hunted by explorers and poisoned by seal hunters trying to gain access to the sea lion colonies. Statistics show that 3000 Yamanas lived when the Europeans arrived. In 1890, 10 years later the population decreased to 1000 and by 1910 there were only 100.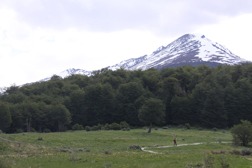 Tierra del Fuego National Park
Beavers were brought to the island from Canada to set up a fur trade. However, the fur trade never took off. Instead beavers caused and continue to do great damage to the natural woods, made up of Sub-Antarctic Southern Beech Lenga trees. They chop down trees to build their dams. The dams cause flooding and many problems. We see incredible deforestation. Since beavers are not native, they have no natural predators. Beaver hunting is encouraged. Rangers hunt them in the park but hunters are hired for outside the park. 
I find the park picturesque and enjoy the ride along the river.  We arrive at the end of the Pan American highway. The highway begins in Prudhoe Bay, Alaska which we visited in 1997. The bus drops us off close to where the catamaran will dock.  Our guide says that we can leave our bags on the bus and pick them up after the catamaran docks before getting on the ship. We take advantage of this.

Once off the bus, the air is so crisp and the scenery inside the park is breathtaking. There's a long path, but it's dirt so I stay at the beginning while Steve takes a walk down it. Behind the lush group of trees we see snowcapped mountains. When Steve's done shooting pictures we take the beautiful walk to the catamaran on Lapataia Bay.  It's surrounded by picturesque mountains.  We cross over a wooden bridge.  As we near the catamaran, a crew member, Steve Gould, offers us assistance. He takes the wheelchair and my Steve helps me.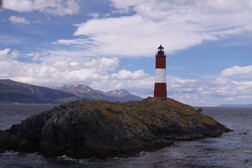 World's Second Most Southern Lighthouse
Once on the Flota de Catamaranes Canoero, we sit with four others, Sylvia a principal from Houston Texas, Susan from Connecticut who happens to be the doctor's wife and another man and woman whose names I can't recall. We have a variety of dishes including salmon wrapped in pastry and a beef curry which isn't spicy and wine.  Susan has taken many Lindblad expeditions, while her husband works, so she's quite informative.  We discuss travel experiences we've had.  Sylvia highly recommends a safari company who she traveled with so I have her write down the name.  We stop at Seal Island which is actually covered with Sea Lions. Most people get up to take photographs and Steve gets a few good ones. We see two fighting and wonder if it's mating season. Another just looks on. We also see a few babies. We pass the world's second most southern lighthouse. On another island we see a flock of cormorants. At first they look like penguins but we see them flying so we know that they are not.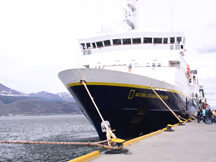 M.S. National Geographic Explorer

We dock and retrieve our items from the bus. At approximately 5 p.m., we board the M.S. National Geographic Explorer via a stairway. A waiter from the crew takes us to our room. I am surprised that our room is up three steps. We receive preliminary instructions to go to reception to check in and get our ship identification cards. We do this, then return to our room. The room is nice but smaller than we had expected. The step into the bathroom is too high for me to do without help.  Our deck is nice and we take pictures of Ushuaia. The city is set at the bottom of the spectacular glacial peaks of the Fuegan Andes which rise approximately 1500 km. It makes for a beautiful picture. Our "complementary" parkas are on our bed and they are very nice. We wonder how they'll fit but we don't have time to try them on.

At 6 PM, the ship sets sail for Antarctica. Fifteen minutes later we have a mandatory safety drill. All passengers must proceed to the lounge which is one flight up from us. We are not allowed to use the elevator. After we receive our instructions in the lounge, we go outside and take another flight of stairs to the life boats. I'm concerned that the outside stairs will be slippery, but Steve holds onto me and the ascent goes fine. On the way back, a fellow passenger finds an inside flight of stairs and an elevator.
After a brief break in our room, which we use to settle in, we return to the lounge for cocktail hour and introduction to the ship. The ship is the National Geographic Explorer, an Ice-Class 1A Expedition Ship which has an overall length of 356 feet. Our cruise has 149 guests. It's a state-of-the-art expedition ship and the newest in the Lindblad fleet. Its steel-reinforced ice belt facilitates travel through ice. It has kayaks, 14 zodiac landing crafts, a remote operated vehicle (ROV) operated by an Undersea Specialist and high-tech video equipment. The latter devices provide visual access to the underwater world. The presenter tells us that Lindblad and National Geographic joined forces to provide educational travel, environmental tourism, research and wonderful photographic opportunities.
We are encouraged to visit all of the public areas including the Bistro Bar, Chart Room, Global Gallery, Observation Deck and library. The Chart Room contains maps and other navigation information. Coffee, tea and soft drinks are always available in the Chart Room. Guests can learn about sea voyaging. The Mud Room located at launch level, has lockers for expedition gear. The crew suggests that we keep our boots and landing gear here. Next to the mud room is an Internet café. Passengers can buy Internet cards in the gift shop and reception desk and access the Internet from their rooms. There's an open bridge which provides guests with the opportunity to talk to officers and the captain and learn about the ship's navigation. The Observation Lounge, in which we're hearing this presentation, is enclosed in glass thereby providing panoramic views. The lounge has high definition plasma TVs, and advanced sound system, and a podium. It appears to be a comfortable, informal place for presentations. Right now with what looks like all passengers present, it's crowded.

Afterwards we go down to dinner and eat with some fellow passengers. All meals have single seating with unassigned seats. Most tables are set up for more than two people, which we enjoy. The Bistro Bar is just outside of the dining room. The menu is international. The food is fine but not fancy or gourmet like other cruises we've been on. Breakfasts and lunches will be buffet style but dinners will usually be served. However, tonight dinner is buffet.
History of Antarctica
Since no human has ever permanently lived on Antarctica, its history is quite different than most places. Approximately 200,000,000 years ago, Antarctica was part of a supercontinent called Gondwana along with Australia, Africa, South America, India and New Zealand. Ten million years later, this landmass began breaking apart and the pieces moved into their present positions. About 70 million years ago, the Drake Passage opened as each of the continents became further separated. The last separation from Australia occurred about 40 million years ago and Antarctica established its polar position and developed its cold temperatures. All of this has been supported by fossil evidence including the deciduous conifer, a fern and a terrestrial reptile which have been found in all parts of Gondwana.
Early voyages towards Antarctica occurred in 700 BC when a Phoenician fleet traveled from the Red Sea along Africa and around Cape Agulhas to the Straits of Gibraltar. In 650 A.D., legend says that a Polynesian sailed south where he reached the place with frozen sea.
Prior to the 1440s, Maoris from New Zealand sailed to Enderby Island, one of the sub Antarctic islands. They left behind charcoal remains, a stone knife and other artifacts. Portuguese explorers sailed around the tip of Africa during a naval voyage from 1487 to 1488. This voyage led to another in 1497, which proved that if there was a southern continent, as theory held, it was not attached to Africa.
In 1519 to 1522, Ferdinand Magellan crossed the globe, finding and naming Tierra del Fuego. He sailed through the Straits which were subsequently named after him, proving that most of South America was not connected to a southern continent. However it could be attached to Tierra del Fuego. These voyages served to weaken the belief that Antarctica existed.
However some continued to believe in a southern continent. From 1577 through 1580, Francis Drake sailed the passage that would be named for him. Exploration continued as the Falklands, South Sandwich Islands, and South Georgia were discovered.
In 1603 Gabrielle J. Castillo reached 64°S, which is south of the Drake Passage. In 1675 during the mercantile voyage from Peru to England, Antoine de la Roche's ship blew astray and is thought to have cited South Georgia.
In 1772, James Cook made Antarctic discoveries. He persuaded the Royal Navy that shallow drafted ships could explore close in shore. In 1773, he became the first to cross the Antarctic Circle but did not see any land. On the third pass through ice, he and his men landed on South Georgia discovering the South Sandwich Islands. Cook appears to have still believed that Antarctica existed but his reports about the severity of the area discouraged others from exploring it. However he documented his observations of the large numbers of seals and whales. This interested commercially minded hunters.
From 1780 to 1892, over 1100 sealing ships operated nearby Antarctica. During this time only 25 exploration journeys occurred. Groups of seal hunting men were usually dropped off on a beach that looked likely to provide a good hunt and were left for months while their ship searched for other places to hunt. They survived in tents; crude huts and small caves. None offered much shelter from the harsh wind and weather. Seal slaughter was brutal with the men killing anything they could. Black pups were spared but without their parents to feed them, they died from starvation. This information was given in testimony during US Congressional hearings in 1992.
During 1820 to 1821, evidence showed that three sealing masters landed on the Antarctica Peninsula and became the first humans this to reach the continent. No fur seals were found so their trips were of little interest in that day. Only two other landings during this century are known. There were probably more but because of their lack of success, no documentation was made public.
Hunters also targeted elephant seals. Since they don't have fir, they were hunted for their oil which comes from their blubber. They grow to a huge size and hunters found them to be easy prey. Even though new islands were discovered by sealers, they considered their discoveries proprietary and did not share them.
In the early 1800s, governments became interested in exploration with the goal of claiming discoveries for their countries. Fabian von Bellingshausen, a captain in the Russian Imperial Navy, crossed the Antarctic Circle on January 26, 1820. On January 27 he became the first to see the continent of Antarctica but he didn't realize what he was looking at. After wintering in the South Pacific, two of his ships discovered the most southern land of that time and a second piece of ice free land south of the Antarctic Circle which Bellingshausen named Alexander Coast for the Czar. Today we know it as an island joined to the Antarctic Peninsula by a shelf of ice.
In 1819, James Weddell of Scotland took command of the Royal Navy ship on a sealing expedition. He discovered the South Orkney Islands. In 1822, Weddell led another exploration accompanied by a second ship. In January 1823, he discovered a new species of seal now known as the Weddell seal but only six were collected. He set his course southward into a sea usually covered by impassable ice. On February 16, the weather changed and the two ships went farther south. In his notes, he says that "not a particle of ice of any description was to be seen." By February 20, he had sailed farther south than Cook, a remarkable accomplishment. Since he believed that the season was about to get harsh, he decided it was time to turn back. Before doing so he named the sea after King George IV. Later the name was changed to his.
In 1819, Capt. William Smith of England headed to Antarctica. On September 17 he landed on King George Island, claiming it for King George IV. These islands were the first part of Antarctica discovered south of 60°S. On October 18, he discovered the island now named for him, Smith Island.
In 1820, Nathaniel Palmer made his second sealing voyage to the South Shetland Islands with five ships. When he arrived, he realized he needed a more secure place to anchor so he pushed south with his ship and discovered the caldera of Deception Island. A year later with Captain George Powell, he went searching for seals. On December 6, 1821, Palmer cited a new group of islands. Since they had no seals, he had no interest. Powell went ashore and claimed them for Britain. He named the island on which he landed Coronation Island and the group Powell's Group. Today they are known as the South Orkney Islands.
Discoveries continued and the United States became interested. Congress voted to explore the region. In 1838, American Lieutenant Charles Wilkes got the command of an expedition of six ships. Antarctica was only a minor part of this expedition. When he reached Tierra del Fuego, he divided the fleet into three groups. Wilkes' group of three ships went south to determine how far they could penetrate the pack ice. The ships lost contact with each other. One ship was lost. In November 1839, the expedition was reorganized with four ships sailing south on December 26. They became separated and one returned to New Zealand. The other three met on January 16, 1840 at about 154° 30'E, and discovered this land. One ship continued west and charted discoveries into today's Shackleton ice shelf. Wilkes named this huge shelf Termination Land. Wilkes followed the Antarctic coast for 2000 kilometers and claimed discovery of the Antarctic continent. Investigations have proved most of Wilkes coastline demarcation accurate.
Antarctica exploration continued despite the hardships and common entrapment in ice. Government sponsored voyages sought to find new land and claim it for their country. The explorer Dumont d'Urville, claiming land for France, was the first to name Terre Adélie and the penguin of the same name after his wife.
The next big goal became to reach the magnetic South Pole. Wilkes and d'Urville passed each other during their search. James Clark Ross from Scotland joined the search. When he learned that the other two explorers were in the area he planned to explore, he decided to go more east and then sail south. He discovered the island now named for him and named two mountains after his ships, Erebus and Terror. When he encountered what today is known as the Ross Ice Shelf he and his crew were amazed. They sailed along this barrier for 450 kilometers. On January 22, 1841, he knew he had gone farther south than Weddell and retreated.
During 1850 to 1890, interest in Antarctica declined. Since the seal populations had been devastated, Antarctic sealing voyages failed to yield profit. This allowed the populations of fur seals and elephant seals to increase slowly from the tragic overhunting.
In 1890, the mapmaker John G. Bartholomew became the first to use the name Antarctica as he labeled a map of "the unexplored south polar continent". He published this in an atlas. In 1893, Carl Anton Larson of Norway explored the east and west coast of the North part of the Antarctic Peninsula. He became the first to use skis in Antarctica. In 1904, he established Antarctica's first whaling station, beginning the Antarctic whaling period.
On January 18, 1895, Carsten E. Borchgrevink, a biologist on a Norwegian hunting ship found lichens. This is the first vegetation found south of the Antarctic Circle. In 1889, Borchgrevink brought the first dogs to Antarctica and they became important members of the crew. However, sadly, this became the first expedition to have a death on the Antarctic continent when zoologist Nikolai Hansen died in 1899.
In 1897, Adrienne Victor Joseph de Gerlache put together an international crew including American Frederick A. Cook. They set sail on the Belgian ship Belgica. This voyage became the first to take photographs in Antarctica. On February 16, 1898, the Belgica became trapped in ice where it stayed for 377 days. It became the first ship to spend the winter south of the Antarctic Circle, proving that bases could be set up on Antarctica. Cook who had experience in Arctic exploration received the credit for saving the crew. They ate fresh seal and penguin meat. He organized games and other entertainment to keep up morale as much as possible. Their survival became fundamental to the future of Antarctic exploration.
In 1901, Larson again set sail, this time exploring the Peninsula as part of a crew captained by Nils Otto Gustav Nordenskjöld. When his expedition tried to penetrate into the Weddell Sea, the ice forced them to stop. In February 1902, six men including Nordenskjöld set up a winter base on Snow Hill Island where they lived in a small hut and spent time exploring. The rest of the crew took their ship back to the Falklands for the winter. Upon the ship's return, it got caught in pack ice and sunk. The crew spent 16 days bringing provisions in small boats to Paulette Island where they wintered. They built a stone hut which we will see during our trip. While the expedition is most famous for its remarkable survival, it also accomplished the most significant Antarctic research of its time in the scientific fields of botany, geology, glaciology and hydrography.
On August 6, 1901, British explorer Captain Robert Falcon began his expedition on the ship Discovery, the best equipped Antarctic expedition of its time. On February 4, 1902 he undertook the first flight in Antarctica aboard a tethered balloon. Photographer Ernest Shackleton went up next, becoming the first aerial photographer of Antarctica. They wintered on Ross Island and became the first to have electric lights thanks to a windmill and published the first magazine. On November 2, they departed for the South Pole. However they didn't reach their goal. When conditions became too harsh, they decided to turn back.
On November 2, 1902, Williams Spiers Bruce of Scotland began his mission which set up a meteorological station. At the end of the first season, he requested that Britain continue to staff it. Upon denial, Argentina took on the task which continues today, making the station the oldest continuously operated base in Antarctica.
In 1904, French Jean-Baptiste Charcot discovered Port Lockroy on Wiencke Island. Afterward he sailed farther south and spent the winter in Antarctica. He had trouble returning and landed at Port Lockroy to make repairs.
In 1910, Roald Amundsen of Norway began his famous voyage to Antarctica. On December 14, 1911, five men, with two sleds and 11 dogs made it to the South Pole. Amundsen claimed the South Pole for Norway. He left a note for Scott in a tent and headed back to his base which he reached on January 25 at 4 AM.
On November 29, 1910 Scott sailed from New Zealand. In January, he established his winter quarters and installed a telephone line between Cape Evans and Hut Point. On January 17, 1912 he arrived at the South Pole and found that Amundsen had been there 35 days earlier. His team started for home but suffered starvation and incredible cold. The first man of five died on February 17. Scott made his final journal entry on March 29. On November 12 1912, a search party found them frozen. It was so devastating that I still remember seeing them sitting in the life size re-creation of their hut when we visited New Zealand in 1997.
In December 1911, Douglas Mawson of Australia headed the Australasian Antarctic Expedition. He took the first airplane to Antarctica. Even though it had no wings due to a previous accident, he hoped to use it as an air tractor. However the engine couldn't sustain the heavy load it towed. The expedition achieved several Antarctica firsts. On a sledding trip, it found the first Antarctic meteorite. On September 25, 1912, they established the first radio contact between Antarctica and another continent. The expedition is mostly remembered for its fatal dog sledding journey when three men explored the area to the east. One of the group vanished down a crevice with his dog team and most of the group's food and tents. Mawson and the remaining man, a mountaineer and ski champion Xavier Mertz, headed back toward their home base. During the trip Mertz died, so Mawson sawed away half the sled so he'd have a lighter load. Only a few hours before Mawson reached the hut back at his base, his ship had sailed for the winter. Mawson and his six men who had stayed behind waiting for him remained on Antarctica for the winter. They arrived home to Australia in February 1914. Mawson did not give up Antarctic exploration. From 1929 to 1931 he led two summer exploration trips of BANZARE, a British, Australia and New Zealand project.
Even though the South Pole had been reached, exploration continued. In 1911, Bavarian Wilhelm Filchner set out on the second German expedition. In 1912, a Japanese explorer Nobu Shirase took a Japanese expedition to Antarctica. He met Amundsen's group at the Bay of Whales on Ross Island Shelf. Although he claimed the shelf for Japan, the claim was never taken seriously since Amundsen had already been there. Despite Japan's disapproval of the expedition in the beginning, Japan welcomed Shirase and his team home as heroes.
In 1912, New Sandefjord whaling station opened at Deception Island. During the 1912-1913 season, it processed over 5000 whale. Since we'll be visiting here, I'll save the details for later.
In 1914, Ernest Shackleton raised funds for an expedition to cross Antarctica. Since Germany was attempting a similar feat, the British became motivated to be the first to accomplish this. When World War I broke out, Shackleton offered to redirect his efforts towards the war. First Lord of the Admiralty, Winston Churchill, instructed him to proceed with his Antarctica expedition. Since we will attend a seminar on this, I will save the rest for later. On January 5, 1922, during his last expedition, he died aboard his ship at Grytviken. His wife decided that he would be buried on this island.
In 1928, George Hubert Wilkins of Australia, having successfully completed an Arctic Ocean flight, undertook an Antarctica flight. He recruited the same pilot and plane and a backup of each. Since these planes had no wires or exposed controls, they were state-of-the-art. On November 16, 1928, Wilkins and his first pilot flew for 20 minutes, making this the first motor engine flight in Antarctica. On December 20, they traveled in the air over the Antarctica Peninsula's east side, logging 11 hours. During the next summer, Wilkins came back to Antarctica and mapped 200,000 square kilometers of new land.
On November 29, 1929, American Richard Evelyn Byrd became the first to fly over the South Pole. In 1931, Lincoln Ellsworth hooked up with Wilkins to cross Antarctica by plane. Their first expedition failed when their plane was destroyed on an ice floe. Ellsworth made several more unsuccessful attempts. In 1935, Ellsworth and Canadian Herbert Hollick-Kenyon, a new pilot, made two unsuccessful attempts. On their third, they took off from Dundee Island at the Peninsula tip to fly to the Bay of Whales, Ross Ice Shelf. The flight should've taken 14 hours but stretched to two weeks which included camping at four sites. Their radio died, the plane ran out of fuel 25 kilometers from the destination so they hiked for eight days and made it.
In 1935, Caroline Mikkelsen with her husband who was captain of a whaling ship became the first woman to land on Antarctica. Women had little presence on the continent throughout its early history. In 1947, two women spent a year with their husbands on a research expedition. In 1956, Russia sent marine geologist, Marie V. Klenova to do research for part of the summer. In 1968 to 1969, four Argentine women performed research in the field of hydrographics. Although the late 20th century brought more women to Antarctica, it wasn't until 1989 that the first woman Diana Patterson became the leader at Australia is Mawson Station.
In 1946 the United States undertook Operation Highjump, the largest Antarctic expedition, as a polar training operation. It had 4700 men, 33 aircraft, 13 ships and 10 Caterpillar tractors. It brought helicopters and icebreakers to Antarctica for the first time and took tens of thousands of aerial photographs of almost 3/4 of the continents coast. The following year, an expedition surveyed the major sites of Highjump.
In 1948, the president of Chile Gabriel Gonzáles Videla went to Antarctica with 140 people. This makes him the first head of state to visit the continent. He inaugurated O'Higgins station. In 1954, the Australian National Antarctic Research Expedition established Mawson Station. It becomes the first permanent scientific station which is presently one of Australia's three continental stations.
The International Geophysical Year ran from July 1, 1957 to December 31, 1958 to coincide with a high intensity of sunspot activities. Twelve countries, Argentina, Australia, Belgium, Chile, France, Great Britain, Japan, New Zealand, Norway, South Africa, the United States and the USSR, build over 40 stations on the continent and 20 on the sub Antarctic islands. This includes the US station at the South Pole and the Soviet station at the Geomagnetic South Pole. International cooperation led to the Antarctic Treaty which makes Antarctica a nature reserve for peace and scientific exploration. It prohibits nuclear detonation and waste disposal as well as all military activity. It encourages sharing scientific and research results. It contains provisions for on-site inspection by foreign observers and eliminates the chance of sovereignty disputes among these countries. As of July 2008, the number of countries participating in the treaty grew to 46. They meet annually.
Environmental protection is a major goal of the treaty and its parties. In 1978, a convention convened and put in place a means to regulate commercial sealing in case this ever occurs again. In 1980, the Convention of the Conservation of Antarctic Marine Living Resources established protection of species which if over fished would destroy the ecosystem. In 1991, the Protocol on Environmental Protection was adopted. It established Antarctica as a natural reserve which outlaws mineral resources activity except for scientific research. In 1994, due to the protocol the last sled dogs left in Antarctica.
Exploration, positive conquests and accidents continue in Antarctica. Science and tourism are the main activities. So, here's the tale of our Antarctic exploration...
Our Route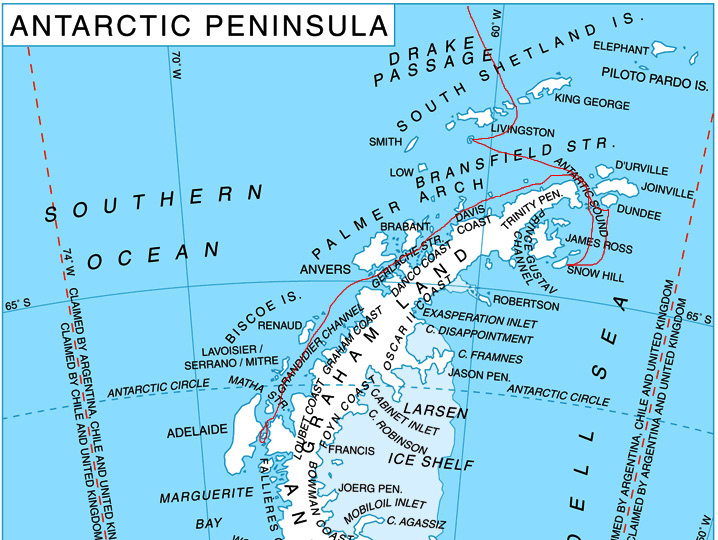 Day 4: Saturday, Dec. 19
The sun rises at 4:22 AM.
Today we sail the Drake Passage, 1000 kilometers of ocean between South America and Antarctica. It's actually part of the Southern Ocean, the world's fifth ocean. The Southern Ocean borders the Atlantic, Indian and Pacific oceans on their south. Our daily handout states that
"Sir Francis Drake, the famous English explorer and buccaneer, was born in Devon of humble parents, and by age 13 was voyaging to the West Indies. During the years 1577-1580, he sailed around the world -- the first Englishman to do so -- plundering Spanish ships and charting new territory as he went. On September 6, 1577, Drake cleared the Strait of Magellan, but the next day a severe storm struck which drove the Golden Hind as far south as 57°. He reached the place where the Atlantic and Pacific oceans meet.
"Drake's nephew, Francis Fleischer, describes their falling in' with the uttermost part of land towards the South Pole without which there is no main nor island to be seen to the Southwards; but the Atlantic Ocean and the South Sea meet in a most large and free scope.' This turbulent place, known today as the Drake passage, proved that Tierra del Fuego was not part of Terra Australis Incognita, though mapmakers refused to accept this for many years."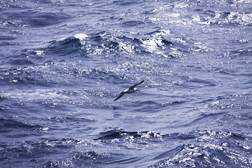 Black-browed Albatross Over
"Calm" Drake Passage
We sleep in through breakfast for some of the morning. I feel like I might be getting a cold but it's only allergies, which I think is due to the exceptionally dry air. Ship personnel say that the sea is quite calm for the Drake Passage, but I think it's very rocky. At 9:30 AM, we go to the staff introduction.
They begin with a presentation and video about how Lindblad and National Geographic joined forces to provide educational travel, environmental tourism, research and superb photographic opportunities. Since Lindblad's mission is to explore the world and National Geographic's is to report and photograph the world, working together creates good synergy.
They introduce many of the crew which include Expedition Leaders, Naturalists, Biologists, Geologists, Birders, Undersea Specialist, Photographers and Polar Experts. Our captain is Oliver Kruess who has sailed the Antarctic and Arctic for almost 20 years. Our Expedition Leader is Tim Soper who I talked to on one of my several "I have a few more questions" phone calls while preparing for this trip. Kendra Nelsen is the Assistant Expedition Leader. She actually majored in finance in college but decided she prefers the outdoors and travel. Our Underseas Specialist is Lisa Trotter. She's introduced as the first to learn to scuba dive in the Antarctic. There's about nine Naturalists, three photographers, a Video Chronicler and two Wellness Specialists. The Naturalists will be our Zodiac drivers and tour guides.
Afterwards we explore the ship a bit and return to our room to relax before lunch. Lunch is a buffet with three salads, three hot dishes, soup, and dessert. There's plenty to eat most of which is quite healthy.
After lunch, we return to the lounge for a presentation entitled "Introduction to Digital Photography in the Antarctic." The photography team of Michael Nolan from Lindblad, and Sisse Brimberg and Cotton Coulson, who are National Geographic photographers, give a general presentation. One of the most significant instructions they give us is to let the penguins come to you. By sitting or lying down and being at the same level as the animal you're photographing, you'll get better shots. They break us into groups based on photography experience and type of camera. First they ask if anyone is shooting with film. No one raises their hand. Steve and I go to the Canon group. I learn about white balance and stops and how and when to use them. Our instructor encourages us to practice what we've learned.

We go down to check out the location and the setup of the mud room, which is the zodiac launching area. We're concerned about the several steps down to the level from which the zodiac leaves being too steep.
We return to our room for a break and then go up to the lounge for a mandatory briefing on Expedition Landings.

At the briefing, the presenters inform us about the procedures for boarding zodiacs and going ashore. They explain that sometimes wet landings are required. When a zodiac cannot be securely pulled up on a landing site, it becomes necessary to walk through shallow water to reach land. Our first planned stop for tomorrow will be rough, quite likely a wet landing, but the second one should be on easy, dry landing. Passengers will sign up for one of six groups. Since only 100 passengers are allowed to be on Antarctica at any time, groups will be rotated between landing, zodiac cruises and observation from the ship. Afterwards we talk to Tim about our concerns. He says that if I want, at the first stop, instead of getting out they can take me on a zodiac cruise. Steve and I decide it would be good for Steve to go alone and get an understanding of the zodiac logistics. By the time we get to sign up, some of the groups are filled and we end up in group 1. There are a good number of families on board and a somewhat large number of children. We try to avoid groups which could have many children because we think the zodiac passengers will be calmer.
We return to our room. Steve takes some shots from our deck and gets an excellent one of a black-browed albatross. It has a white body, eyes outlined in black and black wings and tail. I can't even estimate how large it is. It has a large head with a large orange hooked bill, long narrow wings and a short tail. It glides through the sky very gracefully. I read that albatrosses often follow ships in the open sea to take advantage of air currents produced by ships and the possibility of food being tossed overboard or stirred up to the surface by the ships propellers. They eat squid, small fish and krill which they catch by diving to the surface and putting their heads underwater. Their webbed feet and strong legs can hold them on the water to rest or to swim to find food. They run along the water's surface into the wind to begin flying again. They spend most of their life in flight. While they seem to just glide and be in total control, they actually rely on a constant supply of wind. They use their wings as an airplane does because flapping them is inadequate. When there's not enough wind, albatrosses sit and wait for more to come.
A large albatross can have a wingspan of more than three meters and a small one two meters. This type of albatross is considered a small one. It certainly doesn't look that way to me. I also read that this albatross' color is actually more brownish black and blackish gray than the pure black which it appears to me. Black-browed Albatrosses mate in remote sub Antarctic islands in September or October. They build substantial cone shaped nests with mud and grass on steep slopes close to others. Each has a single egg which is incubated for about 60 days. The parents tend the chick for about four weeks, feeding it with regurgitated semi-digested krill and squid. The chick leaves the nest at about 121 days. For albatrosses, the black browed has a relatively short breeding cycle, so they breed annually. (Incubation of small albatrosses ranges from 60 to 70 days while large types of albatrosses incubate for 80 days.) Black-browed are the most plentiful of all albatrosses, with an estimated population of over one million. However, as is common with all types of albatrosses, long line fishing vessels unintentionally drown tens of thousands every year when the bird takes baited hooks intended for fish.
We skip the cocktail hour and go to dinner early so we can get decent seats in the dining room. We eat with Phil and Mary from Oregon. They are also software developers and they toured Brazil, Argentina and Chile before coming on this cruise. We have so much in common with them that we close the dining room.
The sun sets at 11:28 pm!
Day 5: Sunday, Dec. 20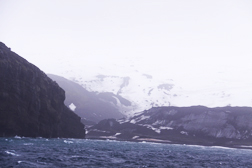 Deception Island
Our daily itinerary tells us that the sun rises at 3:04 a.m. We're not up for that. At approximately 6 AM, we sail past the South Shetland Islands and briefly look out the window. We're in Antarctica! The South Shetland Islands cover 540 kilometers and include four groupings. The island chain contains approximately 11 main islands and 150 islets. We're headed towards the southwest for Deception Island and Baileys Head. Deception Island is shaped like a letter C. At 18 square kilometers and over one million years old, it surrounds the caldera of an active volcano. The volcano last erupted in 1969. Baileys Head is known for its large chin strap penguin rookery. We get some good pictures of the snow capped rock and narrow straits.
We hear an announcement that the day is very windy and the captain decides that stopping at Bailey Head is not safe. Hopefully we can do a zodiac cruise but later we learn that it's still too windy and rough. We relax in our room for most of the morning. At 12:30 PM we go to lunch. This afternoon we go to a penguin biology talk which is very informative and interesting.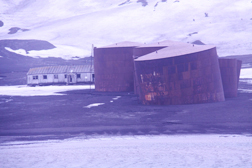 Whalers Bay
After navigating the tricky 230 meter wide break in the volcano's walls called Neptune's Bellows, the crew determines that the winds are too strong for a landing. We stay for a while to cruise alongside the caldera and pass close to the Spanish Base. We also see two yachts in a small cove, which are probably waiting for better wind conditions. In the afternoon, the ship lands at Whalers Bay on Deception Island. As we near the land, we see some interesting rock formations. The island also has many interesting land formations and birds.

Steve makes his first trip ashore to the black volcanic sand and experiences a wet landing. Before he left, we decided it was too windy for me to accompany him. He sees the remains of the only land-based whaling operation including an old dry dock, rusted tanks which were used to store whale oil  and barracks which are falling apart since they haven't been used in almost 100 years. He also sees bones of a whale's head. He hikes up the hill through much wind, so it's a good thing I didn't come on this "easy" landing. Steve had the opportunity to go bathing at Pendulum Cove but decided against it.
While Steve is ashore, I sit at the desk in our room and alternate between watching the landscape and writing this log on our new netbook. Even though the netbook has Dragon Speak installed, it doesn't have the power to successfully use it. Our room faces a side of the island but not the same one that the landing party goes to. It's still breathtaking.
History of Deception Island
After a while, I read the somewhat turbulent history of Deception Island. In 1906 a Norwegian-Chilean whaling company started using a part of the caldera's northern side as a base for its floating ship factory, a large vessel that processed whales which the ship had captured and brought to the base. This became Whalers Bay. In 1907, two additional Norwegian whaling companies and one from Newfoundland entered their factory ships in Whalers Bay. In 1908, Britain formally claimed Deception Island as part of its Falkland Islands Dependencies. Britain granted a Norwegian company a 21 year lease. One of Britain's reasons for doing so was to use approximately 3000 carcasses, which were abandoned on the shore after the ships had taken the blubber. However, the crews were unable to process the meat and bones which contains 60% of the whale oil. In 1912, the company began developing a station which became fully operational in 1919. During the first season 12 floating factories, 27 boats and the shore station processed over 5000 whales. The floating factories continued to remove the blubber and the shore station boiled the meat and bones to get the oil. In 1931, the shore station closed due to decreased whale oil prices and technology advances. Floating factories were able to process a whole whale at sea without having to land.
Throughout much of its history, since its discovery, territorial disputes have ensued. In 1941, Great Britain mounted a naval operation to prevent German raiders. They destroyed coal and oil fuel depots at the whaling station. In 1942, Argentina sent a Navy ship to take formal possession, leaving copper cylinders which contained official documents claiming the islands south of 60° between 25°W and 68° 34'W. In 1943, Britain removed this evidence and put up its own flag. They returned the documents to Argentina. Two months later Argentina replaced the British items with theirs. By the end of the year, Britain repeated its earlier actions and took away Argentina's markers. During February 1944, Britain built a permanent meteorological station, Base B., using the former whaling station barracks. In 1948, Argentina built its own base on Deception Island. In 1952, Argentina and Chile each built huts on Britain's airstrip but the British removed them a year later and extradited two Argentineans to South Georgia. During 1953 and 1954, British Royal Marines spent four months "keeping the peace" on the island. In 1955, Chile built a station at Pendulum Cove on the island. In 1969 the existing British building was damaged by a mudslide. Currently Britain, Argentina, and Chile claim the island and get along decently. We didn't see any evidence of the current occupation since the only facilities are operated by Spain on the southern side and Argentina on the west.
Some of the initial Antarctic tours occurred in the South Shetland Islands. In 1956, LAN Chile operated the first tourist flight. In January and February of 1958, an Argentine cruise ship sailed to the islands. In 1959, an Argentine and Chilean cruise ship each took passengers to the South Shetland's. In 1973, the earliest large visit of tourists to Antarctica occurred when a Spanish cruise ship brought 900 passengers to the islands and the peninsula. The ship came again in 1974 and 1975 but didn't land.
As our ship leaves the caldera, we see many cape petrels feed off Marine invertebrate which the ships propellers churn up.
At 7 PM we attend the Captain's Welcome Aboard Cocktail Party. We sit with Bill, Gena, Anthony and Eduardo. Bill was a Navy Seal and has many interesting stories. Tim starts the talks. Our Captain talks about how Lindblad always has alternative plans in case the first plan doesn't work. He introduces his staff who he says are the best to work with. They review the plan for tomorrow which is to go to the east of the Peninsula into the Weddell Sea. We'll see much pack ice which is floating ice that formed itself into a solid mass covering a wide area.
We go to dinner and sit with Frank and Gerry. I have soup, fish and a berry dessert. When Frank and Gerry leave, Tom and Susan join us. He worked as a National Geographic reporter and she is the vice president of Information Technology.
The sun sets at 11:57 PM.
Day 6: Monday, Dec. 21
The sun rises at 2:23 am. Luckily our room stays dark enough for us to sleep. Early morning wakeup call comes at approximately 7 AM, announcing our entrance into the Weddell Sea, the great ice-filled sea which pushes into the continent between the Antarctic Peninsula and Cape Norvegia in Queen Maud Land. In 1823, James Weddell of the Royal Navy discovered the sea and named it George IV Sea. In 1900, it was renamed. We're hoping that ice conditions will allow us to go around James Ross Island towards Snow Hill Island. This island is 20 miles long and 6 miles wide. In 1843 James Ross discovered it and named it Snow Hill due to its appearance in contrast to some of the nearby islands. The most northern colony of Emperor penguins has its winter breeding site nearby!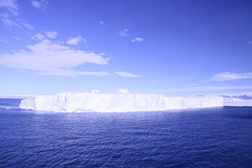 Tabular Iceberg

We go up to the bow outside of the Chart Room. However there's a large doorjamb to navigate as we step outside. Steve has to pull me over it. After a while and after taking a few pictures, I go back inside and watch from the observation room windows. A crew member announces a whale sighting, but I don't see it. Then we see two Emperor penguins, which is somewhat rare in this area. It's thought that most Emperor penguins live on the other side of the peninsula, much further south. They are far-off and appear very small but it's still really exciting!
Icebergs appear as far as the eye can see and are incredible. We see many types including tabular which are flat like a table, pyramids and hill or mountain formations. We also see ice caves and the crew explains that they are not safe to enter. They are certainly breathtaking!
We go back to our room. Soon we're passing a huge tabular iceberg. Its shape and size is amazing! We can actually see close up several large size cracks in it from our deck. This type of iceberg gets its name because it's flat like a table. Glacial ice forms through accumulation of snow which compresses its weight. It can last for decades, centuries and sometimes millennia. Shelf ice is a combination of freezing seawater, snow and glacial ice which moved to the coast from higher areas on land. When a huge piece of shelf ice breaks loose and is captured by a current, this is called a tabular iceberg. They can be up to hundreds of square kilometers on its top surface and can drift for years before melting or becoming part of a stationary mass.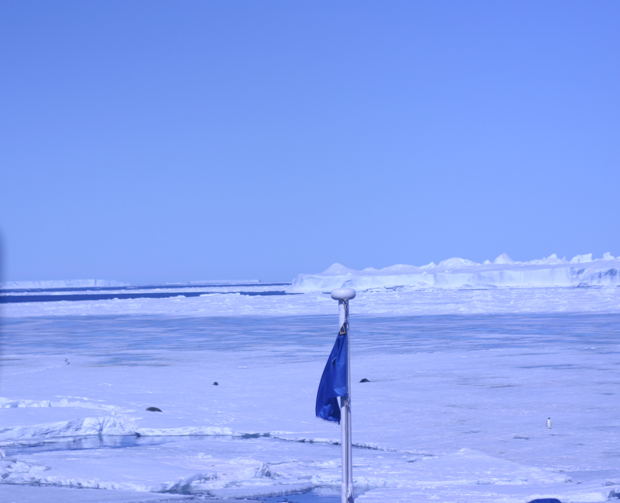 Ship Cutting Through Ice
We go to lunch after which we go back to the Chart Room at the bow to watch as the ship tries to dock on the ice. I stay in the Chart Room as Steve heads down to the bow like many of our fellow passengers. Our captain puts our icebreaker ship into the ice. Since its spring-summer, the ice breaks easily. The crack widens as we sail into the ice. Steve gets a nice picture of a loan petrel flying over the ice. Petrels a.k.a. tubenoses have deeply grooved and hooked noses. They store fresh oil in their stomachs and regurgitate it for their young or to spit at others in defense. They excel in flight but on land most types clumsily waddle. Judging from the size of this one, it could be a giant petrel which walks well on land so it's successful in gathering prey especially carrion.
Once the ship appears well grounded, three crewmembers take a zodiac out to make sure it's safe for passengers to go ashore. Our group will be one of the first to go ashore so we push to get dressed as quickly as possible. Due to the nature of Antarctic gear, I need a lot of help from Steve and we're concerned we might not make it. When we get down to the mud room, we find that the crew is not checking who's in what group and they just guide us through the steps to board our zodiac. There's a bit of a wait and they want me to board first.

When the previous zodiac departs, they have me step into a pan which looks like a large dishpan and wipe my feet. Although they offer assistance, Steve lifts me into the pan and out of the pan. I wait for him at the top of the stairs while he wipes his feet in the pan. This is so that no contaminants from the ship are brought onto Antarctica. Steve, with the crew assisting, lifts me down the somewhat steep stairs. When we reach the bottom, Steve takes my top and the crew takes my legs and they lift me into the zodiac.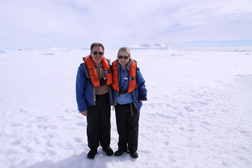 My First Landing!!!
The brief ride over to land is smooth. On the way over, we see several penguins alongside a Crab Eater seal. No one knows why this type of seal got its name since it doesn't eat crabs. It's the most abundant seal on earth. We have a dry landing.

Steve and a crew member help me off somewhat easily. My first landing on Antarctica! We see a colony of Emperor penguins!! I walk for a while but find it a bit difficult. Actually, walking isn't too bad but I know Steve wants to explore and sitting would be better. When we ask a crew member if they could bring over my wheelchair, she says that she's already radioed over and asked them to send a folding chair on the next zodiac. When it comes, Steve gets me situated, takes my picture "sunbathing" and takes off along the trail that the crew has set.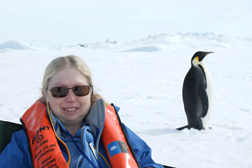 Penguin Just A Few Feet Behind Me
I don't have my camera. We decided since this was my first landing I should get the feel of the process without having to worry about my camera. I enjoy watching the penguins and the passengers. I'm sitting right at the beginning of the trail, so most passengers pass right by and I chat with them. Most of the Emperor penguins are walking. Some toboggan or in other words slide on their stomachs propelled by their wings/fins.
I chat with a few passengers as they pass by. Roberta, my new friend from the Chart Room, calls me the ship's princess and says that every ship should have one. I reply that all I need now is a glass of wine. Roberta also says that she thinks it's about 60° here. I don't think it's that warm but I'm almost too warm in my three layers. In about 15 minutes, the ship's crew sets up a table with hot spiced wine and cookies.
A fellow passenger, Chris, asks if he can take my picture. I say okay but ask why. He replies that there is an Emperor penguin standing a few feet behind me. I ask him for a copy, to which he agrees.

I speak with the crew member and ask how important it is to stick with our assigned zodiac group. He says that the schedule is a guideline and if we have trouble making it, we should just come when we can. No one is ever turned away from going on a zodiac.
When there aren't many passengers around me, several Emperors come up to me as close as about 3 feet. They have blue grey backs and fins and black blue heads with yellow and white ear patches. Underneath they are white but their upper breast have some pale yellow. Emperors are about 42 inches tall. Males weigh about 84 pounds and females weigh less. They are deep divers, hunting fish and squid which they capture at approximately 165 to 1640 feet in twilight water. The longest recorded dive of an Emperor penguin is 22 minutes. When they surface, they cruise at approximately five mph.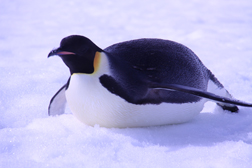 Emperors Toboggan Long Distances
Emperor penguins breed on sea ice, in the coldest environment of any bird, perhaps any animal. In early winter when the sea ice becomes strong enough to bear their weight they gather at the edge of the coast and some islands. They require ice which will break up in the spring. The adults have fattened up to about 22 pounds more than their normal weight. Courtship includes trumpeting, showing off their golden colors, pairing and bonding. They claim the ice around them where ever they stand. The female lays a single egg in May or early June. The male cares for it for about two months of incubation during the harsh, dark Antarctic winter. He carries it on his feet covered by a fold of his abdominal skin, protecting it from the weather by huddling with other males. During this time the female feeds herself at sea, coming back with a full crop of food at about the time of hatching. By this time the male has lost about 45% of its weight but he gives the naked chick its first meal of fat and protein secreted from his crop. When the female takes over, the male goes off to sea to eat. His trek may take several days. The chick molts while being fed by its mother. When its father returns, the parents take turns feeding the chick. At about six weeks, it joins the crèche and fledges at about five months in the spring when the walk to food is at its shortest. In difficult seasons, many chicks die of starvation. But in good seasons they're carried out to sea when the ice breaks. By this time, the young have achieved independence and moult into their diving plumage before the floe disintegrates. They learn to dive into the sea for their own fish on their own. They become sexually mature at about the age of four. Most go back to their natal colonies to breed.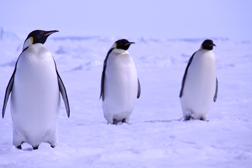 And Walk Short Distances
Steve is gone for quite a while and when he returns he's quite excited about what he saw and photographed. He's got some fantastic pictures! Most he took sitting or lying down. I love the one of two penguin together one chatting to the other. He's got a good number of tobogganing, which Emperors do for long distances. They only walk short distances. They like to stretch their neck and Steve got a picture of three Emperors, each stretching their neck in a different direction. At one point he sat on the ice and waited for a lone penguin to toboggan close to him. He got close enough so that the viewer can actually see ice crystals on its beak.
Steve also took several pictures of Crab Eater seals. They grow to a length of 8'6" and weigh 500 pounds. Most of the time they just lay around and sleep or watch. They have no protruding external ears. They cannot run or raise themselves on their upper flippers. They move clumsily or crawl like a caterpillar. Their faces look like dog faces. While usually silvery tan on top, since it's summer the seals' tops have faded to a creamy white. In January, they will moult back to their normal color. These seals eat krill and other crustaceans, but not crabs, up to 20 to 25 times their body weight in a year. They only live on pack ice where they can easily reach open water. They give birth between the middle of September and the beginning of November. The pups have a soft grayish brown coat. They grow quickly eating high-fat milk. At approximately 5 weeks, they moult into diving suits and go to sea.

We walk back to the zodiac. Getting into the zodiac from the shore is much easier than from the ship. I sit, turn and slide to my place. On the way back we see several seals hanging out with penguins.
Today's recap and briefing occurs at 6:45 PM. The presenter starts with a recap of yesterday, since yesterday they didn't get to do the daily recap. Next they begin to talk about today. The presenter tells us that blue ice occurs when ice becomes very dense and squeezes out red colors. A naturalist provides information on Orca, killer whales. There are three types but I don't get whether they are different species or just have different markings. Whales are actually dolphins but the size makes them whales. Male whales stay with their mothers.
The crew's Penguin Specialist says that today we had the best sighting of Emperor penguins in 12 years. The amount we saw today increased her total tenfold. She hypothesizes that perhaps we saw a new colony on Snow Hill Mountain. There was a viewing in 1997 and again they were seen in 2003. During their reproductive cycle, parents probably just left the chicks there. The ones we saw were plump because they've been feeding themselves as well as their chicks. They may be behind in their reproduction cycle.
Next Tim spoke, stating that we had an incredible set of circumstances to see what we did, namely Emperor penguins on ice in the sunshine. We were lucky that this season the winds have blown in a direction that blew away the ice. Tomorrow's plan includes heading back north to the Weddell Sea to Paulette Island. We aim to go on shore at approximately 8:30 AM.
They end the recap with an announcement that the movie March of the Penguins will be shown tonight in the lounge. It can also be viewed in our room's TV.
We go to dinner, eating with Patricia and Charles from Washington DC. Afterwards we return to our room and watch March of the Penguins. Although we've seen and enjoyed it before, we enjoy it much more since it's more meaningful to us.
Tonight the sun sets at 11:04 pm.
Day 7: Tuesday, Dec. 22
The sun rises at 2:29 am. Glad I was sound asleep!
During the night we sailed north to the Erebus and Terror Gulf in the northern part of the Weddell Sea. We arrive at Paulette Island located toward the top of the Antarctic Peninsula. It's home to about 100,000 pair of Adélie penguins. Its diameter is only 2 kilometers but it rises to an elevation of 1,158 feet. Discovered during Ross' 1839-1843 expedition, it was named for the Right Honorable Lord George Paulette who was a Royal Navy captain. On February 12, 1903 the ship named Antarctic, after being crushed for weeks by Weddell Sea ice, sank 40 kilometers from the island. Its crew of 21 took 16 days to reach the island. They built a 10 meter by 7 meter shelter on the northeast coast in which 20 survived the winter.
The island is comprised of steep rock and volcanic debris slopes with a cone shaped summit. The island is comprised of steep rock and volcanic debris slopes with a cone shaped summit. We plan to land on the gravel beach with a lake at the back. Our group is one of the last to land. We begin the morning by going up to the deck to check the landing site. We're amazed that the deck is almost
empty. There's only one other person.  We're happy when he says he'll take our picture! We see a
< good number of groups of Adélie penguins on ice floes. I estimate at least 100 penguins on the floes. At some places on the island, they look like dots on the snow.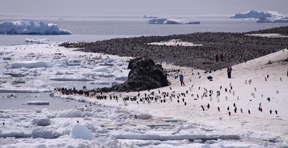 Adélie from Ship...About 100,000 Nests
Adélie have a height of approximately 30 inches and weigh about 11 pounds. Their cruising speed at sea is 4.5 mph. The deepest recorded dive is 574 feet. Adélie and Emperors are the only two exclusively Antarctic penguins. The Adélie breeds further south than any other type. They gather in vast colonies. They fish for krill in shelf waters, mostly surface waters. Literature from our ship calls them the quintessential tuxedo clad penguin.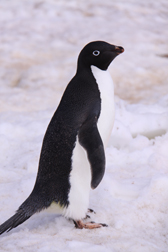 They Walked To Within a
Foot of Me
Adélies have a very quick breeding cycle of just a few weeks, when temperatures rise above freezing and food is abundant in nearby open water. They locate their colonies on ice free slopes of a rocky coast at high ground which offers a good route to the sea. During January and February, they require open water within a few miles when chicks need regular food. The males return first to the breeding ground. Females follow and join their known mate. Time is of the essence. If the weather does not allow the female to return in time, the male will bond with an available female instead of waiting for last year's mate. The brief courtship occurs with extensive wing/fin waving and guttural talk. The couple builds their nest of small pebbles in a thin recess within the rocks. They gather their materials with craftiness, often stealing them from other nests, and then closely guard them. It's important that their eggs are raised above the level of melted water. In the November, the female lays two eggs. They're incubated for 32 to 37 days and hatch in late December. The parents closely tend their young for about three weeks until they join the crèche, a large group of penguin chicks. Fledging, going to sea, occurs from the 41st to 64th day. Usually about mid-February when the krill is most abundant, the young penguins go to sea. The adults abandon them when they are nearly fledged at about seven weeks. They moult either on shore or on ice floes. They stay in the pack for several years after which they return to their natal colony. Only approximately 62% of chicks get to the crèche stage, but having survived, they are fairly safe. Harsh weather conditions are the chicks' worst enemy. If they live to two or three years, they can live up to the age of 10 or 12. Adélies are the most plentiful of all penguins.

We go to the mud room and ask about taking a chair ashore. The crew member says they've already have it ready. We do the zodiac preparation process. Three crew members lift me on. The water is rougher today. The ride over is cold because the sun has gone in.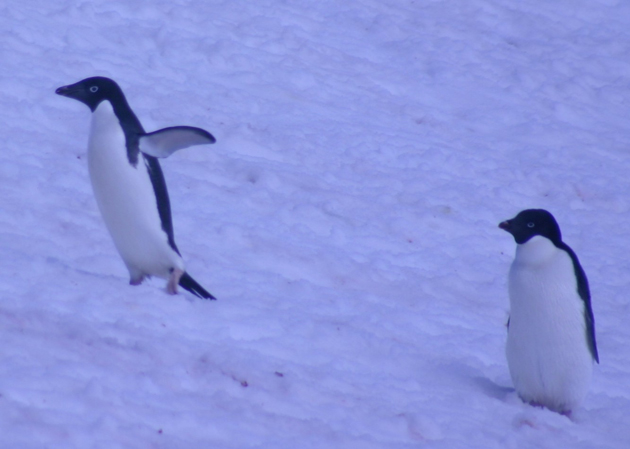 Most Continuously Move & Amuse
When we arrive on the island, Adélie penguins are all over the place! This snow is difficult to walk in and I sink into it a bit. Another person sinks and falls. Everyone is covered up in layers of clothing so it's difficult to tell who's who. A crew member sets up my chair so I face many of the penguins and can see the water. Several come very close to me, perhaps as close as one foot away. Most are continuously busy, going back and forth. I'm amazed that they never stop. Close by, one preens itself for what seems like 20 minutes. I nickname him Neelix after my cat who exhibits the same behavior. Most walk upright but occasionally a few toboggan. They are just so cute! Occasionally birds land and mingle with the penguins. A small colony of blue-eyed shag also lives on Paulette Island.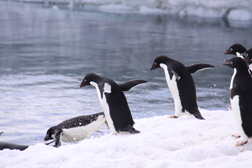 Let's Go Swimming
I turn towards the sea. Every so often a group of Adélie come to the top of the water and porpoise, or jump. I photograph them, taking many pictures. I decide the Adélie are my favorite penguin! I really enjoy watching the Adélies come and go from the water. On land, they form a line and leap into the water one at a time. When they come out, they just jump onto the land.
The penguins look like they are having so much fun! Several times I find myself laughing at their antics. At one point, a crew member comes up to me and points out a penguin who's very attentive to its egg, constantly checking it and watching over it. The crew member says that this parent will lose her chick because the parents built the nest on snow, instead of drier land. The egg will either become wet and the chick will freeze or when the chick hatches it will freeze from being born too close to the water.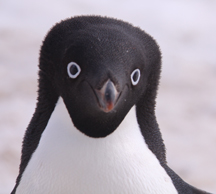 My Favorite Penguin Species
For most of the time, the sun is out and it's fairly comfortable. It goes under the clouds occasionally. Towards the end of our time on Paulette Island, the sun goes in and stays in. I get cold and shiver. A crew member comes over and says I need to get back to the ship but I tell him that I have to wait for my husband.

I am so glad when Steve returns. Steve hiked up the hill towards the nesting area. When he returns, he's excited because he thinks he photographed a picture of a mother feeding a chick. He saw and photographed Larsen's hut which was a challenge because penguins often block the hut.
Again three crew members lift me onto the zodiac. The ride back is cold since there's no sun and a good amount of wind. On the other side of the zodiac, people get splashed.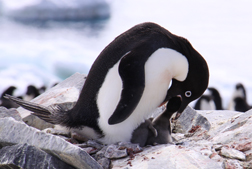 Parent Feeds Chick
Before we go to lunch, Steve shows me his pictures and tells me how much he enjoyed his adventure. He says that as he made his way up into the nesting ground, sound was all around him and very loud. Adélies compete to be heard. Steve saw them gathering the pebbles and maintaining their nests. He got one picture of the dirtiest penguin, with its belly covered in guano. He certainly needed a dive into the water to clean off. The picture he took of a parent feeding its chick came out nicely. He also got a great picture which shows how an Adélie's eye is actually quite smaller than it appears. The eye has a relatively thick ring of white feathers around it. He also photographed several sequences of a single Adélie leaping over a good-sized crevice in the ice which shows how they have evolved to use their wings for balance (and swimming, of course) instead of flight.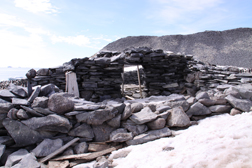 Two Room Shelter
He got some good pictures of the two room hut built by the stranded team. Most of what is left is its foundation but there was the interior wall with an empty door way. He wanted to get back to me earlier but was blocked by a group of penguins, which has the right-of-way under all circumstances. He had to be quick to move into a vacant area. Several times the penguins just engulfed him and he had to stand still until they moved out of his path.
Today, we have lunch with our neighbors Jack and Susie. Susie is fair like me and has a good-sized pair of sunglasses. We talk about how they ski and that she got these glasses because the sun bothers her blue eyes like it does me. They live in Arizona, so they really feel the cold.
This afternoon we go to a talk on Shackleton's Epic Journey -- The Imperial Trans-Antarctic Expedition presented by Eduardo. In October of 1914, Shackleton's ship and another ship were bound for Antarctica. The first ship left but Shackleton stayed behind to do more fund raising. He met his men in Buenos Aries, but his ship was not in great shape. On its way to South Georgia he found a stowaway aboard. At first he was mad, but when some of his crew told him that they thought the ship needed more help, Shackleton decided to accept him. They'd been advised there was too much ice and it was not a good year for their journey. However Shackleton decided to continue. On December 5, the ship got caught in ice. While they waited for their next opportunity to sail, they spent some of their free time playing football. Once free, they continued on their journey.
By January 19, they got caught again in ice in the Weddle Sea. Eduardo tells us that this is because they encountered a clockwise jarell, which is like a tide. By April 15, the ship was ready to winter in the ice. The crew constantly fought boredom and would put on entertainment. The ship's dogs provided a source of good morale. They celebrated the Queen's birthday with a dog race. They bet with cigarettes and chocolate which were more valuable than money. A crew member had to watch the boilers every night. Often a mate would keep the duty crew member company. In July, a bad storm occurred. Once through that, they were treated to a brief period of sun.
Our talk was interrupted for a while because we're sailing through large icebergs on both sides. We take a break to see this absolutely beautiful phenomenon.
After a brief review, Eduardo continues telling us that Shackleton ordered the crew to abandon ship. They could only take what was absolutely necessary. The photographer went back and Shackleton got mad. However by the time the photographer returned, Shackleton realized that they should have pictures. He went through the pictures and decided which ones he wanted to keep. He smashed the rest.
On November 21, the ship finally went down. It had been trapped for approximately 280 days. The crew hunted and ate seals and penguins. They were only allowed to hunt food to last one or two days. Shackleton believed that this would help them not to lose sight of the goal of getting out. They began to build sleds to pull lifeboats over the ice. A carpenter rebelled. Shackleton redressed the man but realized this was not a good idea. He worked on building patience within the camp. He went to Paulette Island for food but determined it was not a good place to stay. In March, he decided to go to Elephant Island by way of the frozen sea. He realized he was going in the wrong direction. On April 18, he landed on Elephant Island and chose the stowaway to be the first man on land. The man's feet were freezing by this point. Shackleton had to heave him up to where he was able to sit on the land.
Once again he realized the place they landed was not a good place to stay because the high tide mark was too high. They found Point Wild on the northern coast of Elephant Island. On April 24, Shackleton sailed with five men and traveled 800 miles to South Georgia. They took 30 days worth of provisions. They could only site their destination approximately 4 times. At one point they were engulfed by a giant wave but finally they made their way free. When they were almost in sight of land, they were hit by a hurricane. They almost gave up but the storm abated. They waited a day then landed at Cape Rosa. Having landed on the uninhabited southwest coast, they spent some time recovering, drinking freshwater and eating albatross. Then they moved and set up camp. It took three of the men including Shackleton 36 hours, to hike 17 miles to a whaling station. Up until this time, no one had gone more than a kilometer from the coast. They were met by the station master. When Shackleton asked about the end of the war, he was told how it had become the Great War with enormous death toll.
The next morning, Shackleton went to get the other man but the men didn't recognize their cleaned up Captain. He tried to get to Elephant Island but was beaten back to the Falklands. They tried again with the same results. It took four attempts over four months to successfully reach Elephant Island. At about lunch time, after approximately 108 days, on Elephant Island, the crew who remained on the island spotted the rescue ship. They built a bonfire at the end of Elephant Island. The men were out of food and starving. They couldn't even eat the first meal prepared for them because of the state of their stomachs. Once they returned to Europe, several of the crew died within a few months in World War I. I'm glad we're traveling almost 100 years later on a state of the art ship!
After the talk, we go to the Bistro where they're serving afternoon tea. We meet Gena and Anthony and enjoy a crepe and tea.
At five o'clock we go to the photography session entitled Taking Control of Your Photography. The National Geographic photographers provide a review of photography elements using some of their best shots. It's interesting but Steve covered most of what they presented in WebSLR.com.
We stay in the lounge since the recap will be starting soon. We meet and have a drink with Dave and Isabella. When we ask them what they thought of the photography session, Isabella says that she needs something more basic. As we ask her what she means, we learn that Steve's website webslr.com (now www.goldkeys.com/webslr/mkframes.html) would likely be what she's looking for. When we tell her about it, she agrees and writes down the URL.
At the recap, one of the naturalists informs us about their activities. Yesterday, early in the morning a group of naturalists were dropped off on a different island where they counted over 1600 nests of the Adélie penguins. Today we saw about 100,000 nests. The presenter talks more about the Shackleton story and another explorer's story.
Tomorrow our plan is to move on to the Gerlache Straight and Lemaire Channel. The crew is planning to land in Neko Harbor.
We have dinner with Bonnie, Spencer and Charlie of Austin Texas. As usual the food is good, but not special. When we return to our room, Steve sees a flock of birds flying outside our window and takes a good photograph. The sun sets at 11:04 p.m.
Day 8: Wednesday, Dec. 23
The sun rises at 2:14 a.m. Luckily our wakeup call is not till 7 AM. We go up to the deck. It's windy and cold so I only stay outside for a few minutes. Once inside, I enjoy a nice hot cup of coffee in the Chart Room. Steve goes back outside after he helps me find a good seat by the window. Errera Channel is beautiful! It has stunning icebergs and glaciers. From 1897 to 1899, Adrian de Gerlache explored and charted this area on the Belgian Antarctic expedition aboard the Belgica. He named the channel for Leo Errera who was a professor at the University of Brussels and contributed to his expedition.
We return to our room as our ship docks in Neko Harbor. I write postcards and work on my log while Steve naps. He's tired from his cold. When he wakes up he feels better and decides to go on the cruise and landing. I decide it's too cold and windy for me. While he's gone it starts to snow. The scenery from our room is gorgeous!

Zodiac Can Get Very Close to
Humpback Whales
When Steve returns he tells me about his adventure. First, the zodiac went on a cruise. They saw humpback whales about 20 feet off the zodiac. Zodiacs can get very close to the humpback whales. He got a picture of a whale expelling through its blowhole! He also photographed a phenomenal sequence of a whale diving. When one dives, its fluke rises above the surface. Occasionally they bring their tails down to the water explosively. Luckily the one he photographed did not. The zodiac driver informed the passengers that this behavior is possibly used as a warning. Steve saw many barnacles which live symbiotically on the whales. He has an impressive picture of the humps of a group of three whales.
The male humpback has a length of approximately 49 feet and the female 52 feet. They weigh up to 48 tons. The heads, lower jaws and chins of the whales are covered with fleshy knobs called tuberosities. They cruise slowly at 4 to 6 knots. They travel mostly in small groups. Their blow can reach 10 feet high. Their pectoral flippers are almost 1/3 of their body length. The tail fluke is scalloped irregularly and the underside is unique to each whale, which facilitates individual identification and has made it possible for a catalog of named whales to be developed.
Humpbacks are quite vocal. They whistle and sing songs which vary and is used for long-distance communication. They feed on crustacean and plankton by swallowing them close to the surface or lunging up at them from below. Their breathing passages are separated from the gullets so they can eat underwater without choking.
They usually breed every two years. The gestation period lasts 12 months, after which one calf is born, weighing approximately 1 1/2 tons and measuring about 13 feet long. As coastal animals they move in predictable migration patterns.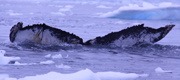 Steve's Tale of a Humpback Whale
On the way to their landing site, Steve saw incredible ice formations of white and beautiful shades of blue. He explains one picture where indentations have formed when an iceberg melts underwater. Eventually it becomes top-heavy and tips over. I love the pictures and wish I had been there.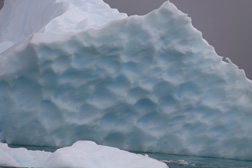 Neko Harbor Ice Formation
Indentations Where Ice Melted Under Water

After the cruise, they landed at Neko Harbor, named after the whale factory ship Neko which worked in the Antarctic Peninsula from 1911 to 1912 and 1923 to 1924. This is our first landing on the mainland of the continent. When I see pictures of Steve's hike up the peninsula, I'm not sorry that I didn't go. This is his first sighting of Gentoo penguins.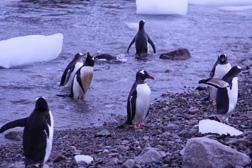 Gentoo Penguins
Gentoos grow to 30 to 32 inches and weigh between 12 and 13 pounds. They become smaller as one goes further south. They have the most prominent tail of all penguins. They also have a reddish orange beak, making the identification of a Gentoo easy. They eat fish and crustaceans, diving up to 328 feet for fish. Most dives usually last for about half a minute.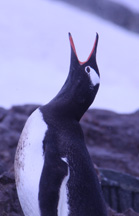 Penguins Find Their
Mates By Yelling
For Them
Gentoos return to their breeding grounds in October and November. Colonies are small. Attachment to the site is not strong but they have a strong attachment to their mate. Rookeries can be on the shoreline or as high up as 161 feet. Incubation lasts 31 to 39 days, shared by both parents. Usually the mother lays two eggs but only one survives to fledge. Chicks gather in crèches at four to five weeks, which allows both parents to fish. Their parents feed them after fledging, into March. They become sexually mature at two years of age but may not find opportunities to breed for several more years. Most live south of the Antarctic convergence but some have turned up as far north as New Zealand, South America and South Africa. The more adventurous tend to be adolescents.
We go to the Recap and Briefing. Rhonda from the gift shop does an artesian presentation. She tells us how their buyers search out unique indigenous crafts. Bill presents a slide show of part of today showing whales with barnacles. He calls today a "whale of a day".
One of the scientists talks about how the underside of the tail, a.k.a. fluke, is like a human fingerprint. It allows for identification and for scientists to track whales between the seasons. They've been known to go between Antarctica and the Arctic. The humpback whale is the New England name for big wing. He reviews the feeding of the baleen whale stating that they have fingernails like filters through which they take in plankton. Many types of whales feed on their right side. Today's water is more green and murky due to the phytoplankton food for krill. The barnacles embedded in the whale skin eat phytoplankton.

I'm impressed with the ship lounge's sound system. I'm hearing quite well with only one hearing aid. My other one has died. Before discussing tomorrow's itinerary, a crew member suggests that we become a fan on Facebook and Twitter.
When the presenter talks about tomorrow, he tells us that we are likely to get down, across the Antarctic Circle!
I think we arrive at dinner early, so we decide to sit at an empty table, toward the back of the dining room. However we end up eating by ourselves. Not many more people come in, so no one joins us until dessert when Tom did. I enjoy this, because I get to ask him about some of my writing questions. He seems happy to answer them and gives me some good tips.
This evening we sail through Lemaire Channel, seven miles long with an average width of one mile. It's picturesque with beautiful peaks on each side. In 1873, it was discovered by Dallman during a German exploration. In December 1898, Gerlache navigated the channel and named it after Charles Lemaire, a Belgian explorer of the Congo. 
The sun sets at 11:56 PM!
Day 9: Thursday, Dec. 24
The sun rises at 1:52 AM, less than two hours after it had set.
We sail to Crystal Sound and proceed through Matha Strait. Originally named Matha Bay by Charcot of the French expedition of 1908 to 1910, it was changed to strait when the British Graham Land Expedition of 1934 to 1937 realized it was actually a strait. Its namesake, Lt. A. Matha was Charcot's second in command of his 1903 to 1905 Antarctic expedition.
We cross the Antarctic Circle at 66º 33' S! South of the circle, every place experiences at least one day of continuous sunlight, when the sun does not set. This occurs during the summer solstice. Likewise during the winter solstice, every place south of the Antarctic Circle experiences at least 24 hours without sunlight. This occurs because the Earth's axis is tilted by about 23.5°. The tilt of the access gradually changes so the Antarctic Circle is always moving.

It's snowing out. Between the snow and what's likely to be quite a hike, I decide not to go on today's excursion. Steve goes ashore to Detaille Island, a small island discovered by the French Antarctic expedition of 1908 to 1910 led by Charcot. He named the island for a shareholder of Magellan Whaling Company who aided Charcot in procuring supplies at the companies based on Deception Island.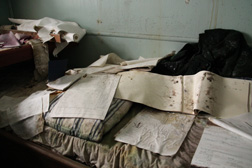 They Had One Hour to Leave, So They Left
Everything As It Was
In 1956, the British built a hut here. They called it Base W. Its formal name is Falkland Islands Survey for International Geophysical Year. It served as a Center for survey operations which was needed to explore this little known area. It operated from 1956 to 1959, studying the area's geology and meteorology. Steve hikes up to the station and tours it. When abandoned, the workers got the order to come now or be stuck here for the winter. With little time to pack up, they left it exactly as it was. Steve takes some interesting pictures. The scientists' bedroom had log books and papers lying out on the tops of their beds. The captain had his own quarters with a good number of book cases. The books remain in them. The radio room was fairly neat. He saw a homemade Scrabble board with all of the special scoring squares. It looked well used with quite a few coffee stains. The crew even left behind boots and warm coats which look like they were ready to be worn. The cabinets contain cans of food.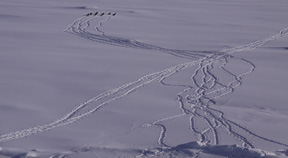 Adélie Wanderings
During the hike, Steve saw a good number of Adélie penguins. He took an interesting picture of a group of five. He got their tracks which show that the group must have started as two groups, a group of two which joined a group of three. He also saw about six Crab Eater seals just lazing on the island. The face of one has wounds from a fight. It's common for this type of seal to be attacked by their enemies, leopard seals. Steve takes several good shots of different types of lone birds.
Back on board the zodiac, they go for a zodiac cruise and see incredible ice formations. The zodiacs can get up close. The colors are gorgeous especially around ice caves. But the zodiacs are very careful not to get too close to the caves because they can collapse at any time. Several formations look like animals, one like a dog and another like a lion.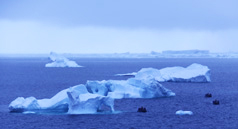 Awesome Ice Formations
Once under way again, we go to a presentation entitled Antarctic Iceforms given by Jason. The formation of the ice continent happened about 50 million years ago when Antarctica started to rotate and shift away from South America. Warm water cycled off South America while the Antarctic water became colder. Most of Antarctica gets very little snow but over millions of years, it has built up. It takes 14 to 18 inches of snow to make 1 inch of ice. Glacial ice, ice with all air pushed out of it, requires 10 to 15 meters of snow to form. Above ground ice formations began in the east then moved west. Ice moves towards the ocean at different rates on different layers. This makes it difficult to drill through. Antarctic glaciers are colder than Arctic glaciers. Bedrock has a temperature below frozen water. This causes the glaciers to move slowly.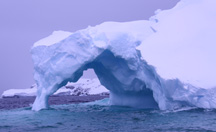 Close Up of Formation Above
When sea ice reaches 29.5°, water around it begins to freeze. The water forms pancake like structures. Every winter season Antarctica doubles its size by the amount of ice. During our winter, which is Antarctica summer, the ice melts. Next Jason talks about icebergs. In 1914, people started naming icebergs. After the Titanic sank, the United States and Britain decided they needed to track them.
We go back to our room and take a nap. We go to the lounge for the Recap and cocktail hour scheduled for six o'clock. Almost no one is there. We join our neighbors Rob and Vicki. Another couple, Andrea and Sheldon arrive. When we ask them where there from, they tell us Los Angeles. I tell them about my uncle who had a bookstore in Santa Monica and Andrea says that she was a customer.
Soon we learn that the cocktail hour has been canceled because a leopard seal has been cited on an iceberg at our bow. Steve and I decide to stay in the lounge because by the time it would take us to go to the room and get our outside gear, then go to the bow, the sea lion would probably be gone. The people who remain in the lounge have some concern because no one knows what the plan is for tomorrow.
We have dinner with Bill and Rebecca and their two children. At the end of dinner there is a sighting of orca whales. We go back to the room. I stay there but don't want Steve to miss it. The view from our room is awesome, especially the reflections of the ice fields. The time is 8:45 PM but it looks like it's 8:45 AM! Our ship cruised as far south as the ice would allow. We reached latitude 67°9' S before turning north. A member of the ship's crew makes an announcement that we'll be heading north for about an hour and reminds us that there'll be carols in the lounge. I'm hopeful we'll go.
When Steve returns, we go up to the lounge for the caroling. I expected somebody to be playing the piano and leading us in song. However, they're just playing Christmas carols over the audio system. We have a Christmas drink and talk with other passengers. Close to midnight, someone comes in looking for his child for midnight mass. That's our reminder that it's time to go. It's up on the bridge deck. Steve's never been to midnight mass and I tell him how it's so moving because it starts in dark and as the mass goes on the celebrant, other servers and participants light candles until the whole church is lit up.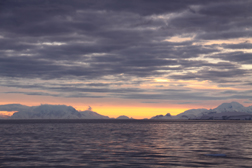 As Close As It Gets to Sunset Below the
Antarctic Circle

We've haven't been to the room where mass is, so it takes us a while to find it once we get off the elevator. We walk in late, behind the altar. I'm embarrassed but the priest waves us in, welcomingly. Mass is just starting in this room with large windows. The sun is still up, so the room is very bright. In his homily, Father speaks of how Jesus Christ brings us light just like the incredibly bright light all around us. He says that as bright as this light is, Jesus' light is infinitely more bright. His message blows me away! Our celebrant asks for a Eucharistic minister. When no one answers, a boy steps up. He seems awfully young, but later we find out that this was his birthday and guess that perhaps this is a gift for him. Between the beautiful landscape and bright light, this is one of the most spiritual masses I've ever been to.
We return to our room about 1 AM. The sun is at the horizon and Steve takes a beautiful picture from our balcony. Tonight the sun does not set.
Day 10: Friday, Dec. 25
Getting On &amp
Off the Zodiac Was Not Easy
Since the sun has not set, it does not rise.
This morning we sleep in while the ship sails by Peterman Island. Our Lonely Planet guidebook says that this is one of the most southerly landings that most cruises make. Since we sailed quite a bit more south, we're even more pleased with this cruise.
We arrive at the Argentine Islands. This afternoon we have an expedition. I am happy that conditions are good for me to go.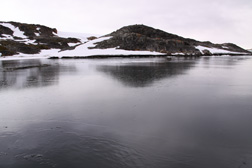 Ice Forming
Our expedition begins with a one hour zodiac cruise. We see ice forming on the water. It is less than a millimeter thick. Larry, our zodiac driver, pulls off a piece and has us taste it. Surprisingly, it's not salty. He tells us that when salt water freezes, the salt precipitates out. We see Crab Eater seals up close just lying in the snow. This is my first time getting so close to individual ice formations and I find them beautiful. Larry points out some red algae forming on the side of ice. He says that it's always exciting to see new growth.
We go to Ukraine's Vernadsky Station which was previously the British Antarctic Survey base Faraday. In 1996, Ukraine paid England one pound for the station. The station was named after Vladimir Vernadsky, the first president of the Ukrainian Academy of Sciences. According to our ship handout, officially "the station scientific work includes collecting both meteoric and ionospheric data. Our zodiac driver tells us that this station studies ozone.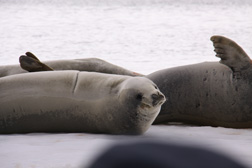 Crab Eater Seals

He says that there's much serious research being done in Antarctica but some countries are here just to have presence in Antarctica when important discoveries such as oil or other minerals, ores, etc. are made. The scientists have collected long-running weather condition records that show the mean annual temperatures along the peninsula's West Coast has risen between two and three degrees since 1947. The number of plants has increased while local ice cover has decreased. All of this could be due to global warming. As we approach the Station, we see Crab Eater Seals.

When we arrive at the station, a crew member carries me up the steep ramp to the stairs. We have to wait outside for the previous group to come out. I feel the wind chill! The wait seems like forever and I'm happy when we get to go in. The station has one main building and several structures around it, including what looks like a large oil tank from the Ukraine. There's a sign outside with Ukraine destinations and distances. Some of the words are in Cyrillic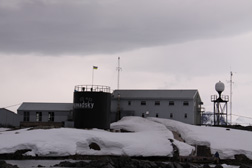 Vernadsky Station
First we tour the lower floor. Running down the middle, there's a long corridor which has rooms off of it. This reminds us of the setup of our friend Sveta's apartment in St. Petersburg, Russia. Most of the rooms are offices or research stations. We also see a room in which all types of outside gear are hanging. We see lots of skis and several types of snow shoes and ski poles. The hospital room contains one bed, a desk with a computer screen and some instruments. The exercise room has a good amount of equipment and a number of motivational (pinup posters) photos hanging on the wall.
Then we go upstairs to the souvenir shop and lounge. We go into the shop, looking for a chachka. We decide to buy a bottle of ozone. It seems fitting since the only people who live here are scientists and it's what they are studying at this location. At the most famous bar in Antarctica, they treat us to a homemade Ukrainian vodka drink which tastes like vodka flavored with caramel. Steve says that he thought he saw the bartender put what looked like caramel in it. It tastes slightly sweet and I think it's delicious.

When it's time to return to the zodiac, Steve helps me down the ramp very slowly. On the return trip, we go to Wordie Hut, a British research station established in 1947. It's being restored by volunteers. We drop off several passengers who want to go see it but we decide the climb is too steep for me. On the way back to the ship, I see my first Chinstrap penguin close-up. It's easy to see how they got their name. They have a black line under their mouth which looks like a strap and it is in the shape of a chin. At the top it attaches to the penguin's black cap.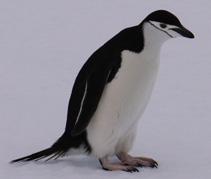 Chinstrap Penguin
Chinstrap penguins reach a height of 27 to 30 inches. Each weighs about 9 pounds. They cruise at about three mph with a maximum dive of 230 feet. They usually dive less than 33 feet for about a minute. They are more aggressive than other types of penguins. Often they nest higher, above Adélies and Gentoos. They nest in the rocky, icy slopes in heights from just above sea level to 330 feet. They have strong attachments to their nesting sites and mates. As last of the penguins to return to their mating sites, the first penguins go to the highest places where they push their way up, using their claws and peaks. Their nesting communities can contain many thousands of penguins which arrive in late October to early November. The mother usually lays two eggs in late November and early December. Their incubation period is from 35 to 38 days, shared by both parents. They join the crèche after a month and fledge at this about 52 to 60 days. They go to sea while the adults moult, staying at the site until late April or May.
On one piece of ice we see a Gentoo penguin and a Chinstrap. Steve asks if it's a rare for two types of penguins to be seen together like this. Our driver says no.
At tonight's Recap, Eduardo talks about exploration in Antarctica. Rick gives a presentation on the Wordie Hut on the Argentine Islands. In 1947, the British established the hut and the base we visited today.
A naturalist, Mike, tells us that on this trip they have been to nine penguin sites. They've counted 27,822 penguin nests. An egg shell analyst estimates the diet by examining the shells. They show us Splash Cam pictures of whale eating krill. They also talk about the ship's ROV used to watch underwater life. They show us pictures of many types of anemone.
Tonight the sun sets at 11:42 PM.
Day 11: Saturday, Dec. 26
The sun rises at 2:23 AM. Today will be our last day in Antarctica. This morning we will visit Port Lockroy. Discovered in 1899 by de Gerlache, it wasn't until 1904 that Charcot arrived, named it and mapped it. At first it was used as a port by whalers. In 1944, the British claimed and it named it Base A. In the beginning it was established as part of a secret war program to monitor German shipping operations, with code name Operation Tabarin. After the war, the station was used by civilians until 1964 for research. In 1996, restoration occurred. Today it's a museum and Antarctica's post office, the only place to buy Antarctica stamps.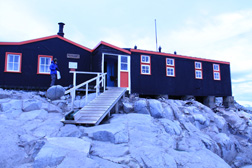 Port Lockroy

Steve goes ashore. I would like to go to since this will be our last visit to Antarctica but after talking with crew we decide it's not a good idea. It's quite windy today, my sugar's been high and I'm feeling tired. We're told it's a rather rocky climb but crew would be available to help me.
Steve finds Port Lockroy interesting but not as much as the research station we saw yesterday since it's a museum and not an active station. It has a gift shop and Steve buys me a penguin necklace and himself a T-shirt. Steve says it was an extremely rocky climb with two paths. The first led to the reconstructed port. It contains exhibits of the mid-20th-century base. The kitchen had many canned goods, pots, pans and plates. It looked well-equipped. He saw the radio room with much analog equipment. The scientific equipment in another room was used to research weather. The gift shop and post office support the UK Antarctic Heritage Trust.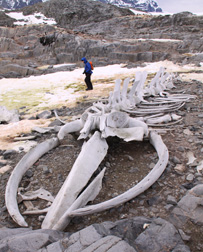 Reconstructed Whale Skeleton
Steve preferred the second path which led to a reconstructed whale skeleton at Jougla Point. He found it really interesting. There are several legends about how it was assembled including that it was assembled by Jacques Cousteau's team. Actually, it was assembled by bored researchers. The result is very impressive. While on this path, Steve saw two private sailboats. It takes about six days for sailboats to cross the Drake Passage and it can get very rough.
He sees a colony of Gentoo penguins on southwest Wiencke Island and tells me that they were quite loud. An interesting penguin was watching her egg and checking to see if it was beginning to hatch. Farther up on the rocks he photographs a bird, probably an Antarctic shag a.k.a. cormorant, maintaining its seaweed cone nest. He also took a picture of the parent feeding its chick using the same technique as penguins. Antarctic shags fish crustaceans, squid and bottom living invertebrates. He sees other white birds in the rocks which are probably pale-faced sheathbill or skua.
Weddell Baby Seal
Steve also sees a Weddell baby seal. The Weddell seal is the world's most southerly mammal. Usually baby seals are born between August and late October, depending on how far south they are. They're fed with high fat milk, about 42% fat after a few days. The pups grow fast for about five weeks. Then they moult into a diving suit and go to sea. This one is totally black on top but it looks like he's got at least a white chin.
On the way back, they took a zodiac cruise during which they came upon a small group of Chinstraps, approximately 12, and one Gentoo. The naturalist said that Chinstraps can get very nasty. At one point the Gentoo got too close to a Chinstrap, so the Chinstrap yelled at it and the Gentoo yelled back. Finally they settle down and appeared to be okay sharing the rock.

When Steve returns, he says we made a good decision for me not to come. The hiking was very strenuous.
We go to Recap. Mike starts off with saying "welcome to the show that never ends". This ship encourages passengers to submit their best three photographs to be included in a slideshow which they will present to us. They review how to submit our photos.
We have a presentation called "Stump the Naturalist" during which passengers can ask any question and the naturalist does his best to answer it. Here are the questions and answers.
Q.: Does one type of penguin know it's different from another species
A.: Probably, but we don't know for sure.
Q.: What about interbreeding and hybrids?
A.: Once we saw a Chinstrap with white spots on its head. We weren't sure if it was a hybrid.
Q.: Why would a Chinstrap nest way up in a mountain and not on a beach?
A.: Safety from predator seals.
Q.: Could penguins live in the Arctic?
A.: They were brought to Scandinavia. They lived for a few years but six months after the breeding cycle, some died and eventually all died out.
Q.: Why do we blast water?
A.: There's a problem when water is brought to another place because we can introduce a new type of biology into the water. It's also a standard method for a ship to mark time and place.
Q.: How far south did we go?
A.: We went 67°9' S, or about 1,300 miles from the South Pole.
Q.: How long could you last if you fell into this water?
A.: It depends on the person and their level of panic. The ship doctor says it takes approximately half an hour with normal winter ware for hyperthermia to start. All crew is required to take a hyperthermia class. Our captain has made about 90 trips to Antarctica since 1991. Back then there was no special training. Within the next few years, he will be required to go to this class. The instructors will have less experience than he.
At the end of our session, they tell us that we can purchase a copy of the itinerary map in the gift shop. The website will have a daily expedition report that stays online indefinitely.

We go to dinner with Rich, Vasant and Rajani. About halfway through dinner, the ship really starts rocking and rolling. Steve goes to lay down but comes back in 10 minutes. We order dessert but his stomach gets bad again so we give up on that. He begins to walk me back to the room but I have a very difficult time. Another passenger offers to take my other arm and walk with us. It's very rough going. Back in the room, I go right to bed and fall asleep quickly. We hope tomorrow will be a calmer day.
The sun sets at 11:37 PM.
Day 12: Sunday, Dec. 27
The sun rises at 3:29 AM, as we continue our cruise into the Drake Passage. Our ships daily handout tells us that at some point today we will be in the ocean latitude around 40°S. From 40°S to the Antarctic Circle is infamous for its westerly winds which blow uninhibited and are known as the "roaring 40s", "furious 50s" and "screaming 60s" according to our daily itinerary. We're forewarned about today's turbulence. When we pass 60°S, we're through the political boundary of Antarctica.
We sleep in until 10:15 AM then relax in the room until lunch time. We lunch with some people from New Jersey and New York. I don't eat much because I think it's wise. Our cruise today is going to be rough. We go up to the lounge for the disembarkation briefing.

We decide it's about time to go up to the bridge. Since it's up a fairly steep flight of stairs, we've taken our time getting there. However it's something we're both interested in seeing, so we make the climb. It's very interesting and the crew is very informative. They encourage us to look at everything but touch nothing. All of the instruments are computerized and digital.

I have a massage while Steve meets with Larry, our Lindblad guide, and the rest of our Easter Island group. My massage therapist Sheila is excellent and she comes to our room, which didn't look like it was going to be possible when I booked the massage. The spa area is up a flight of stairs which I could manage with Steve's help. The ships one elevator does not go to this floor. However, since the pool is also in this location I was concerned about going back downstairs if the steps were wet from all of the children running around. It could have undone any muscle relaxation achieved during the massage.
Steve and I go to the gift shop to purchase the itinerary map and ask if they have stamps for my cousin Jimmy who is a collector. Unfortunately they don't sell Antarctica stamps there. I also ask for the name of the stone earrings I purchased and the shopkeeper tells me it's London Blue Topaz.
We attend the final Recap in the lounge. Susan Canby, fellow passenger and passed librarian and IT manager of National Geographic gives a presentation. Presently she is vice president and looking forward to retiring in the new year. We've had meals several times with this wonderful woman. She's spoken a little bit about her work but she never let on about her position. National Geographic was founded in 1888 with approximately 34 scientists. Their mission was to share geographical knowledge. The members contributed books. In 1918, their polar expert donated his entire collection enabling the society to open its library to the public. They arranged the materials in the pattern of the world, for example placing information about the North in the north part of the library. The society gave grants to create other libraries. During World War II the society hosted many military functions.
Susan joined National Geographic in 1975 at the time when the Society was moving to new quarters. She helped prepare to automate the Society. In the 1990s, the Society developed its first webpage. They created an intranet and won the Nielson Nelson award. Today IT faces the question not of getting information but getting the correct information.
We have dinner with Rich, Eduardo, George and Liz from South Africa. We're fascinated to hear about South Africa since this is a country which we want to visit.
Tonight the sun sets at 10:47 PM.
Day 13: Monday, Dec. 28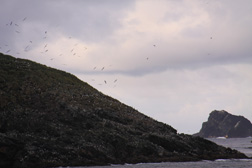 Diego Ramirez Islands - Home of Many Birds,
Penguins & Seals
The sun rises at 4:36 AM. Yesterday our ship made great time through the Drake Passage. Our expedition leader and captain decide to deviate from our planned itinerary and visit two additional sites, the Diego Ramirez Islands and Cape Horn. The former, a small group of islands located at the southernmost extreme of Chile make up the most southern point of South America. Most people believe that Cape Horn is actually the most southern, but the Diego Ramirez Islands are approximately 62 miles southwest of the Cape. First sighted on February 12, 1619 by Marco Ramirez, the Diego Ramirez Islands were seen during the Garcia de Nodal Expedition. Plotted as the most southern landmass when discovered, they kept that distinction 156 years until the discovery of Antarctica's South Sandwich Islands. Although the landmass of the island we will see is less than one square kilometer, many species of birds, three types of penguins and seals make their homes on these islands. We hope to see them all!

We arise at 5:45 AM so we can see the Diego Ramirez Islands. Unfortunately they're on the port side so we have to go up to the Chart Room. I mostly stay at "My Window", where I have spent most of my time while Steve goes on deck. I have a great view and Roberta lends me her binoculars. Steve roams outside where he confirmed that it is too cold for me to stay for any length of time. I see many penguins in the water, and many types of large birds and seals on the island mountain. We also see the meteorological station of the Chilean Navy.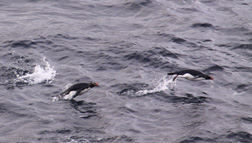 Rockhopper & Macaroni Penguins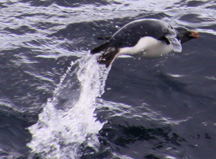 Megellanic Penguin
The birds live in the highest areas of the mountain. Black browed albatross greet our ship. I find them majestically beautiful as they glide through the sky. Penguins live in the lower areas. Although we see three species, Megellanic, Rockhopper and Macaroni, I find them hard to tell apart and hope that our pictures will be good enough so that we can identify the different types. Magellanic penguins are an endangered species. They are black-and-white with a red beak. They reach a height of 24 to 30 inches and weight of 5.9 to 14.3 pounds. The Rockhopper has a yellow lemon crest which extends from above each eye and ends in droopy plumes towards the back of his head. It grows to 21 1/2 inches and 5 1/2 pounds. The Macaroni has a golden crest joined in a broadband across its forehead. The crest extends over its eyes and sweeps into drooping but wider plumes. All of the penguins we see in the water are very active and extremely entertaining. It's too bad we don't have time to launch the zodiacs and see them up close.
On our way back to our room we stop at reception to give them my visa card number since Steve's was not excepted even though he told them about our trip. By this time, we're really annoyed with his AT&T card.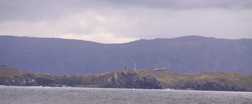 Cape Horn
We go back to the Chart Room and bow to see Cape Horn, which is not the southernmost American point. It looks like an upside down flying albatross. When ships attempted to go the "wrong way" around Cape Horn, from east to west, strong winds and seas caused ship wrecks. This occurred over 2,000 times. We see some buildings on it. According to our daily program these belong to the Chilean coast guard station which manages shipping around the Cape. We don't see much activity here and leave soon. We go to the wall outside the Chart Room to study the maps that the crew has posted. These maps mark all of the places we've seen during our cruise. It's very interesting.
We have lunch with Stewart and Kim and their children who are from Dallas. We return to our room to pack. It's tight but Steve gets it all together. Our bags have to be out by 6 AM. We expect to be tired when we return to our room for the night so we just want to get it done now.
The Captain's Farewell Reception and dinner is early tonight due to tomorrow's early landing. When we get to the lounge, the slideshow made up of pictures taken by passengers is playing. We see all three of Steve's slides. Roberta and Bill, another avid photographer, join us. Since Roberta didn't enter any slides, she let her husband Bill used her three entries. I had tried to encourage Steve to do the same, but he said I should enter mine which due to time constraints I never did. Roberta and I ooh and ahh I over Steve's and Bill's slides. Chuck and Barrie join us. Chuck is Roberta's brother and Barrie is his wife. They will be part of our Easter Island extension. The quite tall woman who thinks she's a beauty queen stands right in front of the screen and blocks our views. It's amazing how in every group there are always a few people who have no consideration for anyone but themselves. On this cruise she certainly takes the cake.
Tim talks about the cruise and introduces the captain. The captain calls up the "behind the scenes" crew to thank them. We have dinner at a table for two. At the end, some Lindblad staff and Tom join us. I ask Tom, a past writer for National Geographic, about getting rid of passive verbs. He replies that it's difficult, but the writer has to let the noun talk. The Lindblad crewmember is here part time while on a school break. He's a diver.
We go to bed as early as possible, missing our arrival in Beagle Channel and Ushuaia. We have the option to go ashore, but agree with each other to wait until tomorrow when we will have a city tour.
The sun sets at 10:10 PM.
Day 14: Tuesday, Dec. 29

We arise at 5 AM to finish our packing and put our bags out by 6:15 AM, 15 minutes ahead of the deadline. We try to go back to sleep but never really fall asleep. Neither of us slept well due to being nervous about tomorrow's transfers. We skip breakfast and disembark at 8 AM. The stairway is quite wobbly. At the bottom of the wobbly stairway, the captain, doctor and other key crew members say goodbye and invite us to sail with them again.
History of Ushuaia
Ushuaia was established as a penal colony in 1902. The military prison was transferred from Puerto Cook to Ushuaia. In 1910, Argentina built the world's most southern train route, the Southern Fuegian Railway. In 1911, the president expanded its purpose to also be a penal colony for repeat offenders. Originally a jail which held up to 600 inmates in 380 small rooms, the main building was designed as a hand with five fingers. The central hall became a conference room, movie theater and auditorium. Many inmates were craftsmen who were sent to this prison to help refurbish Ushuaia. The prison established the city's first printing service as well as telephone, electricity and firefighting services. Prisoners got paid for their work. If they didn't have a basic education, they received an elementary school education. Severe discipline was used as needed. In 1947, the president closed the prison and transferred the premises to the Marine Ministry. In 1950, Ushuaia became an important naval base.
In the past, gold, lumber, oil and fishing have yielded its revenue. Today tourism is the backbone of its economy.
Recently Ushuaia has grown from a somewhat small village to a city of over 55,000.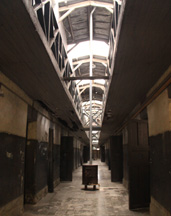 Jail Corridor
We ride through the city on our way to the Museo Maritimo, a.k.a. the Maritime Museum. Our guide points out sites such as the old family Behan's house, City Hall, the Raymos family residence and other old family residences. These houses vary from being very ornate to somewhat simple and not in good condition. Once we reach the museum, we walk through the mariner exhibit, the jail and art exhibits. Most of the art has a marine theme. We see paintings of ports, water, boats and fishing. I find some interesting but others are very simplistic and could have been done by children.
I think that the jail rooms are bigger than many I've seen elsewhere. We're told that only craftsmen came here. While the message seems to be look at how rough the prisoners had it, I think that for prison it looks rather comfortable.
We stop in the gift shop to look for a chachka. The shop is rather small and most items are touristy. Finally we find a steel pipe that's so unique I have to ask what it is. The clerk explains how it works and we're sold. The area in which the tobacco goes is less than an inch and flat with a top that has small holes for the smoke to escape.

We head out to Main Street which is down a rather steep slope. To me, it's really cold and I'm underdressed since we had to plan for Ushuaia and Santiago. I failed to think of the wind in Ushuaia. I like when we go indoors but Steve is too warm. We make several stops to look for birthday cards, especially one for a Spanish speaking friend. We have no success. Only one person even understands what I want.
We walk down to the parking lot next to the water which is where the bus is waiting for us. We ride back through the park from which we began our cruise. We enjoy lunch at the Patagonia Mia Restaurant. It includes a small pico sour, a pumpkin spinach appetizer, malbec, fish and rice, and Argentina berry ice cream. I only eat one of Steve's berries because I don't want to be uncomfortable on the plane.

Check-in goes easily but there are no assigned seats. Bill joins us as someone who has "special needs" because he fell coming out of the restaurant and is obviously in pain. Even with staff, it takes three tries to find a working elevator. Our group gathers at the gate and starts to line up. Larry, our Lindblad tour manager for this part of our trip, announces that there's still half an hour to go before boarding. When boarding time comes, they early board Bill and us. We get the second row and a friend joins us. I have the window and Steve has the middle. I fall asleep while Steve talks with our friend. The staff serves a snack of cookies. I get water and Steve gets coffee. I should've gotten coffee because I'm still exhausted. I continue to sleep.
We're last to disembark but my wheelchair is there and the staff takes me and Steve right through all the lines. Steve leaves me to get tomorrow's boarding passes. Larry set this up since the flight is overbooked. We ride to the hotel, once again on Erwind's bus. When we arrive at the hotel, we're served a pico sour. We go to our room for a little while and then down to dinner.
We eat in the hotel's Thai restaurant and have a very good appetizer, Chardonnay, Pad Thai shrimp, a salmon dish and the dessert bar. The dessert bar has a wonderful variety and everything I try is delicious. As we get ready to leave the table, I can't find my over blouse which I had taken off earlier. I call the waitresses but they can't find it either. We go back to the room to check in case I didn't wear it down but it's not there. I try to call the hotel desk but it takes about 10 tries with different buttons to get an answer. Finally they say they'll send someone up in five minutes. It's about 15 minutes before he comes and I'm in the bathroom so Steve handles it. The staff member calls the manager who says he'll come in 10 minutes. It takes a while so I lay down. When the manager finally shows up, he says the staff always returns what they find. He also says he'll check the tape to see if they see my blouse. Since it's the only long-sleeved one I have with me, I'm very concerned about losing it. Also the service at dinner was not very good and I'm very distrustful of the waitress staff. I'm sure it doesn't help that I'm so tired.
Day 15: Wednesday, Dec. 30
Today we fly to Easter Island. When we check out, the desk staff asks if I had any luck finding my shirt. I tell him no. Soon after we see one of our travel companions. He gives me my shirt and tells me that he thought we had left the restaurant when we had gone up for dessert. He saw my shirt lying on my chair, and tried to catch up with us. I thank him for it and tell him what had happened. Unfortunately there was no time for me to go back to the desk and apologize, but Steve took care of it.
History of the Easter Island
This history will be brief because our guide provides much of the history as we visited the sites.
Polynesians came to Rapa Nui as they explored the Pacific Ocean. Some experts estimate the first arrival was approximately 450 A.D. Most evidence only dates back to 800 A.D. Legend says that the initial settlers were brought here by King Hotu Matua. Matua is the Polynesian word for ancestor. The Rapa Nui language uses it for the word father. One archaeologist hypothesized that Polynesians may have sailed to Chile after discovering Rapa Nui. He found similarities between Rapa Nui and Chile archaeological sites.
It appears that by the second half of the 17th century, Rapa Nui's population had overstressed its resources. On Easter in 1722, Jacob Roggeveen a Dutch explorer came to Rapa Nui and gave it the name Easter Island. The next Europeans did not visit until 1770. The Rapa Nui people lived in caves and houses of the type we'll see on tour.
In 1774, Capt. Cook let his expedition to Rapa Nui. He was familiar with other Polynesian islands and identified the natives as having similar ancestry. Cook and the final 18th-century explorer both stated that many Moai were overturned.
In the late 1700s, entrepreneurs began exploiting undeveloped Pacific resources and people. Polynesians were captured as slaves. In 1862, a group from Peru captured approximately 1000 Rapa Nui. A bishop from Tahiti protested and authorities ordered the Islanders returned to Rapa Nui. However disease and other forces had already killed approximately 900. Smallpox killed most of the remaining 100 on the trip back to Rapa Nui. Those who returned carried the disease.
Missionaries came to the island in the middle of the 19th century. In 1870, a French entrepreneur introduced sheet with the goal of turning Rapa Nui into a ranch. He sent most indigenous people to Tahiti and Mangareva, leaving approximately 100 Rapa Nui on their island. The entrepreneur controlled the island until the people killed him in 1877.
In 1888, Chile took possession of Rapa Nui. By 1897, a wool company assumed control. In 1953, the Chilean government brought its imperial rule to the island. In 1967, regular commercial air transportation between Santiago and Tahiti made Rapa Nui it's fueling stop. This made Rapa Nui accessible to the world. In 2008, Easter Island was designated a special territory of Chile, giving natives and other residents some autonomy.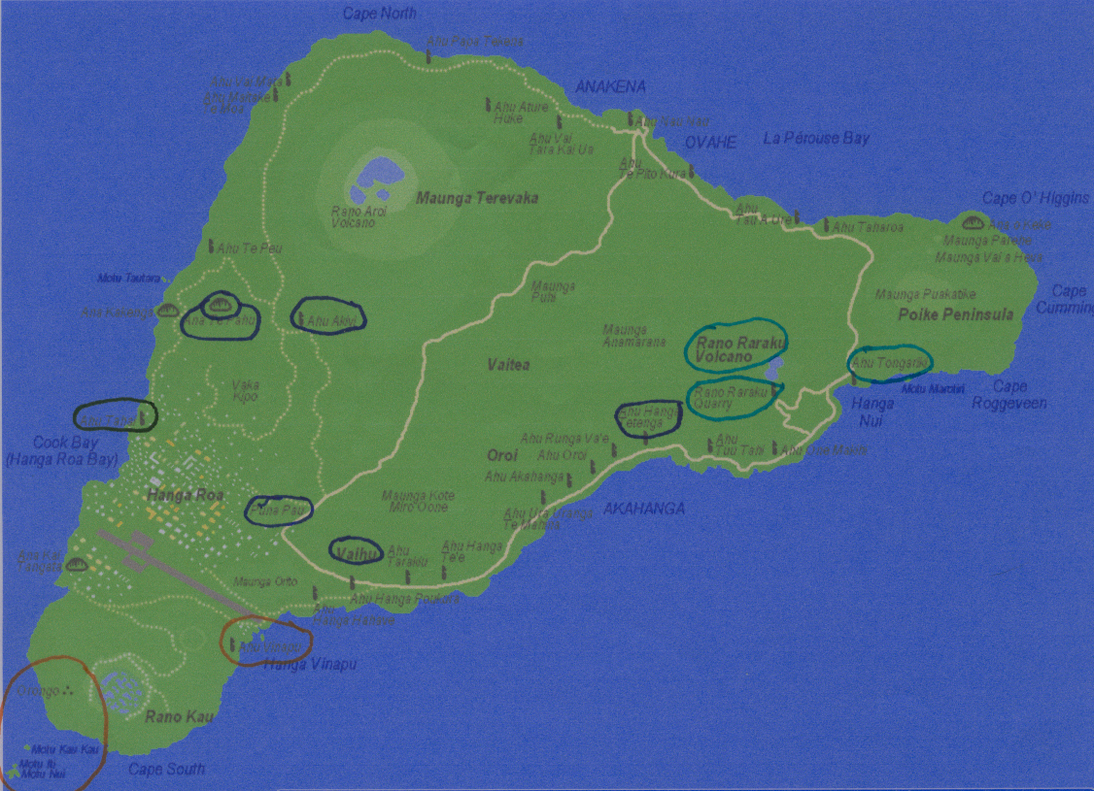 Easter Island
Color of circle denotes the day we went there:
black = day 1 aqua = day 2
blue = day 3 red = day 4
We meet our guide Edmundo Edwards. Our bus takes us to lunch at a local restaurant on Main Street. We enjoy our meal. Before we go to our hotel, Larry explains that the hotel we were supposed to be in is overbooked so we have to stay at another hotel. We check in to our hotel and settle into the room. This hotel is not very nice and we hope we get into something better for the remaining nights.
Our flight to Easter Island is uneventful. Easter Island is in the middle of the Pacific Ocean. It is the most remote place on earth. The natives and many inhabitants call it Rapa Nui, which means "Navel of the World". We are looking forward to viewing the incredible statues called Moai. We had a difficult time getting into this extension because it was full when we tried to book it due to hotel capacity. Finally Lindblad agreed to let us on and decided our tour manager could stand another hotel. As it turned out, our tour manager, Larry, got to stay in the same hotel.
As we ride to our first site, Edmundo points out the places we pass. I am amazed that the island is so green because most of the pictures I remember have made it look brown. Edmundo has been an archaeologist on Easter Island for many years and is very knowledgeable. He has worked on excavations. I'm a bit surprised that we're even sightseeing today because the itinerary read as if we'd have the afternoon to go to a museum and relax. However, Edmundo is very energetic, loves Easter Island and wants us to get the most out of it. Our first stop is the Ahu Tahai site. Ahu and Moai were built to honor the tribal chiefs. Ahu means alter. This site has a border of the Pacific Ocean. We see our first Moai and they are awesome. Later I read that most Moai and Ahu were situated along the coast nearby protected coves and land good for villages.
Edmundo provides us with a lot of history. The original inhabitants of Rapa Nui migrated from Asia to Papa New Guinea. From there they migrated to Polynesia and Easter Island. They navigated by the stars at night from which they could tell their latitude and longitude. Latitude is easier to determine because the North Star is higher in the sky the more north one goes. Longitude is determined by how the stars rise and set. One has to know the day of the year. The people used a lunar calendar.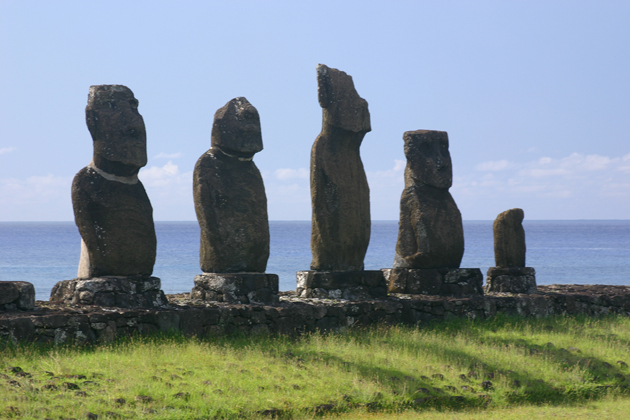 Ahu Vai
The Rapa Nui Chiefs had Moai built for themselves. The chiefs also served as priests, so they had to know genealogy history and recite it as a prayer. The gods created a woman who became mother of all. The Chiefs had children and handed down the chiefdom to their eldest sons. Only the first children were educated. Younger children were thought to be dumb so they became the laborers and farmers. When a family reached more than 80 in one branch, a new chiefdom was set up. The primary chief determined when a new chiefdom should be formed and selected the new chief. At its prime, Rapa Nui had a population of approximately 30,000 with approximately 300 Moai each representing a chief. At its smallest the population numbered 111. The decrease was most likely due to European diseases. Each chief had a Moai built for himself. After several generations, a Moai was used to construct a new altar. Moai became larger as time progressed.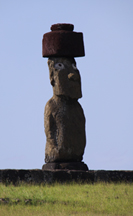 Ahu Ko Te Riku
Edmundo explains about the site itself. We see one Ahu, a.k.a. altar, with four Moai. Several other single Moai are located on different ahus in the same field. The altar with five is called Ahu Vai. One of the ahu is Ahu Tahai proper. On it stands a large Moai without a hat stands on top of it. Hats are also known as top knots. Ahu Ko Te Riku is one of the single Moai. He has a top knot and painted eyeballs. These Moai are reconstructed and the eyes were added during the reconstruction. Edmundo tells us that a German magazine commissioned reconstruction of one of the Moai and set a publication deadline. The magazine wanted a top knot on it. Edmundo was part of the team. They tried to build the top knot but it kept breaking. Old Rapa Nui men would advise the team. The team decided to go to a different side of the island to find stronger rock. After talking with numerous elders, they found one and asked him the meaning of a term they had been hearing somewhat often. He tells them that it means "place where hat breaks". Top knots need to be made of a different type of rock. Finally the team learns that that they need to get rock for the top knot from a different quarry than where the Moai were carved.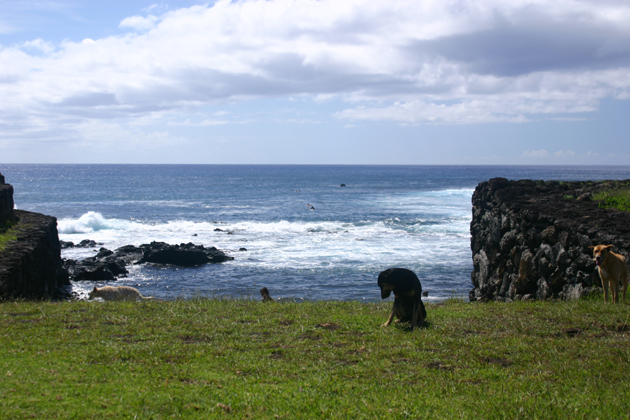 Where I Almost Rolled Into the Ocean

Our group moves to a hilly field. Larry helps by pulling my wheelchair for a while but then we decide that it would be easier if I walk and he can bring the chair. When we get there, I sit in the chair and Steve wanders looking for good shots. At one point I start to roll and try to stop myself with my foot. I'm getting close to the rocky coastline and when I'm unable to stop myself, I yell. Steve is back in a flash, but someone else has already gotten to me and stopped the chair.
We move to the Chief's house, called hare paenga, which has a rock foundation. The house is shaped like a long Polynesian boat. It had one door. We see holes carved into the rocks on each side. Strong rods were anchored in these holes on which mats for sleeping were placed. Everything was kept very clean. About once a month the mats were remade.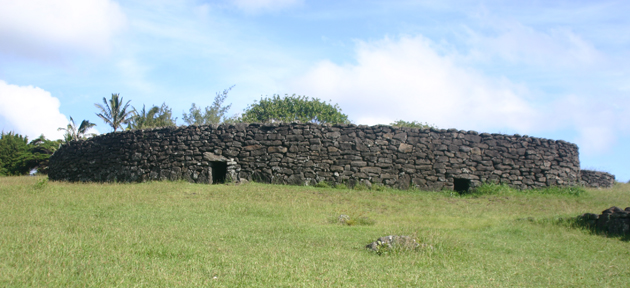 Tribal Homes
Rocks were reused as Chiefs rebuilt their homes  or a new chief was appointed. Archaeologists can tell genealogy from the holes in the rocks because the holes had to line up. The birth placenta was buried and at death the body was brought back. Rapa Nui people believed that when a person dies, the person is reunited with their ancestors in the afterworld. To do so, the dead body must be returned to where the placenta was buried so the ancestors know where to look for the deceased.
We see a tribal home called hare oka which is a big round stone building with doors leading into it. Edmundo points out an old Moai head. It's very weathered and quite a bit smaller than the reconstructed Moai but there are enough features to recognize the eyes and nose. We see a wedding taking place in one part of the spacious field. Most of the women including the bride have on short dresses. The bride wears an attractive ornate hat. The men have on jeans and shorts. The group consists of only about nine people.
As we gather to head back to the bus, someone comments on Edmundo's knowledge. He tells us that he wrote an 800 page book in Spanish about Rapa Nui archeology. Originally he had a publisher but after the book became so long, the publisher backed out of the contract saying that there was no market for that big of a book. Edmundo tells us he will publish it on the Internet. One of his daughters is translating it into English. Edmundo is originally from Chile.
We go back to the hotel to freshen up for dinner. Then we go into town and have dinner at a restaurant owned by another of Edmundo's daughter. The restaurant is excellent. I order a seafood salad. It's mostly shellfish sautéed in a light garlic sauce. It's served on a bed of vegetables in a large bowl. I also have Chile Merlot which I like.
Edmundo tells us about his life. In 1956, he first came to Easter Island with his father by boat, at age 14. He established contacts and obtained electric sewing machines for inhabitants. When they returned to Chile, two boys came to his father's house. They were the sons of an Easter Island friend. His friend had sent the boys to work for the father. Their payment was for the father to teach the boys Chilean ways. Edmundo's mother died when he was 14. In Chile, Edmundo became an astronomer. Later he became an archaeologist. After his father died, he returned to Easter Island because he loved it so much.
We enjoy dinner and Edmundo's stories. He tells one more story. The United States Army built the first runway on Easter Island. However it sunk into the mud. When the first airplane landed, a black man was on it. This was the first black person Islanders had ever seen and they were amazed. Later Steve tells me that the United States built the current runway on Easter Island as an emergency landing strip for the space shuttle. While we're at one of the hillside sites on the island, will get a good view of how long the runway is. It measures 10,885 feet.
Day 16: Thursday, Dec. 31
Breakfast at our hotel is disappointingly minimal with only instant coffee. We return to our room to finish packing. We will be in a better hotel tonight!
On our way to the first site of the day, Edmundo provides information about Easter Island's population. Rapa Nui people make up approximately 2/3 of the 4000 inhabitants. The island has 5000 horses. Currently the island has approximately 2500 houses, with about that many being built. There's only one gas station. There is work for all. Poverty occurs only if a person does not want to work. Approximately five Islanders make more than $1 million a year. They work in hotel management and tourism.
Every family had its own ahu. Chiefs had altars and statues of their ancestors made of any material. The first natives arrived on Easter Island in approximately 900 AD. Moai were made from the material of one volcano. The oldest is approximately 1100 years of age.
We arrive at the Rano Raraku quarry and volcano. Edmundo tells us that the volcanic rock is soft. To carve the Moai, Rapa Nui made hand picks from harder rock. The first excavation occurred in 1914. The purpose was to see if Moai had feet. On later carved Moai the head is approximately 1/3 of the Moai's height. Carving started at the head and worked down. Once separated from the rock bank, the Moai would be moved downhill and it's back and ears would be finished. A sled was used to move a Moai to its destination. All statues have long ears because that's what the people had. People would elongate their ears using a cone and spring. Long ears were considered as a sign of beauty and status. As time passed, each tribe chief wanted its Moai to be larger and bigger. I read that the largest is almost 69 feet tall.
More than 400 Moai in different stages of construction have been found in the quarry. We see only a fraction, but it seems like a lot. Edmundo tells us that there's a story that they stopped transporting the Moai because the sorceress women said give me a lobster leg to feed the movers. She never got it so she had the movers stop doing their job.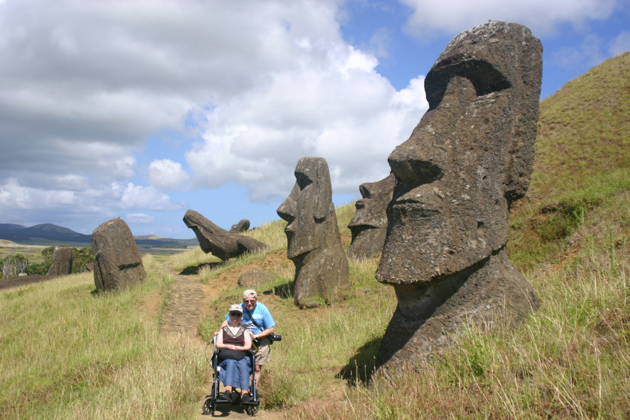 Rano Raraku Quarry
No one knows for sure the reason Rapa Nui stopped producing Moai. Some believe that the people were killed when the Europeans came and brought their diseases or otherwise killed the natives. Others believe that the Rapa Nui were fascinated by the Europeans and their ships. Another theory says that trees were depleted because they were used and not replenished. This made moving the Moai too difficult. Trees were needed to make rope as well as the platform on which the Moai were transported. Rope was also needed to make the fishing nets for food. It's quite likely that each of these reasons played a part. Edmundo seems to believe that the exposure to European ways had a great deal of influence on the Rapa Nui ceasing to carve Moai.

We hike up the side of the quarry using the wheelchair whenever possible. Our travel companions take turns help with the chair. When the pushing becomes too hard, Steve and Dave help me and someone else brings the chair. Once we get to where the heads protrude from the ground, I am very happy to see that there's a narrow path and I can ride for a while. By this time, I'm exhausted but very happy to have gotten this far. We get very close to the Moai. Some are barely visible while others are uncovered down pass their chests. Even though I don't see any fully out of the ground, their size amazes me. The rest of the group hikes up to the top of the path, but I stay down to the side of the path. I relax and enjoy an incredible view. One side is the hillside of Moai and the other contains a field which borders on the beautiful blue ocean. The cloud formation over the ocean is breathtaking.  After a while, Edmundo returns and I have a chance to clarify some of the things he's told us.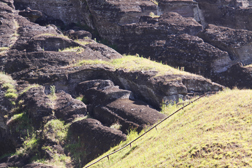 Farther Up the Quarry
Work In Progress At All Stages

Edmundo has Steve bring me back to the entrance where there is shade. Steve returns to the group which is going to hike into the volcanic crater. Birds around me chirp and I'm certainly more comfortable in the shade. I am able to talk to one of the staff a little bit.
When the group returns, it's lunch time. We enjoy a variety of barbecued meat, vegetables, potatoes salad and fruit including papaya. We're in a roofed area not too far from the ocean. Steve tells me that on the hike up to the volcanic crater, he saw many Moai still lying down in the beds from which they were being carved. He found the crater impressive.

From the crater, he was able to take a picture of where we'll be going this afternoon, the famous Ahu Tongariki. After lunch, I use the restroom which is definitely not barrier free.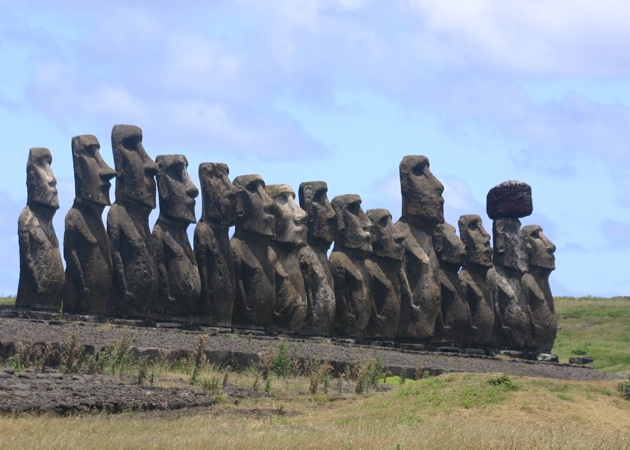 15 Moai of Ahu Tongariki
Next we ride to Ahu Tongariki, the famous altar of 15 Moai. When originally discovered, each of the Moai had been toppled landing face down on the ground. Legend has it that one chief invited another from the other side of the island. The invited chief was old and slow. The inviter didn't wait for him to arrive. When he got there, all of the food had been eaten. The guest chief got mad and ordered an attack to destroy the Moai. I've read that many historians believe most Moai were toppled during tribal warfare. Edmundo says that it's likely they were destroyed when an earthquake occurred in South America and the resulting tsunami hit Easter Island. Most recently, this occurred in 1965. The Ahu of 15 is reconstructed and very impressive. The reconstruction began in 1992 and continued until 1995. Only one Moai currently wears a top knot. Others may have had top knots. Many have been found in land.

Our bus drops off the group on one side of the field. Edmundo instructs the driver to bring Steve and me to a closer point. Steve pushes me across to the ahu. The ahu is so wide that I can't even get it into one picture frame. I take a good number of shots and hope at least two will be close enough so that I can merge them.

Ahu Tongariki
I am amazed at how freely animals run throughout the island, especially horses and dogs. We see almost no fences.

Next we go to the beach, possibly Anakena. It's down a fairly long hill. Steve offers to help me down, but since we won't be here that long and I'm not going in the water, I decide to stay up top. We find a nice shaded area next to a food stand. I can see a small portion of the beach halfway down the hill. I look out towards the water to a beautiful small volcanic cone where the waves hit the coast. The resulting spray is breathtaking. At one point, one of the diners inside the stand feeds a roaming chicken. Many more come to share the food. It's fun to watch the commotion.
Back on the bus, we ride into town. Since tomorrow is the first of the year, shops will be closed so if we're going to shop we have to do it today. We go to an artisan shop. I buy a pair of shell earrings. We don't find a great choice for a chachka, but one of the sales women shows us a necklace that she says many island women wear. We buy that.
We leave the store by the wrong door and wonder where everyone is. Larry finds us and tells us that he got a message that we have a flood in our basement back home. He doesn't have any details. He only received a message from his contact that Laura, the woman who cares for our cats, called and we should get in touch with her as soon as possible. Larry tells us to take our time but make our way back to the bus. Of course, many thoughts go through our minds. We get a little panicky but come up with a plan to call Laura as soon as we get back to the hotel.

We go to the hotel, Iorana. It's much nicer than the last one and has a beautiful view. The negative thing about this room is the access to it. We can either climb several sets of not too many stairs and walk a good distance to our room or climb one very large staircase. The hotel assigned rooms close to the easier set of stairs to others in our group. Later several people offer to switch rooms with us but by that time we're already settled into our room as they are to theirs and we don't want to inconvenience them or us.
We try to call Laura but can't get through. We try to e-mail her but we can't connect to the Internet. Steve goes to reception and checks e-mail. When he returns, we get through to Laura on the phone. She says everything is under control. It turned out to be a leak in an outside hose. There's still some water in our basement. We ask her to check the cases of wine we store in the basement and make sure the water didn't reach them. If it did, we ask her to just pull them out of the basement so we don't get a wine flood down there.
We go to dinner at the hotel restaurant and have filet mignon, fish, turkey, vegetables like those at lunch, fruit and wine. We enjoy our meal. When we return to our room, I discover I've lost an earring and Steve realizes that many of his pictures are in black-and-white. He's disappointed to say the least. I tried to cheer him up, pointing out that with all the photographers in our group someone is bound to have gotten some of the pictures he wanted in color. He helps me look for my earring, but there's no luck there either. We fall asleep before midnight. It's been a fun but exhausting day.
Day 17: Friday, Jan. 1
Happy New Year!

We go to the hotel breakfast of eggs, bread, cakes and real coffee. When we return to our room, I find my earring. By the time we're ready to board the bus, my legs feel like jelly. Not only am I doing stairs to our room, but there's another staircase up to the hotel restaurant and even several stairs into the lobby.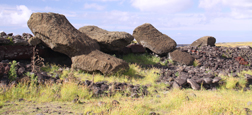 Ahu Vaihu
Our bus picks us up and we head to the South Coast of Easter Island. We arrive at our first stop, Ahu Vaihu which has two ahu. The first one we see is newer. The builders used older Moai as the foundation. All of the large Moai have been toppled. Edmundo tells us that there's a legend that the mother of a chief from another tribe had been eaten. The chief had the Moai of the tribe who ate her overturned for revenge. Edmundo goes on to tell us that actually, by the time the Europeans arrived most ahu and Moai had been toppled in what he believes to have been tribal warfare. We see a Moai lying face down on the ahu. These Moai appear to be older than the ones we saw in the quarry yesterday. We also see several top knots near by the ahu. The foundation of a former village remains staked out to one side behind the toppled Moai. It's an interesting site.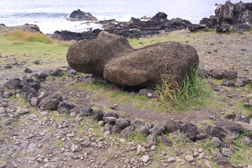 Older Moai

Next the group will go behind the altar towards the ocean. Steve quickly checks out the route which turns out to be too rocky for me in my wheelchair. I decide to stay in front of the ahu and work on my log while Steve goes behind the structure toward the ocean with the rest of our group. Edmundo wants our group to see several items. He points out a very old Moai lying face up. It is a very different style and the head is about the same size as the body. Ahu Hanga Tegenga is closer to the ocean and has two toppled Moai.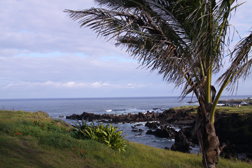 View From Our Hotel Room
We return to the hotel for lunch. They have a nice buffet of shrimp salad, fish, rice, raw vegetables, fruit and ice cream. I skipped the latter because I'm concerned about the safety of dairy products. Although we don't usually eat raw vegetables when in foreign places, we've been assured that the water used to wash them is of good quality. After lunch, we have a siesta. Before we go to our room for siesta, I ask Edmundo about the access of this afternoon's three additional sites. He says it's easy. We'll see.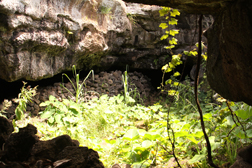 Ana Te Pahu

First we go to the Ana Te Pahu caves. I've been looking forward to the caves and hoping I could go into them because before vacation I had read the novel Easter Island and learned that people lived in them. However these aren't the same caves that I read of and the inside is down too many stairs for me. Oh well, I'll just have to rely on Steve's pictures and him telling me about what he sees. Today, chicken live in coupes inside the caves.
Steve moves me into the shade of the caves. There's a woman sitting nearby, eating a piece of fruit. Soon her companion joins her and I start up a conversation with them. They're from Holland on an eight month trip around the world. The man is quite muddy from the caves. Our driver brings him a bottle of water to clean his hands. He loosens the top and pours it until he has enough to wipe away the dirt.

Ahu Akivi - Only Inland Ahu
On the ride to our next site, Edmundo tells us about being hired as a technical director of Kevin Costner's movie Rapa Nui. They had many people, mostly doing support tasks. About six months into the film, he tells us that they told him they wanted a shot of birds for the beginning of the film and it was his assignment to find a way to arrange this. However, it was not the season for these birds to be on the island! He referred his bosses to a friend and the friend was well paid for setting up the shots on an island where the birds were living at that time of year. To thank him, his friends gave him several cases of scotch.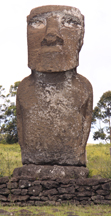 Notice How Fine the Hands Are
Next we go to Ahu Akivi, the only site with an inland ahu. The ahu has seven Moai standing on it. In 1960, Edmundo helped excavate and rebuild the site. He explains raising the statues. Their team used methods believed to be similar to the original technique. They stand three poles in a teepee tent like formation. They attach a pulley rope with hooks to the top, and then secure a rope to the Moai. Once the setup is complete, they put a hook through the rope around the Moai and slowly, carefully raise it. At least some of the heads had to be reattached to the bodies. These are newer Moai so they're in fairly good shape. These Moai faced in land while other Moai faced the ocean. During equinoxes, the Moai look directly at the setting sun. Archeologists believe this shows that this site has astronomical significance. Edmundo points out how the hands are very fine, which illustrates that Chiefs did not perform manual labor.

We proceed to the Puna Pau quarry, the quarry which contains the stone of which top knots are made. As we near the quarry, the road becomes more curvy and narrower. It's up a steep hill so I stay on the bus. The stone is relatively soft and has a reddish color. Around the island 60 hats which had been on top of Moai heads have been found. Another 25 remain near the quarry.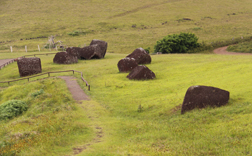 Puna Pau Top Knot Quarry
On our way back to the hotel, we ride by Campground Mihinoa. It has a few buildings and quite a few tents. We also ride by the harbor, which I find small and picturesque. I take advantage of our ride to take some shots of typical Island roads which are packed dirt and a few houses.
We return to our hotel, for brief break. The sun is just right to take a picture of the beautiful view from our room. At 7:30 PM, we meet for dinner. Edmundo has cooked us a New Year's Day dinner which we'll have at his house. His wife cannot be with us tonight because she has to work. His friend Roberto joins us. Roberto was an architect but now he's a painter. He tells us that after 9/11, he had to switch the type of paint he uses because he used a paint with low ammonia content which can no longer be transported on airplanes. Now he uses acrylic and paints on French canvases. Edmundo has a few hanging in his house. I find them interesting, modern art.
Edmundo serves us a welcoming pico sour and gives us a tour of his beautiful house. Larry had been there while it was under construction and he is amazed at the finished home. It's large and spacious with white painted walls, wood windows, ceilings and floor. In the back, he has an open tile and wood porch that looks out on lush bushes. This is where we'll have our dinner. He has set a beautiful table with several bottles of wine and other condiments as centerpieces. The dinner is delicious. We enjoy turkey which has been marinated with Edmundo's special recipe of scotch, orange juice and another ingredient that I didn't understand. The stuffing is made of sweet potato. I ask if this is a typical Easter Island or Chile meal. He replies that it's a typical meal. On Easter Island the most common food is sweet potato. We also have a salad of tomato, cucumber's, avocado, beats and potato salad and a nice Cabernet Sauvignon. Dessert is ice cream and sorbet.
After the wonderful meal, we return to our room and pack.
Day 18: Saturday, Jan. 2
When we get up, we go to breakfast. Back in our room while Steve finishes packing, I copy our flight information to give to Larry. Staff will check us in while we visit our last sites. On our longest flight, our seats are incorrectly assigned with Steve and I in different rows. I tell Larry and he says that they will see what they can do, but we probably need to go to the airport gates to get them changed. We may need to request a change on the plane.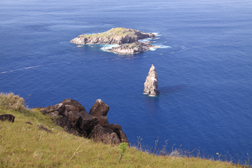 Motu Nui, Motu Iti and Motu Kao Kao

Today we're headed out to the cliff which looks out on several small offshore islands. The entrance contains a few uneven stairs but Steve gets me down them and one of our wonderful fellow tourists brings my chair. I go to the view of the islets, Motu Nui, Motu Iti and Motu Kao Kao. Moto Nui is the largest with Moto Iti just off its coast. Motu Kao Kao is often referred to as a sea stack, a steep stack of vertical columns. These were the site of a ceremonial competition in which Rapa Nui compete to obtain the first sooty tern egg from these islets. The winner became the tribal bird man for the year, a great honor. The competition ended in 1866 or 1867. Edmundo loves his work and he so animated as he tells his story that we almost feel like we are there.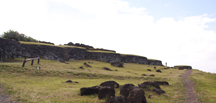 Orongo Ceremonial Village

The remainder of this site is up a rocky path so I stay at the Outlook while the rest of our group goes to the Orongo ceremonial village to see ancient Petroglyphs and the Rano Kau volcanic crater. The village houses are on top of a hill which Edmundo says was prime real estate. When he returns, Steve tells me about what he saw. Built on the slope side of the hill, they have overhanging horizontal stone slabs and earth covered arched roofs. The walls had to be taken off to support the roof so the doorway is a low and narrow tunnel. Only five people are allowed on top of the houses at a time so the group takes turns going up. The view impresses Steve. On top of the houses, he sees Petroglyphs of a bird man with a long beak and his hands clutching an egg.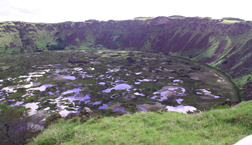 Rano Raraku Crater
Steve finds the Rano Kau crater more impressive than Rano Raraku, the one he saw two days ago. It's the largest of three on the island. A bog of floating totora reeds on top of the water reflects the colors of the sky.

Back on the bus, we go to our final site, Ahu Vinapu with two major altars. Edmundo tells us that older Moai were used to support the top layer of the altar. He takes the group to the back of this ahu to show them the toppled Moai. Since the path is quite rough with rocks, I wait at the front. Steve says the back of the ahu was composed of neatly hewn tightly placed stones, similar to those of Inca structures. I read in Lonely Planet that the Moai were overturned at different times, in the 18th and 19th centuries.  Steve sees some red brick stone, shaped like a four sided column. Edmundo says it's actually a headless Moai with short legs. They look like pre-Inca column statues found in the Andes.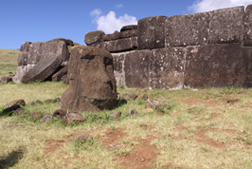 Ahu Vinapu
We go to lunch. The first place we go is closed today, so we go to another restaurant. I am very displeased with the service, since we receive our meal last even though we ordered it with most of our group. I'm starting to get nervous about our flights home. The travel service was able to get our seats to Miami changed so that Steve and I will be sitting together.
The flight to Santiago goes smoothly. Since we're familiar with the Santiago Airport layout, everything goes well until we get to the gate. Santiago Airport has heightened security due to the recent incident in the US. We're allowed to board early, but first we have to be sniffed down by dogs and frisked.
Once in Miami, our group is close together at customs. Most of our group will be going on other flights and we're each a bit emotional in saying goodbye. Each family has signed up on the e-mail list I passed around, so hopefully we'll stay in touch. This has been one of the nicest groups we've traveled with.

One other family will be traveling with us back to Philadelphia airport. We had to reclaim our bags before customs. Miami is a huge airport and overwhelming. We find the access route for people in wheelchairs difficult to identify. The other family has flown through here and they give us some advice on re-checking our bags. The setup for doing so is not at all straightforward and quite aggravating. Eventually we get through it but we're worried about being late for the plane. As it turns out, boarding is delayed and we have quite a long wait at our gate. At least we have our fellow travelers to spend the time with. The flight to Philly goes smoothly. So ends our vacation.
Epilogue
We loved this, our most adventurous vacation ever! It was also, without a doubt, our most varied trip. We traveled from the hot summer city of Santiago, Chile to the cool countryside of Tierra del Fuego National Park, Argentina to the mostly freezing summer of Antarctica. After disembarking from our cruise for the last time, we spent a day in the chilly city of Ushuaia, Argentina, returned to hot Santiago and flew to tropical Easter Island. Throughout, the wildlife, scenery and ancient artwork we saw was breathtaking.
First, I'd like to thank each of the ship's crew, our guides and drivers for their assistance and for sharing their knowledge and experiences with us. Even though in places, the ship was somewhat difficult to get around, zodiacs hard to get in and out of and Antarctica not easy for me to walk on, each member of the crew and many fellow passengers were very gracious and generous with their help.
Second, I want to thank the many fellow travelers who helped me throughout the tour. Many of the people on our ship offered me help even when Steve was at my side. As I sat or stood at the window in the lounge overlooking the bow, I made several friends. Our Easter Island group could not have been more friendly or helpful.
Third, I'd like to give credit to the sources other than our guides, ship handouts and Daily Expedition Reports and experiences which I used in writing my journal.  Background on the individual sights and cities mostly came from our Lonely Planet guidebooks, Antarctica (4th edition), Chile & Easter Island (8th edition) and South America: On a Shoestring (9th edition).  Lonely Planet is our favorite series of guidebooks. We rely on it not only while we're traveling but also as we're making our decisions on places we want to visit.  I used http://en.wikipedia.org for verifying and expanding some information. For information on the wildlife we saw, I used Antarctica: A Guide to the Wildlife by Tony Soper and Lindblad's The Antarctica Primer by Tom Ritchie.
Antarctica was more incredible than I ever could've imagined. I knew it would be hard from the beginning so my goal was to at least step foot once on the continent. While I only participated in three excursions, each was worth the effort. I saw so much from the window in our cabin while staying comfortably warm! I only wish I had gone on at least more zodiac rides. However given the temperature, Steve's cold, the difficulty of getting in and out of the zodiac and that we had a post trip extension, I decided it was wise to err on the side of caution. I would've liked to have seen a whale close-up. Oh well, there are other places in the world to see whales. Perhaps one day we will return to Antarctica. Steve wants to go to the South Pole and there are many other regions of the continent that we didn't get to. I recommend Antarctica to any adventurous traveler. I recommend Lindblad National Geographic cruises to any nature lover.
Easter Island was amazing! I was expecting brown arid landscape and was pleased to see so much greenery. The Moai were breathtaking. I found Edmundo's stories and knowledge fascinating. I recommend Easter Island to anyone who loves history, culture and the tropics.
Finally, I give my husband Steve a huge thank you! Even with your cold, you never failed to help me when I wanted to do something. I'm so glad that years ago you told me you wanted to visit Antarctica.
Well, for us, that's six continents that we've been to with only one to go! We hope to get the last, Africa, in 2012.