Southern Africa: Our First Visit to Our Last Continent!
By Mary Goldsmith
Edited by Steven Goldsmith
In October 2012, my husband Steve and I traveled to South Africa, Botswana, Namibia, Zimbabwe and Zambia. It was our goal to visit all seven continents and during this vacation we accomplished it! I always wanted to go on a safari and most of northern Africa was not safe to visit at this time. During our trip to Antarctica, Steve realized that he liked to photograph animals. We wanted to also learn about the culture and history. We researched small group tours. Our friend Gene who we travelled with last year recommended Vantage Travel. We liked their Best of Africa tour and signed up.
If you've read any of my prior journals, you know that we are not typical travelers. I have juvenile rheumatoid arthritis and insulin-dependent diabetes. I use a wheelchair, which Steve has good heartedly pushed on terrain that is definitely not accessible. We like to go to places that are off the beaten track. We generally get along just fine. However, it does require more forethought and planning. I mention this because I will include accessibility information in this travel log. The start of access information will be marked with the international access symbol. Here it appears to the left.
Planning the trip went well. Vantage Travel arranged everything. At first it was a question as to whether we could get on the non-stop flight from JFK, New York to Johannesberg, South Africa. That required several phone calls and quite a bit of patience to get straightened out, but we stuck to pursuing this and got on the flight. The other option was a flight with a stopover in Senegal which left from Dulles in Washington, DC. Since we live in New Jersey, leaving from JFK is much better.
Steve's rented lens for real close up shots
While we were planning, Steve got excited about the photographic possibilities. He researched long lenses and decided to rent one. He scheduled it to arrive a few days before our trip. When it came, we knew we were on our way! So, read on and let us know whether you think the rental was a success. Steve used the rented lens to take most of the Safari animal pictures.
Day 1: Monday, October 15
Our car comes to pick us up at 6 AM. The drive to the airport, check in and security go smoothly. We're flying South African Airlines (SAA). While waiting on line for check-in, a Vantage Travel representative spots us and checks us off her list. We learn that three other couples from our tour should be on our flight. However two of these couples may be delayed until the next flight. We keep an eye out for Vantage Travel IDs, but don't find any people who have them.
Once at the gate, we alert the staff that we need early boarding. Several others using wheelchairs arrive. Even though we were first, we're boarded last. Several other passengers push through. There's no break between early boarding and regular boarding for us to get settled in. Most airlines call early boarding, then board first class before regular boarding. We find SAA to be quite poor in this aspect. We are shoved and pushed by several people.
We have a 15 hour flight to Johannesburg. It goes well. Lunch is good. We have enough room in our seats but they are hard. I sleep for most of the flight. Steve sleeps a little and watches movies. The restrooms on the plane are not well set up for people with disabilities. I have a hard time reaching and manipulating the open close levers. Each time I go, I have to alert the service staff so they can lock it. When I'm done, I attempt to unlock it. Once or twice I was successful but usually I had to bang on the door until someone came to let me out.
Day 2: Tuesday, October 16
Somewhere during the flight, it becomes Tuesday. Breakfast is barely fair. We're seated next to nice people from South Africa and we spend some time chatting with them. As usual, towards the end of the flight we alert the service staff that I have my own wheelchair and I will need it when we get off the plane.
When we arrive in Johannesburg, Steve comments that he found the 15 hour flight not as hard as expected. As usual, we disembark last. We had to wait for the lift truck to take us down. The wait seems very long. All of the other people using wheelchairs were South African. The staff goes with them and directs us to Passport Control. Usually when we fly internationally, a staff member offers to go with us, but this staff assures us will have no problem. It was not as simple as they said. We're concerned when we get to the right place because the line is long and not a lot of stations are open. We hope our ride doesn't leave without us. It takes about 40 minutes to get through Passport Control. By the time we get to the luggage area, we find ours off to the side of a stopped carousel. Only a few other bags have still not been picked up yet.
Steve easily finds Tobal, our Vantage travel Meet and Greet driver. We have a nice chat with him during the drive to our hotel. He says the other two people on our plane were already taken to our hotel. He's very enthusiastic and tells us that Vantage Travel and Brian, our tour manager, are great. When I ask about our hotel, he explains that we are staying in Johannesburg in a high-end area.
When we arrive at our hotel, the Southern Sun Hyde Park, Brian greets us. He spends about half an hour with the two of us explaining tour logistics and accommodations. He says if we need anything, we should call him any time. He's very nice, but seems rules oriented. He tells us that he can help us in any way we need except he cannot push my wheelchair. Of course, we don't expect him to but he says he once had a tourist who wanted him to not only push her wheelchair but to arrange to get one for her. He also says that he asks that people don't always take the first seat on the bus but move their seats around so everyone gets to appreciate different views. We tell him that I cannot sit in the front seat because it causes me pain but we do prefer to sit towards the front because it allows me to get off the bus early and be in my wheelchair and ready to go by the time everyone else is ready. He says that should work nicely. He tells us that the rooms in this hotel are small and that we have a room set up for people with disabilities. He explains about the area in which we're staying, saying it's not safe to walk around after dark. We should stay in the hotel and can go to the mall which is attached to the hotel. Brian gives us a booklet he put together. It contains much information including our itinerary, facts about each of the countries we'll visit, a list of animals we might see and just about anything else we could possibly want to know.
I like our room. I considerate it medium size, not small. There's enough space on the top of furniture so we can put our bags where I can reach them. We found that, especially in rooms set up for people with disabilities, there's often a lack of places for this. The bathroom is set up well. However lighting is poor and our view is not much of anything.
We take a nap and head over to the mall. We walk around all three levels and buy two Coke lights at Woolworths which is a grocery store here. The mall is mostly boutiques, restaurants, art shops and bookstores. We had asked our driver for restaurant recommendations. He said the hotel and one nouveau cuisine in the mall. We didn't remember the name of the latter. We look for a mall directory and it takes us a while to find one. We go from top to bottom and finally find a directory on the bottom level. We check out the menus of the many restaurants along the way. We think the restaurant he recommended was on the top level and decide to eat there. We enjoy our dinner at Tasha. Steve has pasta with mushroom cream sauce. I have grilled fish with rice and a vegetable sauce. My plate contains some raw vegetables that I push aside. Brian told us that the water in Johannesburg tests better than the bottled water, but I'm not daring enough to trust it. When we travel, we avoid uncooked food if we don't know that it's been washed in purified water. We enjoy our first bottle of South African wine. Towards the end of dinner, Steve asks me if I've noticed that almost all of the shoppers in the mall are white. Almost the only blacks that we see are working.
I believe that in order to enjoy a visit to any place it's useful to know the history. So before I tell you about our experiences, I will give you a brief overview of the history.
History of South Africa
Evidence of human occupation dates back to approximately 40,000 BC. The hunter-gatherer San people settled in South Africa. Around 500 BC, the Khoikhoi herder people came to western South Africa, competing for game. Their sheep stripped pastures on which game fed so the San killed and stole the sheep. The Khoikhoi organized into larger groups. Some San continued fighting while others retreated. Many groups made peace with the San. In approximately 400 BC, northern migrants joined the San and Khoikhoi.
During the 1480s, a Portuguese navigator sailed around the southern tip of Africa. In 1652, the Dutch East India Company established Cape Colony at Table Bay. During this century, colonial European powers competed to settle mostly in the Cape area. In the 17th and 18th centuries, people were brought to the Cape as slaves from Angola, Mozambique, Madagascar and Java. In 1795, the British captured Cape Colony from the Dutch. It was ceded to Britain in 1806. Between 1816 and 1826, the Shaka Zulu established the Zulu Empire. As it expanded, it became hostile.
In 1833, the government banned slavery, creating great tension between it and the Boers, a.k.a. South African Dutch. From 1835 to 1840, the Great Trek occurred. The Boers left Cape Colony and established the Orange Free State and the Transvaal. At the same time, indigenous South Africans were forced to migrate. The Boers believed they found mostly vast, uninhabited grazing land and that they arrived simultaneously with black Africans.
The Great Trek Boers became known as the Voortrekkers. They established a republic at their first stop. A disagreement ensued and the group split. Most went on to Natal, which was in Zulu land, to establish a nation there. The Voortrekkers leader visited the Zulu King who massacred him. The Boers took revenge and attacked. In 1938, the fighting stopped with more than 3,000 Zulu dead. Due to their superior weapons, the Voortrekkers only sustained some injuries. They believed their victory had divine approval so it became celebrated as the Day of the Vow. In 1856, Natal separated from Cape Colony. In 1879, the British defeated the Zulus in Natal.
Meanwhile, the Boers tried to establish a number of republics but only the Orange Free State and Transvaal lasted. Economies were dependent on cattle and barter trade. In 1852, the British granted limited self-government to the Transvaal. The Boers declared the Transvaal a republic. In 1867, diamonds were discovered at Kimberley, so Britain annexed the area.
By 1880, the first Anglo-Boer War began when the Boer rebelled against the British. It ended in 1881. Both sides negotiated and the Transvaal became a republic called the Zuid-Afrikaansche Republiek, a.k.a. ZAR. During the mid-1880s, when gold was discovered in ZAR, a gold rush began. ZAR experienced an influx of black and white foreigners.
In 1899, the British pushed for voting rights for 60,000 foreign whites and deployed troops to the ZAR border. ZAR President Paul Kruger refused, issuing an ultimatum that the troops withdraw. The second Anglo-Boer war started. In May 1902, the treaty acknowledged British sovereignty but made the Transvaal (ZAR) and Orange Free State self-governing colonies of the British Empire. The Boer and British worked together. They made nonwhites, who numbered over 75% of the population, laborers. Mahatma Gandhi worked with the Indian populations of Natal and Transvaal. Leaders began forming foundations for nontribal, black political groups. Afrikaners, a.k.a. descendants of the Boer, became poor farmers. Between 1906 and 1907, the former Boer republics were given representation in the government.
In 1910, the British colonies of the Cape and Natal and the Boer republics of Transvaal and the Orange Free State formed the Union of South Africa. The first party to govern South Africa was the South African National Party, NP, a coalition of Boer groups which followed a pro-British white unity philosophy. Early legislation increased restrictions on blacks, reserving skilled jobs for whites and forbidding blacks from striking and serving in the military. In 1912, the organization of the South African Native Congress formed. In 1923, it became the African National Congress, ANC. South Africa, still part of the British Empire, fought in World War I against the German Southwest Africa, which today is Namibia. After the war, the League of Nations gave the German colony to South Africa.
In 1918, a secret brotherhood formed to promote the Afrikaner cause. In 1924, the NP gained governing power and Afrikaner nationalism grew. The main issue of the election was the black threat. The secret Afrikaner brotherhood became very influential with the NP. World War II made the economy strong and black labor important in mining and manufacturing. The black urban population almost doubled.
In 1948, the policy of apartheid became a platform of a coalition made up of the NP and the Afrikaner party, AP. The coalition won the election and prohibited mixed marriages and interracial sex. They classified individuals by race and enacted legislation to physically separate residential areas and create separate public facilities, forcing blacks to carry Passes, a.k.a. identity documents, at all times. It also prohibited them from visiting and remaining in towns without special permission. In 1950, the ANC responded with a campaign of civil disobedience led by Nelson Mandela. Strikes and protest marches continued throughout the 1950s. In 1955, several organizations including the Indian Congress and the ANC, agreed to the Freedom Charter establishing a goal of nonracial democracy. In 1960, 70 black demonstrators were killed and 186 were wounded during a demonstration against the Pass law. The government banned the ANC and made it legal to detain people without trial.
The Prime Minister put forth a referendum on whether the union should become a republic. A small majority voted yes. In May 1961, the Republic of South Africa was born. The republic left the British Commonwealth. Mandela headed the underground ANC's new military wing. In 1963, Mandela and other leaders were arrested and sentenced to life imprisonment.
During the 1960s, international pressure against the South African government began. South Africa was excluded from the Olympics. In 1966, the Prime Minister was assassinated. Apartheid was continued by his two successors. In the 1970s, over three million people were forcibly resettled into black "homelands", which amounted to 14% of South Africa. Blacks could not leave without a Pass and permission. In 1976, police killed over 600 people during an uprising which started in Soweto. More about that later.
A generation of black South Africans committed themselves to revolt against apartheid. International pressure grew and economic sanctions increased. The Rand, South Africa's currency, collapsed. In 1985, South Africa declared a state of emergency. Media became strictly censored and 30,000 people were detained without trial. Thousands were tortured.
In 1989, FW de Klerk replaced the president. He met with Nelson Mandela, desegregated public facilities and released many ANC activists. In 1990, he legalized the ANC, the PAC and the Communist Party. He released Mandela after 27 years in prison. The government lifted media restrictions and freed political prisoners not guilty of common-law crimes. Between 1990 and 1991, practically all apartheid regulations were revoked and international sanctions lifted.
The year 1993 saw an agreement on an interim constitution. In April 1994, the ANC won the first nonracial election. Mandela became president. The Government of National Unity formed. Commonwealth membership was restored and remaining sanctions lifted. South Africa got back its seat in the UN General Assembly after 20 years. At midnight on April 26-27, the old flag was lowered with the singing of the old anthem "Die Stem", a.k.a. The Call, and the new rainbow flag was raised and the new anthem "Nkosi Sikelele Afrika", a.k.a. God Bless Africa, sung. The NP became the official opposition party.
Between 1994 and 1999, the Truth & Reconciliation Commission directed by Archbishop Desmond Tutu exposed crimes of apartheid. Victims told their stories. Some guilty parties confessed and received amnesty. Those who did not confess faced prosecution. In 1996, Mandela and FW de Klerk who oversaw the end of apartheid won the Nobel Peace Prize. In 1998, the Truth & Reconciliation Commission report declared apartheid a crime against humanity. This included finding the ANC accountable for human rights abuse. In 1999, the ANC won the second general elections and Thabo Mbeki became president.
In 2001, 39 multinational pharmaceutical companies withdrew from their legal battle to stop South Africa importing generic AIDS drugs. This became a victory for the world's poorest countries in their efforts to import cheaper drugs to combat AIDS. In 2002, the Constitutional Court ordered the government to provide anti-AIDS drugs at all public hospitals. In 2003, the government approved a major program to treat and tackle HIV/AIDS with a network of drug distribution centers and prevention programs.
In 2004, the ANC won a landslide election victory with almost 70% of the votes. In 2005, the Truth & Reconciliation Commission, investigating the disappearance of hundreds of people during apartheid, began exhuming bodies. Approximately 100,000 gold miners struck over pay causing the industry to come to a standstill.
In 2007, hundreds of thousands of public sector workers took part in the biggest strike since the end of apartheid. It lasted for four weeks and caused widespread disruption. In May 2008, a wave of violence directed at foreigners hit townships across the country. Many people died and thousands of Zimbabweans, Malawians and Mozambicans returned to their home countries. In May 2009, the parliament elected Zuma as president. The economy went into recession for the first time in 17 years. In 2010, South Africa hosted the World Cup football tournament. Civil servants staged a nationwide strike.
Diversity is a key feature of today's South Africa with 11 languages recognized as official. Community leaders include rabbis, chieftains, rugby players and returned exiles. Traditional healers practice their trade around the corner from stockbrokers. Housing ranges from mud huts to palatial homes with swimming pools. The economy is one of Africa's largest. South Africa has widespread poverty, a high crime rate and high unemployment. Land distribution remains an ongoing issue with most farmland still owned by whites. However the government aims to transfer 30% of the farmland to black South Africans by 2014. Approximately one in seven South Africans is infected with HIV. It has three capitals: Pretoria is the executive capital, Cape Town is the legislative capital and Bloemfontein is the judicial capital. Life expectancy is 52 years for men and 54 years for women. Main exports are gold, diamonds, metals, minerals, cars and machinery. GNP per capita is $5,770.
Day 3: Wednesday, October 17
Today we tour Pretoria and Soweto. We have a nice breakfast in the dining room. On the way to Pretoria, Brian gives us a lot of background. He begins with history, but since I've already written that I won't repeat it. He moves on to terms. Boer is Dutch for farmer. Afrikaans is a derivative of Dutch comprised of French and African mixed into Dutch. Black people are those with pure African blood. Coloureds are a mixture of Africans and Indonesians usually brought to South Africa as slaves and often seen as dissidents. The Voortrekkers are Dutch that move north.
Brian says that many South Africans practice ancestral appeasement, not worship. This means they remember their ancestors which enables them to get into heaven. Religion was originally tribal. Then the missionaries combined Christianity with some tribal practices. It seems there was always some belief in God.
Today one can clearly see the difference between modern and lower-class houses and communities. Cape Town was settled by a company not as a country. Pretoria became the capital when three Dutch communities argued about where the capital should be. At first they decided to put it in the middle of the three communities. Each of the three sent representatives to Pretoria. Schooling is done in the home language of Afrikaans. English is the second language and the business language.
During the ride, Brian points out the buildup along the highway. We see mostly import companies. South Africa is currently renaming the roads and towns. Brian doesn't seem to like this, saying that it makes things confusing. We see a springbok on the side of the road. As we pass part of the Howe train, Brian tells us that at one point this was the largest civil engineering project in the world and was done at the same time the stadium was being built. They had to import labor. Tourism is increasing tenfold, especially Americans. It used to be the largest source of foreign currency but now it's the second largest.
Jacaranda trees line the Streets
Pretoria is well known for two things. First, is the jacaranda trees, a purple tree from the Amazon. It's beautiful! Pretoria has wide roads designed so one can turn an ox wagon around. Most of the buildings are government owned. We make a quick stop at the Paul Kruger house. He was president of the South African Republic from May 1883 to September 1900. Steve takes pictures but I don't get out. Kruger had no formal education. We pass by church square where we see the Dutch Reformed Church on the south side, the old Capitol theater on the northwest corner, the First National Bank on the Northeast and the Palace of Justice on the North side. The latter is where Nelson Mandela was sentenced to life imprisonment. In the center we see the bronze sculpture of Paul Kruger known as the "Old Lion". He looks disapprovingly at office workers lounging around. There are also four men, one on each corner of the statue. Two were from the first Boer war and the other two from the second war. Brian also points out the building which ran stagecoaches that transported gold and people. We pass a zebra and he tells us that they are considered dumb.
Paul Kruger Statue
Next he explains the South African flag. He says that there is no symbolism in it. When designed, the country needed a new flag quickly and eventually the temporary flag that they designed became liked and permanent. Now it's often said that all of the colors represent the many types of people.
As we pass one, Brian warns us not to take minibus taxis because the drivers over pack them and are reckless. South Africa has very little public transportation. Someone asked about the population of Pretoria. He tells us it's unknown because there are many illegal immigrants. The official population is approximately 3.2 million.
Union Buildings Complex
Our first major stop is at the Union Buildings. In 1910, when Britain decided to make the South Africa Union of four provinces, taxes were paid to the provinces. South Africa was afraid that the wealth would go to England so they spent it quickly and built the Union Buildings. Mandela was inaugurated here on May 10, 1994. Brian says that we can't go into the building but we can walk around the garden. Officially the complex was to commemorate South Africa's union status. It was designed by Sir Herbert Baker.
Gardens overlook Johannesburg
My first destination is the restroom. I'm delighted to see that there's good access. However we find few curb cuts around the grounds. The gardens and grounds are beautiful. We have a nice view of the city. Most of the gardens are downstairs. First we walk around the upper area and take shots of the Deville Wood South African Memorial which depicts the brothers Castor and Pollux controlling a war horse. Steve goes down into the gardens. When he comes back up, we take pictures of the grand Union Buildings complex, headquarters of the government and the presidential offices. They are sandstone and overlook the gardens and Pretoria.
The surrounding neighborhoods are Eurocentric meaning houses are surrounded by high walls. This is a wealthy area so houses have big backyards. For security they use electric fences. Insurance is the big reason for them. We drive down a road of embassies. Steve remarks that the US Embassy is a monstrosity.
Next we stop at a shopping center for people to pick up items that they need. We don't need any so we stay on the bus. The bus driver talks to us about living during apartheid. He believes the name changing is good. The old names remind people of apartheid. The new names reflect diversity. He has five children. The oldest goes to the University and studies accounting. He hopes that all his children can go to college.
On the ride to Soweto, Brian gives us background information. During apartheid, black people could not live in the cities but had to work there. Townships for blacks to live in, like Soweto, were built. Soweto stands for SOuth WEstern TOwnship. If one was a domestic and received an offer to live in the house where he or she worked, he or she had to get a passbook which police checked. No alcohol was allowed in the townships but bars began illegally. Police would raid the bars but within hours they were restocked. We will eat in one of these today.
We stop to pick up our local guide S'motilo. She tells us that the official unemployment rate is 28% but the actual rate is unknown, probably 40 to 45%. When a person has never worked, he or she doesn't register. Old people get a pension which is enough to buy food only, so they live with their children. She says that employees have ubunde which means the employed give the unemployed meals approximately once a week or once a month. Soweto houses are approximately 120 square kilometers. At first they were very small matchbox houses. As families grew, the houses were made more substantial but were still like shacks. Today children go to school from 7:45 AM to 2:15 PM. Even though it's before lunch, we see a good number on the street. S'motilo tells us that right now they are having exams, so they get out early to study.
Nelson Mandella's House
We have a traditional lunch at Sakhumzi Restaurant. It's a buffet with nicely labeled dishes. We try as much as we think is safe to eat and enjoy most of it. Afterwards we walk down the block to Bishop Desmond Tutu's house. It is not open to the public so we only see the outside.
Next we go to Nelson Mandela's house. The house guide takes over and has us first sit in a patio area in the back of the house. He says that Nelson Mandela lived here from 1946 to 1962. He returned in 1990 after his release from prison. Born on July 18, 1918 in the village of Mveso as son of a Xhosa chief, he was destined to be chief. While still young, his family moved to Qutu and he grew up living a rural life. He attended the University College of Fort Hare. Afterwards he moved to Johannesberg and became involved in politics. When he finished his law degree, he and Oliver Tambo began the first black law firm. In 1944 with two others, Mandela started the Youth League of the ANC which turned the ANC into a South African grassroots movement. In 1945, Mandel's house was built on the corner of Vilakazi and Ngakane streets as part of Johannesburg city effort to build new houses in Orlando. In 1946, Mandela moved here with his first wife, Evelyn Ntoko Mase and their son. In 1957 they divorced. In 1958, his second wife, Nomzamo Winnifred Madikizela, called Winnie, moved in. In 1964, Mandela stood trial for sabotage and for provoking revolution. He superbly argued his own defense but was sentenced to life imprisonment. He spent 18 years in Robben Island prison and then was moved on to two jails on the mainland. Winnie was also harassed by security forces and imprisoned many times. She lived in the house with her daughters until her exile to Brandfort in 1977, where she was put under house arrest until 1986. The family lived in the house until Mandela was released from prison. When they moved out of the house, it was turned into a museum with Nelson Mandela as a founder Trustee.
The house is made up of approximately 4 small rooms. The rooms are decorated to reflect the times during which the Mandela family lived here. Mandela said "it was the opposite of grand, but it was my first true home of my own and I was mightily proud. A man is not a man until he has a house of his own." We see exhibitions and information which highlights Mandela's work to "promote human rights, democracy, reconciliation, mutual respect and tolerance among the peoples of South Africa. " (From the Mandela House pamphlet provided at the house.)
We ride around the Freedom Square area which S'motilo tells us is the Beverly Hills of Soweto. Today its malls and shops provide opportunity for employment.
Pieterson Memorial
Picture at Pieterson Memorial
On June 16 1976, the Soweto Students' Representative Council protested the government's move to make Afrikaans its official language in secondary schools, regardless of what the local language was. They saw this as the language of the oppressor. Police fired on their march. Hector Pieterson, age 13, was watching the demonstration. A police bullet hit him and a student picked him up. Hector's sister ran along side of the student who was carrying her brother. A photographer photographed this scene and it was published around the world. An enlarged photograph stands at the Memorial and a marble plaque is nearby. An inscription on a nearby wall says "TO HONOR THE YOUTH WHO GAVE THEIR LIVES IN THE STRUGGLE FOR FREEDOM AND DEMOCRACY". June 16 became South Africa's National Youth Day, to honor young people and pay attention to their needs. The Memorial is very moving, especially as we see at least one class trip walking around. A photographer approaches our group and asks if we'd like to have our picture taken. No one seems interested and I think because it's our first day and we have not formed any group bonds. He does take some of the children's pictures and they all gather around to look. There are stairs to go to different levels.
After wandering around the Memorial, we go to the Museum. Opened on June 16, 2002, is quite accessible. The museum begins with Hector Pieterson pictures. It contains displays on events before and during the uprising and on apartheid. There's a lot to see but we don't have much time. A ramp goes between the floors. Pictures and descriptions are hung along the walls. It's difficult to stop and hold the wheelchair to provide us with enough time to read the descriptions. Overall I am very impressed with the Memorial and the Museum.
As we near the place where we will drop off S'motilo, Brian tells us that she has a wonderful singing voice and if we encourage her enough, she'll sing us a South African song. Of course we all encourage her. She sings an Afrikaans song which includes clicks in the middle of words. Brian tells us how remarkable it is to go from spoken words to clicks and back again while singing. We give her a big hand. She has been a great local guide.
On the ride back to Johannesberg, Brian gives us more information. The government builds houses and gives them to people for free. Medical care is free. There are long lines but the care is excellent. There's a means test to determine if one will pay for education. About $200 a month is the minimum wage. He points out a man-made forest in which birds were brought from Kruger national Park. Most people don't retire. If they retire, the common age is approximately 60 to 63.
Early Gold Mine Field
Shanty Town
He tells us that the old Johannesberg city center became too congested so the center moved to Stanton. The old city center is now being rehabilitated. Brian points out the area where gold was first discovered. It looks very strip mined. Now they mind gold about 1000 kilometers away. Temperatures are very high there so they use robots to mine gold.
We pass a shanty town which is where squatters have built makeshift shacks, often called matchbox houses, with scrap metal, board and other discarded materials. Many houses have no electricity so people cook on coal stoves. Some of the shantytown houses are inhabited by people who have come from other southern African countries. The houses which the government builds are given to South African shantytown residents. We see businesses along the streets. Many sell produce and used tires.
We see the military base and pass the Olympic soccer stadium. Brian talks about sports. South Africa has the second most famous golfers; second only to the US. Every town has a golf course. A modern middle priced house costs about 450,000 Rand equivalent to $39,000 and sits on approximately 720 square feet.
Former Power Station cooling towers
We see two former electric towers which no longer work. These made up the Orlando Power Station built in 1951 and fueled by coal. Today one is a billboard and the other is the largest South African mural. They are used for bungee and base jumping. I think they are quite interesting.
Around 5 PM, we return to the hotel. At 6 PM, we go to our Welcome Briefing. Brian starts by having us each introduce ourselves and say a little bit about why we came on this tour. For us and one other person, our reason is to travel to our last continent. We hear many different, interesting reasons. Brian talks a little bit about how important tourism is to South Africa and gives us some helpful facts about our trip. He tells us that tourism is the largest way money shifts from rich to poor. Every seven tourists create one job in South Africa.
We go to dinner in the Bice Restaurant. It's very good I have tomato seafood soup which I find a bit spicy. My main course is veal ravioli with mushroom sauce. It's delicious! I also have apple pie and Cabernet which I enjoy.
Day 4: Thursday, October 18
We get up early today to pack. We're flying to Zimbabwe and then taking a bus to Chobe Park in Botswana. We have a quick breakfast, return to our room and then go to meet the bus. It's about an hour ride to get to the airport.
We arrive early and the porter takes me and Steve right to check in and through security. They give me a body search. The porter gets an assistant to take us to the gate. First he takes us to the special needs area. We have to fight to get permission to go to the gate because we don't want to be separated from our group. Their big concern seems to be can I walk from the airplane entrance to the seat.. We tell them I can, but still they don't want to let us go to the gate. We insist more, explaining how were with the group and we have to stay with them. Finally the assistant takes us to the gate. I use the bathroom setup for handicapped people. It's good but when I get there a staff person who is not disabled is using it. We arrive at the gate about a half an hour before anyone else from our group.
The flight goes quickly, taking about 1 1/2 hours. We get off last via a staircase with a very hot railing. A porter takes us to the visa area, takes our passport and asks us to wait outside saying they will process and return our passports. We say no but agree to move to the side. The staff doesn't appear to be processing anything. When Brian comes through, Steve tells him what we've been asked and what appears not to be being done. We keep getting pushed farther away from the processing area. After a while, we move to be with our group. When we're all done with the visas and get our passports back, we go to customs. We have to put our large bag through a scan machine. We wait at the front of the airport for quite a while. Male dancers perform outside. Steve shoots a video while I stay in the cool, somewhat comfortable inside.
We board the bus and head out. Brian points out how the land is dry. It's sandy but has trees. It was probably part of the Sahara desert long ago. Zimbabwe is currently putting in water pipes for a new airport and a roadside village. At one place we see quite a few adults and children walking in the road. The dryness makes good animal viewing because animals have to travel to get to the water. We see baboons crossing the street. Just before we get to the border, we see a herd of elephant under trees but too far away to get pictures.
At the border crossing leaving Zimbabwe, Steve takes my passport while I wait on the bus. When entering Botswana, one has to walk on two mats. The right foot goes on one mat and the left on the other. Again I'm able to stay on the bus while Steve takes my shoes and wipes them on the mats. He also takes my passport. The purpose of the mats is to prevent hoof and mouth disease. If any of us have walked through fields where animals had been, we could pick it up on the bottom of our shoes. Botswana produces much beef and the disease could severely damage their economy.
Warthog Mother & Babies
When we get to the Botswana side, we see a family of warthogs, the mother, father and four small babies grazing on grass. Brian tells us the babies are about one week old. They are so cute and quite active. We're excited to see them and take many pictures. The adults don't stop eating.
Members of the pig family, they have a blunt snout. Two pair of tusks come out from their mouths and curve upward and inward. The lower, shorter pair become very sharp by rubbing against the upper pair whenever the mouth is opened and closed. Tusks are used for digging, fighting other warthogs and defense again predators. They have a large warts on the side of their face which serve as a fat reserve and a course dark main runs along their necks and backs. The rest of the body has sparse hair. They have long tails which end with a tuff of hair. Fully grown, the shoulder height of a warthog can be up to 27.6 inches. Females weigh up to 165 pounds and males up 330 pounds.
Warthogs sleep in holes most commonly dug by other animals. They are omnivorous but mainly graze. In the wet season, they eat mostly grass. During the dry season they eat bulbs and roots which they dig with their snouts and feet. They often wallow in mud to deal with high temperatures. In low temperatures, they huddle together. Families are small with litters of up to six born in holes during the summer. They are not territorial but occupy a whole range, living in groups called sounders. Females live with their young and other females, usually staying in their natal groups. Males leave the groups but stay within their home range. Before they're fully grown, males live in bachelor groups. When they become adults they leave the group. They only join sounders with females in heat. They use their facial glands to mark sleeping and feeding areas and during courtship. Gestation is five to six months. When about to give birth, the sow leaves her family and gives birth in a separate hole. She stays there for several weeks while nursing. Piglets are weaned in about six months. Babies become mobile quickly but stay close to their mothers for defense.
Meanwhile, the Botswana border control says that four of our group are not allowed into the country due to a visa problem. The four are from Guatemala and have Guatemalan passports. However, their visa paperwork says Miami. Botswana officials want to charge each member $150, stating that they require a visa from Guatemala. Brian works hard to negotiate but is unsuccessful. The four group members will stay in Zimbabwe while we go on.
History of Botswana
The pre-colonial period follows that of the rest of southern Africa when the San inhabited most of Africa. Some linguists believe that the San invented human language. As hunter gatherers, they had no animals, crops or property, so they were highly mobile. Their lack of social rigidity kept them independent. However when more powerful tribes with livestock wanted to settle in the same territory, the new tribes forced the San into smaller territories. The San's flexible social structure made it difficult for them to organize and protect themselves. Except for Botswana and Namibia, most San no longer exist due to interbreeding and war. Of those who exist, approximately 60% live in Botswana and 35% live in Namibia.
In 1836, approximately 20,000 Boers came to Botswana, then called Batswana. They claimed land for farming, throwing out local people. They set up their own free state, the Transvaal Republic . In 1852, Batswana came under control of the South African Republic. After high human and land loss, the native chiefs requested that the British government protect them from the Boers. Britain offered to arbitrate the dispute. In 1867, European gold prospectors came and began mining.
During the 1880's, the Boer pushed northwards, further into Batswana. With German annexation of today's Namibia, came the threat of a German-Boer alliance, which could prevent the British from expanding into Rhodesia.
In 1885, the British set up a protectorate called Bechuanaland. The British public wanted the crown to administer the Empire and the government agreed. It ceded a strip of land to Rhodes for construction of a railroad to Rhodesia. In 1890, the British protectorate extended to the Chobe River.
With the creation of the Union of South Africa, Bechuanaland remained mostly economically independent by selling cattle, ox and grain to Europeans searching for land and minerals. Railroad construction and the outbreak of foot and mouth disease ruined the trade. Economic downturn led many Batswana people to move to South Africa in search of work. This facilitated collapse of time-honored land-use and Chiefs' powers. British support was minimal since it still considered the protectorate temporary. In the 1930s, there was a move towards administration reform and agricultural and mining development. However, Batswana leaders believed that this would mean more colonial control. The territory kept its eight self governed tribal areas and five white settler farm blocks. Areas outside of these were classified as state lands.
In 1950, Britain deposed and exiled the chief of Ngwato, Seretse Khama. This was done in response to the South African government which protested Khama's marriage to British Ruth Williams who was white.
During the 1950s and 1960s, Batswana began to organize political parties and promote independence. The next year, after the massacre in South Africa, South African refugees joined with Batswana to form the Bechuanaland People's Party, hereafter referred to as BPP, with the goal of independence. In 1962, Khama and another man formed the moderate Bechuanaland Democratic Party, hereafter referred to as BDP. They drew up a schedule for independence and obtained support from local Chiefs. They also wanted a nonracial Constitution and the capital moved from South Africa to Botswana. The British accepted the BDP's plan.
In 1965, Khama was elected president in general elections and Gaborone became the administrative center. On September 30, 1966, the Republic of Botswana received full independence. For 14 years, Khama served as president and supported multiracial democracy. For most of his presidency, he was neutral towards South Africa and Rhodesia. However he objected to apartheid and refused to exchange ambassadors with South Africa.
In 1965, Khama was elected president in general elections and Gaborone became the administrative center. On September 30, 1966, the Republic of Botswana received full independence. For 14 years, Khama served as president and supported multiracial democracy. For most of his presidency, he was neutral towards South Africa and Rhodesia. However he objected to apartheid and refused to exchange ambassadors with South Africa.
In 1967, diamonds were discovered in Orapa in central Botswana. By investing in infrastructure, education and health, Botswana managed its newfound wealth wisely. Private business grew and Botswana welcomed foreign investment. For 10 years, Botswana's economy grew faster than any other country's. In 1980, Khama died. His party had become the Botswana Democratic Party, BDP, and it continued to hold the majority. Khama's cautious pursuit of pro-Western policies has been followed by his successors.
In June 1985, a raid by South African forces seeking alleged ANC members occurred on buildings in Gaborone, killing 12 people. The UN Security Council condemned the action. In 1991, the government fired 12,000 public sector workers after they struck for higher wages. In 1995, it began relocating thousands of indigenous people to settlements outside the Central Kalahari Game Reserve. In 1997, a constitutional amendment limited the presidency to two five-year terms and changed the voting age from 21 to 18.
In December 1999, the International Court of Justice granted Botswana control of a river island which Botswana and Namibia contested. In 2000, state run television came to Botswana with the government starting Botswana television (BTV). Officials claimed BTV would not speak for the government. Debswana, the national diamond corporation decided to subsidize drugs for workers with AIDS. In 2003, Botswana constructed a fence on its border with Zimbabwe to stop Zimbabwean illegal immigrants. In 2004, the HIV infection rate decreased to 37.5%. Botswana no longer had the world's highest rate of infection. Workers at the largest diamond mining company struck over pay. The court ruled the strike illegal and approximately 1000 workers were fired. In 2006, local indigenous people won a four-year legal battle and held onto their ancestral lands.
In 2008, Botswana started a diamond trading company, the Diamond Trading Company Botswana. President Festus Mogae, retired and turned over the presidency to the vice president Seretse Khama Ian Khama, Sir Seretse Khama's son. In October, the retired president won a five million dollar prize which had been set up to encourage good governance in Africa. On October 16, 2009, Ian Khama was sworn in as president. He became strict on drinking, enacted earlier curfews at bars, and appointed military and law enforcement officials to posts traditionally held by civilians. In April 2009, Botswana declared it would half diamond production due to falling demand. This did not help the economy, so diamond production increased. In November, the bank reported that Botswana began a substantial economic recovery.
Today Botswana people have a strong feeling of national identity and belief in their government and country. Traditional culture includes respect for one's elders, religious beliefs and traditional gender roles. Villages have designated meeting places where problems are discussed with mutual respect. Yet there's a laid-back approach to life facilitated by extended families.
We arrive at our hotel, the Chobe Safari Lodge and have a welcome briefing. Brian warns us not to go too close to animals. While they may look tame, they're wild. We are right on the border of Chobe National Park which is not fenced in. Animals roam to and from the park so we're likely to find all types of animals close by. The river has crocodiles and hippopotamuses. Crocodiles can attack people up to six feet from the water.
Chobe National Park covers 11,000 square kilometers, equivalent to over 6,800 square miles. During the 1930s, the Commissioner of Bechuanaland came to the Chobe River. He proposed that the region be made a wildlife preserve. Even though it was not officially protected until 1968, it's Botswana's first national park. It has four areas distinguished by different ecosystems. The northern boundary containing the riverfront contains the highest wildlife concentration. It's also the easiest to reach. The other areas require a four-wheel-drive to reach them. The Savuti Marsh area, the western portion, gets its water from the Savuti Channel. It contains hundreds of dead trees, broad savannah and grasslands. The dry season brings great wildlife and the rainy season attracts beautiful birdlife. The park's northwest corner houses the Linyanti Marsh with the Linyanti River as one of its borders. The Selinda Reserve, Kwando River and Namibia's Mamili National Park are close by. It has river woodlands, open wood lands, lagoons and floodplains which attract large numbers of lions, leopards, wild dogs, several types of antelopes, hippopotamuses and elephants. Birds are abundant. Between the latter two areas lies the dry hot vicinity. I don't know which areas we're going to but I hope we see all the animals.
I find the hotel access good. After arriving at our briefing room, I make a beeline for the ladies room and find it very comfortable to use. There's a fairly long walk to our room but it's flat. Our room is large and nice. Our back window looks out into somewhat of a courtyard. We see banded mongoose and monkeys.
Banded Mongoose
After settling in, we decide to go out for a walk. We see more banded mongooses. A pair is mating at the side of the walkway. Adults are approximately 21 inches long, with almost half being their tail. They have gray stripes across the backs. I think they're cute with their large heads and small ears. We enjoy watching and photographing the mongooses.
They live in savannas, open forests and grasslands using various structures for shelter including termite mounds. They move to another den approximately every 2 to 3 days. They have a varied diet, eating insects and small animals such as frogs, lizards, small snakes, ground birds and eggs of birds and reptiles. Their sharp claws allow them to dig well.
Unlike most mongoose species, the banded species live in colonies of up to 40 with a complex social structure of males and females. They communicate with low grunts which they make every few seconds. Aggression within colonies is low. However when groups become too large, some females are forced out by older females or males. They form a new colony with subordinate males. Relations between groups get highly aggressive. Females give birth at about the same time, producing large communal litters. All females breed and suckle each other's young. The pups remain in the den for three to four weeks. When they emerge, individuals associate with an adult helper, a.k.a. their escort, and stay with this escort until they become independent, at approximately nine to 13 weeks. At eating time, pups follow their escorts within several inches and beg them with a constant high-pitched birdlike chirp at approximately 34 calls per minute. Escorts only feed their own pups.
Courtyard View
Next we walk out to the campsite. We see the river with Namibia directly across it. We're somewhat disappointed that we don't see any animals. When we return to our room, we see vervet monkeys and warthogs outside our window. The warthogs are close, almost at our porch stairs but the monkeys are fairly far away in trees.
Vervet monkeys are light gray with a black face outlined in white. Adult males grow up to 24 inches and 18 pounds. They average 12 pounds. Females run smaller, growing up to 19.5 inches, 12 pounds, and averaging 16.8 inches and 9 pounds. They make different alarm calls depending on the type of predator, which include leopards, eagles, pythons and baboons.
Since they adapt easily, vervet monkeys live in rural and urban areas. They are mostly vegetarian, eating wild fruits, flowers, leaves, seeds and seedpods. When they eat animals they usually eat grasshoppers, termites and eggs of cattle egrets and weaver birds.
They live in troops of 10 to 50, foraging by day and sleeping together in trees at night. When males become mature they move to neighboring groups usually with brothers or peers to protect themselves from aggressive males and females of the new group. Females stay in their groups for life. Since females don't have external signs of being in heat, elaborate social behaviors do not occur. Gestation is approximately 165 days. They give birth any time of the year to usually one infant of approximately 10.5 to 14 ounces.
We go to dinner and enjoy it. It's our first of many buffet dinners. Unfortunately our group sits downstairs and the food is upstairs. I'm not happy that the light level is so low. Our tour group sits at three tables so we enjoy the opportunity to get to know some of our other group members.
When we return to our room, I read up on Namibia, our destination for tomorrow.
History of Namibia
Although Namibia's history follows that of most of southern Africa, Namibia is one of the youngest countries in Africa. One of the oldest archaeological finds suggests that people lived here 750,000 years ago. The earliest people hunted elephants and cut up their carcasses with large stones. About 600,000 years later, people used lighter spears, knifes, saws and other tools. As stated previously the San people lived in this area. Over time the Khoikhou people joined the San. Today these two people are regarded as one called the Khoi-san and they live in remote parts of Namibia.
Between 2000 and 500 BC, the Bantu migrated to southern Africa. At first, they lived in harmony with the Khoi-san. The Bantu were more advanced with better weapons and farming methods. They had a strong social system of extended family and clan loyalties headed by Chiefs. Cattle played an important role. Owning cattle served as a symbol of wealth. Eventually the Khoi-san were conquered by the Bantu and pushed to more harsh lands. During the 1500s and 1600s, a Bantu group called the Herero moved to Namibia. They evolved into one of Africa's most traditional cultures, the Himba. Today the Himba makeup approximately 7% of Namibia's population.
In 1881, Adolph Lüderitz persuaded Nama chief Joseph Fredericks to sell him some land in southwest Namibia where he set up his second African trading station. He traded putrid guano produced by cormorants. He requested that the German chancellor provide him protection. Early German involvement was not much. When the fighting between the Nama and the Herero renewed, Germany sent a small military crew to curtail the supply of weapons from the British. Afterwards the army constructed forts in Namibia, making it a full protectorate called German South-West Africa. In 1892, German farmers arrived and took expropriated land in the central plateau. Merchants and other settlers came. During the late 1890s, Germans, Portuguese in Angola and British in Botswana drew Namibia's borders.
Germany inventoried Namibia's natural resources. Natives lived in the best lands which the Germans wanted. The Herero and Nama resisted. In 1904, they formed an alliance with two other indigenous groups and they drove the Germans back. The Germans sent in ruthless reinforcements. Approximately 80% of the Herero population was killed. In 1905, the Nama rebelled. It took an additional three years before the Germans defeated guerrilla forces.
In 1908, diamonds were discovered in the south of Namibia. Prospectors came to stake their claims. By 1910, German authorities closed the area, throwing out the prospectors. They gave the Deutsche Diamanten Gesellschaft company exclusive rights to the area.
During World War I, Britain persuaded South Africa to invade Namibia. In 1915, a South African administration was set up in Windhoek. Afrikaans speaking people bought German farms and the Consolidated Diamond Mines of South Africa received the diamond mining interests. By the end of the war, the Germans had destroyed the Herero society and taken their lands and the land of the Khoi-san. In northern Namibia, the Owambo eluded being overthrown by the Germans, but fell to the Portuguese.
In 1919, the treaty of Versailles required Germany to give up all of its colonial claims. In 1921, the League of Nations mandated that South Africa administer Namibia as part of its union. In 1924, a brief rebellion occurred. Descendents of the Dutch men and African women, gained some autonomy. South Africa set up territorial legislature. This was renewed by the UN after World War II. At that time, South Africa wanted to annex Southwest Africa as a province in the union so they rewrote the Constitution. The International Court of Justice decided South Africa had violated its restrictions and the UN set up the Committee on Southwest Africa to enforce the original mandate.
In 1949, Namibia's white population received parliamentary representation in Pretoria. Approximately 6,000 white farmers received most of Namibia's farmland. Other ethnic groups were moved to newly declared "tribal homelands". Officially the administration declared the intent of channeling economic development into poor rural areas. This continued until Namibia's independence. Some exist today even though in 1966, the UN terminated South African control.
During the late 1950s, the Owamboland People's Congress, a political party, was founded in Cape Town. In 1959, one of the leaders took the issue of South African control to the UN. The party expanded and became the South West African People's Organization, a.k.a. Swapo. In 1966, Swapo went to the International Court of Justice requesting South Africa's control be terminated. While the request was denied, the UN General Assembly voted to give control to the Council for South-West African. In 1973, it was renamed the Council for Namibia.
On August 26, 1966, Swapo started a drive of guerrilla warfare in northern Namibia. In 1972, the UN declared South African occupation of Southwest Africa unlawful calling for South Africa to pull out and declaring Swapo the legal representative of Namibian people. However South Africa did not give up. In 1975, Angola's independence provided Swapo with a secure base across the border from the fighting. They increased their guerrilla warfare. By March 1976, South Africa failed and withdrew their troops but continued raids into the 1980s.
South Africans grew tired of war and its expense. In December 1988, a deal was struck between Cuba, Angola, South Africa and Swapo. Cuban troops would withdraw from Angola and South African troops from Namibia. Namibia's transition to independence would commence on April 1, 1989 and be followed by UN monitored elections in November.
Swapo won two thirds of the votes in the election which was not enough to give the party exclusive mandate to write the Constitution. This alleviated fears that Namibia's minority groups would not receive a say in the democratic process. Negotiations occurred between the national assembly and international advisors including the United States, France, Germany and the USSR resulting in the Constitution. The Constitution set forth a multiparty system and noteworthy Bill of Rights which included environmental protection, family and children rights, and freedom of religion, speech and press. In March 1990, Namibia received its independence and Samuel Nujoma became Namibia's first president.
Namibia became economically successful from extracting, processing and exporting minerals including alluvial diamonds, uranium and other metals. In 2007, Namibia's budget had its first surplus. The country has one of the highest per capita GDP's of sub-Saharan countries. Unfortunately it also has one of the world's greatest inequality of income.
The country still has a long way to go to achieve a unified identity. Socially, people trust and depend on their clans even over their families. Approximately 90% of the country practices Christianity and 10% adhere to indigenous beliefs. Education is compulsory and the literacy rate is 84%. Most Namibians live in villages in rural areas and have Chiefs called Elenga. The Elenga presides over local matters. He reports to a senior Elenga who represents several dozen villages. This system operates with Namibia's regional government, allowing traditional lifestyles to continue with the country's contemporary public system. While Namibia is patriarchal, woman work hard to contribute to the family's finances. The government realizes that reaching gender equality depends on changing local attitudes.
Day 5: Friday, October 19
We go to breakfast early and it's okay but nothing special. I'm relieved when we buy water since I missed a lot of sleep last night being concerned about this. We were not able to get much water last night.
At 8 o'clock, we meet for our boat ride to the Namibian village on Impalila Island. Our itinerary says that this is a modern community of subsistence fishermen. There's a flight of stairs down to the dock and the railing only goes halfway. The dock is a floating one. Steve gets me on the boat with help from Niven, our local guide. I find the climb and boarding not as bad as I expected when I saw the view from above.
Niven is from another village on this island. Later we learn that he is actually chief of his tribe, although he appears to be quite young. The island is home to 2,700 people who live in 63 villages. He gives us a lot of information about tribal life. Women have a hard time finding husbands. Men can have up to eight wives but he has only one. He says the problem with having more is because all the wives want attention. Fishing is the main occupation of the island's men. They fish from canoes. The island does not have enough men because hippopotamuses tip canoes and kill them. Hippopotamuses are not carnivores, just vicious animals. It's illegal to kill them.
First we have to stop at Botswana's exit station. Niven tells Steve to take my passport and I can stay in the boat. I do so and watch another boat dock. Natives carrying goods occupy the boat. The people are curious but seem friendly. A Botswana official comes out to look at me. We continue on our beautiful ride on the river.
Grey Herons from boat
We see a lot of birds and get a good picture of group of grey heron. A grey heron stands up to 39 inches tall and grows to 40 inches long with a 77 inch wingspan. They weigh a maximum of 4.6 pounds. I'm not sure if we first see them or hear their call of a loud croaking "fraank". They live and breed in colonies which are usually in trees close to lakes or other bodies of water. They prefer tall trees for breeding and roosting. Here we see them in front of a reedbed, which is in front of a good-sized group of trees, but I wouldn't say they are tall trees. They most often obtain their food from shallow water using their long beaks to catch fish, frogs and insects. They also eat small mammals, reptiles and birds up to about nine inches long. They usually eat in small groups or by themselves. I can't tell whether we're seeing a colony or a small group. They build bulky, sticky nests and breed throughout the year.
The views of the Namibia and Botswana on either side of the river are beautiful. In a while we reach Impalila Island. Niven pulls the boat onto the land.
It's a bit of a challenge to get me up to where I can get in my wheelchair. However soon I'm back out of my wheelchair. Steve helps me up the very rough path and someone else brings my chair. The walk to passport control is extremely rough. Steve has a hard time pushing the chair over many rocks. After a while, Niven and a fellow tourists help by pulling the front side. Steve thinks we shouldn't go to the village. I offer to stay behind, insisting Steve should go. Niven says that we've done the harder part and it will get easier. Periodically, it does. It's so rough that at one point Steve's finger starts to bleed from a roughness in my wheelchair handle. Even though we've been on very rough terrain on other trips with this wheelchair, this has never happened before. After a while, Niven takes over pushing me.

Roots heal diarrhea
Improves eyesight
We stop at a group of three trees. Niven tells us his father was a healer and he taught Niven about medicinal properties. The first tree heels diarrhea. Pregnant woman cannot take it unless the baby's father is not a responsible man. Taking this will cause the baby to be aborted. The roots are ground and mixed in a cup of water until it looks like coffee. The second tree, called the tree of life, helps with poor eyesight.

Increases cow's milk
The third tree is used when cattle don't produce enough milk. Its limbs look like elephant trunks and it's called the elephant tree. To make this medicine, one peels the bark from the limbs. White liquid comes out and cows drink the liquid. Niven peels some bark from the branch and underneath it looks like woven fibers. He pierces the bark and we see the white substance flowing out. If people drink it in harms their eyesight. Milk is important because people mix it with porridge and sugar and they love it. Milk producers sell what they don't want.
We pass men who are constructing a building. Niven tells us that they're building a wildlife office. Next we pass a field behind trees. Niven explains that here the soil is rich and they don't use irrigation. They rely on rain. Only men plow because it's too hard for women. They plow even if there's no rain. Rain can happen at any time.
Niven explains village customs
We stop just before the village. Niven tells us about marriage customs on the island. The man meets a woman at school, church or another place. If he likes her, he talks about love. If she accepts his overtures, they spend time getting to know each other. If they decide to get married, the man tells his uncle and the uncle tells his father. The uncle performs the marriage. The woman moves to the man's village. Village reputation is very important. The chief is the oldest because he needs experience. If there's a problem, the chief settles it. Each village is an extended family. It only divides if there's too many problems. Until approximately the 1980s, marriages were arranged by uncles. Many divorces occurred, so today most men pick their own wives. At first, Niven had an arranged marriage. He spent years getting to know her and decided she was not for him. He picked his wife because she was the smartest girl in his class in 11th grade. He says he wasn't too smart, so he wanted someone smart so he would have smart children. Fathers work hard for their children. Education is not free. If children get good jobs, they will take care of their parents in their old age. He has two children in first and second grade. They are very smart and even help seventh graders. He's very proud of this. Currently his wife cooks and cares for the children. He hopes that next year she can get a job and they can find a babysitter for the children. It's very expensive to raise children.
Children watching woman cooking
We go into the village and see many children. They are curious, friendly and a few are a little shy. We see a woman cooking what looks like stew or soup in a very large metal pot, more like a barrel which sits on a fire. Children watch her from a distance. Niven explains that tonight this will be eaten as a meal. It looks extremely unappetizing to us. What's left over will be fermented into beer.

Tonight's Dinner
Chicken Coup
Niven points out the chicken coop which is high off the ground on a platform held up by sticks. There's a ladder leading into the door. Each night once the chicken are in the coop, someone removes the ladder and closes the coop door. This prevents predators from getting to the chicken.

We Stand in front of a married couple's home
Single people's home
Niven points out the huts. A fence around a hut signifies that the man is married. A man can build his own house when he has the rite of passage. Often when boys and girls become of age, they move out of their parents house and into one with others of the same sex. If a man has more than one wife, he can't say which he likes best. If he does, the woman will brag. The other wives will bring the man to court and sue him. Niven points out the village live stock. Only the chief is allowed to have goats.
Village woman set up a market of their crafts around the baobab tree in the middle of the village. Baobab trees have very wide trunks and many limbs which don't have leaves until quite high up. Legend has it that the baobab was acting superior over other trees and offended god. God pulled the tree out of the ground and replanted it upside down so that it would stop bragging. We're lucky to see its green foliage because it only keeps its leaves for a short time each year. Most of the time, it looks like it's roots are in the air.
Baobab Tree
The ground in the village is flat but sandy. It's easier to walk than to push the wheelchair so after our tour of the village, I walk. It feels good to be up and walking. The ground is hard enough so it's not too hard to walk on.
Market
We walk around the inside of the circle of crafts and look at the goods. The women are quite good salespeople. Each one tries to convince us that what she is selling is great. Actually almost everything we see is very nice but we don't want to buy too much in one place. I am also a bit surprised at the prices. We bargain somewhat but since we know how poor these people are, we want to give them a fair price. We choose two necklaces for gifts and of a long, thin wooden bowl shaped like a banana. The wood is different shades of tan and brown, some light and some dark. We choose the bowl as our chachka. It is our tradition to purchase a chachka in each country we visit. A chachka has three characteristics. It must be small enough to carry, it must be something one is likely to find in the home of a native and the price must be reasonable. When we ask Niven about finding a good chachka for Namibia, he says that anything the women sell at the tree would fit. He cannot recommend anything specific because that would be showing favor.
After shopping, I sit in my wheelchair while Steve wanders around the village looking for good photo opportunities. It's very hot today, in the high 90s or even over 100°! Art takes our picture in front of a married couple's house.
Niven gathers us up to head back to passport control. Steve and Niven take turns pushing while others in our group help by pulling the wheelchair from the front. I ride most of the way but as we approach the passport control building, it's so rocky that I walk with Steve's help. Once inside Niven tells me to sit, that Steve can take my passport to the desk. I ride down to the boat, but it's very difficult pushing even though it's downhill.
Once we're back on the water, there's a nice wind. Even though it's still very hot, it feels good. Steve takes my passport and the required documents to Botswana passport control. Once again they come out to look at me. When we get back to the hotel, we have at least an hour before lunch. Steve is so hot that I encourage him to go to the pool. He does but he's back quickly saying that the pool is too cold! He takes a much-needed rest while I read and work on my log.
We go to lunch and eat with two couples who are traveling together. One couple went on the Safari and the other came to the village with us. Both were happy with what they did. The couple that came to the village with us, filled me in on quite a bit of what Niven said about himself that I hadn't heard. This was the first time I learned he was his village's chief. It hardly seems likely that someone so young could be chief. Based on what he told us about who becomes chief, I'm guessing his village is somewhat new. It also could be that his village has suffered from a lot of men dying from hippopotamus attacks or other types of death. Whatever the cause, I'm glad we had Niven as our local guide.
Buffalo eyes bird
Close to 3 PM, we go down to the swimming pool to meet our group for our first Safari! On this boat, we go the other way on the river. It doesn't seem to take long to reach where the animals are. Brian and our boat captain narrate. First we see a herd of African Buffalo, one of the infamous Big Five species. African Buffalo have never been domesticated because of their unpredictable nature. Actually they are not closely related to either the Asian water Buffalo or domestic cattle. Their shoulder height reaches to 5.6 feet and head and body length to 11 feet. Its tail grows to 43 inches. The type we're seeing, called Savannah, weighs up to 2,000 pounds with males being larger. They hold their heads low. Male coats are black or dark brown with old ones having white circles around their eyes. Females coats are more reddish. Color darkens with age. Their most outstanding feature is their horns. They have fused space, from which the horns go upward on both sides, then downwards beyond the head and curve upward and inward at the top. The two ends can be more than a meter apart. It takes 5 to 6 years for the horns to fully grow. Female horns are 10 to 20% smaller.
They live in swamps and floodplains, preferring dense cover. They require water daily and eat high, rough grass. Occasionally they eat small trees and shrubs. Once they trample or eat the grass, they move on. Beside people, lions are their main predator. It takes several lions to kill an adult buffalo. Other predators are crocodiles, cheetah, leopard and spotted hyena. These predators mostly seek out newborn calves.
Related females and their offspring make up the herds. Sub herds of subordinate males, high-ranking males, females and old animals often surround the core herd. Female dominance is usually linear. Male dominance is also linear but size plays a factor. Since larger herds are safer, dominant bulls allow subordinate ones. Sparring can be play or fight, almost always between males or calves. Entire herds fight off predators with mobbing behavior. The herd gangs up on the predator.
Buffalo with Oxpecker
Buffalo mate and birth only in the rainy season. Birthing in the early season and mating in the late season. The bull guards a cow closely, keeping away others. Since cows act elusive, they attract many males at first. By the time she's in full heat, the most dominant male has chased away the others. Cows begin having babies at five years, after a gestation of 11.5 months. They hide their newborn in vegetation for a few weeks and nurse them occasionally. Once the mother and calf rejoin the herd, the calf stays in the middle of the herd for safety.
We see birds all over the place. They are of different sizes and doing many different things. One sits on a log in the middle of the water, peacefully. A little further on, close to more buffalo, some large birds fly over the water, land on grass and appear to be looking for food. One that looks like an eagle, just stands in the grass and looks around.
Later we see a buffalo that appears to be an old male. I determine this because his hair is sparse and he's laying down by the side of the herd. He has an oxpecker bird on his nose. Oxpeckers feed on ticks, botfly larvae and other parasites on large mammals. They grow to a length 8.66 inches. They live in most open habitats where their preferred food is available.
Watch out for this Nile Crocodile
A little further down the river we see occasional Nile crocodiles. They grow up to 16 feet in length, the second largest reptile in the world. They weigh around 900 pounds. They live in lakes, rivers, marshlands and occasionally brackish water. They can eat almost any animal, but mostly eat fish, other reptiles, birds and mammals. A crocodile ambushes its prey, waiting for a suitable time to attack, when its prey comes within its range. Once a crocodile is grown, it's the top predator in its environment. Only humans prey on it, often because it attacks humans. Unprotected nests are raided by humans, monitor lizards and other animals. They are social but have a strict hierarchy with large, old males at the top. These get first access to food and the optimal basking place. Males attract females with noise, such as bellowing, slapping their snouts in the water and blowing water out of their noses. Females lay 20 to 80 eggs in holes in sandbanks two months after mating. Hatching occurs in three months. Both parents protect the eggs and young. The mother only leaves the nest when she needs to cool off. Unborn babies make a high-pitched chirping noise as a signal for the mother to open the nest. Sex is determined by the average temperature in the middle third period of incubation. When it's below 89°F or above 94°F, the hatchlings will be female. Babies are about a foot long at birth. Males grow a foot per year. Females grow slower. They begin to mate at the age of 10. The young hunt by themselves and their parents don't feed them.
Water Monitor Lizard
We see a water monitor lizard close by a crocodile coming out of the water. The water monitor lizard is the largest African lizard, growing up to 63 inches. The tail is longer than its body. It hunts along rivers, eating crabs and frocks. It lays 20 to 60 eggs in a termite nest. These hatch in four to six months. It's called monitor because it stands on its hind two legs and appears to monitor its surroundings.
African Fish Eagle
In one place we see an African Fish Eagle just behind a monitor lizard. Females grow larger than males, up to 8 pounds with a wingspan of 8 feet. Males grow to 5.5 pounds with a wingspan of six feet. They live in sub-Saharan Africa around the large bodies of open water with good food supply. Their diet mainly consists of fish which they often catch by sweeping down from a perch in a tree and grabbing with their claws. We see one African Fish Eagle sitting on top of a barren tree limb, looking like it's searching for fish. It will eat water birds. Usually during the dry season, females lay one to three eggs and incubate them. Males sit on the eggs only while the females hunts. They mate for life and often reuse their nests. The eggs hatch in 42 to 45 days, a few days apart from each other. Older chicks often kill younger ones. Parents usually raise two or three offspring. Fledging, which is being raised by parents, lasts 70 to 75 days, although they can feed themselves in about eight weeks. Parental dependence continues for up to three months.
Although we're seeing a lot of animals, at times we ride for a while before we spot the next one. Once we reach one or group that's not too far away, our boat slows or stops so that we can watch and take pictures. It's a very pleasurable boat ride. In the distance, we see an Impala. We only slow down here, since Brian assures us will be seeing many, many more. At one point he says that Impala are the only animal that Vantage guarantees we will see on our trip.
A pod of Hippopotamuses
We come upon a small pod of about four hippopotamuses. At first they are just floating in the water and look fairly serene. When we start to get closer, the biggest one opens his mouth wide. It's huge and has very sharp teeth. Brian says that's a signal to stay away and we do. But we stay for a while and watch them. After a while he closes his mouth.
We're getting too close
Hippopotamus is the third-largest land mammal, after elephants and rhinoceros. Yet their closest living relative are sea mammals such as whales and porpoises from which they evolved approximately 55,000,000 years ago. Males grow to 4,000 pounds and the shoulder height goes up to 4'11". Females grow to 3,300 pounds. Females reach their maximum weight around age 25 while males appear to continuously grow throughout their life. Although it's very rotund with short legs, it can run up to 30 mph and out run a human.
Teeth grow to 1.6 feet
Hippos live on land and in rivers, lakes and mangrove swamps. Most of their life is spent in water. The territorial bulls control groups of 5 to 30 females and young. Most of their day is spent in the water to stay cool, with only their nostrils, eyes and ears on top. They can stay submerged for six minutes. It's easy to see why they're so deadly to fishermen. The hippopotamus is known to be one of the most aggressive of animals. They can open their mouth to almost 180°. They sharpen their teeth as they grind them together. Their biggest teeth grow up to 1.6 feet and are only used for combat, not feeding. Hippos often fight each other but rarely kill each other. They usually stop fighting when it becomes clear which one is stronger.
They leave the water at dusk, travel up to six miles inland and spend four to five hours grazing, consuming about 150 pounds each night. They prefer short grasses but will eat aquatic plants. On land they are not territorial. They are hunted for their meat and ivory teeth. Nile crocodiles, lions and spotted hyenas prey on young hippos. If a crocodile enters a hippos territory, the hippopotamus will attack it and at times kill it. Except for humans, animals tend to avoid adult hippos.
Mating and birth occur in the water. In the water, a bull's territory is only about 270 square yards. The dominant male will allow other males into its area as long as they behave submissively. Territories exist to establish mating rights and inside a pod the hippopotamuses usually form groups by sex. At 5 to 6 years, females reach sexual maturity. Males mature at about 7.5 years. While their cycles are active year-round, conception usually occurs at the end of the wet season, gestation lasts for eight months and birth occurs at the beginning of the wet season. After she becomes pregnant, the female will typically not ovulate for seventeen months. Babies usually weigh 55 to 110 pounds and have to swim to the surface to take their first breath. Twins occur but usually there is only one baby. Weaning occurs from six to eight months.
After a while we see a field with about five different types of birds, most of which appear to be feeding. We take pictures but none are close enough to make a good identification.
Impala play to keep fit
nicknamed "fast food of Africa"
As we sail along, we slow down to see impala, the medium-size antelope which grows to 63 inches long. The male grows to 36 inches shoulder height and 168 pounds and the female to 33 inches shoulder height and 117 pounds. In Zulu, Impala means gazelle. Only the male grows horns of up to 36 inches. They live in flatlands with little undergrowth and grasslands with grasses of low to medium height. If enough greens are available, it can go weeks without drinking. In wet seasons, it grazes on grass, but in the dry season it browses on foliage, shoots and seeds.
Impala have many predators including leopards, cheetahs, lions, wild dogs, spotted hyenas and crocodile. Brian tells us that they are called the fast food of Africa. When frightened or startled, the herd leaps around to confuse their predator. They can jump up to a distance of 33 feet and 9 feet in the air. They can reach a speed of about 50 mph but usually zigzag at about 37 mph. By making a high kick of its hind legs, it releases a scent from its glands on its heels. This helps impala stay with their group.
Females and young live in herds of up to 100. When food is abundant, males become territorial. They gather female herds, go to their grounds and chase away bachelor males and at times recently weaned males. Each dominant male does its best to prevent any female from leaving his territory. However in the dry season, they abandon their territories because they must travel far to find food. At this time, large tranquil herds of both sexes form. When young males are forced to leave their herd they form bachelor herds of about 30.
Males mate at age four, after they have established their own territory. Females can conceive after reaching 1.5 years of age. Annual breeding begins in May, towards the end of the wet season and lasts approximately 3 weeks. Babies are born at about 6 to 7 months but the mother can delay giving birth if conditions are too harsh. At birthing time, the female isolates herself even though the male tries to stop her from leaving his herd. She keeps her fawn in this spot for a few days to a few weeks. When she returns to the herd, the fawn joins the nursery. The fawn only goes to its mother to nurse or when predators are near. They nurse for 4 to 6 months.
In a little while we see a lone hippopotamus either eating some sparse grass or considering entering the water. A little further on we see more buffalo grazing in a field.
As we sail, we see a good number of impala with different types of herbivores. In one place, the impala are close to the river with buffalo in back of them. In another place, we see impala intermingled with birds. In one field, several impala run around. It appears that they're playing and exercising.
Next we come upon a nesting crocodile. It's just lying on its stomach and we don't even see it move. A little further on, we see another slowly moving out of the water.
Next we see a hippopotamus grazing quite a distance from the water. There's a small bird standing probably a foot away from it. Neither appears to be paying any attention to the other. We get a good sense of how huge the hippopotamus is.
Our first Elephant sighting!
We sail a bit further and see our second of the big five, elephants! We are sailing at a place where there is a small, green island in the middle of the river. On the other side of the island, there's another body of land, probably Namibia. Here the land is brown with low trees in the back. At first we see what looks like a mother and young elephants on the far side of the island, with the herd behind it. They head towards the water. Most of the elephants are eating the trees.
Male Elepahant
The African elephant is the largest land animal today. Males grow to a shoulder height of 13 feet, 13,330 pounds and females up to nine feet weighing up 7,125 pounds. Despite their size, they can move up to 35 miles an hour, stop quickly and stay surefooted on rough surfaces such as mountains. Their large ears allow heat loss. Their upper lip and nose form the trunk. The trunk can be a fifth limb, a sound amplifier and a method of touch. The trunk ends in two lips.
Elephants live in dense forest, grasslands, savannas, scrublands, and deserts. They eat constantly from 375 to 992 pounds a day but only 40% of this food is totally digested. Their food consists of trees and other vegetation. Most elephants lose their teeth when they reach 40 to 60 years of age and this causes their death because they can no longer eat.


Baby Entering Water to Play
Elephants are considered one of the world's most intelligent species. They have a wide variety of behaviors including grief, learning, caring for babies not their own, mimicry, art, play, a sense of humor, compassion, cooperation, self-awareness and memory. They are highly social, have a culture and their own language. Females and young live in herds while males are solitary or live in small groups. The oldest female leads her group because she has the most memory and knows the safest places, the location of good food and where to go in a storm.
Joined by friend, they playfully cross the river
Water play ends on the other side
Female cows reproduce at between 12 and 14 years of age while males begin to produce sperm at between 10 and 15 years. Courtship lasts from one to four days when the bull stays close to the cow, guarding her from other bulls and occasionally mating. Gestation can take between 21 to 23 months. One calf is born every four to five years, depending on food availability, the presence of a nursing calf and the age of the cow. It takes about a year for a calf to learn to use its trunk.
We sail around the island and are treated to two baby elephants playing! One slowly enters the water from the dry land and soon another follows. They walk across the bottom of the river, at times raising their trunk or lowering it. They continue, sometimes close together, other times separated by quite a distance. It's so fun to watch. Just when we think they will totally submerge, up comes one trunk, the other elephant moves closer and raises its trunk higher than the first's head.
As we sail on, we see a crocodile on land with his jaws quite open. I can't see what he may be going after, but I'm glad I'm not near him. In the distance, there's a herd of elephants. Next I see a crocodile laying in grass. I'm not sure if it's resting or watching the water for possible food. When Steve shows me the close up he got, with the eyes wide open, I guess it's the latter. We see more elephants.
Female Waterbuck
A little further on we see a female waterbuck. We know it's female, because males have horns. We see a male with large spiral antlers that reach upward from its head and bend a little bit back and up, ending in a sharp point. He's standing with the female among what looks like smaller waterbucks laying on the ground. A little further away, two appear to be playing with each other. Waterbucks grow to a shoulder height of 54 inches and 94 inches in head to body length. Females weigh up to 472 pounds and males to 600 pounds. They're easily identified by a white ring on the rear, which looks like a bull's-eye. They live in scrub and savanna near water. They graze on grass close to water. The only time they go in the water is to take refuge from predators. Mainly lions, hyenas, and leopards go after waterbuck but crocodiles, wild dogs and cheetahs will go after them as well. Waterbuck live in small herds of 12 or more females, young and bachelors. Breeding males are solitary and territorial. Males keep a territory of approximately 300 acres during the prime of their life which ends before 10 years of age. Birth of a single calf usually occurs in the summer. The mother keeps her offspring hidden for about three weeks during which times she comes three to four times a day to nurse it. Although she cleans her calf after feeding it to remove odor that would attract predators, there is a high amount of calf mortality. Calves begin to eat grass when they are young but continue to nurse for six to eight months.
We pass a lone bird, standing close to the water probably looking for a water animal to eat. I identify it as a yellow- billed stork. However the bill is more orange than yellow. These grow to 38 inches. They eat fish, frogs and insects.
Hippo on land
We see more crocodiles and another pod of hippos. It seems for a brief time that we're in the land of hippos since we see them on both land and water. Perhaps they're getting ready to begin their evening migration. Then we see a few buffalo, one of which is eyeing a small white bird with yellow bill, possibly a yellow-billed egret. I find this curious, since buffalo are herbivores and do not eat meat. It makes for good picture.
We see another eagle perched on a branch turning his head slowly from one side to the other and back again. Nearby we see a white egret with a yellow beak or perhaps it's a heron. Soon we see a bird with orange legs, orange beak and a red eye. This one looks similar to the Grey Heron we saw this morning. I wish I was better at identifying birds. They are interesting & beautiful.
Grazing Buffalo herd
And now the excitement starts! We see a large herd of buffalo. Most appear to be grazing but as a group, they're slowly moving in the same direction. It's nearing sunset, so perhaps they are moving to where they're going to spend the night. The site is amazing with so many animals in one place. We guess they number several hundred.
We see a beautiful male impala. He appears to be getting ready to spring. A little further on we see a baby elephant following what's probably its mother. We sail for a bit more.
Migrating Elephant herd
Soon we see a large herd of elephants, probably even more animals than we saw in the buffalo herd. They are definitely moving together in one direction, likely to settle down for the night. They walk around a group of white birds and we see a herd of impala between them and the water. It's incredible to see so many elephant in one place! So ends our Safari and we head back to our lodge.
Elephants Migrate while Impala graze
We have an interesting dinner with two couples who also like to travel. We all tell many interesting travel stories. The food is better than last night. We eat impala, which tastes like beef. The other dishes are nothing special. They serve a great dessert, including cappuccino mousse and apple crumb cake. We drink the house wine, which is South African. We taste both the red and white.
We have to get up tomorrow for an early Safari, so we turn in early. I get up when blood sugar low alarm goes off between 1 and 2 AM. Otherwise we sleep like babies since we had such a busy, exciting day!
Day 6: Saturday, October 20
We get up at 4:45 AM for our 6 AM game drive. Putting on both of our sunscreen and bug repellent, as we were advised by our travel nurse, takes quite a while. Both have to be applied all over so I need help from Steve. Even he needs my help to get his back. When we arrive at the jeep, Brian and the driver have me sit in the front seat and Steve just behind me. I didn't expect to be able to get into the back of our jeep, but access to the back is even more difficult since one has to climb up a ladder and over the jeep wall.
Elephants cross road in front of us
It takes about 20 minutes to get to and into the park. After the entrance, we ride on dirt roads. At first we see nothing. But then, wow! We see several elephants, probably a mother followed by her young, just leisurely crossing the road. They're following more elephants.
We see what looks like a family of waterbuck, with the younger ones eating while the big male looks on. As we pass a small body of water, I see a lone white birds staring at it.
Vulture flock
Next we see hooded vultures and it's easy to call them ugly birds. Their legs are white, but that's not their natural color. They defecate on themselves. They grow to 28 inches long with a wingspan of up to 65 inches and they weigh up to 5.7 pounds. They're scavengers, eating mostly carrion which they find from flying over the land. They live in flocks and usually gather around habitation. They breed in a stick nest in trees, laying one egg. If babies are disturbed when in their nests, they squeal "Mama Mama".
Vulture
We see young impala, running and jumping. We learn that impala are often in motion. This helps them become strong and agile. One group of impala walk right by a group of vultures. Neither shows interest in the other. We pass a large nest and based on the way it's made and what little I see of the head sticking out, I identify it as a vulture nest.
Red-billed Hornbill
Next we see a red-billed hornbill bird eating in the middle of the road. Steve gets a good close-up shot, and I think he's a beautiful bird. They grow to about 17 inches. When it's not breeding season, they live in flocks. They eat insects, fruit and seeds mainly from the ground. During breeding season, the female lays three to six eggs in a tree hole and blocks it off with a plaster of mud, droppings and fruit mash. She leaves one narrow opening, just large enough for the father to pass food inside for the mother and babies. When the babies and mother become too big to fit in the nest, the mother breaks out. Then she rebuilds the wall and both parents feed the babies.
We see more impala. Two of the young males appear to be fighting but they're actually playing, honing their skills and building neck muscles. A little further on, we see a new type of bird but I don't have any idea what it is. Later, after searching through my animal book, I think it's a kori buzzard They grow to about 53 inches. They live singly or in pairs, walking or flying slowly.
Next is a rather large heard of impala, mostly feeding while the little ones play. Quite a ways away, we see a kudu which is another type of antelope. I barely see the tail so I'll tell you more about it when we get a better view.

Lioness sitting by the side of the road!
Then we see her! A beautiful lioness lies close to the side of the road. Our driver tells us that it's usual to find a lioness alone because they wander more. We're so excited to see the third of our big five! Females grow to 5'9" feet long, averaging 3.5 feet tall, tail length up to 3'3" and weigh a maximum of 400 pounds. They live in stable groups. A pride consists of related females, their offspring and a small number of adult males. Lions live for 10 to 14 years. Most of the time, lions rest, approximately 20 hours a day. Activity usually peaks after dusk with socialization. Most hunting occurs at night. They spend about two hours a day walking and 50 minutes eating. Lionesses do most of the hunting because they are smaller, swifter and more agile than males. They prey on large and small mammals, birds, reptiles and insects. When the kill is small, they eat it on location of the kill. When large, they drag it back to the pride area where a male dominates. The males are more likely to share their food with the cubs than the lionesses.
Black-backed Jackal
We ride for a way and spot black-backed jackals, a small fox like animal. These are the smallest of three jackal species but the most aggressive. They grow up to shoulder height of 19 inches, with a length of 35 inches and weight of 21 pounds for males and 22 pounds for females. They usually live in dens of holes made by other species and are monogamous and territorial. They prey on invertebrates, small mammals including young antelopes, carrion, lizards and snakes. Occasionally they eat fruits and berries. Eagles are the main predator of pups. Spotted hyenas and golden jackals also go after pups. Leopards prey on adult jackals.
Mating occurs from late May to August. Gestation lasts 60 days, with pups born from July to October. Litter size is from 3 to 6 pups. The mother closely watches her young for three weeks while the father and older offspring provide food. Older offspring help raise younger pups of their parents which contributes to better survival rate than most jackals. They become independent at 6 to 8 months.
We see an interesting looking blackbird with a red face. It looks like it has whiskers. However it's behind a tree, so we can only get a glimpse of it.
Grazing Giraffe
We come upon our first easy to see giraffe. I'm surprised that the spots are so dark, almost black, but learn that the spots of male giraffes darkened as they age. As the tallest animal, giraffe grow up to 20 feet and weigh an average of 3500 pounds for males and 1830 pounds for females. Their legs can be 5'11". This allows them to run short distances up to 35 mph, but they normally go long distances at approximately 10 mph. Their height aids in keeping lookout for predators. Their tongues are 18 to 20 inches long. Their horns are short, blunt and covered with fur. Their hearts have adapted to enable them to pump blood up their long neck to their heads.
Giraffes live in savannas, grasslands and wood lands. Although they're not very social, they will gather when moving in the same direction. Groups can go up to 32 giraffes which gather in .6 miles and move in the same direction. Members often come and go from the group. Males become more solitary as they age. Females and young tend to cluster in small herds. Solitary bulls established hierarchy by swinging their heads at each other in combat, using their neck as their weapon.
They prefer to eat acacia leaves, especially the young ones but eat grasses and other plants as well. They eat constantly moving from one source to another often. The acacia tree can sense when being eaten so it starts to secrete a poisonous substance. Their size makes it difficult and dangerous for them to drink at waterholes. They have to spread their legs and bend down which puts them in an awkward position and makes them vulnerable to predators such as wildcats. Luckily they only need to drink once every several days since they get most of their water from the plants they eat. Predators include lions, leopards, spotted hyenas and wild dogs. At waterholes, crocodiles become their major predators.
Once a male determines a female is fertile, he will attempt to court her keeping subordinate males away from her. The dominant male gains mating access to the female and she takes all responsibility for raising the young. Gestation takes 400 to 460 days. Single babies are born at any time of year. At birth, the mother stands and a calf falls to the ground. She grooms it, then helps it stand up. Newborns are about six feet tall. In a few hours, the calf can run around. It hides for one to three weeks. Mothers gather in nursery herds and will leave their calf's to forage and drink. Calves nurse from one month up to a year. Females mature at four years and males at four or five years, but wait until they are seven years old to mate. At least a quarter of giraffes are killed by prey before they reach adult hood. Mothers defend their calves and themselves with their powerful kicks. Giraffes live up to about 25 years.
Elephant Carcass
Riding along the road, our driver points out an elephant carcass. There's still quite a bit of it, although it's been dead for about a year. Next we see a warthog. Soon we see a tree atop which many vultures are perched on its branches. I think of this as the quintessential vulture picture, because growing up often when we watched African nature shows on TV, it would show a picture like this.
How Elephants eat trees
We come upon a large group of elephants. Steve takes a great picture that shows how an elephant eats a tree limb. She uses her trunk to pluck away the leaves and her tusks to tear at branches. Once she gets a good sized limb she holds part of it with her foot and uses her trunk to break it into pieces she can eat.
We ride for a ways, and see a unique treat, sable antelope! It's rare to see them in Chobe at this time of year. Usually they're more in land and they are shy. What a beautiful animal! They grow to a shoulder height of 56 inches, and to 100 inches long with a tail of 30 inches and weigh up to 600 pounds. Both sexes have horns but those of the male are thicker. I believe we see females because their color is chestnut dark brown, which darkens as they mature. Later I read males are black. We see one who appears to be mostly black.
Sable Antelope
In the dry season, sable antelope live in savanna woodlands and grasslands. They live in herds of up to 30 females and young led by a male. When a herd gets too large, it divides into smaller groups which form new herds with one adult male. Separated young males form bachelor groups of 12 antelope maximum. The first male to join a new group becomes the dominant male. While males fight, they rarely fight for dominance. They drop to their knees and use their horns; usually this does not cause bodily harm.
Sable antelopes graze on grass but eat leaves and twigs if grass is poor. They've also been seen chewing bones, to collect minerals. Predators include lions which they will attack with their horns. Big cats sometimes die during these fights. Unfortunately, these beautiful horns have made them a great trophy, contributing to their decline.
Sable Antelope herd
During breeding, the male will aggressively dominate the herd. Females give birth to a single calf in late summer. Young males are excluded from the herd at about three years old while females remain.
We watch them eat for a while, but soon they start to take off in the direction away from our road.
The final animal we see is a loan giraffe. He eats a bit, then steps away appearing to be looking for more food. Ah, he or she finds a low growing bush, at least low for him. So ends our first wonderful land Safari.
We return to the lodge and complete our packing. We still have time for breakfast! Our bags have to be out by 11 AM for our 11:30 AM departure.
On our way to the border, we pass a nine hole golf course. Brian tells us that the golf course has trouble with warthogs because they want to eat the grass roots. It's one person's job to keep them away and prevent damage to the green.
We pass a large balboa tree. Brian says there's one in Africa that is supposed to be 6,000 years old. Vegetable gardens have electric fences to prevent elephants from eating the crops.
The exit from Botswana goes quickly and easily. I stay on the bus and Steve takes my documents. When we reach Zimbabwe, we encounter a very long line. Our local guide, Arthur, goes in to see if we can get special processing since we are reentering Zimbabwe. He comes back to get our passports and documents. Meanwhile our driver, Ernest, gets our entry permit. It takes a bit over an hour for us to reenter Zimbabwe.
As we cross into Zimbabwe, Arthur gives us some background information. Zimbabwe is a landlocked country, about 65% rural. Population is approximately 18,000,000 with 90% unemployment. Later I read that the unemployment rate is unknown and a lot depends on the definition of unemployment. Different studies put it at 4%, 60% and 95%. The president is 88 and was elected in 1980. They have a President, Vice President, Prime Minister and Deputy Prime Minister. We ride through an area which had a fire several months ago. It came from Botswana and another part of Zimbabwe. It took a week to put out.
The town we're staying in is the only town in the national park. Brian gives us some warnings. Don't buy from people who approach us on the street. They are not supposed to be selling and they will cheat us. If we see police, report them. People are safe because they know that the town would die out without tourism. If anyone tries to harm a tourist, the person is evicted. Danger consists of animals at night. Only go to well lit places. Brian tells us that one of the best views of Victoria Falls is from the back of our hotel. He says it's probably the second most spectacular falls in the world. The first is in Brazil.
Within 45 minutes we arrive at our hotel, the Victoria Falls Hotel, where we'll stay for three nights. It's a beautiful old Victorian era hotel. Before we go to our room, we check out the hotel restaurants since dinner is on our own tonight. We find one that has an interesting menu and decide to eat here. We settle into our room and relax for a while. The itinerary allowed time for lunch, but we decide to wait for dinner. We've been eating so well, it'll be good to miss a meal. I review Zimbabwe's history.
History of Zimbabwe
Pre-colonial history follows that of other countries, so I will only include what's unique to Zimbabwe. Some of the best ancient rock art can be found in Zimbabwe, in the same region as Victoria Falls. Unfortunately we don't have time to go there. The rock art illustrates developing artistic styles and religious beliefs. It shows well defined cultural traditions. Archaeological finds show the area has been occupied for at least 500,000 years. During the Stone Age, inhabitants foraged. Agriculture became predominant in the Iron Age. The Mwari religion, which exists today, may date back to the Iron Age. Some still believe that park rocks are home to the gods and ancestral spirits.
During the 11th century, Gokomere people who were an early group of the Bantu in southeastern Zimbabwe, came into contact with Arab-Swahili traders. The Gokomere mined and traded gold and ivory for glass, porcelain and cloth. They were ruled by the Shona dynasties. Today known as Great Zimbabwe, in the 1300s it achieved its climax, growing into the capital of the richest and most influential southern African society and one of the first Bantu kingdoms. It became the greatest medieval city in the sub-Sahara with a population of up to 20,000. It dominated the area that stretched through eastern Zimbabwe and into today's Botswana, Mozambique and South Africa. Its people became known as the Monomotapa. By the 1400s through the 1600s, the society went into decline as a result of limited resources for the population, too much grazing, political disintegration and discord.
In the 1500s, Portuguese traders came searching for riches and golden cities. In 1684, the Rozwi State formed when disintegrated groups of Shona joined forces. It covered more than half of today's Zimbabwe and lasted until 1834. In the 1800s, ethnic groups in the path of Zulu warriors and Boar migration included the Matabele. The Matabele fled to Zimbabwe. When they reached the Matobo Hills, they established a Matabele state.
In the 1870's, the Matabele leader encountered the British South African Company, the BSAC. In 1888, the company founder Cecil Rhodes pressured the Matabele leader into signing the Rudd Concession. This gave foreigners mineral rights. The company paid for the rights with 10,000 weapons, 100,000 rounds of ammunition, a gunboat and 100 pounds each month. Matabele raiders attempted to end Shona interference between the British and Matabele. The British took this as hostility and attacked Matabeleland. The Matabele refused to give into the BSAC and outside rule. In the 1890s, they aligned themselves with the Shona. In the Matobo Hills, guerrilla warfare ensued against the BSAC. Rhodes suggested a settlement. The Matabele population had decreased greatly and they accepted.
Simultaneously, colonists found gold and took farmland in northern Zimbabwe. By 1895, they formed a new country, called it Rhodesia and set up a white government. By 1904, over 12,000 European settlers made Rhodesia their home. Their population doubled in the next seven years. In 1922, a referendum made Rhodesia a self-governing colony which did not join the union of South Africa. In theory the Constitution was nonracial. However the right to vote only existed if one was a British citizen and had sufficient income. Few blacks qualified. Conflicts increased.
In 1930, the government enacted the land apportionment act, legislating that black Africans could not own the best farmland. It also included a labor law which excluded black Africans from skilled trades and professions. Meager wages and poor living conditions brought rebellion. In 1953, Britain combined Southern Rhodesia, Northern Rhodesia and Nyasaland into the Central Federation. In 1963, the federation dissolved, leaving Southern Rhodesia under British control. Mining and industrial issues led to an increase in racial mix of the middle-class which helped to balance the deep-seated factions among workers.
In 1964, Ian Smith became president and pressed for independence. The British prime minister insisted on the guarantee of racial equality, moving towards majority rule and the majority's desire for independence. Smith believed the white population would disagree. In 1965, he initiated the Unilateral Declaration of Independence. Britain declared his action illegal and imposed economic sanctions. In 1968, the UN agreed to the sanctions. However the sanctions were widely ignored.
In 1972, two African parties began guerrilla warfare. They struck hard and deep in the country. White people left their properties. On December 11, 1974, a South African and a Zambian official convinced Smith to call a cease-fire, release influential nationalists and begin peace talks. The talks broke down. The parties reformed and joined to form the Patriotic Front, a.k.a. PF. The economy continued to collapse. Smith attempted an internal settlement. The leader of the African National Congress (ANC) joined a transitional government which guaranteed white officials 28 of 100 parliamentary seats, 10 year legislative veto power, property and pension rights and control of military, police, judiciary and civil service. Amnesty was given to PF guerrillas. The new government of Zimbabwean Rhodesia didn't get international recognition. The Civil War continued.
On September 10, 1979, delegations met in London to work on a constitution that would be good for the PF and the Zimbabwean Rhodesian government. Initially Mugabe, leader of opposition, refused to make any concessions because he wanted decisive power. However in 14 weeks, the group wrote the Lancaster House Agreement. Whites who were less than 3% of the population were given 20 of the 100 Parliament seats.
In March 1980, Zimbabwe held its first carefully monitored election. Mugabe achieved a wide margin. Zimbabweans had a majority rule government. On April 18, Zimbabwe became independent and internationally recognized. The economy greatly improved, wages increased and social programs including education and health care began. After early excitement, the two political parties, ZAPU mostly Shona and ZANU mostly Matabele, renewed their opposition which spiraled into armed conflict. Mugabe realized that a civil war could erupt. He began talks which resulted in a confederation of both parties called the ZANU-PF, and amnesty for dissidents.
This started a one party Zimbabwe. In 1987, Mugabe changed the Constitution and made himself executive president. In 1991, Zimbabwe adopted the Harare Declaration. It restated the goals of promoting international peace and safety, democracy, individual freedom and equality. In 1998, the economy greatly worsened. Riots and strikes occurred. Thousands went to a Zimbabwe Congress of Trade Unions rally to start the Movement for Democratic Change. The Secretary-General said he would lead a social democratic party to fight for workers interests. This led to much new hope for ending Mugabe's control.
In 2000, Mugabe, realized that his opposition could defeat him and reacted with violence and a harsh land reform program. Squatters took hundreds of farms owned by white people stating that they were reclaiming what was stolen by settlers. In June, parliamentary elections occurred. The US and EU declared the election as "neither free nor fair". The Movement for Democratic Change lost by four seats.
In July 2001, the finance minister formally acknowledged economic crisis. Most western benefactors had stopped providing aid because of Mugabe's land seizure. In 2002, Parliament voted for restricting freedom of the media. The EU sanctioned the country and withdrew its Election Monitoring Team. The presidential election occurred, flawed by violence and repressive laws. Mugabe won. Food shortages created the threat of famine and Zimbabwe declared a state of emergency. In May, the Parliament passed a land acquisition law which set forth a 45 day period starting in June during which approximately 2,900 white farmers would leave their land.
In 2005, the United States labeled Zimbabwe one of the world's six "outposts of tyranny". Zimbabwe denied this. Approximately 700,000 people became homeless when the government staged a "cleanup" program, destroying tens of thousands of shanty buildings and illegal road stalls. In December, the UN humanitarian chief declared Zimbabwe in "meltdown".
In 2006, the discovery of diamonds attracted thousands of illegal miners. Hundreds died when the government tried to evict them.
The 2008 election was for both president and parliament. Mugabe lost by not quite 5%. Since neither candidate had 50%, a second round of voting was required. Mugabe's party inflicted brutal violence, killing or torturing many of their opposition. The opposition withdrew and Mugabe had another victory. Even though South Africa supported Mugabe, pressure from other countries grew.
In September, Tsvangirai of the Movement for Democratic Change signed a deal with Mugabe's party. It contained a joint agreement to bring back the rule of law and "ensure security of tenure to all landholders". Fighting and evictions persisted. The government created a new Prime Minister post and gave it to Tsvangirai. Both parties received cabinet posts. The EU and US increased sanctions. The economy collapsed and no pay was able for the army and civil service. In December, the government announced a national emergency due to cholera and disintegration of the healthcare system.
In January 2009, Zimbabwe allowed the use of foreign currency in an attempt to decrease hyperinflation. In February, Tsvangirai was sworn in. During the year, he toured Europe and the United States. In September, EU and US delegations arrived in Zimbabwe, but did not let up on sanctions. In October, Mugabe requested a new start for relations with the West. In 2010, a new rule made businesses owned by foreigners sell majority shares to citizens. Another wave of attacks on commercial farmers occurred. In August, despite controversy over cited abuse of rights at the Marange fields, Zimbabwe recommenced diamond sales.
According to Brian's handout and what we see, the economy seems to be stabilizing. Many Zimbabweans live on grain handouts. Hundreds of thousands have emigrated, including much-needed professionals. Brian tells us that Zimbabwe produces a good number well-trained teachers but they move to countries with better wages. Lonely Planet states that the people have a great mental strength, generosity and a deep love of Zimbabwe which facilitates their survival. The currency is now the US dollar.
At 3 PM, we meet for our guided walk of Victoria Falls. Victoria Falls is the seventh natural wonder of the world and a UNESCO world heritage site. One million liters of water fall 355 feet each second. Brian tells us our walk has about a mile of hard paths with occasional cracks. Actually five different falls make up Victoria Falls, known by the Kololo tribe as Mosi oa Tunya which means the Smoke that Thunder. Zimbabwe contains four of the falls called The Devils Cataract, Main Falls, Rainbow Falls and Horseshoe Falls while Eastern Cataract belongs to Zambia.
First view of Victoria Falls
David Livingstone
As we come out of the gate, we see our beautiful first glimpse of the falls. A little further on, we stop at the statue of David Livingstone who discovered Victoria Falls on November 16, 1855. When Livingstone first saw the falls, he wrote in his journal "... scenes so lovely must have been gazed on by angels in their flight." Arthur tells us that the falls are one mile wide. In the dry season, which recently passed, the Zambia side which is higher, dries up. In the wet season, the falls are full but there's too much mist to see everything. Arthur explains the path and the stops. The main path goes across the gorge, along the edge of the falls almost all the way to the bridge to Zambia. There are several points from where you can turn and return to the exit, if it gets to be too difficult. There are about 16 viewing points along the way, somewhat grouped in three sections. The path is surrounded by the rainforest of plants which thrive in humidity. These include fig, mahogany and date palm groves around the viewpoints. We'll also have an opportunity to see birds and small mammals beneath the canopy.
We take off. There's good visibility with not much spray at first. We stop at each viewing site. Soon after we start, several groups of rude tourists who appear to be Japanese or Korean come from behind us. They cut in front of everyone and block people's pictures. Steve is a very patient wheelchair driver, trying to give others a wide clearance from my wheelchair foot pieces, which is not an easy task. A few times he almost runs into their ankles. Finally, most of us decide to slow down and let them get ahead of us.

Devil's Cataract
On right, people swim
One viewing site at Devil's Cataract has about a 230 foot drop. It was named for an island from which locals made sacrifies. Missionaires called this "devilish", so the point was named.
At one viewing point, across the gorge from our path, we see people gathered on the side of the falls with a few bathing very close to the edge. During the dry season the natural rock pool becomes shallow enough for people to swim next to the very edge of the drop, when weather conditions permit. A rock wall under the water's surface diverts the current around both of its sides. I guess today is one of these days. Still, you'd never catch me attempting this. The people in the water appear to be enjoying it.
Main Falls
We're at the Main Falls
Each viewing point is slightly different and magnificent! This spray isn't bad for us at first. As we get closer to the Main Falls, the spray gets heavier. At the Main Falls, we see how the spray feeds the evergreen forest. Here, at their most grandiose point, the falls drop over 305 feet with a peak flow of 2,300,000 cubic feet per minute. This is where it gets a bit more dangerous. Arthur had told us at this time of year it's okay to go to the edge but if you do, be very careful. Of course, Steve goes out to get the best shot!
The path gets hard, but Steve continues to push on. It becomes very difficult because Steve slips on the wet stones going hill. People from our tour help. Once or twice, other tourists that we didn't even know assist. The hardest places are two slippery bridges. In all of Victoria Falls, access was okay, but in some locations just barely.
Horseshoe Falls
We arrive at Horseshoe Falls, so named because of its shape. Here the water drop goes to 312 feet. We see many areas of rock between thinner waterfalls. It's still beautiful! We reach Rainbow Falls our final viewpoints, which received its name because at times a beautiful rainbow can be seen over these falls. Unfortunately today there is no rainbow. It's also called danger point because in the wet season it's very slippery. The water drops 354 feet making it Victoria Falls' deepest point.
At two viewing points, I tell Steve to leave me on the side and look. Little did I know that he'd go to the very edge. At the first place, he sits on a good rock. At the second, he really climbs out on the rocks. As others from our group come back, they tell me I need to rein him in. Only three of our group of 24 go all the way out to this crevice. I try to get a picture of Steve out there, but I am blocked. I do get one of the other two. Even one of the other very adventurous people tell me he's taking chances but he did fine. He straddled the crevice to get that great shot. I'm very happy when I see him walking back with a fellow adventurist tourist.
At the edge
I'm relieved he's back safely!
We did not go down to the Eastern Cataract Falls because it's down 73 steps into the gorge. By the time we reach the steps, it's time to start back for the bus.
Victoria Falls Bridge
Our last view from the path is the Victoria Falls bridge, an engineering feat, as claimed by a book in our hotel room. It crosses the Zambezi River just below the falls over the second gorge, joining Zimbabwe and Zambia. Later I read that it was designed in England where the pieces were made. The pieces were brought to this site and assembled in 1906. Bungee jumping also takes place here, but we don't see any jumpers.
We make it back to the bus on time and we're not even last, but Steve is exhausted. Victoria Falls is truly an incredible site and I thank Steve for all his hard work!
We go to the welcome cocktail. We mostly talk with one fellow tourist about his travels. He took an independent trip from Europe through many countries, ending in India where he got robbed. He's traveled extensively and especially liked the OAT tour of Turkey. We enjoy the wine that we're served.
Brian makes an announcement that most restaurants he suggested are booked. A neighbor hotel has reserved a table for some of us. Steve and I head over, meeting several of our group there. The food is interesting and good but the light is dim, which makes it hard to see what we're selecting. We all hoped for a dinner menu and are disappointed that Brian didn't suggest we make reservations when we arrived at the hotel. He probably didn't know there'd be so many groups at the hotel.
We return to our hotel and perform one of the mundane chores of traveling light, sorting laundry for the hotel to do tomorrow. We have to be up somewhat early for our optional morning activity, a helicopter ride, so we go to bed early. I have trouble sleeping due to sore shoulders so I take some Benadryl. I sleep well for about three hours but wake up. It takes a while to get back to sleep. My mind is over active, mostly about good things, our wonderful experiences and conversations we've had with fellow travelers.
Day 7: Sunday, October 21
Finally, it's here
We get up early for our helicopter ride called Zambezi Spectacular Flight. We're first to be picked up and stop for three others at another hotel. Once we get there, we wait at least a half an hour for a helicopter to arrive. A staff member weighs each of our group, except me. He says he knows my weight. When I booked, I requested the front seat so I would have enough leg room. I remind them of that but they tell me that the backseat has more. We're giving boarding instructions. As we go to board the helicopter, they take a video. I don't get a look at the front seat but Steve does and he agrees that it seems like there's more leg room in the back seat.


Steve gets good shots
(I did too)
I'm going to sit back
& enjoy!
In the back, we have two cushioned bench seats facing each other. They can hold three people each, but luckily we don't have that many. I know that if I had a middle seat, I wouldn't be able to see anything. One person in our group had not shown up, so I am quite thankful that no one had a middle seat. Seating in helicopters is tricky because they have to keep the weight balanced. Steve and I sit facing each other and while I find my leg room comfortable enough, I have to share Steve's space.
We're up! The brochure description of our flight was that of "an unbelievable helicopter flight over Victoria Falls and the mighty Zambezi. Enjoy a 25 minute helicopter flight... With spectacular views... Over the falls in both directions, going upriver and back over Zambezi National Park." It did not disappoint. First we fly over the Zambezi River and Steve gets great pictures of the delta and land surrounding the river. At one point we see an interesting rock formation which looks like it has a strip of white above the river, between the land and submerged rocks.
We fly over the river
River Delta
Next we fly over the falls, seeing the different sections. There's much mist coming from one section.
Mist from the falls
Over the falls
We fly over the bridge,
Victoria Falls Bridge
and go to the three gorges located above today's Victoria Falls. These were the location of the previous falls. Over millions of years, as the river changed courses, the falls moved downstream to where they are now. Steve shoots away but occasionally I just sit back and enjoy the ride.
Gorges where the falls were millions of years ago
We ride over the Victoria Falls Private Game Reserve where we see a herd of buffalo and a herd of elephant. Without our camera lenses, it's difficult to see which is which. A tour description also said we'd see villages, but we didn't. Steve said he saw giraffe, but I didn't.
Elephant Herd
Buffalo Herd
We land and go into the room where they show us our video. They took a nice still picture of us disembarking but we agree it's not worth the price. The video was very informational but too glitzy with photos of people we don't know.
On the way out we see others from our tour who chose the shorter flight. We tell them we enjoyed ours and saw much. We go back to our hotel and have breakfast. They serve a very nice buffet! We take our time eating and decide this will also be our lunch. I enjoy an omelet, a variety of meats and pastry. The making of our omelet is an artful show itself. The chef in full regalia makes a great display of adding our choices to the omelet at the appropriate time. Breakfast is outside undercover, all the way in the back of our hotel, in a beautiful setting. The hotel and restaurant are old world, upper-class Victorian. Despite this, it's fully ramped although some of the ramps are steep.
During breakfast we discuss our helicopter ride. At first I'm not sure the extra 10 minutes were worth the extra money. After we recount what we saw, we both agree that we're glad we chose this flight. It was very interesting to see the gorges and the wildlife park.
We return to our room for a short break and to reorganize for going to the market. On our ride to the market, Brian and Arthur tell us to bargain. We should pay about half of the asking price. I'm psyched because I'm usually a good bargainer, but soon find out that I'm not prepared for their skills. We find a board game for our chachka. The craftsman shows us how to play; it seems a bit like backgammon but uses beans as pieces instead of instead of checker like pieces. He asks $40 but we get it for $25. We probably could've done better but we really wanted it. As we walk through the aisles, artisans constantly try to get us to stop and buy. We go by the next stall. I ask about earrings and the craftsman shows me ones of animals. I tell him that I am not interested in animals and attempt to explain that I want something authentic. We go to about four more stalls and I see earrings of green stone called malachite. The artisan says that there are $30 pair. I bargain. He tells me a story of how he has to import them from Congo at six dollars per stone. I pick out two more pair for gifts and ask him how much. He says $75 for the three pair. I give them back to him. I end up getting the three pair for $40. We go to a few more stalls. I decide to get a malachite necklace for my sister Grace, since green is her favorite color. Again I bargain but don't do quite as well.
We find a musical instrument, a mbira which is the national instrument of Zimbabwe, which would make a good gift for our nephews. The artisan gives me a price of one for $15. I get two for $10. We go to the next aisle where we see salad spoons. I like them thinking they'll make good gifts for our mothers. The ones we see are either too big or Steve thinks too touristy.
At this point, where so tired of the hawkers that we decide to go into the building of stores. I think that even with 50% off, the prices we're paying are still high. We have to walk down the street to get to the stores. On the street, boys are constantly trying to sell us something. We have to almost yell at them  to leave us alone. At first we firmly say no, but this rarely works.
At the entrance to the shops, Steve helps me up the few stairs and a shopkeeper takes my wheelchair and insists on pushing me. When we get to his store, he starts his sales pitch. We buy one more mbira. We know the shops will have higher prices since they have to pay overhead. The shopkeeper asks for way too much. We tell him we'll go back outside to where we got others for five dollars, so he lowers his price to seven dollars. We find nice salad spoons. The seller tells us there ebony so they're very strong. We bargain and end up getting two sets for $40.
Inside the stores is much better as far as the hawking goes. After we walk around a bit more, I tell Steve I've had enough. We decide to return to the bus about 20 minutes before the designated time. Quite a few of our fellow travelers have also returned. We chat with several about our purchases. Our total spent was $90. That's not bad, but I wish I could've done better.
Later I ask Arthur about our purchases. He identifies the green stone as malachite. I read that it's found in quite a few countries including Namibia, South Africa, Zaire and Zimbabwe, so the chances of our seller having to import the stone from the Congo is highly unlikely. The word "malachite" comes from the Greek word "malakos" which means soft. Egyptians began mining this gemstone around 4000 BC. Once believed to ward off danger, illness, and black magic, malachite was attached to the cradles of infants and made into amulets for children by ancient Greeks.
I also learn that malachite has many emotional benefits. Spiritualists consider malachite to be a stone of transformation which brings one harmony, knowledge and patience, and releases painful emotions. A big list of benefits includes:
It can bring about spiritual evolution by removing mental blocks which hinder spiritual growth
it facilitates tolerance, flexibility, and balance,
it raises the wearer's spirits and aids combating insecurity, confusion, and lack of purpose
it promotes friendship, love, and loyalty in business,
it's a stone of good fortune which will bring prosperity and material abundance.
it helps clear the path to reach desired goals, enhance emotional stability, and counteract any self-destructive romantic tendencies while encouraging true love
it provides protection for children and during pregnancy, from evil, during flying and other travel, as well as general protection.

 
Physically, some spiritualists believe malachite can improve eyesight as well as bring relief for pain, asthma, tumors, broken bones, torn muscles, toothaches, and even relieve pain during childbirth. Some feel this gemstone can enhance the immune system and decrease the wearer's susceptibility to radiation illnesses. Some think the copper in malachite is helpful for treating arthritis, swollen joints, and menstrual pain.
Wow, but most of all I think is pretty and look forward to wearing it, as I hope my nieces will too.
Arthur tells us that the mbira is played as a thumb piano. It's a rectangular wooden board with a set of metal keys that look like flattened nails of different lengths. The board has a curved decorative pattern of lines and crosses. The keys are set up to play both melody and rhythm by plucking or flipping them. Tuning can vary from family to family. In an orchestra, each mbira begins at a different interval of the same seven note scale so all of them play a single performance, often over a greater range of frequencies than a Western octave and greater intervals between notes. It's an ancient instrument played in many southern African countries. In Zimbabwe, the Shona people call it mbira dzavadzimu, in English that means voice of ancestors.
Tonight we have a home dinner. On the way to dinner, Brian offers us each a bottle of water. We take it. Our group is being broken into four groups of six each. Brian tells us that he will assign us to the house with the easiest access. Even at that it is difficult to get to the house because the street is bumpy and the yard sandy. Still I wouldn't have missed this for the world! When we enter, the owner Netsai greets us. I give her a bag of salt water taffy and tell her it's special candy made in our state. She seems happy and pleased with it.
Zimbabwe tradition
Once we're seated, Netsai explains that it's Zimbabwe tradition for the woman of the house to kneel down and wash her husband's and guests' hands. She proceeds to do this by holding a metal bowl under our hands and pouring water from a china kettle on to our hands. She tells us to rub our hands together as she's pouring. She carries a towel on her arm and hands it to us to dry our hands. She explains that the basic ingredient in their diet is called sadza which is cornmeal. The four other members from our group are the people from Guatemala and they remark that cornmeal is the staple of their diet also. They compare how they prepare it and it's similar. Steve and I feel like we're getting a lesson in two cultures.
Several bowls of different foods are set out on the table. One is tiny caterpillars, which Brian told us about. He said they're fried and most often served as a snack at a bar. There are several ways to prepare them, but this is the best way. We try them, but as he said, it's an acquired taste. Even Steve only eats one, although I brave two. We also have squash, small fish from the river, kale and peanut butter, fried kale and roasted peanuts. For a main dish we have sadza prepared like polenta with the choice of beef or chicken in a stew. We eat it by rolling the sadza into a ball using only our right hand and dipping it into the stew. We eat with our hands. The food is wonderful. For dessert we have oranges.
During our meal Netsai talks about her life. She has a 14 year old son who is in school and doing well at Form II. She explains Zimbabwe education. Zimbabwe pays for all to have education. Most children begin first grade when they turn six learning Shona or Ndebele. In rural schools, students start learning in their mother tongue. By fourth grade they transition to reading and writing in English. Primary school lasts for seven years when students have examinations in mathematics, English, Shona or Ndebele, and content which is a combination of science and social studies. Secondary school consists of Forms I through VI. Children usually enter Form I at age 12 to 13 after having competed for places in private and mission schools. Six Forms are divided into three levels each. Zimbabwe Junior Certificate includes Forms I and II teaching eight subjects of English, Shona or Ndebele, mathematics, science, history, geography, Bible and a vocational subject. Vocational subjects include food and nutrition, fashion and fabrics, woodwork, agriculture, metalwork, and technical drawing. The next level, Level O, usually has eight or nine subjects although elite private schools offer 12 or 13. To receive a passing certificate a student needs to have received a grade of C or higher in at least five subjects including English. Most students go on to the workforce, a vocational or technical school, nursing, primary school teaching or college. Those with the best scores usually find a place in an A level program. Students usually take the O level exams between the ages of 15 and 17.
Those who get to the A level have a choice of science, commercial and art subjects in Forms V and VI. Arts include English literature, geography, Shona/Ndebele language and literature, divinity, history, French, art, and music. Commercial consists of business management, economics, accounting, computer science, and statistics. Science includes biology, chemistry, physics, mathematics and further mathematics.
Netsai is 38 and would like to have two daughters and another son. She explains that when a person chooses his spouse, he goes to his auntie who goes to his father. The boy's father goes to the girl's father to negotiate a dowry. The boy's father pays the girl's. Money is preferred but if the family is poor they can pay in cattle or decide to wait until the family has enough to pay the dowry. She says something is always worked out. Marriage starts at age 16. Interracial marriages are accepted.
Netsai grew up in a village. She learned to do all types of work including plowing. Villages don't have plumbing. Women wash clothes in a river and bring water every day from a well. When a well dries up, the village digs a new one further away. She moved to Victoria Falls with her husband.
She asks if we have any questions. Steve asks about the current government. Netsai says that people are happy. They have food and opportunities. She has a business where she makes and sells sarongs, traditional skirts which women wear. She goes to other countries to get supplies.
I ask about whether she grows what were eating in her backyard. She says no because of animals, especially baboons. If anyone leaves their house doors or windows opened, baboons will come in and eat whatever they can. They even approach women on the streets because they know that woman are the food shoppers. That's the reason most carry food on their heads. Baboons will grab a bag hanging from a woman's arm and run away with it.
Our group with hostess and cooks
After Netsai's done talking about her life, she wants to know about ours including our jobs and families. When Steve tells her about his work, she says "that's what my son wants to do." Steve says it's a good choice for Zimbabwe people. The Guatemalan men worked in the glass industry. Marina was a lawyer until she married her husband. Now they travel a lot because he builds hotels, so she can no longer go to the office. Her employer offered her to work remotely but she says her job really was based on face-to-face interaction so she left.
This is definitely our best home visit ever! We have nice personal interaction with the small group. Our bus comes. We take a few pictures and say goodbye and thank you to Netsai, her sister and her friend, both of whom helped with the dinner. We hug each one. Netsai tells me she loves me.
We ride back with another group. They also loved their dinner. When we return to the hotel, Security staff greet Steve and me and offer to take me in. They ask us our room number but Steve says we're not going there right away. The Security person says that he needs to meet with us. We go with him and meet a woman. She tells us that housekeeping found our safe open, so Security took our valuables. We need to verify that they're all here. Steve and I believe our safe was closed so we get quite worried. As they get our valuables, we make a list of what should be there. I pray!
Everything is there and we start to wonder what happened. Steve says perhaps he didn't finish locking it. Unfortunately the safe is quite high up in the closet, so I can barely see it and can't double check that it's closed.
We return to our room. Everything seems in order. We reload the safe and go to the bar. We had planned to relax there any way, but now we say, we need a drink. I have wine and Steve orders a seven and seven. Our waiter doesn't know what that is. When Steve explains it, the waiter says okay he'll bring 7-Up and gin. Steve actually gets Sprite but the drink is good.
We begin to review our dinner and I log our description. A fellow tour member, Kathy, joins us. We talk for quite a while. She introduces us to a southern Africa drink which a friend told her to try. We very much enjoy the Amarula, which is like Bailey's but almond flavored and more fruity.
Day 8: Monday, October 22
Grazing Warthog ignores us
We have a free morning. Most of our tour group went on an optional excursion which included riding an elephant. Brian had, somewhat jokingly, explained three ways to get on an elephant. The only one possible for me was for the elephant to lift me with his trunk onto his back. I'm not that brave, so we decided to skip the excursion. Besides this is about halfway through our trip and a restful morning sounded very good.
We get up somewhat late but in time to get to breakfast. On our way there we pass a warthog family a few feet from the side of the walkway. Breakfast is great! Steve returns to our room to get our cameras and we walk around the beautiful hotel grounds, taking pictures. Unfortunately today the waterfall bridge is hazy. We go out to get pictures but don't think any will turn out up to our standards. I'm disappointed to see that there's no ramped approach to the waterfall look out. The best access has about three stairs. Steve goes down to check it out but says the view isn't worth it. Since it's so it hazy, I can see as much from where I'm sitting. The warthogs are still grazing and we take a few pictures.

Back of hotel
We see chacma baboons wandering around the grounds. As the largest of monkeys, males grow up to 47 inches long not including their tails which can be 33 inches. They weigh up to 99 pounds. Females grow up to about 43 inches and weigh up to 55 pounds. Their teeth grow up to approximately 1.5 inches.
Chacma Baboon
Chacma baboons live in wood lands, savanna steeps and sub desert. They like to sleep in large groups for protection on hills, cliffs or in large trees. In the morning they disperse when a single member recruits at least five others and they start to leave the group. As this happens, the others also leave. They prefer to eat fruit but also eat insects, seeds, grass, small vertebrates and fungi. They eat during the day. Leopards and lions prey on baboons. They have attacked leopards, inflicting damage with their long canines.
These baboons live in groups called troops of multiple adult males, adult females and their offspring. The troops can be as large as 100. Occasionally small groups consisting of only one adult male and several females form. They have a dominance hierarchy where the rank of females is inherited from the mother. The ranking of males changes. New dominant males will often try to kill young who they have not sired. Friendships develop between unrelated females and males. They communicate by body attitudes, facial expression, vocalization and touch.
Males compete to mate with females. The female initiates mating by presenting herself to the male she wants to mate with after she's consorted with multiple males before she has reached her mating time. She may mate with more than one male. Gestation lasts from 175 to 180 days after which the female has one offspring. Adoption occurs when a baby becomes orphaned and is too small to care for itself. Both females and males care for infants. Males and females often form friendships between lactating females and adult males. It's believed that the female seeks out the male friend to gain protection from having her babies killed. Females usually don't mate again until they wean their babies at about 12 months.
We spend quite a while walking around the grounds, both the front and the back. At a point in the back, farthest from the falls look out, I get a great shot of the mist coming from the falls. We try to photograph the front of the hotel but there's no good shot. Cars block the view of the beautiful entrance.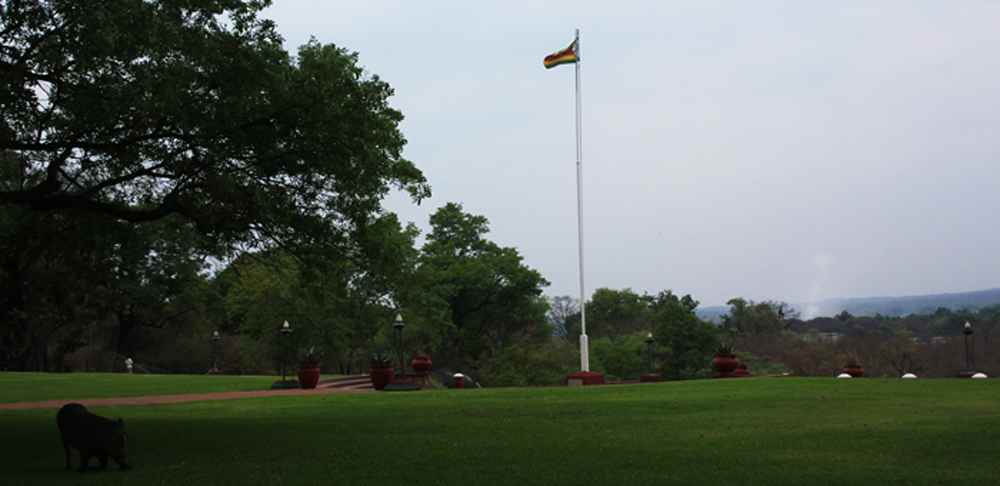 Looking toward Victoria Falls -
Notice the mist on the right side.
Steve stops to get his passcode for today, so he can log in to work. We go to the gift shop but find most items are quite expensive. Postcards are $1.50 each. We purchase a bowl as a gift. I see a necklace that we bought yesterday for $23. So we did good bargaining down to $15.
We return to our room. Steve goes on to the computer and I log. Our room is very comfortable. The only access issue I have is that the bathtub is very high. So far, all of the hotels we stayed at have had good access. I scanned the book of the Zambezi bridge, Sun, Steel & Spray by Peter Roberts. It's for sale in the gift store and I consider buying it, but decide if I'm still interested in it, I'll look for it on Amazon.com when I get home.
This afternoon we signed up for the optional excursion Trails of David Livingstone Zambezi River Cruise. We cruise above the falls and sail the channels and islands while the speaker tells the story of David Livingstone. Our speaker begins by giving us background of the river geography. It's the fourth largest river in Africa, after the Nile, Congo and Niger.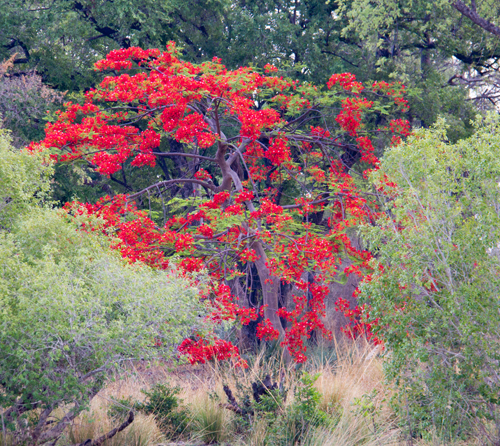 Flamboyant bush
We see a large hippopotamus pod. Our speaker takes a break whenever we get a good animal sighting. We also see a good number of beautiful flamboyant bushes which we've seen quite often during our trip. Steve gets a good picture.
In 1855, Livingstone discovered the falls. He and four others mapped Africa. He was born to a poor religious family in Scotland. His parents persuaded him to be a missionary. At age 10, he dropped out of school to work. He bought books and taught himself Latin and math. He became a doctor and missionary and went to Africa to try to convert the natives to Christianity. He had to convert the chief first but encountered the problem of the chief having more than one wife. He met his wife, the daughter of a missionary. When they had a family, they decided that they wanted their children to be educated. His wife had never lived in England, at least for any length of time, and she had a hard time adjusting.
After his family returned home without him, Livingstone found the source of the river from Cape Town. He became the first European to cross from the West Coast to the East Coast. He returned home greatly renown with his first expedition a great success.
Livingstone greatly believed in the three C's, commerce, communication and Christianity. He planned his second expedition to navigate the Zambezi from the coast to the falls and run agricultural experiments "aimed at proving that enough sugar and cotton could be grown to make the area a commercial paradise". After two years, he returned to Africa with the British government sponsoring the trip. Although he estimated his expedition would take two years, it lasted more than six, from March 1858 to the middle of 1864. He bought parts of a paddle steamer to be assembled on the Zambezi. His wife Mary joined them but when it was found that she was pregnant she went back to England.
Livingstone assumed that the middle sections of the Zambezi were navigable, based on what locals told him. The paddle steamer, named Ma-Robert, encounter problems. Near the town of Tete in Mozambique, the expedition members had to continue by foot. In addition, the Universities Mission led by a British Bishop planned to set up a mission at the Batoka Plateau nearby Victoria Falls using Livingstone to facilitate their way. As he proceeded farther, he encountered a great series of waterfalls and rapids and finally came to the conclusion that the rapids were not navigable. He decided to explore the River Shire, a tributary of the Zambezi. The Universities Mission group had skirmishes with slavers and many including the Bishop died of malaria. Livingstone had two more steamers sent. His wife Mary, who had never grown accustomed to England, left her children with relatives and came to join her husband. Four months later she also died of malaria.
With much hardship, Livingstone's expedition reached the source of the Shire, Lake Nyasa. They were the first to reach the second largest lake in Africa. It was wracked with famine and slavery. They encountered burned villages. His bearers who traveled on the shore refused to continue. The expedition saw many dead bodies on both the water and land. He declared, "I am prepared to go anywhere, provided it be forward." This became his most famous quote. Livingstone's first contact with large-scale slavery changed the course for the rest of his life. Livingstone reached Victoria Falls, crossed to the south bank and explored the rainforest. He eventually returned home in 1864. The government recalled the expedition due to its cost and failure to find a usable route to the interior.
Livingstone had great difficulty in raising funds to further explore Africa. He finally found funding from the Royal Geographic Society for the purposes of finding the source of the Nile and investigating the East African slave trade. He made some poor decisions and his assistants began to desert him. He became ill and lost communication with England for five years. He relied on Arab slave traders for transportation. The Arabs burned all of his correspondence. Only one of his 44 letters reached Zanzibar. In 1869, the New York Herald newspaper sent Henry Morton Stanley to find Livingstone. On November 10, 1871, in Ujiji on the shore of Lake Tanganyika Stanley greeted him with the famous words "Doctor Livingstone, I presume?" Livingstone replied "Yes". The quote is ironic because he was the only other white man within hundreds of miles. Stanley attempted to convince Livingstone to leave Africa but Livingstone was determined to complete his mission. He never did but made other geographical discoveries. When he died from malaria and dysentery, the tribe he was studying buried his heart under a Mulva tree. His loyal attendants Chuma and Susi returned his body and journals to the coast from where they were returned to England. His remains were buried at Westminster Abbey, London. His friends found the source of the Nile.

Crocodile floating in water
Toward the end of our cruise, we come upon a large crocodile just floating in the water and Steve takes a series of shots, getting closer and closer on each until he gets a segment of the face with the eyes.
| | |
| --- | --- |
| Head | Eye |
I try to use the bathroom aboard the boat, but when I look at the stairs, I decide against it. There's only three but they're at an angle that does not look like it would be comfortable for me to climb them.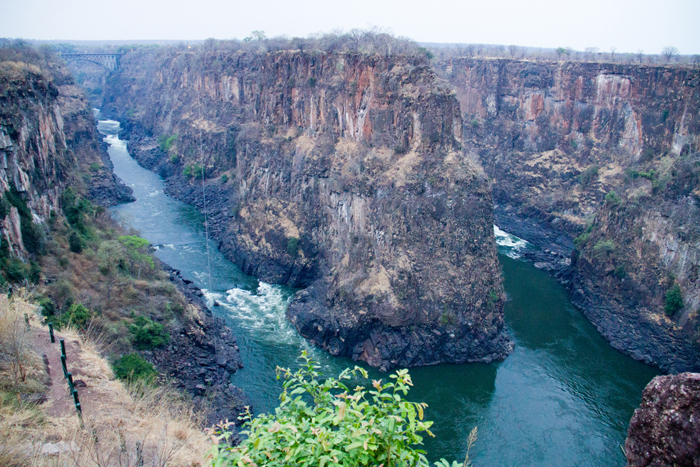 View of the gorges
Tonight we have a Bush dinner in Victoria Falls National Park. On our way there, Brian tells us that they used to hold it on the banks of the river in an open area. Vantage decided to move it to an open building with a roof. There are several stairs to go up, so I decide to use the ladies room first. The bathroom is also up a few stairs in a different building.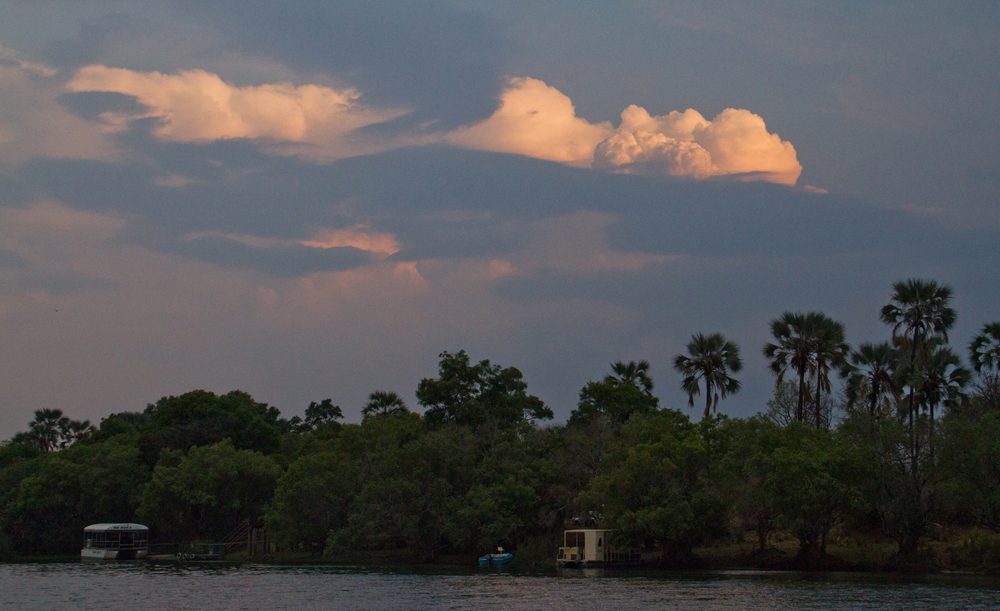 Sunset over the Zambezi River
We have a beautiful view of two gorges from the open air shelter! Unfortunately the rail around the shelter is quite high and I cannot see the whole view of the gorge. Steve takes pictures which show me the beauty.
We see a gorgeous sunset over the Zambezi River. We sit at the middle of three tables. We have a butternut squash soup, which is good but too peppery for me. Our buffet dinner includes buffalo stew, chicken, vegetables similar to zucchini, rice and polenta.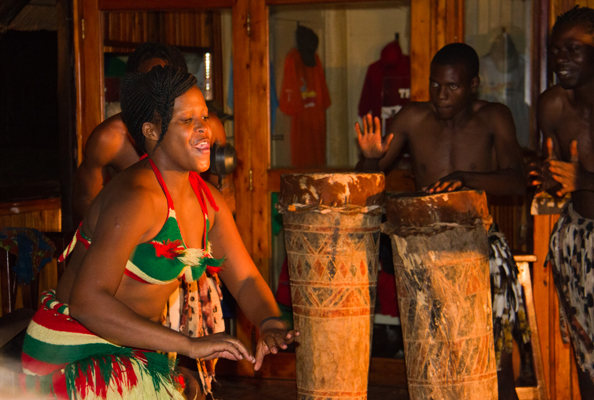 Traditional Show
The dinner includes a traditional dancing show but due to its location, I see very little. The stage is in front of the first table. If we had known this, we would've sat there. I wonder if the third table can see anything at all. The stage should be in front of all the tables; there is sufficient room for this if the tables had been moved towards one of the longer sides. The performers dance for a while and then take two men and two women from the group to participate. One performer asks Steve but Steve tells them that he doesn't dance. While I enjoyed my food, I found the show very disappointing because of the lack of view.
By the time we return to the hotel, we decide to go right to bed and get up early to pack.
Day 9: Tuesday, October 23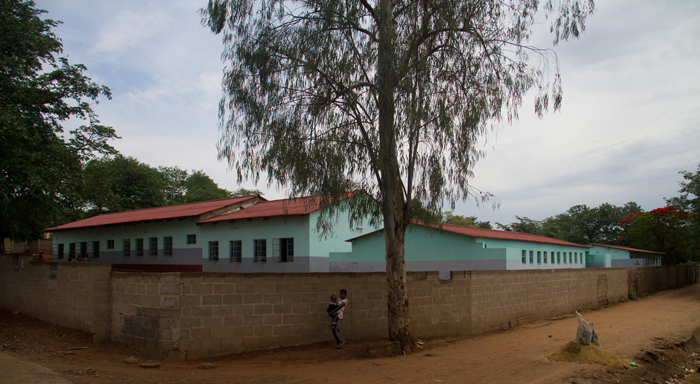 Chinotimba Primary School
We get up at 6 AM! We go to breakfast and eat with one of our group. We return to our room and pack. We're amazed when we complete our packing about a half an hour early. We check out, identify our luggage and make sure it's loaded onto the bus.
Our first stop this morning is a visit to a local school, Chinotimba Primary School. We drive through the town of Victoria Falls and see local homes. The school is surrounded by a brick fence. Its buildings are one story and most of the access is flat. As we approach the building we're going to. It has a couple stairs down to it.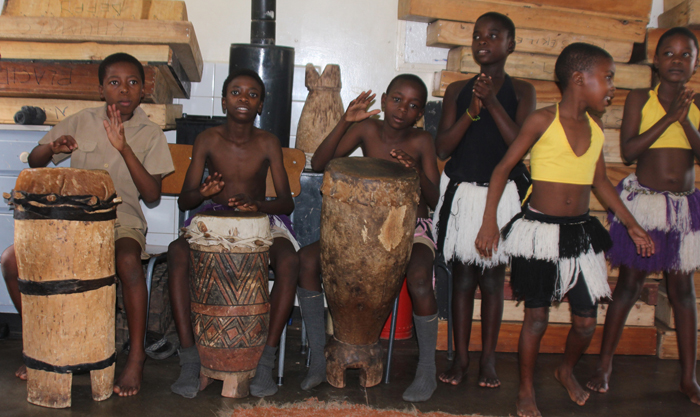 Students play traditional instruments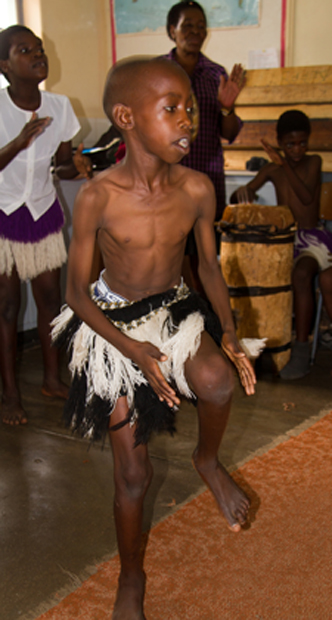 Dancer
First we see a traditional dance show performed by students of different ages. It lasts about 20 minutes and is wonderful. Student musicians play the music for three or four numbers while others perform the dances. The students appear to enjoy the audience as much as we enjoy them. Even though the only things we know about traditional dance is what we've seen, it's obvious the children are enthusiastic and dedicated. I also think they show talent.

Dancer
After the performance, one of the staff tells us about the school. Established in 1914, today it has 2000 students, ages 3 to 14 and 44 teachers. They run two sessions each day during three trimesters per year. They teach basic subjects and traditional music. The students wear uniforms. A class has about 50 students and includes preschool and primary grades. After primary, they're tested to go on. Zimbabwe has a very high literacy rate but it has slipped. South Africa and Namibia hire Zimbabwe teachers. The presenter says that Vantage has greatly helped improve the school with its donations. They call the walkway outside the buildings the Vantage highway. The library was built and stocked with funding from Vantage donations.
The sound was not great for the talk so I understand some but not all. Steve helps me fill in the details that I didn't hear.
After the talk, the staff sets up a table. We had been asked to bring books and pads to donate. The teachers will distribute our donations to make sure that all the children get what they need. The teachers and staff stand behind the table for monetary donations. We had brought several pads and we give them $10.
On our way outside, one woman tells us that they have classes for people with disabilities. Three students use wheelchairs. All are integrated into regular classes. All students want to learn. We go out and see the schoolyard and a nice garden.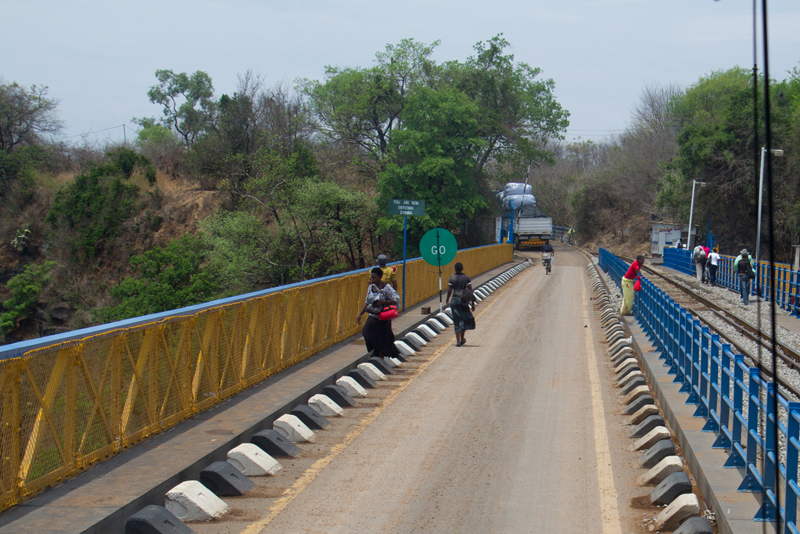 Crossing Victoria Falls Bridge into Zambia
After leaving the school, we drive to Zambia to get our flight to Kruger National Park in South Africa. We cross the Zambezi bridge into Zambia. We ride through the town of Livingstone. Although we're only spending a few hours in Zambia, I'm going to include its history.
History of Zambia
Pre-colonial history follows that of what I've already discussed and Zambia shares much of its colonial history with Zimbabwe, so I'll only write what differs.
During the 1500s, people from the Luba and Lunda, empires of Zaire, came and set up small kingdoms. In the late 1700s, Portuguese explorers came. By the 1790s, several traveled to the headwaters of the Zambezi River. About the same time another group of Portuguese moved from Mozambique to the Mweru and Bangweulu rivers.
In the 1800s, ethnic groups in the path of Zulu warriors included the Ngoni. Some of the Ngoni fled to Zambia. Migration and slave trading by Portuguese and Arabs created instability. In 1851, the British missionary David Livingstone arrived, searching for a route to Africa's interior and wanting to introduce Christianity. He also planned to teach the principles of European civilization and combat the slave trade. In 1855, he saw the incredible waterfall and named it Victoria Falls. This stimulated missionaries to travel to the northern Zambezi. Next came explorers, hunters and prospectors. In 1889, Britain took control with a system of indirect rule leaving local rulers with power.
In 1904, the Victoria Falls Bridge was completed. During the late 1920s, discovery of copper led to an influx of European administrators and technicians. For centuries the indigenous people had mined the area, but at this time Europeans financed large above surface pits with Africans as the main source of labor. The British required the Africans pay a "hut tax". European settlers drove most Africans from their land.
In 1960, Kenneth Kaunda formed the United National Independence Party, UNIP, to promote independence and termination of control by the powerful white people of Southern Rhodesia. It took until 1963 for this to be achieved. In 1964, Zambia received its independence. Kuanda became president. During the 1960s and 1970s, nationalization of key enterprises occurred. This included an ineffective agricultural development program which nationalized private land.
In 1972, Kaunda disbanded the opposition party making the UNIP the only legal party. In 1975, the Tan-Zam railway provided transportation between the copper belt and a Tanzanian port. This reduced reliance on Rhodesia and South Africa for exports. In 1976, Zambia formally supported the struggle for Rhodesian independence. Their aid became important in the formation of Zimbabwe. However, trade routes to the coast, especially through Zimbabwe and Mozambique were closed in retribution for Zambia's support of the liberation movements.
In 1990, food riots occurred. In 1991, Zambia instituted a multiparty constitution. Elections took place with the Movement for Multiparty Democracy, MMD, winning. Party leader Frederick Chiluba won the presidency. During this decade, the copper industry became privatized.
In 1996, a Constitutional amendment barred Kuanda from running for election. Chiluba was reelected. In 1997, a coup was attempted. In 1999, 59 soldiers found guilty of treason in the failed coup met their death.
In May 2000, the fighting between Angola and UNITA rebels spread into Zambia. In July, the Environmental Minister announced he'd run for president. The MMD expelled him and removed him from the cabinet. In December, the UN estimated that in less than a week, 60,000 refugees fled into Zambia from the fighting in Democratic Republic of the Congo.
In May 2001, senior members of the MMD created the Forum for Democracy and Development which opposed Chiluba's running for a third term of presidency. Two months later, one of them was murdered just before he was scheduled to testify against three ministers.
Zambia requested aid to feed approximately 2,000,000 people due to poor harvests caused by floods and droughts. The final summit of the Organization of African Unity, OAU, launched the African Union. In December, Levi Mwanawasa won the presidential election. Despite opposition protests over fraud in the election, he took office in January 2002. He made the fight against corruption a priority. He boosted economic growth to more than 5%, cut foreign debt and attracted foreign investment. His anti-graft crusade facilitated investment. In October, the government rejected genetically modified maize as a solution to the food shortage.
In February 2003, Chiluba was arrested and charged with corruption. It took until August 2009 for him to be cleared of all charges. In December 2003, the president commuted the sentence of 44 soldiers for their participation in 1997's failed coup even though the Supreme Court had confirmed it. In February's 2005, the Supreme Court rejected a challenge to the president's 2001 victory. However it stated the ballot had problems.
In April 2005, the World Bank awarded Zambia with a debt relief package of $3.8 billion. It wrote off more than 50% of Zambia's debt. In November, the president declared national disaster and requested food, stating that drought caused food shortages for at least one million Zambians.
In October 2006, the president in his second term, announced the discovery of oil in western Zambia. In January 2007, hoping for foreign aid the government launched an economic recovery plan. In February, after a two-day visit, the Chinese president invested in a large mining zone. In May, the British High Court ruled that Chiluba and four of his aides schemed to steal approximately $46 million from Zambia.
In January 2008, Zambia announced that floods killed more than 40 people and declared a natural disaster. In August, President Mwanawasa died in Paris where he was being treated for a stroke. It took until November for vice president Rupiah Banda to be sworn in.
In February 2010, Zambia and China signed a mining cooperation agreement which set up a joint economic zone. In August, Zambia and China agreed to build a second hydroelectric power plant on the Kafue River. In November, the UN revised the Human Development Index. The new index showed Zambia worse than in 1970, partially because of AIDS.
Landlocked Zambia has a sparse population of more than 70 ethnic groups, many of which speak Bantu. Copper makes up most of Zambia's foreign earnings. Electronic manufacturers fuel demand which facilitates investment in copper mining. Millions of Zambians have incomes below the World Bank's poverty threshold of one dollar per day. Funeral processions occur daily due to the high incidence of AIDS. The population of "street kids" who live in roadsides sewers and road dividers grows. City compounds designed for 50,000 house 150,000. Village life mostly consists of subsistence agriculture, tribal hierarchies and a combination of traditional religions and Christianity. Many Democratic Republic of the Congo refugees still live in Zambia.
Our bus breaks down about five minutes from the airport. While our driver tries to fix the bus, our guide quickly arranges for two smaller buses to pick us up. The buses arrive first so we transfer and say goodbye to Ernest the driver. We do our best to tell him that we really appreciated his help. We get on the smaller bus and our luggage goes on the larger bus which leaves first. When we arrive at the airport, Steve gets me off with the wheelchair. We're relieved when the larger bus arrives with our luggage.
We go up the ramp into the airport as soon as we can. It's difficult to gain access because many people are coming down with carts. We have to pick up our luggage and go through security with all of our luggage.
We get on the line for security. An airport staff member comes to take us through. We check in our luggage and get on line to have our yellow card checked. Staff ask me if we need a lift. I tell him that it's better to have it, if possible. I go to use the handicapped bathroom. The room and stall door does not shut but once in the stall there's enough privacy. However there's no grab bars and the toilet is not high but I make do. As I leave the stall, a man perhaps staff, but not obviously handicapped comes in. I say excuse me and he leaves. We get online for passport control and go through. We go to the waiting area through the curio shop. We buy our Zambia chachka, a woven container with a lid. In the waiting area, Steve places my wheelchair so that my head is in between two boxes, a suggestion box and a box for donations with a hand printed sign that says
KINDLY DROP YOUR
UNWANTED
CURRENCIES IN
HERE
FOR CHARITY!!
THANK YOU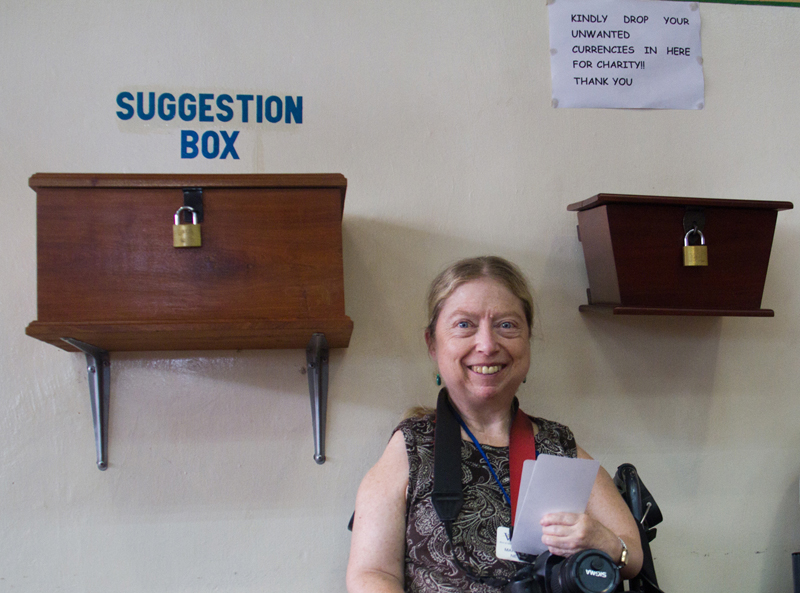 Zambia Airport
When everyone is in the waiting area and the plane is ready, another security staff member comes. He instructs Steve to take me to the side to the scanner. Steve does and goes back to handle our bags. When he steps into the scanner, an alarm goes off, due to his belt. He has to put the belt through the luggage scanners. We see this scenario repeated with quite a number of people. Several men in our group choose for the body search which we think is probably because they have pacemakers. I sit before the scanner and watch most of our group go through. Brian tells me that an airport official will take me and that Steve is waiting for me on the other side. Finally the staff member takes me through. There's no female staff so I'm not searched.
We go to the plane where the lift is manual. I get into the plane wheelchair and they put straps around me and carry the chair up. Once I'm on the plane, I tell them I can walk but they wheel me to my row. The flight goes quickly. The food which is supposed to be lunch is more like a snack but it's good.
When we get off the plane, we meet our driver Ermond. Brian says "Welcome to Puma Luna." He explains that Puma means comes up and Luna means sun. It's in an Eastern province and a holiday area especially for people from Johannesburg. The airport is called Nelspruit's Kruger Mpumalanga International Airport. People come to the area to play golf. Wildlife attack people here. We ride through the Drakensberg Mountains which Brian says are about 9,000 feet high. Brian tells us that there's a Swaziland legend which tells of the mountains' beginning. The name means dragon mountains but the Zulu name means battlement of spears. Brian talks about the area's king. The king had many wives. Many tribes sent women to be his wives. The king unified Zululand.
Our ride is long but the landscape is beautiful. Brian provides interesting information as we sit back, watch the landscape and enjoy our drive. Unfortunately we don't stop to take some photographs of the picturesque countryside.
We ride through fields of fruits. Brian tells us that fruit trees are being replaced by Macadamia nut trees because the price of fruit depends on supply. Macadamia nuts have a fixed price. Plantations go for up to 150 miles north and 500 miles south. It's supposed to be the biggest man-made forest. We see eucalyptus trees. Initially the planters place them 1 foot apart. Following the first year and second years of growth, they trim the bottom leaves. The trees are cut down in 10 to 20 years and used to make glossy image paper. Other wood is used to support mines. If a mine has a problem, this wood will warn minors with the noise it makes. South Africa has no wood import. They grow all the wood they need which saves money. They export paper to make money. The growing of trees provides a lot of jobs for unskilled labor.
We pass a peak where Brian tells us that tribal chiefs' bones are buried. The tribe lives at the bottom to make sure no one climbs it. It's believed that if someone climbs it and takes or damages the bones, it's bad luck for the families and descendents. Man eating plants live on top.
The rocks are granite so when one goes behind them there's limited communication. Brian has a friend who was supposed to die in six months. He built a house in this area for his wife so she could be comfortable and earn some income. They moved in and he's lived for 16 years. There's a similar story of a woman from this area with breast cancer who refused treatment and survived.
Next Brian talks about Shangaan land, the area between Kruger National Park and the Drakensberg Mountains. At first, Mandela made it independent and said that only people who had Shangaan ancestry could come to the town. Those who didn't couldn't have land. Most people stayed, so Mandela made it part of South Africa. The chief could designate landownership. The chief let owners sell but only to Shangaan people. He didn't want outsiders buying land and developing it. People built their homes without a plan, starting with one room and when they wanted, added another. The community goes on for miles. Water is delivered to a central point periodically. There's currently an attempt to get everyone to have electricity but they have to pay for it. Schools are poor.
Brian tells us that Kruger is not a Safari Park. He says that there is no elephant problem here because Kruger is fenced. The fence has a minimum of three strands of electricity, each at a different level for different animals. Kruger controls the animal population "somehow".
I've read that Kruger National Park is one of South Africa's national symbols. It's 7,580 miles square, 220 miles long by 40 miles wide, approximately the size of Wales. Located in northeast South Africa, it's bordered by two Rivers, the Limpopo on the north and the Crocodile on the south. The Lebombo Mountains make up its eastern border and separate it from Mozambique. Five rivers run through it, which help make it such a wonderful wildlife viewing place.
We will be staying at the Protea Hotel Kruger Gate for three nights. As we get close to the hotel, Brian tells us that the hotel has overbooked so tonight some of us will stay in the timeshare units which are quite far out. He will meet with the hotel's staff to review who is assigned there. Afterward, he tells us that we were among those assigned to the timeshare, but he had us switched to the "paraplegic" room. The room is nice, but I don't like the bathroom. It has little space for toiletries, the hot and cold water come from different faucets and the shower is set up so the water soaks the floor. We go to the buffet dinner. The food is better than at Chobe. We really enjoy the barbecued warthog.
Day 10: Wednesday, October 24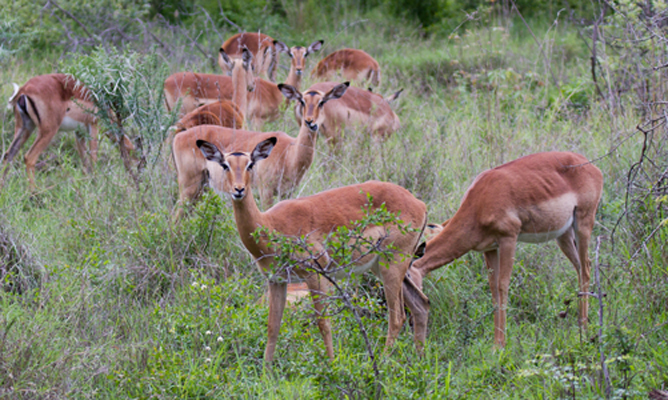 Impala greet us
We're up early for our dawn to dusk Safari. We have fruit and popcorn in our room. We get out to the jeep by 7 AM! Andrew is our driver and we find him jovial and optimistic! It's not far to the park. Once inside the park, we see a large number of impala. Next we see some large birds in a field but they're too far away to identify. About five minutes later, we come upon a lone elephant. We pass a vulture in a tree surveying the park. We ride on hard packed dirt roads throughout the park. We see a large grey bird with a yellow beak wading in a River.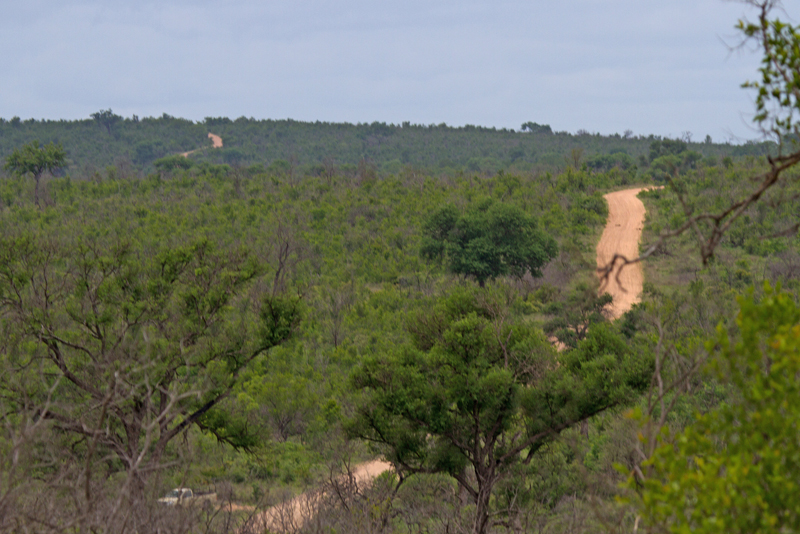 Kruger Roads
As I did on our first Safari, I'm sitting in the front seat of the jeep. It's very low compared to the other seats. On the positive side, it's warmer which I appreciate. However when our sighting is on the right, often Andrew's head is in the way. I ask Andrew why Kruger is so green and lush while Chobe was bare. He replies that there are several factors. Kruger has had rain, it has seven rivers which run through it and they have less elephants.
About 45 minutes into the Safari, we come upon a lioness walking down the road looking as if she has no care in the world. She turns her head towards us and we see that her mouth is slightly open. She glances at us but soon turns away and continues. Meanwhile Steve has his camera shooting at high speed. She moves towards the grass and we slowly move along side of her. She crouches down on some dirt and looks as though she might be getting ready to pounce. I guess she was just making sure nobody else was around because then she lowers her head and sniffs the ground. Then she looks up towards us.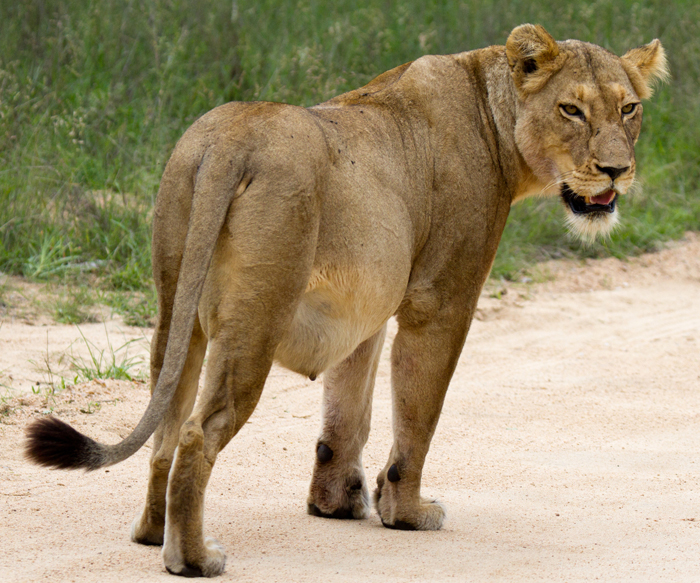 Lioness
Close Up
Lionesses do most of the hunting
We stop for a coffee/restroom break. I don't see a restroom marked for disabled people so I use the ladies room. It's a bit difficult but not too bad. The walk from the jeep to the restroom is far. We get an Amarillo coffee and enjoy it. Later Andrew tells me that all stops have restrooms for disabled people, usually around the other side.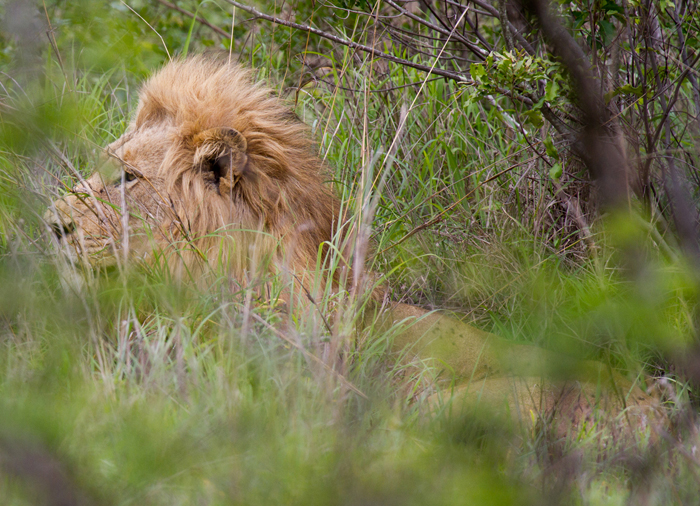 Lion
Back on the road, we come upon our first male lion! Unfortunately, he's lying down in a very grassy field and we barely see more than his head. His eyes are slightly opened. At one point he looks directly at us, but then he looks away. After a few minutes, he relaxes and rolls over on his side. I guess, he couldn't care less about us.
Some males lions grow larger than 550 pounds, but are usually between 330 and 550 pounds. Head to body length is a maximum of 8'2" with shoulder height of 4 feet and tail length of 3'5". Mane color varies from blonde to black, usually becoming darker as the lion grows older. A lion's mane serves to intimidate other lions and their chief competitor, the spotted hyena, as well as attracting females which prefer dense and dark manes. Male lions usually live for only 10 years because they often fight with rivals.
Lions live in savanna grasslands shaded by Acacia trees. Most of the time, lions rest , approximately 20 hours a day. Activity usually peaks after dusk with socialization. Most hunting occurs at night. They spend about two hours a day walking and 50 minutes eating. They prey on medium size mammals preferring wildebeest, zebra, buffalo and warthogs. Based on availability, they hunt other species. Hunting in groups, they can take down most animals but usually don't go after very large species to avoid being injured.
Lions have two social organizations. Prides usually have one or two males which mate with the adult females. Grown males exclude male cubs from their pride once they reach maturity. Males tend to stay on the edges of their pride to protect them. The other social organization is nomads which range widely and sporadically as a single or in pairs. Pairs are usually related males. Almost all males become nomads at some point. When a female becomes a nomad, she has a much harder time finding a new pride because females in a pride are related.
Most lionesses start to reproduce at four years of age. Gestation takes about 110 days after which the female delivers 1 to 4 cubs in a secluded den. At birth, they weigh 2.6 to 4.6 pounds. Cubs don't open their eyes for about one week but crawl in a day or two and walk in about three weeks. The mother will hunt close by. Lionesses move their cubs to a new den a few times a month to prevent scent from building up and attracting attention from predators. She carries them one by one at the nape of the neck. When cubs reach 6 to 8 weeks old, she'll integrate herself and them back into the pride. If other lionesses have given birth close to the same time, she's likely to go back to the pride earlier. When this occurs, the mothers help each other with raising and suckling of their cubs. Cubs don't care from whom they eat. Weaning occurs at 6 to 7 months. Males mature at about three years of age and by 4 to 5 years, they can challenge and displace males of a different pride.
Eighty percent of cubs die before reaching the age of two. When litters are not born close together, starvation of the younger cubs often occurs because the larger cubs eat first and most. Predators including jackals, hyenas, leopards, eagles and snakes kill cubs. When buffalo encounter the scent of cubs, they will stampede the den. When new males enter the pride and win dominance, they kill the other male's cubs.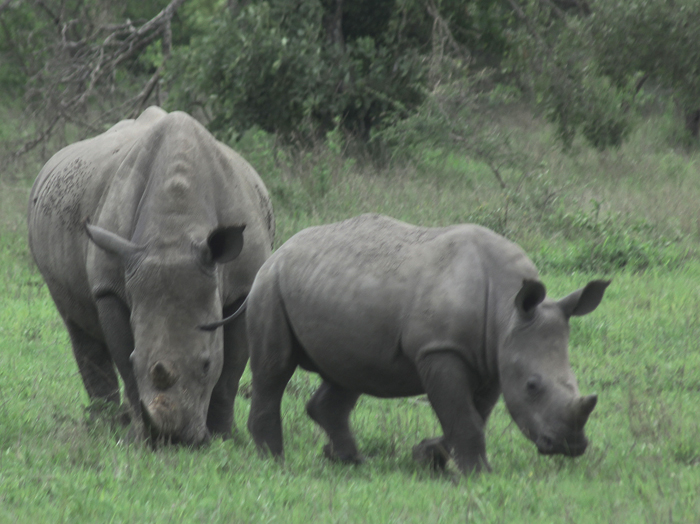 White Rhinoceroses -
Calf usually stays in front of mother
Back on the road, we ride for a about 15 minutes and we see rhinoceroses, our fourth of the big five! The group contains several adults, including a mother and her baby. Our driver identifies these as white or square lipped rhinoceroses. Although they're called white and black, the name has more to do with the shape of their mouths and other features than their color. The Dutch word for wide mouth sounds very much like white, so the popular theory says the name came from an incorrect translation. Literature review, at least according to Wikipedia, does not support this theory.
Approximately 93%, which is 16,255, of the southern white rhinoceros live in South Africa. After elephants, the white rhinoceros is the second largest land mammal. The length of the male head and body grows up to 13 feet and females to 11.98 feet. The tail adds about 28 inches. Shoulder height of males is up to 6'8" inches and females to 5'10". An average males weighs 5,100 pounds and females 3,700 pounds. Despite this size, they are quick and can run up to 31 mph. They have two horns on their noses, one behind the other. The front one averages about 35 inches in length but can grow up to 59 inches. They use their wide mouths for grazing mostly on grass. When water is available, they drink twice a day but can survive for five days without it.
Rhinoceroses live in grasslands and savannas. They spend about half of their day eating and rest for about one third. They enjoy wallowing in mud holes to cool themselves. They live in crashes or herds of up to 14 animals, mostly female. Young bulls will live with the herd. Adult bulls tend to be solitary.
Dominant bulls mark their territory with their excrement, often well defined piles of dung. They also wipe their horns on bushes and scrape their feet; after which they spray. While patrolling their territory, they do this approximately 10 times a hour, about every 98 feet apart around their boundaries. Rhinoceroses have no natural predators. Young rhinos are rarely attacked because they stay with their mother. Their tough skin also discourages predators. If threatened, the baby will run in front of the mother and the mother will fight forcefully.
Females mature between six and seven years of age and males between 10 and 12. Males stay beyond where the female gets aggressive and call when approaching her. Then he chases or blocks her way. During courtship they grunt and snort. If the female attempts to leave the male's territory, he squeals or loudly wails. A pair stays together from 5 to 20 days and then part. Gestation goes from 16 to 18 months. A single calf, usually weighing between 88 and 143 pounds is born. Weaning begins around two months but may not end for 12 months. Females give birth every 2 to 3 years.
Andrew tells us that black rhinoceros are smaller and live in thick scrub and bush which makes them harder to see. Their color is actually similar to the white rhinoceros.
We ride for about 15 minutes, and come upon a kudu, a type of antelope. In many places deforestation and poaching has led to their declining population. As one of the largest species of antelope, males grow to a shoulder height of 63 inches and weight of 600 pounds. Females grow to 39 inches and 460 pounds. Head to body maximum length 8.04 feet and the tail can adds up to 22 inches. They have four to 12 vertical white stripes along their bodies. The male has large horns with 2 1/2 twists, averaging about 47 inches long although they have been known to grow up to 73.87 inches.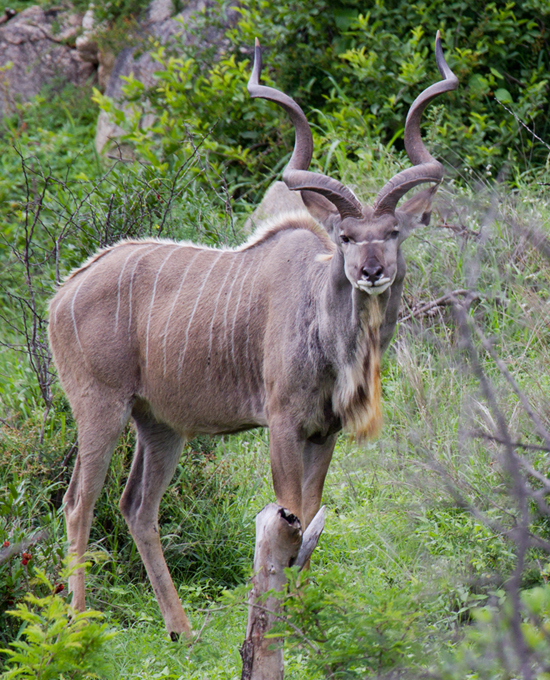 Male Kudu
Female Kudu
They live in bushveld, rocky hillsides and dry river beds. They mostly eat leaves, grass, shoots, occasionally tubers, roots and fruits. They especially like oranges and tangerines. They mostly feed in the early morning and late afternoon and aren't very active during the day. We're lucky to see these, not too far from the road. Predators include lions, leopards, hyenas. Cheetahs go after females and young because the males are too big for them. When a herd is threatened, an adult will bark an alert. They do not have speed or stamina to escape predators in open land, so they tend to avoid plains.
Females live in herds of 6 to 20 with their young. The herds don't get much larger because their selective diet would make it difficult to find enough food. Males live solitary or form bachelor herds of 4 to 8 younger males, occasionally with an older bull. Mature males fight each other with their horns until one admits defeat. Not very often, their horns become interlocked and if they can't free themselves, they both die.
Kudus mature from one to three years of age. Mating occurs at the end of the rainy season and they go through their courtship ritual. The male stands in front of the female and often they neck wrestle. The male trails the female until she allows him to mate with her. Gestation lasts about eight months and calving begins between February and March when grass is at its highest. They usually bear one calf which at first waits for its mother to feed it. Later it becomes more demanding for food and can become aggressive after a few months. For the first two weeks, the calf hides. In four to five weeks it will roam with the herd. At six months, males become self-sufficient. It takes females about one to two years to be self-sufficient.
We head towards some less bushy land with water and see a few beautiful black and white large birds with a red beak. It could be a duck or goose but the legs seem a little bit long for that.
About 10 minutes go by and we see another rhinoceros. A good number of red billed oxpeckers eat off of him. He's been in a fight and his skin and horns clearly show it. We pass by an interesting rock formation and come upon a beautiful lone male kudu. At one point he looks straight at us but lets us go on our way.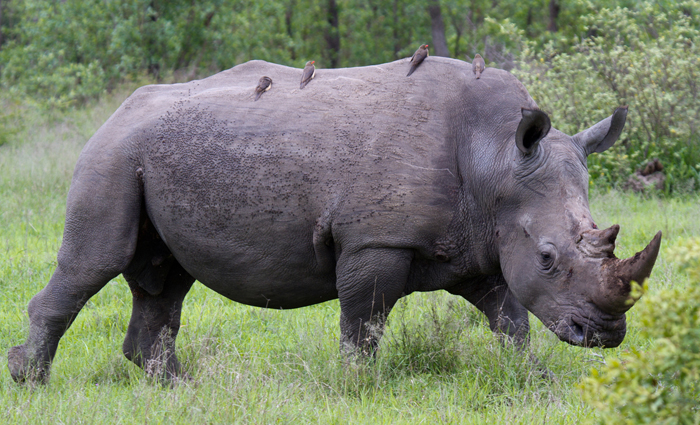 Rhinoceros bull with Oxpeckers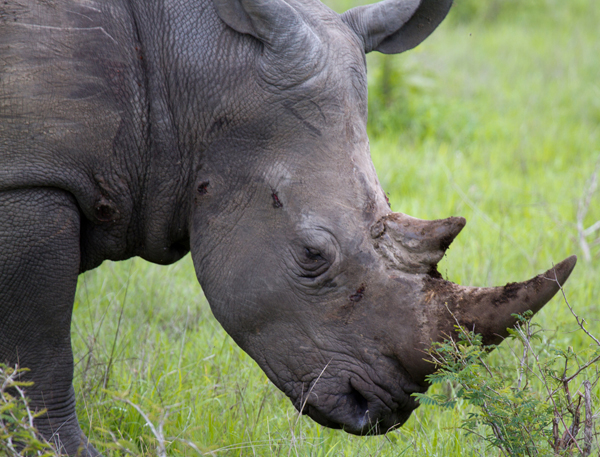 Injured horn and skin
We continue driving and in about five minutes we see a lioness with her cubs! I count about four but they're close together so there could be another one. The lioness eats while the cubs sleep close to her side. A bit further on there's a larger one, perhaps from her preceding litter. It looks as though it could be a young male.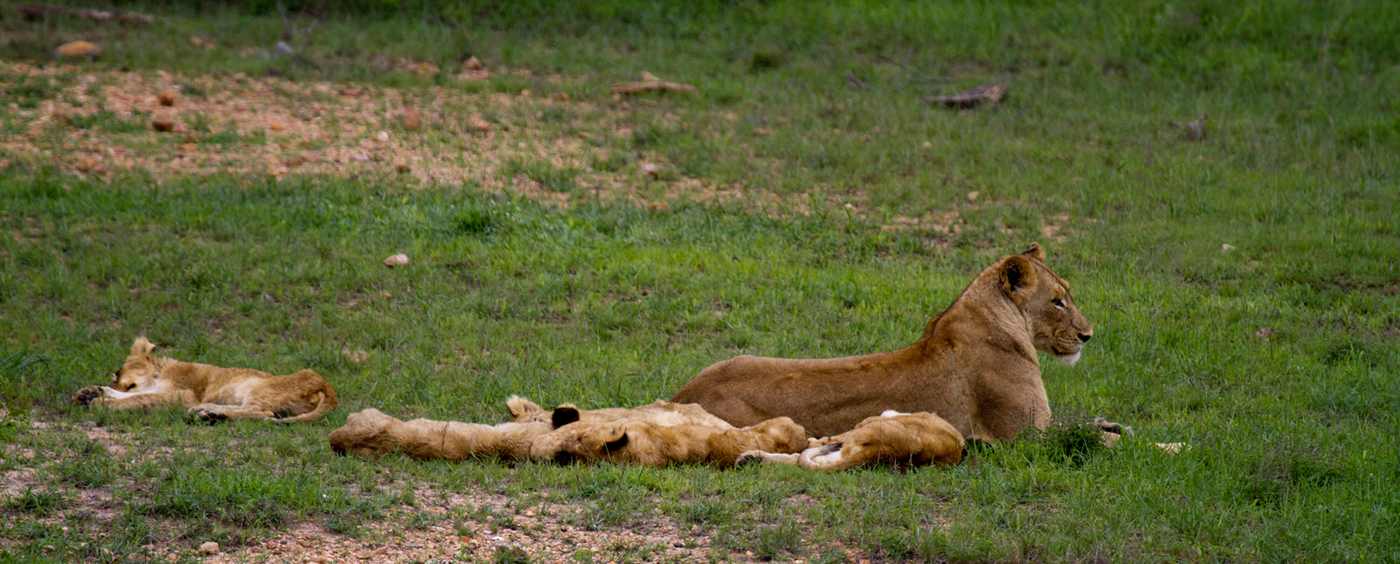 Lioness with Cubs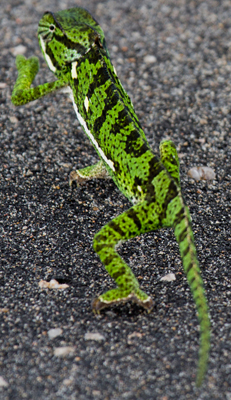 Lizard
On our way to lunch Andrew spots a lizard, possibly a cape mountain lizard. It's cute. What a morning! We head towards our lunch site, a rest stop and picnic area in the park.
When we arrive at lunch, Andrew gives us each a picnic boxed lunch containing a variety of items. It's a far walk to the tables. Food is okay; I especially enjoy the banana bread. We have eating companions of beautiful bluebirds, called Cape Glossy Starlings, who are quite active. Several jump on our table and one pecks at my food. At first he goes for a potato that I don't want. I enjoy watching the birds and Steve goes to pick up my camera but scares the bird away. One comes back and goes for a chicken bone. It seems to like this better. He flings it out of my tray, then comes back and puts it back into the tray. I really enjoy their show. They are beautiful blue-green birds that grow to a length of 10 inches. They live in pairs and flocks. This rest stop certainly has flocks.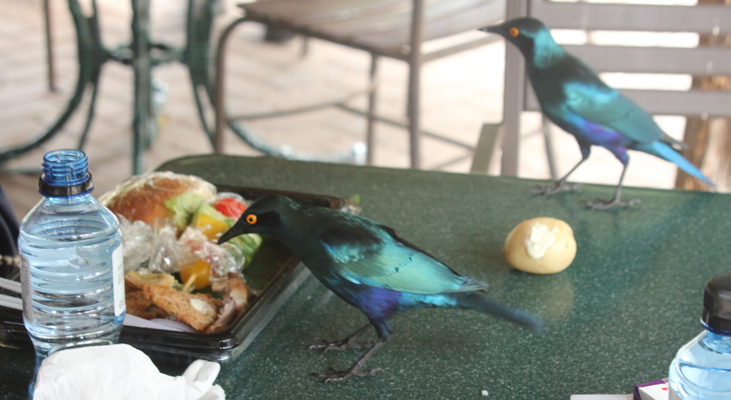 Cape Glossy Starlings join us for lunch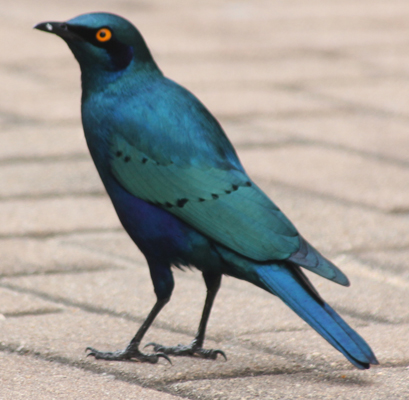 Close up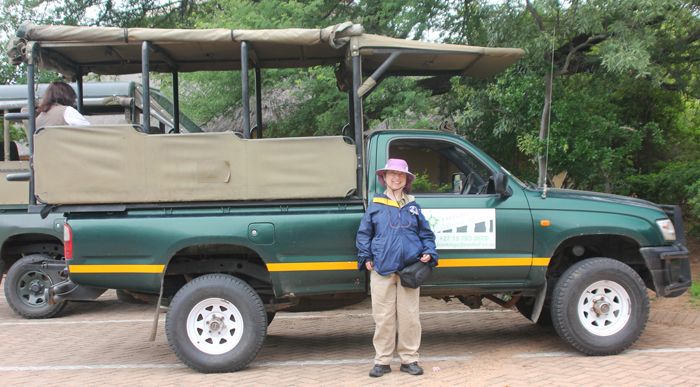 Our Jeep
I find the restroom for disabled people. It's very good except for the lock which is too difficult for me to use. Steve watches the door for me. We return to our jeep but only two people of nine are there, so we take this opportunity to take a picture of our vehicle.
Back on the road, we pass by elephant but they're far away from the road so we only stop for minute. We take the dirt road to another part of the park. About 20 minutes later, we see our first Kruger giraffe. About five minutes later, we come upon a rhinoceros. Close by we see an elephant but he stands in the heavy bush. A few minutes later, we see a giraffe towering above the treetops quite a ways in the distance. In five minutes we see impala.
We drive for 15 minutes and come upon our first sighting of zebra, a type of horse identified by their black and white stripes which are unique to each individual. They grow to a shoulder height of up to 58 inches with the body measuring 8.5 feet long with an 20 inch tail. Males weigh up to 849 pounds and are slightly bigger than females who weigh about 10% less. They are actually black and have evolved to have white stripes and bellies which could deter the attraction of flies. Young zebras also have brown stripes.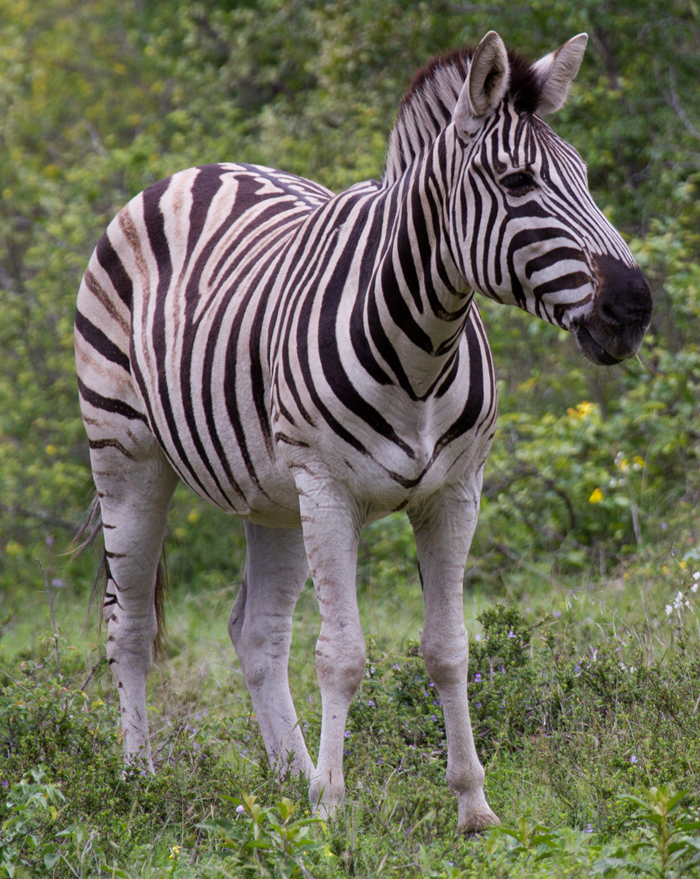 Plains Zebra
I believe we see the plains zebra which lives in savanna woodlands and treeless grasslands. They migrate widely to find food. Zebras mostly eat grass but occasionally shrubs, herbs, twigs, leaves and bark. Zebras are not very selective and often prepare the way for more picky grazers such as blue wildebeests. They are most commonly preyed upon by lion and spotted hyena. Crocodiles go after them especially at river crossings during migration. Wild dogs, cheetahs and leopards will prey on zebra especially foals. Baboons also go after young zebras. Adults try to out run their large predators. They use their strong bite and powerful kick to defend themselves against the smaller species.
Plains zebra live in groups called harems made up of one male and six females and their foals. In the group we see, I count four zebra. Bachelors can be solitary or live in groups until they reach the age of about four years when they can challenge breeding males. When attacked by their predators of hyena packs or wild dogs, the harem will huddle together with the foals while the stallion tries to defend them. They sleep standing and they only sleep when they are in groups so that other zebras can warn them of predators. Their ears show their mood, standing erect when calm, tense or friendly; pushed back when frightened; pulled backwards when angry. When tense, they snort and they bark when they spot a predator.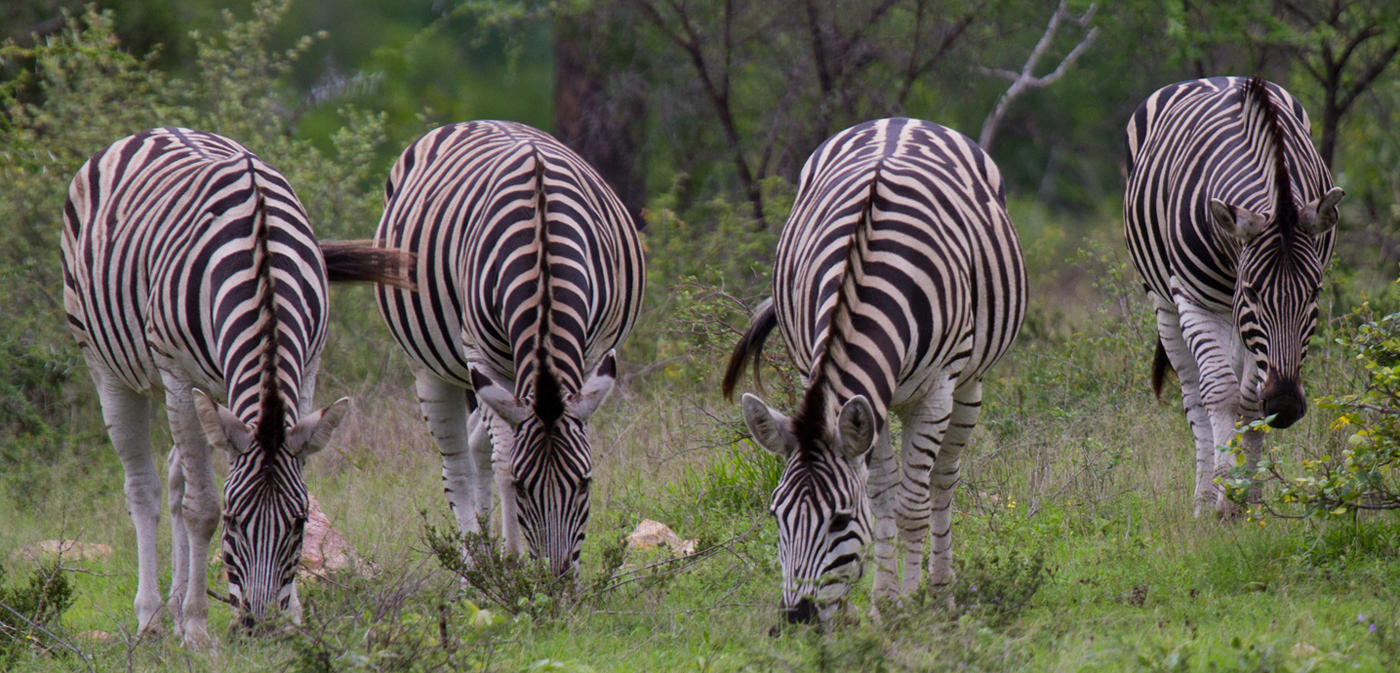 Grazing Zebra
Female zebras can start to breed when they are three years old and males between five and six. Females birth one foal every 12 months and nurse them for up to a year. Babies are able to stand, walk and nurse soon after they are born. Foals don't have black color; they are born brown and white.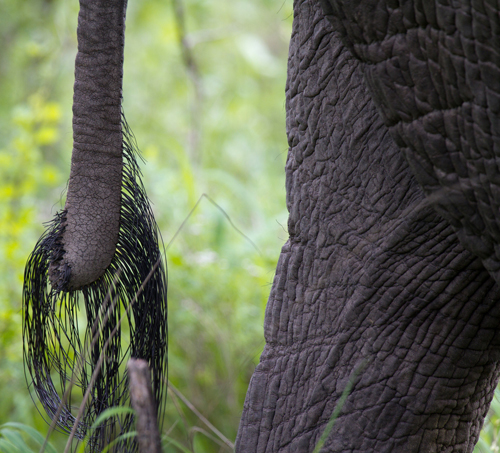 Elephant's Tail
We move on and in about five minutes see more elephants. Again they are in lush bush. Steve gets a good picture showing the end of the tail which has a tuff of hair hanging from it.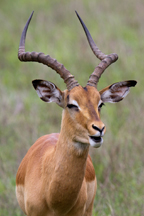 Male Impala
We ride on and in about five minutes come upon impala. We see several very young ones playing and running by the side of the road. Two young males look like they're battling but Andrew tells us that they're playing to build up their strength. Impala play often to keep fit for fleeing from predators.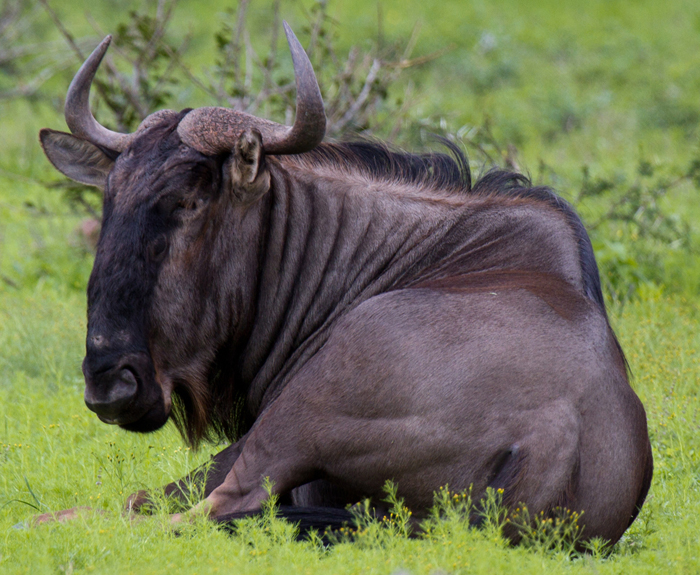 Blue Wildebeest
Close by, we see a lone blue wildebeest. It's just laying in a field, but luckily at one point it turns towards us. They grow to a shoulder height up to 57 inches, head to body length to 98 inches with a tail of up to 39 inches and maximum weight of 606 pounds. They have horns shaped like parentheses. Males horn span grows to a yard and females about half of that. Males are larger than females. They can attain of speed of 50 mph.
They can live for more than 20 years in open plains, bushveld and dry woodlands. They eat grass. They often graze with other animals, especially zebra which mow the vegetation and leave short grass which wildebeests prefer. Lions, leopards, wild dogs and hyenas prey on wildebeests.
Females and bachelors live in herds of up to 30. At times, their flights can be in the thousands. Males are highly territorial. The breeding season usually begins with the first full moon at the end of the rainy season. Once he establishes his territory, the male tries to lure the female into it. A female mates with several males during the three to four week period. Females reach maturity at three years and males at four, although males usually don't have enough strength and experience defending their territory to mate until age five. Only about half the males create territories each year. Once a dry season comes, territories are no longer defended. Gestation takes about 8 1/2 months. Females give birth in the middle of their herd, usually in the middle of the day. This provides the newborn with time to practice walking before predators become active after sunset. They stand within seven minutes and run with their herd in less than two hours. They remain close to their mothers and may nurse for up to one year. In large herds about 80% survive the first month but in small herds only about 50% endure for that time.
We ride for a while, about an hour without seeing anything notable or at least remarkable enough for Steve to take its pictures. For this log, I am able to keep track of the times we see animals by using the timestamp on Steve's original pictures. While we ride, we keep our eyes on the road and bush to find animals. There's no time to be making notes. He's been very thorough about shooting away.
We see more impala. We ride for about 20 minutes and come upon a harem of zebra. I count five of them. They look quite peaceful, but earlier in the trip Brian remarked that they are actually nasty animals. I'm glad we don't get close. They seem to get along fine with giraffe. There's a giraffe eating a tree just in back of the zebra. Close by, we see two more giraffe somewhat close together. They look to be about the same height but one may be the child of the other because the larger animal's spots are quite a bit darker.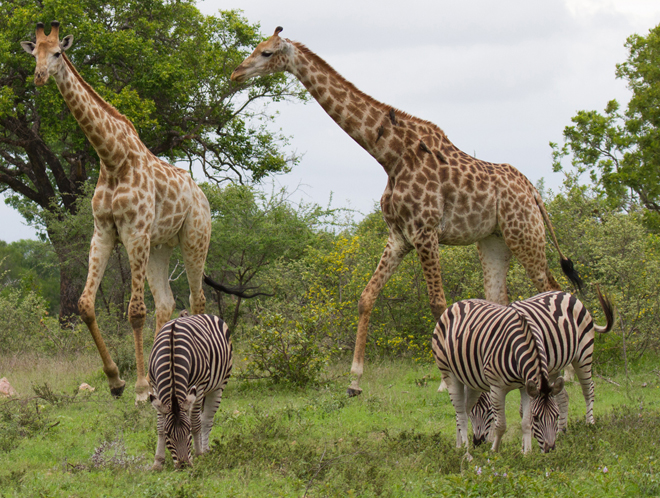 We often saw Giraffes and Zebra
close by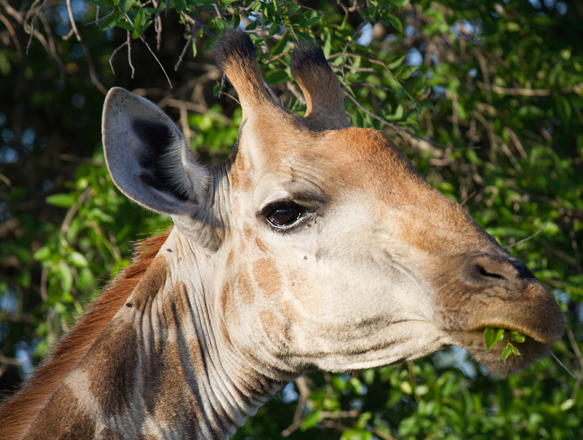 Munching
It's time for our day safari to end and for us to return to our hotel. On our way out of the park, we see a somewhat tall brown spotted bird. Even with Steve's close-up, and after leafing through pages of the animal section of in my Southern Africa animal book, I have no luck in identifying it.
We return to our hotel and take a brief rest before going to dinner. Tonight the hotel has opened the dining room on the same level as our rooms for our group. However we can only choose from the lunch menu. Steve and I both get pizza. I have Hawaiian pizza and Steve has chili pizza. We have red wine and ice cream with chocolate sauce. It's so nice to have a menu to order from since we are buffeted-out. One person at our table is curious about how the big five got chosen. I tell him that I read it was based on which animals are the most dangerous. We agree that hippos actually kill more than at least some of the big five. Later Brian comes by our table and we ask him. He said it was Teddy Roosevelt's list of the most dangerous to hunt. Roosevelt was a big hunter and probably killed all five at some point.
We're sitting with a member of our group whose business is wine importing. We ask him about it. He says what's best is really an individual choice, even when professionals rate wines. It's all according to the rater's palette and is subjective. He tells us it's best to decant red wine using a long neck and wide bottom.
We compare notes about what different groups saw. One group saw a leopard. He was just laying in the field, but now they have their big five. I'm very hopeful tomorrow we will see a leopard.
Day 11 Thursday, October 25
Today we have an early-morning jeep safari. It starts at 5:30 AM! We stay with the same people and driver, so that we're all "on the same page".
This morning two giraffes greet us, not right away but they're the first animals we see. Like yesterday, judging by their colors, one appears to be quite a bit older than the other. Another giraffe just crosses the road a bit in front of our jeep, without even seeming to notice us. We see some impala also crossing the road. We see more giraffes.
On his radio, our driver's hears of a pack of wild dogs on the road. The drivers communicate their finds to each other by radio. Andrew heads towards where the report came from. We drive quite a way past this, but we find them. Andrew says that they like to run around, but they seem somewhat laid-back to me. One is even laying on the road. I read on the Kruger website, that wild dogs are one of Africa's most endangered mammal species due to by man, diseases, distemper and genetic inbreeding within the park.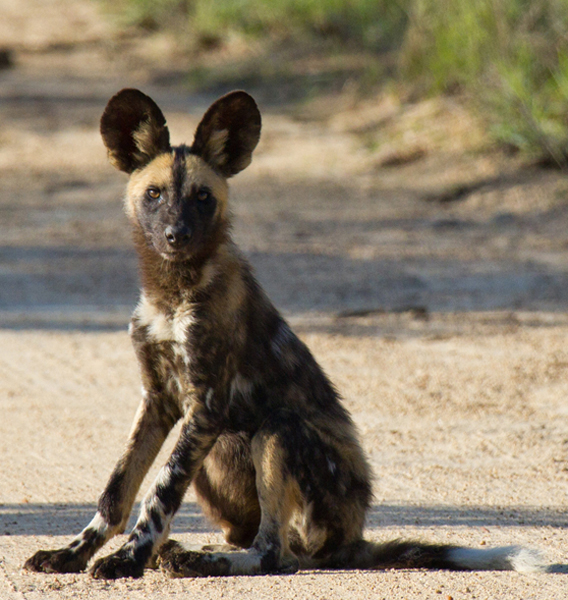 Wild Dog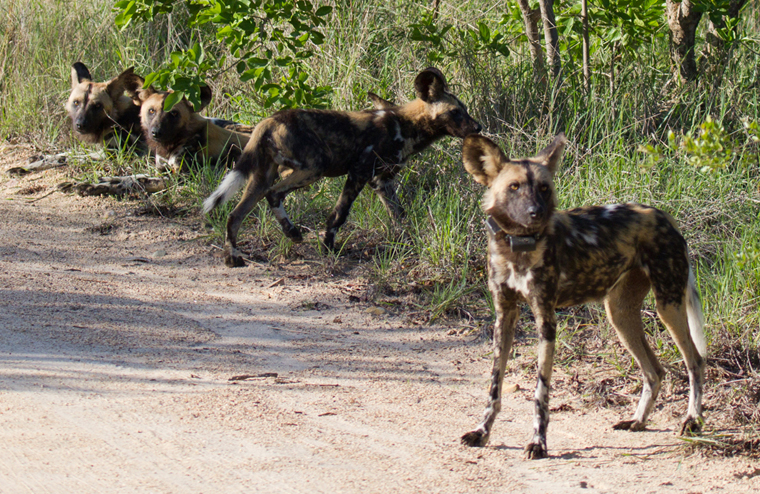 The Pack
They grow up to a shoulder height of 30 inches and a weight of 66 pounds with males slightly larger than females. Each one has an individual coat pattern making identification easy. They live as nomads in moderately dense brush in open plains. They hunt mostly on small to medium size animals with impala being their favorite, but occasionally they've been known to kill animals as big as wildebeests. They hunt in packs with all collaborating as a team which chases and wears out its prey. Once the prey is exhausted and stops, they tear it apart.
Packs can be one pair and their young or up to 50 dogs from an extended family. I count about nine wild dogs but there could be more farther back in the bush. They have long-range communication with a musical hoo-hoo, high pitch twittering, during friendly interaction. They are very social.
Wild dogs breed seasonally. Birth occurs after gestation of 70 days, during mild winter. Only the dominant male and female breed in a pack. The others assist the breeders. Each litter contains 12 or more pups. The female cannot nurse for too long, so from about the age of three weeks other pack members regurgitate food for the pups. The litter stays safe in guarded burrows.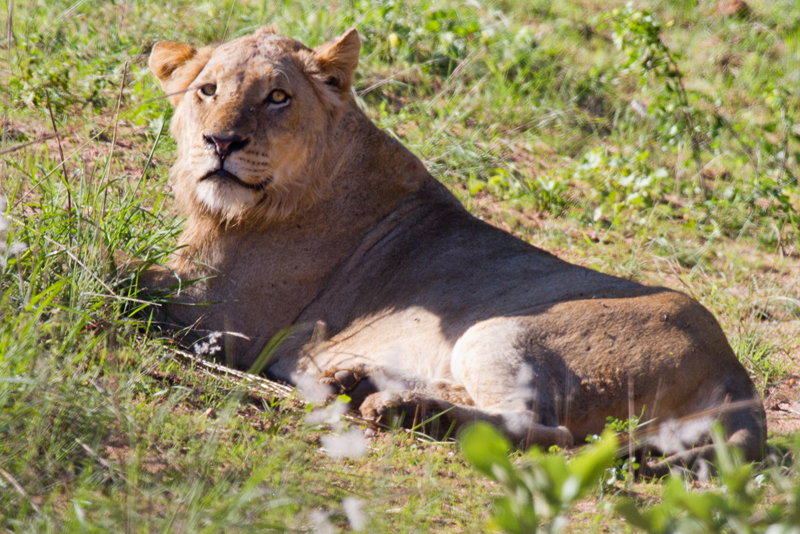 Young Male - Notice the start of his mane
We ride on and in about 20 minutes we see a young male lion. We identify him as such because we can see that his mane is starting to grow in. He's just lying on the grass by the side of the road and looking at all the cars coming to view him. A lioness is lying close by on the side of the road. Soon we come upon a pack of lions stalking an impala. We see some of the stalking but do not see the impala or a kill. That's fine for me because while I've read much that seeing a kill is incredible, I don't think I'd like it. Many vehicles are crowding in to see what's going on. Eventually we get a turn to see. A young male has moved right into the middle of the street and is blocking traffic. As we get close to him, Andrew tells us NOT to stand up. If we do, he can be fined.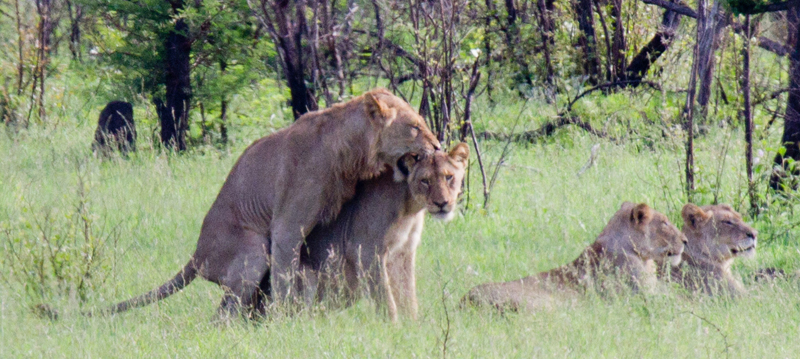 The Pride
After a while, the stalking lioness gives up and the pride moves towards water. We follow. Andrew gets us in a good location from which we can see the whole pride, from a distance. Steve looks through his viewfinder and takes a picture of a mating couple. The male has followed the female and when he's ready, he just mounts her. Then he leaves. We watch the pride for a while. They seem to be settling in this location. So we move on.
About 20 minutes later, we see a pair of zebras walking down the side of the road. One turns to look at us. Then they continue on their way. We follow them for about five minutes.
About five minutes later, we come upon a large troop of baboons. Some are on the road and some are off the road. Several females have babies hanging from their stomach or on their back. We watch as one baby climbs from its mother's stomach to her back. The mother just keeps on walking throughout her baby's climb. If she's even aware of it, she doesn't show any sign. The baby looks around often and seems very curious.
| | | |
| --- | --- | --- |
| Baby nurses | Baby climbing | Baby rides |
Poacher Police
We start to head back out of the park and we see some staff walking in the road. Later Brian tells us that these are poacher police. Poachers come for the rhinoceros horns. They kill the rhinoceros. It takes a lot of time to remove the horns. They leave the park by way of where the locals have removed the fence.
On the way out we also see a brown hawk like bird just watching from the top of a tree. We pass by Paul Kruger's bust.
Back at the hotel, we have breakfast. We go back to our room and I nap. Steve tries to log on to work but there's no connection. So he joins me in napping.
At 2:30 PM, we leave for our afternoon and final three-hour Safari. Andrew asks what we want to see. Most of us say a leopard. As a matter fact I'm praying to see one. As we enter the park, the sky is just beautiful! We see many animals. Our first sighting is of waterbuck. We know which animal we're seeing immediately, by the bull's-eye which surrounds its tail. About 10 minutes later, we see kudu. The male looks straight at us. In another 10 minutes, we see a giraffe munching on a tree.
Leopard Turtle
We ride, seeing a variety of animals. We see a leopard tortoise, walking along the ground. Andrew remarks that this is one of the little five. It grows up to 18 inches high and weighs up to 40 pounds, making it the fourth largest tortoise in the world. An adult's shell length can reach a diameter of 24 inches. It lives in semi arid, thorny to grassland habitats. In extreme temperatures, they dwell in abandoned fox, jackal or anteater holes. They only dig their own holes to lay eggs. With its beak mouth, it eats grasses, succulents and thistles. Leopard tortoises can move fast, climb over rocky terrain and stay under water for 10 minutes. It lives up to 80 to 100 years. It reaches sexual maturity between 12 and 15 years. They court by the male ramming the female. Each summer, a female lays up to six clutches each with five to 18 eggs.
About 30 minutes later, it finds us! The saying goes "you don't find a leopard, a leopard finds you." Finally we see the last of our big five, stalking most likely an impala! Although we never saw the impala, the leopard crosses the road in crouching position, walking in back of a car. It enters the grass and continues on into the bush on the other side, where we watch this magnificent animal for what seemed to be quite a while. Unfortunately, I'm too close with my lens' zoom to get a good focus and the front of the jeep is in my way. I'm happy just to see it!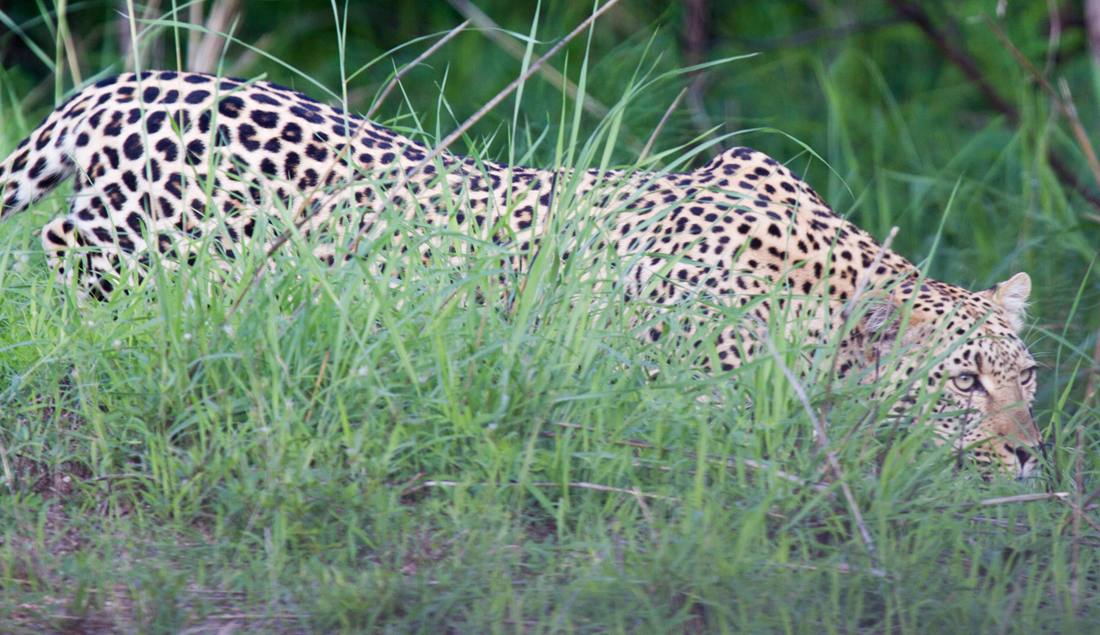 Stalking Leopard
Leopards grow to a shoulder height of up to 31 inches and 65 inches in body length with a tail of 43 inches. It's the smallest of the four big cats. Males which weigh up to 201 pounds are approximately 30% larger than females which weigh up to 132 pounds. Both sexes vary quite a bit in size, probably due to the quality and availability of prey. They have great variation in color and rosette patterns, usually by type of habitat. We see a darker golden one, the type that tends to live toward rainforest.
Leopards can run up to 36 mph, and carry heavy carcasses while climbing up trees. It eats any animal that it can catch, although it mostly stalks medium-sized mammals, rushing them when it gets close. It kills its prey by biting its neck, skull or throat. Then it's pulls the carcass into a tree and eats it for several days. Leopards also eat mice, fish, reptiles, birds and insects. Their diets versatility and adaptability has led to the species success in the wild. Males eat approximately 7.7 pounds per day and females 6.2 pounds. Leopards compete for food and shelter with other large carnivores. Their competitors may steal their kill, their young and sometimes adult leopards. When they meet a challenging competitor or group of competitors, they will resentfully give up their prey to avoid bloodshed. When larger competitors share their territory, leopards will choose smaller prey.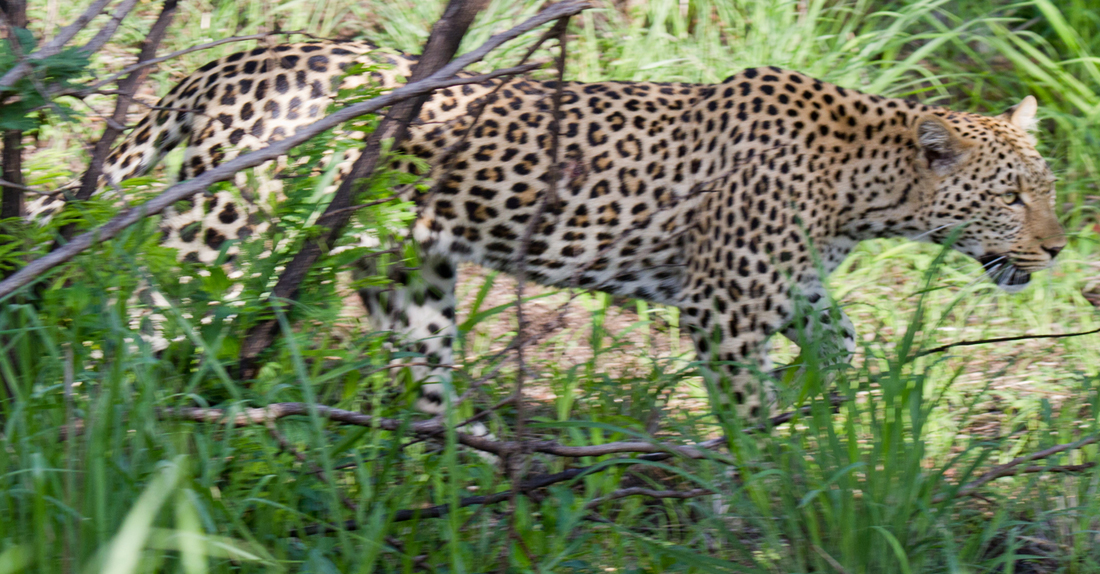 Magnificent!
Leopards are mostly nocturnal, solitary and territorial. A male's territory, which ranges from 12 to 30 square miles, will overlap several females. Female territory spans from 5.8 to 6.2 square miles. They exhibit long-range communication with the rasping cough. They rest in trees, thick cover and caves. They can mate throughout the year, with the female being in heat for six to seven days. Gestation takes 90 to 105 days. Females make a den for giving birth in a cave, boulder crevice, hollow tree or thicket.
They have litters of two to four cubs. At approximately three months, cubs begin to join their mother on hunts. Although they can probably be independent at one year of age, usually they disperse in 18 months to two years. First year, mortality runs at 41 to 50%. Average lifespan is between 12 and 17 years.
Andrew has a jeep full of very happy tourists, especially Steve and me! Even though we didn't see the leopard for that long, we had such a good view of him or her.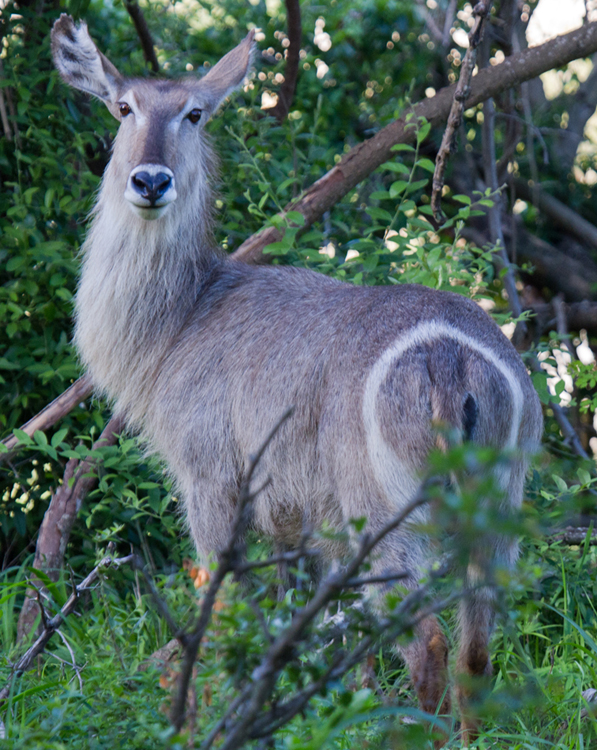 Waterbuck
We still have more time on the safari and we ride around the park some more. In about 10 minutes, we see in a harem of zebra. I count five. In about five minutes, we come upon an elephant munching on a tree. A few minutes later, off in the distance, we see zebra with a few wildebeest. While the zebra are easy to spot, I had to zoom in on the picture on my PC at home, to know that we saw the wildebeest. In one picture a wildebeest looks like he's standing right next to the zebra. About 10 minutes later, we see another elephant. This one has a broken tusk. In 15 minutes, we watch a giraffe nibbling the top of a tree. The younger one stands close by, but seems more interested in us than in food. When it turns away, I see what looks like an oxpecker on his neck. In a minute, the oxpecker moves down to its shoulder. Soon the young giraffe begins to eat. It seems very curious and looks around again. Within a few minutes they move on. In another 10 minutes, we come upon a waterbuck and close by we see what looks like young male kudus. I think they're young because their horns are not fully turned. Nearby we see a young impala or it could be a very young kudu, I suppose. About 10 minutes later, we see a female waterbuck. So ends our final safari.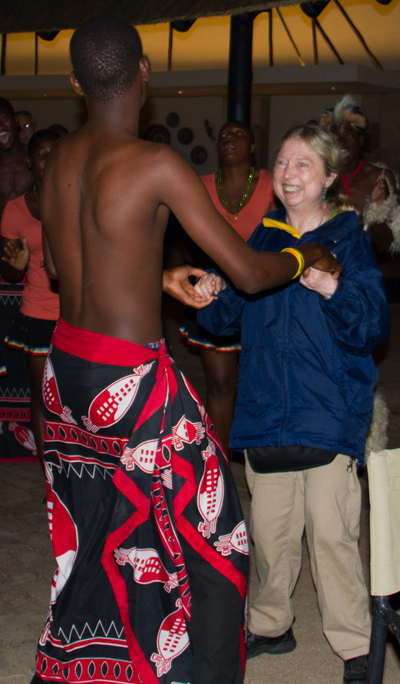 When he asked, I
couldn't say no
We return to the hotel. Brian is there to greet us and appears to enjoy hearing our excitement. I log while Steve goes to the lobby to see if he can log in to work. He gets on but says it's very slow. He only gets about halfway through his work email. I get ready for dinner but Steve is not back yet so I begin to pack. Finally he gets back at five minutes before we're supposed to be at dinner. It's okay for us to be late but the choir which Vantage hired especially for our group begins the show at 7 PM which gives us only half an hour to eat. I have a stomach problem which means in order to digest my food, I need plenty of time to eat, so I hope that the show doesn't start on time.
Dinner is in the downstairs, main dining room tonight. As we get to the stairs, a staff member points us to a ramp. However it's poorly lit. We take our time and do fine. As we get to our table, there's a commotion by the stairs. A person from another tour fell down. I'm glad we didn't attempt the stairs. Dinner is a buffet. It's okay but not very special. I like the muscles and trout. Steve likes the pasta. We have red wine. We enjoy the dessert of pastries and ice cream.
The show, a traditional choir and dance, begins. A row of women stand in front of a row of men. Most of the women have simple outfits but a few wear capes or sarong-like garments over their outfits. The men are bare-chested. One or two wear fur while others have on something like a skirt over pants. At first they sing and dance gently but they get more energetic as the show goes on. The man with fur has a solo dance. Toward the end, they try to recruit people from the audience. One of the dancers asks me to join him and I enjoyed the music so much that I couldn't say no. I had fun.
Day 12: Friday, October 26
We go to breakfast and return to our room to finish packing. We check out then go to check the lounge where Steve used his computer last night. He left his jacket there but no one found it. Hopefully he packed it without realizing it. We go to the gift store to buy our big five checklist T-shirts and stamps for my cousin Jimmy who collects them. They only have a book of 10, two of each of the big five, so perhaps will give some to our nieces and nephews.
On the bus ride to the airport, Brian tells us about poachers, furniture and wood from the area which is nice but quite expensive, the Cape Town optional tours and our flight. Our time at the airport goes relatively easily. There's no way not to go through the security machine. I explain my medical devices which cannot go through the machine. They accept this and security staff barely pat me down. The airport has one departure area with metal seats. There's a bathroom but none set up for people with disabilities. They pre-board me up a flight of stairs. The staff offer me a chair to go up but Steve and I do fine on the stairs. The staff help with our bags. The flight to Cape Town goes quickly.
Airport staff bring a lift truck to get me off. We find our group quickly. I use the restroom for people with disabilities but have to wait a long time. A staff member looks and says it's occupied. A little while later, a beautiful able-bodied woman comes out, walking quickly with her open laptop computer and purse. I say something nasty to her but she doesn't even look at me.
Our bus is very high. Our driver's name is Moses and he tells us that Table Mountain is clouded in today. We have about a 30 mile ride between Cape Town and our destination. We pass a shantytown which has electricity. Brian tells us that drug lords live here. One has to go through several houses to get to the drug lord. Brian talks a bit about the electricity. At some point, a person bought a television. He hooked it up and it would start and then stop, start, stop. The television owner was getting his electricity from a neighbor who was getting it from another neighbor. They traced it all the way back to the traffic light. When the light was red, the electricity was on but when the light changed green, it would stop.
Fires are a big problem in shantytowns because the houses are so close. If one house has a fire, it spreads to others and large sections are wiped out. Also the inhabitants build houses on the road where hydrants are located. Access is blocked, making fires hard to put out. Officials come in and clear the access, but others build or clutter the route.
Brian tells us there's a problem on the main highway with people coming from the factory and walking across the highway. So the city built walls which are too high to jump over. Men would bring footboards and place them so that they could climb over the wall. They leave the boards along the divider. Cape Town has a force that comes every few hours to remove them. Brian says that people just bring more. Overpasses exist on which to cross the highway but some people just want to take the direct route. We pass government free houses. They look fairly nice. The wind becomes strong. Brian tells us that double-decker buses have been blown over.
Cape Town and its province are administered by the party of Democratic Alliance, which is the main opposition to the party which dominates the rest of the country and the African National Congress. Many squatters have come to Cape Town. The government doesn't build many free houses to prevent the opposition from moving in and voting out the controlling party. Brian points out Cape Town Film Studios.
The ground is sea sand. Settlers bought trees from Australia to prevent the sea sand from blowing away. Table Mountain is the smallest floral kingdom of seven. Trees were encroaching on it. Researchers found a way to poison the trees. They give property for a person to build a house on and he takes care of poisoning encroaching trees. It works well except that birds eat the tree seeds and restart the process.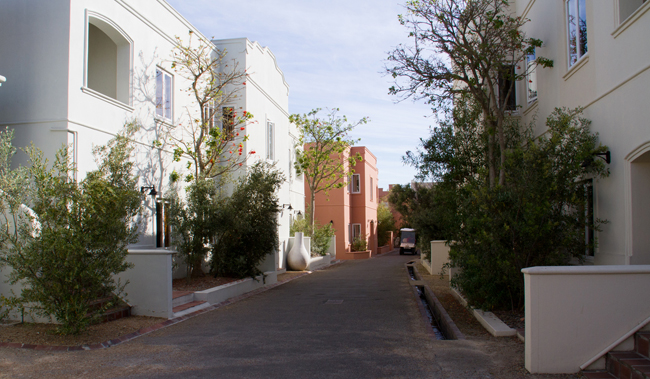 Spier Hotel
We check into the Spier Hotel in the Cape Winelands. Our itinerary says that the wine lands are home to picturesque vineyards and world-class wellness centers and spas. We're staying in the town of Stellenbosch, which I read is South Africa's second oldest European settlement founded in 1679. The rooms are grouped around courtyards and are reached by walkways. Ours is close to the lobby but they provide golf cart rides to those who have a distance to walk. Each building has four rooms two to a floor. Our entrance is up two stairs. The main part of the hotel has ramps but often the door jams make them difficult to use. We settle into our spacious, beautiful room. We meet our group for a welcome glass of wine. Steve and I aren't too impressed with this wine. Talking to others afterwards, it seems that half of our group liked it and the others didn't care for it too much, like us.
Day 13: Saturday, October 27
Today's first stop is the university town of Stellenbosch. The town became known as the City of Oaks because a large number of trees were planted by its founder, the governor of Cape Colony, Simon van der Stel. We ride down the second most historical road where Brian tells us there used to be houses with thatched roofs. They became a fire problem so now they changed the style to Georgian. It's a quaint town with the second most important Dutch Reformed Church. The first one is in Cape Town.
They've attempted access with curb cuts but the curb cuts are inconsistent and the sidewalks are slanted. Most stores have steps into them. I use the bathroom for disabled people in the museum. I have to find someone with the key because they keep it locked. The light is too low.
The University is one of the best in South Africa. It has 10 schools. The department of electrical and electronic engineering is the only department in the southern hemisphere which successfully built a communication satellite.
he town mostly produces wine with a small amount of fruit. Most people are wealthy. We find our chachka. We decide on the thumb piano that we picked out as gifts for our nephews. The seller asks for 100 rand but we bargain down to 80.
Back on the bus, we ride through some beautiful wine country. I find it peaceful to look out over the green vineyards and fields. As we ride, Brian gives us some information about winemaking. He says that the trick is to stop fermentation before the wine goes bad. Today we do that with the duration. Before refrigeration, they added alcohol which made the wine fortified and semisweet. Today's wine is lighter and sweeter. He tells us that 25% wine with 75% water is a healthy drink. Farmers plant wheat between grapes to prevent root rot during the wet season.
The wine business is comprised of estates, merchants and co-ops. The quality of wine depends on how good the grape crop is. Many wines are blends. The estate attempts to make the best possible wine. The merchants tone it down and save some. Their wine is more consistent. Boutiques strive for the best and can blend in different estate wines. Co-ops strive for quantity over quality.
Brian tells a story of a man who was hired by a farm and changed the quality of wine. First he worked in the vineyard. In two years he cleaned up the vines. In his second two years he worked in the cellar. In the fourth year, the vineyard won the highest South African award, the double gold. We pass many vineyards and a cut flower farm.
Brian goes on to talk about Cecil Rhodes. He came to South Africa to improve his asthma. He tried mining diamonds but didn't have any success. Then he bought diamonds from a prospector and sold them worldwide, making millions of dollars. He had no heirs so he bequeathed much to this area. Today this area keeps the Rhodes scholarship going. Cape Town is known for its Mediterranean type weather. We ride on the great North Road which goes from Cape Town to Cairo. It includes Victoria Falls bridge which was a dream of Rhodes. There are leopards in the mountains but no impala so the leopards have to eat birds and small animals.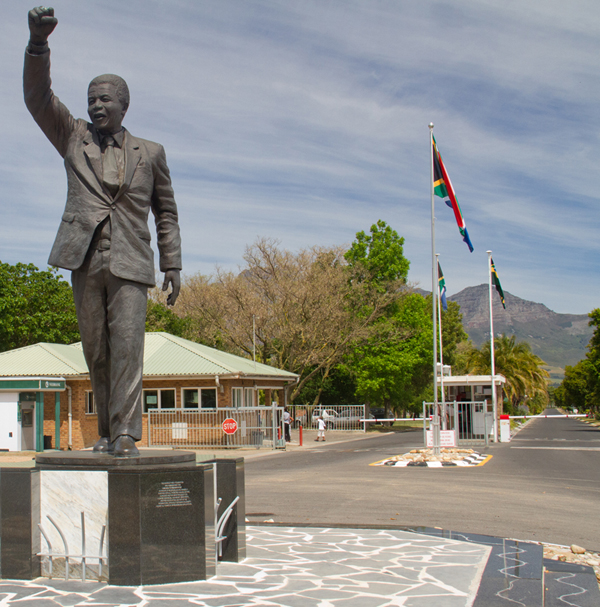 Mandela Monument outside Prison
We stop at the Nelson Mandela monument outside Drakenstein prison. On February 11, 1990, Mandela was released from this prison. He had the option to be released earlier, but he said that the structure he wanted on the ground was not ready yet. He wanted to stay here so that he could prepare the ANC structure he needed to end apartheid. During his imprisonment, he was in three prisons. He came to this low security prison in 1982 and lived in a private garden cottage, for his own protection. He requested a telephone and got it. He made calls to newspapers and others to prepare the political structure. He said that all prisoners should study; this would give them objectivity. When Nelson Mandela was here, the prison was called Victor Verster prison. The prison is still operational so we cannot go beyond the statue. The statue has Mandela standing on its base with his right arm raised.
Back on the road, we pass a dam which provides irrigation to the area. Brian points out the Berg River Dam which provides the water supply for Cape Town. Opened in 2009, it was designed to capture rainfall during the winter and store it for use during the dry summer months.
We ride to the Huguenot monument in Franschhoek. This monument depicts the history of the Huguenots before and after their arrival at the Cape of Good Hope. The Huguenots were a group of French people who became Protestant. The Roman Catholic government of France oppressed the movement and persecuted the members. During the 17th century, many left Europe and sailed on cargo vessels to the Cape. They became stranded close to Cape Town. The Dutch brought them in and they developed good wine. The Dutch who came to South Africa first, made wine. However, the Huguenots brought good winemaking to South Africa. They began settling at the Cape in April 1688, when they were granted farms in Drakenstein. They grew dissatisfied with the soil quality, so they asked the governor for better land. In October 18, 1694, the governor gave them nine farms in the Oliphantshoek, a.k.a. Elephants Corner, area. Originally this valley had huge herds of roaming elephants. In 1713, the area of these farms became known as le Coin Français, a.k.a. the French Corner. In 1805, it became Franschhoek. Many of the Huguenots name their farms after the areas in France where they came from. The farms grew into famous wineries.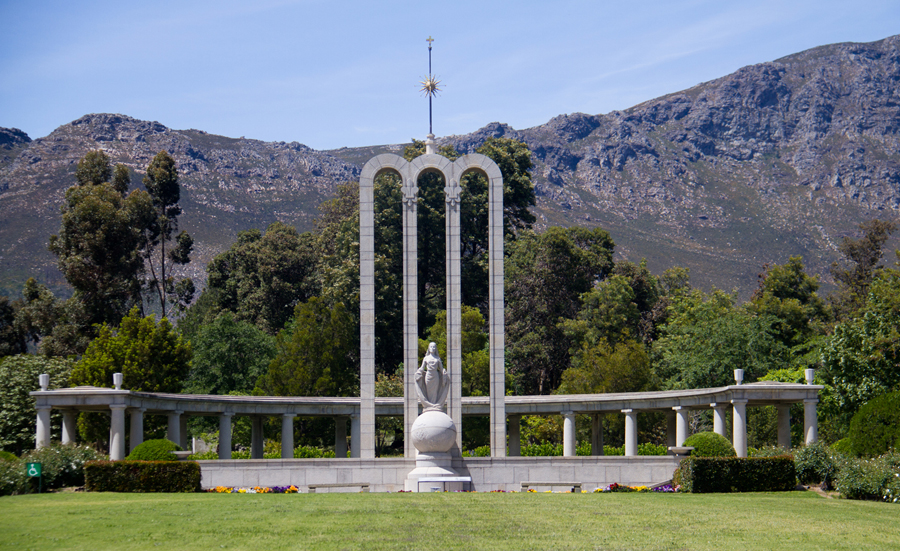 Huguenot Monument
The monument sits in front of beautiful trees and mountains. Three high, thin arches symbolize the Father, Son and Holy Spirit of the Blessed Trinity. On top of the middle arch, there's a post with the sun in the middle and across at the top. In front of the arches, a female figure stands. This symbolizes religious freedom. She holds a Bible in one hand and a broken chain in the other. She's throwing off her shroud of oppression. She stands on top of a globe. A structure which looks like the framework of the vineyard, is at the back of the monument. It's very picturesque.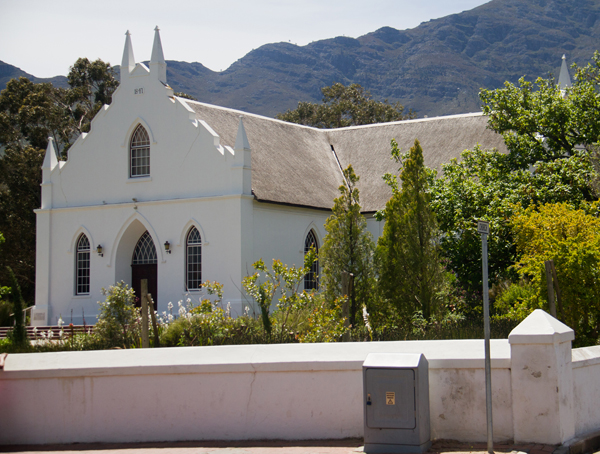 Franschhoek Dutch Reformed Church
We stop in the town of Franschhoek and walk around for about a half-hour. Brian calls it "very well to do little town". It's somewhat crowded today because it's a beautiful Saturday. We see small courtyards lined with shops. We admire the picturesque Dutch Reformed Church.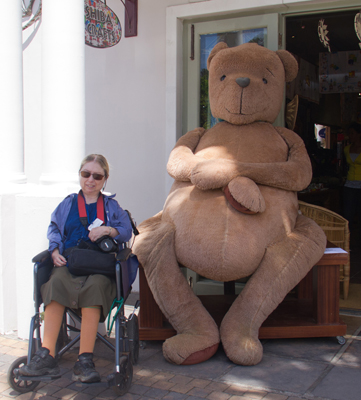 Outside craft shop
We pass a shop with a huge teddy bear and Steve insists on taking my picture next to it. It's height is twice the size of me sitting in my wheelchair. We enjoy our leisurely stroll through the rather quaint town.
On our way out of Franschhoek, we pass a mountain of stone, which has the town name spelled out at the bottom. We're on our way to lunch and we pass by more and more vineyards. We ride by one farm with zebras.
We arrive at the restaurant, Roca, in which we're having lunch. First we go out back and look at the gorgeous scenery. I take some pictures and encourage Steve to do so, thinking that the one that turns out best could be our next wine label. Have I mentioned yet that we make wine? We go inside for lunch. The restaurant has very large windows overlooking the vineyard. The view is magnificent. I love the lunch! We have venison carpaccio and ostrich. We move to another part of the restaurant for a wine tasting. We enjoy the wine.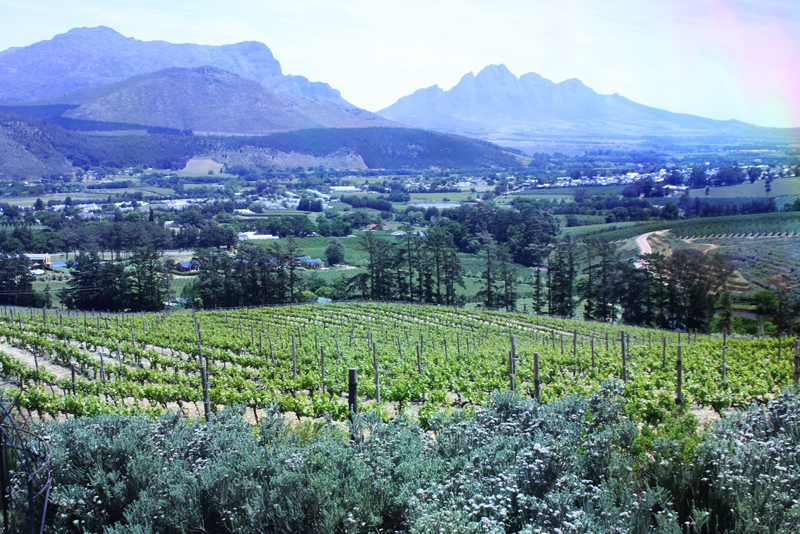 Wine Country vineyard
Back on the bus, we return to our hotel and we have another wine tasting. They serve us three wines, a "champagne style" which is a blend. The presenter explains the bubble process. First, they freeze the top of the bottle which is where all the yeast is. Next they turn it upside down. The yeast has settled in the stem. That's what makes the champagne bottle pop when it's opened.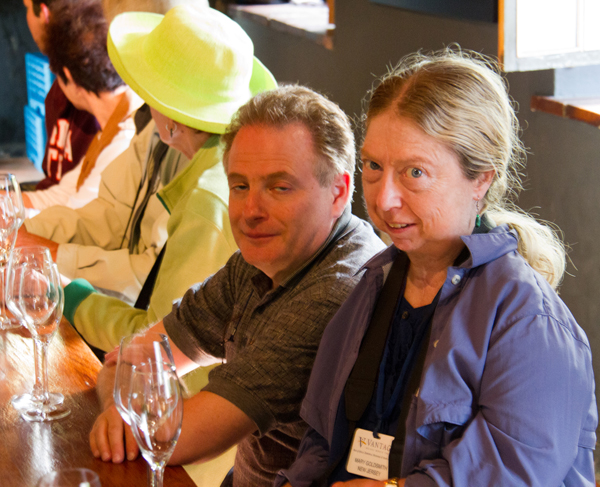 Wine tasting
Next we have a white wine which is a Chardonnay blended with another type. Finally we have a Pinotage. This wine originated in South Africa. It tastes only partially fermented, very acidic. The presenter explains the acidity. We also taste a 2008 Pinotage which is better. I liked all the wines however it's too expensive and complicated to ship them to the United States so we don't buy any. A member of our group offers to take our picture. He gets a good shot in which Steve's eyes are mostly closed. Of course Steve claims he's in a blink.
Afterwards, when we talked to others in our tour, most including us thought that they scheduled the two wine tasting too close together. They probably should have done the one at our hotel yesterday.
We walk back to our room, admiring the gracious surroundings of our hotel. Steve does some work. We take a rest before dinner, which is on our own tonight. By the time we're ready to go, the restaurants in which we're most interested are either too far from our room or fully booked. It's 7:30 PM and the restaurant closest to our room supposedly closes at 8 PM. We rush to get there before it closes. Steve has an appetizer of mushroom and walnut tart a in cream cheese sauce. I have pesto pasta and Pinotage. We share and enjoy both. Even in this restaurant, we find the lighting too little. Unfortunately we can hear the rugby match going on in the bar. We're not rugby fans and the television is loud.
Day 14: Sunday, October 28
Today we move on to Cape Town, the last destination of our tour. Brian tells us about the logistics of Cape Town. We ride through the Cape Flats section, where there are many new government built houses. People move to one, then move back to their shack and rent out their new house. Cape Town planned to remove the shacks and build a park or other developments. However this was impossible because of the many people living there. In the shacks, water is collected in areas and people come to get it. We see groups of new houses alternating with tiny shacks.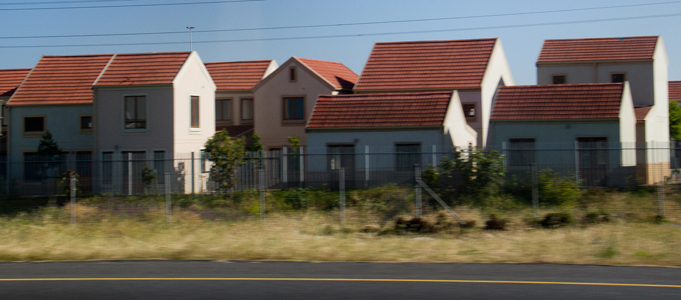 Government Housing
History of Cape Town
The area was originally settled by the San and the Khoikhoi who were nomads. They became known as the Khoisan. In 1488, the Portuguese Explorer Bartholomeu Dias arrived in the area. In 1497, Vasco da Gama sighted Cape Town while he was looking for a route that would lead directly from Europe to Asia. His crew explored the port and continued to sail around Cape Town. As they headed north, the crew said we reached see east side, which they believed was their goal. They threatened to mutiny if the captain didn't head back home. The captain wanted to go on to the East and bring back spices. He eventually got his crew under control and became the first to successfully sail directly from Europe to India. In 1503, Portuguese Admiral Antonio da Saldanha named Table Mountain. For the next century and a half, Europeans mostly ignored the area.
In 1652, the Dutch East India Company sent Jan van Riebeeck with other employees to implement a halfway station for ships to restock perishable goods on their voyages between Europe and Asia. They built shelters, planted gardens and orchards and set up canals using water from the river which descended from Table Mountain. They bartered with the Khoisan for livestock, even though for the most part the Khoisan avoided the Dutch.
Beginning in 1654, the Dutch brought in slaves from Madagascar, Indonesia, India, Ceylon and Malaya. The Dutch used female slaves and local Khoisan for sex and labor. The offspring became the colored population. During Dutch rule the Cape settlement gained the reputation as an unruly port of sailors traveling between Europe and the East. After the 1806 defeat of the Dutch by the British, Cape Town became part of the British Empire. In 1814, it was formally ceded. In 1808, slave trade was abolished and slaves were emancipated in 1833. With the discovery of diamonds and gold, Cape Town lost its dominance but remained a major port.
In 1901, black African workers were blamed for a bubonic plague outbreak. Although these people were not the cause, the government introduced racial segregation. Blacks were moved to the docks and eastern flank of Table Mountain. This started the development of the Cape Flats.
In 1948, the national party victory led to apartheid becoming institutionalized. The already limited rights of blacks and coloreds, including the right to vote, were taken away. Whole communities were cast out and uprooted to the Cape Flats. Cape Town tried to do away with squatter towns which served as points for black resistance. Eventually the government began to upgrade conditions.
On February 11, 1990, Nelson Mandela having just been released from prison, made his first public speech from City Hall where he spoke of South Africa's new era. Since then Cape Town has improved. Property prices increased and the city center became safer and more pleasant. Most of the people living in Cape Flats remain split along race lines and have a low standard of living. During May 2008, attacks against immigrant applicants occurred causing over 30,000 people to take flight. Cape Town reacted positively with compassion. In October, Mayor Helen Zille received recognition as World Mayor.
Today's first activity is to ascend to the top of Table Mountain, weather permitting. When we get close, Brian announces it's a go! The mountain with a height of 3563 feet, is renowned as one of the most impressive views of the continent. It's scheduled as our first activity for Cape Town because it's often not possible to get to the top, due to the weather. We're so lucky! The mountain received its name because its main feature is a level plateau about two miles across. With Devils Peak on the East and Lion's Head on the West, the structures form an awesome backdrop of Cape Town. When joined with Signal Hill, a smaller flat topped hill, this forms a natural amphitheater consisting of the city and harbor.
We go to the next level where we board the cable car and meet our group. The access and the staff are good. The staff makes way for us to board first. Steve pushes me to a spot where I can easily see out the window. The inside of the cable car revolves as we go up, so we have to be careful not to get too close to the side. Another group of people come and push on. A couple who acts as if they believe they're privileged push to the best spot and she even tries to displace me and push into my spot. As usual, I get flustered and begin to stay something, but Steve calms me down.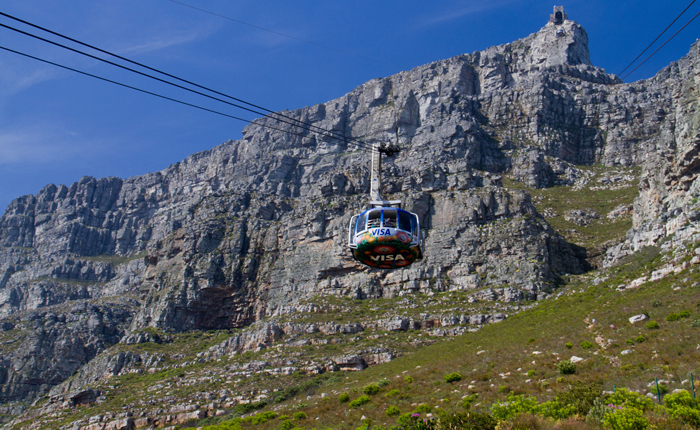 Cable Car to Table Mountain
The ride up is phenomenal! We have a good amount of time to absorb our 360° panoramic view. We take a few pictures of a descending cable car but decide to wait to photograph the view until we can do so without the glass front of us. This cable system has been running for over 80 years. Each cable car has a capacity of 65 people. The maximum speed is 10 meters (10.9 yards) per second. The system can transport 800 people per hour. For my engineering readers, each cable weighs 18 tons and is almost 4,000 feet long. During the windy season, the cars carry over 1000 gallons of water for ballast. Cables are attached to counterweights. Each counterweight weighs 134 tons.
Once we're off the cable car, we find several good flat places. Steve says that pushing the wheelchair isn't very easy, but it's not terrible. I have Steve leave me on a comfortable platform and he goes to explore. I browse the brochure that they gave us about Table Mountain. It says that it's possible that Table Mountain is at least six times older than the Himalayas. About 600 million years ago, it was formed under the sea. Glacier movement made it flat. Tectonic forces made it rise. Originally it was an island until the water receded.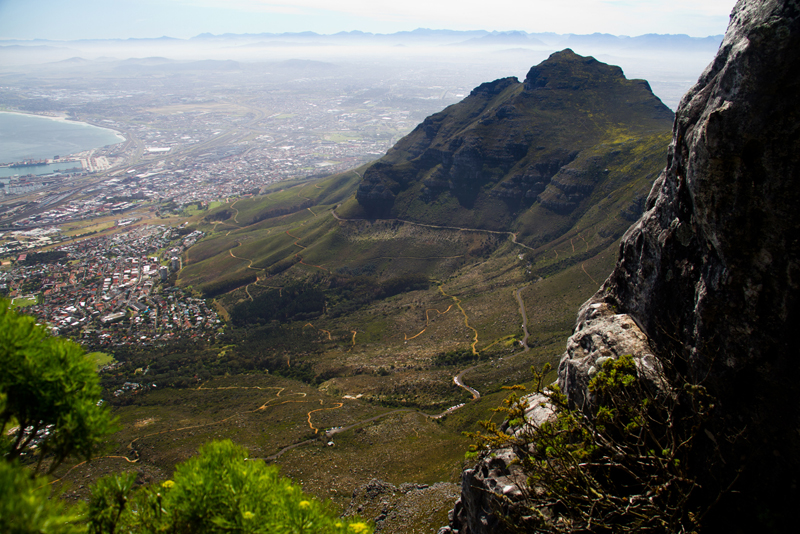 View from the Top
When Steve returns, he tells me there's a better place for me to see the view, so he moves me there and goes off again. I definitely have a better view which includes Robben Island. It's beautiful! I see the city, the harbor, the cable car and cable, the sports bowl, Devils Peak, Lion's Head and much more. When Steve returns, a fellow group member takes our picture against the wall overlooking the city and Harbor. Steve takes several of me and I take some of him.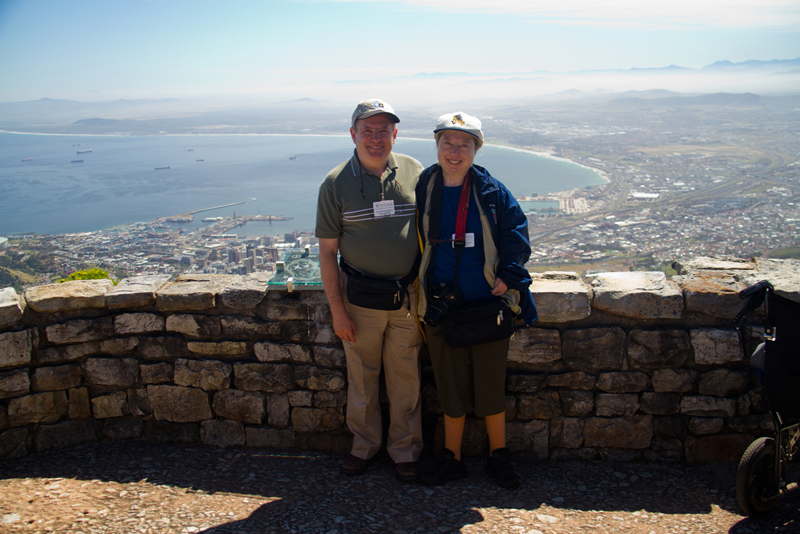 On top of Table Mountain
We board the cable car to go down. Most people exit the cable car on the side set up for exiting. Staff directs us to exit on the side for boarding, so we can get to the elevator to go down to the level from which we can get the bus. There is an accessible bathroom, which I take advantage of. It is set up well, but the flush lever is quite hard to reach. We visit the shops, but find them touristy.
Next we go to AFROGEM, a jewelry shop where we will have an educational tour. When we enter, staff hands us Mimosas which I find a very nice touch. They give us an educational presentation about the quality of gemstones. The presenter tells us that the five precious stones are diamonds, emeralds, tanzanite, sapphires and rubies. I've always wanted rubies. She also reviews how to pick out higher-quality stones, by the four C's, color, clarity, carats and cut. They take us to their showroom. Before today, Steve and I had discussed a possible purchase when we visit gemstone jewelry places. Two places are on our itinerary. I decide that I love the tanzanite and he likes it also. The prices are higher than I expected, but I've come to know that that's not unusual. We buy a pair of tanzanite stud earrings for me and a blue topaz necklace for my sister Jane's Christmas gift.
Back on the bus, Brian hands us each bag which he says is an appreciation gift from AFROGEM. It's a bag of nice, polished, but I'm sure not valuable, stones. Later I learn that they are semiprecious quartz.
We go on a Cape Town overview tour. First we ride down the outer road where Brian tells us Arab dissidents were sent when they were made to leave the city. No mosques were allowed. Finally they were given paint and told to paint in traditional colors. They painted in brash colors which still remain today.
Brian points out the Fireman's Arms, established in 1864, he says it's the oldest continuous running pub. Until the 1980s, women were not allowed. In the phone book, it's number was listed under the owner's dogs' name. Husbands would tell their wives that they were going to the pub and that they should call them there if they needed them. However since the pub was listed under Butch and Vicki, the wives could never find the phone number.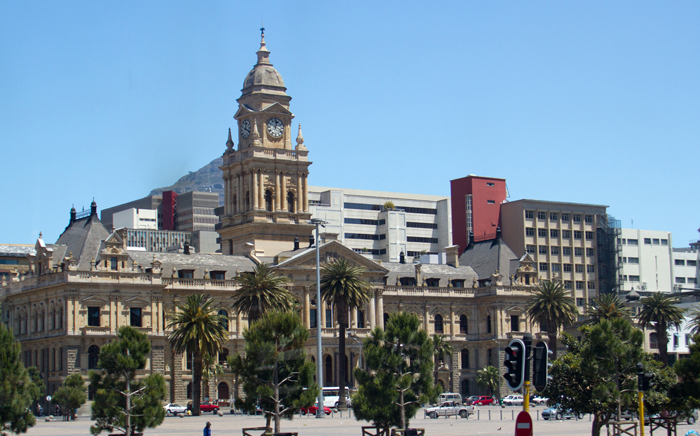 City Hall
We go down Adelaide Road, which Brian tells was named for the man who negotiated with the governor for convicts to be sent to Australia. We pass by the oldest building in Cape Town. The fort was built in the 1600s and called the Castle of Good Hope. Originally built on the beach, today it's inland. Brian tells us that it was only fired on twice, the first time by accident. The second time someone said he could fire on it and tried to do so with help from a friend. He missed but was punished anyway and labeled a rumor monger. Across from the fort is a parade ground where troops are reviewed. The streets are narrow. We see the Mother Dutch Reformed Church. We go by a building which Brian says was called the slave house, where they locked slaves at night and hoped for lots of little slaves to be created. We pass Parliament, Bishop Tutu's church, gardens, the National Museum, the Planetarium and City Hall. Brian tells us that the Mount Nelson Hotel has a high tea. He says that the Holocaust Center is one of the largest in the world. There used to be three parliaments, one for whites, one for blacks and the third for Asians.
Brian offers us several opportunities to get off the bus. One, in which Steve was interested is a photo stop. Unfortunately Brian didn't hear Steve, but Steve says it wasn't a big deal so he didn't speak up louder. Another stop was for approximately an hour walk through the gardens. Again no one wanted to go. As we get near to our hotel, Brian tells us that the hotel provides shuttles to the waterfront.
We go into the Cullinan Hotel, where we'll be staying. They greet us with juice and a snack. Our room is nice but small, with a double bed. Our afternoon is at leisure and we decide to relax, settle in and take a nap.
We have dinner in the hotel's Peach Tree Restaurant. As usual it's a buffet, but this one is very interesting and good. They have fresh fish which they cook according to one's preference. I have salmon with garlic sauce and calamari, small portions of a good number of side dishes and dessert. It's so nice to eat this wonderful nicely presented fresh food in good light in which we can see what we're eating. Several people bring wine to dinner and we buy a shiraz which we really enjoy.
We return to our room and my gastroparesis hits. This is a condition where my stomach backs up which makes me nauseous. It's almost always followed by vomiting until my stomach empties. Because I haven't digested my food, my blood sugar goes low and I have to check it often. Eventually digestion begins and then my blood sugar goes high. It makes for an uncomfortable night with sporadic sleep.
Day 15: Monday, October 29
When we wake up, I decide to skip today's early outing. As usual with my gastroparesis, my blood sugar level is running quite high. I want to get it under control and that will be easier to do in the comfort of our room. Steve goes to breakfast and brings me back a banana for later. I am feeling better but since I was up once every hour for most of the night, I'd rather skip Robben Island. I know it will be an emotional excursion and right now I need calm. I go back to bed and sleep until Steve returns.
When Steve returns, he tells me it was too windy to make the trip to the island. Robben Island and the visit to the diamond store are postponed until Wednesday. The optional tours for Wednesday are canceled because there were not enough participants. We were scheduled on the medicinal tour, so we're disappointed that we won't get to do that.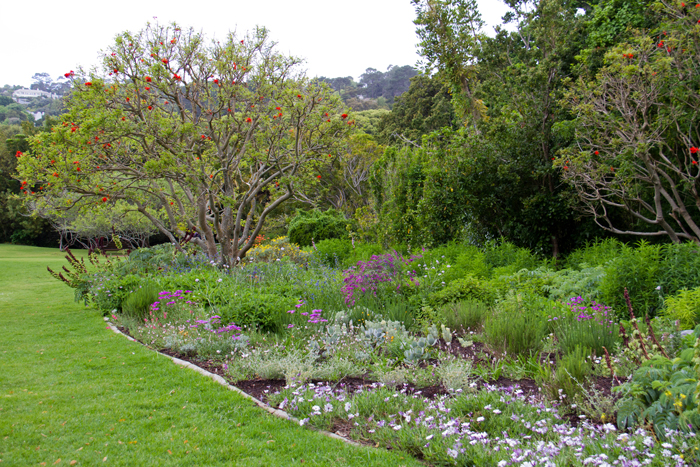 Kirstenbosch National Botanical Gardens
Today Brian took the group to the Kirstenbosch National Botanical Garden. This would have been part of the optional tour which we had scheduled. Steve took many pictures and they are beautiful. I'm sorry I missed it. Founded in 1913, only indigenous plants are grown. Its purpose is to preserve the country's flora. He picked up a brochure and I can somewhat follow what he saw.

Aristea
The gardens have plants from different regions. I especially like his pictures of fynbos, shrub land vegetation. This includes protea which appear to me to be like shrubs, ericas which are heather-like plants that flower and flowering plants. It has flowering shrubs mixed with green shrubbery. He has beautiful close-ups of aristea, bird of paradise, pincushion protea, a tree that looks like a head of broccoli and Cape asparagus, a relative of the asparagus we eat. The inside square appears to be centered around a baobab tree. It has plants from the area of Karoo which contains both semi desert land and savanna that is grassland with trees spaced so that the canopy allows another level of flora to grow on the ground.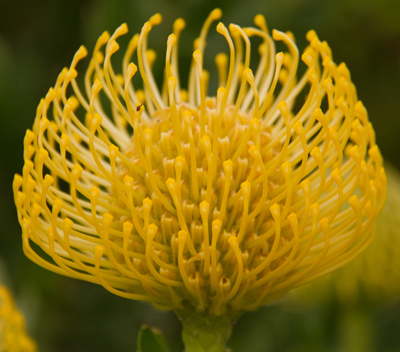 Pincushion Protea
Around the outside of the square, areas of five types of plants are located. Ferns require humidity and are typically found on the forest floor. The bulbs display comes from the conservatory's collection of over 500 species, some of which are ancestors to many of our common garden plants. Coastal fynbos grow in the low-lying areas of the Western Cape. The welwitschias area contains unusual plants which bear cones. These are found only in the Namib Desert. Special well-drained, mineral rich desert sand is used to meet their specialized growth requirements along with heating cables. An area of stone plants contains small succulents that look like the stones which they live beside.

Egyptian Geese
Caterpillar
There's also a section of art. Steve took a picture of a stone sculpture that looks like a leopard capturing a small antelope type animal. Later I read that Kirstenbosch exhibits Zimbabwean sculptures. He also saw a number of interesting animals. We like his pictures of the helmeted guinea fowl, and orange white and brown Caterpillar and Egyptian geese. They also visited the wetland and natural forest area.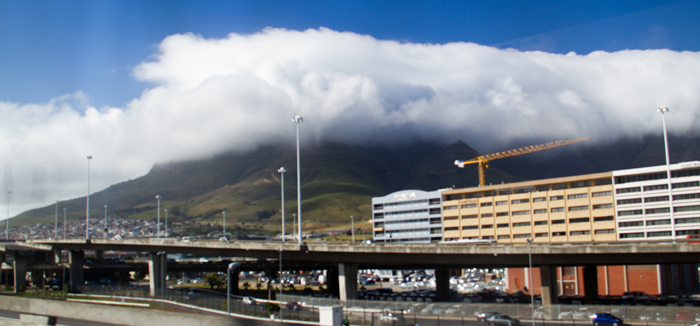 What Table Mountain usually looks like
The final picture he took shows how lucky we were yesterday. He calls it "what table mountain usually looks like"; very clouded over. From the road, you can't even see the top.
I'm ready to go out but Steve wants to do a few things first. We've been hearing about a hurricane named Sandy heading for the East Coast of the United States. At this point it's unknown where it will land, but our home state of New Jersey is within its reach. He goes online to monitor then checks email. He didn't get a good night sleep last night either, so he takes a nap.
When we're ready to go, we take the shuttle to Victoria and Alfred waterfront. I wonder why the waterfront is called Victoria and Alfred, not Albert. I find out that it was Prince Alfred, the second son of Queen Victoria, who began construction of the harbor in 1860. The shuttle ride is nice. The waterfront is picturesque, but it's cold outside. We go to the mall and walk up and down its main and the side aisles. At first the mall doesn't look big to us, but the more we walk the bigger we realize it is. Steve buys a nice windbreaker/jacket, a Canterbury, to replace the one he lost while at Kruger.

Victoria & Albert Waterfront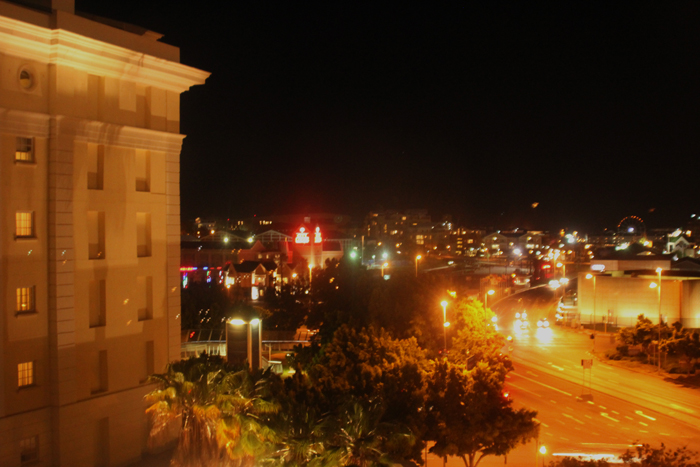 Cape Town from our room
We get hungry and find a nice tapas restaurant on the second floor, Salero: Tapas & Vino: Restaurant & Café. We have a nice view of the waterfront. We order prawns in a ginger garlic sauce, grilled calamari, nacho chips with avocado and tomato, and grilled artichoke with mozzarella. We try and enjoy a Chenin Blanc. For dessert we get two puddings, an African and a chocolate, a glass of port and coffee. We enjoy everything; especially being served dinner.
We get back to the shuttle easily with plenty of time. When we return to our hotel, we meet others in our group and chat about our afternoons. Back in the room, Steve takes pictures of our view. Then we monitor the storm. It's getting ominous.
Day 16: Tuesday, October 's 30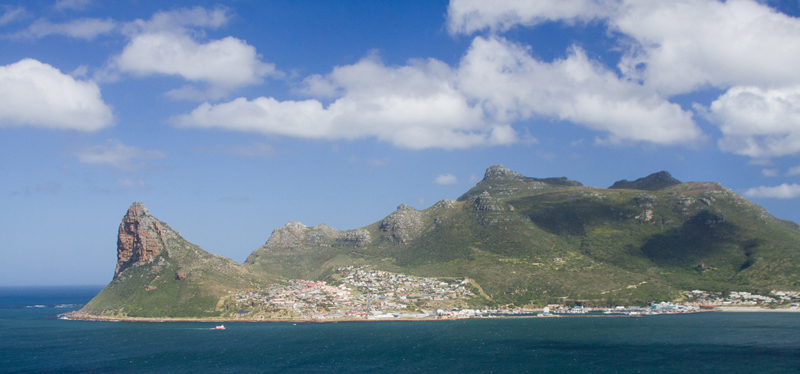 This community can only be reached by boat
Today we have a full day tour of Cape Point. Cape Point is the meeting place of the Atlantic and Indian Oceans. Most of our ride to get there goes through the beautiful Table Mountain National Park. Brian is very well versed on this area and I do my best to jot down what he tells us. We ride through beautiful Sea Point and inland to an area with some of the most affluent homes in Africa. Steve gets off at the stop at Camps Bay where the average home costs approximately $750,000 per square foot. Usually people retire here so they only want two bedrooms. Most houses are small. We drive south along the beautiful coast past Table Mountain and the next mountain with many peaks referred to as Twelve Apostles Mountain. There's actually 17 peaks but ships which passed them in dangerous conditions said they were saved by the 12 apostles. We pass a community which can only be accessed by boat. We see what looks like a castle or fort nestled in the mountains, a large lone brown structure with a tower.
Brian tells us that these coastal waters have many animals including great white sharks when seals come. There's a good kelp bed here where small fish breed. The kelp protects them from large fish. The water has two currents. A warm current comes down from the equator. It averages about 60 miles wide and is approximately 82° to 76° F in the winter. The other current is from the Antarctic, called the Benguela current with a temperature of 50°F. This is one of the most difficult places to sale. At high tide, many rocks are covered just below the height of the water. Oil slicks occur.
Brian points out a community where many stars and rich people live. He tells us Sylvester Stallone has a house here. We drive through some of the Hout Bay section and along the bay. Hout is the word for wood. In 1652, when the Dutch established a colony on the bay, they needed much good timber which was not available in this area. They had to go elsewhere. The population is considered a microcosm of the country because it has a mix of poor people integrated with rich. Fishermen live on the mountains. The fishing trade passes from father to son.
All of this area is part of the National Park. Many private homes were built and they wanted to link up into one channel. It's illegal to kill animals even if they attack you. At one point we realize that I don't have my battery in my camera. It's actually a nice break not to have to wear it the whole time. Steve uses my lens because his wider lens broke yesterday.
Brian tells us that black African people call white people malonga. This has different meanings. For the Zulu it means learned friend. To others, it means white foam or scum on the ocean.
We ride up Chapman's Peak Drive. Falling rocks are a problem. The peak is actually made of soft sandstone. The government put up quite a bit of netting to hold it, called catch nets. Regular cleanup is required. We can see layers of the rock. It's a steep climb downward. We see horses down on the beach with riders. Brian sees a shark close to the shore but we don't see it.
We drive along the western side of Sun Valley. We pass people selling harvested wood from "alien invader" trees from Australia. Brian talks about the Cape floral kingdom of which there are 9,600 species in .04 % of the world. Seventy percent are endemic, only found here. This is three times the amount of diverse species as in the Brazil rainforest. Some are fire driven species, seeds only germinate when smoke is present.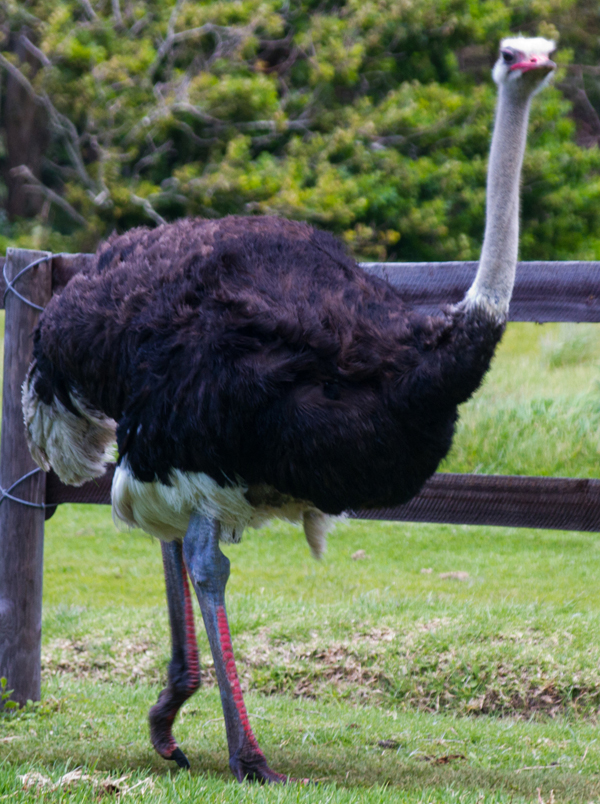 Cape Point Ostrich Farm - adult male
Next we come to Misty Cliffs so named because they're almost always misty. Below them are beautiful white sand beaches. We're lucky that today there is no mist. South of Misty Cliffs, we see Scarborough, the last settlement before the Cape of Good Hope. It's a village of about 400 homes. They have wire mesh on the windows to prevent baboons from entering. They put two brown handles on their doors because baboons can't reach both at the same time.
The scenic road now goes inland. We pass Good Hope Nursery. The government sponsors nurseries so people don't dig trees up from the National Park. Prices are kept low enough so people use nurseries.
We arrive at Cape Point Ostrich Farm. A staff member gives us much information. An ostrich is a large flightless bird native to Africa. It can run up to 43 mph, the fastest land speed of all birds. Ostriches have a fawn color with dark brown spots when they're born. They turn color at 14 months. Males become black and females grey. Large birds grow up to 6'6". They weigh up to 320 pounds. Male ostriches grow from 6'11" to 9'2" in height and females range from 5'7" to 6'7". They walk on two toes. Our speaker uses a skeleton to show us different physical features. They prefer open land and live in savanna, semi-desert or desert. They eat mostly plants but can eat invertebrates. They can go without water for several days. Ostriches of all ages face many predators in the wild. These include cheetahs, lions, leopards, wild dogs and hyenas. Since ostriches can out run all but the cheetah, most predators use ambush and hide behind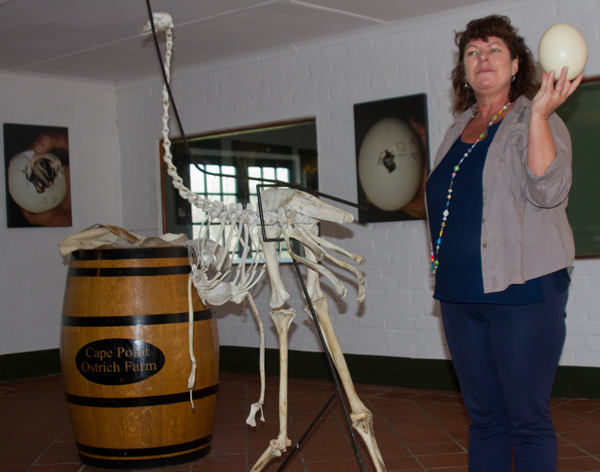 Ostriches 101

vegetation or other objects. Predators which seek out young ostriches and nests include birds of prey, jackal, warthog and mongoose. Parents try to create a distraction or ferociously fight. They have even been known to kill lions, their largest predator.

In the wild they live in nomadic groups of 5 to 50 birds. When threatened they lie flat on the ground or run away. They do not bury their heads in sand. When cornered, an ostrich will use its powerful legs to kick and can cause serious injury and death. Territorial males fight for two to seven females, but only form a bond with the dominant female. Ostriches reach maturity at two to four years with females maturing about six months earlier than males. Mating season begins in March and ends before September. Females lay their eggs in a communal nest, a pit which the male has dug, about one to two feet deep and almost ten feet wide. The dominant female lays her eggs first. When it's time to incubate them, she keeps about 20. If there are too many, she removes eggs of the other females. Eggs can be up to five pounds, but average about 3.1 pounds, measuring 5.9 inches long and 5.1 inches wide. This makes it the largest egg of all living birds. Our speaker shows us a large egg. In the wild, both parents sit on them, females during the day and males at night, using their color to help camouflage them. Incubation lasts 35 to 45 days. In the wild, fewer than 10% of nests survive incubation and hatching. Although the male defends hatchlings and teaches them to feed, females and males both raise the chicks. Only about 15% of the chicks live to one year. Once they make adulthood, ostriches are one of the longest living birds. In captivity, they've reached over 62 years.

Our speaker says that ostriches produce the second strongest leather in the world. Most of the ostrich's weight comes from its feathers. She holds up a large piece of leather and demonstrates that she can't rip it. It requires specialized processing which makes it costly. It's unique in that it has raised points, which were quill follicles, located in the center of a hide called the crown. On both sides of the crown the skin is very smooth. The crown is the most valuable part of the leather.
Babies
Next she talks about the farm. Established in 1996, the original owners Dr. and Angelika Coelle developed it into a breeding farm. Today it is managed by their children. The staff takes the eggs when they're laid because ostriches don't incubate them until they have laid quite a number. After a certain number of days, an examiner holds each egg up to the light where she can see if there is a baby inside. The farm has about 40 breeding birds which live in camps. Camps are groups of ostriches of different ages fenced into an area.
Next we go into the nursery, where we see quite a few small chicks. They're cute and I think they're somewhat interested in us as we watch them. They have small orange tags on a band around their neck. We go through the gift shop. The leather products are quite nice but we don't find anything that we want enough to pay the price. The eggs have been cleaned up and decorated to make them beautiful, but it's illegal to bring them back to the US. We pass through the restaurant but unfortunately were not having lunch here. We'd be interested in tasting ostrich, but there's not enough time to do that and see the rest of the farm. Ostrich meat is one of the healthiest of red meats.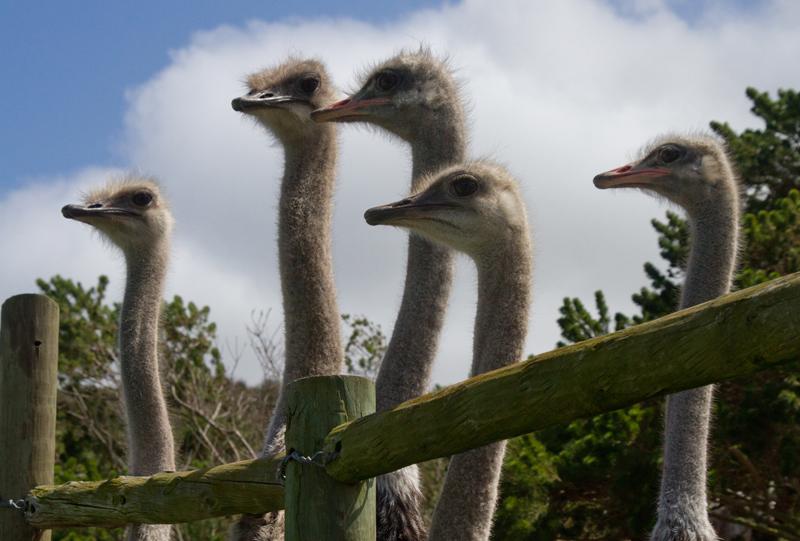 Curious Ostriches
We proceed outside. There are several steps along the way. In back of the building, we see one fenced in area which has a good number of ostriches, perhaps a dozen or more. About five come over to the fence and we take some pictures. Out in front of the building, there's a fenced in area which has a male and female bird. During the presenter's talk, she referred to them by their names. They roam around, at times seeming interested in us. Most of the time, they don't react to us at all. Ostriches are odd looking birds and I find them fun to watch and try to get an interesting photograph.
Back on the bus, we ride along the picturesque Cape Point Road which runs from the ostrich farm to Cape Point. Much of the time we can see the coast. The Cape Peninsula area consists of three main cliffs over 656 feet above the sea, Cape of Good Hope, Cape Maclear and Cape Point. It was made a natural reserve in 1938 and in 1998 it became the Cape Peninsula National Park. In 2004 they changed the name to Table Mountain National Park. It contains over 19,000 acres including 25 miles of coastline.
Our Group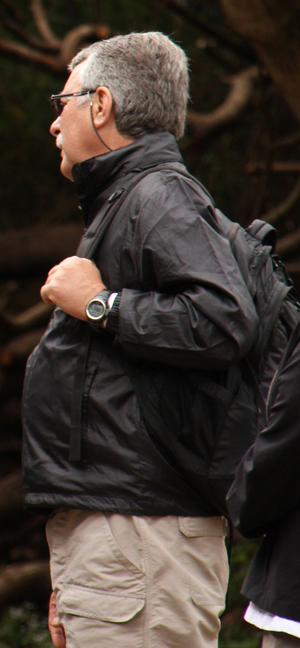 Brian
We drive to the Cape of Good Hope. The sign says that it's the most south west point of the African continent. Brian gives us a choice of waiting for a hired photographer to take our group picture or of him taking the picture. He says that the wait will be a while and there's much more interesting places to see along the way. While we're sorry that he won't be able to be in the picture, we're happy to avoid the waiting time. It's fairly cold here so two people don't even get off the bus. He asks to use one of our cameras. We hand him Steve's and so does at least one other person.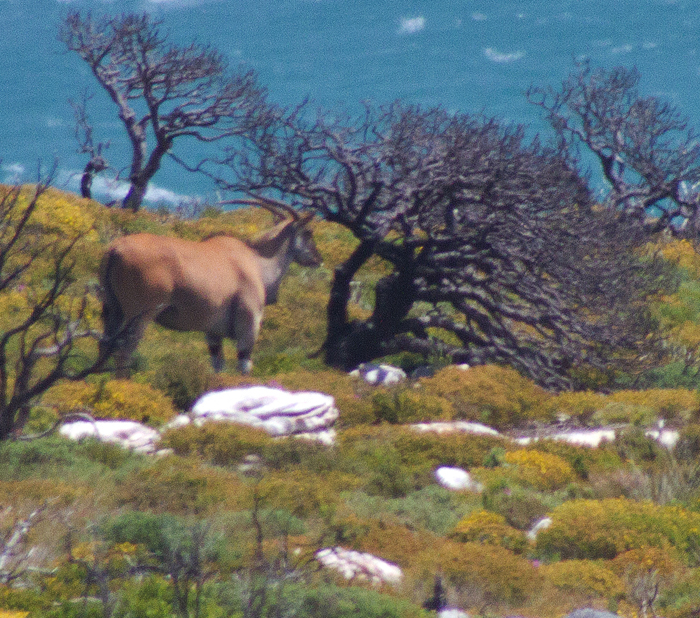 Eland
On our way out the Cape of Good Hope, we see an eland. Brian tells us that they are the biggest of the southern African antelopes. Most males grow to a shoulder height of approximately five feet and females to 4'4". They can weigh up to 2,077 pounds with an average of 1,200 pounds. The one we see is tan, so it may be a female. The coats of males are darker with a bluish grey tint. It could be a young male because I see a dewlap on his throat. A dewlap is a bulge of tissue. Both sexes have spiral horns but a male's is thicker and shorter, while females have a tighter spiral. The horns of this one are fairly straight. Elands are the second largest antelope in the world. They can reach a speed of 25 mph, making them the slowest antelope, but at this speed they tire quickly. Their usual speed is about 14 mph and at which they can go indefinitely. They can jump up to 8'2".
Elands prefer to live in grasslands, savannas and wood lands. They eat mostly vegetation, primarily grasses and leaves. Typically, they eat in the morning and evening and rest in the shade during the heat of the day. The one we see is standing under a tree somewhat close to the ocean. They can conserve water by raising their body temperature. Most of their water comes from their food.
They usually live between 15 and 20 years in the wild. Predators include cheetah, lions, hyenas and wild dogs. While elands are not endangered, the population has gradually decreased because of habitat loss and poaching. They tend to be docile so they can be killed easily. About half of the population lives in protected areas. Some have even been domesticated. At times, elands are farmed and hunted. The meat and milk can be more easily produced than cattle because it's more suited to the climate. However they can jump over fences up to 9'10" or break through them. This makes it difficult to house elands. Wild elands have been known to break into enclosures to be with domestic elands. In captivity, survival tends to be low.
In the wild, herds can have up to 500 members but sometimes gather in the thousands. Young elands and their mothers usually form larger herds. Males live in small groups or wander by themselves. They communicate with loud barks, gestures and scents. Herds make a loud clicking sound. When walking their weight causes the two halves of their hooves to spread. The click occurs when the hooves' halves come back together as the animals raise their legs. The sound also may be a form of communication.
Females mature between 15 and 36 months but it takes males 4 to 5 years. Mating occurs in the rainy season. Birthing occurs during the next mating season. Gestation period lasts nine months and one calf is born after about 24 hours of delivery. The mother and calf join the nursery group. Calves make friends with each other and continue to live in this group while mothers go back to the female group. When they reach a minimum of two years of age, elands leave the nursery and join a group of their own sex.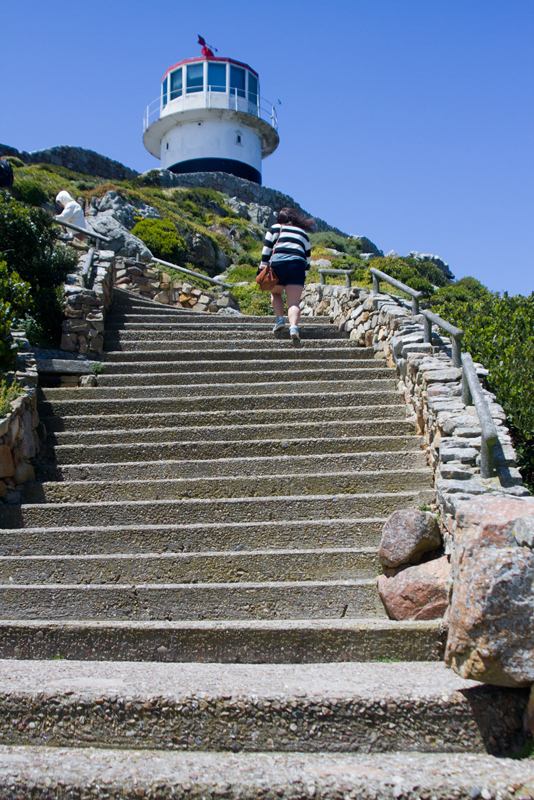 Steve climbed to & in the Lighthouse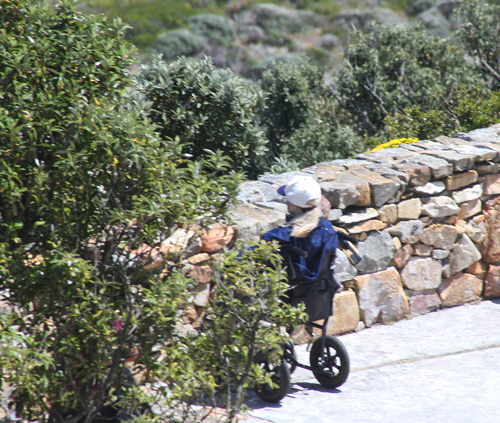 I wait below
Back on the road, we travel to Cape Point. We ride up to the flying Dutchman vernacular which has good access. Steve climbs the many steps to the old lighthouse while I wait at the look out below. Both of us have spectacular views. I just sit and admire the beauty of the waves crashing in to the rocky coast. I'm finally seeing the Indian Ocean, where it meets the Atlantic! The lighthouse is on the higher of two peaks. A new lighthouse was built at a lower elevation because (1) the old lighthouse was seen too early by ships and caused them to approach too closely and (2) fog occurs at the higher level which can make the old lighthouse invisible to ships. On April 18, 1911, the Lusitania experienced the latter condition and was wrecked. This precipitated building the new lighthouse. We see mostly Peninsula Sandstone Fynbos which grow in poor acidic soil unique to the Cape Peninsula. To me, some of it looks like a thin jade plant with red edges. This used to be a place where Antarctic icebergs were seen occasionally. There have been no recent sightings, which is attributed to global warming.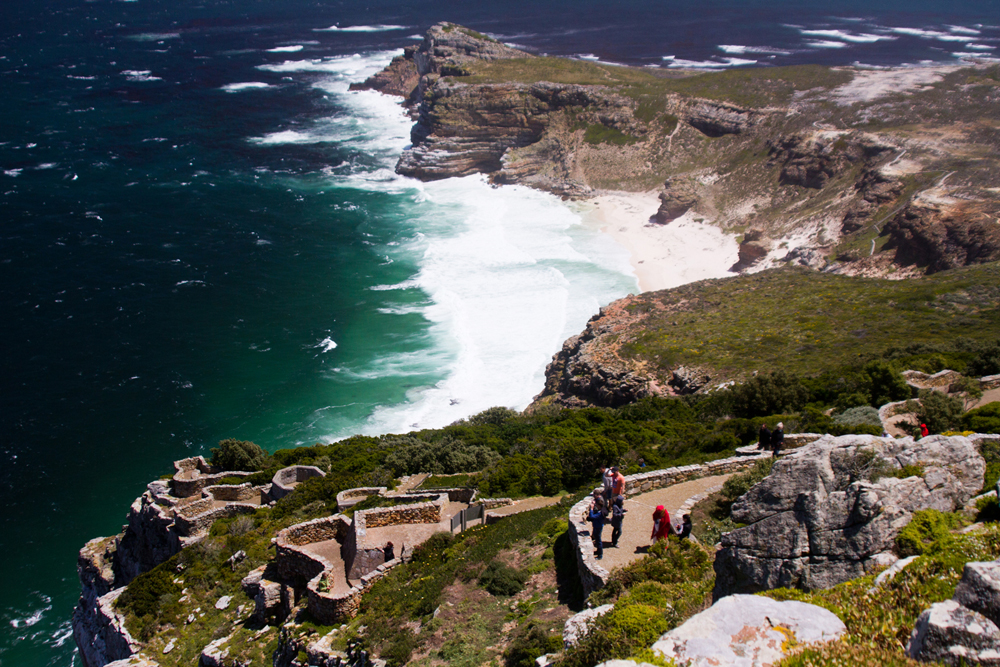 My awesome view
We have lunch with several people from our group. Service is slow and Steve's lunch arrives five minutes before it's time to go. I wish we had eaten at the ostrich farm restaurant.
Back on the road we head to Boulder Beach Penguin Reserve. In 1982, the penguin colony started with two breeding pairs. It's grown to approximately 2,200 African Penguins. False Bay which borders the colony contains pilchards and anchovy which the penguins eat. The beach has small sheltered bays and granite boulders 540 million years old close by. On the ride there, Brian tells us that the colony was here first, then people came to the area. The colony dwindled but then came back with immigration from other areas and reduction in commercial fishing of their food. The South African government placed some restrictions on fishing near breeding colonies.
When people came to the area and built homes, the penguins went into the houses, pools and gardens where they made a mess, destroyed undergrowth and annoyed people with their noisiness. The Cape Peninsula National Park designated one beach for the penguins and restrained them with a fence. Another problem occurred. When they nest they dig a hole in the sand but it collapses. They adapted by using their guano to fortify their nests. However people removed it because it makes good fertilizer. This problem reoccurred. People helped resolve this by supplying plastic containers, which the penguins are happy to use. African penguins are considered an endangered species. In 1910, the population was estimated at 1.5 million. By the end of the 20th century it decreased to 150,000 due to harvesting of eggs and guano scraping. Oil slicks also kill African penguins.
The penguins were called jackass penguins due to the sound they make but have been renamed to African penguins because other penguin species in South America make the same type of sound. They are the only species of penguin which breed in Africa.
We ride through Simon's town which is a Navy town. We walk through the town to the reserve's boardwalk which gets us really close to the penguins. The penguins are small and not as active or entertaining as the ones we saw in Antarctica. It seems odd to see them with greenery around. They have pink on their faces. While they're more sedate, they do entertain. There's a good number of people around today but they pretty much ignore all of us. Now we've seen eight of the 16 species of penguin in their natural habitat. Of course, we take lots of pictures. They are cute with their pink coloring.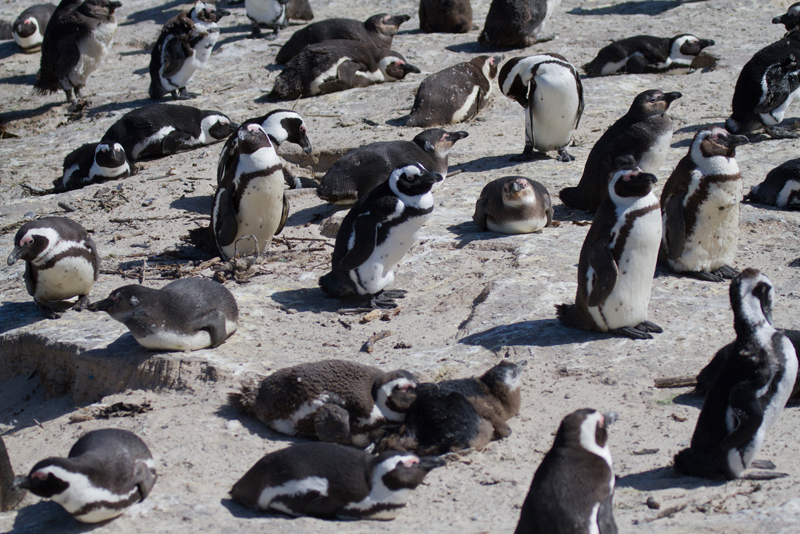 Penguin Reserve
Unfortunately access down the boardwalk is not good. We encounter sand in a few spots, enough that we need help getting my wheelchair through it. Brian and another tour member assist Steve while I try to move my body weight to help propulsion. There is a restroom for disabled people in the reserve. It has good access except that the cleaning lady locked herself in and I have to wait quite a while to use it. If we weren't with a group and on a schedule, it wouldn't have been a big deal. This seems to be a fairly busy time, so it seems they could clean at a time when it's not so busy.
African Penguins grow up to 27 inches tall and weigh up to eight pounds. They swim at an average rate of 4.3 mph and can stay under water for two minutes. I think they look like Magellan penguins, which we've seen but not up close. Each penguin has a black stripe which arches over its belly and black spots on its belly. The pattern of the spots is unique to each individual. They have pink color on their faces which is made by glands used to regulate their body heat. Hotter temperatures cause the glands to become pinker.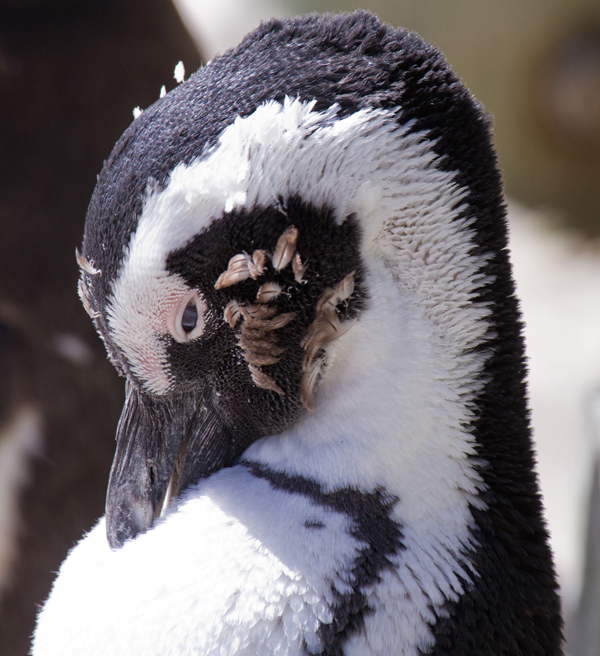 Spot patterns are unique to
each bird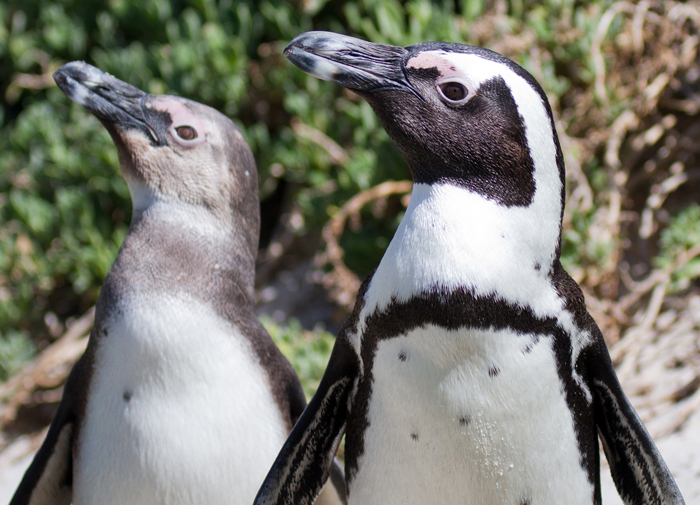 Penguin Pair
These penguins live along the Southern African coast. Besides the colony we are visiting, they also live on Robben Island and on the coast from Namibia to South Africa, mostly on offshore islands. Nelson Mandela wrote "we laughed at the colony of penguins, which resembled a brigade of clumsy flat-footed soldiers." Boulders Beach claims to be the only place where one can swim in the midst of the penguins. This species was the first type of penguin documented by Europeans. In 1497, an explorer wrote that he saw "birds as big as ducks, but they cannot fly... These birds, of whom we killed as many as we chose... bray like asses."
They eat squid and shoal fish including the aforementioned pilchards and anchovy. They usually travel about 20 miles on their foraging trips. They can swim up to 100 miles round-trip but usually stay close to their colonies. African Penguins live up to 25 years in captivity but usually 10 to 11 years in the wild. Enemies include sharks, Cape fur seals, killer whales, mongoose, genet, domestic cats and dogs. Kelp gulls steal their eggs and newborn. Their white underneath serves as camouflage for predators in the water looking up and their black hides them from animals looking into the water. They defend themselves with their sharp beaks.
African penguins live in colonies. As monogamous birds, they return to the same site every year. They usually nest from March to May during which time they lay a clutch of two eggs. Both parents incubate the eggs. They hatch in about 40 days. Babies are blue grey. Both parents take turns regurgitating food for the chicks. Parents leave them after 30 days when they can regulate their own body temperature. The chicks congregate in crèches. Young penguins moult and grow their black and white plumage in 1 to 2 years. They mature at about four years when they return to their natal colony and start mating.
Moulting time is in December. Moulting  occurs when old feathers are replaced. The penguins lose their waterproofing and have to stay on land for about 21 days. They fatten up by about 30% of their weight before because moulting is a period of starvation during which they lose about half of their weight.
We return to our bus, walking through some of Simon's Town streets. I fall asleep on the way back to the hotel. It's been a busy day.
When we get back to the hotel, we check on the forecasted hurricane Sandy. We can't connect to home, so it looks like we lost power.
We go to the Italian restaurant pizzeria for dinner which is one block behind our hotel. Brian recommended this as a good restaurant close by. While we're waiting for our food, Brian comes in with his brothers. Now we know that he really endorses this restaurant. We enjoy pizza with prawns and Pinotage wine. I have an Amarula coffee for dessert. We eat with a few people from our group.
Back in our room, we check the news. We hear that it looks like JFK airport will reopen tomorrow. That's a relief.
Day 17: Wednesday, October 31
We have another early morning because we're scheduled to take the early ferry to Robben Island. Our bus can't get close to the Nelson Mandela gateway due to construction. The walk between our dropped off point is accessible except for one patch of slate. Luckily there's a small area to the side which is flat. The ferry staff takes me and Steve on first. By the time our group comes aboard, the area closest to us is full. I am in a special area for wheelchairs and strollers. Steve has to sit across from me, not by a window. I just hope we can get off with our group. We have about a 40 minute ride. Brian says I can transfer to a seat but I think my view is good. I want to be ready to get off as soon as possible, so we don't get separated from our group.

Robben Island
The ferry shows a video about Robben Island, but it's too noisy for me to hear. The screens are far away, so it's also hard to see. We arrive at the island and get off easily. The crew assists us. Brian gets our group on one bus with some others mixed in. We tour the island on the bus for about 45 minutes. Nelson Mandela was imprisoned here for 18 years. It was used as a prison from the late 1600s until 1996. In 1845, the British moved lepers here. In 1961, it became a maximum security  prison for political prisoners and convicted criminals. In 1999, it was declared a world heritage site and is open whenever the weather permits.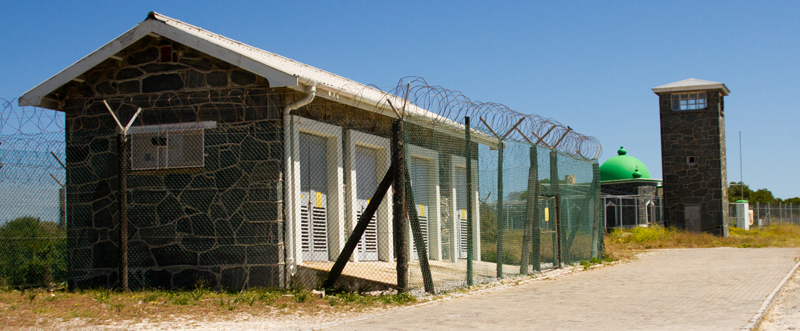 Outside the Prison
Our guide points out significant buildings. We see some administration buildings, the guardhouse and guard tower, a mosque, the cemetery, and the church.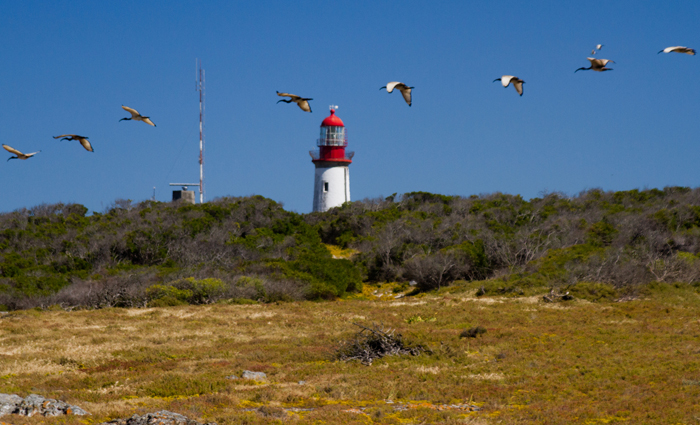 Island Lighthouse
We make a photo stop from which we can see the lighthouse built in 1864. At 59 feet high, we get a good view. The birds cooperate and fly between us and the lighthouse. Steve gets a nice picture. In 1938, it was converted to electricity and is the only lighthouse in South Africa to use a flashing light instead of a revolving light. It can be seen for 24 nautical miles.
We see the limestone quarry which was used for manual labor. The prisoners had to chop the limestone, move it from one side of the quarry to the other and carry it back the next day. The only objective to this work was to demoralize the prisoners. Later I read that the prisoners excavated the cave which they used as a bathroom, break room and lunch area. Most importantly,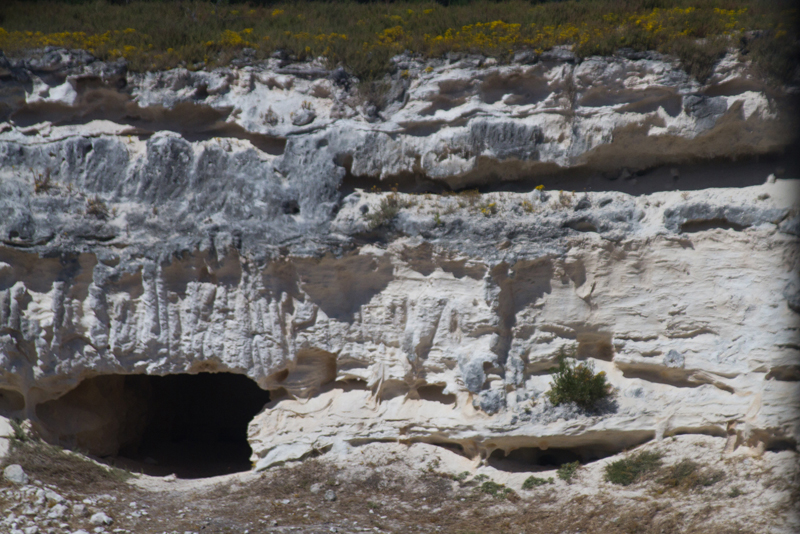 Quarry

Mandela and other leaders met there to plan the end of apartheid.

Mandela's desire for knowledge led him to create a school in the quarry. He was able to send requests for books to the Red Cross and other sympathizers. He obtained books of literature, history, mathematics, politics and philosophy. Each prisoner was assigned a text which he was required to read and understand. Afterwards, he developed and delivered a seminar to his fellow prisoners. This became known as the University of Robben Island. At first the seminars were kept secret because if caught with a text or avoiding work, prisoners would be punished. Over time, the guards who were mostly uneducated and bored became interested and wanted to listen. In his biography, Mandela says that many prisoners earned multiple degrees.

We get off the bus and meet our next guide. All of the guides had been prisoners on Robben Island. Ours uses a crutch. Unfortunately, we're way in the back of the group. When we get to almost where I can see him, someone steps aside but another woman moves into the spot. This happens twice and I say something but she's oblivious, just trying to get her best shot. She doesn't even have a good camera. We see the courtyard where Mandela had his garden. We go into the gym, where our guide gives most of his presentation. He tells us that most communication was passed between groups in the kitchen where representatives from all of the groups worked. He explains food rationing. Blacks got the smallest portion. Asians and colored received a little more and they shared.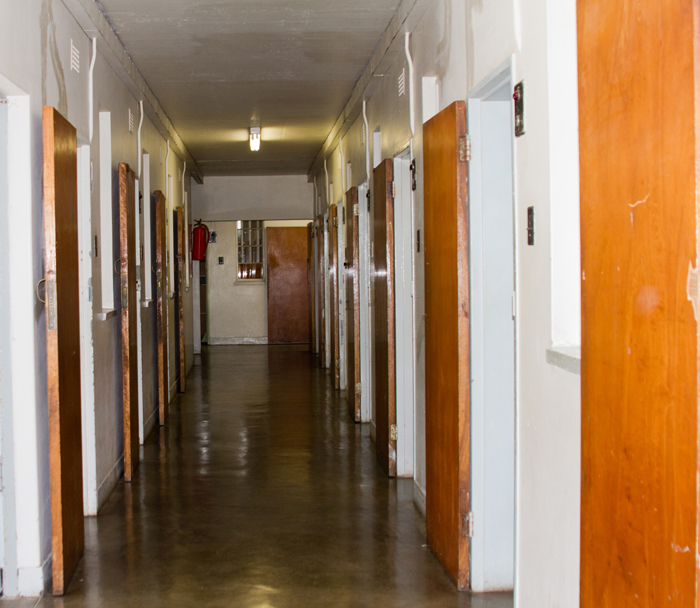 Prison Hallway
We begin to go inside but our guide tells Steve to take me and the wheelchair out and wait for the group because the wheelchair lift is broken. I tell Steve to go with the group and come back for me later. It takes a while for me to persuade him, but he does. In a brief time he returns and says there are only a few stairs which are not very big. We rejoin our group to see the prison cells. They are small, one person each. Each cell has a picture and a story inside of it. There's not enough time to read them all but I'll recount the ones I did. One is about how they put something in the food which caused young men to do sodomy. Some prisoners did everything they could do to prevent this. Another story says that all prisoners helped each other. When one got depressed, he had enough support to bring him back and get him to carry on.
We see several prison buildings. The last one was the nursing home. Since sons often followed their fathers in protesting apartheid, many fathers of prisoners were in the nursing home. The political opposition passed down through the generations.
On our way back to the ferry, we stop at the toilet marked for people with disabilities. It is well set up. Except for the bus which had an international access symbol, a few stairs and the bumpy exit, access was good. We board the ferry with everyone else. There's no accommodation for early boarding. Once we get to the boarding ramp, the crew keeps everyone behind us at the foot of the ramp until we have cleared the ship's entrance way. I sit in a seat with my wheelchair behind us in the designated area. The general mood on the ship seems quite somber. I feel so moved that I can't even put my thoughts into words.
We sail back to the Victoria and Alfred waterfront. Brian told us to meet by the clock tower. It's large and we wait where we're supposed to for a little while but then decide to go and make sure our group is not on the other side. We find them there.
We go to a diamond presentation, but it's hard to hear. We see jewelers cutting diamonds. The pamphlet they gave us says that the person who molds various metals into jewelry is "The Goldsmith". The showroom is impressive. We look to see if there's something to match the earrings that Steve bought me but everything is in white gold. Fellow tour members joke with Steve and me that I need a matching piece. We're grateful that the salespeople don't do a hard-sell. We see one bracelet, with large tanzanite stones. It's beautiful but the price is that of a house.
We decide to stay at the waterfront and we walk around. We don't intend to eat but we see a Belgian restaurant, Den Anker. We've never had Belgian food so we decide to check it out. We order appetizers, wine and dessert. We sit outside, just relaxing and enjoying the view.
Before we go back to the mall, to get the shuttle back to our hotel, we take a few more pictures including one of the huge Lego's man built for the Olympics. As we're walking around, we see a few of our fellow tour members.
Back at the hotel, we logon. It appears that our house in Toms River, NJ still has no power. Laura, our house sitter, sent us a Facebook message saying that a tree fell on our house. Wires are down on our property, our upper deck is gone and the roof is damaged. Our friend Connie sent us a few pictures of the damage. We call our insurance and report what we know. They ask us if we have anyone who can put a tarp over the roof. I tell them no. Even though we're continents away, our insurance company won't send someone to do what they tell us they want us to do. We spend time trying to contact other people. Via Facebook, we ask our friend Bob to check the damage. We also post questions asking for tree removal recommendations.
We go to our farewell dinner. They serve us salad with an avocado appetizer and lots of wine. We have a buffet dinner. Brian makes remarks about how well our group got along. Between the appetizer and dinner we say a special thank you to Brian and tell him how we appreciate that he always showed us the accessible route. He tells us don't ever stop traveling. We tell him that we don't intend to and I explain why we don't wait to be the last off the bus (because either we get left behind or we hold up the group while they wait for me to get in my wheelchair). He says don't change anything about the way we handle our needs. No one complained.
We enjoy the buffet dinner and dessert. One member suggests going for an after dinner drink, Amarula. Another group member joins us. Brian joins us and shares more fascinating and enjoyable stories.
We return to our room and logon. One of Steve's Facebook friends has sent us a recommendation for a tree removal service. We pack as much as possible and go to bed.
Day 18: Thursday, November 1
We wake up 15 minutes before our alarm is set. After we finish packing, Steve logs on. We have two more tree removal recommendations and good news from our friend Bob. It looks like there's no substantial roof damage. Our electricity is still out with our electric wire down across the street. A neighbor or the police taped the live end. The phone wire is down on our property. Our upper deck broke the fall of the tree and that saved the kitchen.
We check out of the hotel, take the bus to the airport and check in for our flight. We are in non-adjacent seats on our 16 hour flight but Steve gets our seats changed to be together. The porter takes us to turn in our VAT paperwork and then to the gate. I use a handicapped bathroom which is locked but an airport staff member opens it. There's no locking mechanism inside so Steve watches. It has a good set up.
We wait with our group at the gate, sharing pictures and chatting. We move to the area designated for people who use wheelchairs and early board. Our flight goes well. We try to get off using the same route as our group but the flight crew says we have to go with the designated transport people in the truck for people in wheelchairs. Meanwhile a man who came in with a wheelchair has left with other passengers.
We explain that we are with a group and the tour manager will be waiting for us. The crew says okay but the woman who runs the truck says no. There is no elevator. We tell her that we can't believe there's no elevator in the terminal. At one point during our trip we had been in the international terminal but had to enter by way of the national terminal, saying that we did fine going this way. We explain our situation again but the Drill Sergeant won't allow us not to take her truck. We go on the truck and get off first. We tell the staff that we were separated from our group and need an escort to get us to the international terminal. They provide a very nice woman. She takes us through the domestic terminal and hands us off to her associate to take us to the international terminal.
Our new escort takes us right through security and passport control. We see a group member on the passport control line. We were supposed to be handed off again but said we were okay to go by ourselves now. A little while later we meet some of our group around the bathroom. I use the handicapped toilet and it's well set up. Friends tell us that Brian was looking for us. We didn't see him but had told him that we may be sent another way. We ask if anyone has seen the two people who are on our final flight. Everyone else is going to Dulles in Washington, DC but we're going to JFK. The others tell us that the two people went to find the gate. We meet our two friends at the gate. We have enough time to have lunch so we find a sit down restaurant. We enjoy what might be our last good food for 15 hours. Our friends go for their last shopping. We return to the gate.
Steve goes to buy a soda. When he returns, they call all waiting for JFK to lineup by sex for another security check. I tell the staff, that we can't be separated so they move us up to the front. Staff search us and go through our bags. Our friend says that this is not unusual for US flights. We don't want to give up our drinks so they have us and others stay in one area until we hand in our bottles. We go back to our seats. I use the restroom but don't see a handicap symbol, so I walk right by it to the woman's room. When I don't find grab bars, I ask. There are about four female stalls in the restroom. A person shows me a squatter toilet. I restate my need and she directs me to another woman, who takes me to another who shows me the handicapped bathroom. She comes in with me to make sure it's okay; at least I think that's why she comes in with me. I tell her I'm fine from here and she leaves.
Steve goes to the bathroom but has to go back through security before he can return to our seats. No one had directed me to do that. When the desk is manned, we go and check on gate tagging for the wheelchair and early boarding. We're last of the wheelchairs to board. As we near our seats, we see another passenger in a wheelchair who has climbed on her seat to reach the overhead luggage. This was no easy task as she's very large. It amazes me what some people will do to get special privileges that they don't need.
Our flight home goes fine. Unfortunately the two people who were in our group have seats too far away from us for us to visit them. I sleep most of the way anyway.
Day 19: Friday, November 2
We return home to the devastation of super storm Sandy. Luckily our friends Connie and Bob have invited us to stay with them. It turns out to be for two weeks.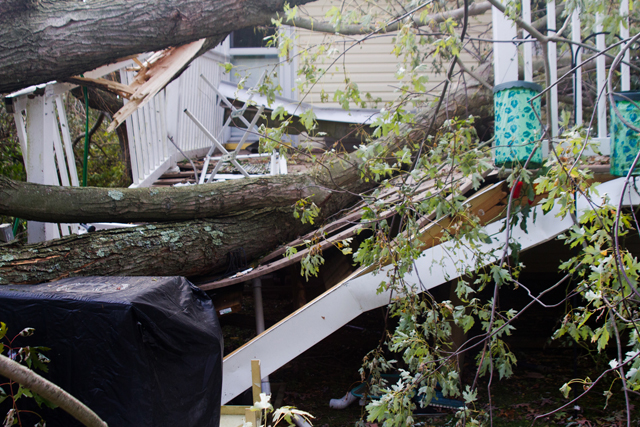 Downed tree demolished our deck &amp
hit the roof
Epilogue
What a wonderful trip! I loved the trip and Vantage Travel is definitely a company I want to travel with again. When we started the trip, we hoped to see a good variety of animals. We saw many more than we ever knew existed. I had no idea of the variety of antelope species. Not only were our safaris excellent, but what Vantage calls "Cultural Connection" activities were great. The home dinner in Zimbabwe was the best we've ever been on.
First I'd like to thank Brian, our tour manager, our local guides especially Niven in Namibia and our drivers. Brian's great depth of knowledge provided us with a treasure trove of information. I only hope that I correctly captured what he told us. Our local guides and drivers were welcoming and helpful.
Second, I want to thank the many fellow travelers who helped and encouraged me throughout the tour. It's always nice to travel with a group of people who get along well. I've kept in touch with some and it's fun to continue to share our travel stories.
Third, I wish to give credit to the sources I've used in my Journal. Much of the background information on the individual sights and history came from our Lonely Planet guidebook Southern Africa (5th edition). We rely on Lonely Planet not only while we're traveling but also in making our decisions on places we want to visit. I also used Brian's welcome booklet of which much came from BBC News articles. I used Wikipedia to answer questions I had and fill in gaps in my notes. To help me identify animals and begin my research of each species, I used The Wildlife of Southern Africa edited by Vincent Carruthers and published by Random House Struik in 2008.
Usually, at this point in my log, I say what I like the best. For this trip, I'm not even sure where to begin. I loved seeing all of the animals in both Safari parks. Certainly the multitudes we saw on the river cruise in Chobe were amazing. The variety we saw in Kruger was wonderful, especially when at last our leopard found us! Victoria Falls was awesome and the helicopter ride over it and the gorges was probably the best optional excursion we took on the trip. The wine country of South Africa was beautiful; but as a wine lover I can't say I've ever been to wine country that I haven't liked. Although I didn't find Table Mountain easy to get around, the view was gorgeous. I also loved the day that we traveled to Cape Point.
Africa was the last of earth's seven continents that we have visited. We knew we wanted to visit South Africa, Botswana and Victoria Falls. We were delighted to find that this trip included Namibia and both countries in which Victoria Falls lies, Zimbabwe and Zambia. Thanks goes to our friend Gene who we traveled with on a physically challenging trip to Azerbaijan, Georgia and Armenia the previous year. He said that since I did so much on that trip, he was sure that the Vantage trip to Southern Africa would not be too difficult for us. When I plan a trip with a company like Vantage, I often talk to phone representatives who tell me that perhaps I should consider a less strenuous trip. Thanks to Gene and our travel history, I was able to confidently say that we'll be fine.
Finally, to my husband Steve, I give you a huge thank you. Even in Namibia, you got me where we wanted to go.
So family and friends ask us where do we have left to travel. I reply that we've only seen about 35% of today's countries. We have many more to visit! I only had my first viewing of the Indian Ocean. Hmmm, will that be our next destination? Stay tuned...